Pinstripe, ticking, Breton – from the formal to the effortlessly laid-back, stripes come in many moods and guises. They can be deliciously bold or quietly subtle, worn on the body or fashioned to fit a room, spotted on deck chairs or hung from a window frame. When it comes to decorating with stripes, the pattern is deceptively versatile, with the ability to elongate, emphasise or elevate a space depending on its style and usage. To inspire your next interiors project, we caught up with a few design authorities to discover how to master those beautifully fine lines.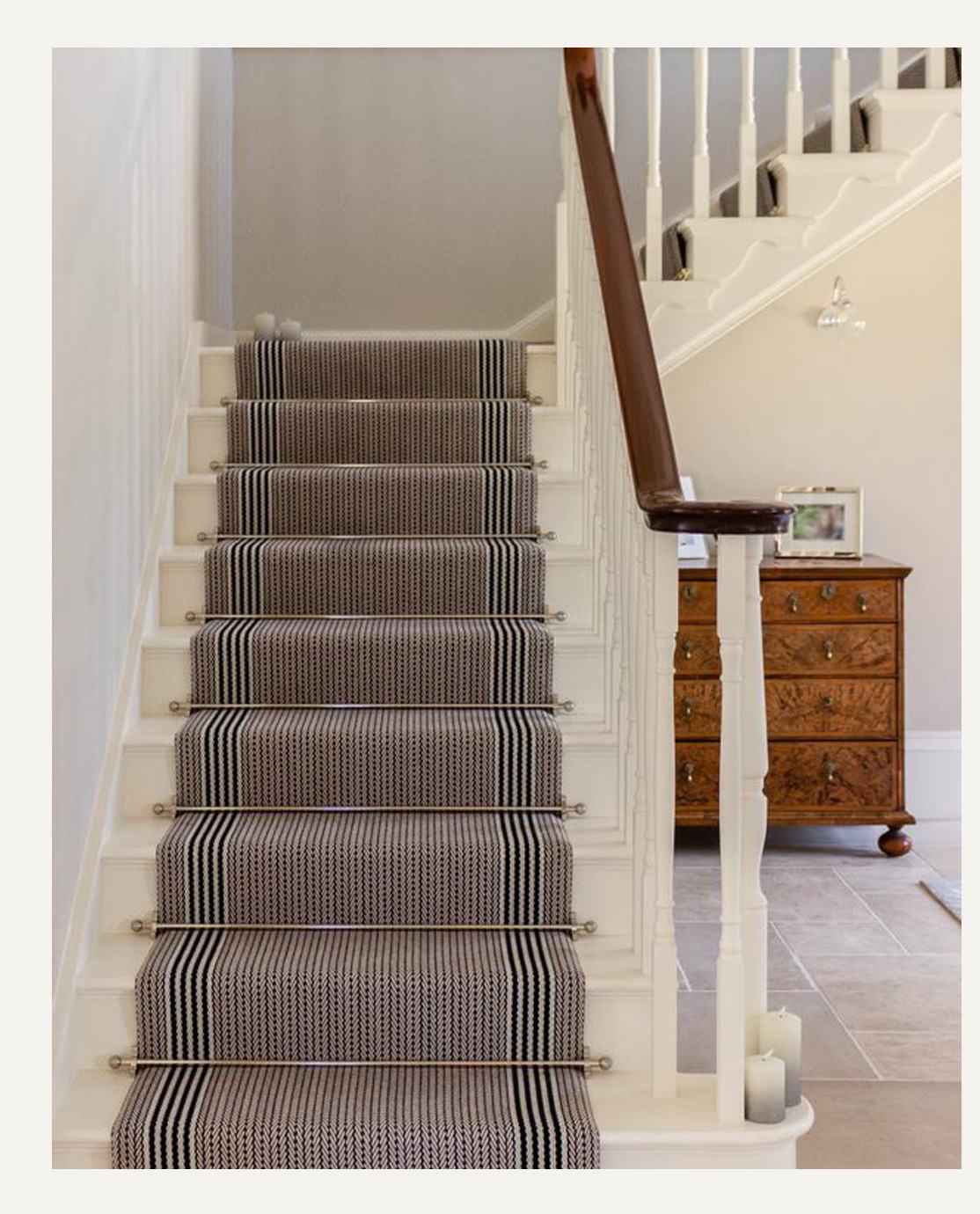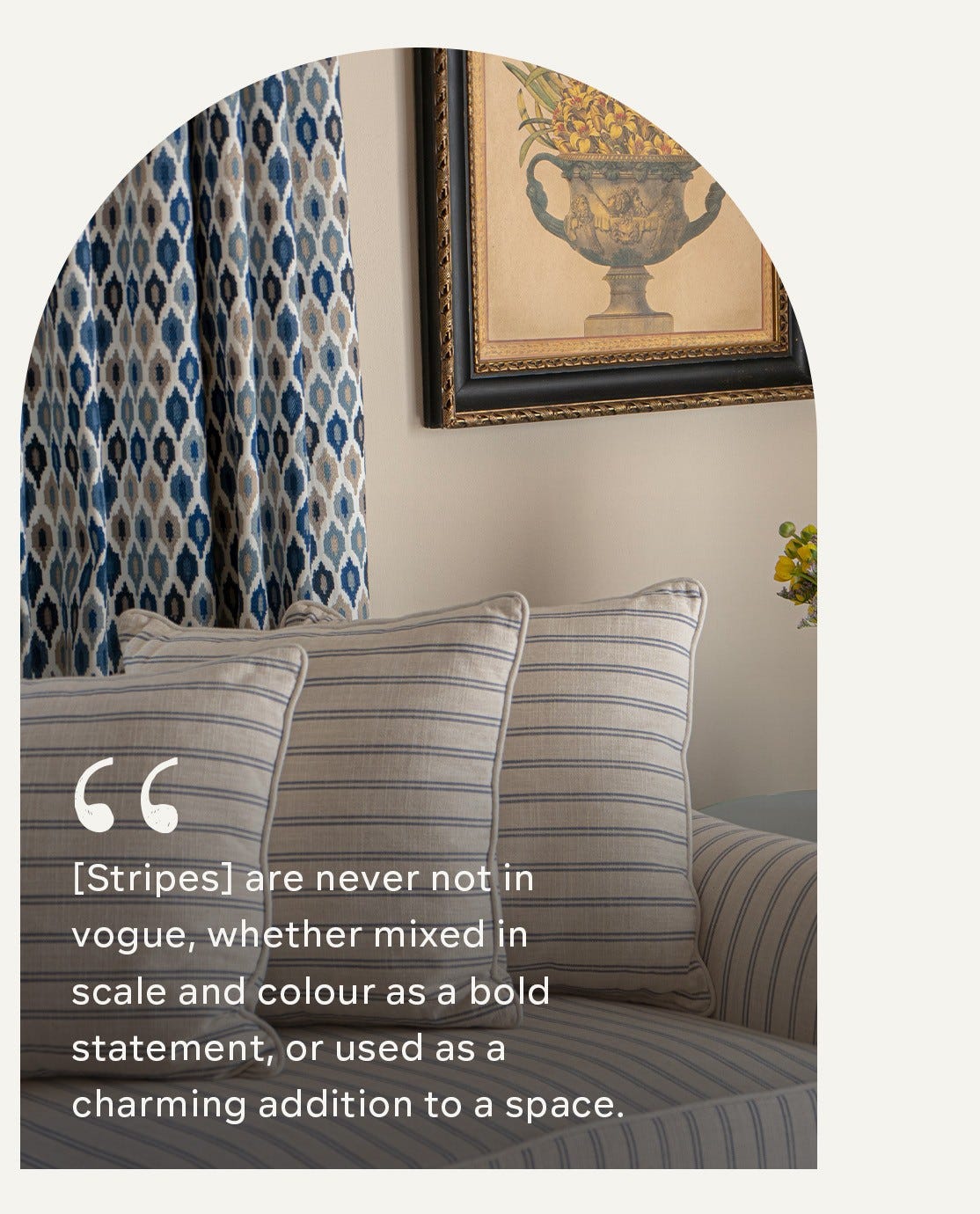 Toe the Line Between Minimalist and Maximalist Style
It's unusual for a pattern to harbour the ability to be both bold and subtle, but the humble stripe is a shining example of a print that dalliances with multiple designs styles. It's little wonder Charlotte Stuart, founder of the eponymous Hampshire-based design studio, refers to them as the "secret ingredient" to a designer's toolkit. "Stripes are simply timeless. Whether a candy, pin, chevron, ticking, Breton or cabana stripe, they are all so versatile to use," she says. "They are never not in vogue, whether mixed in scale and colour as a bold statement, or used as a charming addition to a space."
Offering appeal to every taste means they're an excellent pattern to lean on when looking to add interest to space. Whether that's with a wide, chunky stripe that dominates the room or a narrow stripe used on the trim of a cushion, there's no end to stripey possibilities. "I think stripes can work in any look," agrees Gavin Houghton, founder of the eponymous design studio and co-collaborator on our Tailored by OKA project, for which he reupholstered our Egerton Loveseat in a charming ticking stripe. "They can be modern and graphic, but also sweet and delicate. I love the circus-tent charm of a wide red stripe, but also the thin silk stripes of the French 18th century."
Make Stripes a Focal Feature with Upholstery
You'd be forgiven for thinking patterned upholstery is purely the reserve of the brave. Sofas, armchairs, ottomans and headboards are investment pieces that, in any colour, own the room, so introducing a print may feel like a particularly bold step, and one that may not stand the test of time quite as well as a block colour. However, there's nothing more classic than a stripe, says Charlotte. "Stripes come in every width, colour and even shape – just because they follow a vertical line doesn't mean they have to be stiff and rigid. They can ebb and flow, creating a really interesting, energetic focal point," the designer explains. "For a soft, country feel, go with a thinner ticking stripe on upholstery. Or, to create a wow factor, go bold and bright with impactful wide stripes."
With narrow black-and-white lines and a removable tasselled trim, our Tarma striped sofa is a fun way to bring pattern into a living space, while the multi-coloured kilim upholstery of our George Club Chair offers a true statement piece. For a more understated look, consider a blue-and-white striped sofa or an armchair in a ticking stripe – the calm colour palette and narrow lines present a quieter take on the style.
Add a Subtle Stripe with Accessories
Decorating a home with stripes is easy if you want to bring in just a hint of pattern to a space. You needn't stick to upholstery; accessories are a simple way to incorporate stripes without making the print the core focus of your design. "OKA has a wide selection of crafted pieces that appeal to my love of stripes," says Charlotte. "Currently I am torn between two at the top of my list. Would it be the OKA X Cabana Veneto Vicolo Lampshade with its Venetian-fresco-inspired stripey print in dusty tones for a more mellow vibe? Or is it the Sheki upholstered ottoman – so cleverly embellished with a chic dark charcoal pinstripe detail – calling my name?" As with the latter, there's no need to opt for a piece that's completely striped in order to nod to the trend; a subtle border on a rug or the trim of a cushion is a nice way to add detail to a room.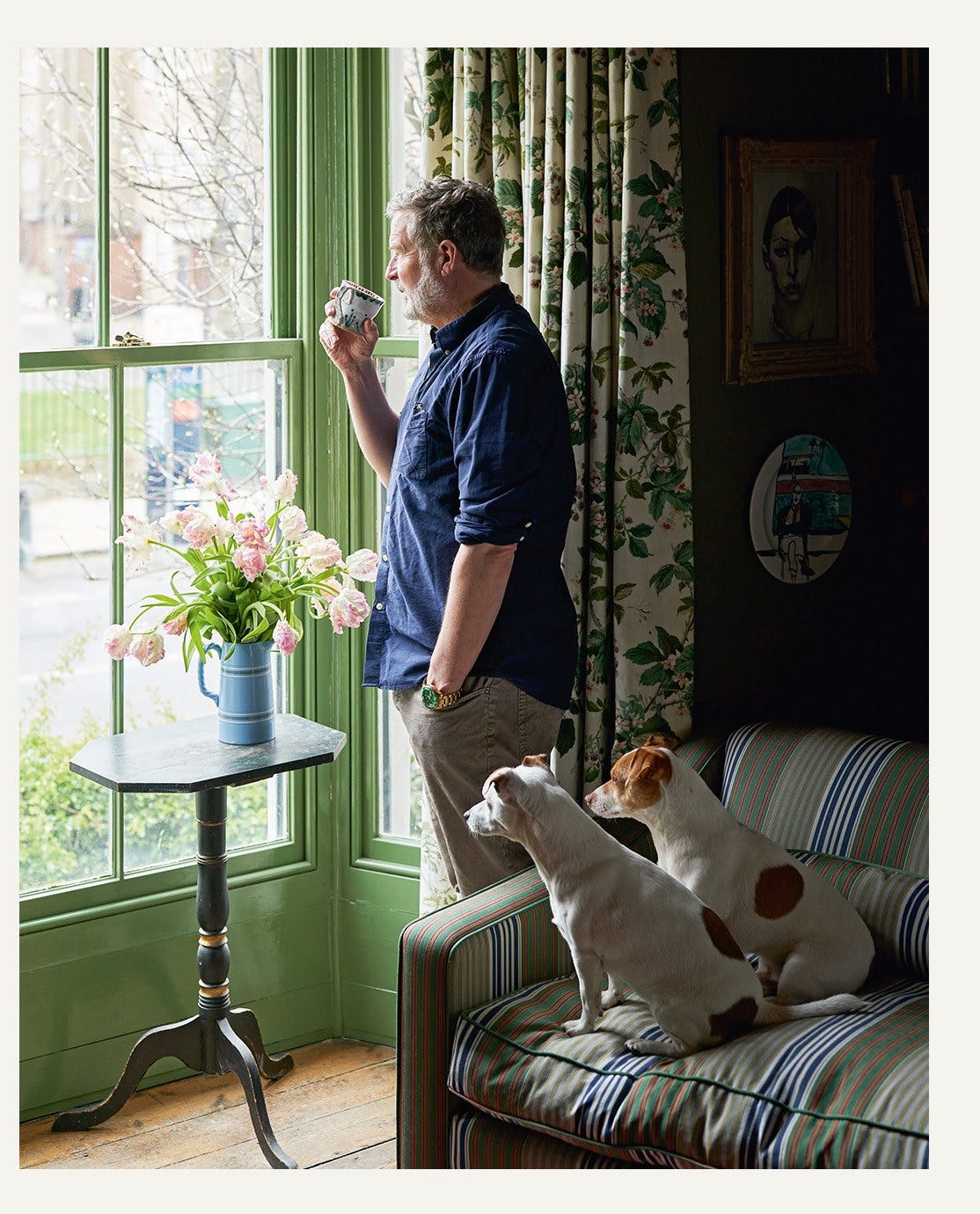 Mix and Match Your Patterns
For those who favour the bolder end of the design scale, there's only one thing for it: get mixing. The rules for mixing patterns when decorating are easy to follow: it's all about scale. Whether you're pairing several stripes or mixing them with a different print altogether, the key is to ensure that the motifs vary in size to create a greater contrast. Another trick is to alternate the direction of the pattern, says Charlotte. "Instead of placing a stripe in one direction only, switch things up by using them horizontally as a hem to a curtain, border to a cushion or on the back of upholstery," the designer explains. "Artfully changing the direction or combination of stripes can stop the pattern from feeling flat. OKA's Rander Ceramic Stool is the perfect example of this."
As for mixing stripes with alternative patterns, Gavin advocates taking a bold approach. "My tip would be to have fun; the oddest pairings work the best. Don't go too 'matchy matchy'. I put stripes with everything; to build an eclectic look I like to use stripes next to florals, or next to velvets to bring in another element," says Gavin. In the designer's home in Tangier, Morocco, he's used red-and-white painted stripes to bring a bold detail to the ceiling of his dining room – as such, he regularly receives requests from his clients to replicate the design in their own homes, often in their children's bedrooms. Sometimes he can't resist adding a second striped feature to the space. "I love using stripes for curtains, mixed in with a patterned wall for a fun combination," he says.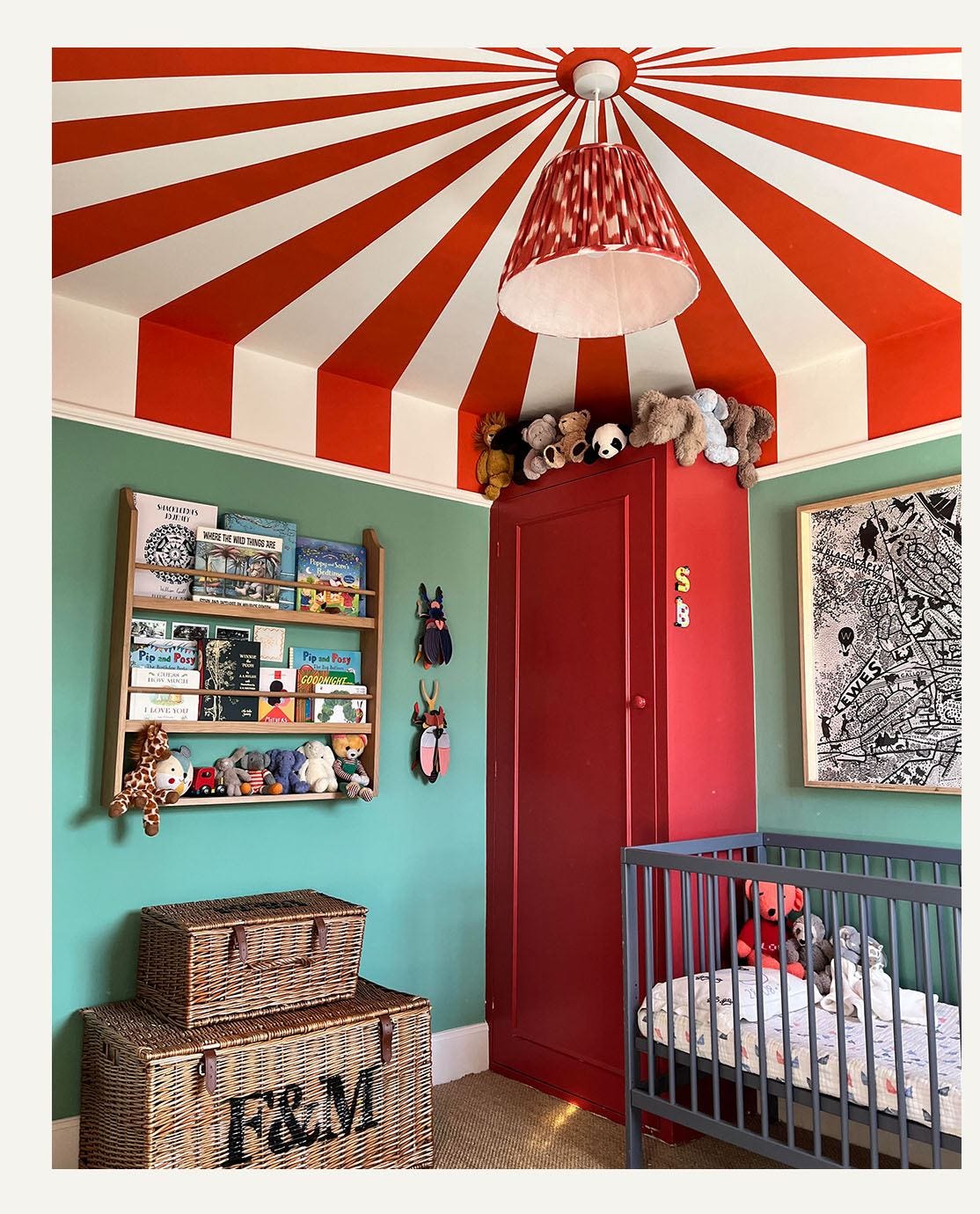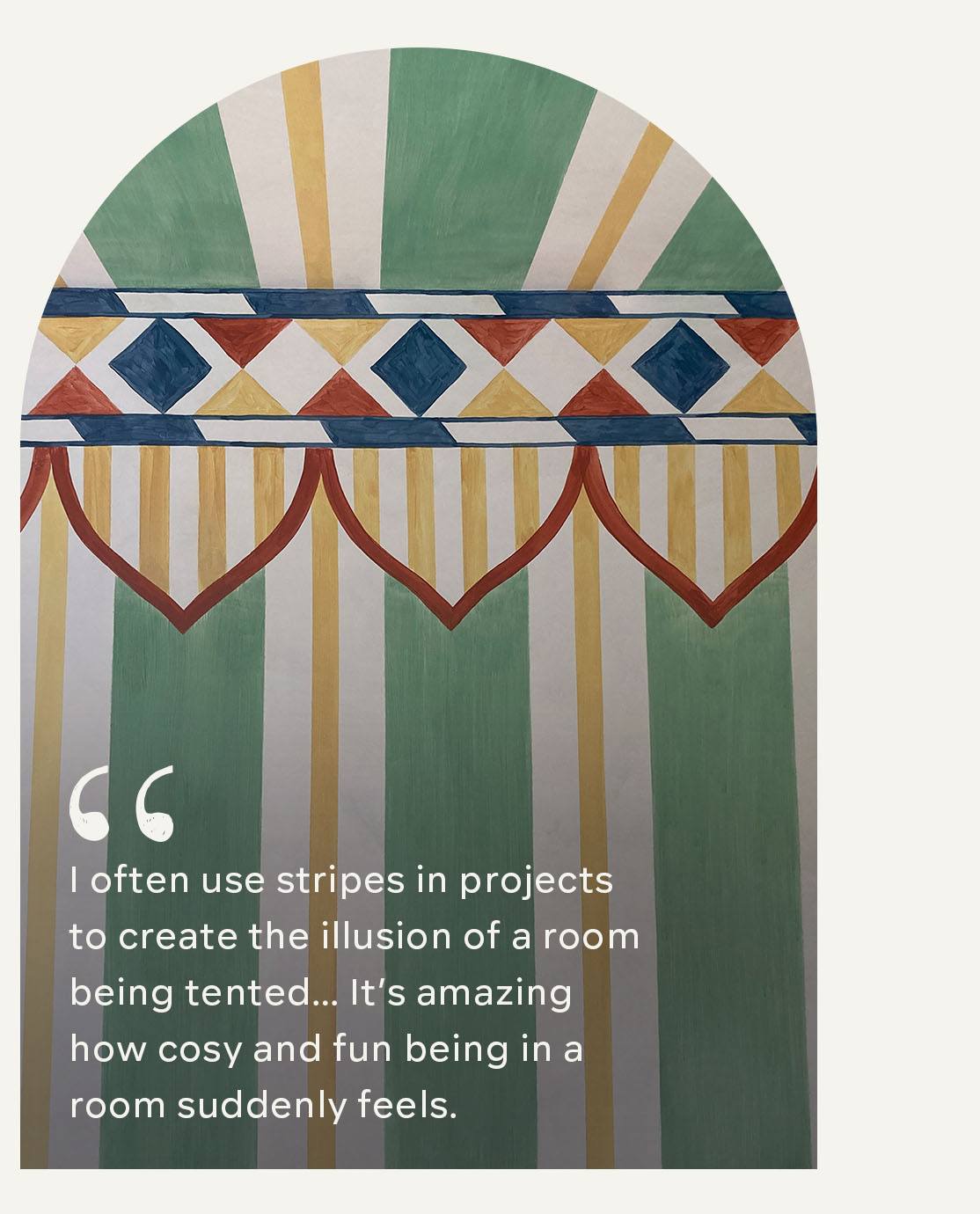 Give Overlooked Rooms a Lift
If you want to make stripes the true focal feature of a room, why not follow Gavin's lead and opt for a striped wall or ceiling? This bold design move is a really fun way to add interest to a space. Decorative Artist Tess Newall specialises in beautiful hand-painted murals and homeware, bringing her unique brand of colour and pattern to walls, mantelpieces and furniture, and often incorporates stripes into her designs. It's the simplicity of the pattern that gives it its enduring appeal, she says. "They can be both classic and contemporary, appealing to people with both maximalist or minimalist taste, and are the perfect foil for any style of furnishings," she explains.
Among her more statement striped designs are murals painted on the ceiling "to create the illusion of a room being tented. Stripes disappearing into the centre of the ceiling is a very effective way of doing this – it's amazing how cosy and fun being in a room such as this suddenly feels." Here are her tips for creating your own circus tent ceiling:
- Measure and divide the total wall space equally. Then, pencil-mark each point where the ceiling meets the wall (where the stripes will end).
- Measure and mark the central point of the ceiling.
- Pull a length of string taut from a pin in the central ceiling point to one wall point. Follow the string line with masking tape to mark each stripe, placing the tape within the stripe that will remain the colour of the base layer. Repeat around the room.
- Use a narrow paint roller to fill in the stripes, allowing drying time between coats.
- Once dry, remove the masking tape gently to ensure no base colour is lifted. Use a small paint brush for touch-ups.
Use Stripes to Make Your Space Look Bigger
Just as mirrors can create the illusion of a larger space, so too can stripes. Whether laid on the floor, painted on the walls or featured on upholstery, stripes naturally draw the eye and give the impression of a taller or longer space, depending on the stripes' direction. "Mastering the use of stripes can create an optical illusion of height or width to suit almost any space," says Charlotte. "We have banished low ceilings by using striped wallpapers, created luxuriously wide upholstered headboards in smaller spaces, and used striped cushions and lampshades as finishing details in our interior design projects." Alternatively, you can use striped accent pieces, such as a rug or armchair, to achieve the same effect – just make sure the stripes are facing the direction you want to emphasise, and watch those lines blur.