It's no secret that us Brits love complaining about the weather, but every grumble about yet another grey day feels worth it once the sun starts shining. As much as we hate to admit it, the collective joy a sunny day brings makes the many months of bleak forecasts instantly forgivable and (almost) forgettable. As the temperature rises and we look forward to a season of sunbathing, we wanted to share a few tips for one of our favourite ways to enjoy the summer months: hosting an outdoor celebration. We've consulted our Co-Founder (and expert host) Sue Jones to bring you the best advice on how to throw a garden party – follow her lead for an event that will be remembered for many a sunny day to come.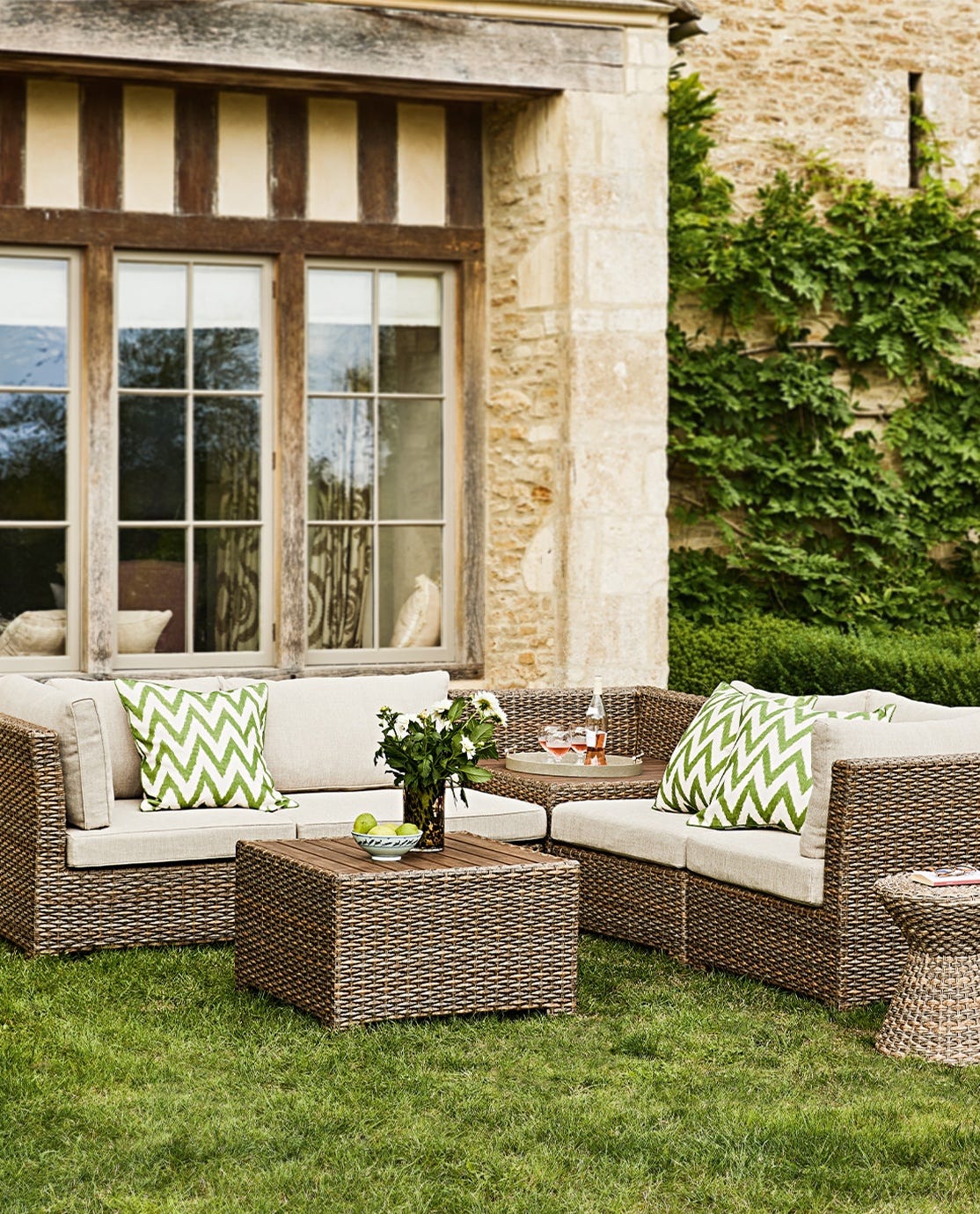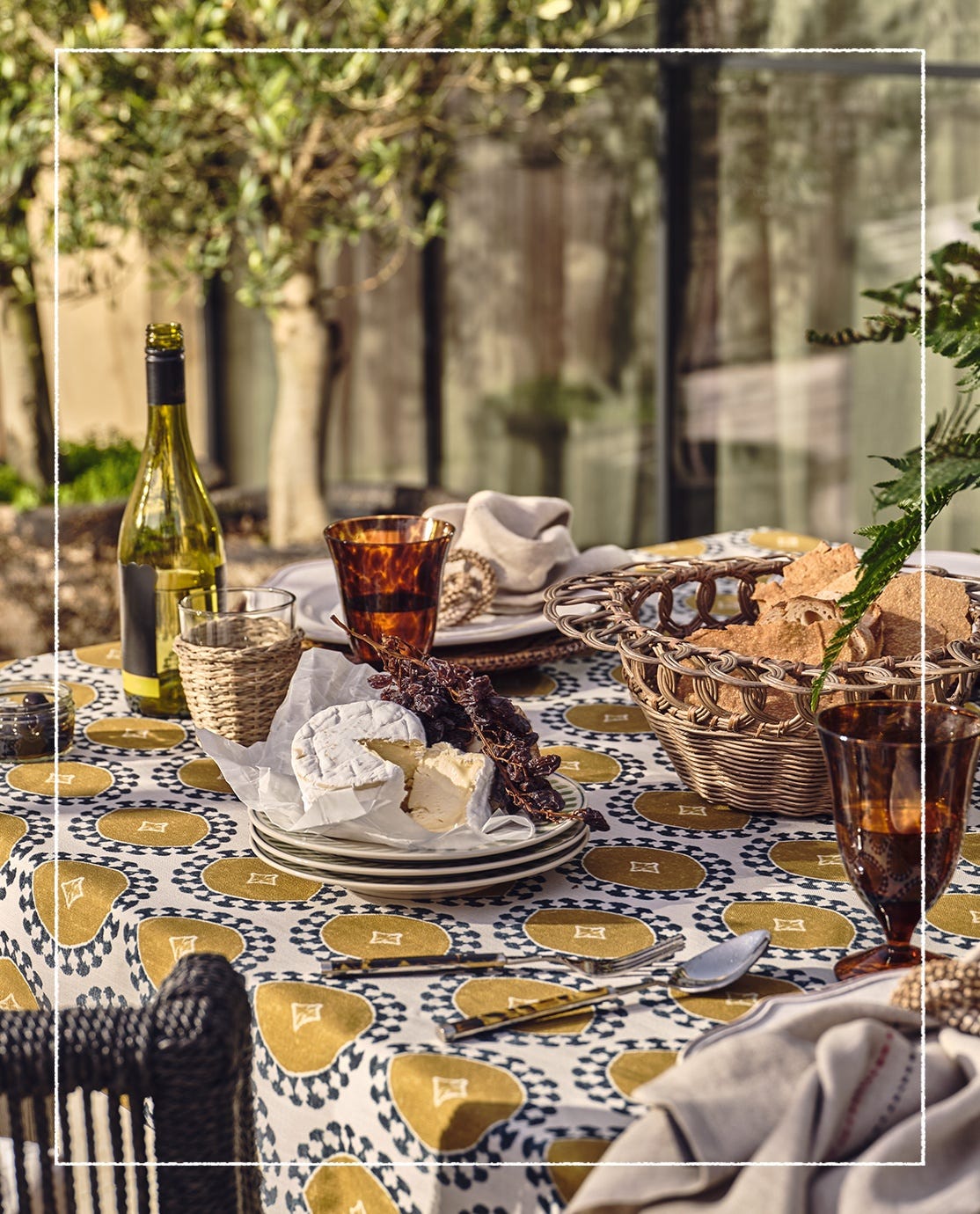 Bring Everyone Together
Sue's first port of call for any party, outdoor or otherwise, is the guest list, so begin your garden party planning by deciding who you're going to invite. "I think everybody would like to know the secret to a good guest list, but sometimes things go with a bang and sometimes they don't," Sue says. "I think it helps if there's a mixed age group, and if everyone knows at least someone. If people don't know each other, I try to think of whether they have a common interest." This will ensure people feel instantly at ease, not to mention help the conversation flow naturally.
A sociable set-up will also encourage mingling, so ensure you arrange your outdoor furniture in a considered way that invites people to sit and relax. We'd recommend avoiding one large group of chairs, and instead opting for smaller circles that people can flow between ­– and don't forget about those essential creature comforts. "I see my outdoor space as an extension of my home, so, when creating a spot in which to enjoy the warmer weather, I like to take inspiration from my sitting room," says Sue. "This means including plenty of sofas and armchairs, a table or two for trays of drinks and candles, and plenty of cushions to add a bit of pattern and colour."
Cook Up a Storm
"Sitting down for a long, lazy supper outside is one of summer's real pleasures," says Sue. "There's something delightful about seeing friends and family around a great big dining table out in your garden." Take this as your cue to put on a delicious spread for your event; one of the best parts about dining al fresco is that the occasion always feels naturally relaxed, so let your menu follow suit with sharing dishes served on pretty platters. Barbecues are always welcome on a sunny day; grill a mix of meat, fish and vegetarian options, and offer a selection of breads, salads and sauces to pair them with. In between meals, ensure there are plenty of snacks for people to nibble on ­– olives, nuts or crisps and dip will keep people satisfied until the main event.
Set Up a Home Bar for DIY Drinks
The perfect addition to a sunny day is, of course, an ice-cold glass of your favourite tipple. To keep the atmosphere relaxed, and to save you the hassle of playing host-with-the-most, we recommend setting up a garden bar and letting people help themselves. "My husband likes making cocktails, but I don't particularly," says Sue, so a DIY bar is her perfect hosting scenario. One of her favourite garden party ideas is to create a few cocktail recipes for guests to follow; just make sure the bar is stocked with the appropriate spirits, mixers and glassware and let them get creative. "Drinks that are easily served from pitchers, such as sangria or lemonade, are also an ideal choice," Sue adds.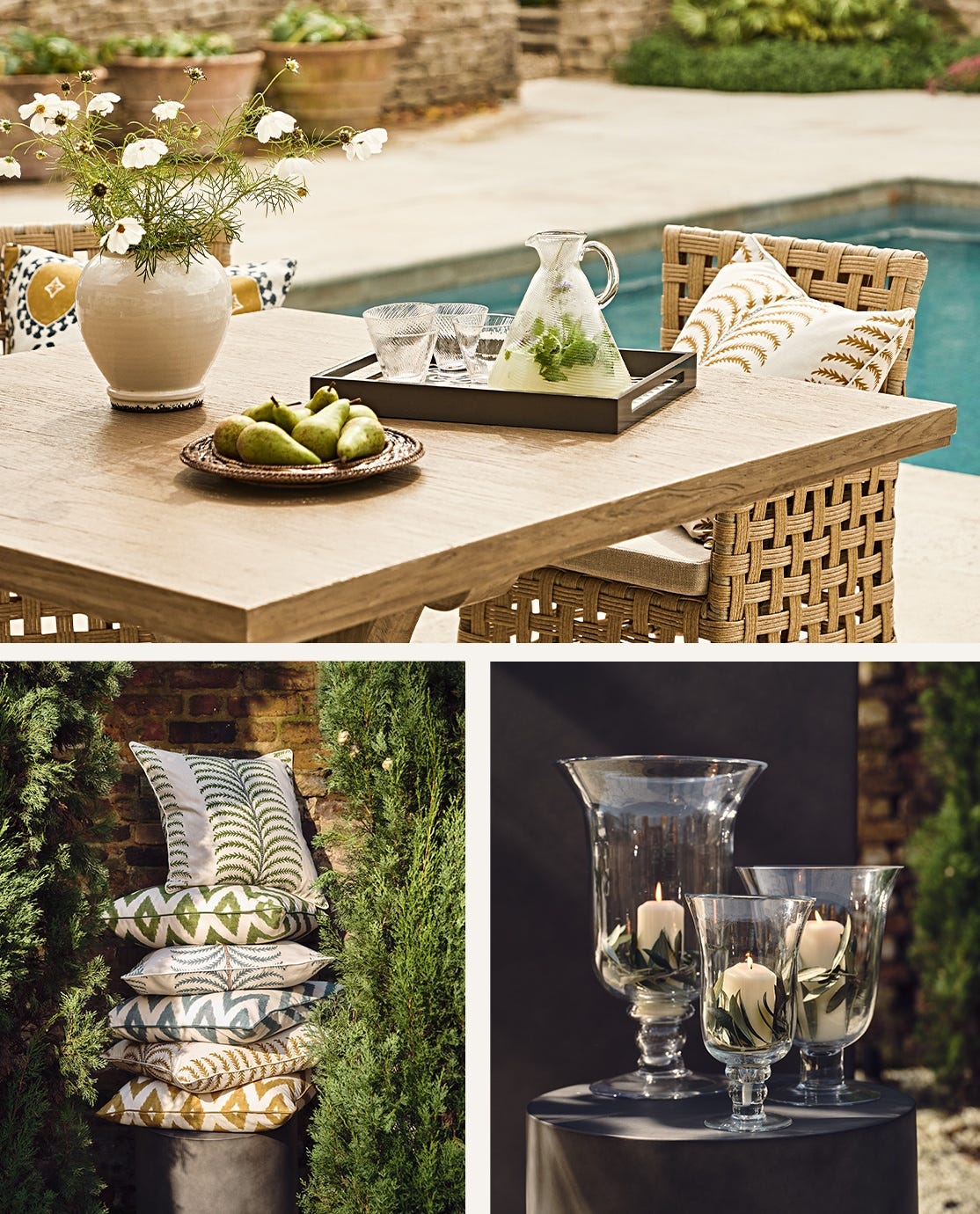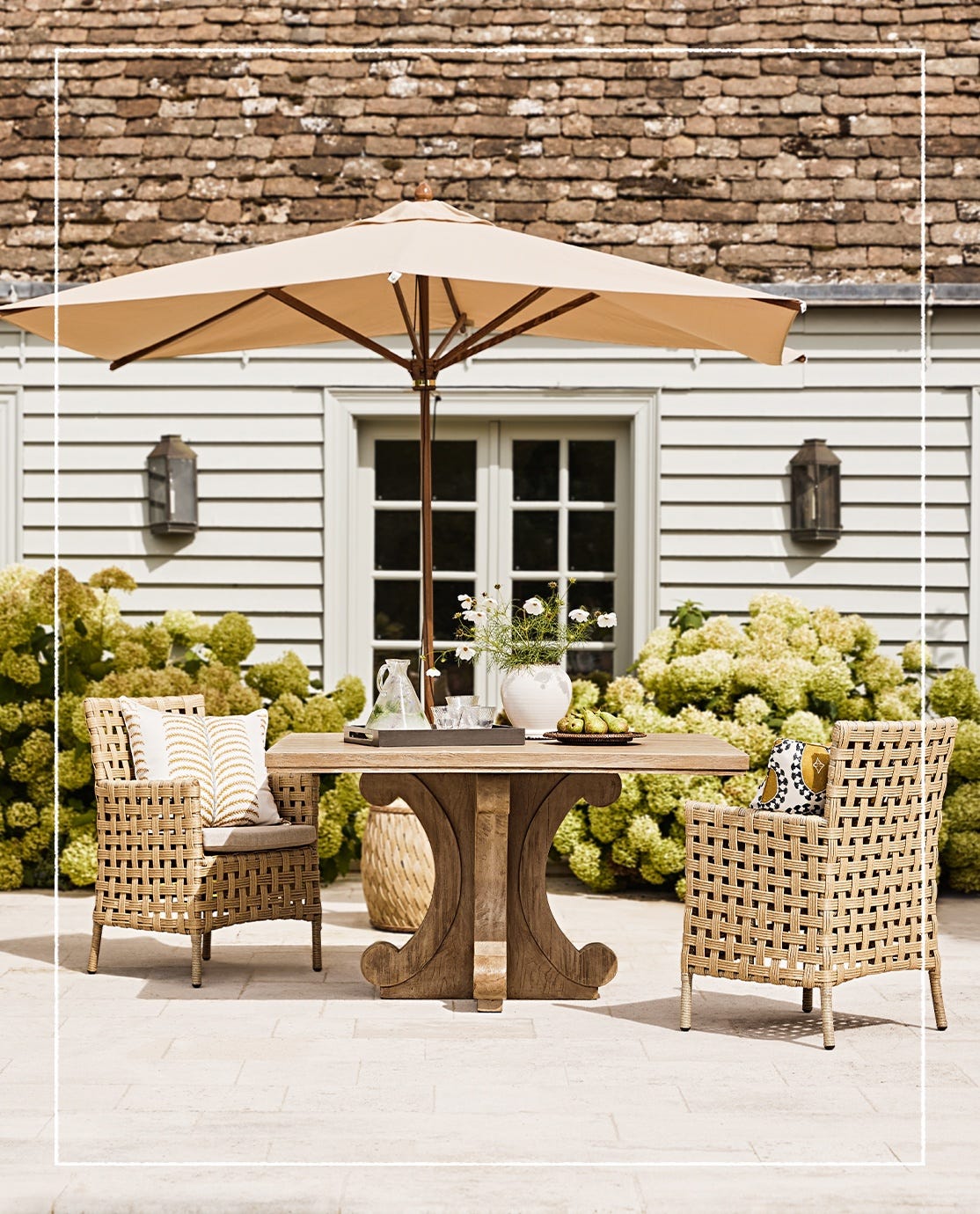 Set a Celebratory Mood with Decorations
If your garden party will be marking a specific occasion, such as a birthday or anniversary, what better way to make it feel all the more special than with a few choice decorations? Bunting and banners will bring your event to life, while something as simple as fairy lights can help ignite a celebratory mood; string them along a garden fence or around the base of a parasol for a touch of sparkle. Atmospheric outdoor lighting is also key for garden parties that go on long into the night; we recommend lanterns or battery-powered candles for a subtle and welcoming glow.
If you're hosting a sit-down dinner, don't pass on the opportunity to include a few table decorations. A bunch of seasonal flowers, a smattering of tea lights and some colourful linens can make all the difference. "Try and avoid paper plates, paper napkins or anything disposable," adds Sue. "Nothing is nicer than sitting down to a properly laid table, be it inside or out. Even an impromptu gathering can become a memorable experience with real glasses, cutlery and plates."
Prepare for Every Forecast
This being a British summer, a heatwave or downpour could strike at any moment, so be sure to factor in the weather when planning your event. On scorchers, "it can be a bit of a battle between trying to stay cool and wanting to sit outside and enjoy the weather," says Sue, so a source of shade is "essential on really hot days". If you're expecting high temperatures, make sure you have plenty of sun cream and cold water on hand, as well as a parasol or two for shady reprieve – and don't be afraid to think outside the box to stay cool. "Last summer I bought a paddling pool for my dogs, but they would have nothing to do with it," says Sue, "so I put it under the table and filled it with iced water so we could put our feet in it while having lunch outside. It was lovely and refreshing."
If your event has a theme, you may want to set a dress code, but otherwise Sue recommends simply advising your guests to "dress appropriately" ­– light fabrics, loose-fitting clothing and sun hats are all good ideas if it's going to be hot. If the temperature is expected to be a little cooler, remind your guests to bring a jumper or jacket to make those chillier evenings a little more bearable, and keep a few blankets on hand for extra warmth. In the event of rain, "my instinct would be to cancel," says Sue. "With any number of people, I couldn't suddenly transport the party into the house as we haven't got room." If you do have space, or your event involves just a handful of people, consider taking the party indoors ­– otherwise it may be best to save the celebration for another day.
Soundtrack the Night
While the gentle hum of conversation does provide a pleasing backing track to a sunny evening, there's nothing quite like music to get people into the party spirit. In Sue's house, this is a task that falls to her husband Alex. "He's got the Sonos app on his phone, so nobody else has a chance," she jokes. Start by playing more low-key melodies during dinner to allow people to talk easily, and bring in something a little more upbeat as the party gets started later on into the evening. If you want to appeal to everyone's musical preferences, Sue has a tip for getting your guests involved: "Sometimes it's quite fun, especially if there's a mix of age groups, to go around the table after dinner and get everyone to choose their favourite song," she says. "We often end up with some quite good playlists." What better grand finale to a sun-soaked day than dancing under the stars with family and friends?