Connect to the bigger picture, and the natural world beyond your home, by incorporating nature-led design into your interiors. Take inspiration from wildlife documentaries on the TV, your assortment of pets (big and small) underfoot, or a back garden full of local wildlife if you like, or you can follow our lead and be inspired by the unique styles of the seasons. Whether you prefer the months associated with warm, chunky knits, hot drinks and fireworks, or are more partial to those associated with sun-fuelled festivals, underwater activities and ice cream, we've rounded up a nature-inspired style to suit.
Spruce up your space with spring notes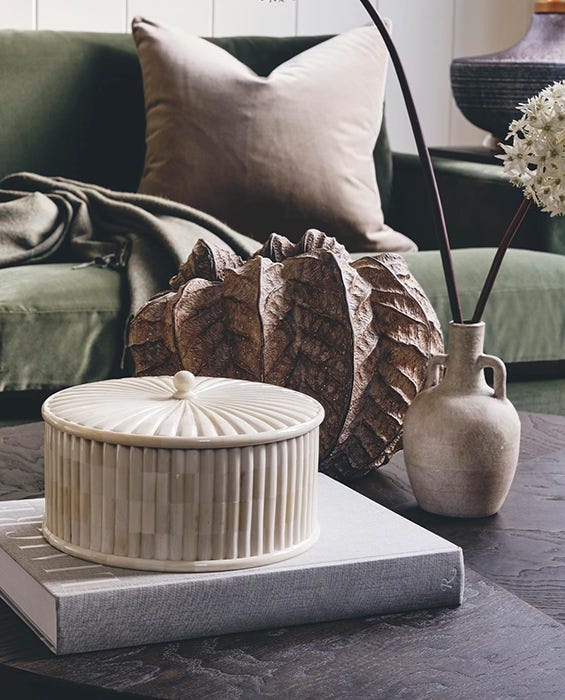 In Spring, the season of fresh starts, longer days and warmer weather our interiors are filled with bunches of flowers and lighter, fresher colours. In terms of tone, look to designs in azure shades of sea and sky, green cushions and ornaments that nod to newly-budding leaves, trees and plants, and yellow home accessories that stand in place of a ray of sunshine when April showers threaten.
A simple way to celebrate this season of new life and optimistic colour is by potting plants and arranging flowers (real or faux) in beautiful vases, jugs and planters. There are so many different varieties – dramatic roses, exotic orchids, vivid tulips – ready and waiting to bring a hint of the woodland or wilderness inside. And the only exploration you need to do is to discover how to style faux flowers, so the realistic-looking blooms look as though they are fresh from the florist for years to come.
With the dawn of this season you might also notice the morning chorus being sung with more gusto in your garden. Bring an element of this mood-enhancing moment inside, with bird-themed textiles, ornaments and tableware.
Experience summer, all year round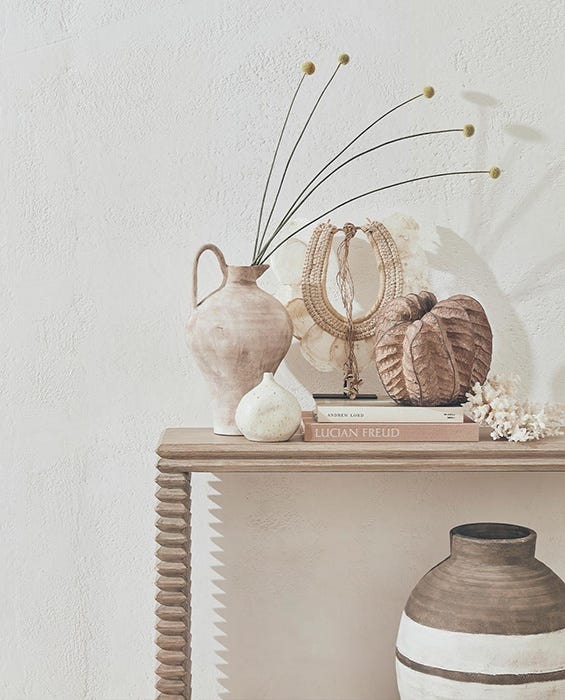 Summer equates to dreams of far-flung holidays, beachside adventures closer to home and long balmy days (and evenings to match). In terms of interior styling, there are many ways to pay homage to the natural world experienced in the high season – or even those sought-after Indian summers.
In terms of decorating inspiration, the sea is always a powerful muse. There are myriad takes on an ocean theme, from underwater wonders – think sea creatures, faux coral, ceramic shells – to piles of driftwood, fishing nets and nautical memorabilia atop every surface: each fundamentals of the traditional English beach house. However, if you're more into streamlined minimalism than accessories all areas, there are subtler ways to imbue your scheme with a taste of the sea: blue tones, for instance.
A palette that never goes out of style, hues of blue lend interiors a calming touch – whether applied to glassware and ceramics or fabrics and furnishings. Picture a crisp white tablecloth paired with hand-swirled plates; freshly applied coats of pale periwinkle or midnight blue paint; a turquoise throw draped over a bed. Allow these aquatic shades to transport you (via your interior) to beachside dwellings in warmer climes.
In the city, it might feel harder – or potentially jarring – to imbue your home with seaside charm. In this instance, pay attention to materials: a bamboo or rattan floor lantern will add an artful touch, as well as soft lighting, to your surroundings. If that's still not convincing you, how about leaving the sea theme to one side and thinking about summer's lush greenery? Consider a nod to the (urban) jungle, and blur the lines between inside and out by serving meals on leaf-shaped tableware at your next soiree.
Add autumnal richness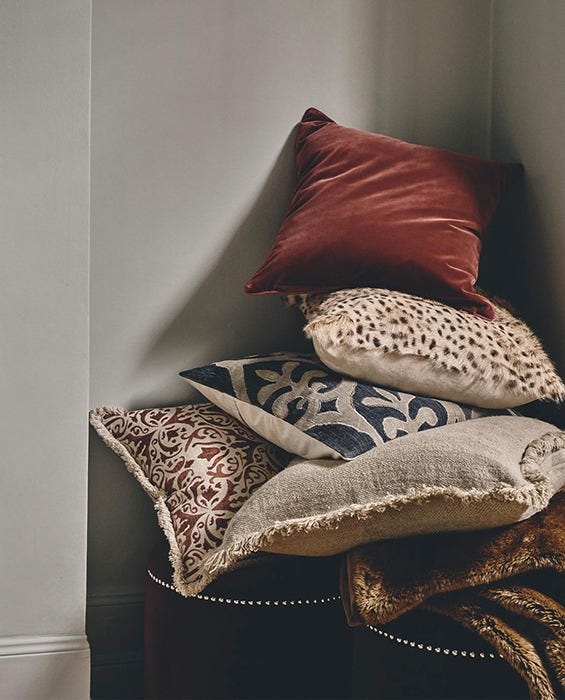 As season that relishes and elevates transition, autumn calls for wrapping yourself in thick, woollen layers and cocooning your home in cosy, tactile fabrics in jewel shades that evoke the changing landscape outside. Alternating through shades of green, amber, red and – eventually – russet, falling leaves have plenty of allure for decorating enthusiasts. Autumn is all about colour and texture: ochre, burnt and blood orange velvet cushions always prove popular at this time of the year, while faux-fur textiles endow any space with warmth – both literally and visually.
If you're borrowing your decorating cues from a woodland scene, think before the colour palette alone: embellish tables, mantlepieces and sideboards with large-scale decorative nuts, fruits and leaves or a hedgerow-dwelling creature or two. Alternatively, pursue the theme upon your walls with a series of botanical illustrations thoughtfully hung amid an existing collection, or as a stand-alone set.
Beyond soft furnishings, a material that perfectly captures the dappled colours of autumn is tortoiseshell – faux of course. A blend of rich browns, tans and oranges, the timeless finish looks particularly appealing in the glow of candlelight, and now is the time to reach for the soft lighting. Finally, add comfort with blankets and other plush accessories that play to the relaxed lighting and autumnal colour palette.
Incorporate natural winter accents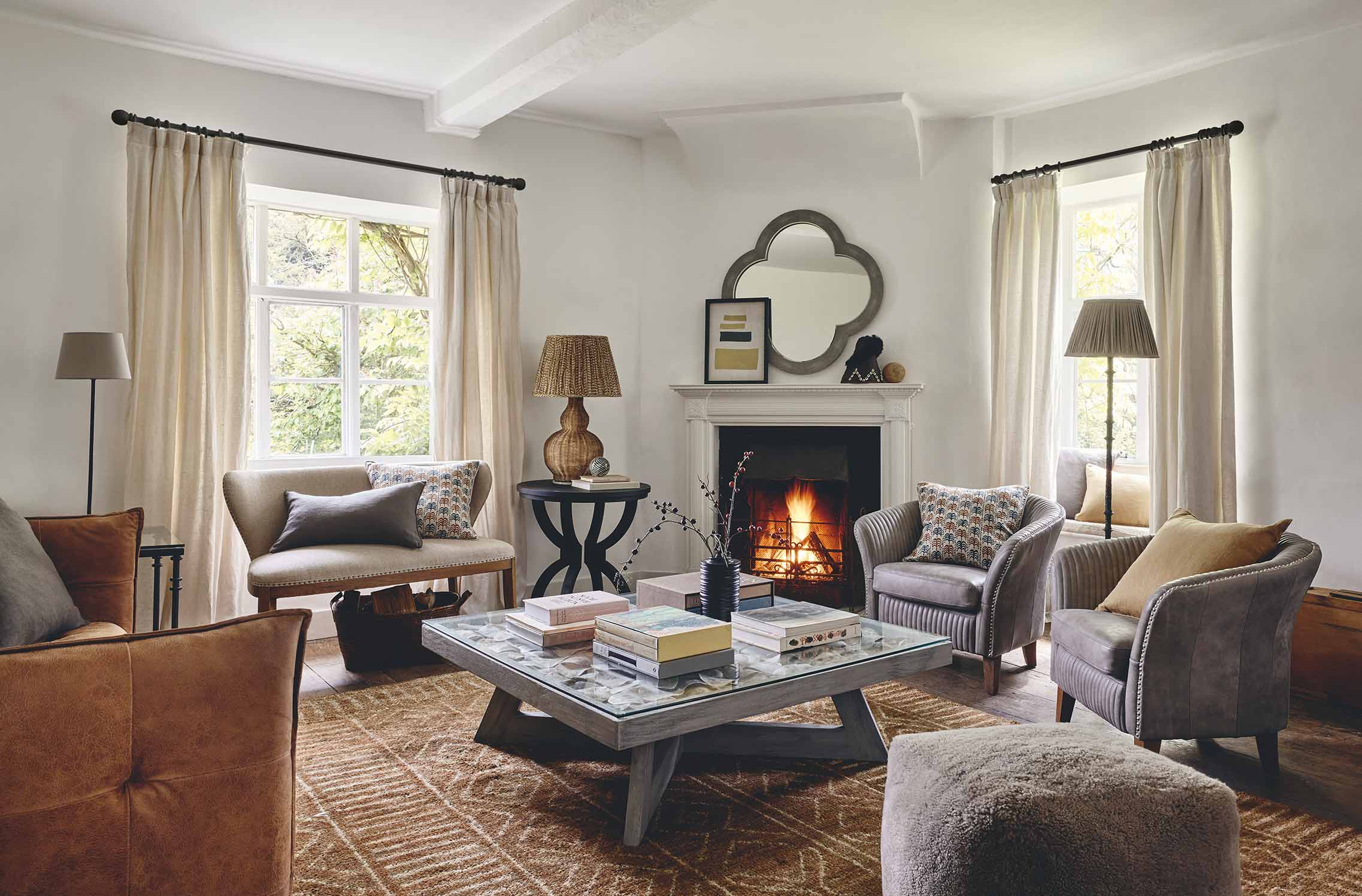 In winter, our ideal home would be a chalet; somewhere with beams, an open fire burning bright, the comforting aroma of pine needles and mulled wine, textiles bearing hand-stitched folk patterns and sprawling views of mountains that look as if they're dusted in icing sugar.
It's not hard to recreate the aesthetic of a chalet (even minus the panoramic, snow-capped vista), especially at Christmas. On a base of essential furniture pieces – crafted from natural materials, such as wood and rattan, of course – layer carefully chosen accessories, such as textiles in berry red and emerald green, and artwork depicting the natural world in all its glory.
When Christmas rolls around, if you wish to feature decorations that nod to nature while encapsulating plenty of festive cheer – aside from the standard tree, poinsettias and mistletoe additions – look to the golden robin, or some form of gold accessory. Create table centrepieces from winter flowers and decorations, and dress the dining room to match the natural world outside.
Whatever time of year is your favourite, hopefully we've inspired you to take notes from nature and bring a little indoors to enjoy all year round.