What is the difference between an ottoman and a footstool? In the interior design lexicon, the lines can often feel blurred. Once you get down to the basics, however, the distinctions become clearer. Ottomans were introduced to Europe from Turkey in the 18th century (their name derives from the Ottoman Empire) and were originally principal seats that have transformed over the years into a hybrid sitting room staple. They are typically taller and wider than footstools, often include storage of some description – either concealed beneath a lid or as a bottom shelf – and can also benefit as a place to perch. Footstools are typically shorter, narrower and, as their name suggests, primarily used for resting feet. If you're pondering which style is the right choice for your living space, keep reading as we delve into details of each design in this ottomans and footstools buying guide.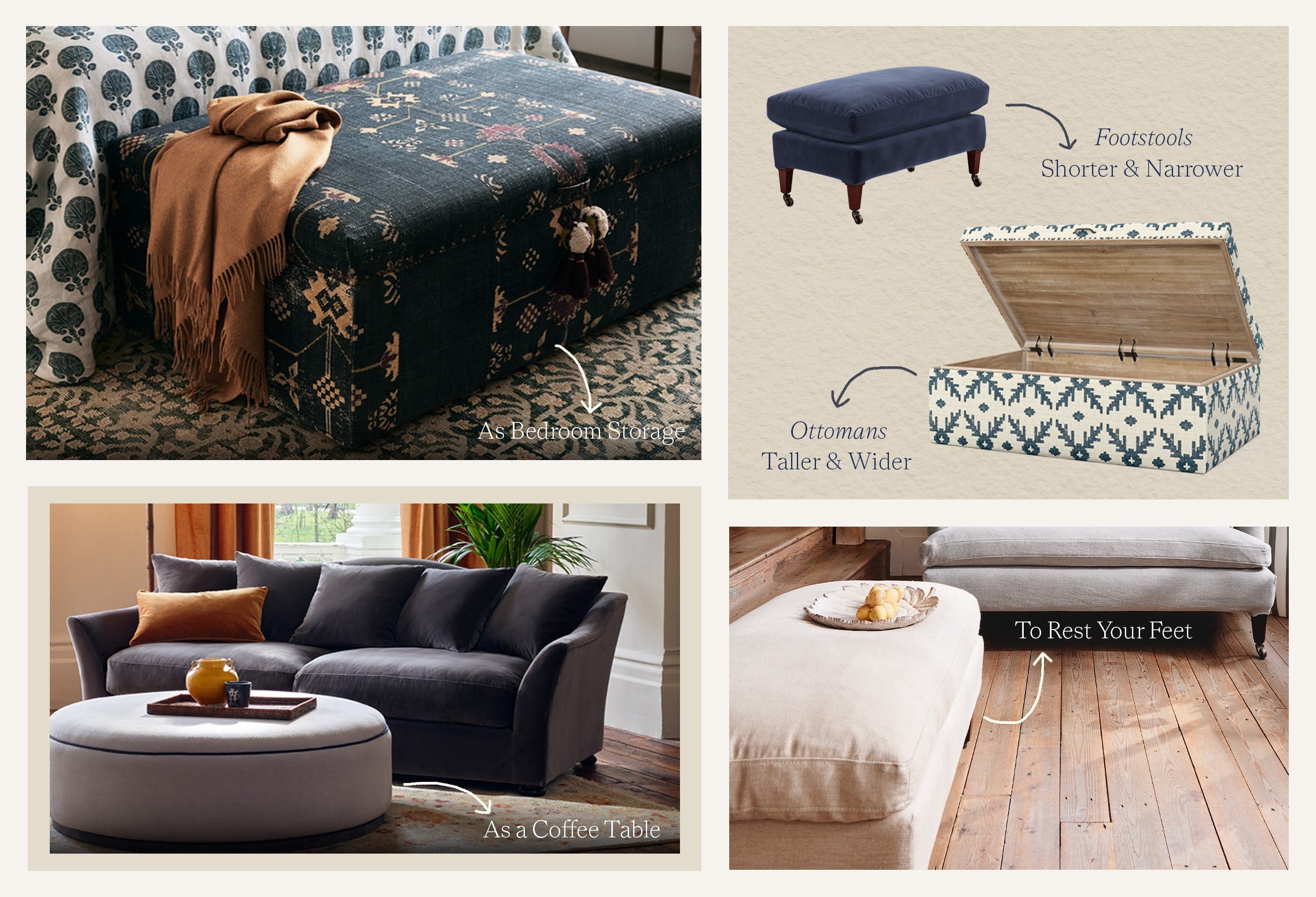 Sizing Up Ottomans Versus Footstools
Before you begin unpacking the pros and cons of each piece, you'll want to consider the most important element of all: size. It's no use deciding that an ottoman is the style for you if you don't have the space for it. Below we answer your essential questions on size, but you can also find more information on measuring up for new furniture in our handy guide.
How Do I Know What Size Ottoman to Buy?
Here's the rub: there is no standard size of ottoman. Available in a variety of shapes and sizes, there are so many different options to choose from, which can make seeking the perfect size for your space a little trickier. It all comes down to where you intend to place your ottoman. As these are often large and heavy pieces of furniture, you'll be less likely to move it around in the same way you might a footstool, so think about where you'd like to keep it. A popular location is in the centre of the sitting room (read our guide to using ottomans as coffee tables for this option) but they can also be found tucked to the side, acting primarily as storage, or even at the end of a bed.
If you select the former layout, the rules are similar to those for choosing a coffee table: ensure your ottoman is around two-thirds the length of your sofa, to create a balanced setting where everything feels in proportion to one another. If you're planning to use your ottoman to rest your feet, as well as in place of a coffee table, then then we recommend choosing a style that is slightly lower than your sofa, to create a more comfortable angle – around 2 to 3cm shorter is ideal. Don't forget to leave between 35 and 45cm between your sofa and your ottoman to create an easily accessible path.
If you're looking for bedroom storage, an ottoman is a great solution. A narrower design with a more rectangular shape – sometimes called an upholstered trunk – is perfect for keeping at the end of the bed, acting as a comfortable space saver. In this instance, we'd recommend trying to match the width of your bed to the width of your ottoman. If you can't find the perfect size, seek a style that's slightly narrower than your bed frame over one that's wider.
What Size Should a Footstool Be?
The ideal height for a footstool is between 30cm and 77cm, however it really depends on the height of your other furniture. A footstool shouldn't be higher than a sofa or armchair, because you want to create a comfortable support for your feet, and this will feel more natural at a slightly lower angle. We'd recommend aiming for the shorter end of the scale in this instance, around 30cm to 45cm.
Footstools are traditionally narrower than ottomans, so think about how you intend to use the piece when considering this. If you'd like it to be placed in front of an armchair permanently, for example, be sure to choose a style that is the same width or slightly smaller to avoid it looking out of proportion; in this instance we'd recommend avoiding a footstool that is wider than your armchair. If it's a piece that you're going to tuck away and bring out occasionally, you can be a little more flexible with your choice.
Settling on Shape
With your measurements at the forefront of your mind, you can begin to think about the style of piece you'd like to select. Both footstools and ottomans are available in a variety of silhouettes; here, we take you through a few options and their benefits.
Round
With soft edges and clean lines, circular styles have a lot going for them. When it comes to ottomans, a rounded shape could be a good option if you'd like a larger piece but are struggling with space. With no sharp edges to contend with, they're also great if you have small children. Round silhouettes are also nice in footstool form, particularly if you're intending to use it regularly as a spare seat.
Rectangular
This classic shape is the most common ottoman style. Often featuring ample storage space, these designs are perfect if you're looking for a practical sitting room centrepiece. Rectangular footstools are also popular; this comfortable, loaf-like shape is a great spare seat, but can also be easily placed in front of armchairs as a permanent fixture.
Square
If you like the look of a rectangular ottoman but don't quite have the space for it, a square style could be a nice solution. This design can sometimes double as a storage footstool, perfect if you're looking for a resting spot but also want to tuck things away. Plus, if you want a rectangular style but need your sitting room to be more flexible, you can place several square shapes together and then move them around when you need more space or extra seats.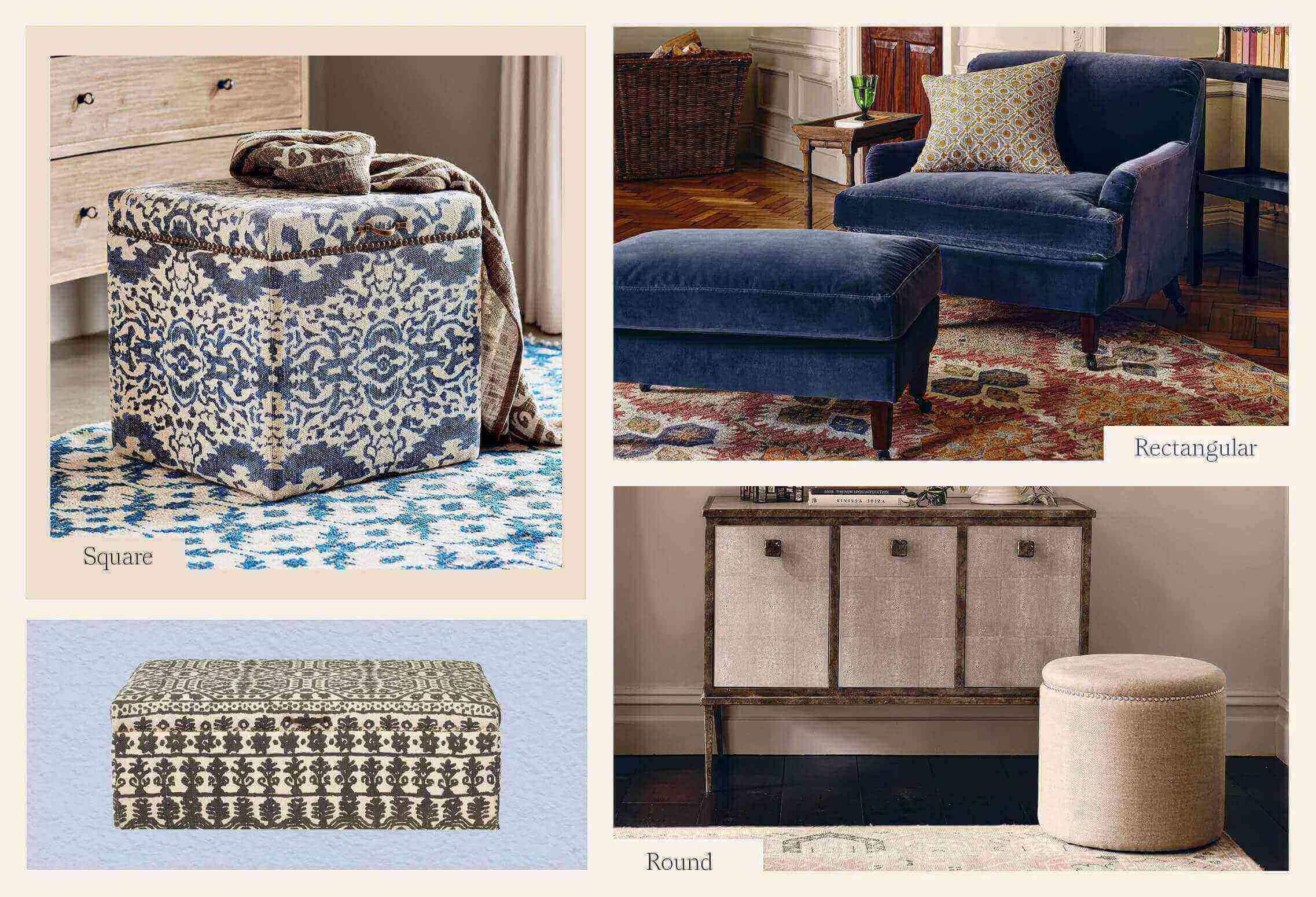 Finding Your Style
While the function of your footstool or ottoman is, of course, paramount, there's no pretending that style isn't an equally important factor. Whether you're looking for a central feature or a more flexible piece that you'll call upon occasionally, you'll want it to be in keeping with the rest of your space. For both designs, there's a wide choice of upholstery available, which you can select depending on your tastes. The key thing to remember is that an ottoman and a sofa do not need to match – in fact, if you want to create a more eclectic feel, then we'd actively encourage you to choose one that looks different. For example, you could style a leather sofa with a fabric ottoman, choose an embroidered ottoman and a velvet sofa, or even select two contrasting prints. Just be sure you reflect the design elsewhere in some way, to make your space feel cohesive – this might include picking out a certain colour from the upholstery and mirroring it in your cushions or wall art, or repeating a motif elsewhere in the space.
The same can be said for footstools; it all depends on how you want your space to look. If you want a cleaner, smarter aesthetic, we'd recommend choosing a footstool that does match your sofa. However, if you favour a more maximalist approach, then, as with ottomans, you can go wild. There's only one rule to follow: make sure it speaks to your style.