Ahh... the bedroom: a place of relaxation and where, on average, you spend a third of each day. Obviously, the bed is the star of this space, offering both a practical solution and a place of solace, which is why every detail – from the bed base right through to the choice of scatter cushion – matters. While dressing a bed each morning, straightening the duvet and plumping up pillows, is a comforting ritual, there's more to bed linen than aesthetics alone; sleep scientists have proven that the quality of your bed linens, pillows and mattresses affects how well you sleep. In this guide, we share insider tips on purchasing a headboard, as well as how to choose your ideal bedroom accessories, so you can create a space that's perfect for your forty winks.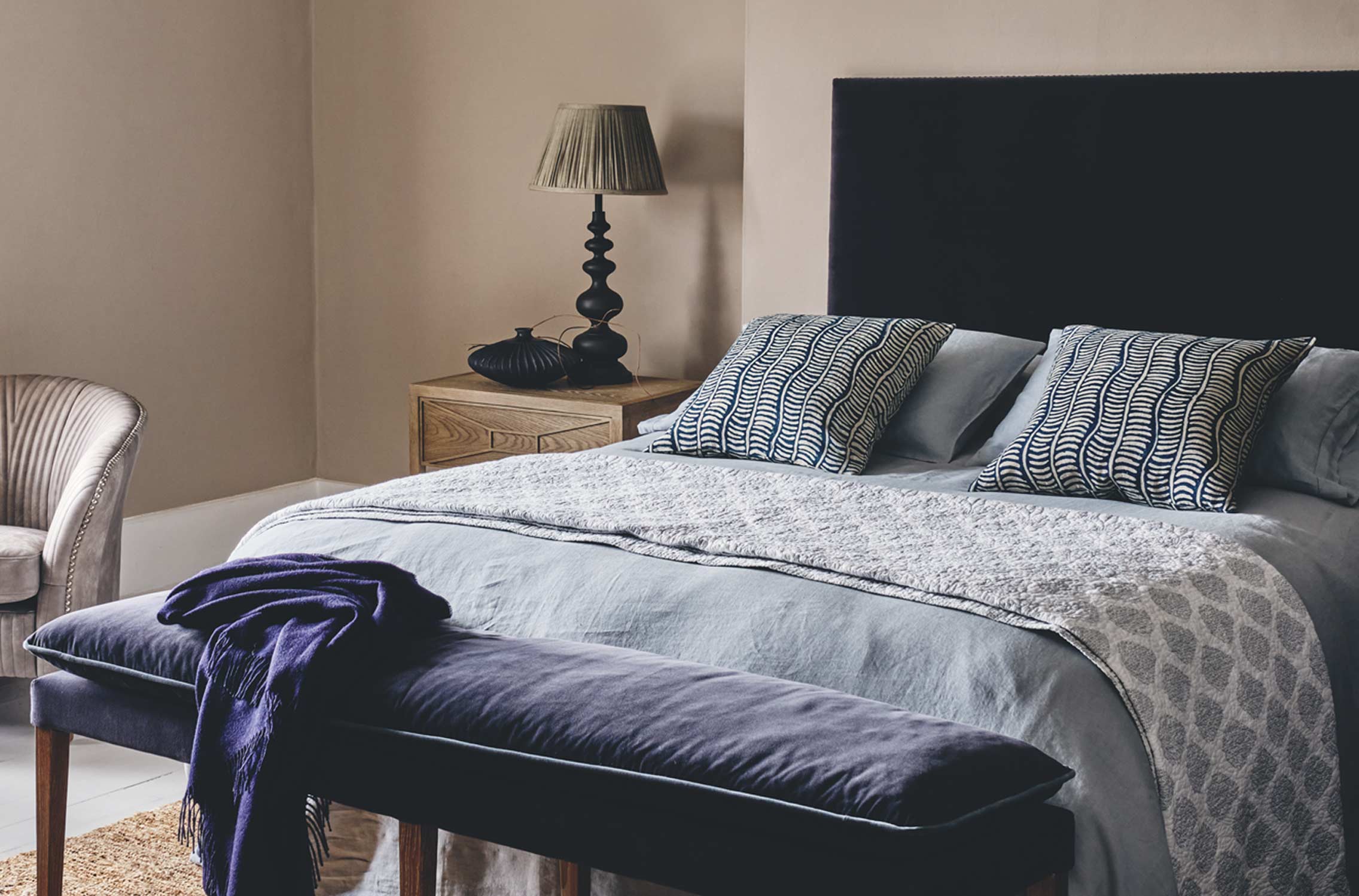 Choosing the right bed base and mattress
Get your foundations right and you'll thank yourself in the morning. Our premium mattresses and frames are made by a family firm in Yorkshire, which has more than 30 years' bed-making experience. With plenty of options to choose from, what form your bed takes ultimately depends on your personal preferences.
A divan base is ideal for those who like their bed to be a little bit firmer; our range is crafted from traceable timber, then padded and upholstered. Then there's the option of storage or no storage: pull-out drawers are a feature of the single and double divan bases, while the larger styles (including double, king and super-king size) feature a lift-up top that offers ample room for all manner of spare bedding or clothing. This function is especially handy if one side of the bed is positioned flush to a wall. For a coordinated scheme, cover your divan base with a valance that matches your headboard or bed linen.
Base level resolved, the next step is to select a mattress; ours are available in Deluxe and Standard, and are sprung to medium firmness, offering fantastic, even support. Each one is covered in the finest-quality, 100% cotton ticking, sourced from traditional English cotton mills, which lasts longer than its synthetic counterparts and guarantees a healthier sleeping environment. When it comes to size, go as large as your space comfortably permits – having extra leg and elbow room is something you'll never regret.
Picking a headboard
A headboard sets the tone of a bedroom, ensuring that the bed is the stylish centrepiece – so pick one that complements your décor. Our styles are free-standing, meaning they don't need fixing to the wall and simply stand flush behind the bed. For something timeless and neutral, the Upholstered & Padded and Classic High Rise styles offer plush comfort; perfect if you like to sit up in bed to read or watch television. They are versatile too: dress them in our range of loose covers, which come with simple tie-back fastenings, or fashion your own by stapling on upholstery fabric of your choice.
For a statement headboard, our Palmette style, with its exuberant leaf-shaped design, will have you dreaming of somewhere totally tropical. And if restrained elegance is more your thing, our Astrid Headboard marries cane detailing with carved mango wood for a considered alternative to traditional upholstery.
Choosing bed linen
When sourcing bed linen, don't be fooled by thread count (the number of threads in one square inch of fabric) – a higher thread count doesn't necessarily mean superior sheets. The most important features to look for are the quality of the bed linen's yarn, its weave and whether it features any special techniques or finishes, such as embroidery. As bed linen comes into direct contact with your skin, night after night, treat yourself to the best you can. Pure cotton, Egyptian cotton, prima cotton and 100% pure stonewashed linen are all safe bets that feel suitably luxurious.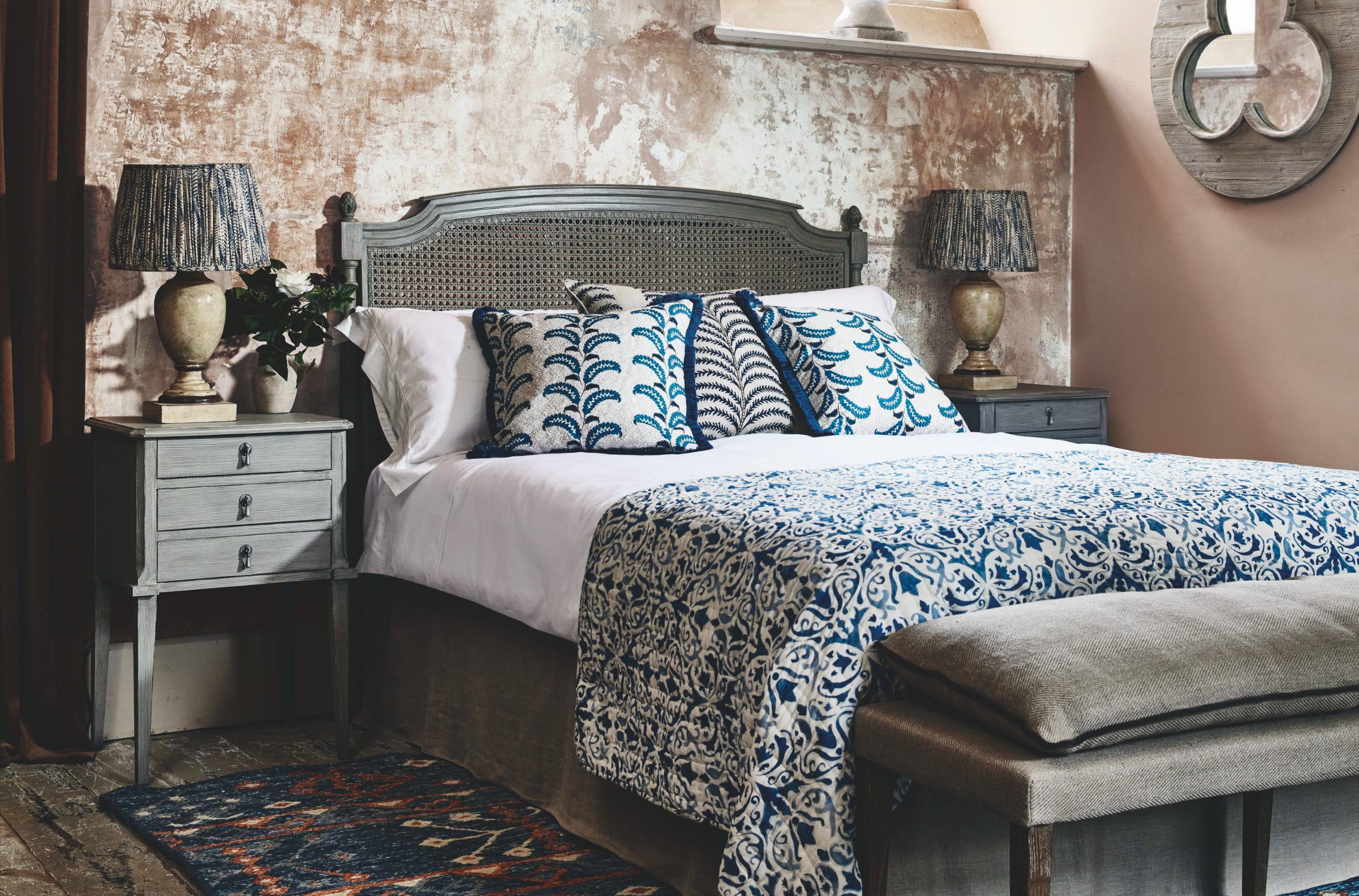 Perfect pillows
Pillows are arguably the most personal component when it comes to making up a bed. Soft, fluffy, firm, thick, thin… everyone is different and special considerations – such as your individual sleep style – might inform your needs. The most common pillow fillers are down-feather combinations, foam or polyester fibrefill, but neck or back pain may be better supported with memory foam or latex versions. What you may not know is that experts recommend buying new pillows every 12 to 18 months. If your pillow is past its prime, it may contain skin cells, mould, mildew, fungus and dust mites (eek!). Extend the life cycle of your pillows by lining each one with a pillow protector and washing them around once a month on a high-temperature cycle.
Get scatter-happy with cushions
Not to be confused with pillows, scatter cushions are the icing on the cake (meaning the bed, in this instance). These soft furnishings instantly elevate a scheme by providing colour, pattern and texture. Cushions can also help tie together other decorative elements in your bedroom (such as valances and curtains), to create a more cohesive look. They can also act as powerful contrasts; don't be afraid to mix and match patterns, as well as shapes and sizes. Linen stripes against squares of cashmere? Anything goes! Just be careful with numbers; too many can overwhelm the bed, while too few will dilute the decorative effect. Experimenting to strike an artful balance is all part of the fun.
Be creative with soft furnishings
The playful part of accessorising your bedroom doesn't end with a scattering of cushions. Throws, blankets and quilts are like the jewellery box of interchangeable finishing touches for your bed. Rotate them seasonally for an instant décor update that is more achievable (and far less messy) than repainting or wallpapering walls. Our printed quilts are ideal for adding interest and texture to plain white bedding, but the knack lies in styling them up to (and not over) the pillows, leaving any overhang to drape at the bottom of the bed. Looking for a luxurious twist? This is where a throw or blanket comes in. Layered over the top of the bedspread, you'll be thankful for our baby alpaca throws in jewel-tone colours come winter, and our faux-fur throws are hard to beat.
Benefitting from bedside storage
A bedside table is a necessary luxury: somewhere to house a glass of water, a book and a reading lamp. A small side table rises to the task perfectly, providing a simple ledge and a greater feeling of space if there's a void underneath the top surface. For something more hardworking, a drawer unit offers valuable storage potential and can coordinate with other pieces in our ranges – the Versailles Collection is a great example of this. A stack of low shelves is a happy hybrid of the two: a place to prop a stack of must-read books, hand cream and sentimental trinkets.
Throw some light on the matter
Good lighting is key when creating a calming atmosphere in a bedroom. Pass on harsh, overhead lights in favour of several soft and ambient sources. Table lamps cast an effective glow when it comes to bedtime reading, and also pass muster as objects of beauty when switched off. The question is, how much do you want your lamps to steal the show? Our ceramic styles come in oversized, curvaceous forms and in an array of both bold and neutral colours. Fossils, leopards and spheres inform our sculpted offerings, and that's before you've even got to the stage of picking out a lampshade. You could, of course, go matchy-matchy with the base and your décor by picking out a colour from your bedspread, or go completely maximalist and throw some stripes or contrasting patterns into the mix.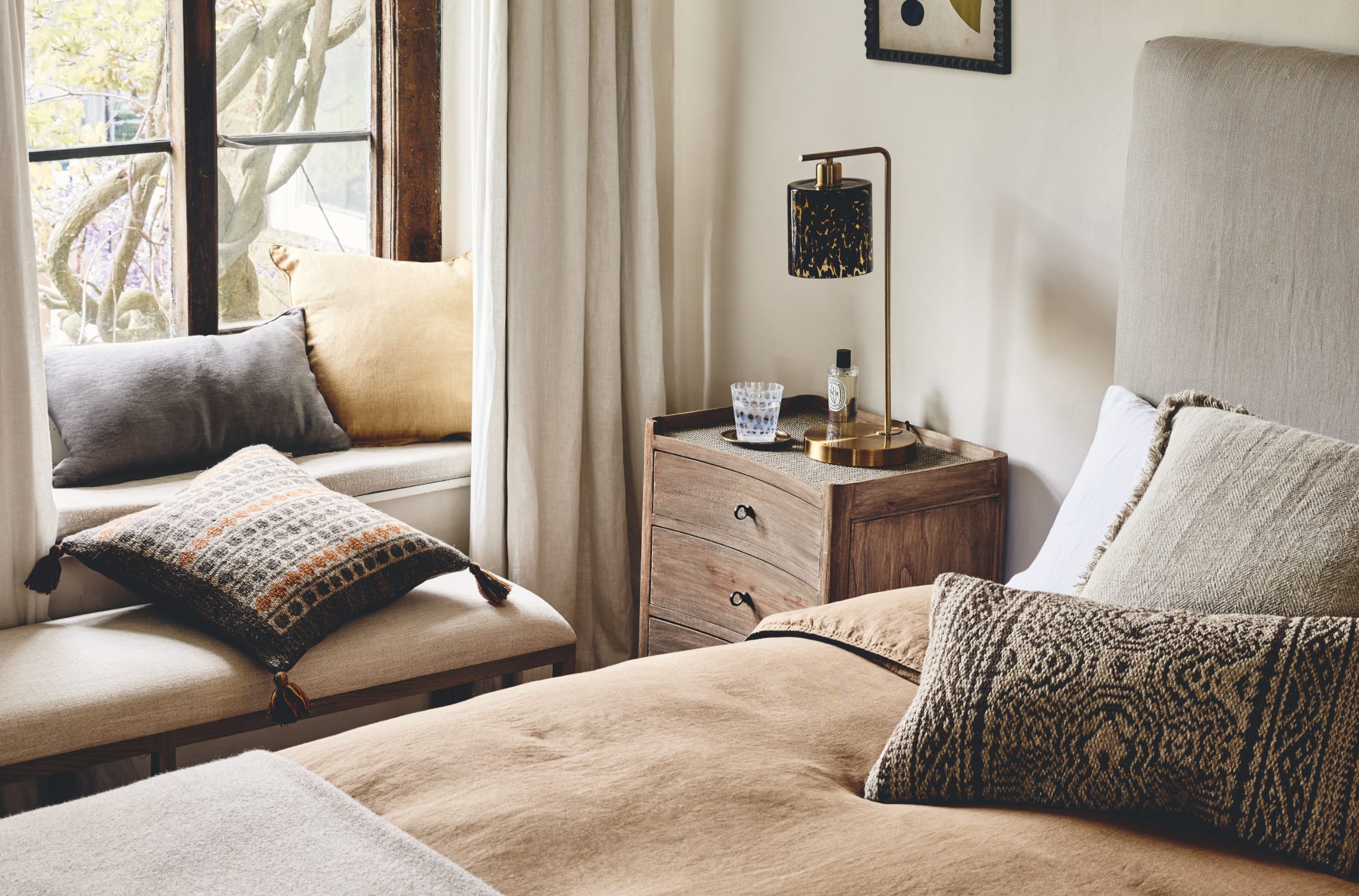 Step onto something lovely
Even though you may never want to leave your bed, stepping onto something soft and tactile will take the edge off getting up in the morning. A desirable rug can take the form of a pair of slim runners on each side of the bed, or a large-scale piece positioned underneath to create something of a border. The latter looks particularly impactful if your bed base is a frame – rather than a divan – as more of it will be exposed; just remember to scale up in size, as you want ample floor coverage on each side, as opposed to a meek display of pattern. Persian designs are true chameleons, adapting effortlessly to the surrounding décor, while a geometric design works well in a more contemporary setting.
And finish with… the end of the bed
Bring the boutique hotel vibe to your bedroom with a piece of furniture positioned at the foot of your bed. An unexpected and glamorous addition, there are various options to choose from. If space is abundant, then add some seating with a compact, plush sofa; this anchors the bed frame within the setting, in much the same way as a headboard does, while also providing a place to lounge without having to retreat directly to bed.
Double-duty heroes – such as an ottoman or blanket box – provide storage for the bulky bedroom staples you want in easy reach (extra pillows or a spare blanket). Have some fun with a statement piece in opulent velvet or intricate embroidery to add texture to the room. Or, for something more streamlined, you could opt for a low bench or a matching pair of stools. The perfect spot for tying a pair of shoe laces, these can also house items you wouldn't want cluttering the floor, such as last night's sweater or the gym kit you'll need in the morning. For a more considered look, treat the extra surface like a coffee table: a tactile area on which to curate large-scale picture books, plus trays filled with candles and magazines.