"I love spring and summer. They're seasons of great promise and we are delighted to be introducing yet more exciting pieces into the collection," Sue Jones, our Co-Founder and Creative Director, said when she spoke to us about the inspiration behind and finishing touches to our Spring Collection. We wanted to share some stories about the process of designing our new pieces with you; from creation to special features and naming influences, they're all awash with Sue's fascinating morsels and signature pearls of wisdom. Read on to find out about a few of our favourites.
Lauretta Wine Cabinet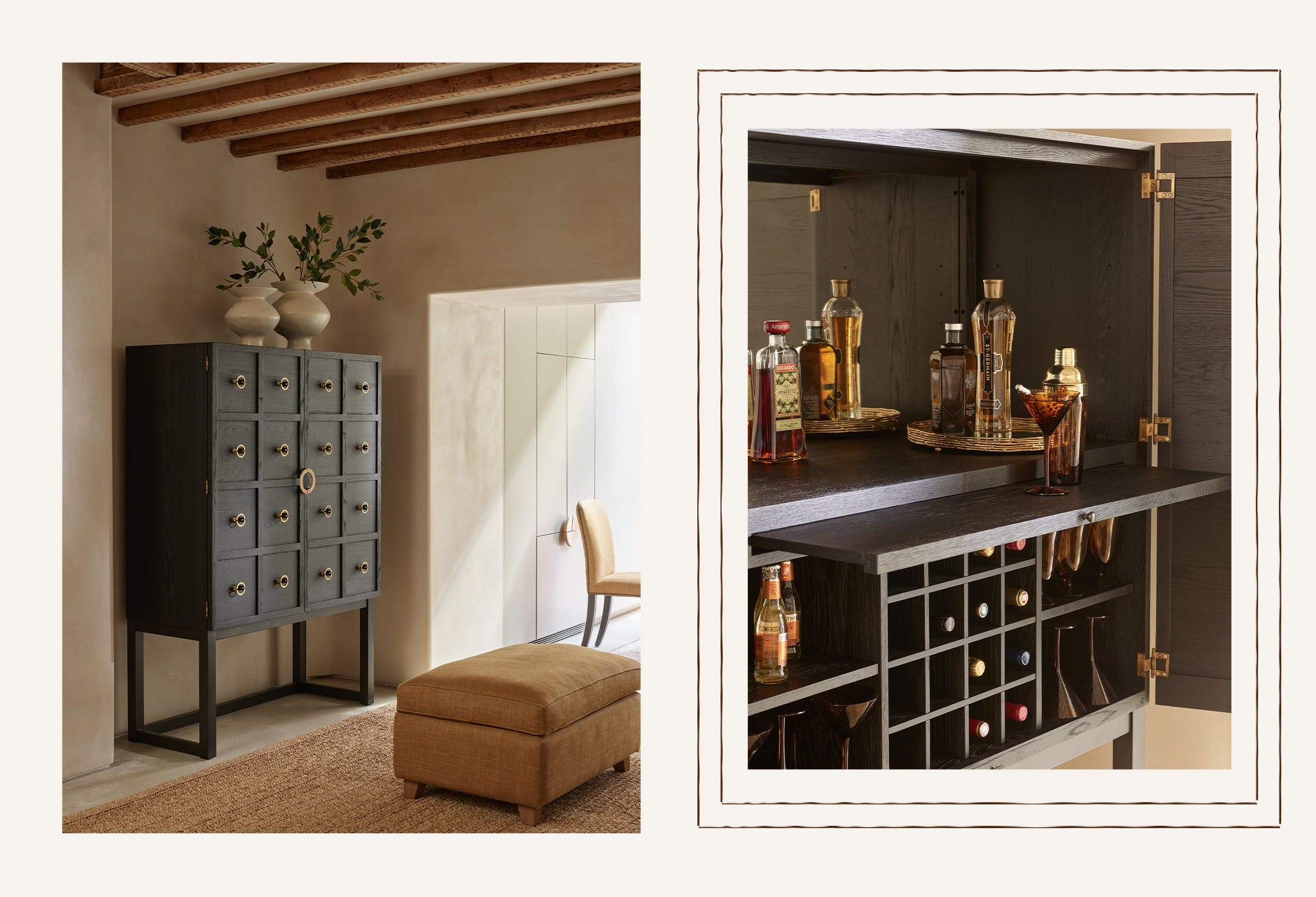 Our Lauretta Wine Cabinet is full to the brim with exciting and practical features, from its 16-cubby strong bottle rack and mirrored back to a concealed shelf that can be pulled out for the perfect tipple preparation surface. The name perfectly reflects its 1920s style, with the circular brass details and ebonised oak finish lending glamorous touches. These features are a design theme that has been carried through our collection, as you will see below. Sue says, "I wanted to introduce this showstopper cabinet, which is made from top quality oak, as it's not overtly modern but also not old fashioned, so it will fit into all types of settings." She also suggests that if you're a fan of Lauretta's striking style, you should keep your eyes peeled…
Crawford Console Table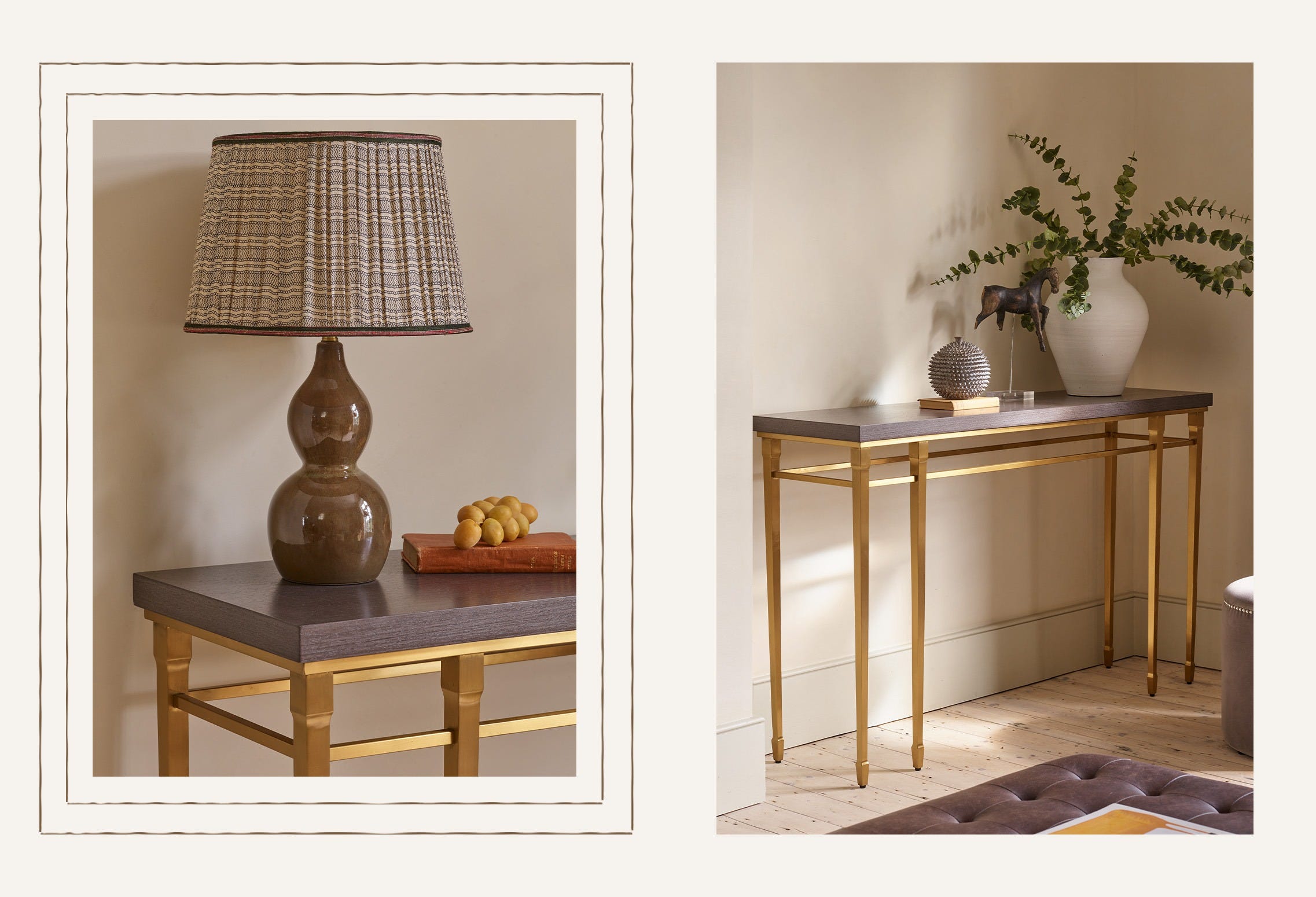 The Crawford continues in the footsteps of the Lauretta's iconic Art Deco styling with its eye-catching design. Pairing contrasting materials "is something I love doing," says Sue. The mix of ebonised solid oak and high-quality metalwork brings warmth to interiors while also infusing a space with a modern touch. Crawford has an asymmetrical aesthetic with its elegantly tapered legs, four of which stand at the front, and two at the back. This really enhances what is, overall, a simple and minimalist design. You can find similar style shaping our brand-new Eldora Console Table, too.
Solomon Coffee Table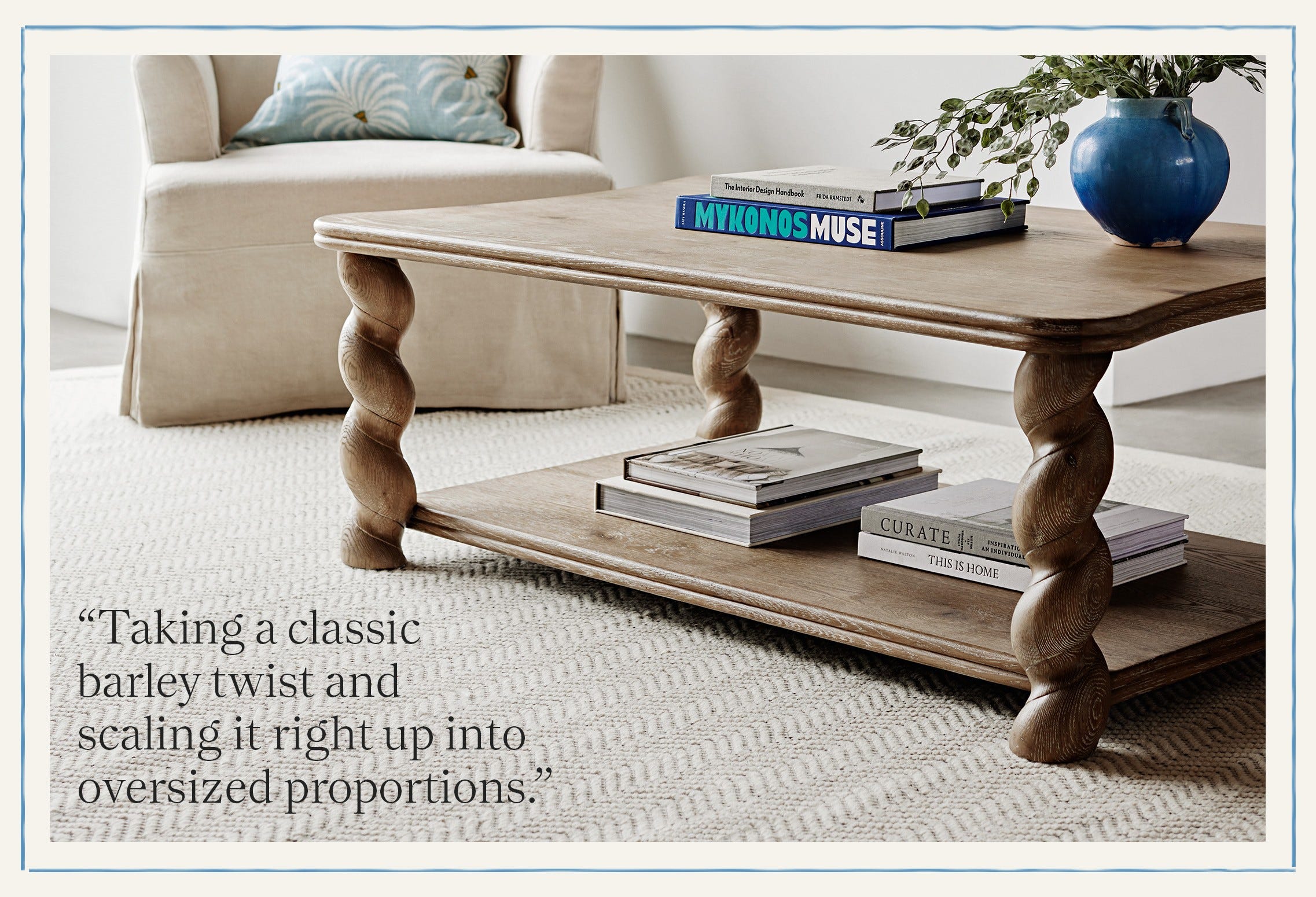 We have added several oak coffee tables to the range that "perform the same function, but have totally different attitudes," says Sue. "I love oak. It's reliable, strong and interesting. The Solomon was designed by taking a classic barley twist and scaling it right up into oversized proportions." The barley-twist detail was hugely popular in the 17th century; allowing striking styles such as these to resurface with a modern spin is something we love to do at OKA. The name stems from the original inspiration for the barley twist style, which was influenced by the spiralling pillars in Solomon's Temple, built in 700BC. The curvaceous chunky legs lend a playful, sculptural touch, further enhanced by the double-bullnose edge detail and concave ends of the tabletop.
Filippo Linen Sofa
The Filippo, while not an entirely new piece in our collection, highlights the difference that materials can make to an interior's aesthetic. "A simple change in cover can completely transform something beyond recognition," says Sue, who has introduced a number of loose-covered pieces over the years to make switching up interiors easy for everyone. Our original Filippo was designed in a dark Charcoal velvet, and proved hugely popular, but here it serves a different purpose with a light-coloured heavy linen cover which makes it feel much fresher and more suitable for airy spaces.
Eris Bead Range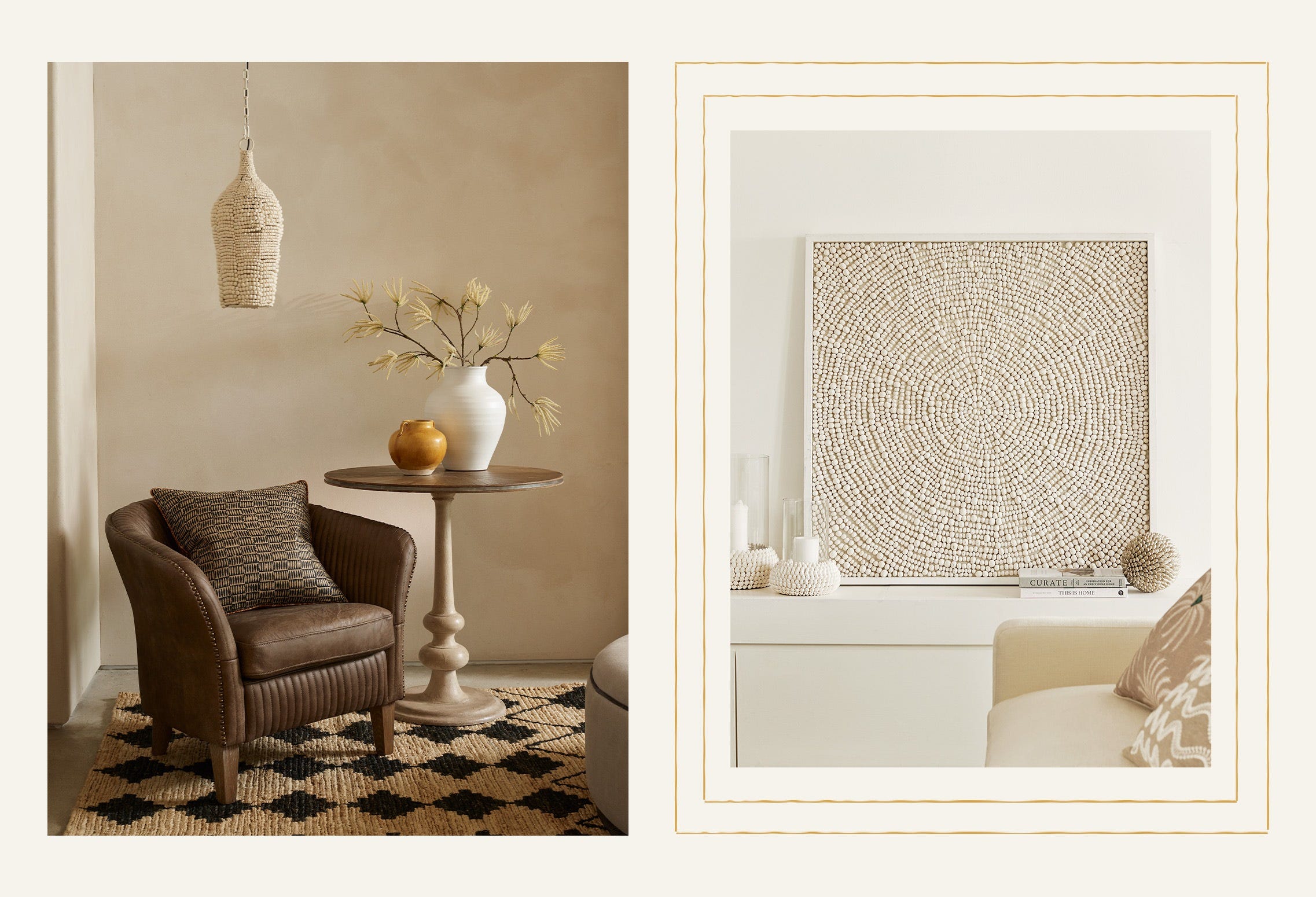 The Eris Bead Range is an extremely exciting collaboration between OKA and The Handmade Story, a company founded in South Africa by an extraordinary woman committed to supporting women who have been affected by poverty and HIV by giving them new skills and employment. "I am incredibly proud to be introducing these pieces into the range as they represent everything I hold dear: beauty, quality, loyalty, attention to detail and plain hard work," says Sue. The pieces are created from clay, which is sourced from local mines and then hand-rolled into beads, a process that requires a lot of skill and has minimal impact on the planet compared with other materials, such as plastic or wood They bring a natural and pared-back style to interiors, proving that sometimes simple is best.
Albert Outdoor Range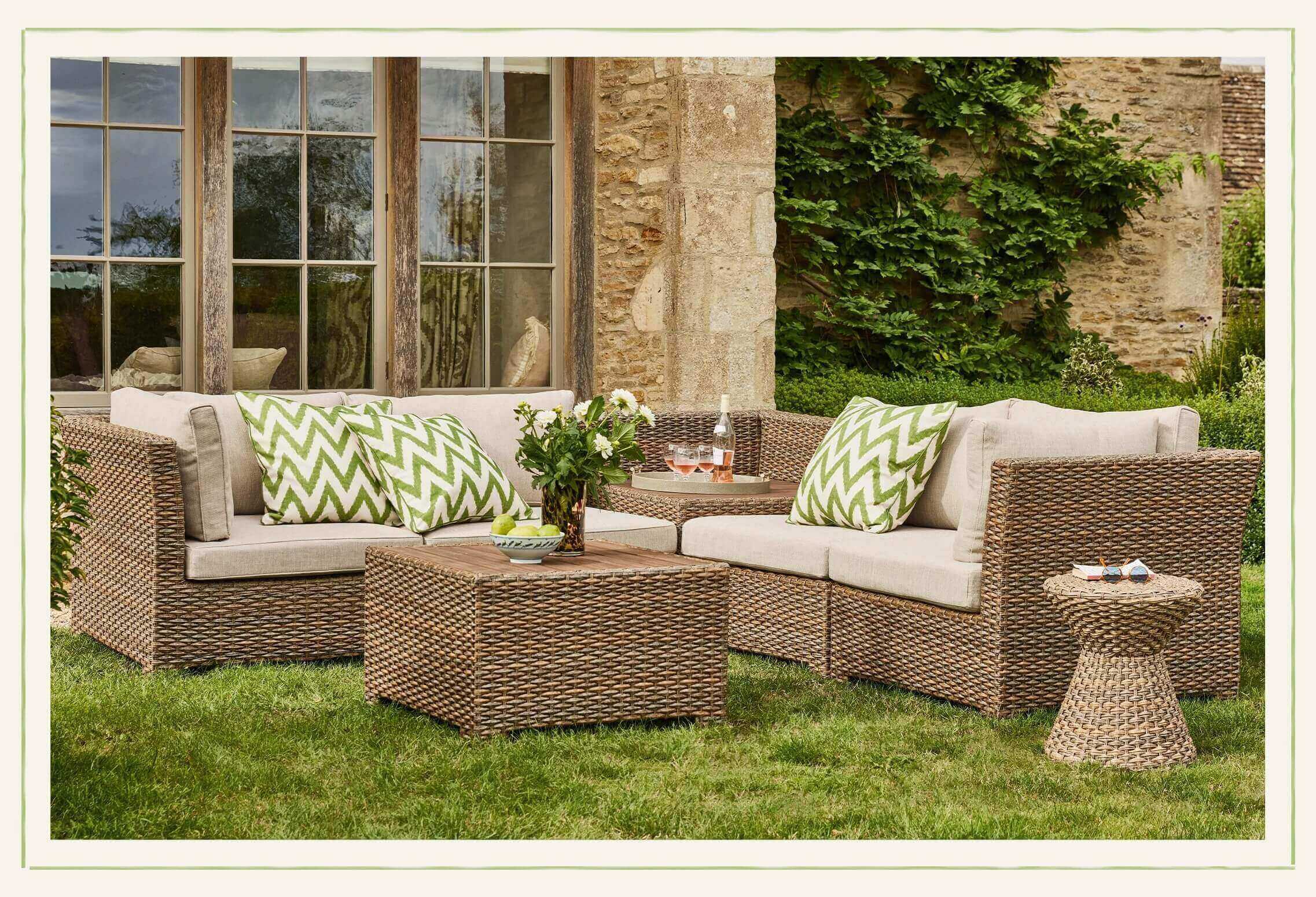 We're always excited to build on our range of garden furniture and accessories because we feel there's nothing better than lounging outside throughout the summer months, or indeed whenever the sun decides to rear its golden head. As Sue says, the Albert 3-Seater Sofa and Armchair are "faux rattan as you've never seen it before". In fact, the pieces are actually crafted from weather-resistant rope that's woven in a crosshatch style for a beautiful yet durable finish. "I can see them in an English garden as well as an American pool terrace," says Sue. It's the subtlety of the colouring and the soft lines that give the range this adaptability and make Albert such an all-round star.
Mini Grisewood Wireless Lamp and Shade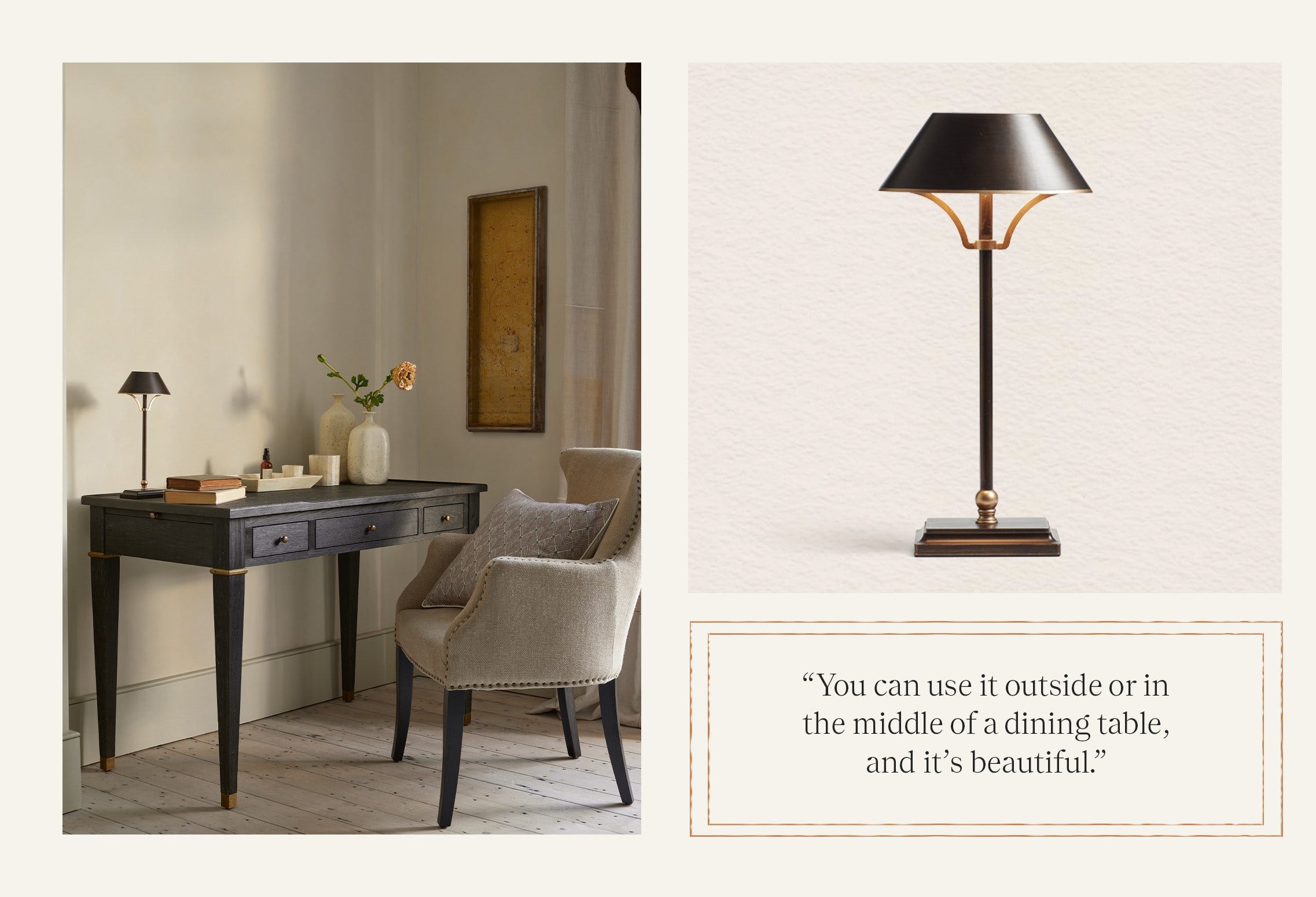 You may be familiar with our Grisewood Table Lamp, a real hero in our range, but this baby version is a one-of-a-kind that we're incredibly proud to be introducing. Its even more petite appearance is pretty in itself, but its practical features – cordless, LED, dimmable, chargeable – are what elevate it to something special and unique. "You can use it outside or in the middle of a dining table, and it's beautiful. It would also make a marvellous present." Being so easy to transport makes the cordless lamp more versatile than anything else in our lighting collection, and its smart style would fit into all sorts of interior and exterior aesthetics, so it's a good job that you can move it wherever you please.