Actress by day, seasoned host by night, Laura Haddock wears many hats. When she's not starring in Netflix's popular series White Lines or the much-anticipated period film Downton Abbey: A New Era, she's filling her home with friends and family – especially during the festive season, which she looks forward to all year round. Entertaining is a passion of ours here at OKA, so we were thrilled to team up with Haddock for our Christmas film, in which she prepares her perfect festive party.

A sit-down dinner, drinks on the go – everyone mucking in and making themselves at home," the actress says of her dream get-together. "I love having all of my best pals together – reminiscing, playing games, lots of laughter and storytelling, all the while gearing up to put the record player on and have a boogie."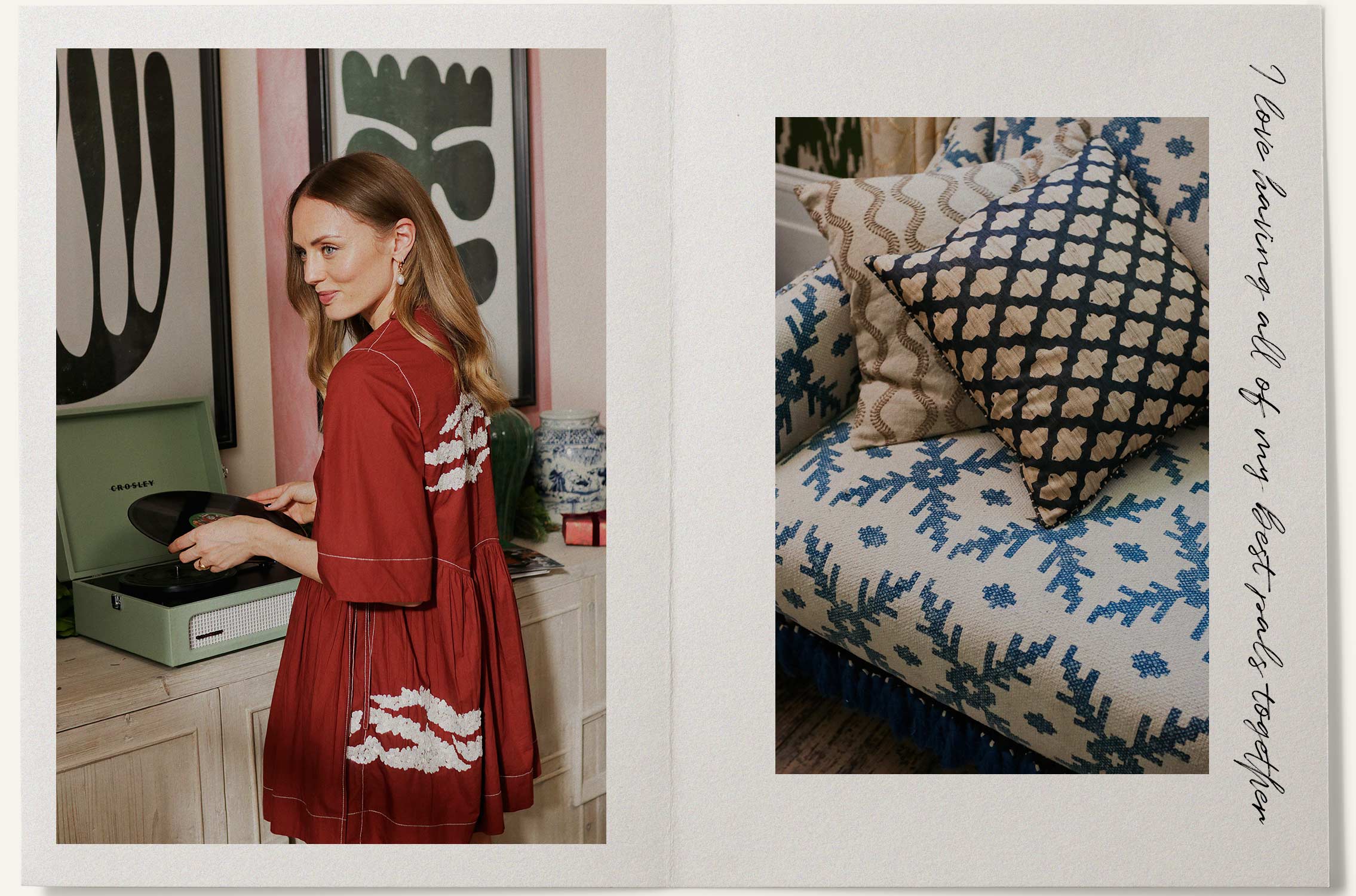 The ultimate Christmas bash calls for a suitably festive setting. For our seasonal film, we created an elegant look that toes the line between cosy and characterful, sparkling with candlelight, pattern and unique textures. It's just as fitting for a laidback Christmas movie night as it is a raucous festive party with plenty of drinks and music. A home bar and a table set for a festive feast provide the essentials required to kick-start celebrations, while a sofa piled high with cushions easily allows for Haddock's favourite part: games, laughter and reminiscing until long after dinner.

I love the food, the drinks, the company – the hustle and bustle of a packed house blanketed in the smell of whatever's cooking," Haddock says of Christmastime. "I love a mince pie (and Christmas pudding) and probably eat about 350 roast potatoes in three days."
No Christmas is complete without dazzling decorations; a tree glittering with fairy lights and baubles, a mantelpiece topped with a faux garland of winter foliage and gifts perfectly wrapped and waiting for lucky recipients. Just like us, Haddock prefers her decorations to be stylish with a hint of festive whimsy. "I like a natural, tasteful Christmas theme, but I have to give my children some bold, colourful magic that they can immerse themselves in," she says.
In the Haddock household, preparations for Christmas begin as early as September, when her mum starts putting together her annual festive quiz. "It's a tradition we both look forward to and giggle at," the actress says. "It takes hours, broken up by someone getting hungry, drinks being made and a story that just has to be told."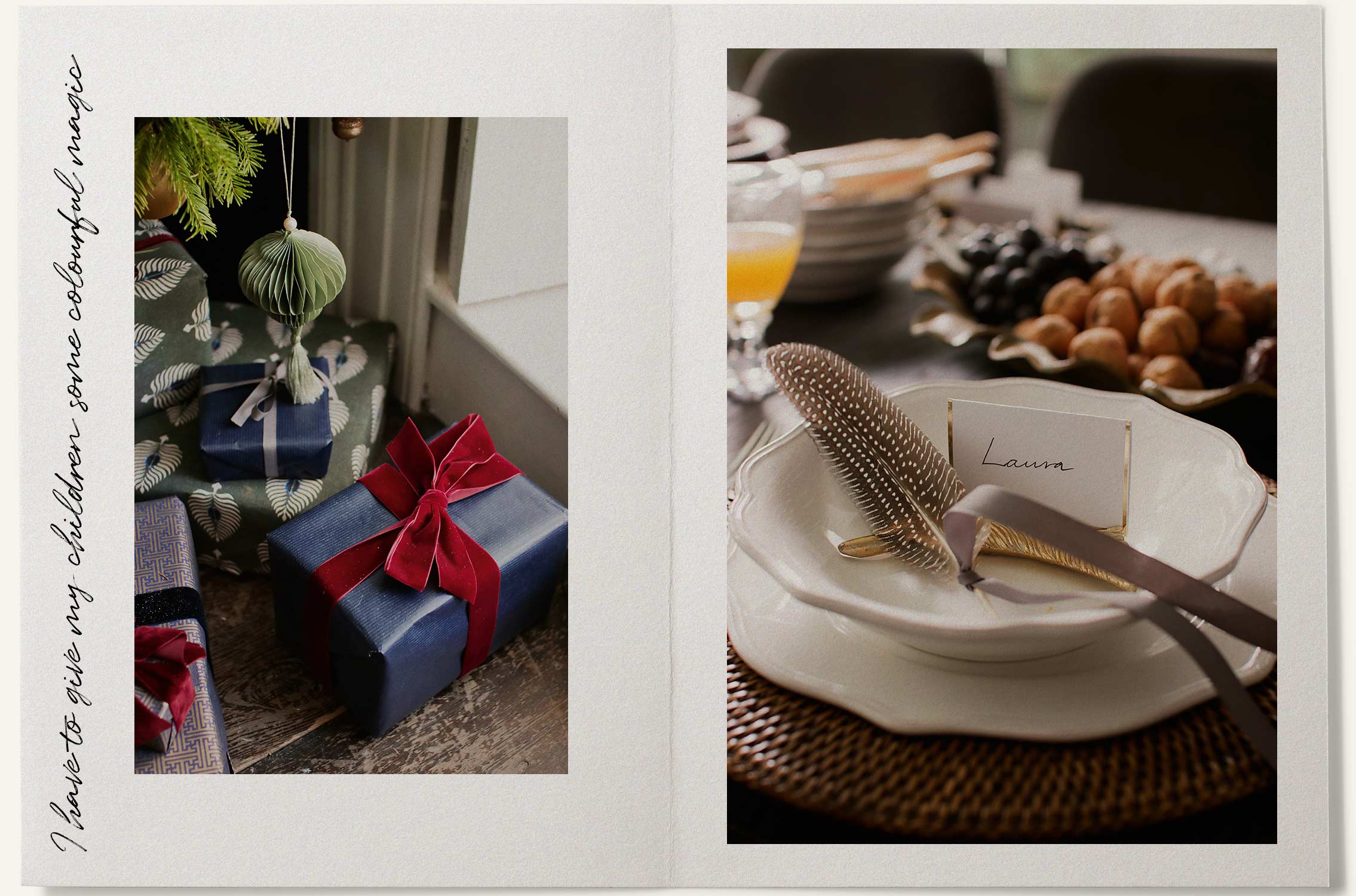 When the big day arrives, it's a fun-filled, family affair, steered by her young children and involving copious amounts of festive food. "We wake up early and run downstairs to see if Father Christmas has visited us. Then we open some presents and have breakfast – usually salmon, scrambled eggs, buttery sourdough toast and perhaps a cheeky glass of champers," the actress says. "We usually stay in our pyjamas until the afternoon, when we take the dogs for a walk and give mum some much needed space in the kitchen. Then we return, chilly and hungry, for lunch at 4pm; my mum likes to serve it just as the sun is going down."
On the menu is a traditional Christmas dinner, with turkey and all of the trimmings, plus plenty of puddings – "apple pie, mince pies, Christmas pudding and brandy sauce. There's usually a cheese board at some point in the evening too". Sherry, red wine and champagne are on the drinks list – because what is a festive celebration without a toast?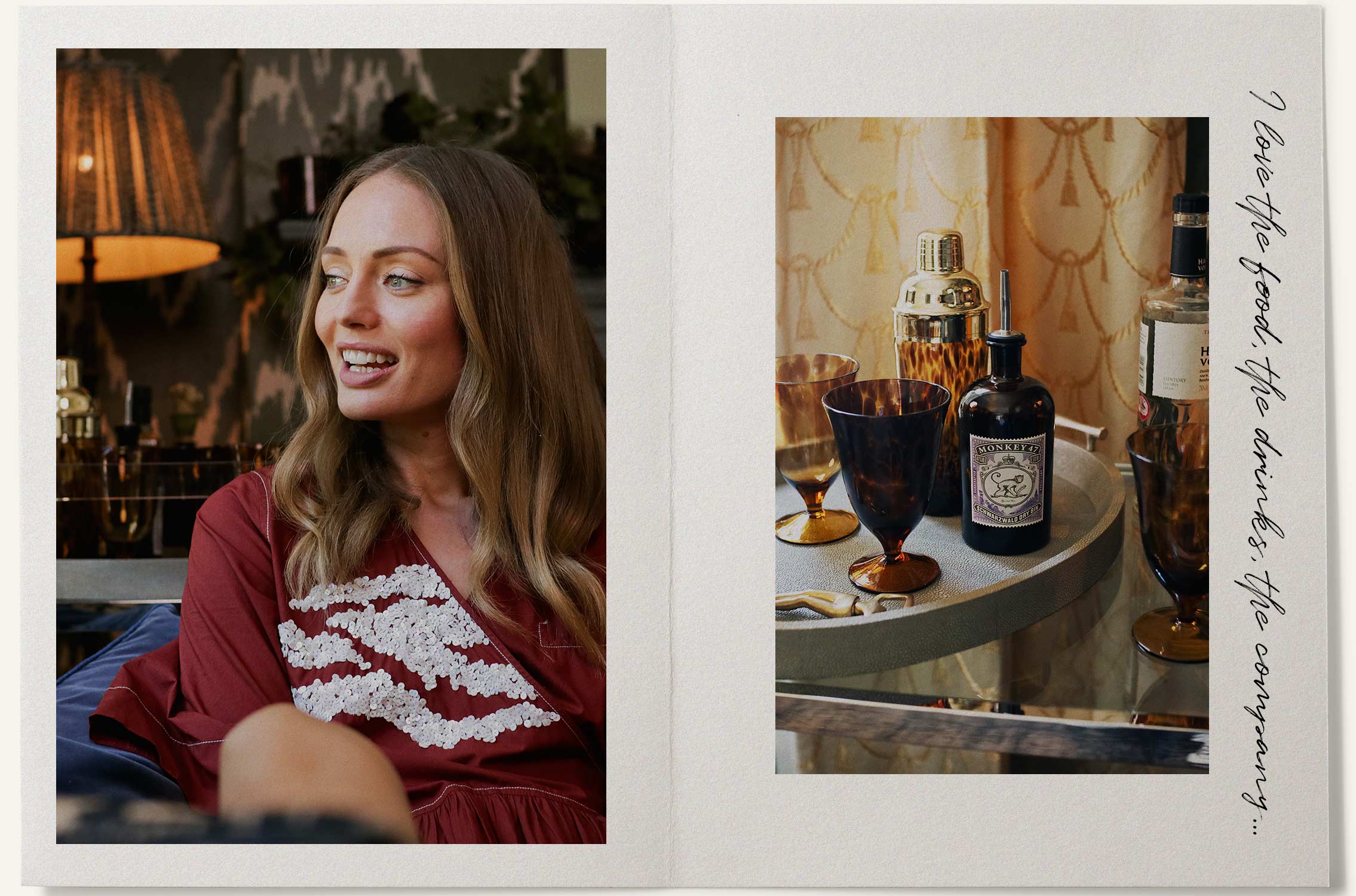 Christmas cocktails are Haddock's tipple of choice in our seasonal film, in which a bar trolley teeming with drinks and glassware sets the scene for a celebratory evening. If you're hosting a festive get-together this year, however large or small, follow the actress's lead and bring the joy of the season to your home with suitably sparkly decorations, a twinkling tablescape and a well-stocked bar for drinks aplenty – the essential ingredients for a very merry Christmas indeed.
Photographs by Charlotte O'Shea. Words by Ellen Millard.