At the heart of each of our designs is a belief that your home should reflect you and your lifestyle, and nothing says this more than our made-to-order furniture range, Tailored by OKA. Joining the family this season is the Haywood Armchair, alongside the Barrett, Cecil, Hughes and Wickham – each of which is available in a selection of sofa sizes and as an armchair – as well as a several new materials: Fine Basket Weave, Bouclé, Boiled Wool and Heirloom Leather. With each new addition to our customisable furniture collection comes myriad more interiors possibilities, so you can realise your bespoke vision. Allow us to introduce the newcomers.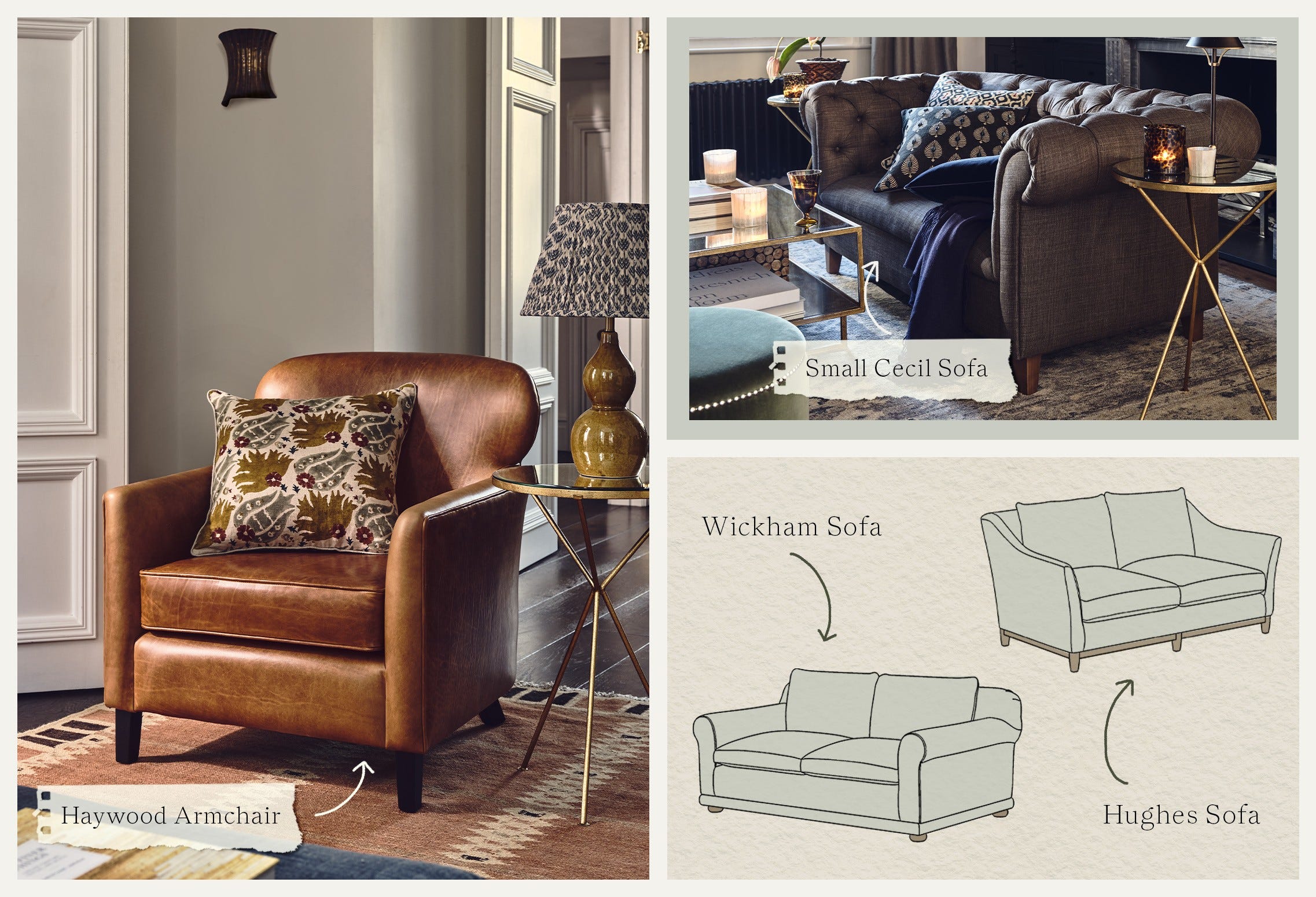 When Tailored was first conceptualised, our goal was to keep things simple; to create pieces that could truly fit into anyone's home, regardless of its size or style. "Each of the pieces are very different to the other, but what they do have in common is that they are so beautifully uncomplicated and extremely comfortable," our Co-Founder Sue Jones says. This certainly rings true for our five new styles, where craftsmanship and comfort take centre stage. These English-made sofas and armchairs are lovingly brought to life by a family-run business, which has long been staffed by some of the most passionate and skilled makers out there.
Our new designs bridge the gap between classic and contemporary style. For traditional appeal, look no further than the Cecil, complete with a buttoned back that evokes all the charm of a Chesterfield. The Barrett and Wickham cut more modern silhouettes thanks to low-slung profiles; the former celebrates clean lines, the latter a softer shape. For similarly soft curves, there's also the Haywood, our take on a club chair that nods to Mid-Century design, while on the other end of the design spectrum sits the Hughes, with slanted arms and a streamlined form. They do all share at least one (very important) trait however: each is supremely comfortable, thanks to carefully crafted deep seat cushions.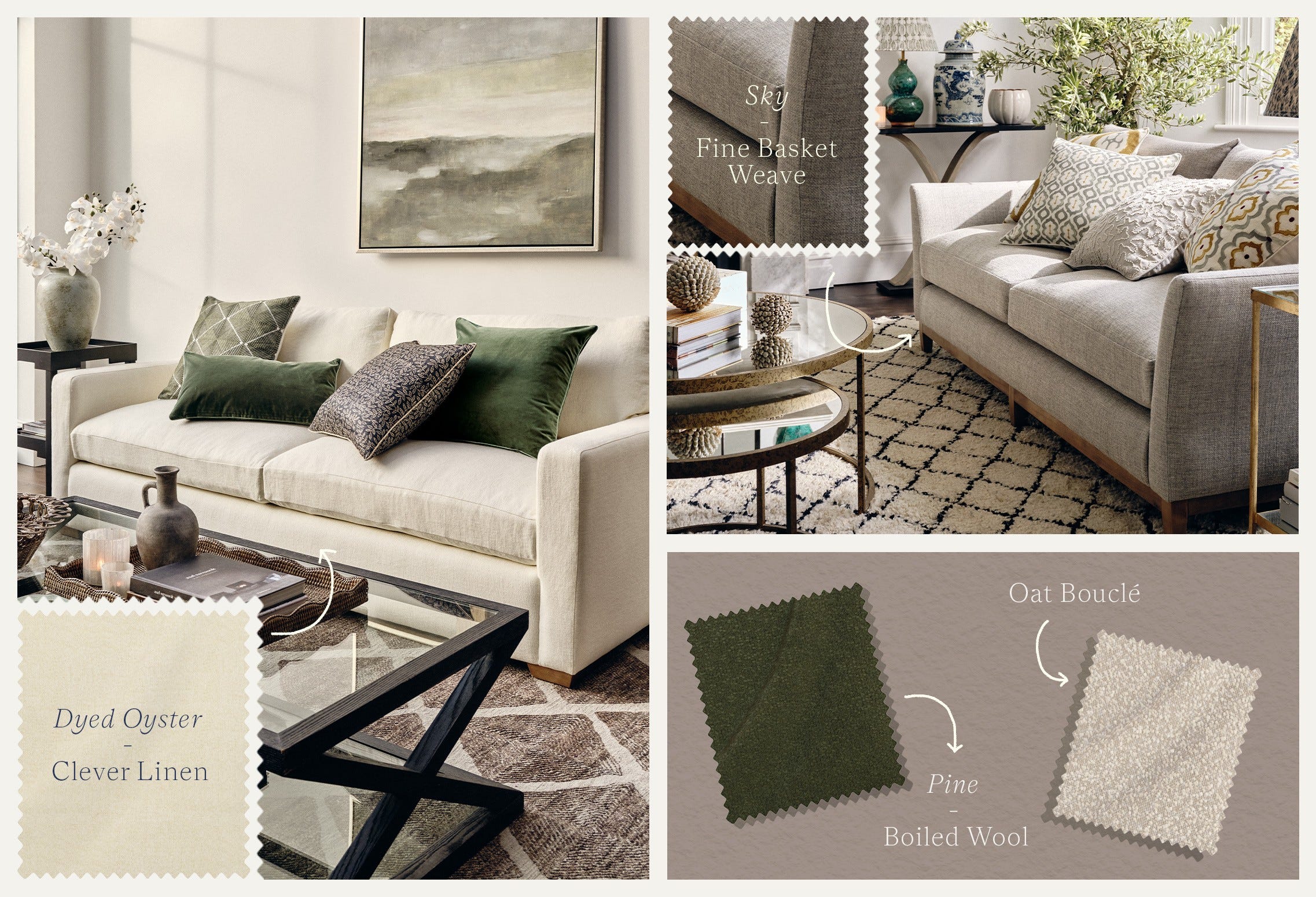 The beauty of a made-to-order sofa is that it can be tailored to suit your style, which is where fabrics come into the mix. We're thrilled with our first foray into linen-wool blends; the combination of fabrics in our Fine Basket Weave each interact with dye in a different way, resulting in a soft melange of tones and a beautiful sense of depth. Crafted in a single mill in Italy and available in three rustic hues, it has a lovely heritage feel about it. Then there's our Oat-coloured Bouclé, which is the perfect choice if you're after upholstery that is very durable, with a bit of soft texture – it is expertly woven in Belgium and dyed twice for a 'highlight' effect. Next up: buttery soft Heirloom Leather in two shades of brown, which, like all high-quality leathers, will only look better with age. Last but certainly not least is Boiled Wool, which is made in the Scottish Highlands. From light Milk to deep Pine, each of the three colours available creates a feel that is at once cosy and smart, ideal for seating in a snug or a formal sitting room.
Whether it's an armchair for one or a sofa for the whole family you have in mind, you're bound to find the perfect fit with Tailored. Visit us in-store to test drive the collection, or get stuck in and design your own furniture with our online tool.