A home should be a reflection of the people who live within it, a treasure map of clues that hint at a household's character – bright colours for the maximalist, gallery walls for the art collector, a bar cart for the entertainer, for example. Curating a space that speaks to the individual is the forte of our Tailored by OKA collection, a range of made-to-order sofas, armchairs and footstools that can be customised with a choice of colours and fabrics. To put its versatility to the test, we called on three interior designers – and friends of OKA – to reimagine our Egerton loveseat. The brief? To be as bold as they dared.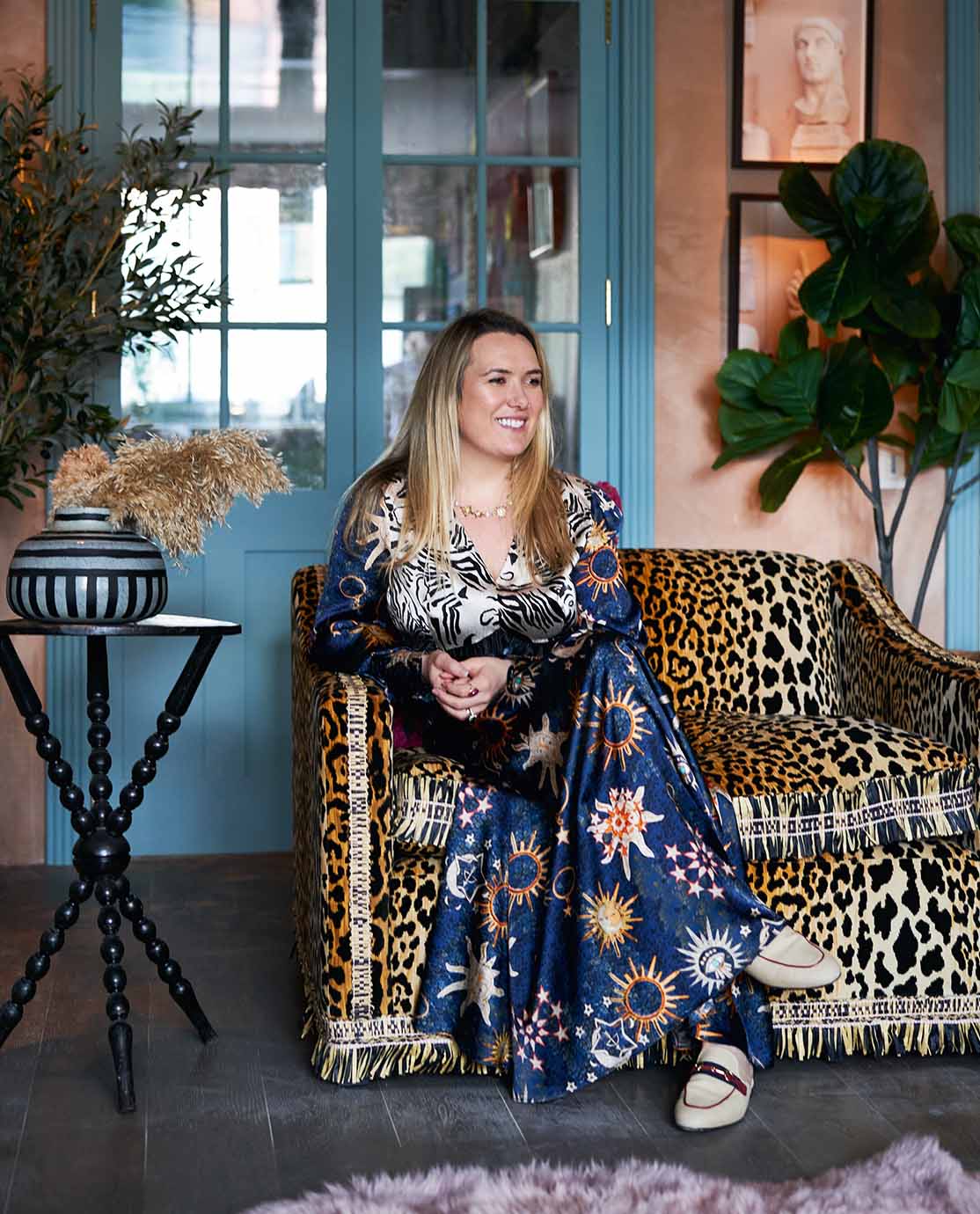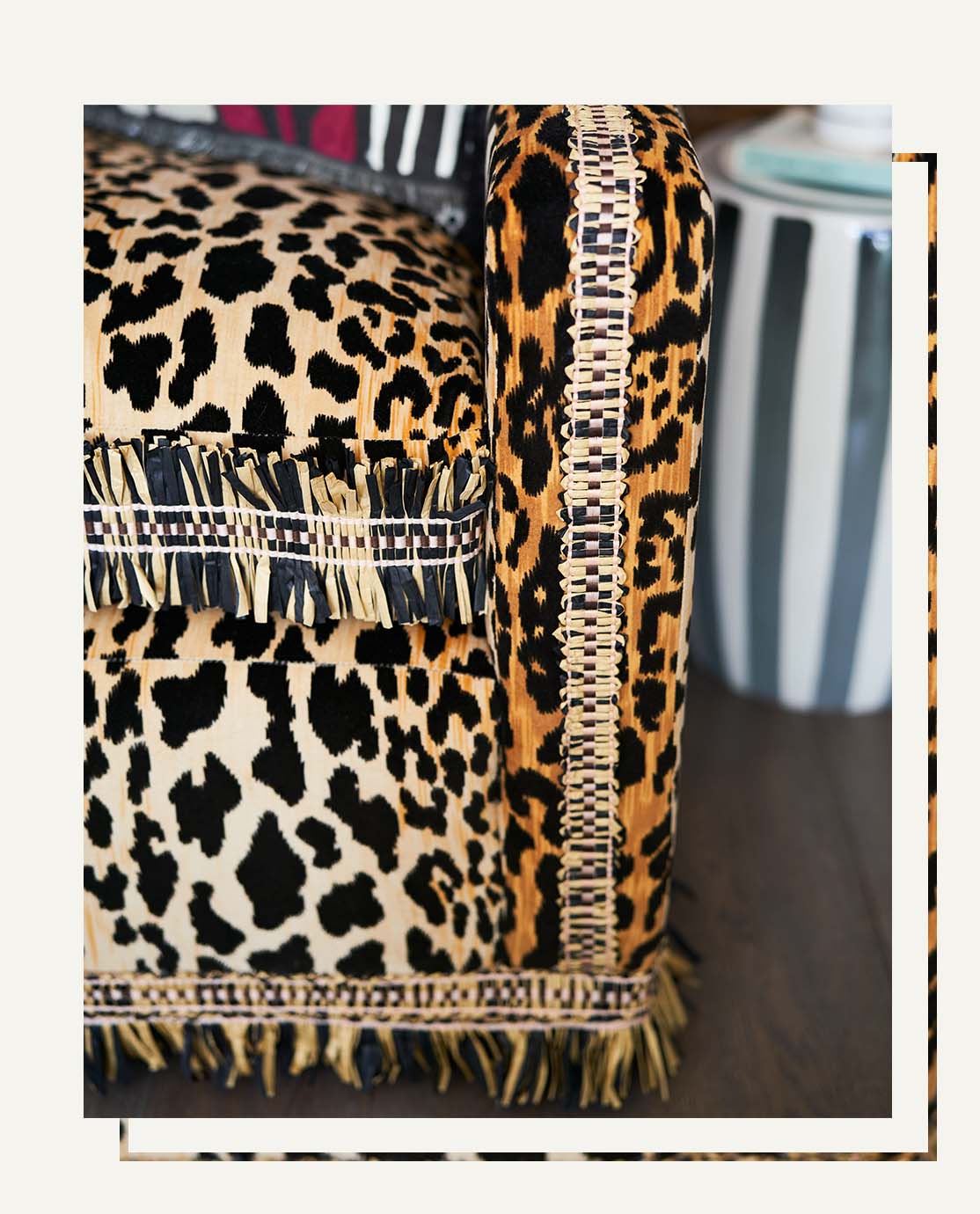 A lifelong love of leopard print meant there was only ever one fabric choice for Lucy Barlow's creation. The co-founder of interior design company Barlow & Barlow upholstered her Egerton in printed velvet, finishing it with a raffia trim created in collaboration with passementerie maker Jessica Light. "I think we all need a bit of exoticism in our lives, especially in the UK where it can be so dreary sometimes," the designer says. "I love a bit of leopard in every interior; sometimes people think it's a bit naff, but it's actually a very classic print, and used sparingly it can look amazing." Her vision for the sofa is "a contemporary space, with a simple plain linen cushion to let the sofa do the talking. In a more traditional scheme, I'd add some printed cushions: pattern on pattern on pattern".
"I like the dance between clashing elements," Gavin Houghton agrees with Barlow, "such as putting a stripe next to a small print, and then adding another big pattern." The designer's playful approach to interiors is evident in his take on the Egerton, a verdant ticking stripe fabric with a cherry-red bullion fringe. "I wanted to do something slightly contemporary," he explains. "I love stripes and this fabric is one of my favourites – a Tissue du Helene – so it seemed perfect. The loveseat has quite a graphic shape, so for me it wanted straight lines." His creation speaks to his design aesthetic, a "very classically English" style, "with a modern wit. It's very eclectic; John Fowler mixed with David Hicks, and a bit of Bloomsbury."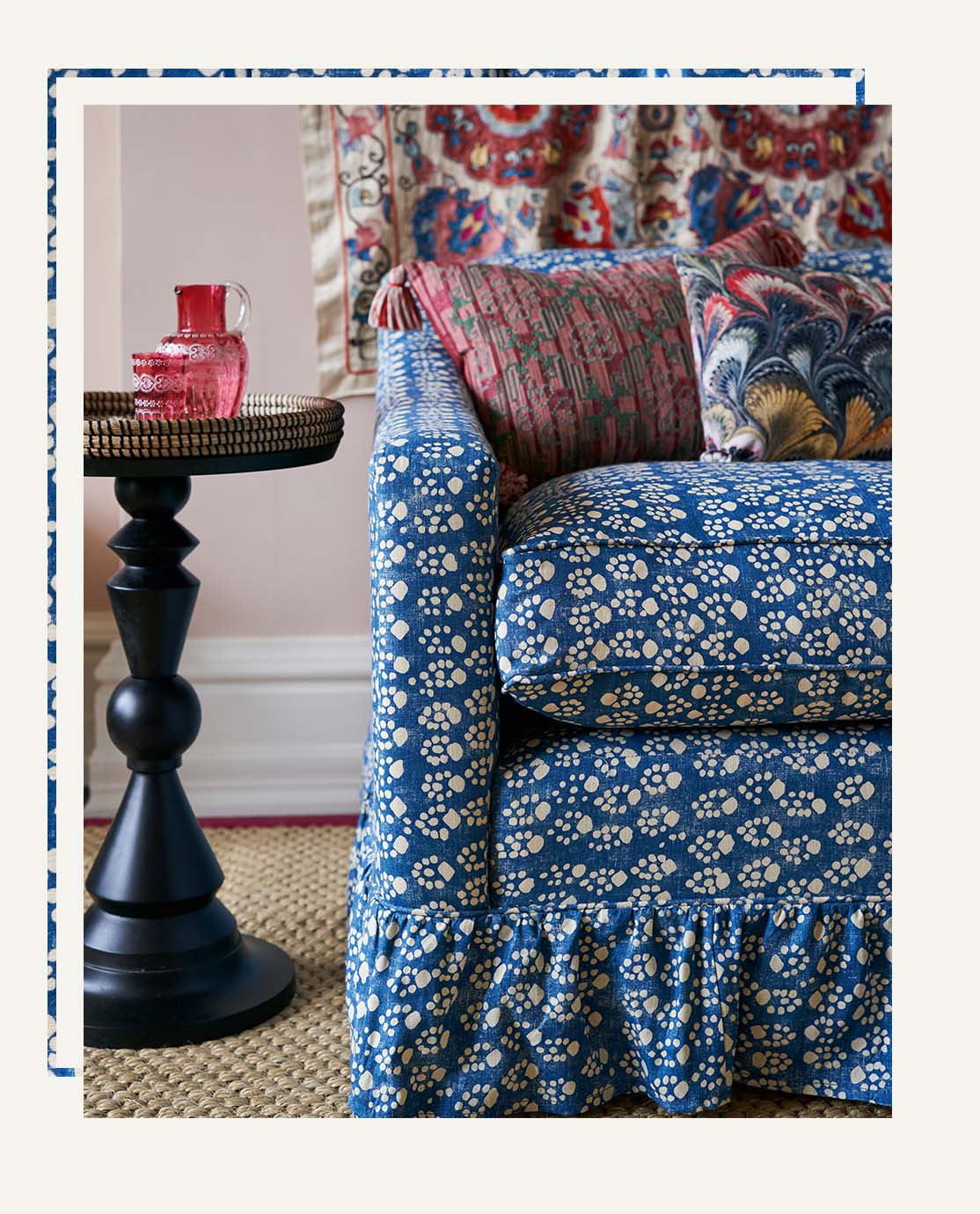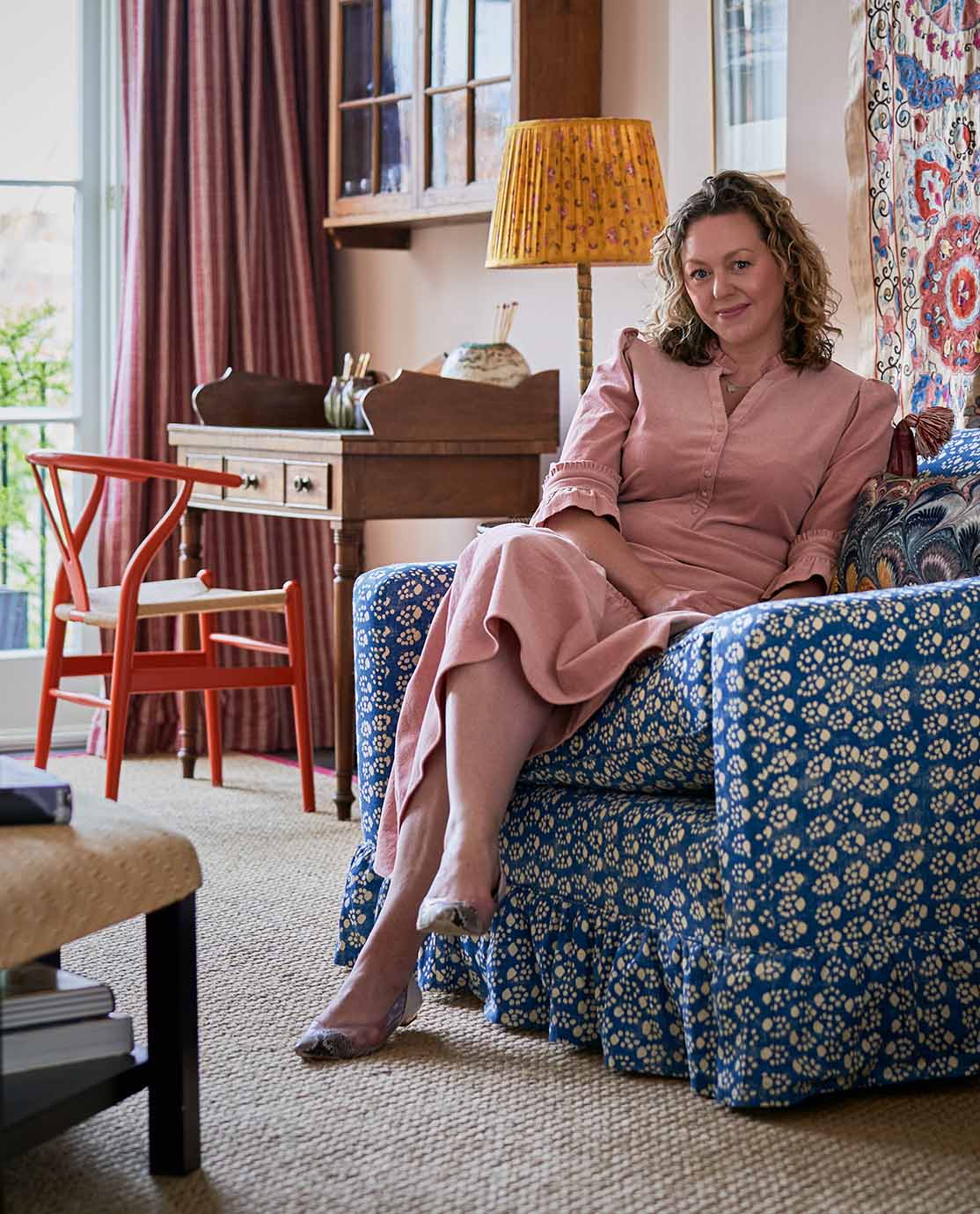 In contrast to Houghton's more masculine design is Jessica Buckley's creation; with OKA's house style in mind, the designer sought a fabric that was "bold in colour, but also soft and feminine". "I knew it was an opportunity to create a statement," she says, "and that's hard to do with a plain fabric. I love pattern and colour, but it has to be usable – nothing too wild." She landed on a paw-print block-printed linen by Soane Britain. "It was inspired by [founder] Lulu Lyte's personal collection of antique textiles, but looks more contemporary," Buckley says. A romantic gathered skirt is the "cherry on top". "I've just moved to the country, so 1980s Colefax and Fowler was on my mind; this sofa is a nod to all of those influences."
Utterly individual, each of the three designs is more different than the next – a testament to how adaptable our Tailored by OKA collection is. "We offer all our Trade and Interior Design clients the opportunity to use their own fabric when designing Tailored pieces, but it's the first time we've done a project like this," says OKA Head of Trade Sebnem Barker. "We were excited to see what the designers came up with, and the results are better than we could ever have dreamed."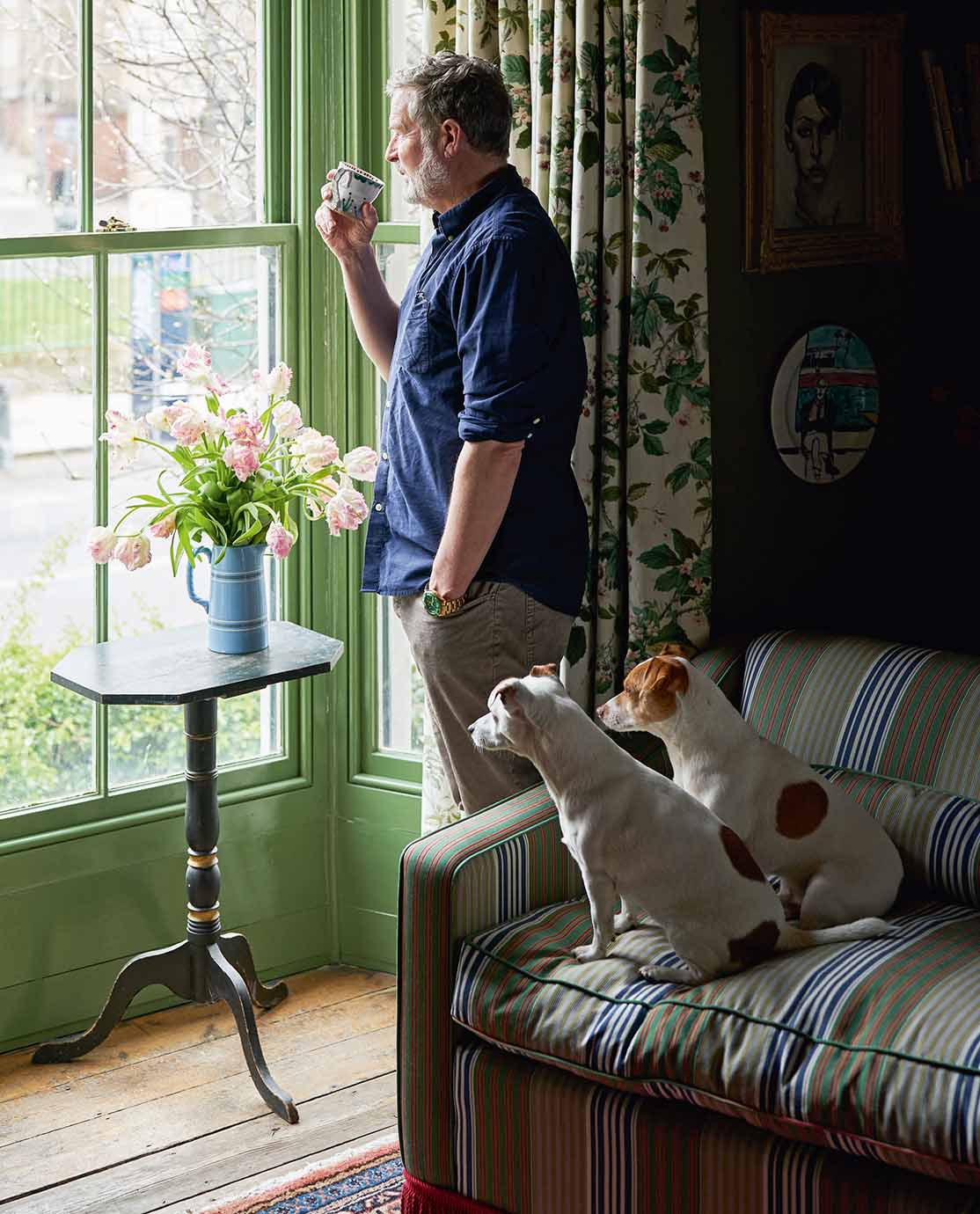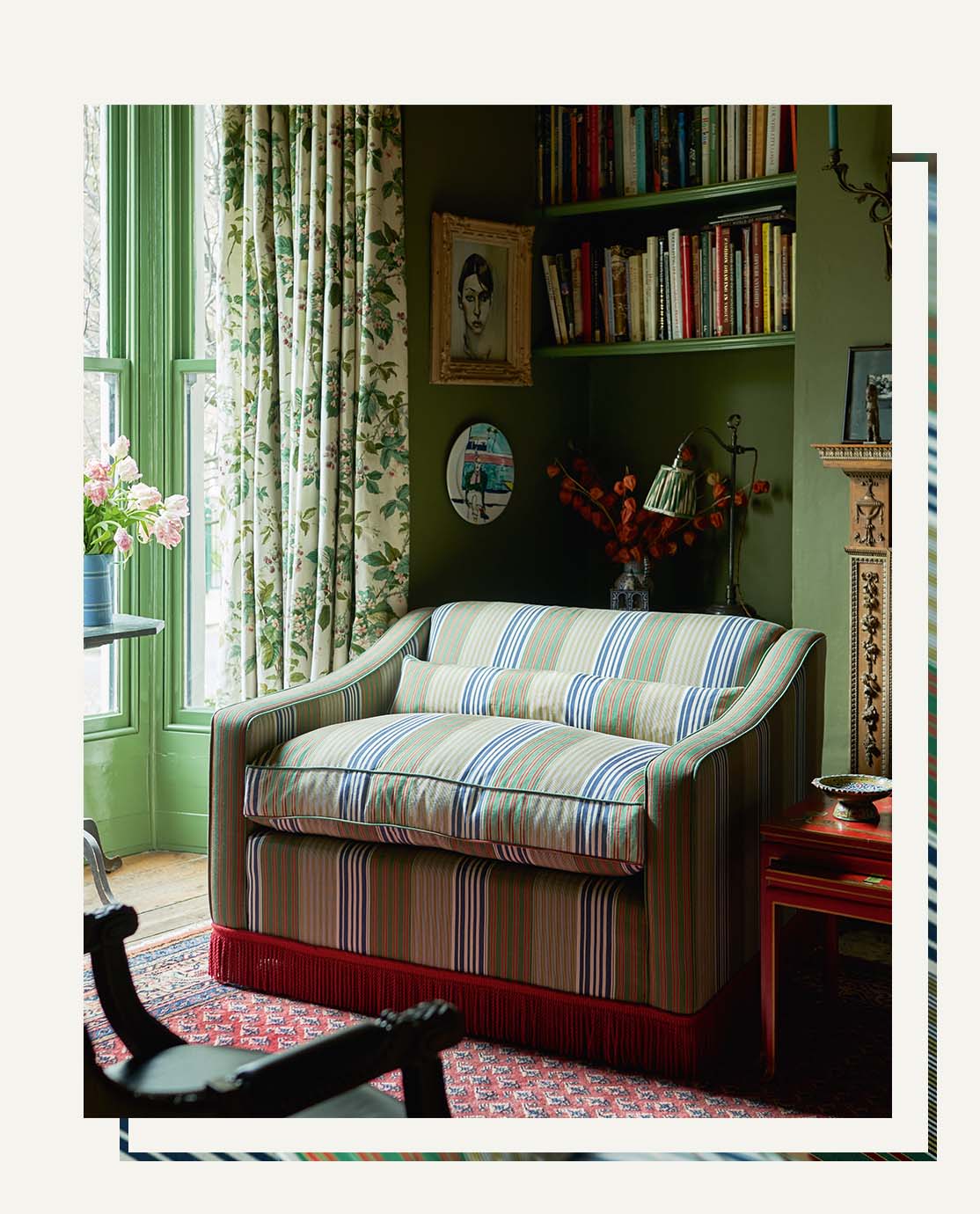 To celebrate the project, Buckley and Barlow joined our Co-Founder and Creative Director Sue Jones, along with design journalist Bethan Ryder, for a panel talk during London Design Festival. The quartet of interiors experts put their heads together to offer tips on using colour, pattern and textiles in the home. Catch up on the virtual event here.
For those who've fallen for our bespoke pieces, there's good news – all three custom Egertons will be going under the hammer at Bonhams on 19th October to raise money for anti-poverty charity the Trussell Trust. The sofas will be on display in our Chelsea store until 4th October, before they head to Bonhams for the auction. Paddles at the ready.