"It feels like we wait forever for Easter, but simultaneously, it's always upon us so quickly," muses our Co-Founder and Creative Director Sue Jones. It's a feeling we can all relate to; the countdown to the first bank holiday weekend of the year comes with unique anticipation; a combination of the promise of blue skies and spring days, alongside the longing for fuzzy feelings that come with spending time with loved ones, for not one or two, but four glorious days. If, like Sue, your Easter will be focused on "family, friends and food, mainly", you're in the right place; here she shares her expertise on making this year's an occasion to remember.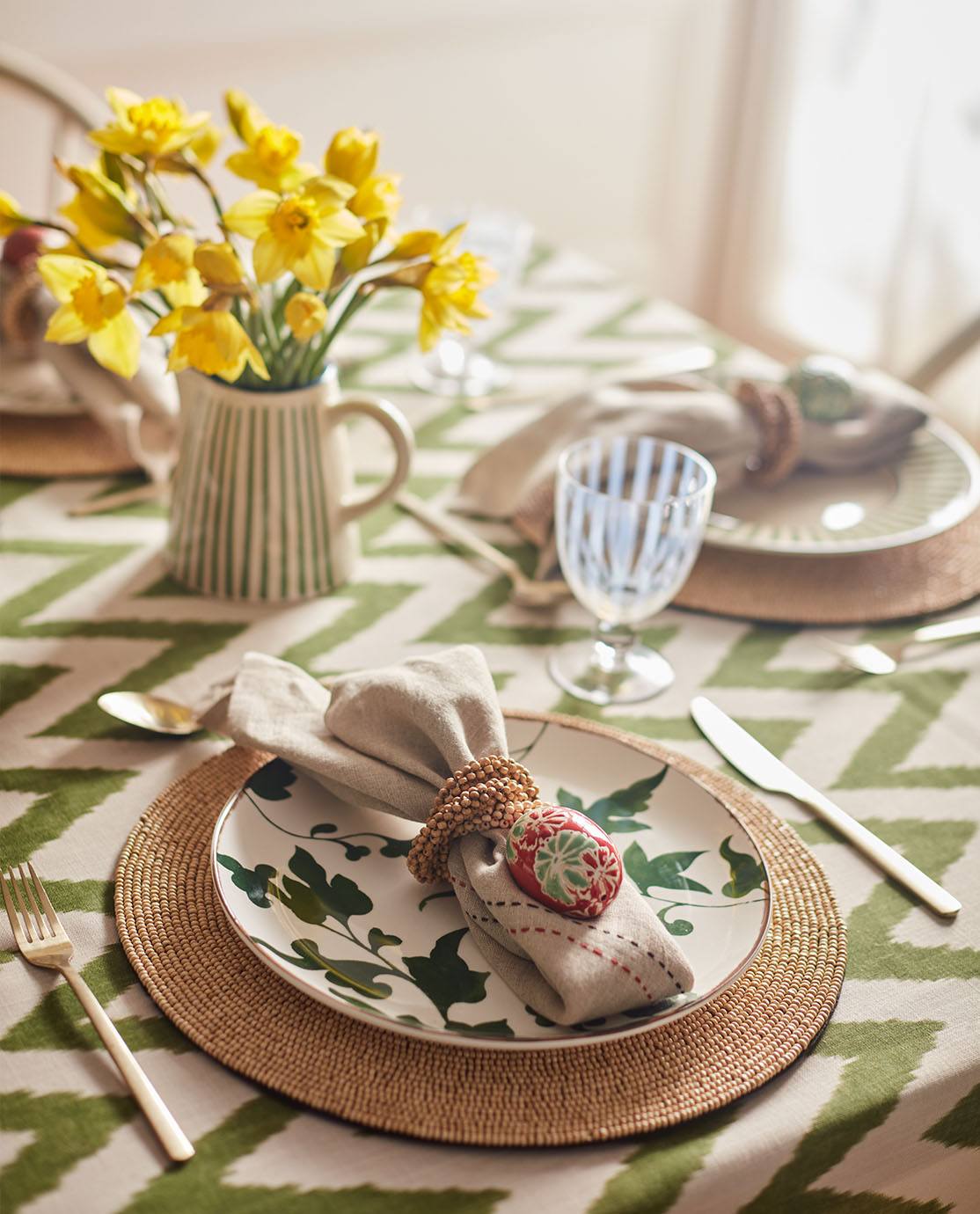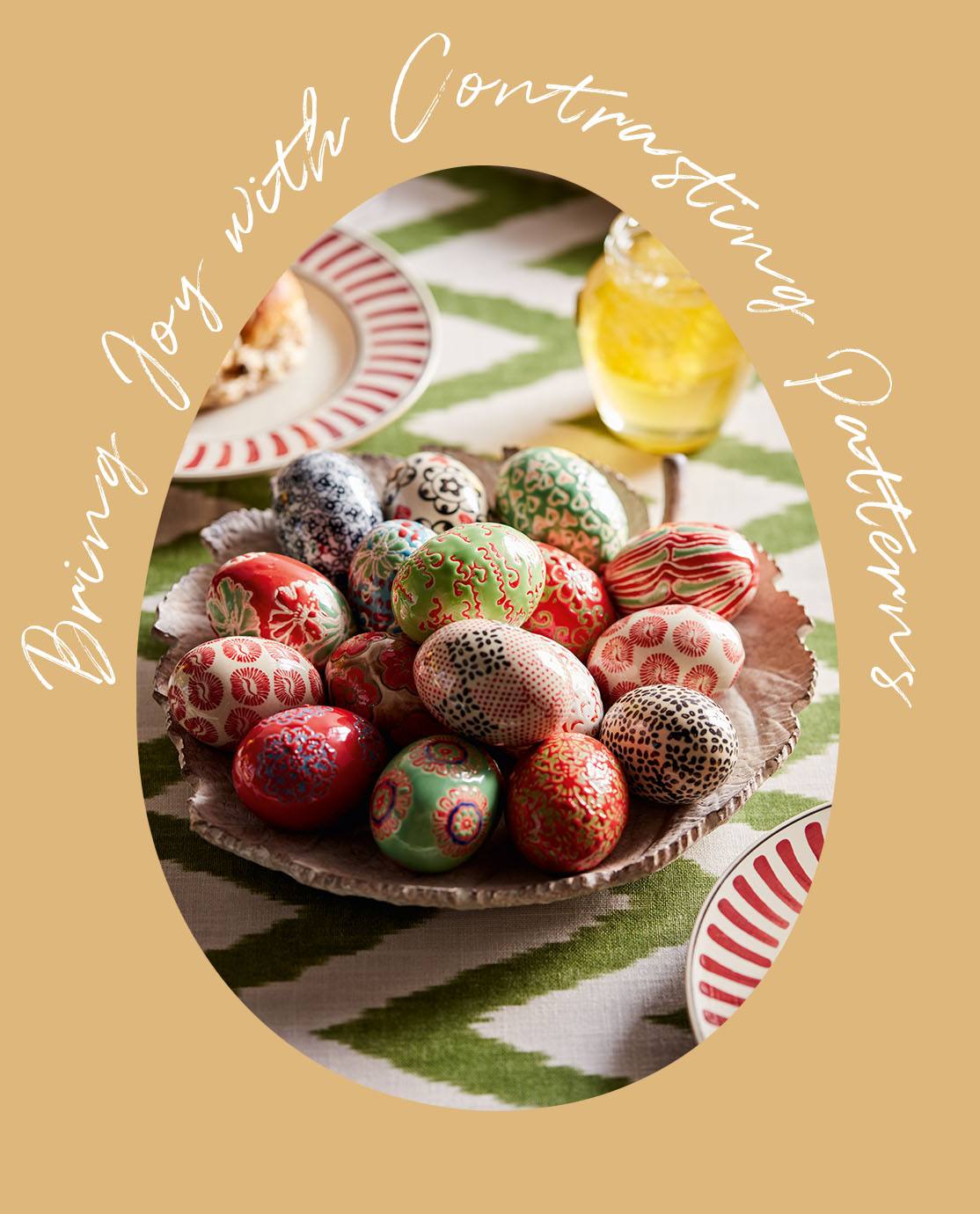 Sue's not one to go overboard when it comes to Easter decorating, but what she does pay special attention to is the table. "Sunday lunch is what most people think of as being the big Easter 'moment'," she tells us, "but I like to make an effort all weekend for the fun of it, even if it's just my husband and I having a quiet breakfast together – because, why not? It's nice to have an excuse to make things look beautiful."
Her first port of call for an Easter tablescape is to choose a colour palette. With spring signifying the awakening of nature, she's always drawn to colours and textures that evoke this transition; this year, soft shades of green – in the form of playful prints – and plenty of rattan will be gracing her tabletop. "I love to play with different sizes and scales of pattern in my home, and there's no reason why you can't do this on the table as well," she explains. "If anything, it's the perfect place to do so as nothing is set in stone – you can mix things up easily if you don't like how it's looking." In addition to floral motifs, there will always be seasonal blooms on Sue's table – "There is always something colourful on my table, particularly at Easter." If you have friends or family staying over the weekend, a bunch in their bedrooms is also a nice touch.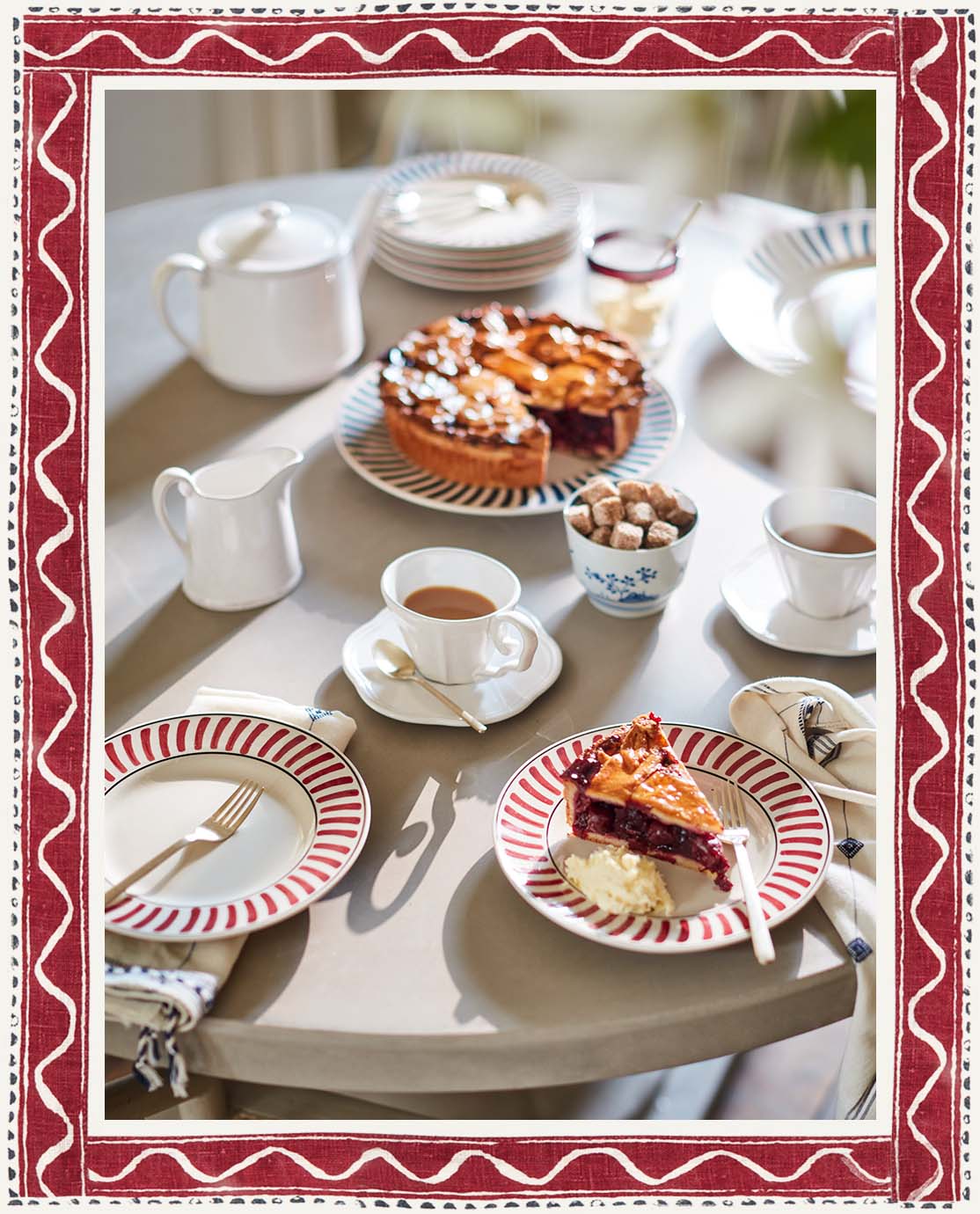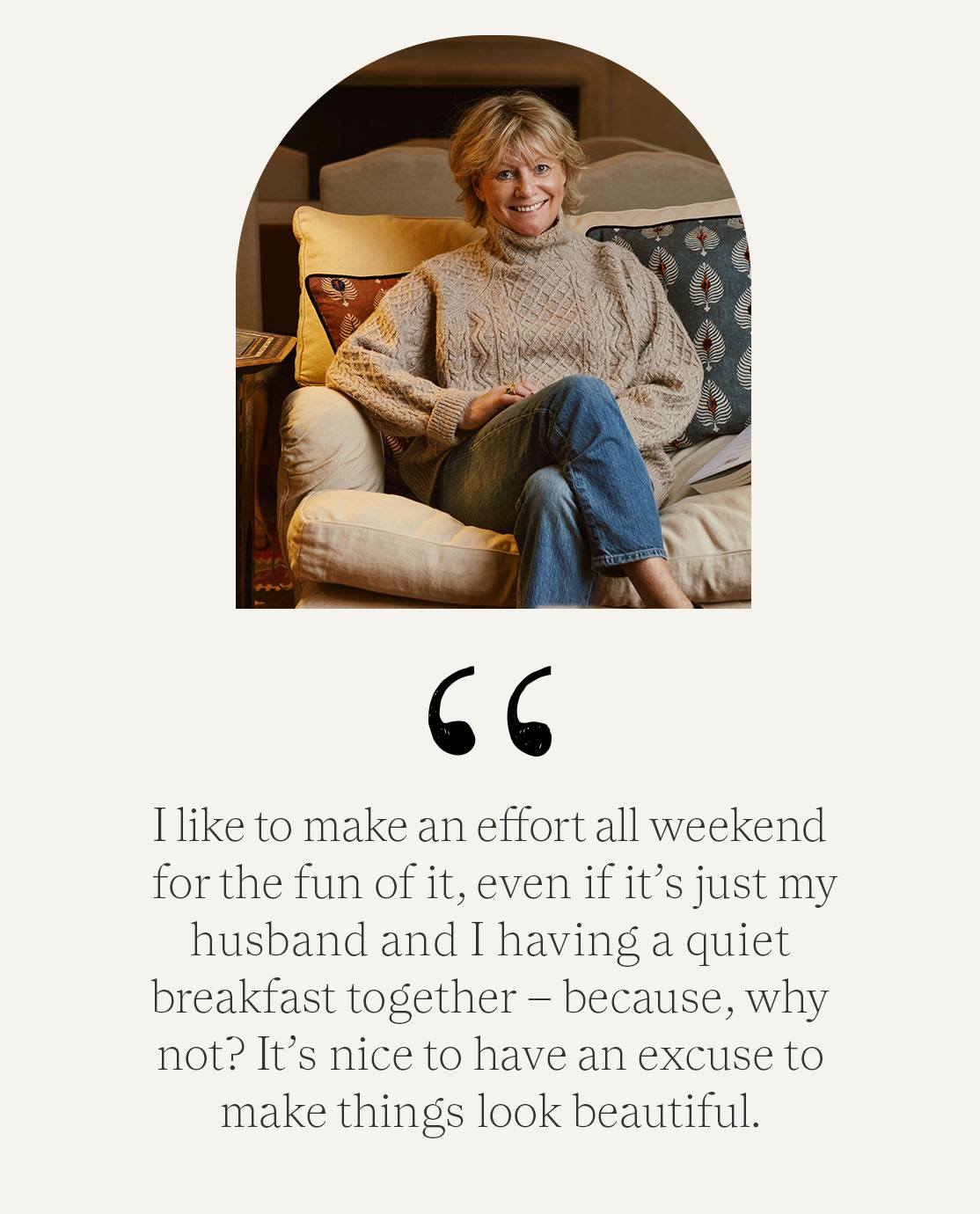 For a quick and easy centrepiece that sings of spring, look to produce fresh from the greengrocer. "At this moment in the year, there is so much beauty to be found in nature – just pop an assortment of fruit or veg into a pretty bowl and you're done," she explains. "It looks lovely and rustic, plus you get to enjoy cooking with it once the weekend is over." Artichokes are a personal favourite of Sue's, both for aesthetics and taste, but things like lemons, figs or pomegranates also look lovely. Seasonality is key for Sue when it comes to the menu as well as the table: "It's the period of spring lamb, so for the non-vegetarians it's the perfect time to cook it. And it's usually the first of those beautiful Jersey Royal potatoes." Also 'in season' are hot cross buns – "I've resolved to try every one of the curious varieties they have in my local shop" – and of course, chocolate eggs.
"I will always do an Easter egg competition in the garden if we have children with us. Easter to me really is all about children," she says. If you have dogs, a good tip is to use a combination of chocolate and painted eggs as it allows for lots more hiding places – chocolate you can nestle higher up in branches or hanging baskets, the decorative ones closer to the ground. The non-edible varieties are one thing that Sue does embrace when sprucing up her home for the long weekend. She'll arrange a few in a bowl to add a pop of colour to the dining table or hallway console, dangle them on door and drawer knobs in guest bedrooms, and create a fun feature by hanging them on branches foraged from outside in a vase. "I do love our Ostara Ceramic Eggs, I'd have them out all year around if it were solely up to me," she laughs.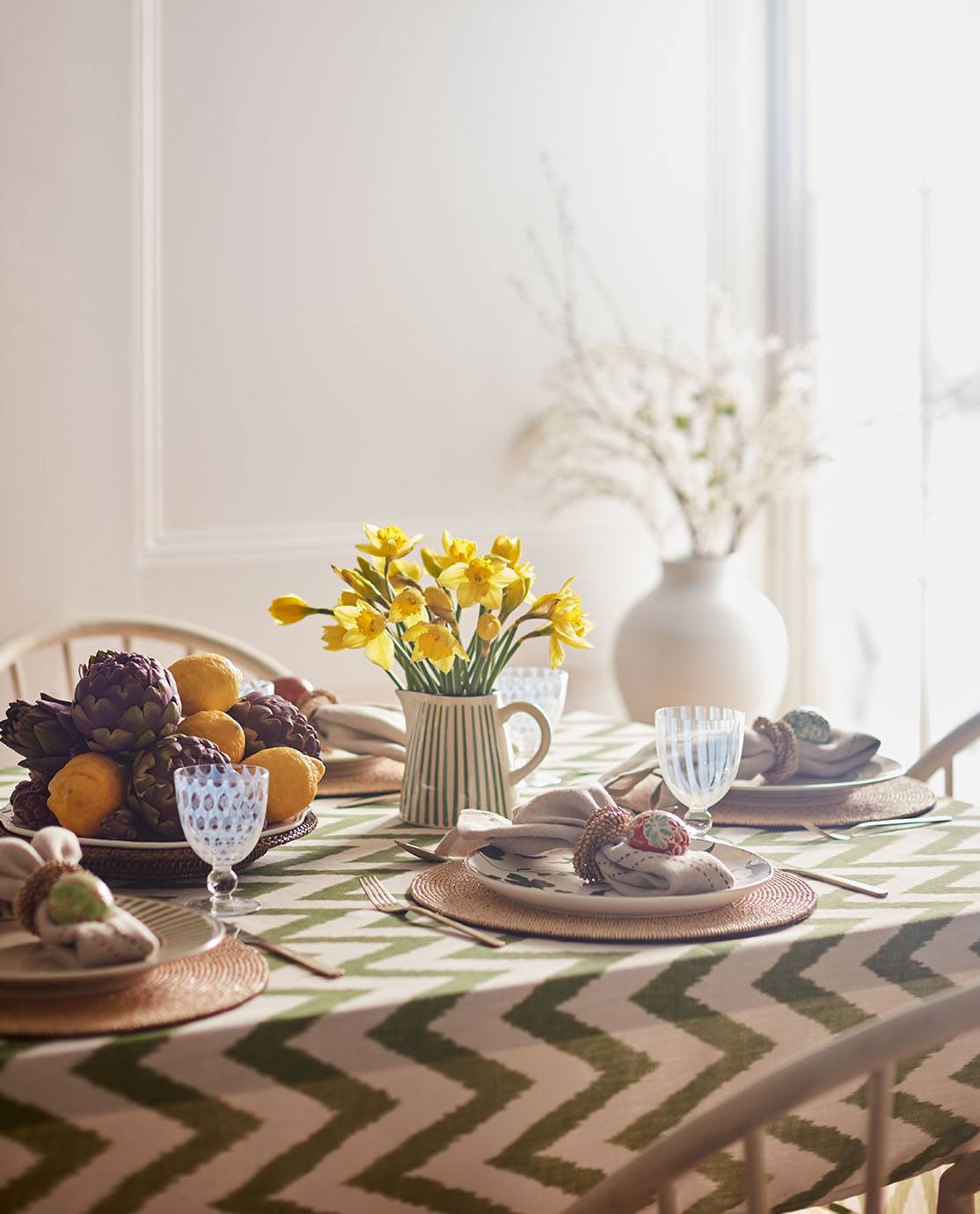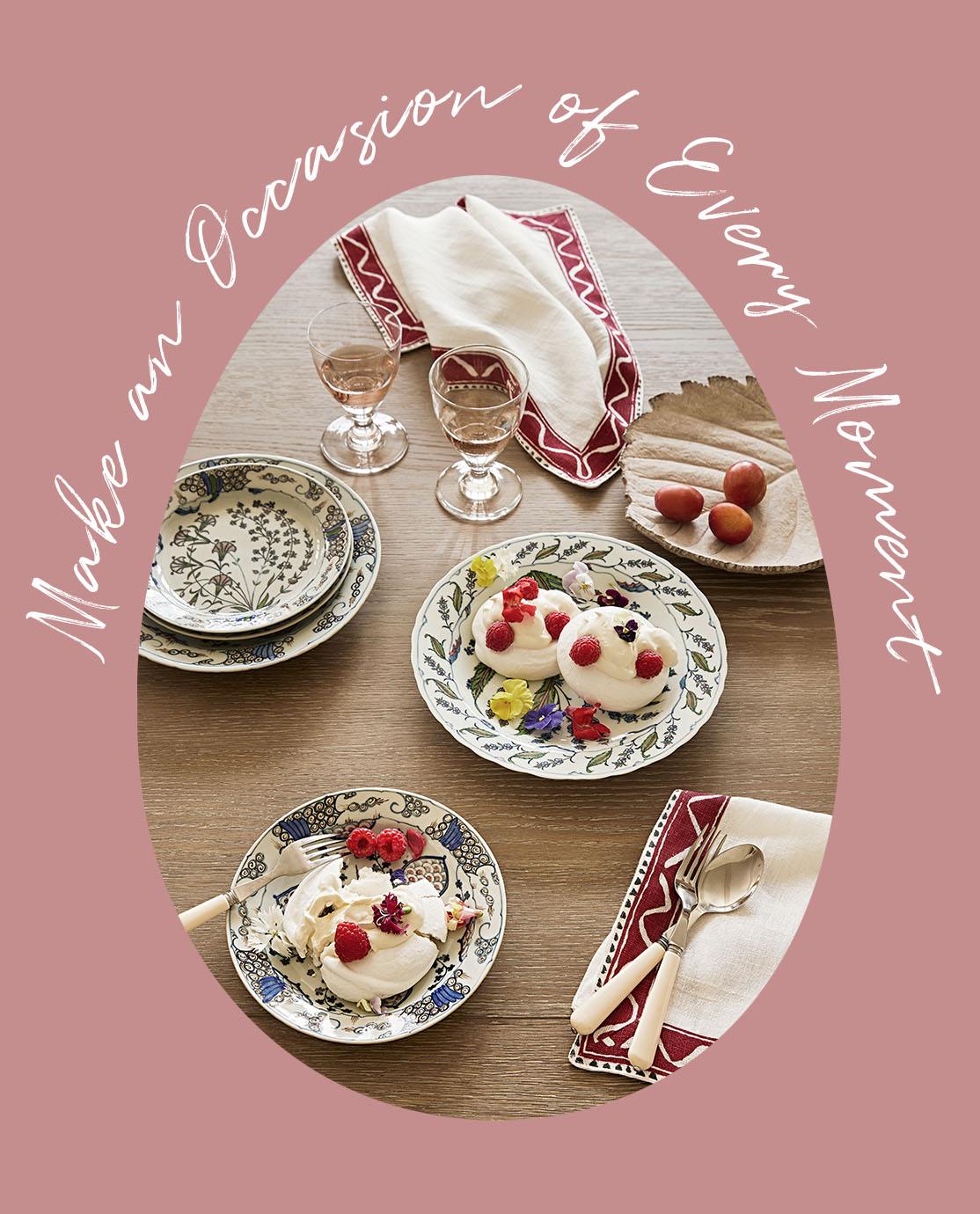 Games are a staple in the Jones household – for all generations alike – but Sue always makes sure to get the backgammon set out in advance of smaller visitors arriving. "There's less structure to Easter, than say, Christmas, so it's always good to have things that will keep children entertained while the adults catch up."
One of Sue's favourite things about Easter is that it's not very commercialised; there's less pressure on it than other occasions and it is more focused on quality time with family and friends. That being said, one tradition that has evolved from her childhood is giving coffee table books as presents: "It's quite fun going to the book shop, flipping through lots of different ones and thinking of what people are interested in." That sounds like a custom we can certainly get on board with.