Flowers are undoubtedly one of Mother Nature's greatest achievements. Who doesn't feel instantly cheerier when they receive a bunch of sunflowers, or see the first gratifying sign of a seedling peeking up from the earth after hours of TLC? For even the most green-fingered of us though, flowers, in all their beautiful forms, are still somewhat of an enigma – particularly when it comes to creating a showstopping arrangement or using them as a table centrepiece. One (aptly named) person who has fully mastered the art, and then some, is Hazel Gardiner, broadcaster and founder of the eponymously titled floral design studio that specialises in creating "wow moments" with flowers; everything from installations for brands to floral stories for events. We were delighted to pay Gardiner a visit in her blooming north London garden, where we learnt how she brought her business to life and she gave us the ultimate lesson in creating a beautiful faux floral tabletop.
Growing up visiting nurseries with her mother – a horticulturist in skill, if not strictly in job title – Gardiner has always loved flowers. But it was only in 2016 that she turned this passion into a profession with the launch of Hazel Gardiner Design. A woman of many talents, she studied fashion, worked in live music television, and set up her first business – a vintage clothing company – prior to this. It was following a cancer diagnosis and her subsequent recovery that led her to change tack on her career and set up said company: "I was pretty fearless, I just had no worries about going for life and grabbing it with both hands," she explains. At this point she was also living in her first flat with outside space, and had taken solace in gardening when she was unwell. "I found it very comforting, when I had an uncertain future, that the seasons still move on, and I could grow something, and it would bloom… just having that cycle was very grounding when my life was quite chaotic," Gardiner tells us. As her love for her garden grew, and her style and relationship with vintage evolved, it felt only natural to transition into floristry.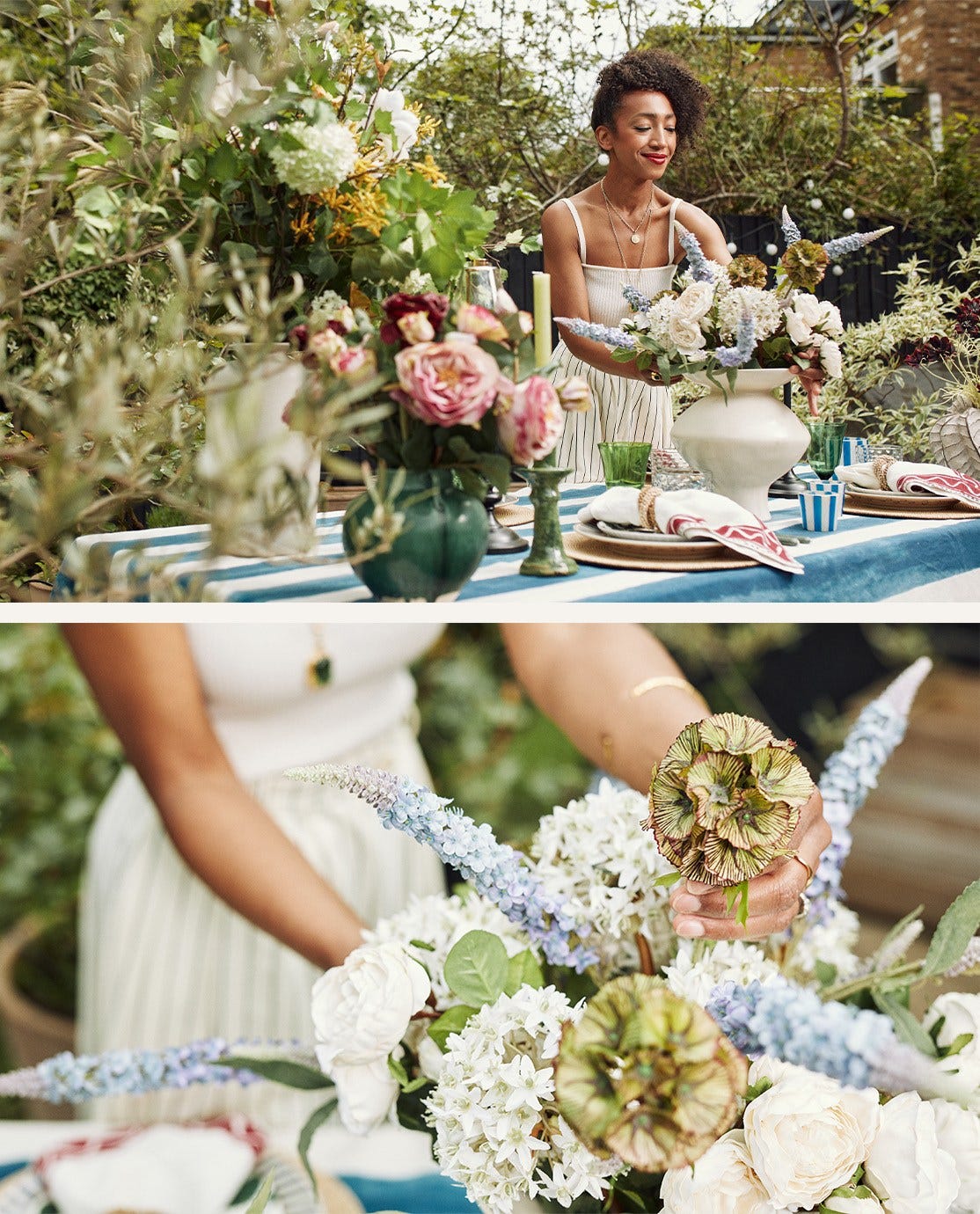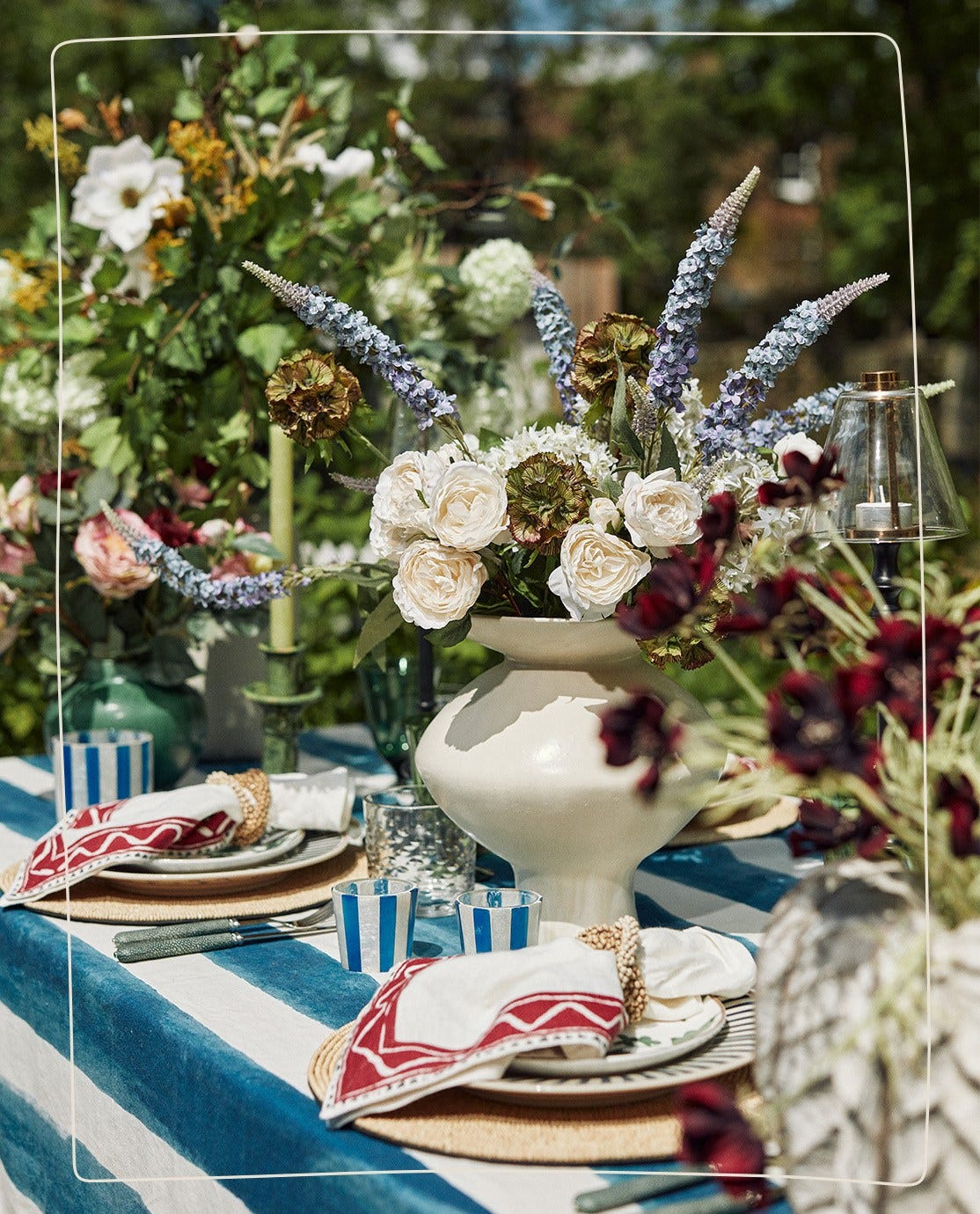 "I believe if you do good work, people will come," Gardiner says of her shift into the floral industry. While it certainly wasn't all plain sailing, people came to recognise and respect her signature style, which she describes as "wild, naturalistic and unexpected". With a love of all things unique and delighting, this is certainly what drew us to her creations – and perfectly sums up the beautiful floral table arrangement she created for us using Bunched by OKA, our faux flower collection, of which she is an admirer. "I love that they're so realistic – the curation is amazing; you can see that there's a lot of consideration behind that. There's lots of different tones in each petal, they're not just one colour; you can see the gradients," she says. Another plus for her is that as the silk stems are made using wire, you can bend and manipulate them, making them look like they might in the wild. When the occasion calls for it, Gardiner will mix silks with real flowers for longevity in her work, to support stems that might wilt in longer installations or extreme temperatures, for example.
Part of her studio's approach is to always be as seasonal as possible, reflecting what's going on at that point in the year as much as they can. So, in very dark or bright areas at home, or in the winter, faux stems can also have a place – "people can retrieve some kind of naturalness, something 'living' inside, when it might not be happening outside," she says. Fortunately for us, the natural world is coming into its own currently, and as such, each of the faux stems she chose for the table are in season. They blend perfectly with her garden, for a vibrant display that still speaks to spring: "a quite muted, gentle start of the season feel, rather than the heat of the high summer."
"I wanted to show people that you can do a big blousy display, but also with a few considered stems – like the roses – you can do a smaller arrangement that's still really impactful," Gardiner muses. If you don't know where to begin when it comes to decorating with flowers at home, starting small might sound like the more appealing option; Gardiner's advice in this case is to pick one variety and do it en masse, in a very large vase. "A vase is 50% of the arrangement, so that choice is really, really important," she says. If you're feeling braver, she suggests picking three colours to work with, say green, white, and maybe a pop of yellow. From there you choose a focal flower (this should be something very large and statement), then a smaller flower and a filler flower (something delicate; light and airy). These elements will make sure you have a balanced display; look to the arrangement of faux alliums, delphiniums and roses Gardiner created for us as an inspirational starting point.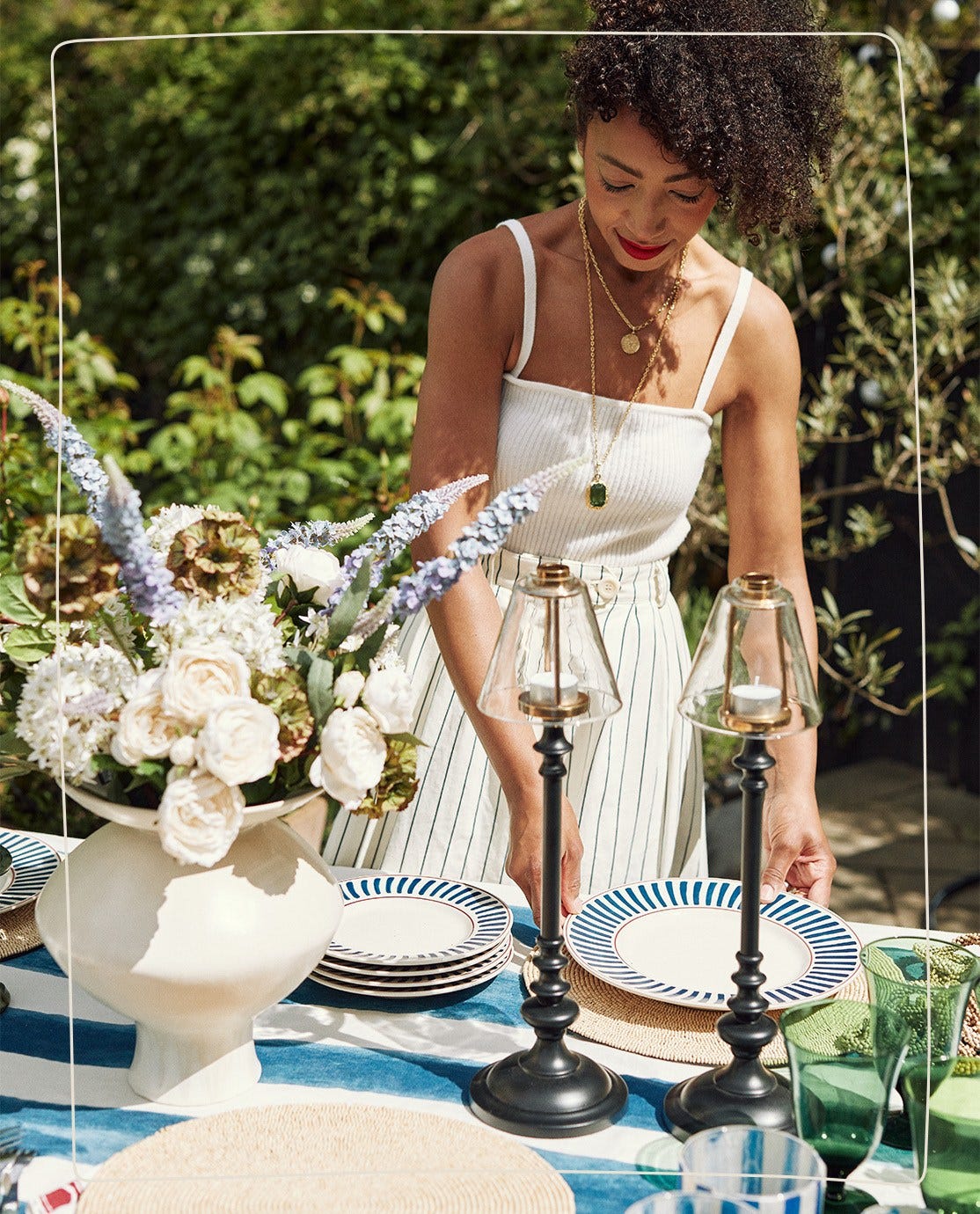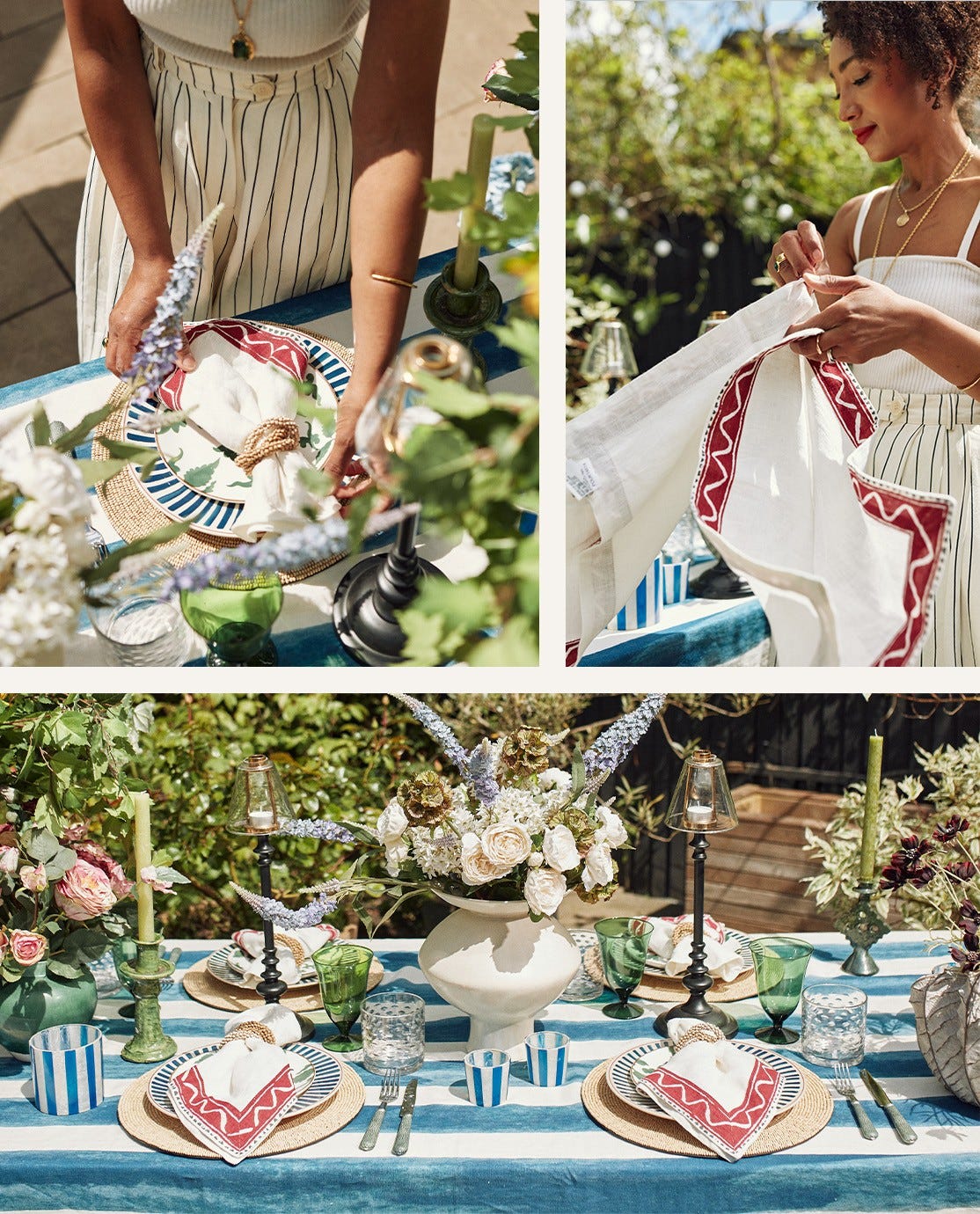 When it comes to Gardiner's own inspiration, she is always led by her clients and their vision; this could be anything from looking at fragrance notes to something more literal, such as colours. "I always think it's easy for me to make flowers look good, flowers are beautiful. I don't have to do much," she laughs. "But what's the story, what's the narrative… even if there isn't a story, I'll create one." Peek back at our beautiful tabletop and you'll see the harmony between our tableware and the floral arrangements; Gardiner wanted to bring our signature colourful style in, but in a way that wasn't too brash – "just hints of blue and lavender, to pick up on the stripes on the table."
A stripe is in fact one of Gardiner's favourite ways to make a tabletop look pretty: "A striped candle holder will take you a long way in terms of really elevating your table," she says. For her, it's all about layering, and being brave with colour and texture; stripes therefore are perfect as they act well with something plain, and, as she rightly notes, "we all probably have a plain plate!" Gardiner also loves to use natural materials, like rattan and ceramic, and is a particular fan of anything handcrafted, as the imperfections work so beautifully with flowers, which have the same quirks – no stem is quite the same as another. "Handmade pieces are something OKA does really well; things that look like they have a history to them, which is what I seek out," she says.
Describing herself as someone who "loves nothing more than just creating something for people", it will come as no surprise that Gardiner is as thoughtful a host as she is a designer. While she cites decorating the table as an absolute given, careful consideration goes into the entire experience, from the lighting to the music. "It's all building, building, building, more is more is more – it's just how I like to do things," she explains. She's even been known to personalise her décor to suit the styles of those in attendance, and we can't think of anything nicer than that.
To see more of Gardiner's world, follow her on Instagram @hazelgardinerdesign or visit her website.