In Focus: The Tarma Range
Our Favourite. Your Favourite.
Meet one of our most popular seating ranges. These statement-making armchairs and loveseats may be compact, but they're not short on style – with a striking design, expert craftsmanship and playful embellishment that you can use or lose depending on your mood, it's no wonder they're fan favourites. Best of all, they come in a wow-worthy line-up of bold patterns and colours.
Behind the Design of the Sheki Tarma
Our Co-Founder Sue Jones has always been one to follow her instincts, often seeking inspiration for one piece, only to find something that leads her creative mind in a new direction entirely – and this holds true when it comes to the Tarma. While exploring a trade fair, she stumbled upon a part-kilim, part-printed rug hybrid, and the cogs were set in motion for what was to become this iconic loveseat.
Bringing the Tarma to Life
Each and every piece in the range is handcrafted from scratch by talented artisans, resulting in utterly unique, heirloom-quality furniture that will stand the test of time.
To start, the frames are constructed by hand using traceable timber. Cotton, dyed with eco-friendly pigments, is then used to hand weave dhurries which will serve as the upholstery. Next, the frames are skilfully upholstered by hand, ensuring the pattern flows seamlessly around the structure of the piece. Finally, the chair or loveseat is finished with embellishments – each one gets a studded border and removeable tassels.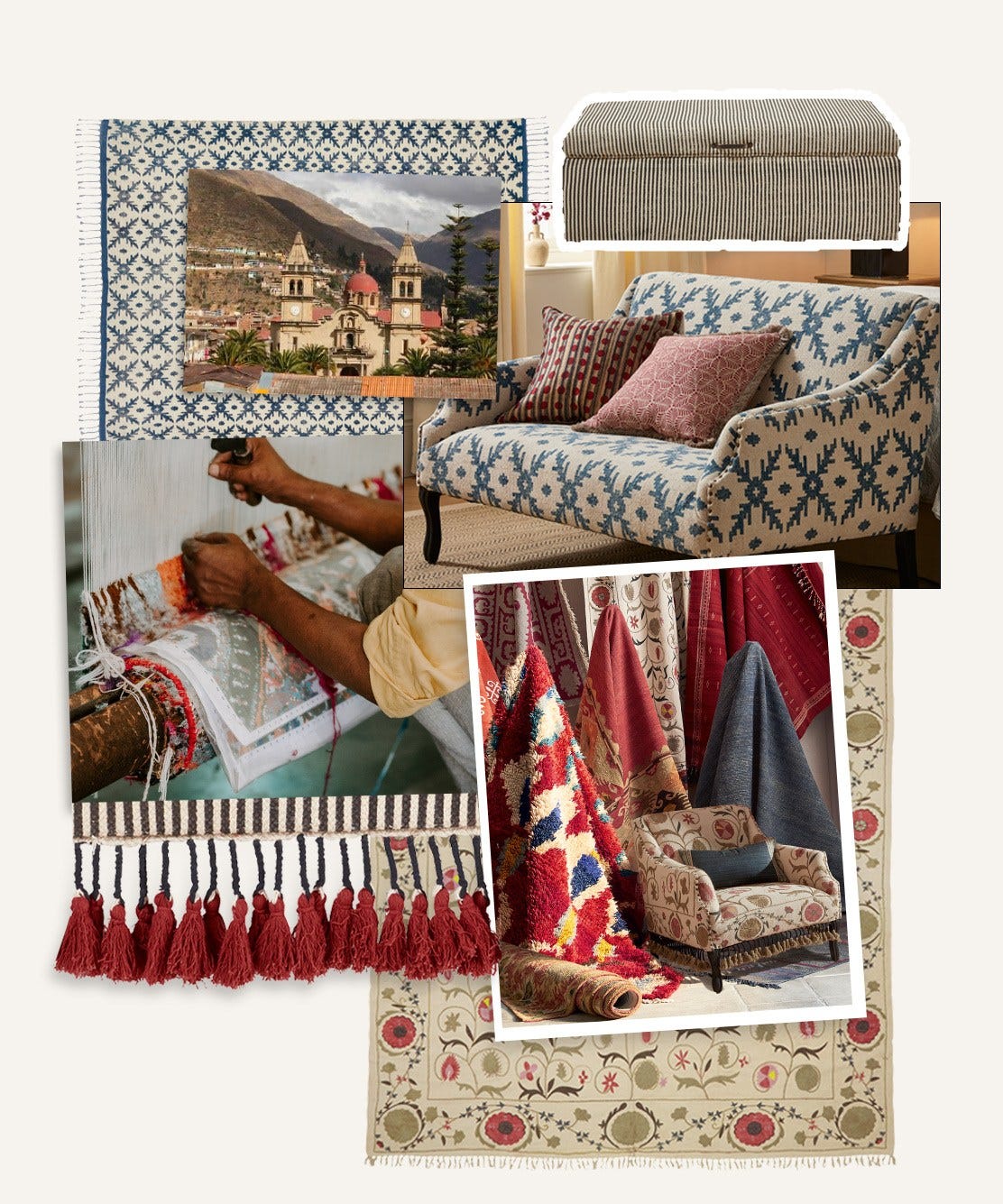 "It's no secret that we like statement pieces; not everything has to match. The beauty of the Tarma is that you can mix it in with plain pieces, or other patterned things – I love the eccentricity of it."
Sue Jones, Co-Founder of OKA
"It's no secret that we like statement pieces; not everything has to match. The beauty of the Tarma is that you can mix it in with plain pieces, or other patterned things – I love the eccentricity of it."
Sue Jones, Co-Founder of OKA
TARMA STYLED BY YOU