The Kips Bay Decorator Show House returned to Palm Beach, Florida on March 5th, thanks to supporters of the Kips Bay Boys & Girls Club. For nearly 50 years, the non-profit organization's chapter has brought together the country's leading interior designers to raise funds for youth after-school enrichment programs, at the same time creating a world-famous celebration of the industry's best. Drawing tens of thousands of design enthusiasts each year to show houses in New York, Dallas and Palm Beach, the jaw-dropping and trend-setting event is not to be missed. As a proud sponsor of this year's Palm Beach show house, we're thrilled to share our take.
With an aesthetic firmly anchored in the cultural psyche—pink sunsets, green palm fronds and old-Hollywood-style glamour—visitors may wonder what new perspectives might possibly be brought to Palm Beach. The answer lies in a 1923 Mediterranean Revival estate listed on the National Register of Historic Places, situated in West Palm Beach's Old Northwood Historic District. Until April 3rd, the "Mansion of Northwood" plays host to 24 top interior designers and firms from across the country who have focused their creative energy and expertise to present interpretations of the home and surrounding area. Inside, you'll see their devoted yet refreshing odes to the Palm Beach lifestyle, seasoned with the occasional twist (or rather, maraschino cherry). Read on to discover insights into this year's trends, as well as glimpses of what you can expect when you visit, whether virtually or, if you're lucky, in-person.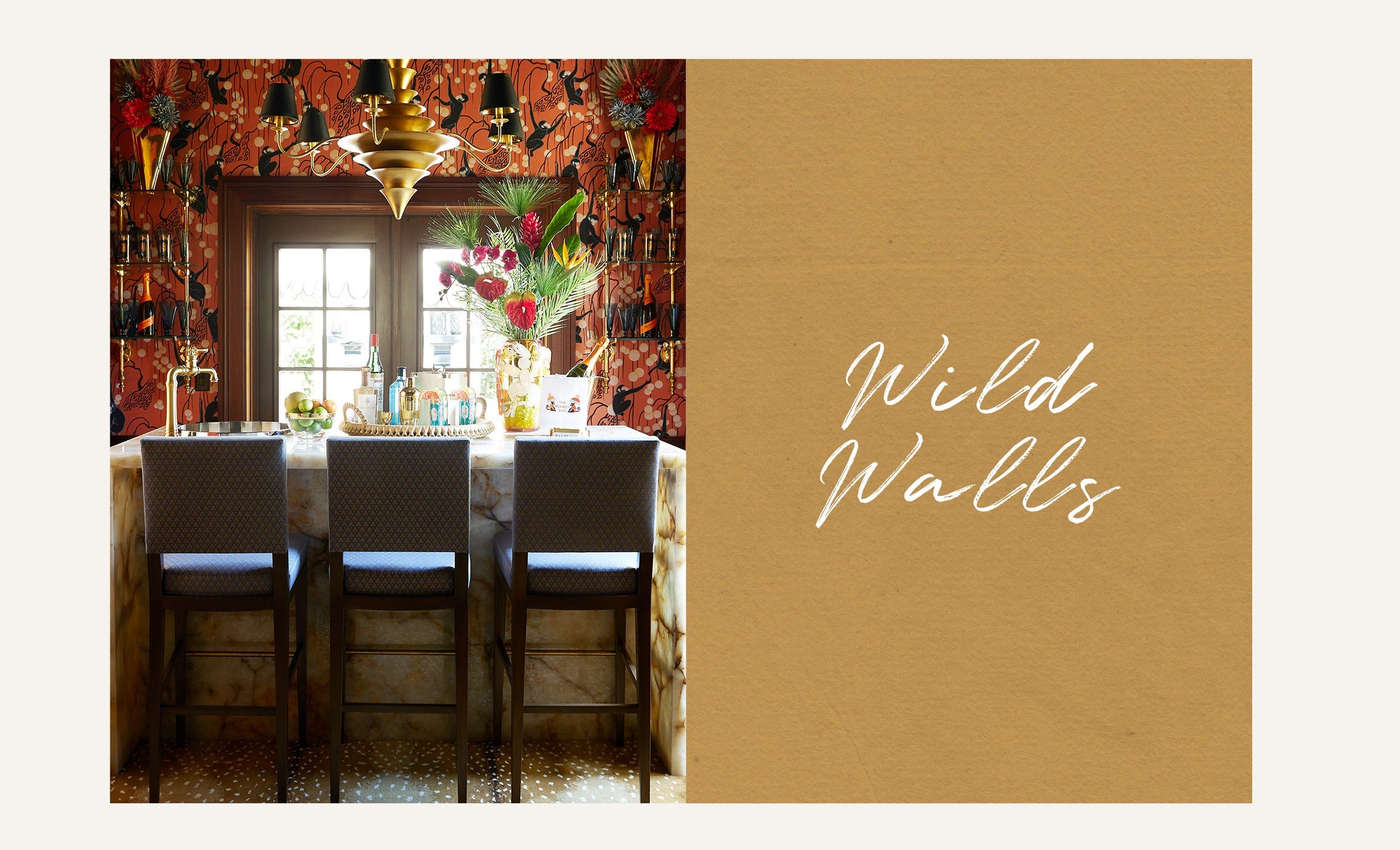 Visitors to the island can't help but be taken in by the overwhelming presence of nature. Otherworldly banyan trees, myriad varieties of palm and marine wildlife species are inextricable facts of life on this island, and the same is true of wall treatments in the show house. Entering the home through Craig & Company's foyer, aptly named 'The Octopus's Garden,' plunges you into the depths of the sea. In these waters you'll find shells adorning door frames along with custom tentacled wallpaper by MJ Atelier.
Gaze at swinging simians on the wall behind Jim Dove's 'Monkey Bar,' the East Coast designer's tribute to New York's famed and mural-filled establishment of the same name, which was lost, if temporarily, to the pandemic. Around a corner you'll walk among native plants in blue and green, gracing the Lewis Design Group's 'The Closet Reimagined;' the firm teamed up with Aqualille to honor Florida's landscape in custom wallpaper, and the result is nothing short of restorative. Palm leaves receive another on-the-wall homage in Catherine M. Austin Interior Design's 'The Jewel of the Jungle,' where they appear in a colorful, Matisse-inspired frenzy in the guest house dining room and kitchen.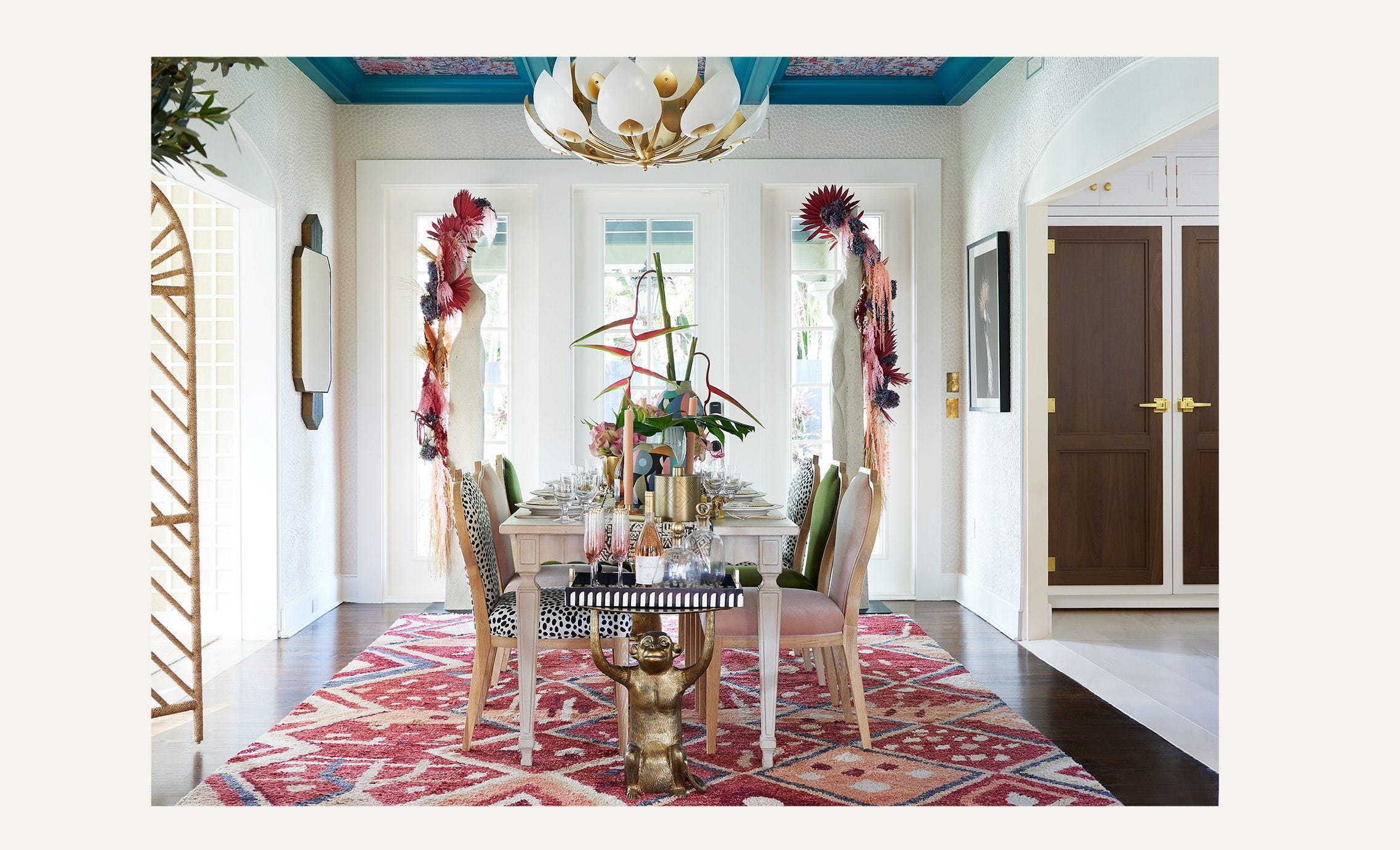 Now:

$2,866.50

Was:

$4,095
It's not all about wallpaper—in Beth Diana Smith's 'Wonderland Dining Room,' where wall space was limited by three entrances, wildness is reflected in the teal coffered ceiling, whose panels are lined with paper featuring vibrant jungle scenes. "My inspiration was based on my childhood memories of Alice in Wonderland," Smith shares, "which made me think of a fantastical place filled with wildlife and color." Another notable wall treatment is Paloma Contreras' updated take on treillage lattice patterns in her room, 'Green Gardens'.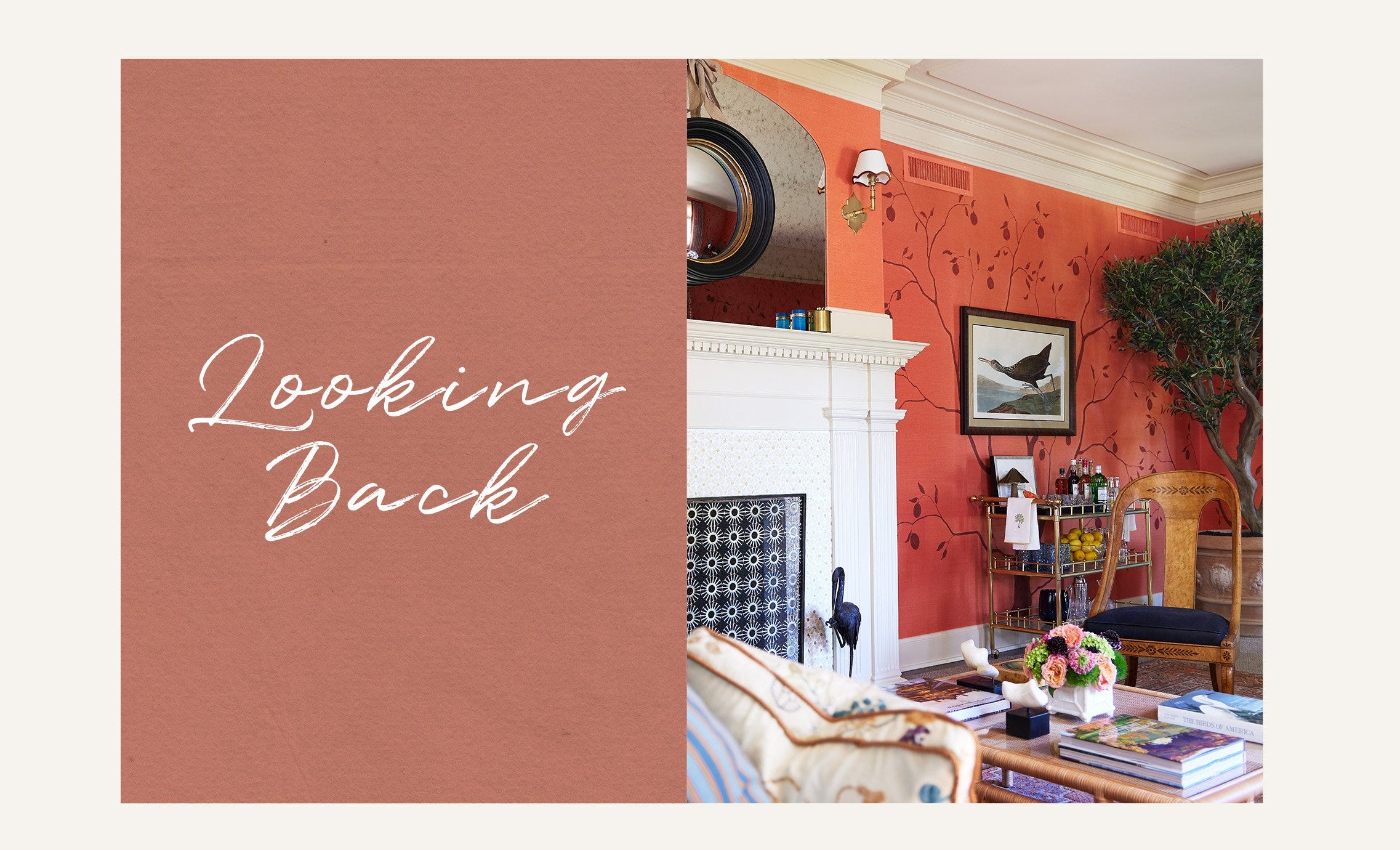 As well as honoring Palm Beach's storied natural landscape, Peter Pennoyer and Alice Engel of Peter Pennoyer Architects chose to embrace its history in their living space. "We designed our 'Drawing Room' to evoke Florida's flora and fauna, its rich history and hospitality," says Engel, who asserts that they envisioned a place for Florida's 19th-century society to entertain. "The result is a comfortable, inviting space for an evening cocktail, be it with Henry Flagler or John James Audubon." The stately room features a mix of whimsical patterns and rich textures, elegant antiques and gracious custom furnishings.
Elsewhere in the house, you'll find references to Palm Beach's more recent past. "We are seeing a joyful embrace of the climate and Palm Beach culture," says Engel, invoking the leisurely lifestyle notably documented by American photographer Slim Aarons as a reference point. "Think poolside cocktails, afternoon backgammon and so on. The palette has evolved from the famous Palm Beach pastels to richer and more vibrant hues." A prime example can be seen in Sarah Bartholomew Design's 'Brighton Boudoir,' which has been fitted with a luxurious striped tent inspired by King George IV's Brighton Pavilion and gardens. Throughout the show house, the hallmarks of Palm Beach style are an unquestionable presence. As participating designer Amanda Reynal puts it, "the rooms flow seamlessly from one to another despite the fact that a different designer created each space."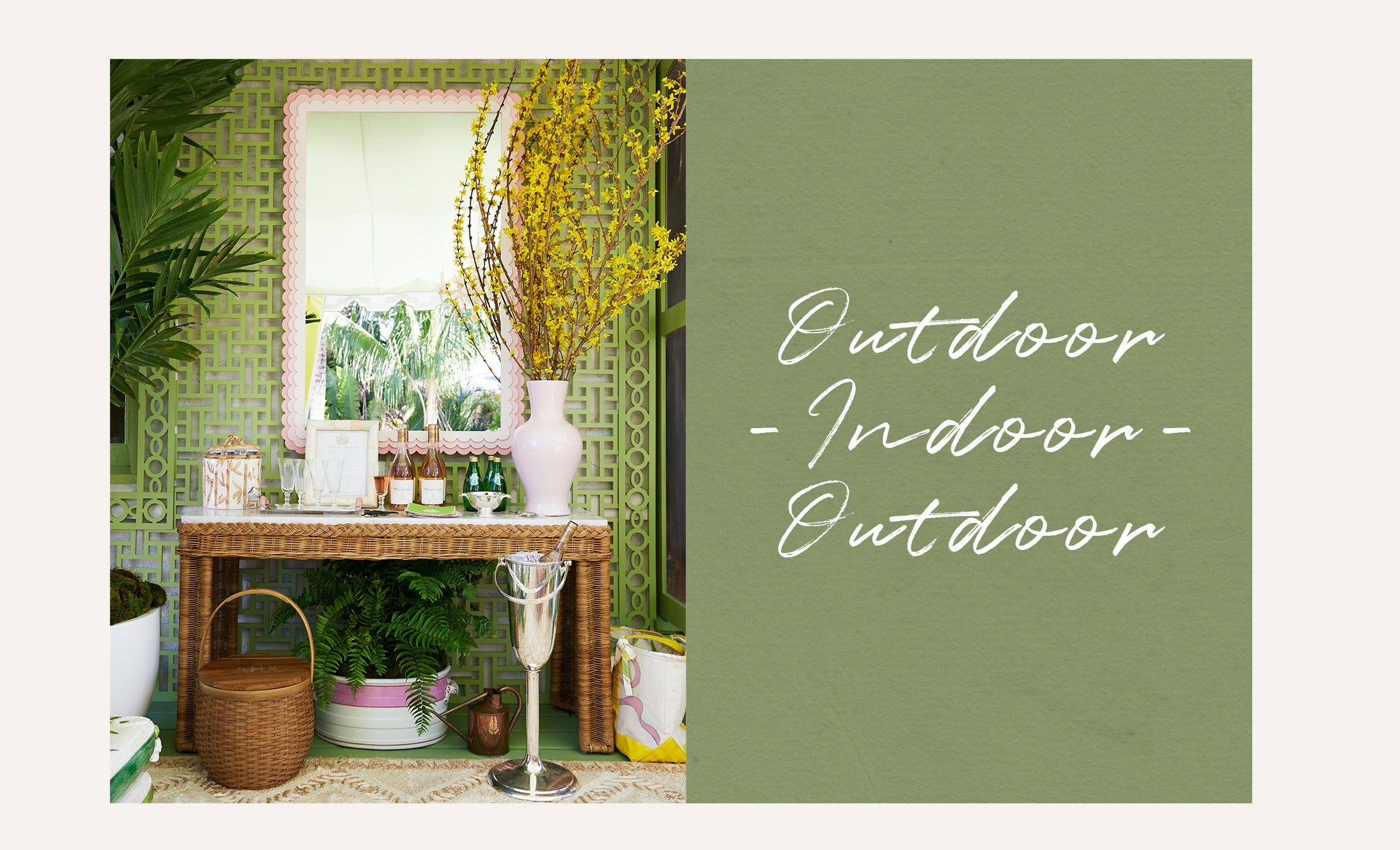 Perhaps the most ubiquitous aspect of living on this island is the intermingling of outside with in; this delightful way of life is exemplified throughout almost the entire show house. Fitting right in with everything you'd hope for in a Palm Beach terrace is Amanda Reynal Interiors' 'Breezy Breakfast Hideaway,' which gracefully walks the line between extravagant and inviting. According to Reynal, "a successful indoor-outdoor room includes all of the comforts of being inside as well as the luxury of enjoying fresh air and lush greenery." Decked out with sunny yellow curtains and a canopy inspired by local awnings, it's not hard to imagine sinking into one of its citrus-hued floral sofas to read, sip iced tea or as the name suggests, have a leisurely breakfast. Also following this theme is a second tented room—Ashley Gilbreath Interior Design's 'Primary Bedroom,' which in its elegant ease feels like a glamping-style escape, and Pearl Design Interiors' 'Aficionado's Dream,' a relaxed patio dining space perfect for sitting by an evening fire and taking in views of the garden.
There's so much more to discover. If you'd like to see for yourself, the show house is open for in-person visits now until April 3rd; visit the website to purchase tickets. Virtual tours are also available.