There's nothing quite like snuggling into your bedroom – gently lit by the ambient glow of a table lamp – only to reach over to switch the light off, knock the oversized lampshade and send the entire contents of your bedside table tumbling to the floor. It's hardly a relaxing way to ease into a good night's sleep, which really serves to underline the importance of finding the right lamp for your bedside table. Is it so difficult to find a lamp that's large enough to throw good light to read by, but not so sizeable that it towers over the bed and takes up all the available space on top of your bedside storage, at the same time as looking good? When we think of it like that, it can sound a little overwhelming, so we consulted lighting specialist Sally Storey, Creative Director at John Cullen, to find out what to watch out for when choosing bedside lighting that's a good fit for your space and style.
What size should a bedside lamp be?
This is a reasonable starting point: essentially, should a bedside lamp make a statement or blend seamlessly into the background – or at least the rest of your decorating scheme? How much other light is there in the room, and does this impact the amount of work that a table lamp needs to do (thus influencing the size you need to choose)? "The size of the lamp really depends on the size of the room," Storey explains. "The larger the room, the larger the lamp you can select."
Need some more specifics? As a general rule, your bedside table should be one-third of the width of your mattress and, to fit with this scale, your lamp's widest point should be one-third of the width of your bedside table. More of a visual thinker? Try this: if you have a large bedroom with a super king bed at its heart, then we're talking about statement table lamps – perhaps a style with an oversized, detailed base or a big decorative shade. Conversely, if your room is more petite, and space is limited, you'll be turning your attention to more slender, streamlined lamp bases with a smaller footprint – such as the golden Carraway. Alternatively, in a compact room where bedside storage isn't in play, floor lamps or even – if we're thinking laterally – wall lights are worth considering.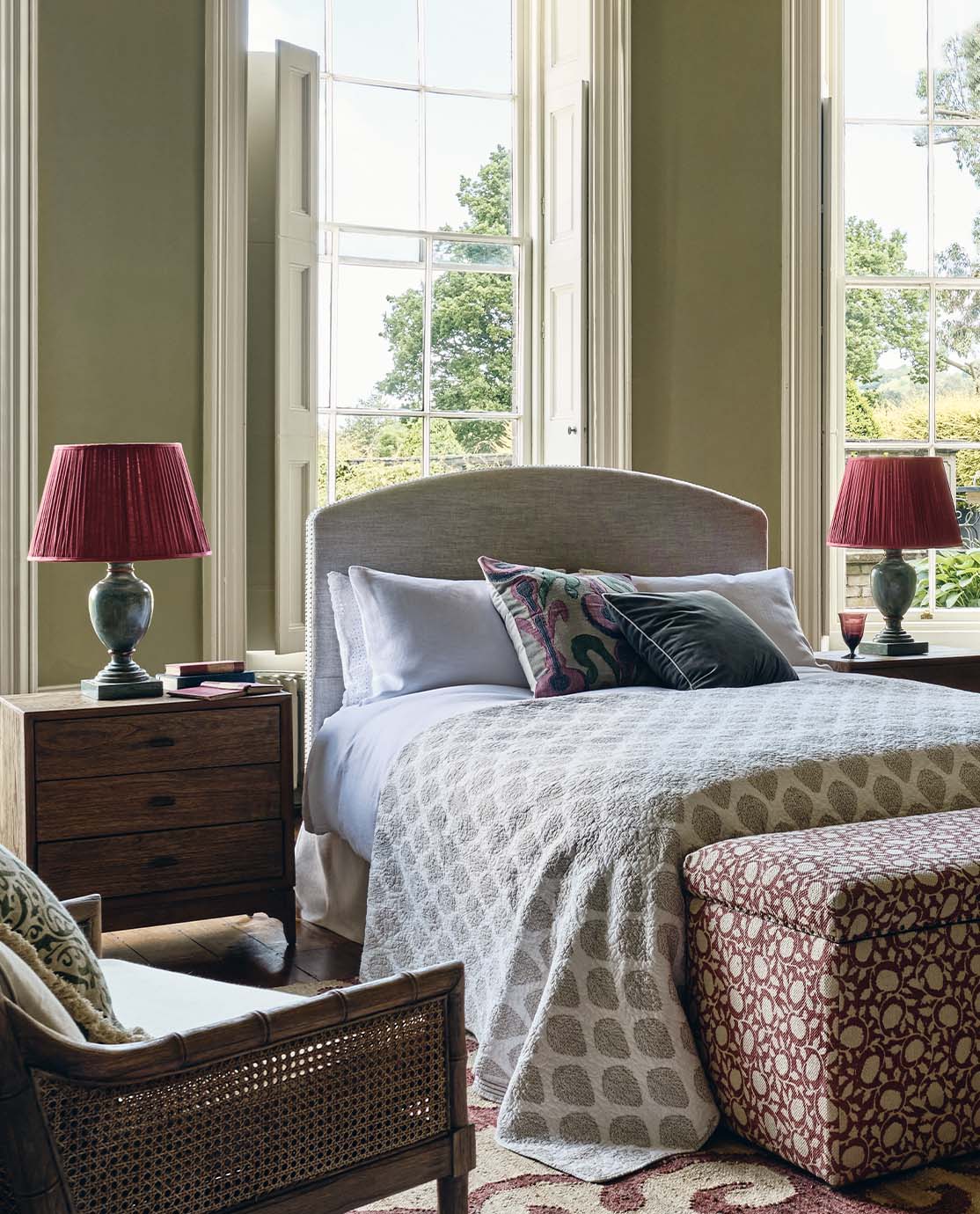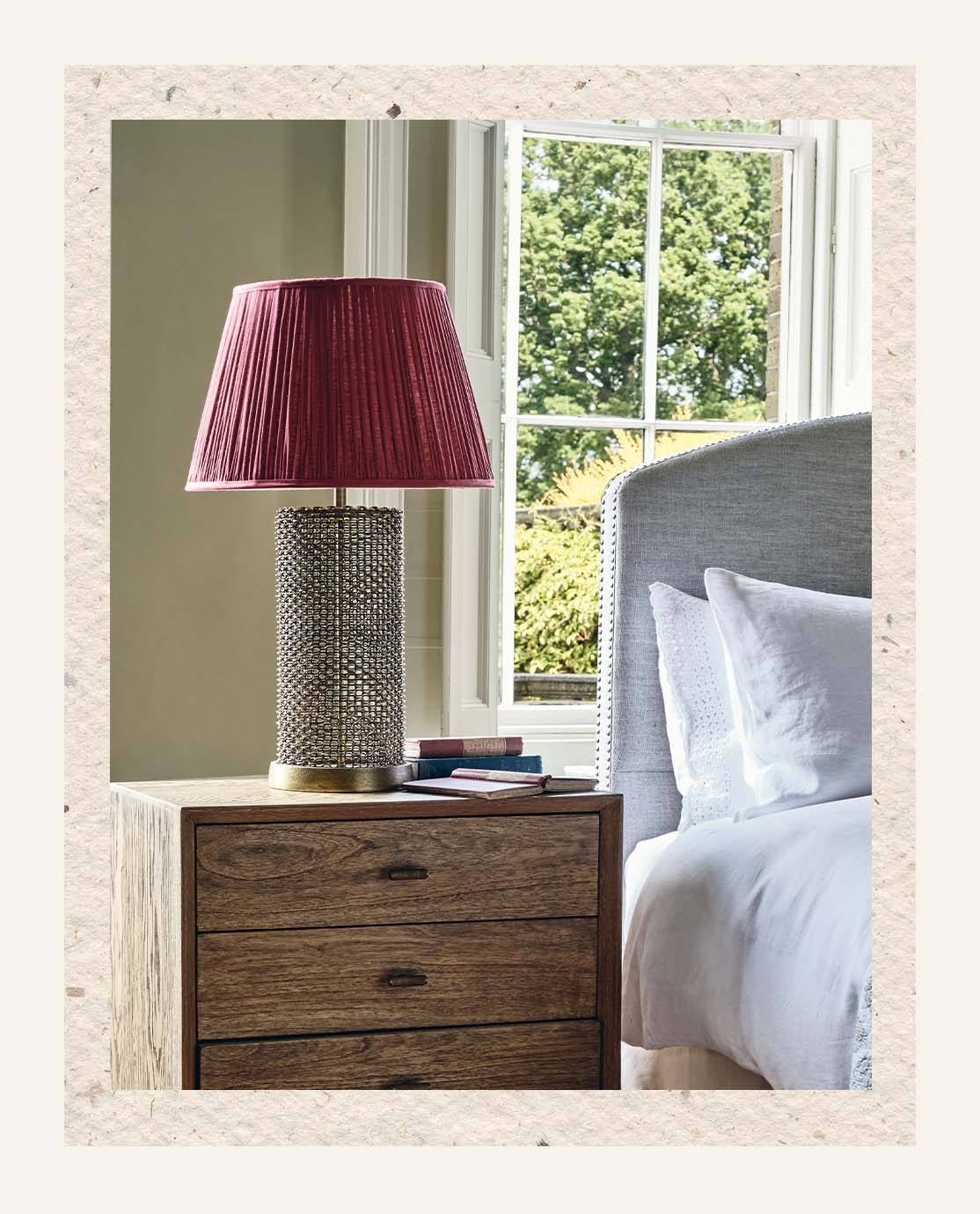 What height should a bedside lamp be?
Now you have a sense of the base size you're working with, the next step is to find a lamp that's the right height. What does that mean exactly? Well, you don't want your reading lamp to be at a height that it glares in your eyes, or casts shadows on your book or e-reader – either of which will make it hard to get lost in your latest page-turner. If your bedside table is the same height as the top of your mattress, ideally your bedside lamp will be the same height again (for a standard bed height, that's around 60-69cm).
"The key is the level of the shade," Storey tells us. "Too low and you'll be falling out of bed to read, too high and you'll get glare from the light source." The trick, she says, is for the shade to be roughly shoulder height when you're in bed; this should throw out optimum light for reading. As a side note, the height of your lamp might also dictate the placement of its switch – ensure that it's at a height, or distance, that's easy to reach without needing to get out of bed.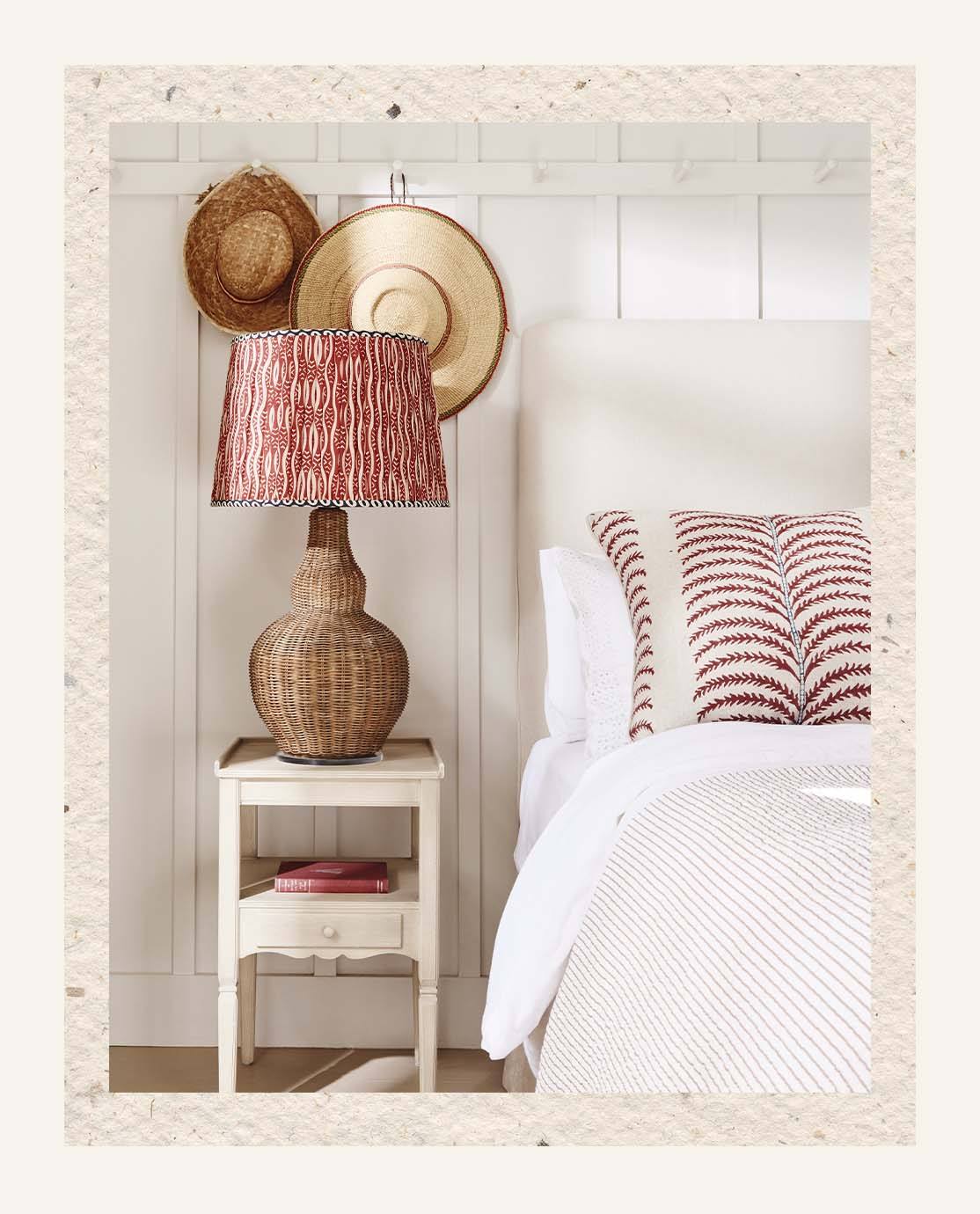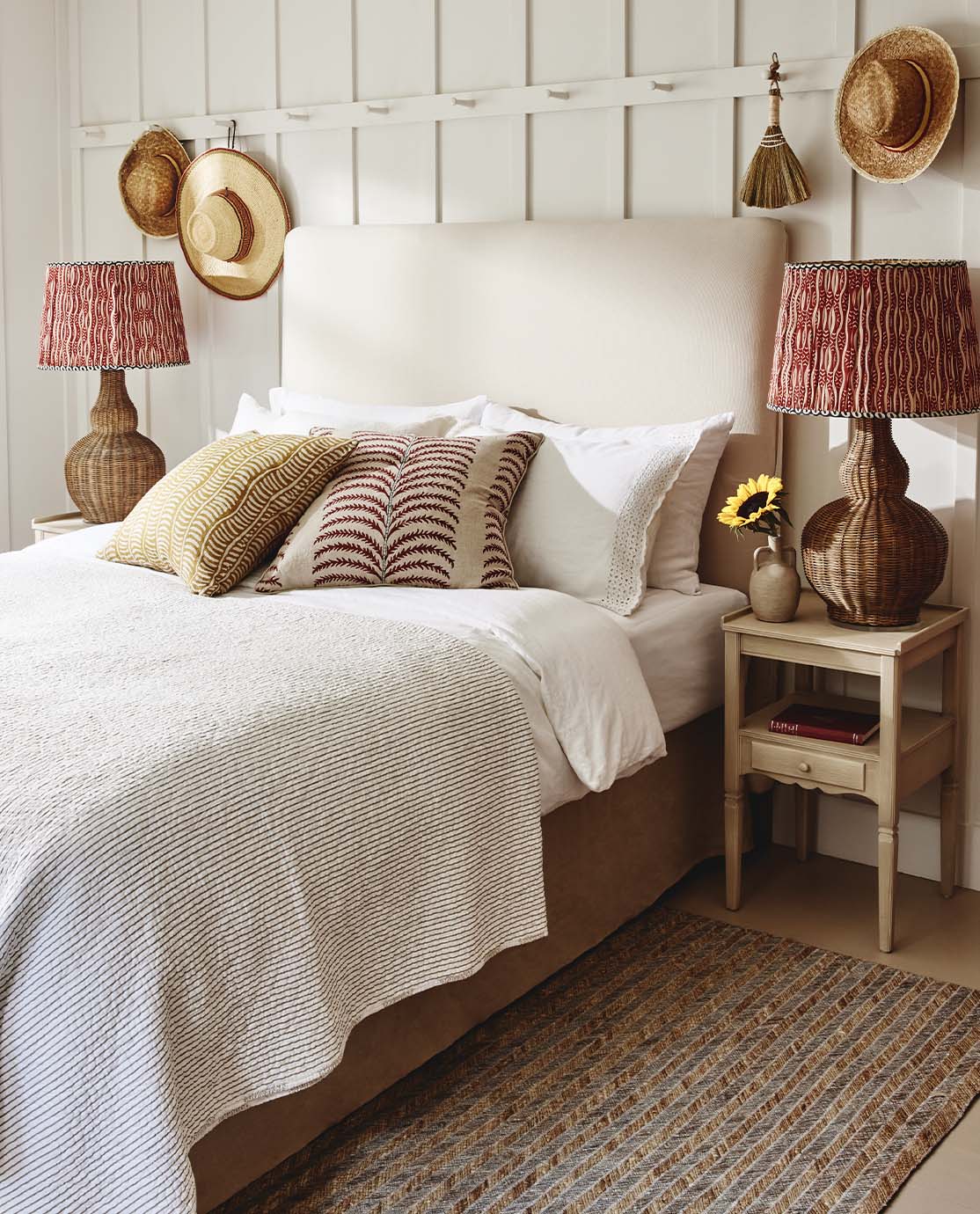 How many bedside lamps do you need?
This is not a silly question actually; not every bedroom has room for a symmetrical set-up, and in a child's room with a single bed there's no real need for two bedside tables, so lighting demands will be different. However, in a typical double or master bedroom set-up, where space isn't an issue, Storey suggests a layered lighting system that doesn't rely solely on bedside lamps: "One lamp either side of the bed, one on a dressing table and maybe a standard reading light by a chair [is ideal]," she says.
Matching lamps, placed on either side of a bed will not only create a sense of symmetry, but also enable both you and your bedmate to control your lighting (and reading time) as you wish. For smaller bedrooms with only one bedside table, a single lamp can still bring a stylish note, especially if you choose one with a striking design. Interesting patterns, an unusual shape and tactile materials will all help you create an eclectic, layered effect. That's before we get into our dos and don'ts for lampshades – that's a separate issue (and article).
Whatever set-up you opt for, there's one thing Storey is adamant about: "Make sure you can control your bedroom's lighting by switches by your bedside, as well as by the door. You don't want to have to get out of bed to switch your lights off."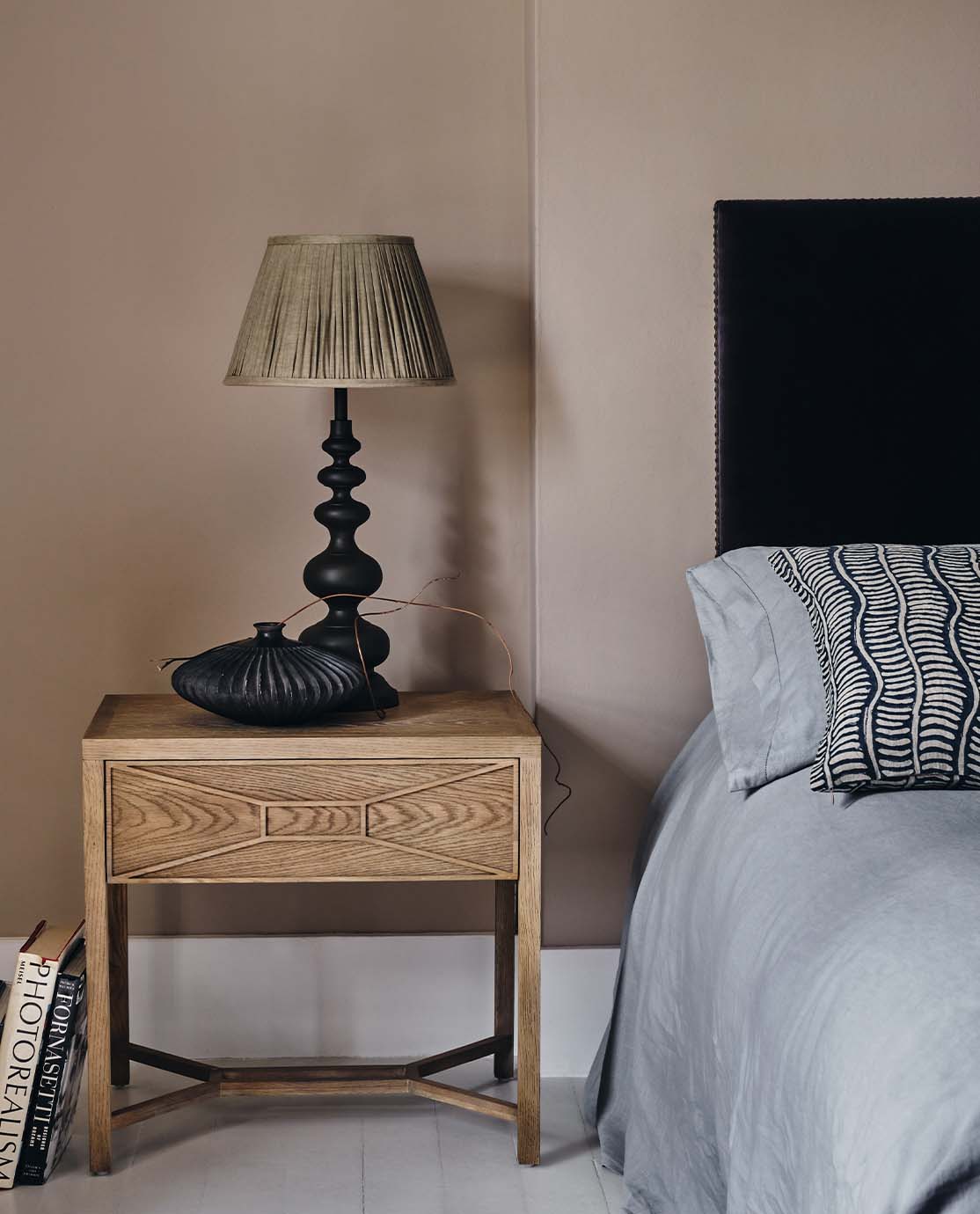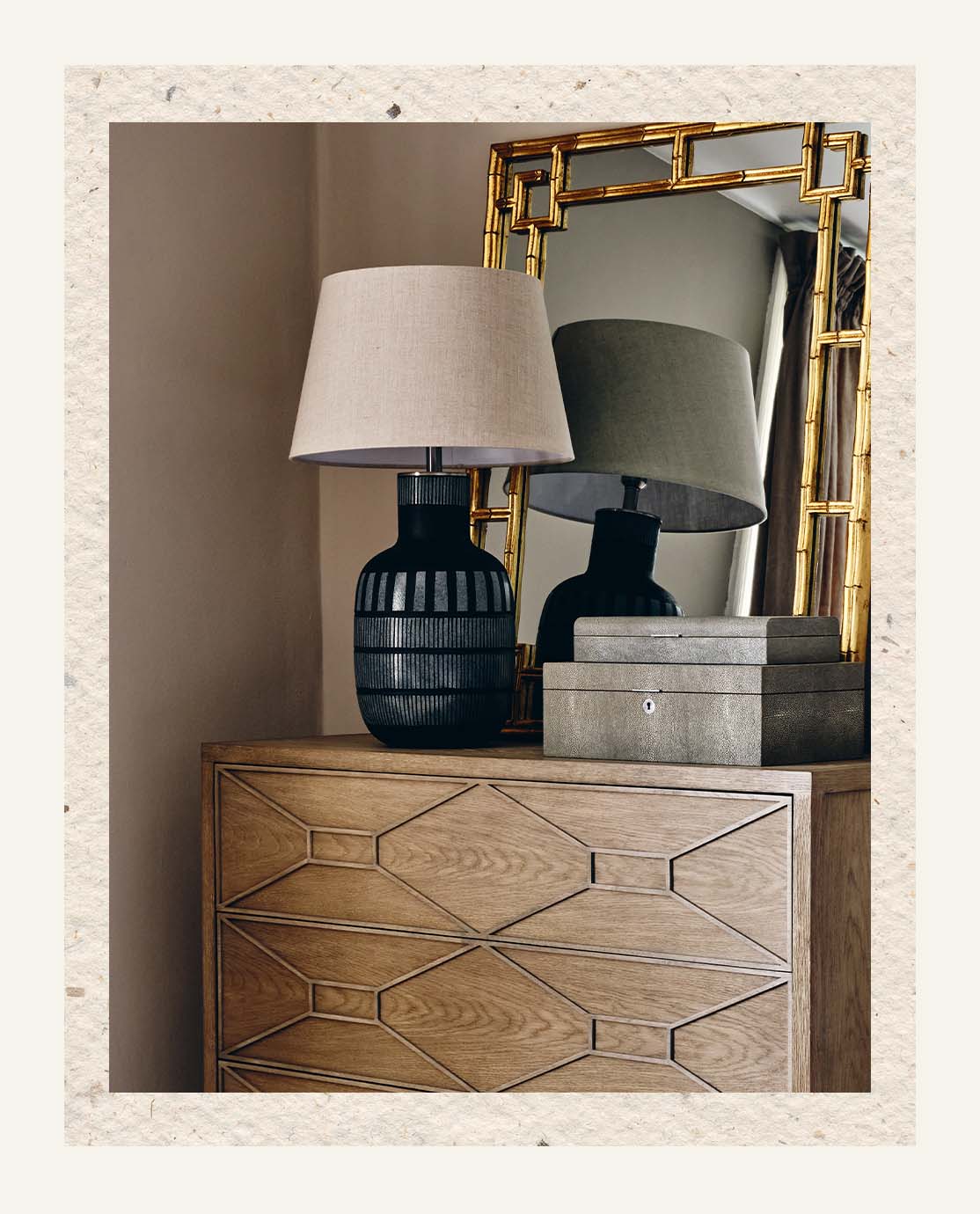 What are the best styles of bedside lamps?
While this doesn't directly feed into how to find the right size lamp for your bedside table, the style of your lighting is still relevant, as certain shapes and designs simply look better than others in particular schemes. "Depending on the interior, I tend to choose more classic lamps in the countryside," Storey tells us. "But in London, I feel you can be a bit more modern in your choice."
Brass- or gold-finished lamps, for instance, contrast beautifully against a black wooden table, while a narrow metal table lamp will always look chic on a glass side table. Choosing a colourful table lamp with an unusual design will draw the eye, instantly adding a dash of character as well as brightening a dull corner. "I would always choose a lamp with a soft shade of silk or cotton," adds Storey. "This creates a softer, more ambient light in the room."
Don't forget to choose a lampshade that mirrors the shape of the lamp; bottle- and urn-shaped lamps tend to work well with tapered shades, while square lamps look better with straight-sided shades that reinforce their geometry. Column lamps can handle both types of shade. For tips on how to measure your lampshade, it's worth having a look at this handy guide.