Who isn't a fan of a wintry stroll down the street at Christmastime, when you can catch glimpses of beautifully dressed fir trees glowing in windows? For interiors enthusiasts, it's one of the highlights of the festive season. If you want to join in the fun, we're here to help with this step-by-step guide on how to decorate a Christmas tree. Read on for our tips on creating an enviable festive display to be enjoyed by friends, family and neighbours alike.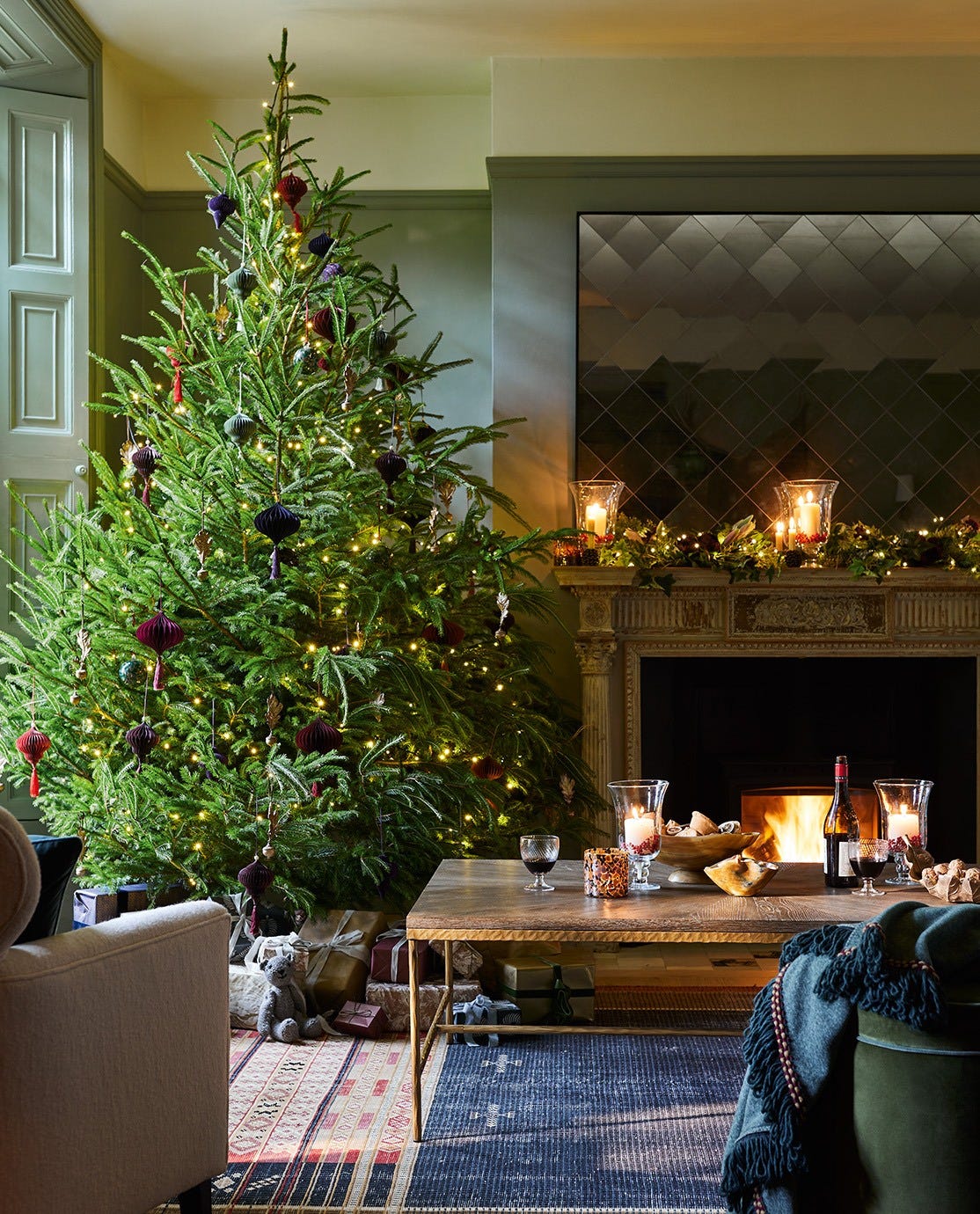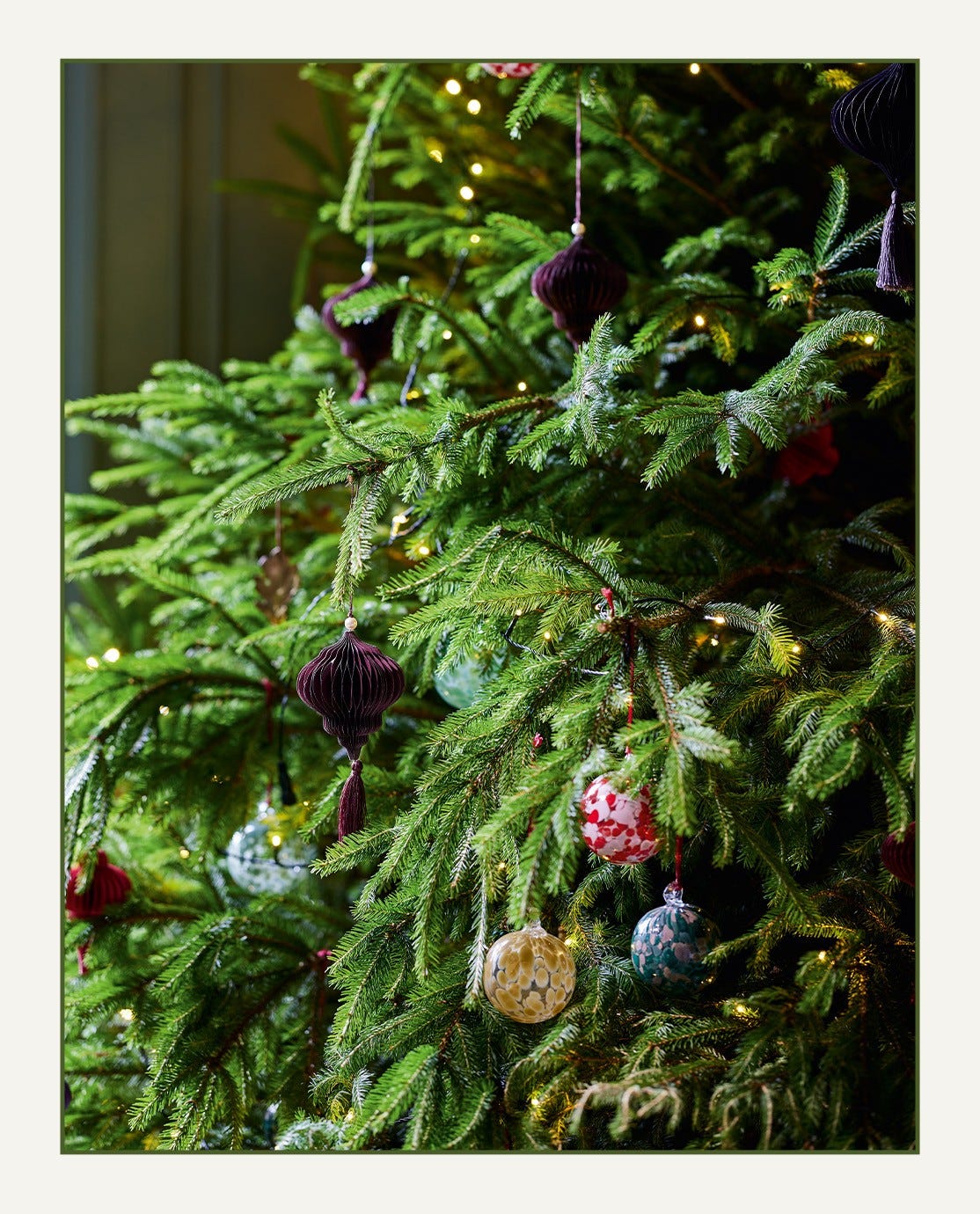 Place the Christmas Tree and Fluff the Branches
Before you haul your faithful faux fir out of storage or pick out a brand-new tree, have a plan for where in your home you'll display it. Popular spots include the hallway, the sitting room or family room, or anywhere you have a taller, wider window from which it can be admired by those inside and out. The best places to put up a Christmas tree are where it will be most visible and accessible. If you're picking a new tree and/or a new spot, measure up your preferred space and bring the measuring tape along when you head to the garden centre. Once you've placed your tree and securely set it in its stand, fluff its branches – this will help artificial trees look more natural and real trees healthier.
Design Around a Theme and Colour Scheme
Now it's time to start decorating. The best way to decorate a Christmas tree is to select a theme, or at least a colour scheme, before you start, as this will make decisions regarding toppers, light colour temperature and baubles easier. Do you want a green, red and gold Christmas tree to match a traditional, nostalgic scheme, or do you have your eye on some elegant Christmas tree decorations that would fit best with a more modern look? Though we encourage you to keep an eye out for Christmas tree decorating ideas and inspiration, first and foremost you should think about your personal preferences and what would look best in your home, taking into consideration any Christmas tree ornaments you already own that you might want to use.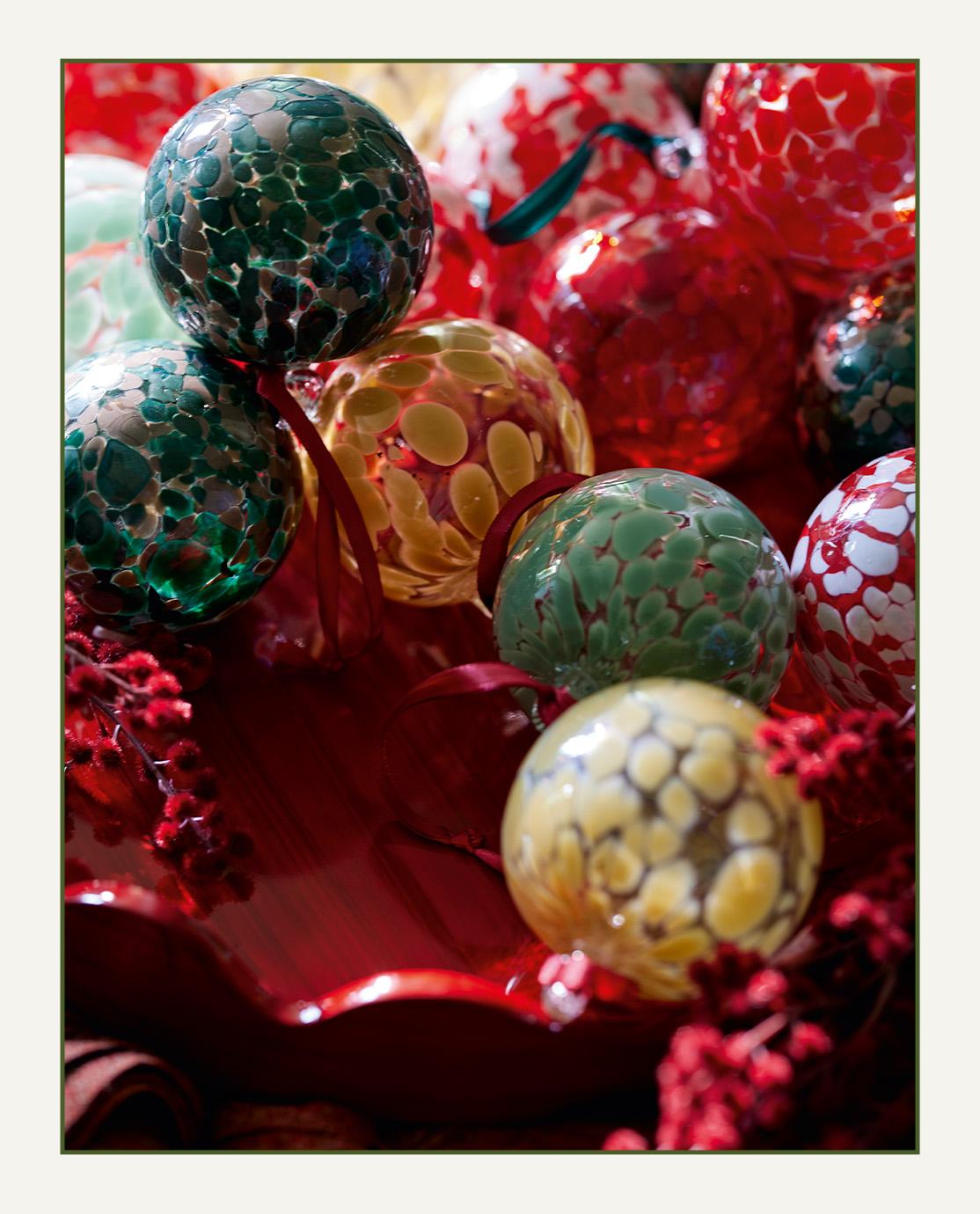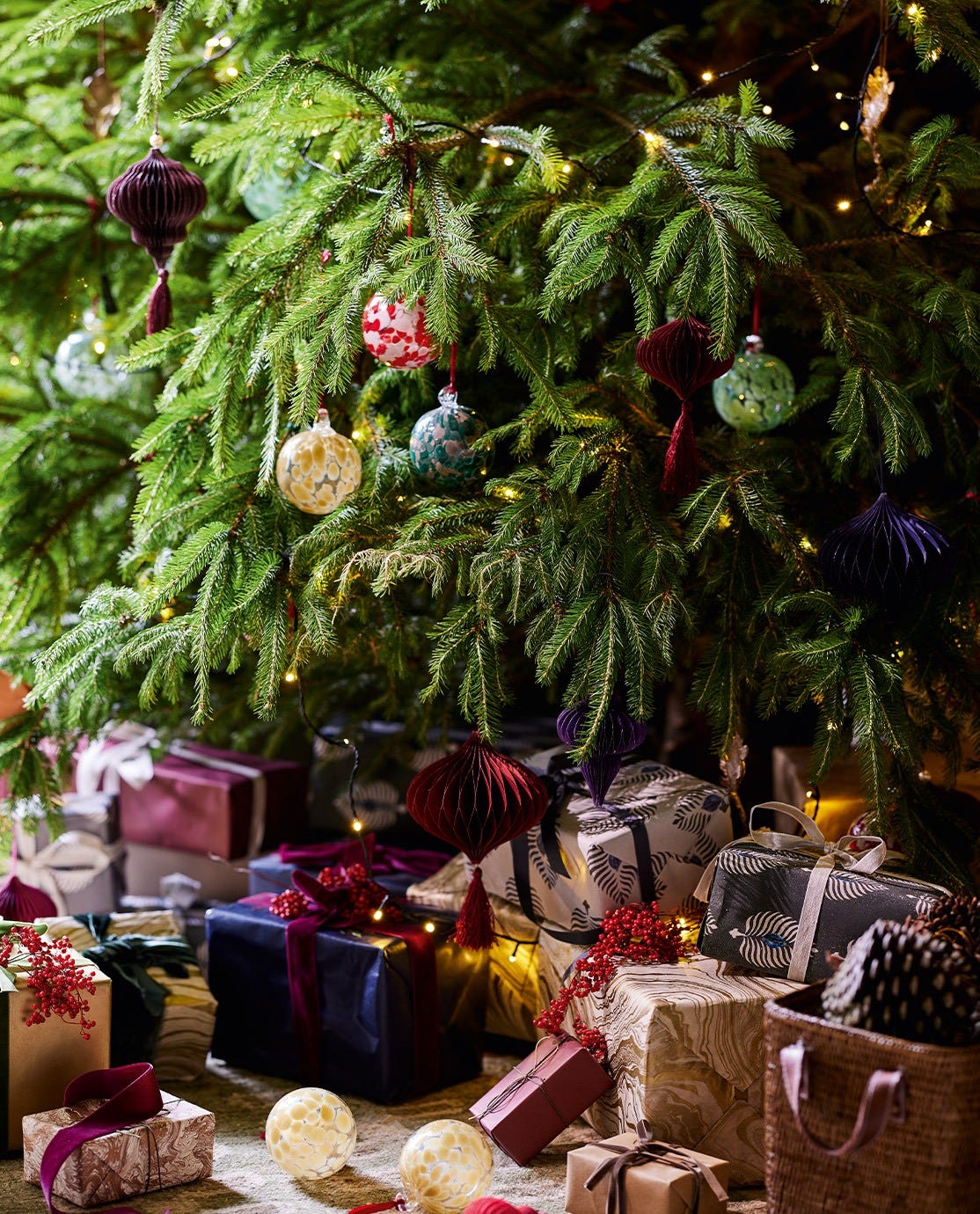 Put the Lights On
With your Christmas tree theme in mind, pick out your lights. Choose yellow-toned lights to match a warmer colour scheme or more traditional look. Cooler or white lights look great as part of a modern look or an icy, 'winter wonderland' theme, while multi-coloured Christmas tree lights lend a playful feel to the festive season. Whichever you choose, make sure the colour of the cord matches the colour of your tree, to ensure it blends in as much as possible.
When people contemplate how to dress a Christmas tree, adding the lights can often be the most daunting element. To make the process as smooth as possible, we recommend starting from the plug socket, partly because it's easiest to keep track of what you're doing when the lights are switched on. At the base of the trunk – sticking as close as possible to the centre of the tree – begin to wrap the cord around the larger branches, working your way up to the top. If you have cord left over, work back towards the bottom and outwards towards the ends of the branches. Starting from the inside will give your tree a more organic, 3-dimensional look.
Start Adding the Decorations
Once your lights are strung, it's a good time to add garlands, bows, strands of beads and any other decorative elements that are larger than baubles, such as picks and sprays of berries, pinecones, foliage or icicles for a natural touch. If you're adding a Christmas tree garland, we recommend starting from the top and winding your way down the tree, taking care not to bunch too many branches together. Gauzy or metallic ribbons and strings of dried orange slices are popular traditional garlands; make sure to avoid wrapping them too tightly around the trunk so that they will be seen. Alternatively, red velvet bows make a tree look especially sumptuous if you want ribbon on your Christmas tree.
Though they seem like finishing touches, it's easiest to add tree toppers at this point before delicate baubles are hung. For the ultra-traditional, angels and stars remain popular choices for elegant Christmas tree decorations, while others prefer to "branch out" with unique Christmas tree decorating ideas, such as sunbursts, paper rosettes, white doves, fairies, gnomes or bows. As fans of mixing and matching, we like the idea of opting for a topper just because you love it, whatever your chosen theme.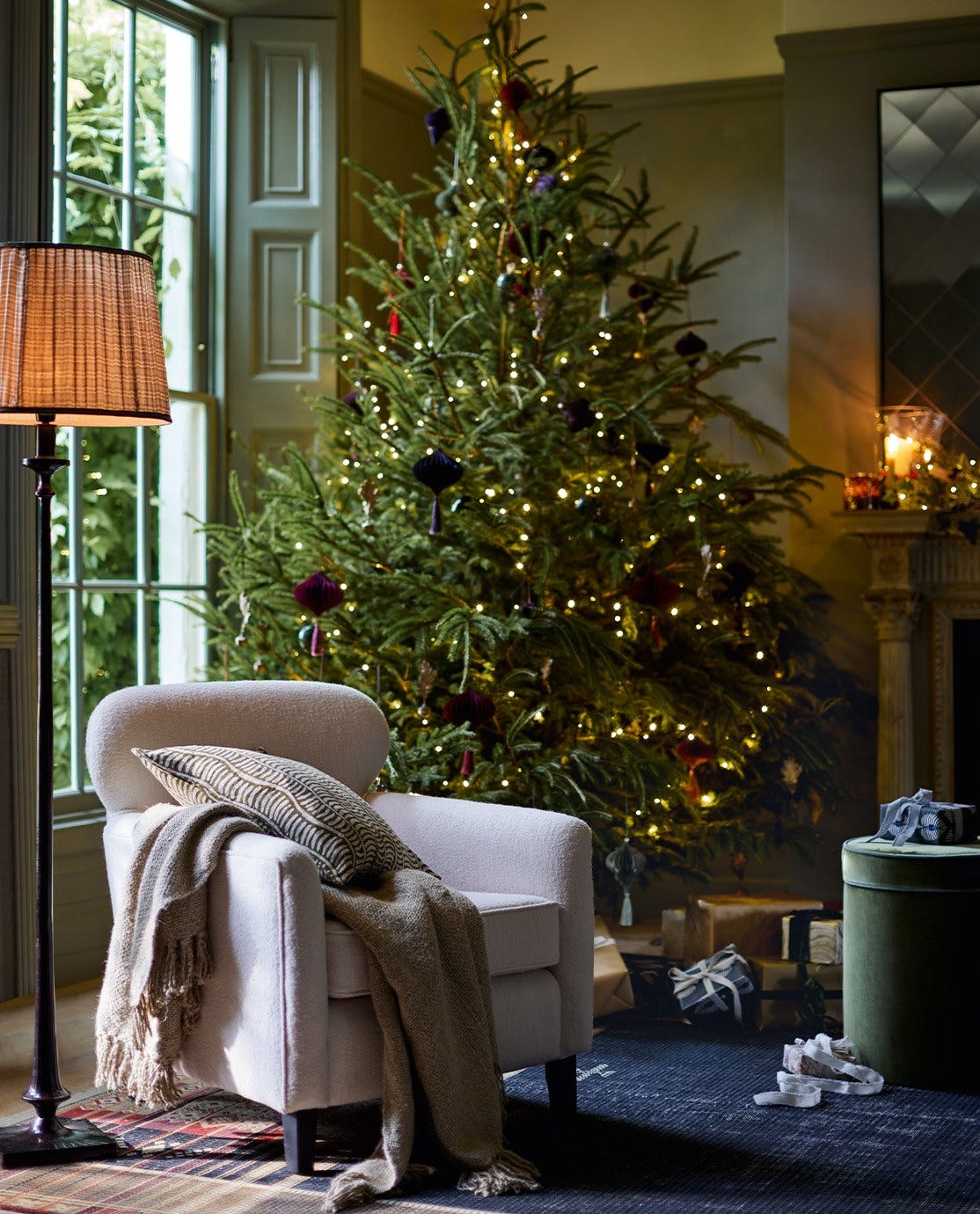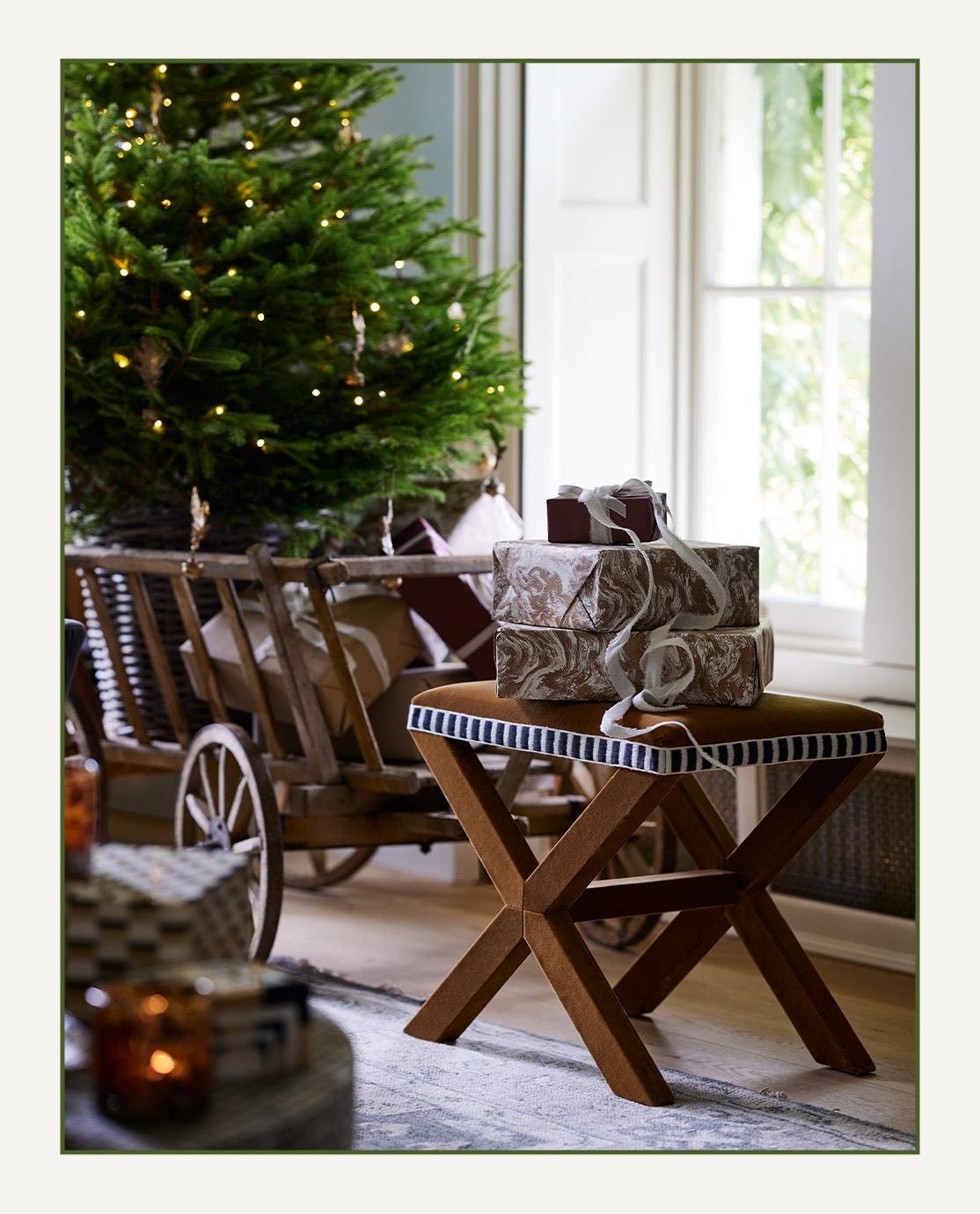 Hang Your Baubles
And now for the fun part, where you can really express your chosen theme: the Christmas tree ornaments. Those of us who haven't collected a lifetime's worth of special Christmas baubles may choose to coordinate hues with a handy multi-coloured set of glass or paper designs. In our collection, you'll find a variety of styles, textures and colours to suit your theme. For 2023, we've introduced our Sumi Range, a selection of unusual glass Christmas baubles finished with a marbled effect in a choice of vibrant shades. Pair these with our other bright Christmas baubles in alternative textures – such as our Honeycomb Paper Baubles or Feather Baubles – for a pleasing tactile contrast. If you're looking for gold baubles for the Christmas tree, allow us to introduce our natural take on the theme, our much-loved set of Hanging Acorns. We have plenty of plain Christmas baubles, too, if that's what you're after – take your pick from our glass designs in vibrant shades of Raspberry, Alchemilla, Garnet and more.
If you're wondering how many ornaments are needed for a large tree, you might look for approximately 80–100 baubles, depending on its size and whether you'd like it to look jam-packed or a bit lighter on its feet. It's a good idea to limit yourself to three or four colours, and a variety of finishes, from shiny to sparkly to matte, to give your tree a sense of depth. Hang larger baubles closer to the inside of the tree and towards the bottom, so they don't weigh the branches down. Place smaller baubles higher up. Then, weave in any sentimental or visually interesting ornaments you'd like to feature prominently.
Give your tree a dusting of tinsel if you wish – with recycled and plastic-free varieties now available, you needn't feel guilty if you're a fan of this retro look.
Add a Christmas Tree Skirt
Finally, when you've finished making the rounds, cover up the stand or trunk with a festive skirt for a stylish Christmas tree look. Red and white felt makes a classic contrast with a natural green tree, but you'll find options available for any colour scheme or Christmas tree decorating trend, as well as alternatives such as wicker collars and white fabrics mimicking snow or fur.
To get a head start on decorating, explore our Christmas edit.