If you pay close attention to interior design trends, you may have noticed loose covers flitting in and out of fashion over the years. Once a regular feature in English homes, they fell out of favour as smarter, fixed covers came into vogue. While the latter remains the prominent style in modern spaces, loose covers are experiencing a resurgence as people seek ways to be more sustainable and cost-effective with their interior design purchases. If you're investing in a new sofa or updating an existing one, then we encourage you to include loose covers within your considerations. To help you make your decision, we've rounded up the pros and cons of buying loose covers, along with the steps to take to find the perfect fit for your home.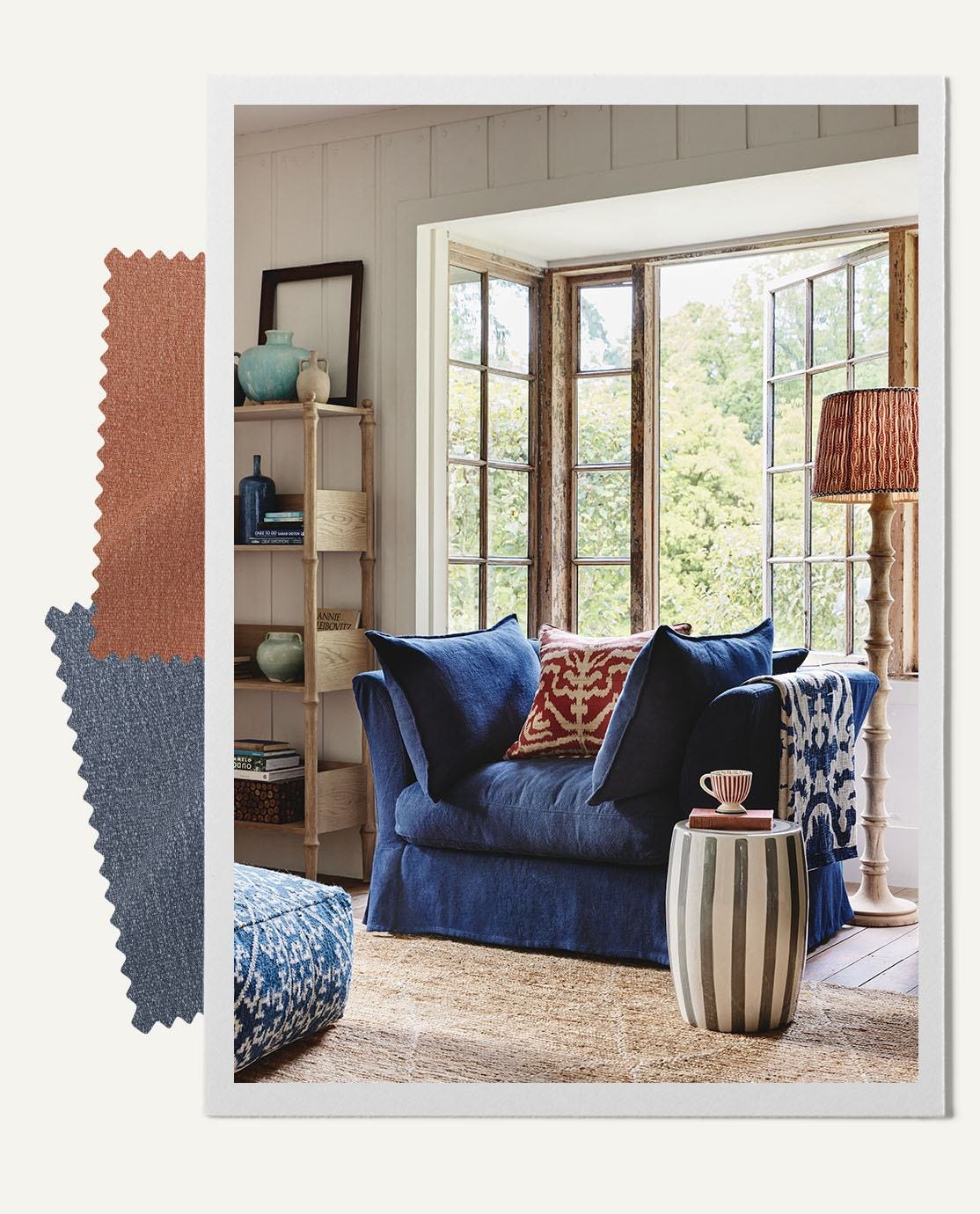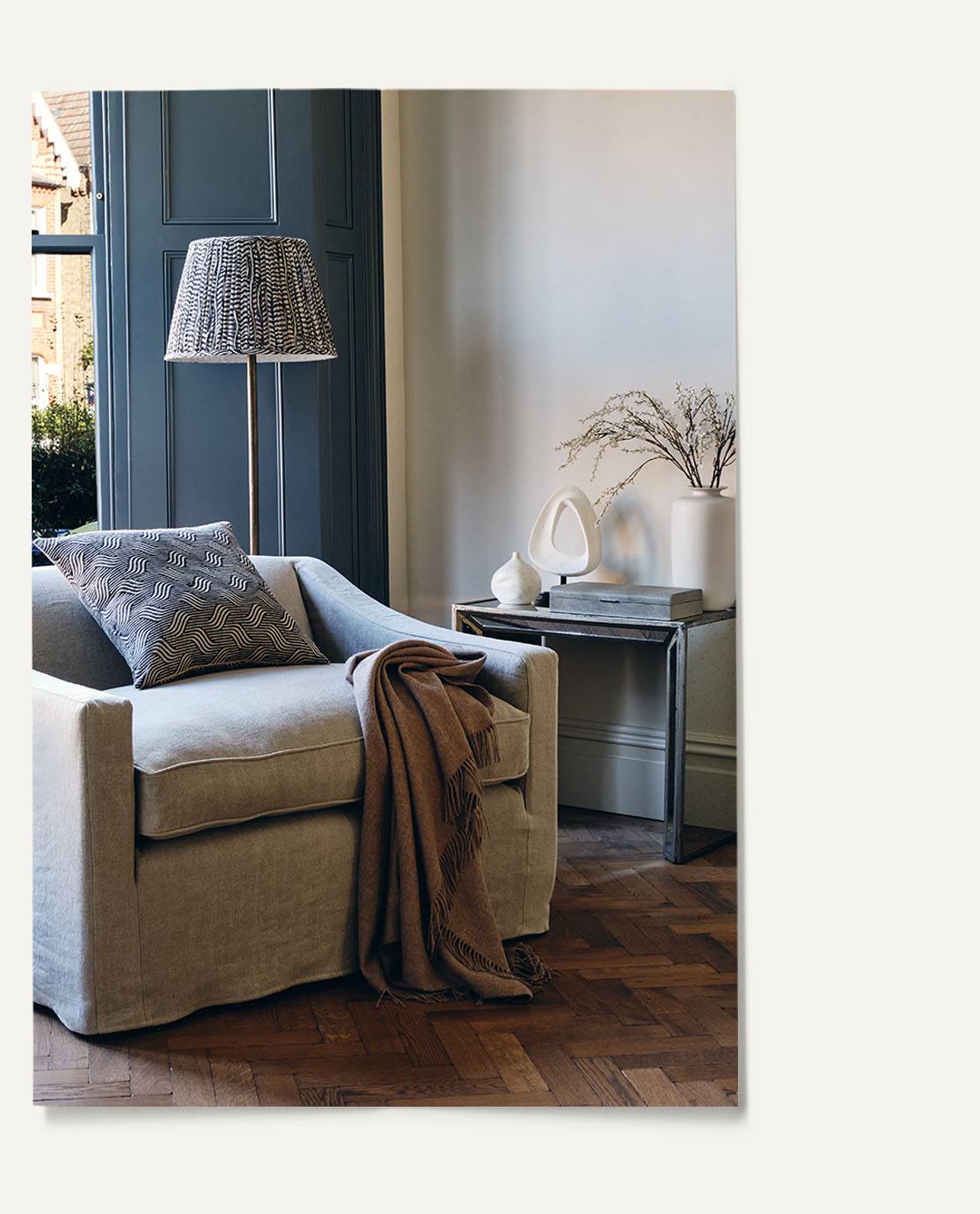 What are the Advantages of Loose Covers?
In the past, loose covers were predominately used for protecting furniture, and were often susceptible to slipping and creasing, which is why people turned to fixed designs as an alternative. Today, while the quality and design of loose covers have improved, the appeal remains the same: easy to remove, clean and update without investing in an entirely new piece of furniture, loose covers have many practical and economical benefits. In the eco-conscious modern day, these qualities feel more pertinent than ever, as people focus on timeless designs that can be adapted as fashions – or their personal styles – change. Here are just a few of the advantages of loose covers:
They can be easily removed and washed, making them perfect for households with young children or pets.
• Replacing a loose cover is much more economical (and environmental) than purchasing an entirely new sofa, and can be easily replaced in the event of damage.
• Likewise, if the upholstery on your sofa's fixed cover has been damaged, loose covers are a great way to hide wear and tear without having to invest in an entirely new piece of furniture.
• If you're short on storage, a loose cover with a valance is a clever way of concealing clutter that can be secretly tucked beneath the sofa.
• Should a change in season inspire you to update your home, a loose cover in a different material will make your room feel instantly refreshed.
What to Consider Before Purchasing a Loose Cover
If you've decided that a loose cover is the right choice for your home, then we'd recommend thinking about a few key elements when narrowing down the design. The first is the style of loose cover you'd like – loose covers with valances are the most common type, but you can also find pieces that offer the appearance of a fixed design, with the flexibility of a removeable cover. Our Coleridge Range, for example, includes a selection of loose cover options that give the impression of a fixed style.
We also advise thinking about how the cover will be fitted on to your sofa – there are a range of styles available, with some fixed using attractive bows, others relying on concealed velcro or zips and some that are designed to simply be slipped over the top of your sofa. If you're buying for a family home with children or pets, then we recommend seeking a style with zips, as this is the most secure option.
How Do you Measure for Loose Covers?
Many companies will offer loose covers that are specific to certain sofa styles that they already sell – here at OKA, for example, we have a wide selection of loose covers for both our core and made-to-order sofa collections – however, if you're purchasing from a different brand or are ordering a bespoke cover, it's important to measure your sofa beforehand to ensure the perfect fit. Here's how, in five simple steps:
1. Measure the length of your sofa, from the outside of one arm to the outside of the other arm.
2. Measure the width of your seat cushions, focusing on the section that sits in front of the sofa (this is the area below the arms). Then measure the length of your seat cushions from one side of the sofa to the other.
3. Measure the width of the sofa frame, starting at the front outside edge of one sofa arm, continuing across the back and round to the front outside edge of the opposite sofa arm. You may need to manipulate the measuring tape for accurate results.
4. Measure the cushion height, from the top of the seat cushion to the floor.
5. Measure the full height of your sofa, from the floor to the top of the sofa back.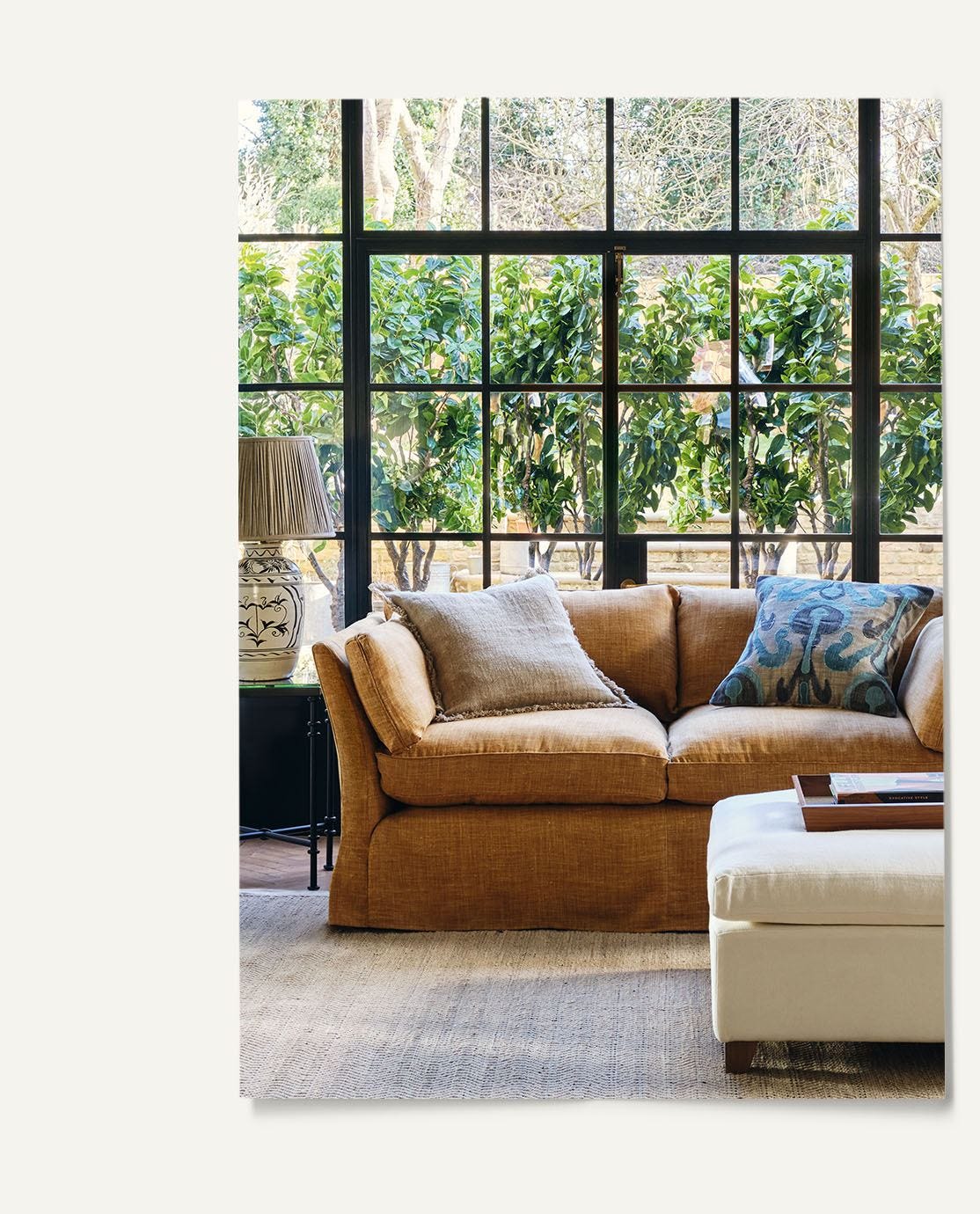 What is the Best Fabric for Sofa Loose Covers?
The best fabric for your loose cover will come down to two things: what you need and what you like. If you're purchasing a loose cover for predominately practical reasons, then we'd recommend seeking a material that is hard wearing and easy to clean. While a polyester fabric will be the most durable option, a natural material will be simpler to take care of, as these are typically easier to wash. Cottons and linens are popular choices for loose covers as they are hard-wearing and simple to clean, whereas a material such as a velvet may be best saved for a room with low traffic, as this will be more susceptible to wear and tear. For the comfort of a natural material with the durability of polyester, we recommend seeking a blend of both.
Alternatively, if you're selecting a loose cover for mainly stylistic reasons, then let your personal taste take the lead. For those hoping to refresh their sofas with the seasons, we'd advise linen for summer and cotton or velvet for winter. For more information on choosing upholstery fabrics, read our handy guide.
How Do you Take Care of Loose Covers?
The correct way to care for your chosen loose cover will vary depending on your fabric and design, and so we always recommend checking the care label for instructions on how to clean it properly. You will be able to pop some loose covers in the washing machine, while others will require professional dry cleaning. If your cover comes in different sections, we recommend cleaning all of them at the same time to ensure the colour remains consistent. Remember, the more you wash your loose covers, the more the colour is likely to fade. Here are a few tips to follow to keep your cover looking fresh when it's in situ:
• Regularly rotate your cushion covers to ensure any wear is evenly spread.
• Vacuum clean your sofa regularly using the brush attachment.
• Plump your seat cushions to ensure the filling is evenly distributed and remains comfortable.
• If possible, avoid placing your furniture in direct sunlight, as this can cause the colour to fade. This is particularly important for natural fabrics such as linen.
If you have a Tailored by OKA loose cover and would like to find out more information on how to clean it, read our care guide.
How to Fit a Tailored by OKA Loose Cover
Once you've chosen your perfect loose cover, you'll have the fun task of fitting it on your sofa. We offer a range of linen loose covers for a selection of our made-to-order Tailored by OKA sofas, and have compiled a step-by-step guide to fitting them below.
• Open up your Tailored by OKA loose cover. We recommend ironing it first – preferably with a steam iron – to remove any creases caused by the packaging.
Top tip: when you remove your cover to wash it, we advise putting it back on your furniture when damp, as the fabric will have more give.
• Place the loose cover along the back panel of your furniture first, but do not pull it down fully.
• Move the arms of the cover into position, one after the other.
• Tuck in the cover loosely to check it's centred.
• Pull the cover over the seat. There are no zips, but there is a fair amount of stretch in the linen.
• Pull the cover down fully while moving around the piece of furniture – move from the front, clockwise until you have gone all the way around.
• Tuck the excess fabric down the sides and back of the furniture while keeping the cover central. This will help to keep it in place.
• Position the cushions, and relax.