After months of searching, you've found the lamp base that has everything you're looking for. Everything, that is, except the lampshade to finish it off. Now you're entering a whole new territory, questioning how to measure a lampshade to ensure that it will fit both the base and the scale of the room, as well as throw the right amount of light for the atmosphere you want to create. Yes, navigating the world of lamps and lampshades can be a tricky business. Where do you begin? There is the option to go through every single lampshade and try it out on the lamp but, not only is that time consuming it's also impractical. Aside from anything else, if you're buying online it's not physically possible. Worry not, however – we know a fair few things about how to measure a lampshade, so follow along as we guide you towards a design that will fit your lamp base (and style) perfectly.
What is the best size lampshade for a table lamp?
As with all elements of a decorating scheme, getting the proportions right for a lamp-lampshade combination is vital; a table lamp shouldn't be dwarfed by a giant shade or unbalanced by a small one.
To find the best size lampshade for a table lamp, start by measuring the height of the lamp base itself, using a tape measure (or ruler). When we say height, we mean from the bottom of the lamp base to the bottom of the rod – the rod and the bulb holder should not be included in this measurement.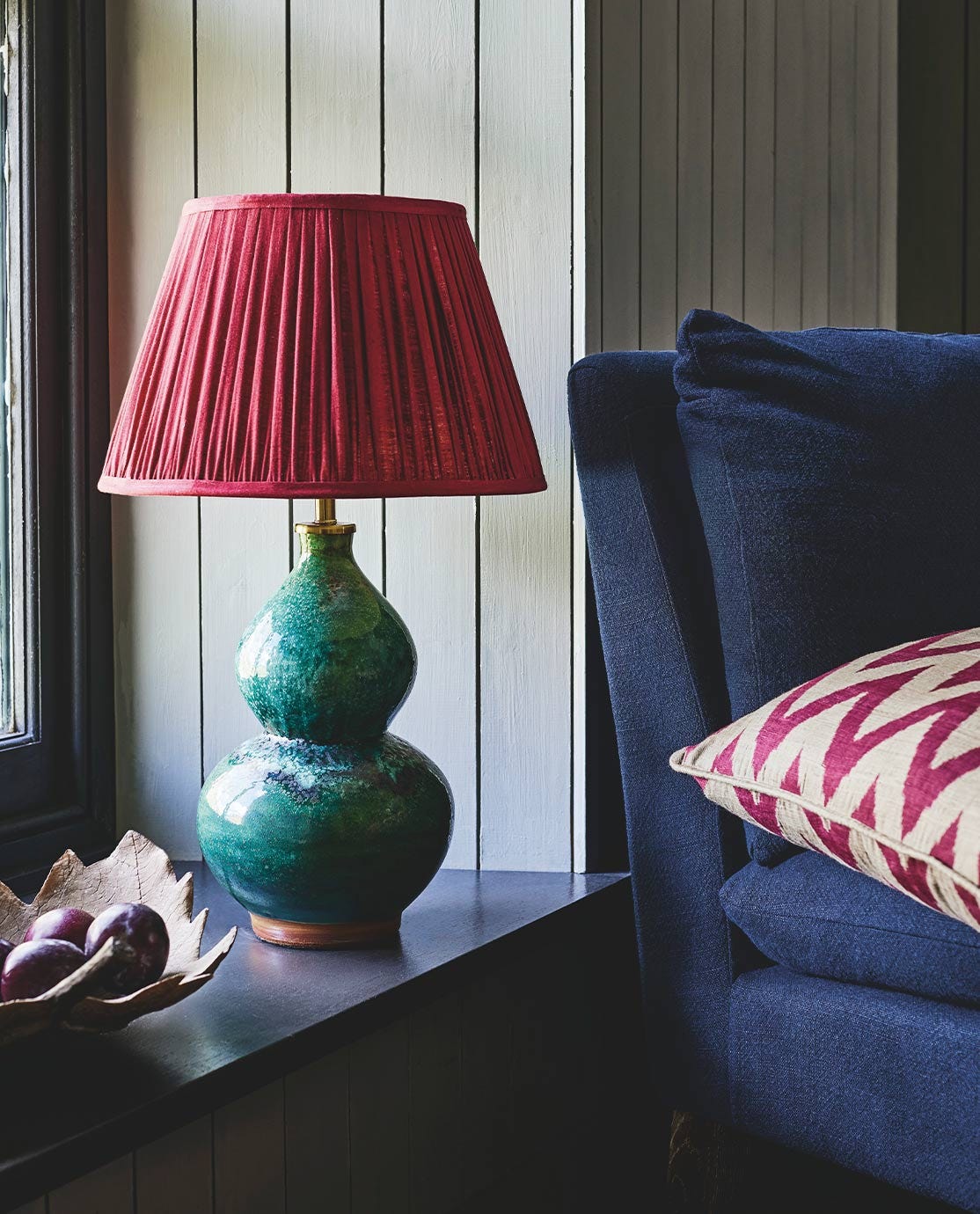 Once you have the height, it's pretty simple: the golden rule for table lamp lampshades is that their width should be equal to the height of the lamp base. If your lamp's dimensions are between two sizes of lampshade, choose the larger of the two as it looks better proportionally, and will distribute more light.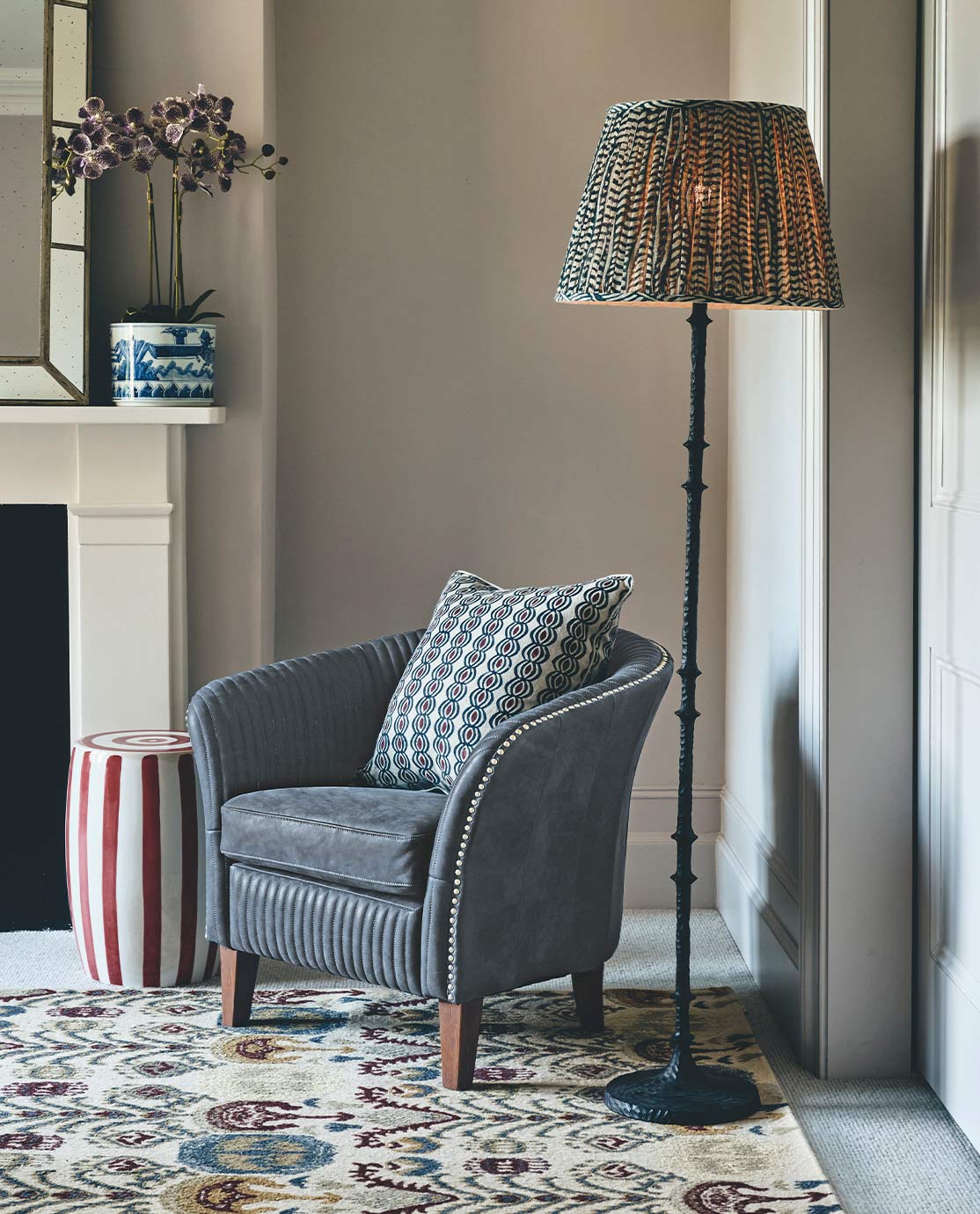 What size lampshade is best for a floor lamp?
As floor lamp designs are often tall and narrow, they work well with drum, empire, rectangular or square lampshades. In terms of the size of shade, however, the maths are marginally more complicated than the measurements used to determine a table-lamp pairing.
To determine what lampshade size you need for your floor lamp, measure the height of the lamp base – from the bottom all the way to the top of the bulb rod – then divide by four. This will give you an approximate height for the shade itself. Don't forget to take into account how much room you have around your shade, as this will determine the width of the design. Remember, you can always go a size down if it makes the space feel tight, or it looks too close to other pieces of furniture – trust your eye.
How high (or low) should my lampshade sit?
It may seem like a silly thing to consider, but the height at which a lampshade sits on a lamp base can totally alter its effect, visually. As a general rule, the perfect sized lampshade hides the fittings underneath without encroaching upon the lamp base itself; in short, the shade should not take away from the design of the base.
Lampshade style: where measurements and aesthetics meet
Now you've worked out how to measure a lampshade to land the correct size, you need to decide on the right shape. From the classic gently angled lines of an empire shade to the more modern rectangular style, there's a wide selection to choose from. If too much choice is the enemy of decision making, apply this thought: as a general rule of thumb, you should aim to mirror the shape of the base in your lampshade. So, if the base is straight, square or rectangular, it's best if the lampshade reflects those lines – opt for a design that's appropriately square or rectangular as well. If the base is tapered or round, a good option is a lampshade that is also sloping or rounded – think empire, drum or cone styles. Column lamps are the exception to the rule: they suit any shape of lampshade.
Beyond this, the other style features of a lampshade will also make a difference to how it fits a space – visually, as much as in terms of size. There are a few things you may want to consider, from colour and pattern choices, to the type of material the shade is crafted from.
What about the width of a lampshade – does that matter?
While the height of a lampshade is impacted by the design of the base, its width is often determined by the size of your space, and the location of the lamp itself within it. Consider where you will be positioning your lamp in the room – will there be plenty of space around it, or will it be in close proximity to a wall, a piece of furniture or placed near a well-used route through the room? If space is limited, it makes sense to choose a lamp base with a narrow profile and pair it with an equally narrow shade – that way it's less likely to get knocked or damaged.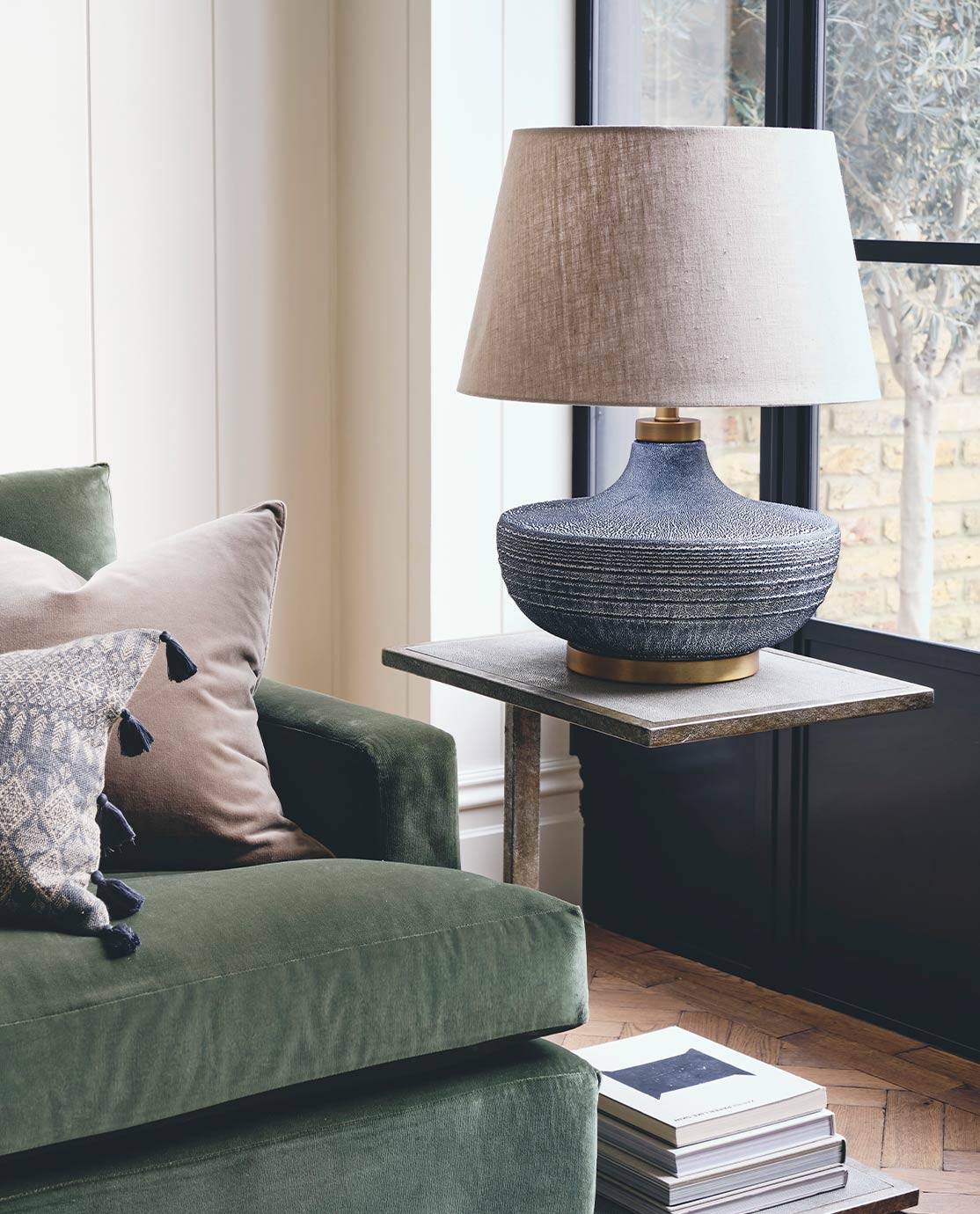 How do you choose the best colour lampshade?
The colour of your lampshade can alter depending on the time of year, as well as your own personal taste and the décor of the room it will be placed in. While a natural-coloured lampshade looks good all year round and will work in any scheme, you may choose to change your shade with the seasons; during spring and summer, opt for pale, neutral hues such as off-white and cream, switching to darker colours when autumn arrives. Neutrals are a safe choice if you're undecided about what colour to choose, but if your lamp base features a number of hues, picking one and highlighting that with your lampshade can look really effective.
What is the best material for a lampshade?
Depending on the style of lampshade – and the space it's located in – some fabrics make more sense than others. If you're searching for a simple shade, one made from card, cotton or linen will tick the box nicely. These materials work well all year round too, so if you're not likely to swap your lampshades seasonally, they would be the obvious choice. For something more elegant, silk is a wonderful alternative – and the best choice for a pleated lampshade design. The style and material of the lamp itself can also influence the fabric used for the shade; a base with a smooth finish might call for a contrasting lampshade with lots of texture and detail. Alternatively, unify the two elements by choosing a lampshade with a similar quality to the base.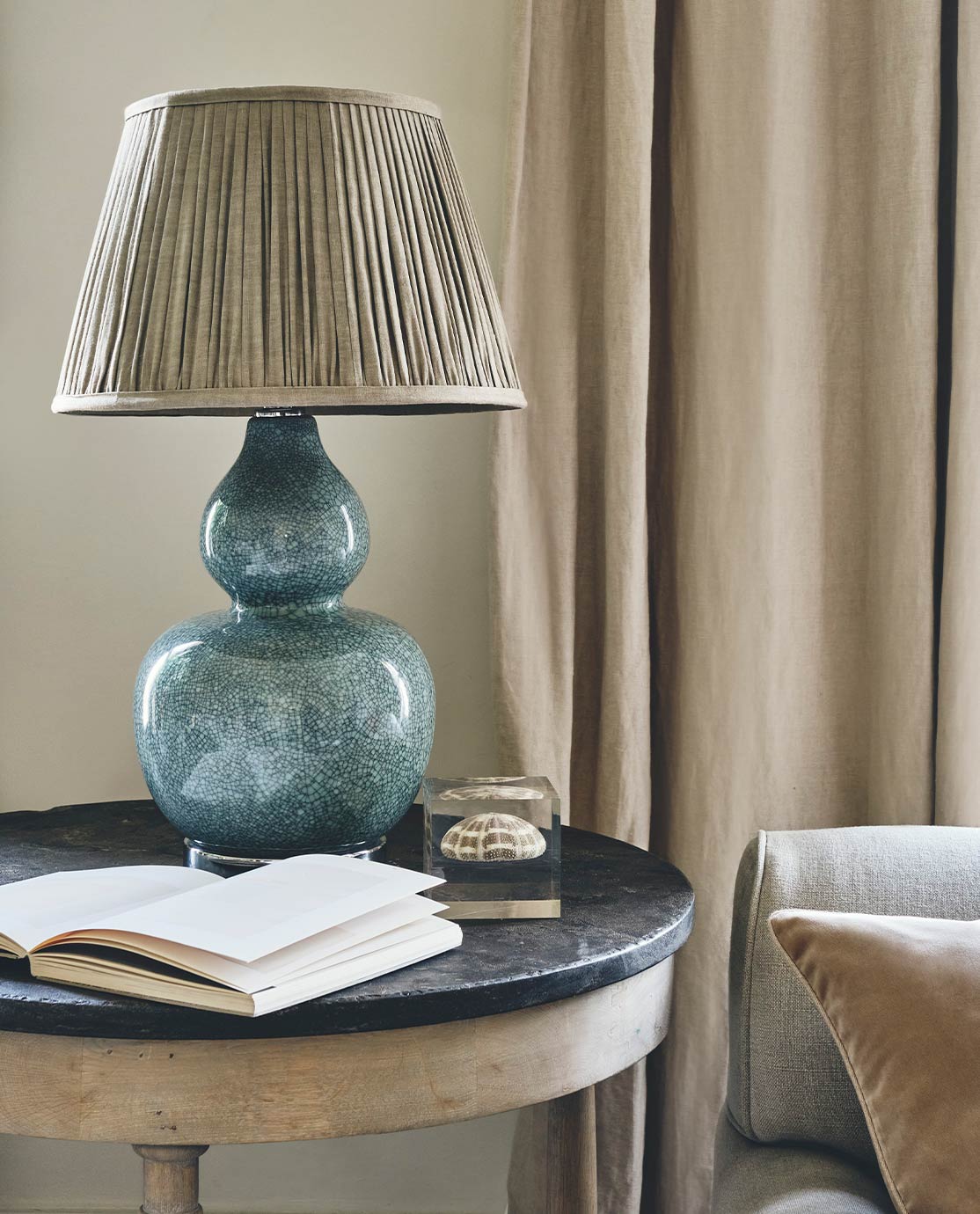 What is the best pattern for a lampshade?
If you tend to err on the side of caution when it comes to using bold patterns in your home décor, now is your chance to experiment with a design you love using a patterned lampshade. For simple lamp bases – such as the traditional column style – a patterned lampshade can draw attention to an otherwise subtle lamp. Don't let the lampshade compete with your lamp base, however; in order to remain the focus, a show-stopping lamp base that features multiple colours or a lot of texture requires a more subdued lampshade. Our handmade patterned card lampshades work well with lots of lamp designs, while many of the fabrics used for our lampshades are used on cushions as well, making it easy to create a coordinated scheme.
Once all the measurement and design details have been resolved, you can finally crown your lamp with its carefully selected (and hopefully ideal) shade. How do you do that to make sure the whole piece looks its best? Read on…
How do I fit a lampshade?
Before you begin, we suggest fitting your lampshade in daylight so you can see exactly what you're doing. As the lamp has to be turned off when you do this, it's best done in a room with good natural light.
First, you will need to check the fitting of your new lampshade; most of our lampshades either have a duplex fitting and require a shade carrier (to ensure stable use) or have a fixed fitting that comes with a converter ring, making the shade compatible with either an E14 or an E27 bulb holder.
Shade carriers: some lamp fittings require a shade carrier to be attached. To do this, unscrew the ring-shaped socket cap located at the top of your lamp base. Loop the smaller ring of your shade carrier over the neck of your lamp base then screw the cap back in place to keep it secure. Once this is in place, you can screw in your chosen lightbulb.
Duplex fittings: these aren't designed to be directly secured to the base, simply rest the lampshade on top of the shade carrier.
Fixed fittings: If your lampshade has a fixed fitting, there's no need for a shade carrier. Attach the shade directly to the base using the socket cap provided.
You can then screw in a bulb of your choice, switch on your lamp and enjoy the full effect of your perfectly measured new lampshade.