Cushions are often celebrated as the perfect finishing touches, but there's an art to arranging cushions to ensure they do their job: visually lifting and unifying an interior by drawing together an inviting combination of colour, pattern and texture. If you're still not convinced by your soft-furnishing skills, or want to be sure you're hitting the right note with your cushion-clad finish, start by following these expert tips to truly master the art of arrangement.
Coordinate your cushions with existing décor
"Cushions aren't there to dictate a room; they're there to enhance it," says Sarina Hawkins, one of OKA's expert Interior Designers. With this in mind, your choice of cushions should be inspired by what's already in the room – whether that be a particular colour scheme, a striking pattern or similar textures. The trick is to do it subtly, so your arrangement casually complements a scheme (rather than appearing as if every detail has been scrupulously matched); reflect the pop of a cobalt blue lampshade in the embroidery of a scatter cushion, for example, or the plush velvet of a pair of curtains in a bolster cushion.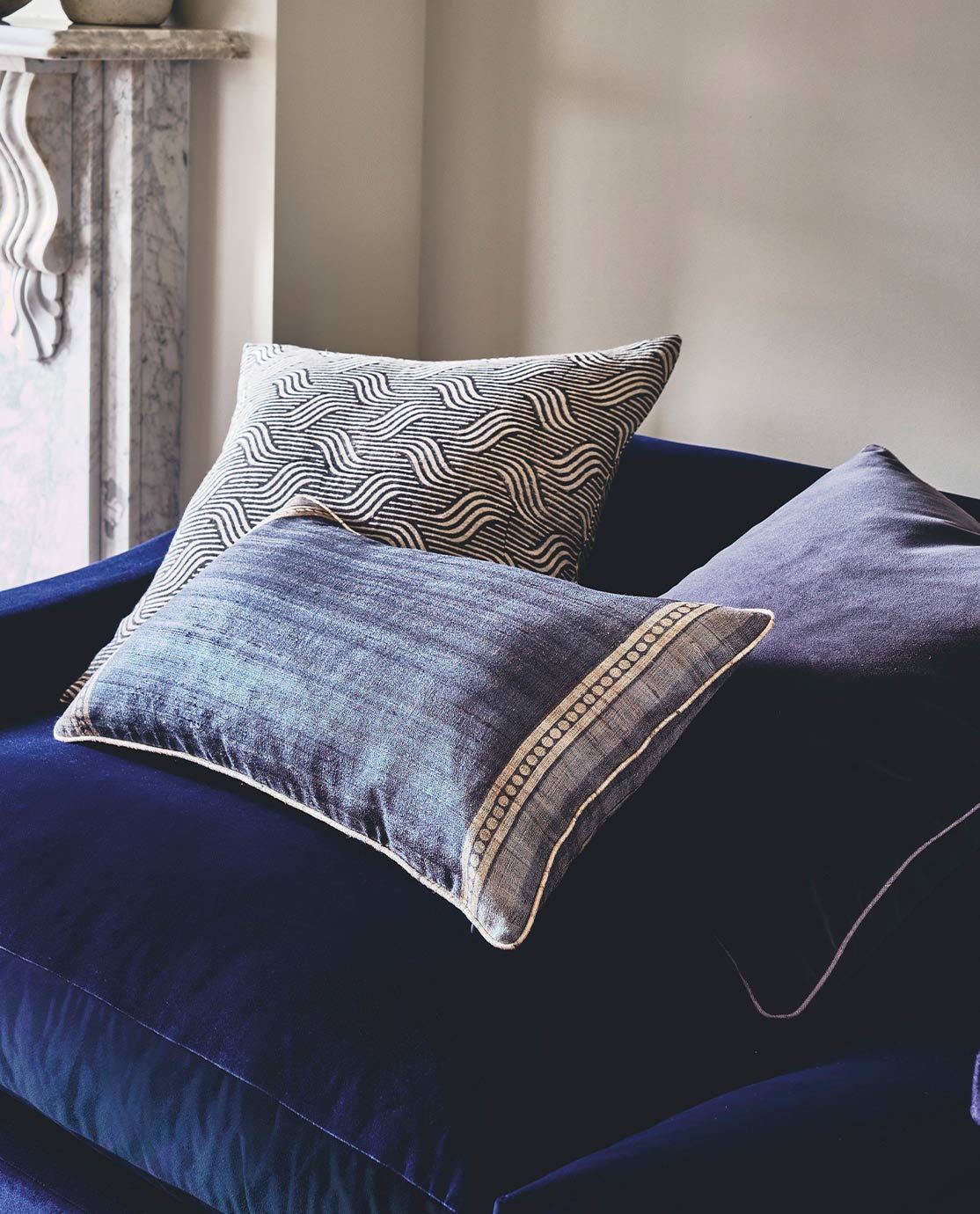 Pair prints with block colours
A riot of prints jammed together on a sofa, chair or bed can make a space feel overcrowded. Calm the chaos by selecting two or three cushions in your favourite patterns and layer them with simple block colour or neutral styles in complementing shades. When it comes to pairing different prints, team small-scale patterns with larger-scale designs; this will make your arrangement easier on the eye and give each cushion the chance to shine. To add subtle points of interest, place louder prints or colours behind simpler styles. "Don't let two cushions take over – you've got to layer your arrangement," explains OKA Interior Designer Antoni Roig. "Put bolder cushions at the back to suggest a hint of pattern, rather than making it immediately obvious that it's there."
Have fun with contrasting textures
For those who shy away from daring prints, use a mix of textures to bring depth and character to a more muted arrangement. Don't be afraid to team thicker fabrics, such as a faux fur or velvet, with lighter-weight cottons and linens – the contrast will create a warm, tactile effect that works throughout the seasons. "People sometimes have issues with velvet or other heavier materials," says Roig, "but if you remove these fears you can have fun with textures, such as pairing a velvet with a fur." You don't have to focus solely on a cushion's base material to create a tactile design either – tassels, embroidery, fringing and textured appliqué are alternative (and simple) ways to add interest to an arrangement.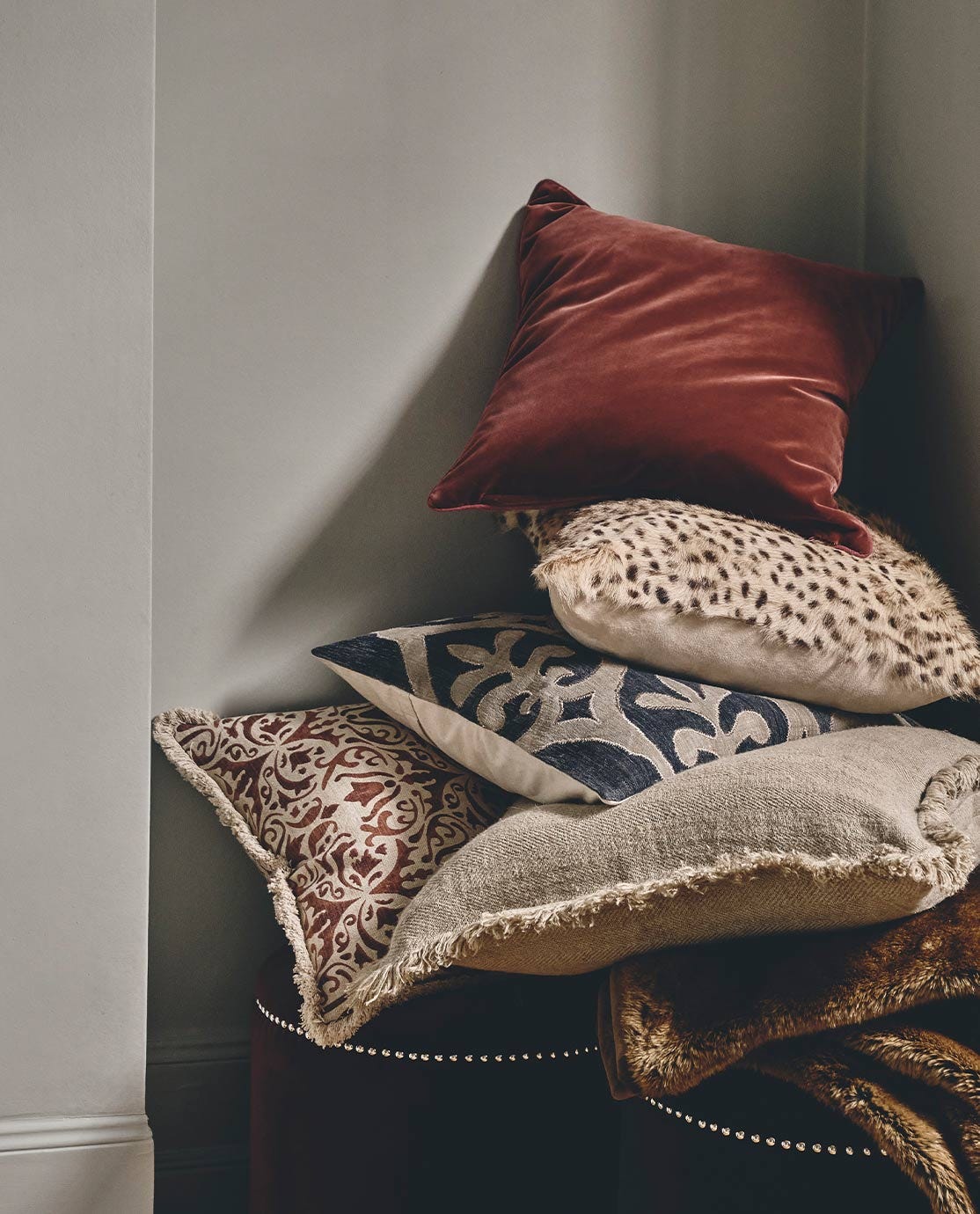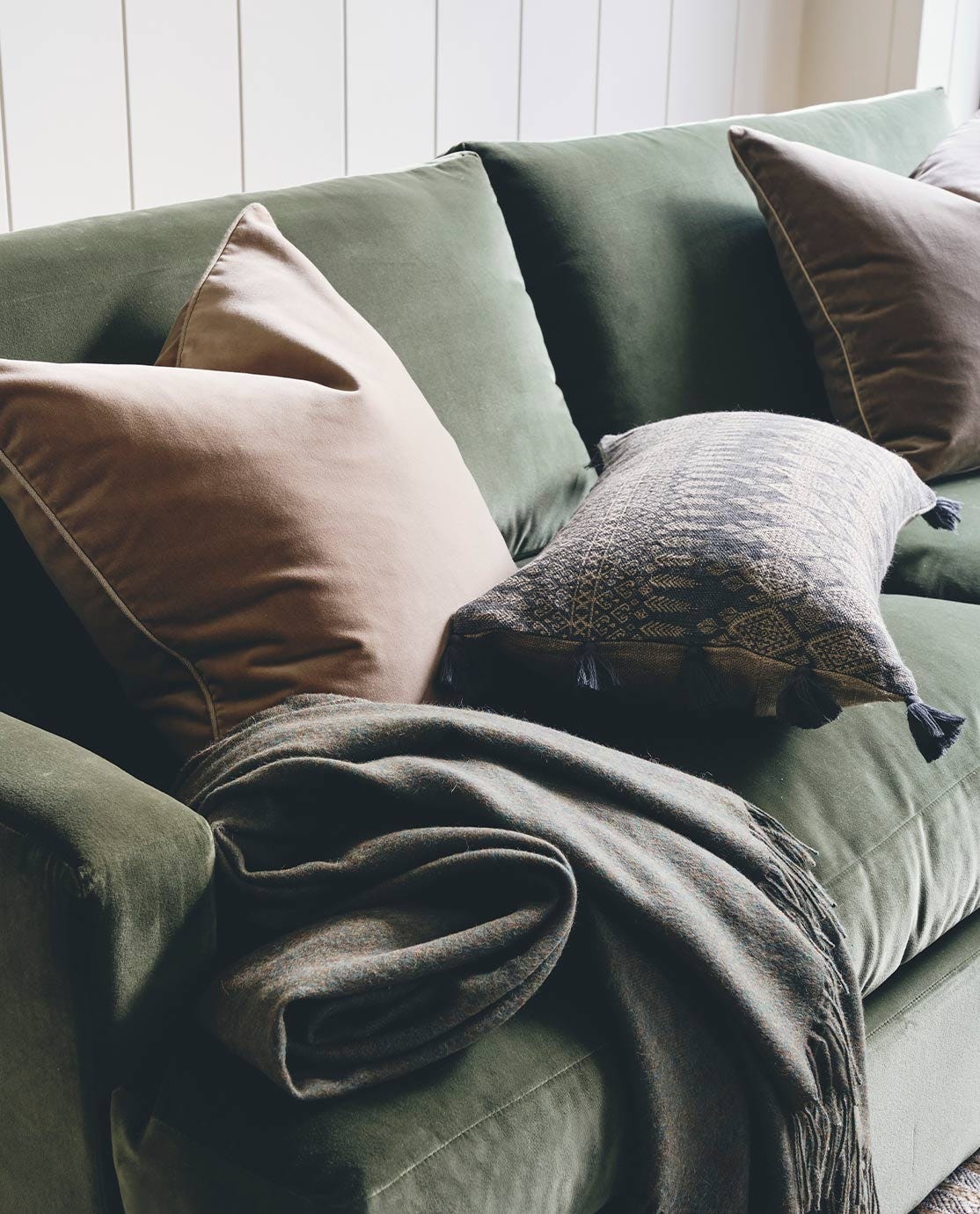 Mix and match shapes and sizes
"There are many ways we've put cushions together over the years at OKA," Roig tells us. "Personally, I love a great selection of oblong cushions, without mixing in square ones. It's fun to play with different sizes too." A cluster of cushions all with the same proportions can make a room feel formal; if this isn't the effect you're trying to achieve, experiment with varying shape formats, such as squares, bolsters, circles or rectangles, playing with different dimensions. An assorted arrangement will create a more relaxed and inviting atmosphere.
Follow a less-is-more approach
How many cushions is too many cushions? "It all depends on which item of furniture you're putting them on," says Hawkins. "If you're decorating a sofa, for instance, be careful not to overwhelm it with too many – you'll probably just end up taking them off." This underlines the point that a sofa should feel, as much as look, welcoming; a multitude of cushions leaves little space for you to actually sit. Reaching a figure for the "right amount" will ultimately come down to the size of your sofa, but remember to be practical – while cushions are there to accessorise, they're also there to add support and comfort, so too many, or too few, will upset the balance. The same principle applies when layering cushions upon beds; if you overwhelm yours with too many feather-filled pillows, you'll find yourself repeatedly taking them on and off, looking for somewhere to set them down.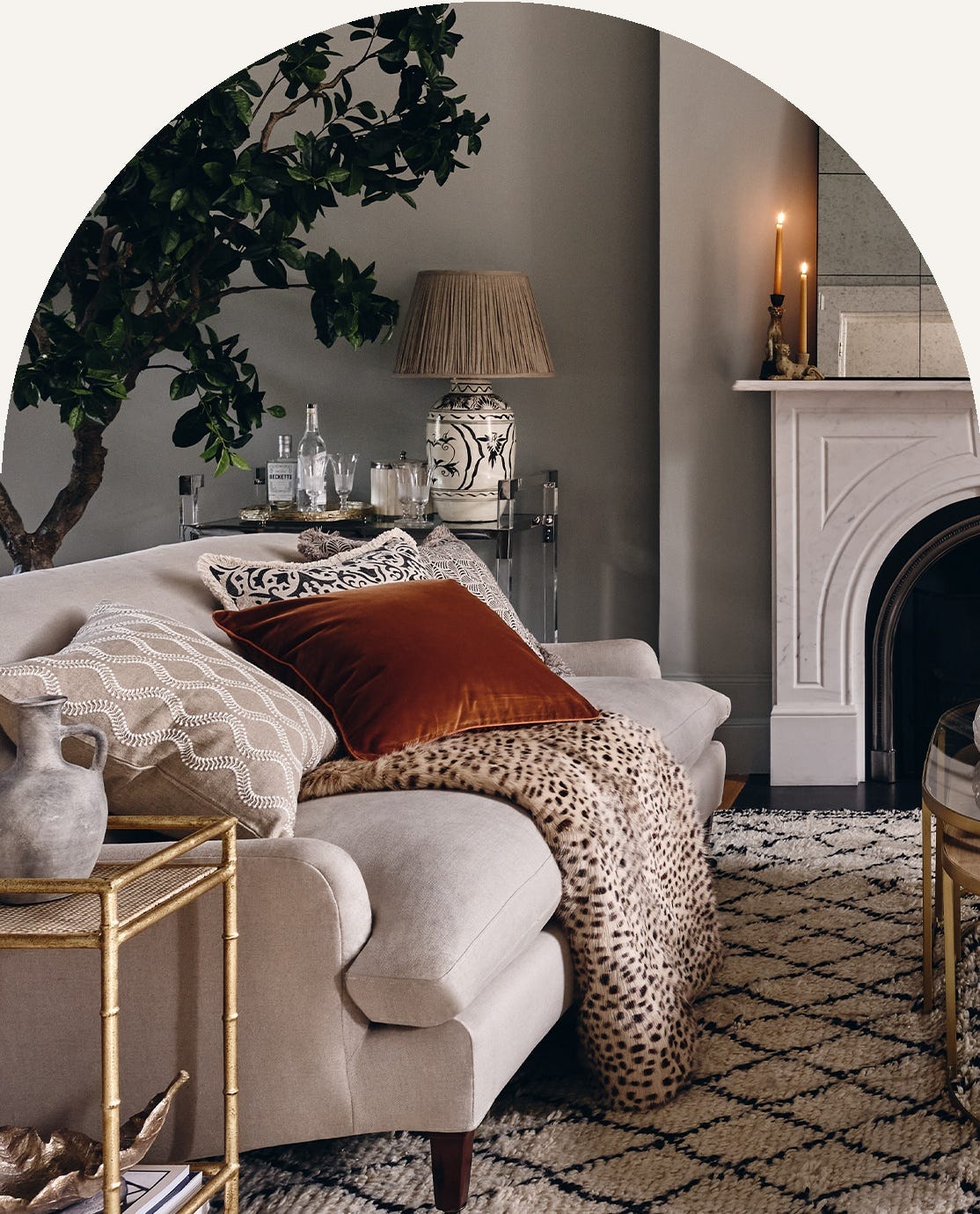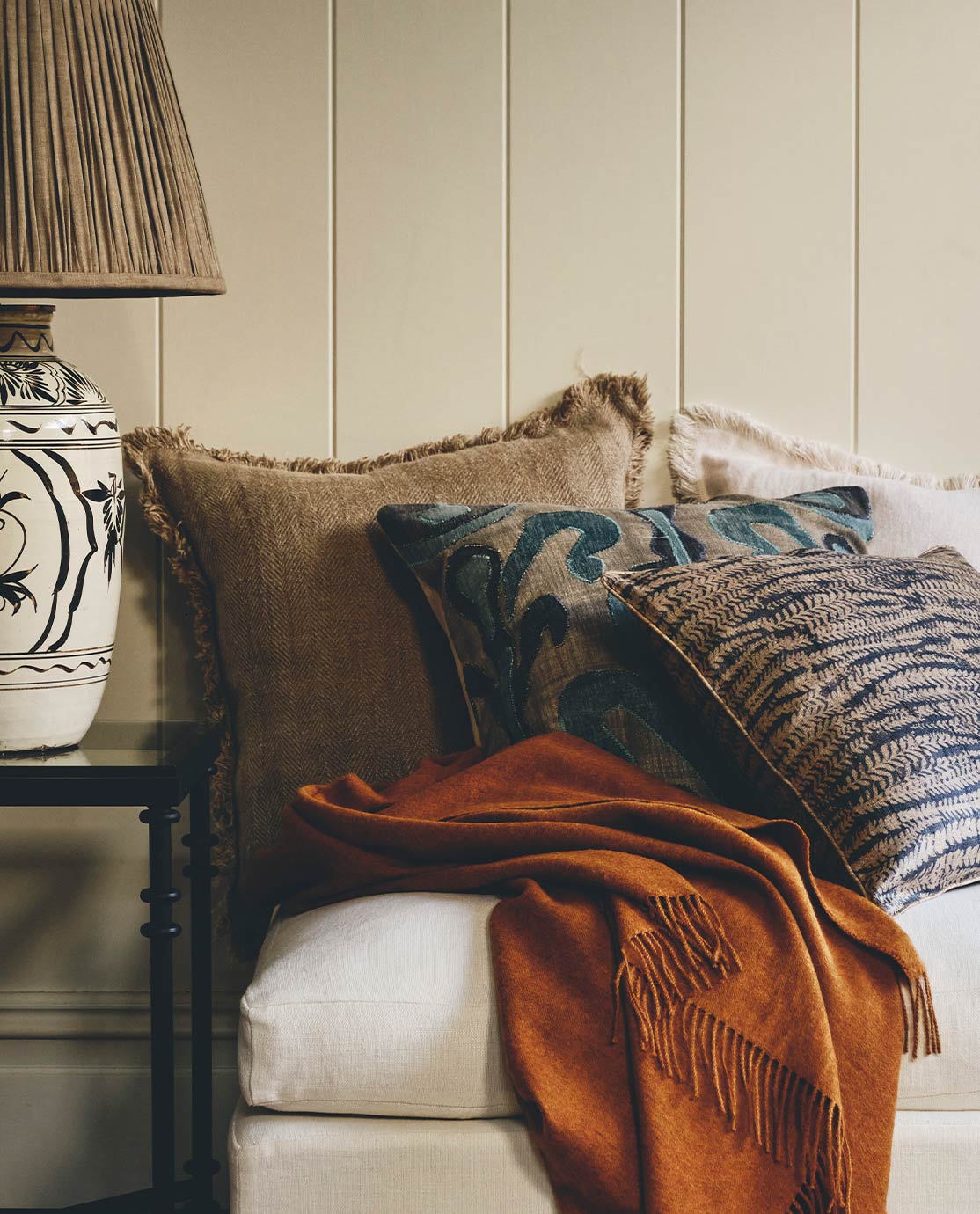 Steer clear from symmetry
Unless you're decorating a particularly formal room, you'll want your arrangement to feel effortless – even if you have, in fact, put a lot of effort into it. Achieve this by sticking with odd – rather than even – numbers. Groups of three or five cushions are more visually pleasing, and feel considerably more relaxed. "Some cushion arrangements don't invite you to sit," Roig says. "I've stayed away from symmetry for the past couple of years, because it creates a very serious style. Those sorts of settings are for the formal sitting room, which you might only use once a year."
With these design cues in your pocket, you're well on your way to an artfully arranged display of cushions. All you need is the perfect base on which to position your carefully curated finishing touches; check out our sofa buying guide for more sitting room inspiration.