Lampshade styles and sizes are just part of the equation when it comes to choosing the right lampshade – colour plays a big part too. The hue of a shade can not only alter the overall look of a lamp base, but also impact upon a wider scheme, which is great news if a lighting revamp is your latest interior project. If your plans aren't so expansive – maybe you've found a great lamp base but are unsure about what shade to pair it with – you're still in the right place. We asked Sally Homan, Director at Robertson Lindsay to shed a little light on the various issues to consider, and design tricks to try, when picking a colour for your table-and floor-lamp shades.
Should all lampshades in a room be the same colour?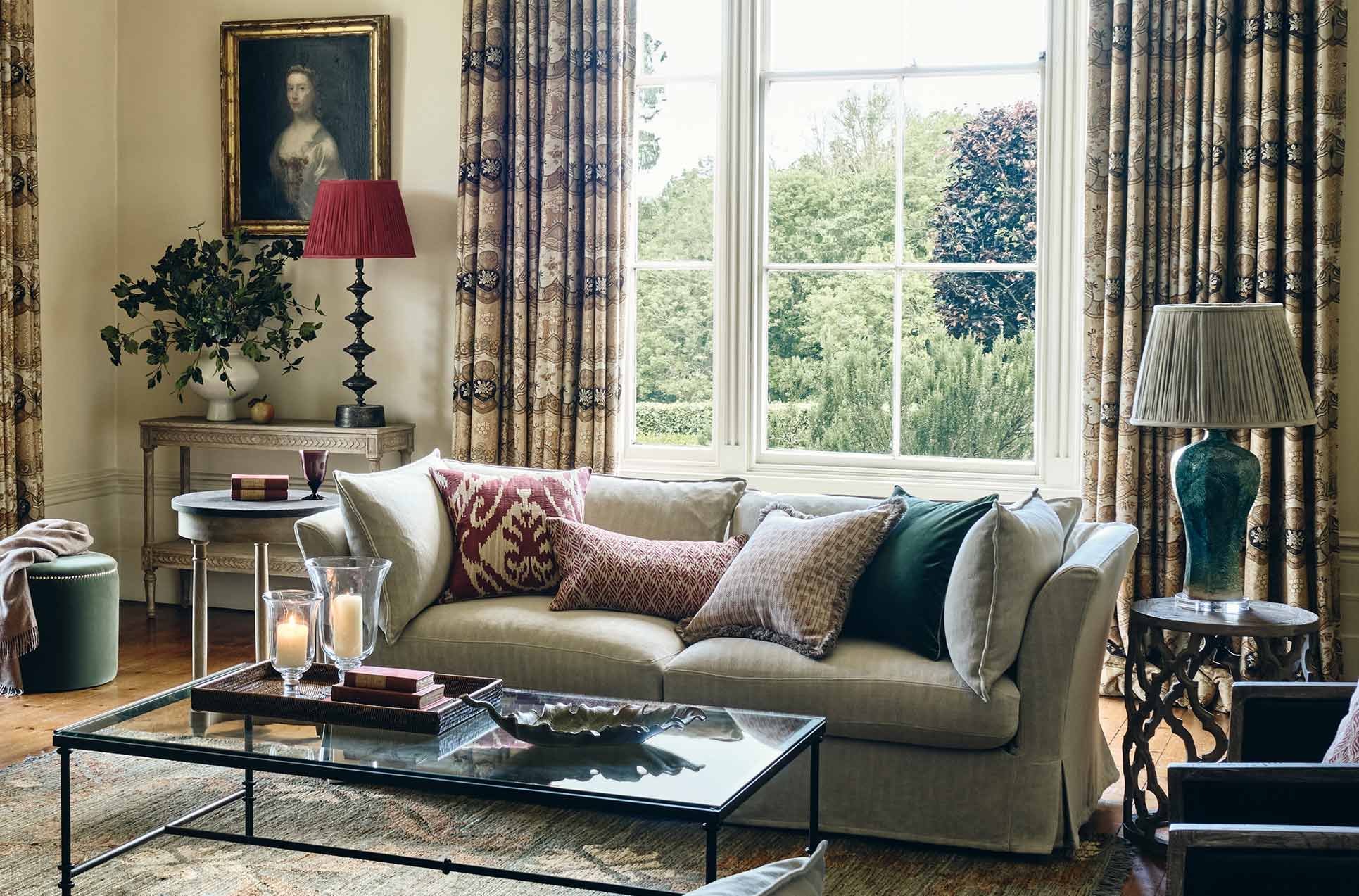 The type of interior you're creating will influence how you go about choosing the right lampshade colour. For instance, if you want to create a more formal scheme, or satisfying symmetry, this can be achieved by finishing a pair of lamps with matching shades. Similarly, identical shades can be used on floor or table lamps with different designs; this will make an intentional feature of otherwise "mismatched" elements, and create visual cohesion. If eclectic interiors are more your style, lampshades are a really simple way to layer colours, prints and patterns through a space; test the waters by using a variety of styles or patterns in the same colour palette, as this can be a more subtle bridge between understated structure and all-out maximalism.
Consider your options, and think about their impact on one another and the space itself, before you leap in with an array of lampshades though. "We think about the lampshade colour at the same time as all the other fabrics [in a space]," says Homan. "They are a really fun way of adding a pop of colour and all the fabrics need to balance together."
What colour lampshade should I choose?
The hue you land on for your lampshades will also be impacted by the colour of your lamp base, the room you're lighting and the amount of illumination required.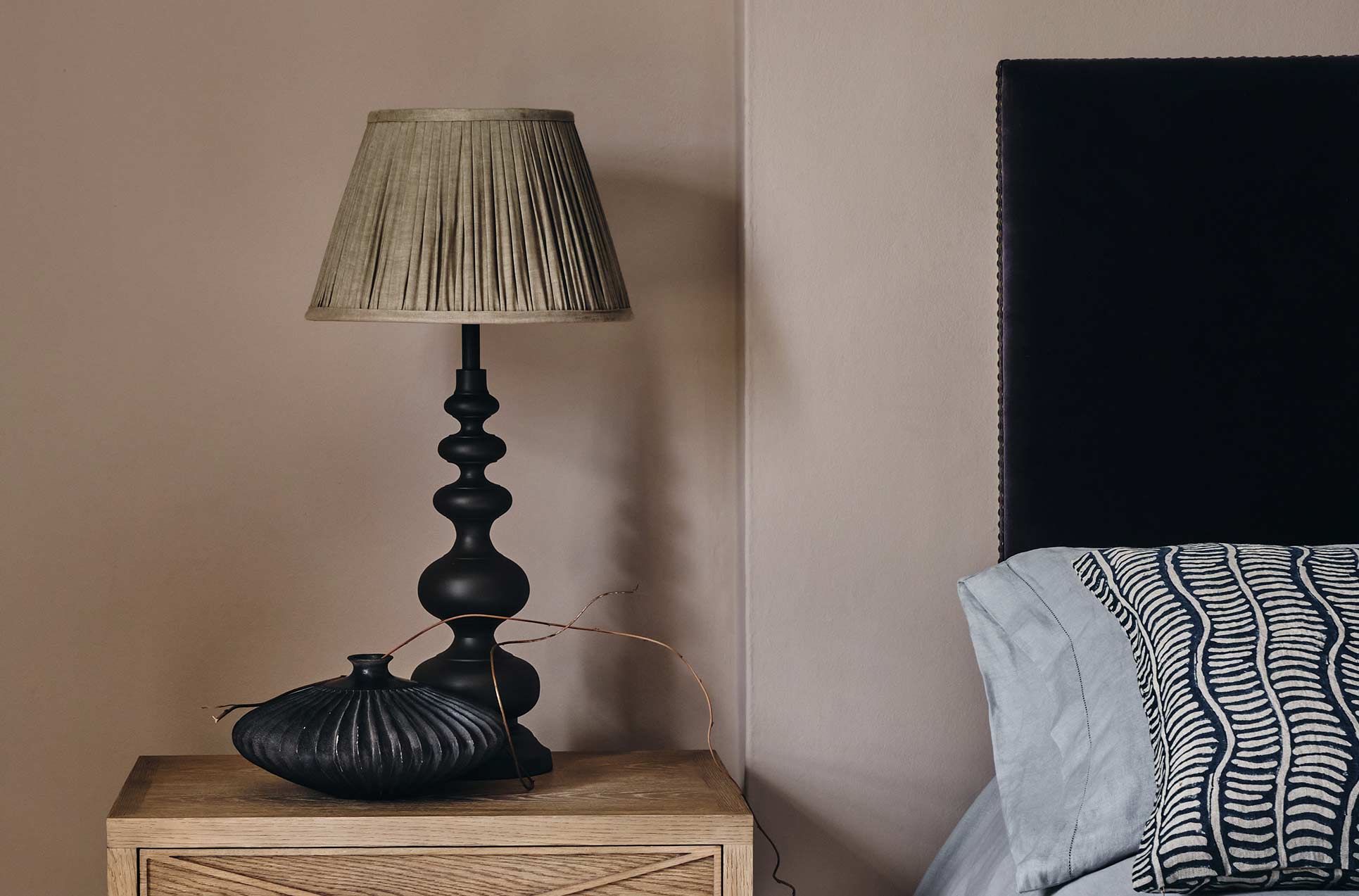 Lighter shade of pale
Soft, pastel colours applied to natural linen and cotton shades keep things simple, helping to create a tranquil, soothing atmosphere in a bedroom, for example. "A lot of our clients ask for a relaxing bedroom scheme – they want to feel rested and cocooned in their space," Homan explains. "We often work with blue or green base tones to create a calm space."
If you like classic cool tones, but plain lampshades aren't your thing, introduce a little pattern (along with some colour) into your sleep sanctuary with one of our pastel-hued, hand block-printed shades; the Pattani Eclipse in Indigo has a relaxing, coastal feel, while the leaf print on our Pleated Daun Cotton designs offers a lightly playful touch.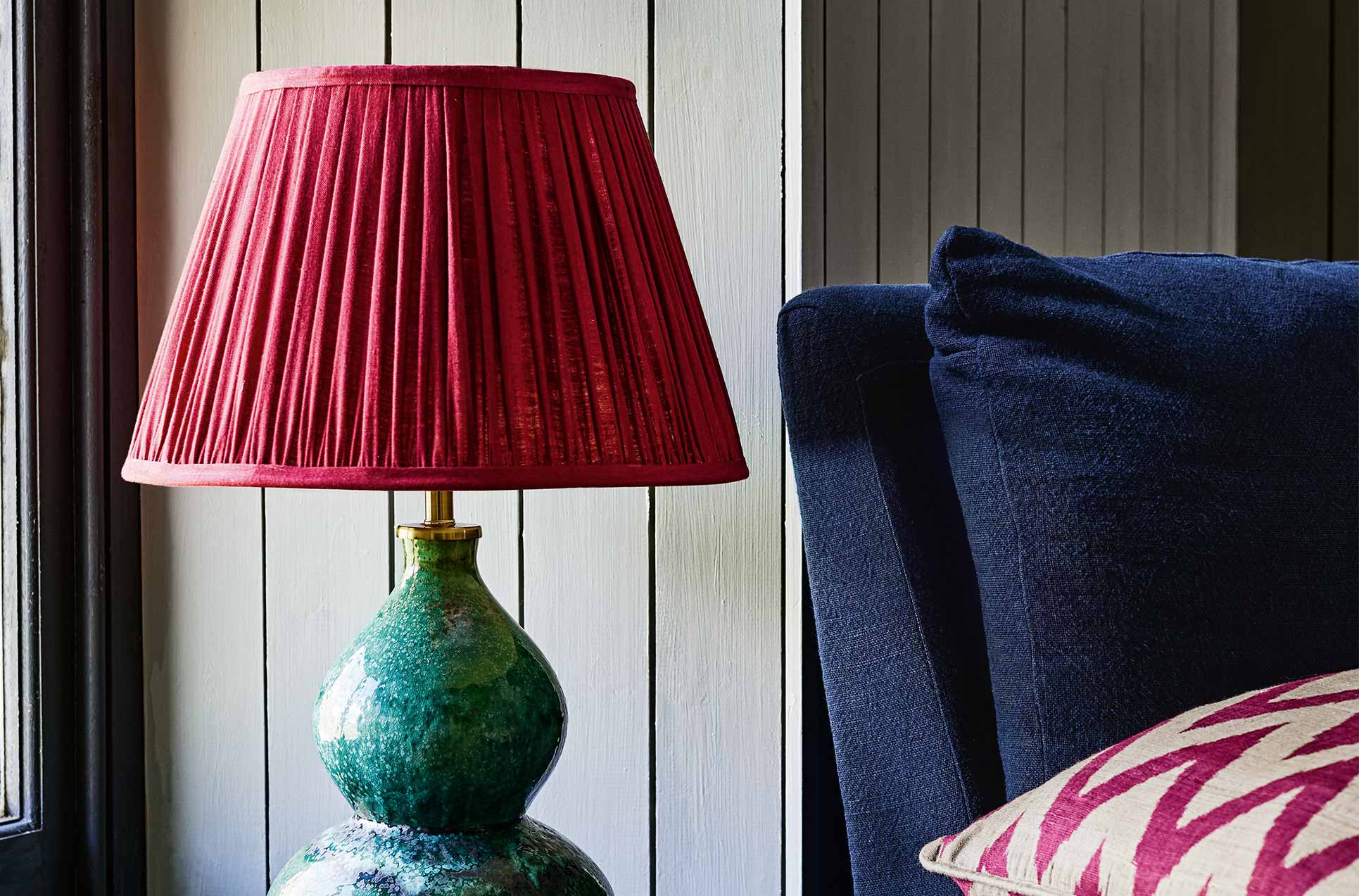 Boldly light the way
Bolder decorating schemes call for a more edgy approach; blocks of jewel tones, in the form of a statement shade, can be used as a sort of punctuation in a living room. Play with the strong colours that feature in our collection – from ruby red and lime green to amber and inky blue – applied to shades with broad silk stripes, hand block-printed designs and ikat styles for an eye-catching finish.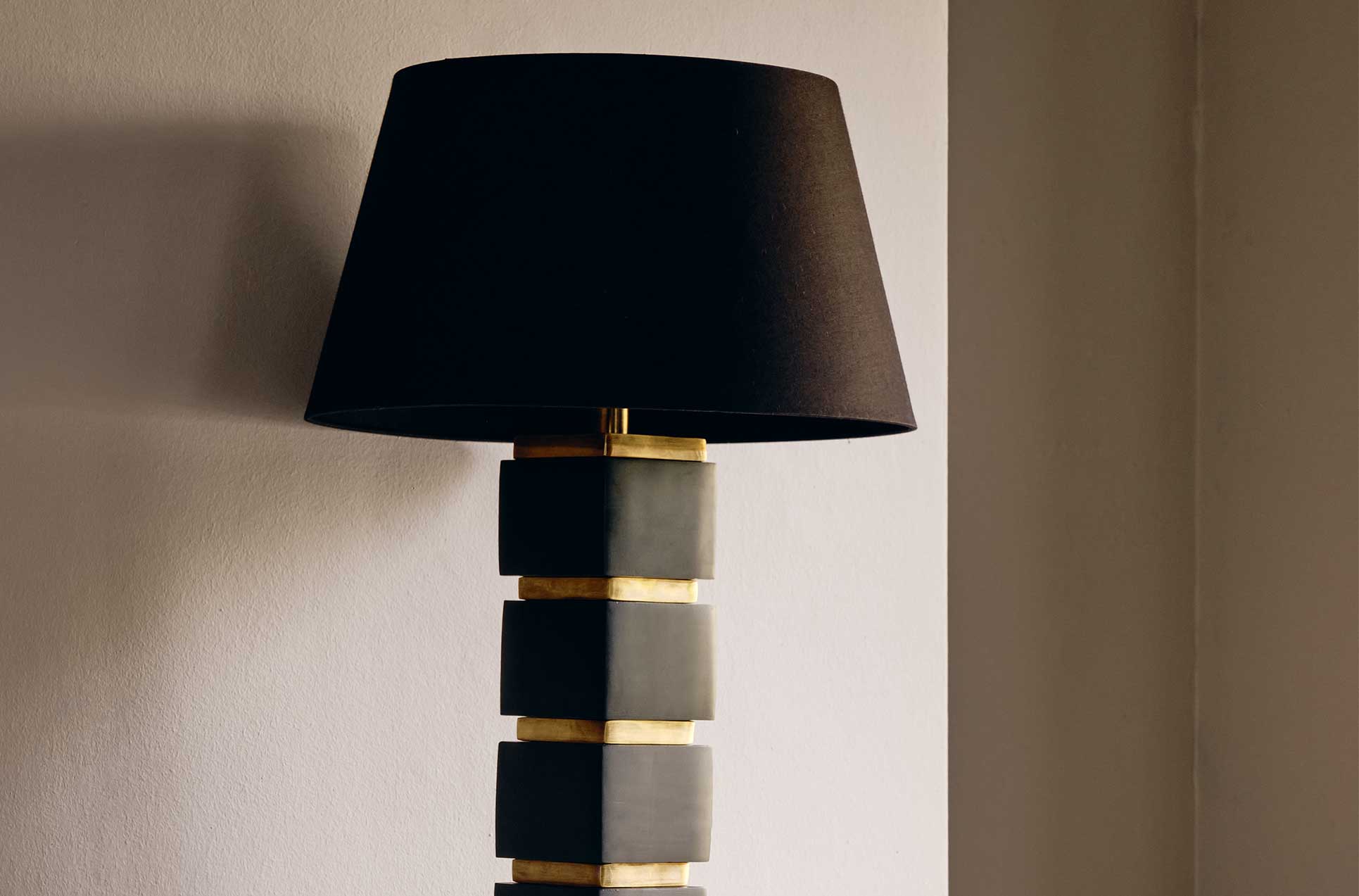 Something in the atmosphere
If you're using your lighting to set the tone, lampshades can be used to create atmosphere. "Darker, thicker fabrics will emit less light than lighter thinner ones," Homan tells us, "so think about whether the light source is to be used for a function or more to create atmosphere."
Your choice of lampshade colour also plays into this. While darker card lampshades offer impact at the flick of a switch – especially if they feature gold lining, which reflects a warm glow out into the space – pale, neutral shades in translucent fabrics emit more light, and may be better suited to a study or sitting room than a dramatic dining space.
Can fabric lampshades be customised?
Lamps and lampshades often appeal to those looking for a creative project, as they offer the possibility of personalisation and upcycling, but on a manageable scale. If that's something that's on your mind, and you're looking at our printed and patterned designs wondering whether it's possible to paint on fabric lampshades as easily as you can on card designs, the answer is: it's complicated.
Many of the best-selling lampshades in our lighting collection are pleated and hand block-printed, which means, in short, they're not the best fit for a painting project. Plain, non-pleated shades, such as rectangular or drum shapes crafted from card, make the best canvases for painting and there are countless upcycling tutorials available online to guide you. If you're eager to get your brushes out, here are a few tips to get started:
• Preparation is key
If you're hand-painting a lampshade, practice your design at least twice on paper before you commit to working on the shade itself. Once the paint is applied there's no guarantee it can be removed. New to fabric painting? Source some second-hand lampshades to work on first.
• Research your materials
Check out the range of fabric, chalk and acrylic paints available to you, and make sure the paint you're using is compatible with the material you plan to apply it to; each art material will behave differently in relation to silk, linen, card and cotton bases.
• Opt for economy
If your project isn't going to require multiple coats of colour, try and pick up sample-sized paint pots to avoid unnecessary waste.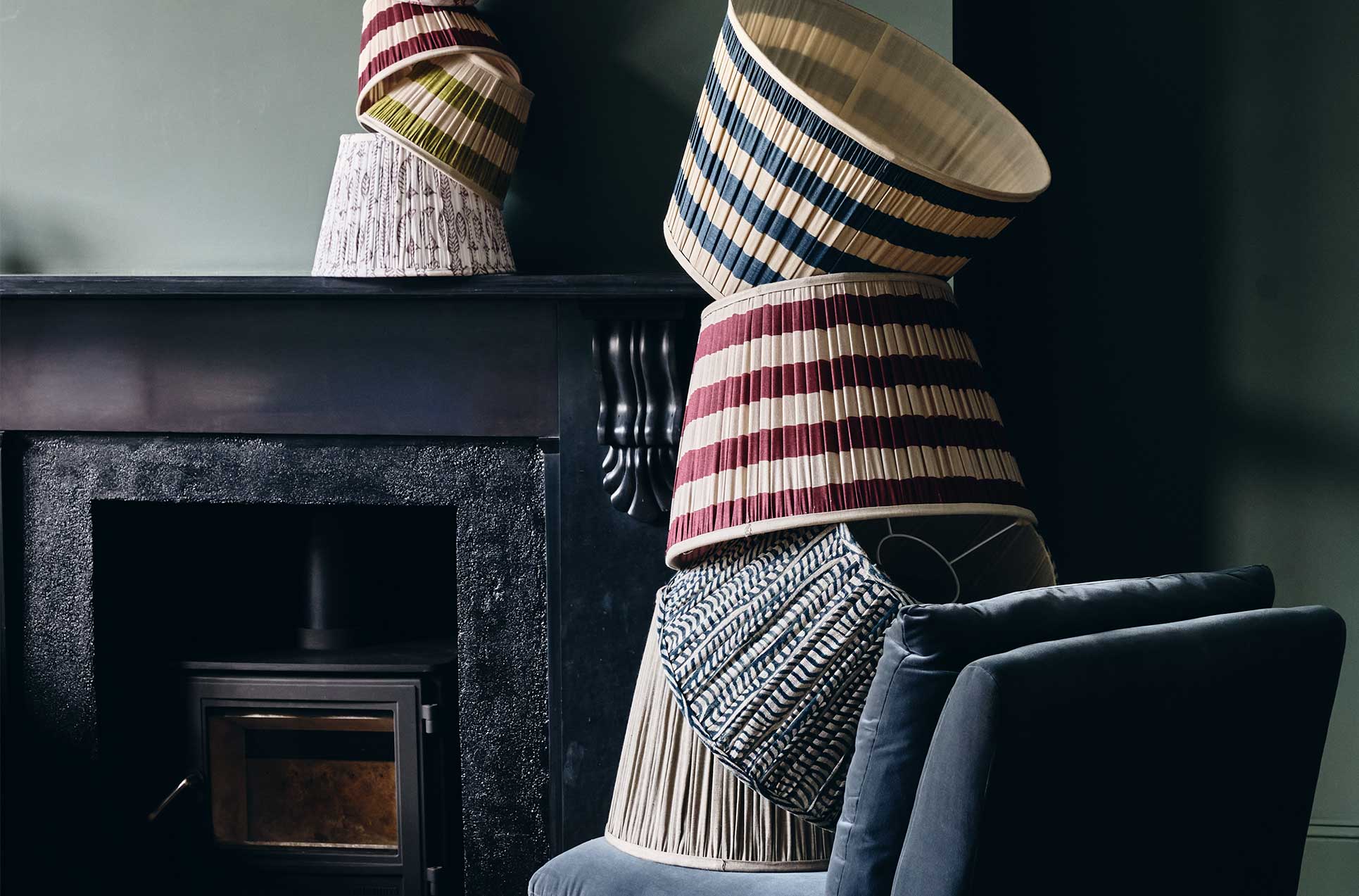 Switched on to lampshades' benefits
Ultimately, Homan expresses our thoughts on choosing the right lampshade colour best: "When it comes to colour and print, lampshades are a great way to have fun. Be brave and choose something bold that you love. You can always change them in the future – it's much cheaper than taking a risk on curtains for example."
While OKA has a wide range of lampshade colours to pick from, in the end it's a case of your home, your rules. Go with your gut and layer pieces you like; if all the furnishings and accessories in your space are reflective of your style, chances are they will complement each other beautifully.