Good lighting is all about layering different elements to create the right feel in every space, and that doesn't only apply to the type of lights themselves – how you choose a lampshade to top each piece also has an impact. The perfect lamp and lampshade combination can transform a forgotten corner into a cosy nook or a hallway into a work of art, but finding the pieces that hit the right balance isn't always simple. While sometimes you get lucky and, as if by magic your ideal lamp and lampshade duo appear to you, more often than not the quest for the ideal shade is a little more complex. It's also not one to be taken lightly. Knowing what size, style, shape and colour lampshade is best to choose, to suit both your lamp base and scheme, is key. Not sure where to start? Our tips – along with a few from Country Life's Giles Kime – should help you get it right every time.
Getting the shade shape right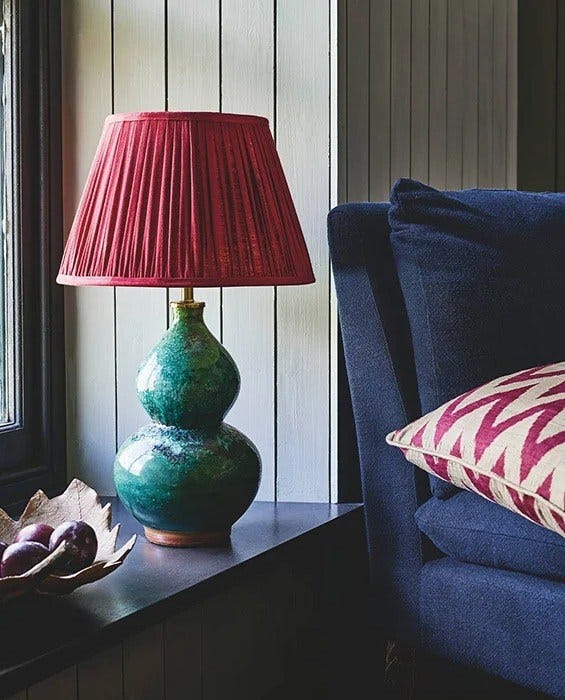 Before you get into colour, pattern, material or even size, it helps to identify what shape lampshade will best suit your lamp base. As the base upon which all the other elements rely, this seems like a smart place to start.
In general, what's considered most aesthetically pleasing when it comes to matching lamps and shades? Kime tells us to look at the shape of the base, then seek a shade with a similar contour. "Mirror the shape of the lamp in your lampshade. Bottle and urn-shaped lamps tend to work well with tapered shades, and square lamps with straight-sided shades. Column lamps go well with either."
However, it all comes down to personal preference; if you're less concerned with rules and formality, achieve an eclectic finish by mixing and matching a geometric lamp and curved lampshade, for instance. Do bear in mind that if something doesn't seem quite right visually, it might be because a cohesive look is more satisfying to the eye.
There are a range of lampshade shapes to consider, each with their own personality (of sorts). Here's how to identify, and make the best of, the most prevalent styles.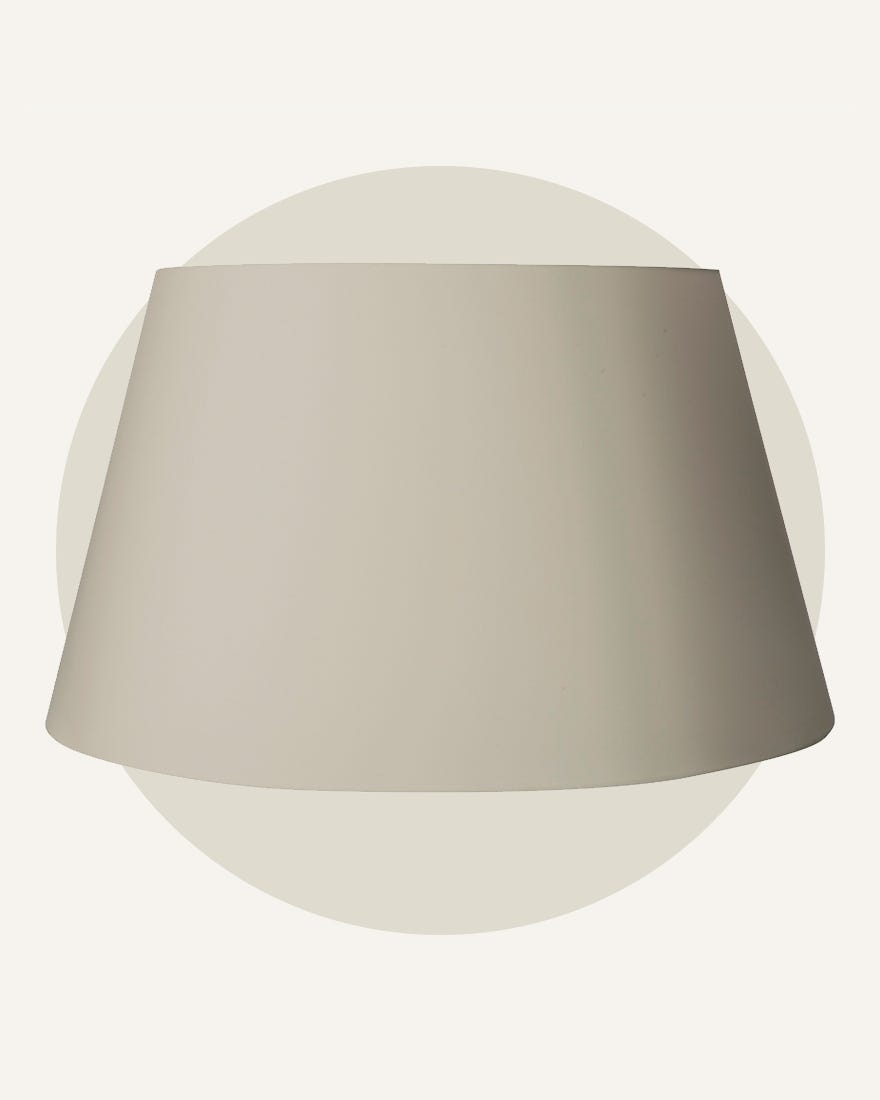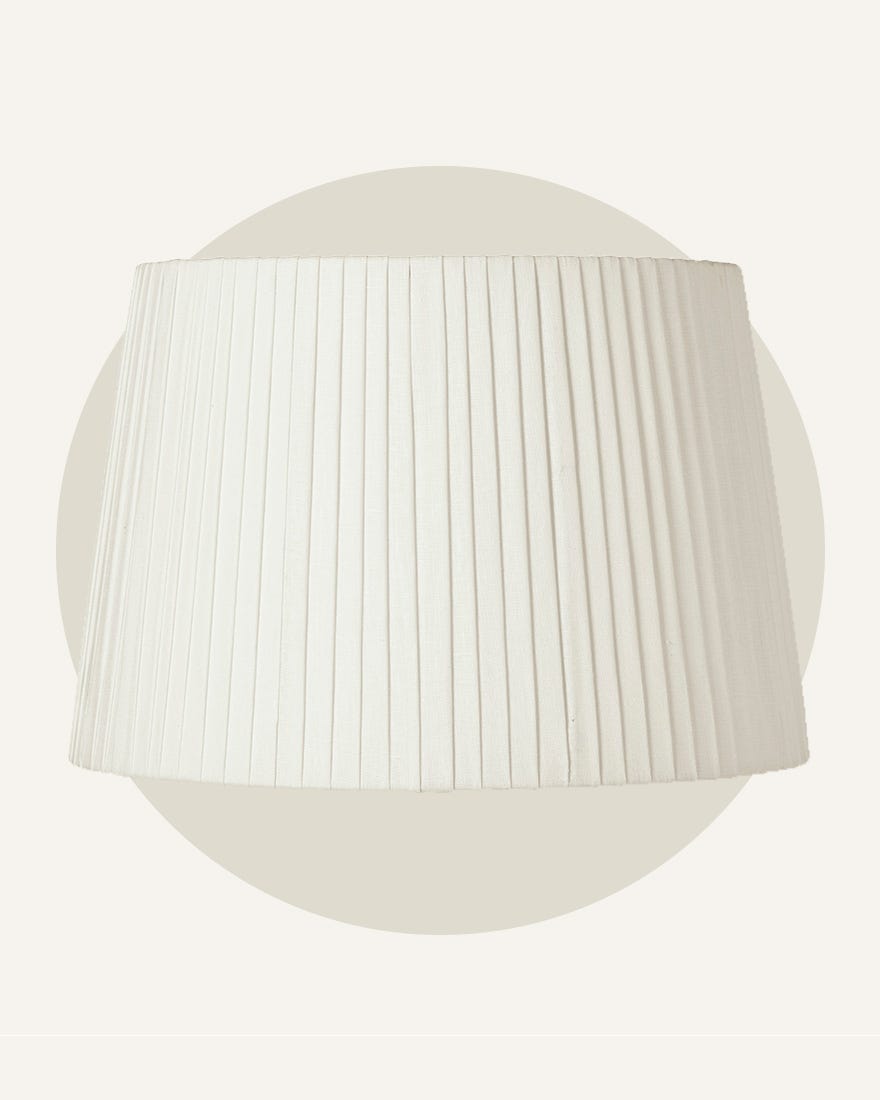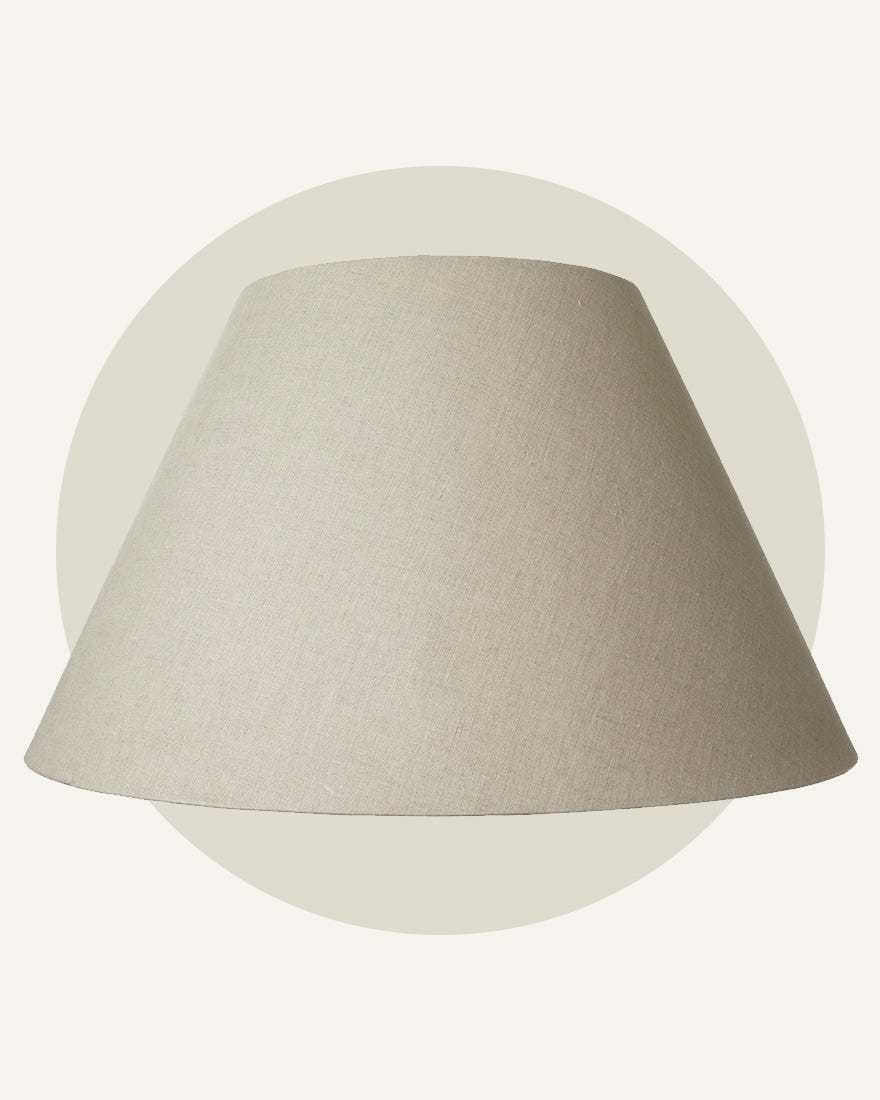 Drum Shades
• A drum shade is exactly what you might expect – shaped like a drum with vertical sides and cylindrical profile.
• Drum lampshades add a contemporary element to a room and complement wider or rounder lamp bases, as well as floor lamps.
Oval Shades
• Oval shades look just like drum shades, but longer.
• They are best suited to traditional schemes.
• Due to their narrow proportions they are a good match for wall lights and small column lamps, and are often used in bathrooms and hallways or windowsills.
Empire Shades
• An empire lampshade is a classic 'frustum' shaped shade, a shape that is created by taking the top off a cone with the cut made parallel to the base.
• The design of empire lampshades means that more light is cast down than up.
• Often used to complement classic interiors or floor lamps.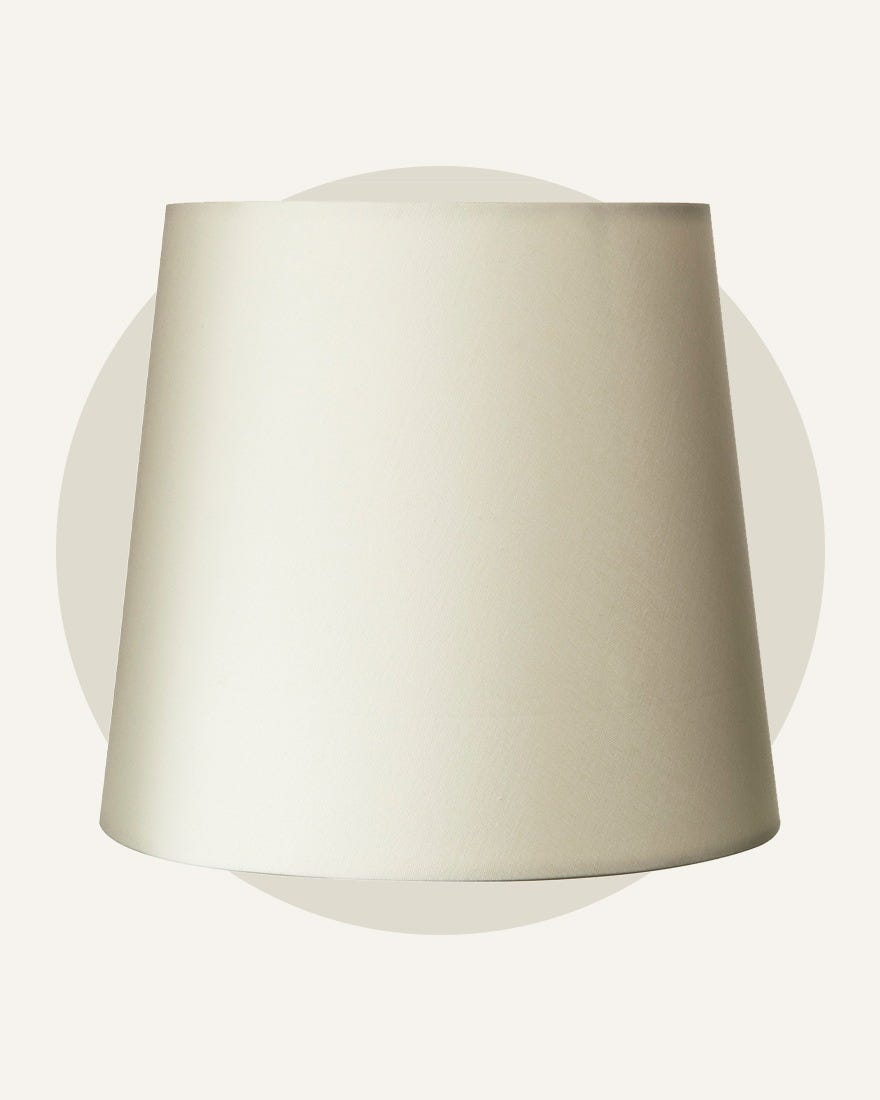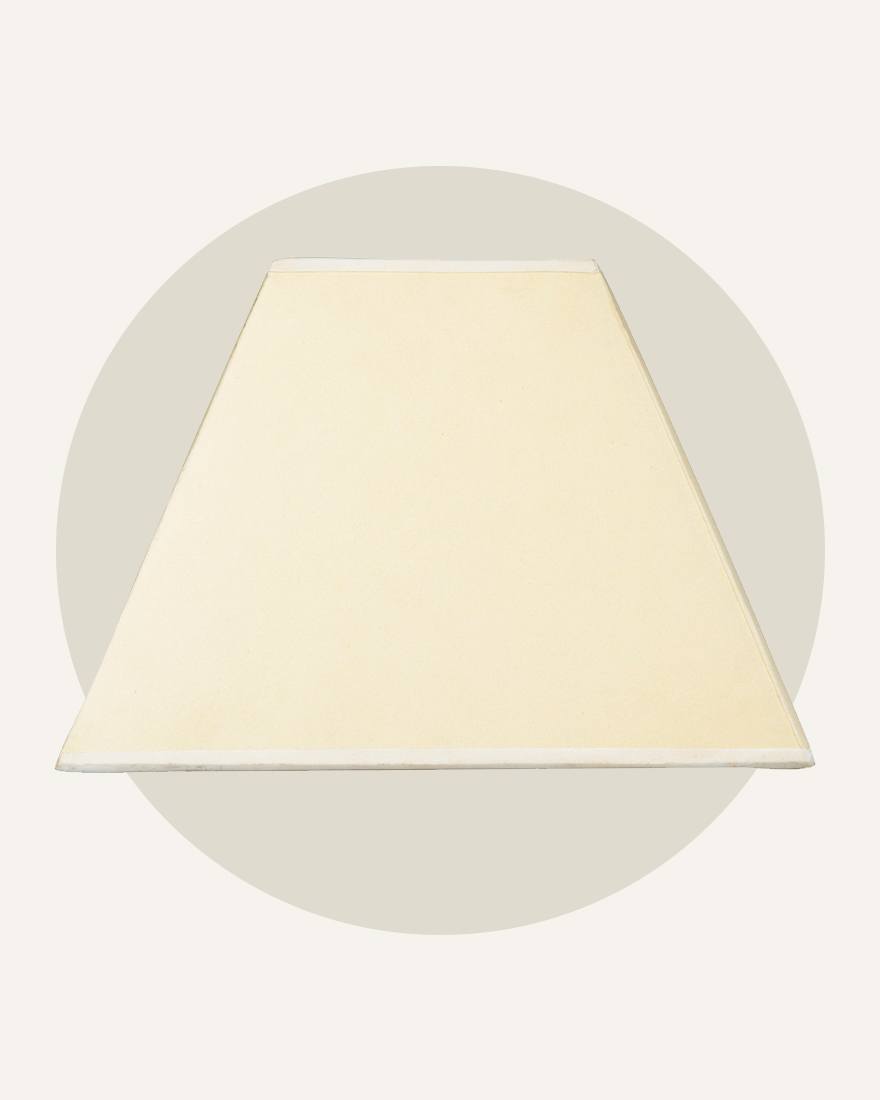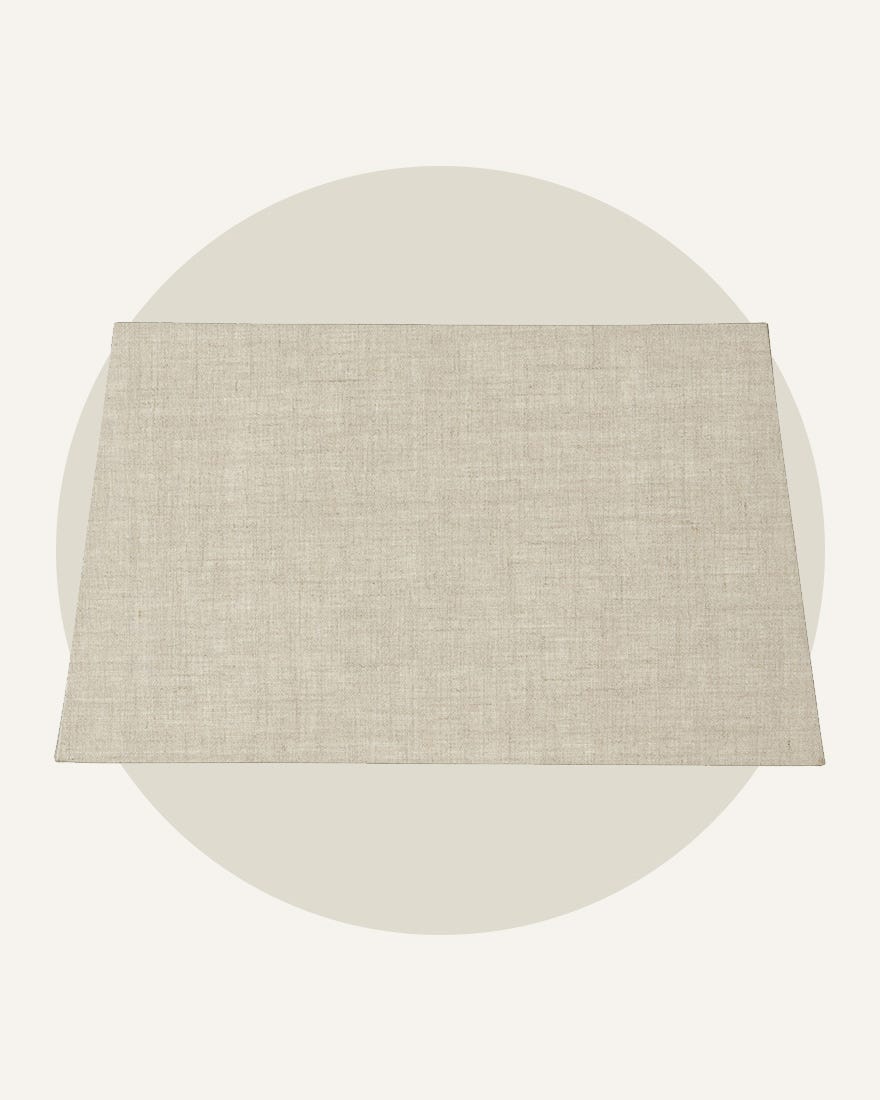 Cone Shades
• Cone lampshades feature a tapered top and narrow base.
• They work well paired with long or tall lamps as the sizes even out.
• Due to their narrow proportions cone-shaped shades are a good choice if you're trying to fit a lamp into a small space.
Square Shades
• Square lampshades are similar in style to empires but have a square base.
• They can complement both traditional and modern homes.
Rectangular Shades
• Rectanglular lampshades have straight sides, some of which are tapered
• They work well with narrow lamps, those that are contemporary or geometric are ideal.
Choosing the Right Lampshade Material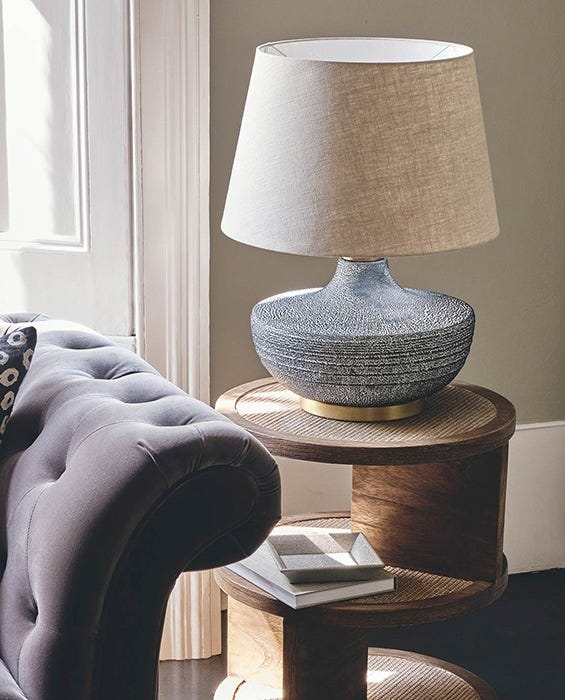 Once you've selected your shape, it's time to think about the material or fabric that your lampshade is made from. Most lampshades designs are made from linen, cotton or card – if you're likely to update your lampshades seasonally, a simple design crafted from one of these materials would be a good choice. The best materials for drum shades, and indeed empire, pleated or rectangular shades, comes down to the kind of atmosphere you want to create in the room where the lamp will be placed. It's not about the shape of the lampshade necessarily, but what you want said lampshade to achieve.
Card: A Classic and Versatile Choice
To instantly lighten a room, making it feel more spacious, consider a card lampshade – their clean façade is particularly effective when crafted in a white hue.
Linen: Elegant and Natural Texture
To achieve a bold look or a striking statement with a lamp, black-out linen lampshades are perfect – a simple, block-coloured lampshade will always create a contemporary effect. For a softer look, opt for a lighter colour that will let the fabric's natural texture glow.
Cotton: Softness and Subtle Lighting
For traditional, "French cottage" appeal, pleated cotton shades are ideal, as they lend a little whimsy to a more classic scheme. This lightweight fabric will let lots of light shine through.
Silk: Luxurious Elegance and Light Diffusion
For an opulent and long-lasting look, silk shades are the epitome of elegance and add an extra tactile layer to home décor. The delicate fabric helps to scatter the light evenly, creating a soft and welcoming glow.
The style and material of the lamp base itself can also influence the fabric used for the lampshade; a base with a smooth finish might call for contrast – meaning a lampshade with lots of texture and detail – while pairing a lamp and lampshade with a similar feel will unify the two elements.
Choosing colour or pattern for a lampshade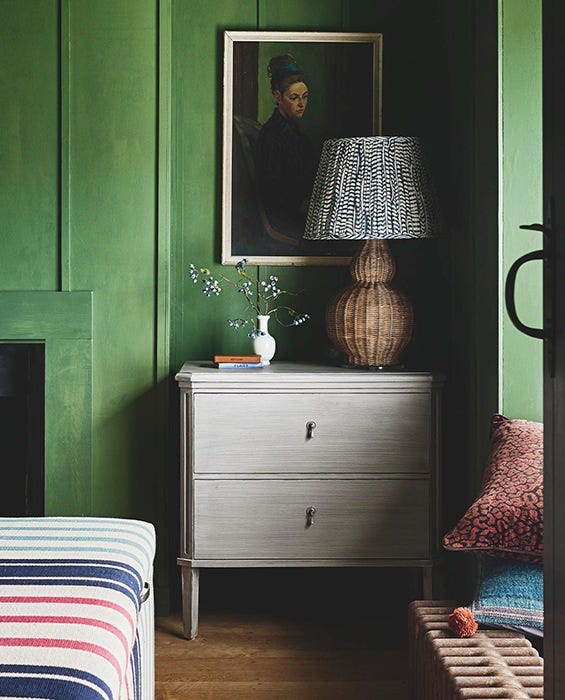 Neutral or colourful? Plain or patterned? When considering lampshade finish, these are the questions many of us will ask. Typically, each option has its pros and cons. As well as complementing pretty much any and every decorating scheme, plain shades are great if you have a very dynamic lamp and are worried about it being overshadowed by a showy shade. On the other hand, plain designs can be used to create a unique focal point – especially if paired with stand-alone floor lamps or a patterned lamp base. For the latter, keep prints simple and pick a thread of colour that unites the lamp and shade designs.
"If you opt for a colourful patterned lampshade, ensure that the dominant colour is echoed somewhere else in the scheme, such as on cushions, throws, curtains or rugs," advises Kime. Also keep in mind that pattern isn't simply about colour; textured designs can create a more subtle effect that still makes a statement.
When it comes to colour, it's key to consider what you want to achieve with your lighting. If aesthetics are your sole concern, you have much more freedom to play with darker hues. However, if you're creating a reading corner, where ambient light is a priority, direct your attention towards a soft-coloured shade as more light will filter through it.
The colour of your lampshade can also be altered (or switched) to reflect the time of year; during spring and summer, you could opt for pale, neutral hues, such as off-white and cream, then switch to darker colours when autumn arrives to achieve a warmer, more cocooning effect.
Sizing up your lampshade options
If there's a situation when you could be sure that size really does matter, it's when choosing a lampshade. Too small and you have yourself an unfortunate bottom-heavy situation, too big and you really are throwing shade. Kime's advice is to "go for the largest shade that the space will allow", even if your lamp is in-between lampshade sizes. This is because the larger the shade, the more light is distributed. Even in smaller rooms oversized designs will (counter to expectations) create the illusion of space. Below are some essential principles to follow when choosing the right lampshade size, but for an in-depth lesson have a look at our guide on how to measure a lampshade. In the meantime, it's useful to have a tape measure on hand.
Lampshades for table lamps
There are three golden rules to remember when it comes to choosing a lampshade for table lamps:
1. The width of the lampshade should be equal to the height of the lamp base.
2. The height of the lampshade should be two thirds of the height of the lamp base.
3. The lampshade should be wider than the widest part of the lamp base.
Lampshades for floor lamps
To determine what lampshade size you need for your floor lamp, measure the height of the lamp base from the bottom to the top of the bulb rod, then divide by four – this measurement is the ideal approximate height for the lampshade. Don't forget to take into account how much room you have around your shade – you can always go a size down if it's too close to other pieces of furniture – and also trust your eye.
Bear in mind that for both table and floor lamps, the perfect shade should hide the fittings underneath it, without encroaching upon the lamp base itself.
Now you're armed with all the technical essentials, you can happily alight on your lampshade-selecting journey.