Owing to the pandemic, working from home has become the norm – as opposed to an occasional perk – for anyone able to work remotely. And it's a trend that's set to continue, as many companies aren't expecting staff to return to commuting into an office five days a week. In short, if your kitchen table has been doing overtime as a desk and a dining spot while you've been awaiting a return to your usual work space, there's never been a better time to carve out a dedicated home office. Even if all you can devote is a spare wall in the hallway or a bedroom alcove, follow these tips to curate a space that's a joy to work in and certain to increase your productivity.
Invest in a desk
If you have an entire room to make over as a study then happy days. Pick a desk with a commanding style and generous storage, so finding a place for necessities such as printer paper, files and stationery won't be an issue. Adapting a nook in a sitting room or bedroom? Dressing tables are capable multi-taskers. Often slim in depth, they come with the added benefit of drawers – perfect for stashing away your laptop at the end of the day. And, if said work surface becomes surplus to requirements, you've got yourself a good-looking dressing table. Win-win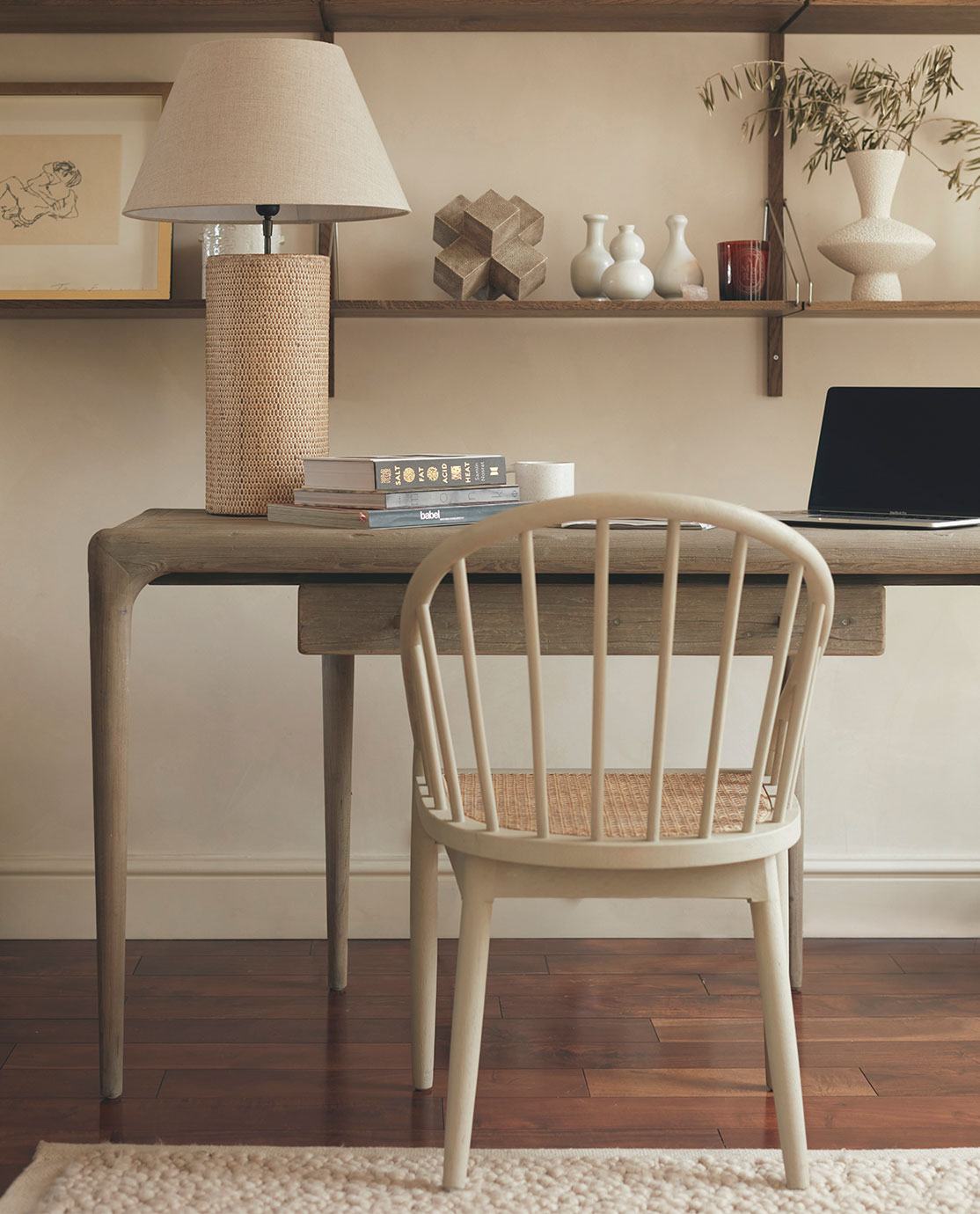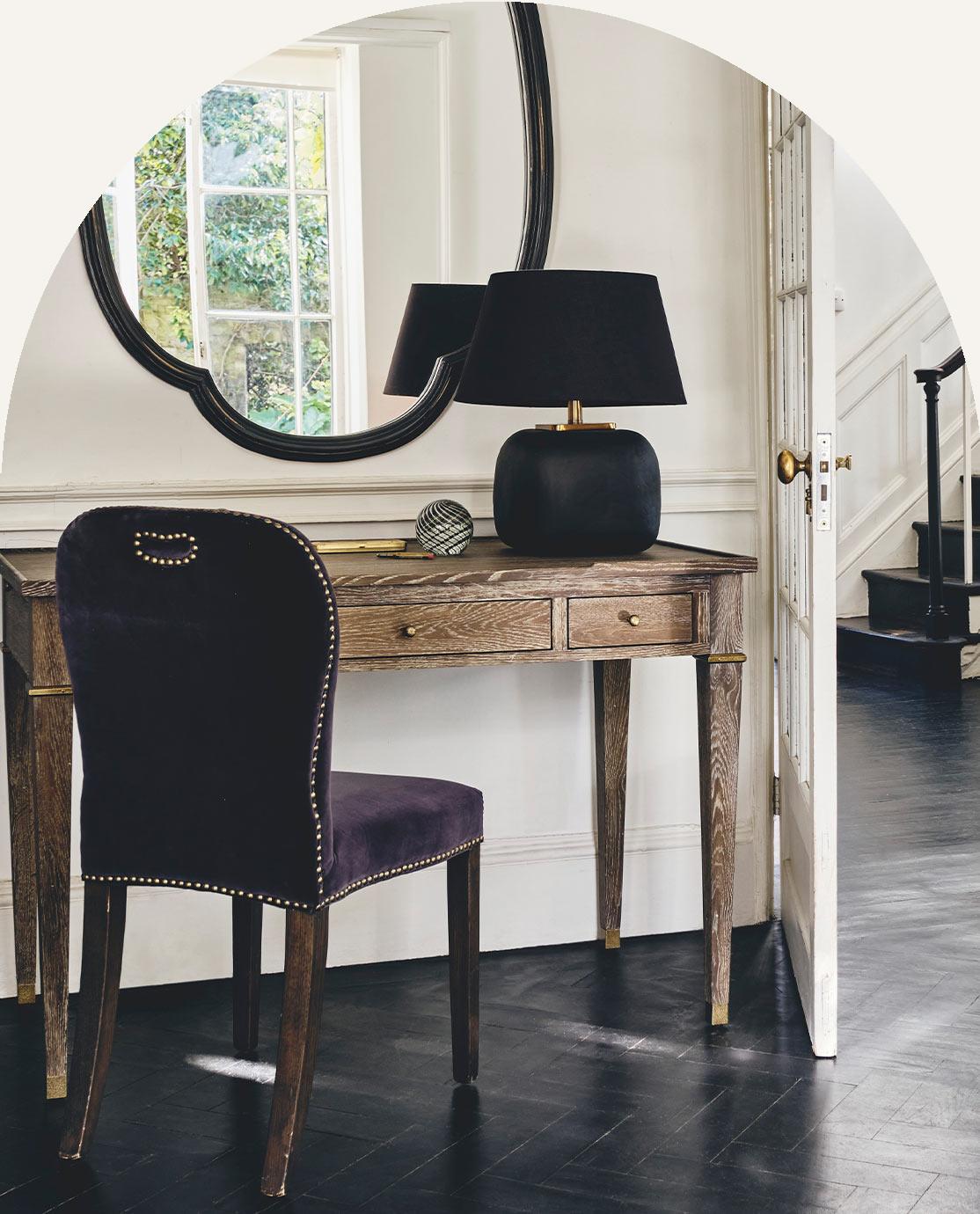 Then add a chair
An essential home office component, you – and your back – should never overlook the importance of a well-designed chair. The magic numbers to remember are 90 degrees to 120 degrees – these are the optimum angles for your elbows and legs when seated, with your feet flat on the ground. For a communal area, where a modern swivel chair would look incongruous, a Stafford Dining Chair doubles up as chic desk chair; available in a palette of colours, ranging from jewel-like tones to neutrals, there's something to suit any space.
Throw some light on the matter
Good lighting equals a good Zoom face, it's a fact. With video calling the new normal, we're all guilty of scrutinising our expressions and best angles when talking shop online. To resolve this and, of course, to optimise task lighting, a desk lamp is an obvious place to start; the Grisewood Lamp is timeless and antique-inspired in its appeal, while the Claudette in bronze boasts a sleek and contemporary silhouette. If every inch of desktop space is precious, a floor lamp can, quite literally, rise to the task without encroaching on your work surface. The added benefit of this type of lighting is that it can also function as a reading lamp when positioned by an armchair outside working hours.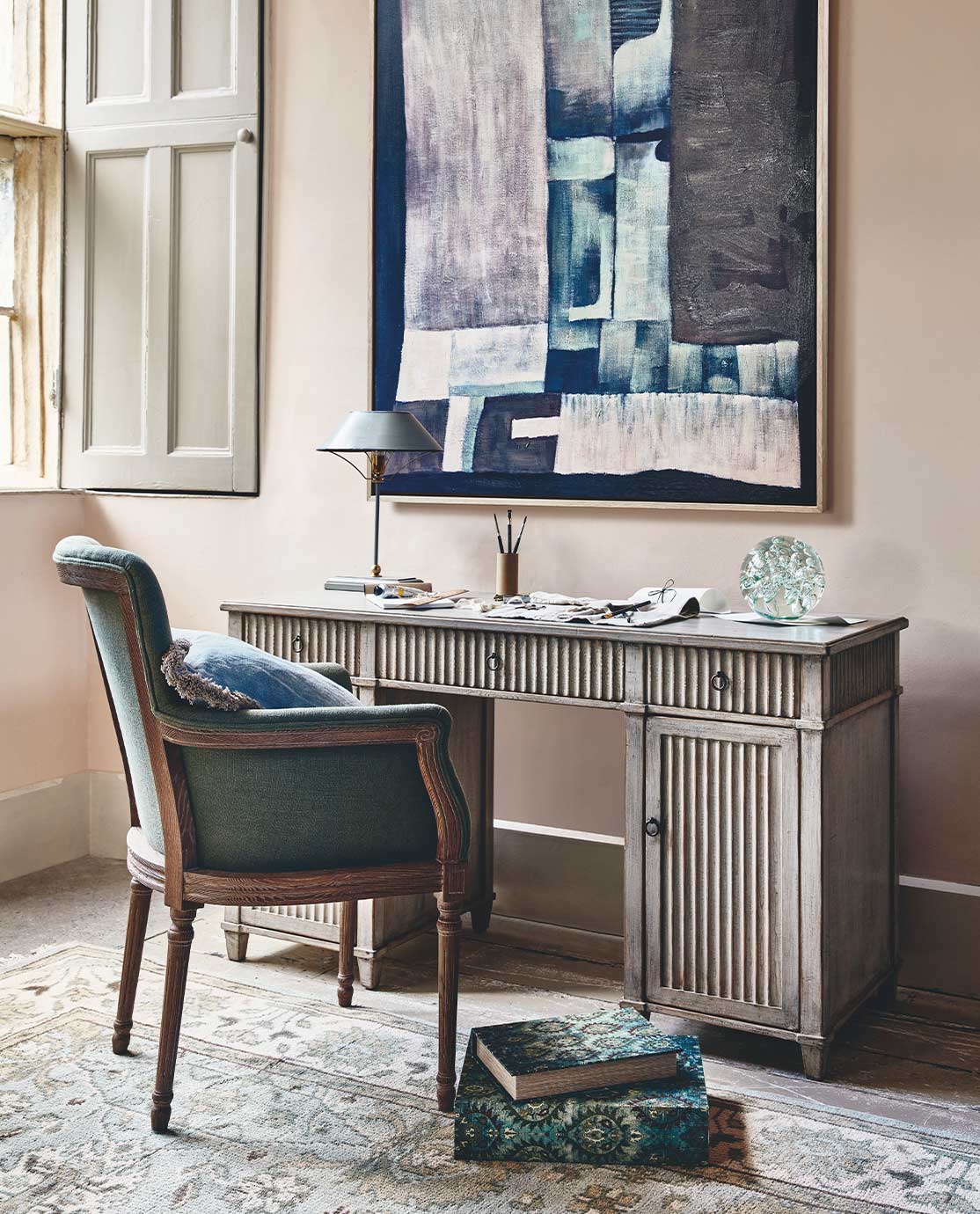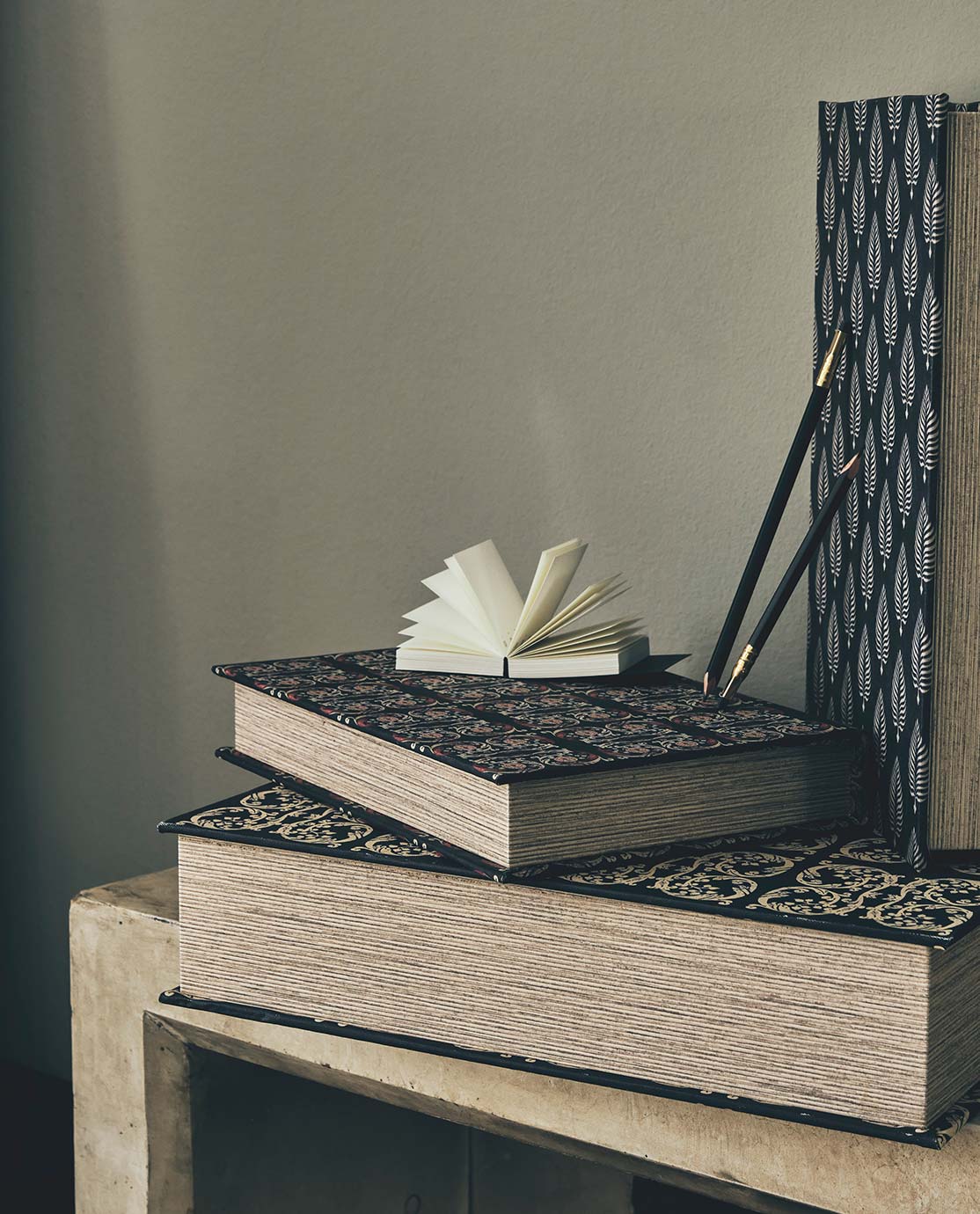 Get your storage right
Do you need lots of reference books within easy reach? A bin for recycling waste paper? When everything has its own home, it's easier to maintain a tidy, clutter-free desk, making it easier to focus. Clean space = clean mind, anyone? Obviously, a rattan waste basket is far less of a commitment than a bookcase, but the latter can be used to house all manner of "office extras" in addition to standard books – from tax returns squirrelled away in attractive box files, to printer cartridges tucked inside decorative-inlay boxes.
Beautify your desktop...
Considering the amount of time spent working, it would be a missed opportunity not to elevate your desk with aesthetically pleasing touches, which can be practical too. Stay on top of the clutter with sets of Very Useful Trays and letter racks – the ideal receptacles for incoming paperwork and receipts. Marry the quirky with the functional using OKA's range of bookends, and sandwich your reference books and journals between resin leopards, gazing lizards or classic, light-reflecting crystal balls. Simple touches such as tissue box covers, paperweights and display dishes will give your "lived-in" looking desk a more sophisticated finish.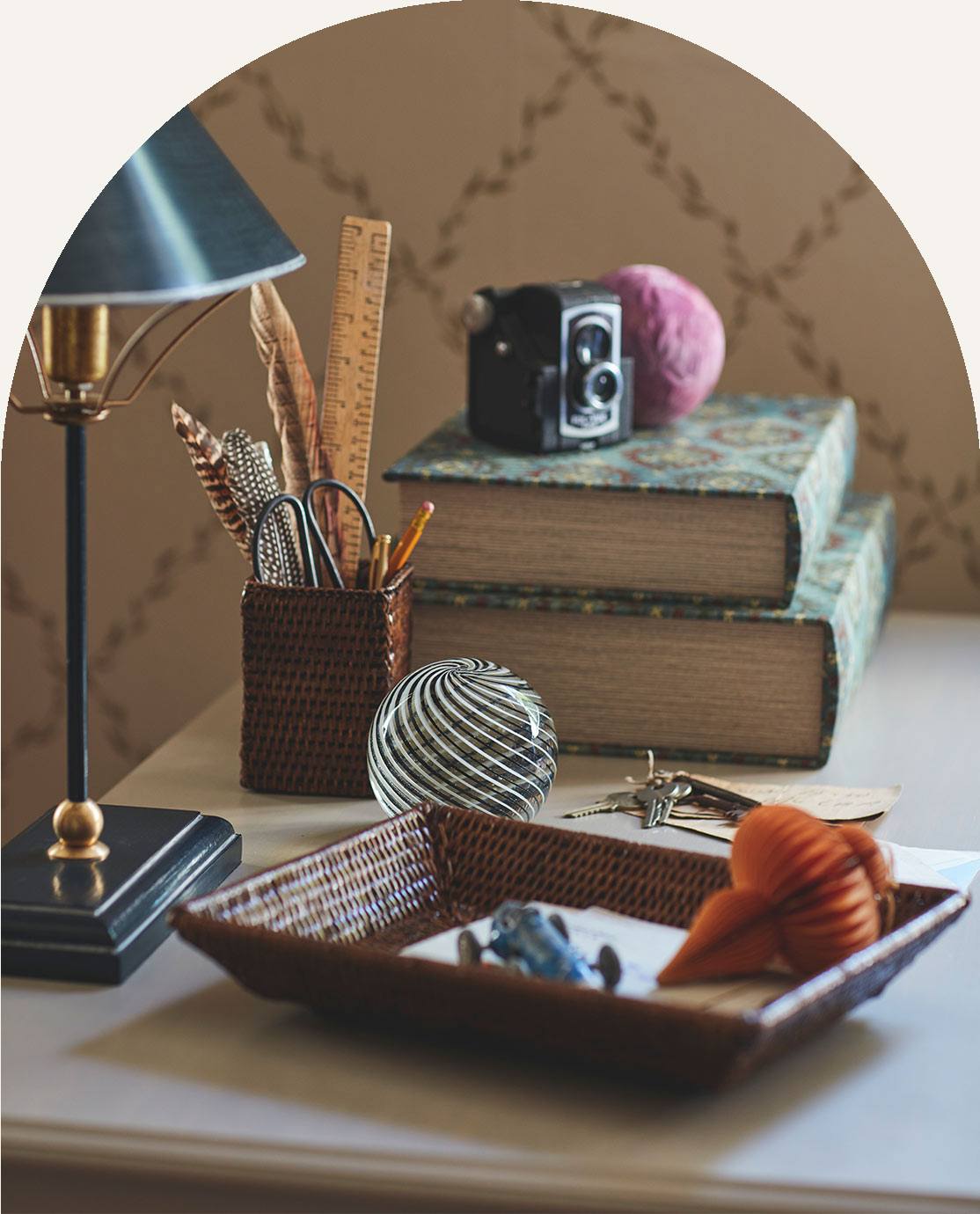 ...and enhance your surroundings
What can you see from your desk? A lush garden or rolling hills would be the ideal vista but, if those aren't geographically available, you can make a blank wall inspiring with some well-selected wall art. Sets of framed botanical prints instantly create a cohesive gallery wall, while also providing a mood-boosting connection to nature. Mirrors are also a savvy choice, enhancing a sense of spaciousness – necessary when you're limited to working in one room. Just be sure to position yours high enough to avoid your eye line, or you'll be prone to distraction.