Dressing with care to showcase your personal style extends beyond your wardrobe, into the home. A prime example: dressing your sofa with cushions. As the star of the sitting room, the sofa earns a lot of attention – as well as use – so it makes sense to want to get its styling right. Whether you're planning to update a much-loved seat, or want to enhance a new pew (our handy sofa buying guide may have helped you there), soft furnishings are the next step to elevate and personalise both comfort and appearance. Finding the perfect cushions to suit your sofa can be tricky, as it's not just a case of picking pieces in complementary colours. The style of your sofa, the fabric it's upholstered in and its size will all factor into your decisions. With this in mind, we asked Sarina Hawkins, our resident Interior Designer, to share her tricks on how to successfully dress a sofa with cushions.
Complement your sitting room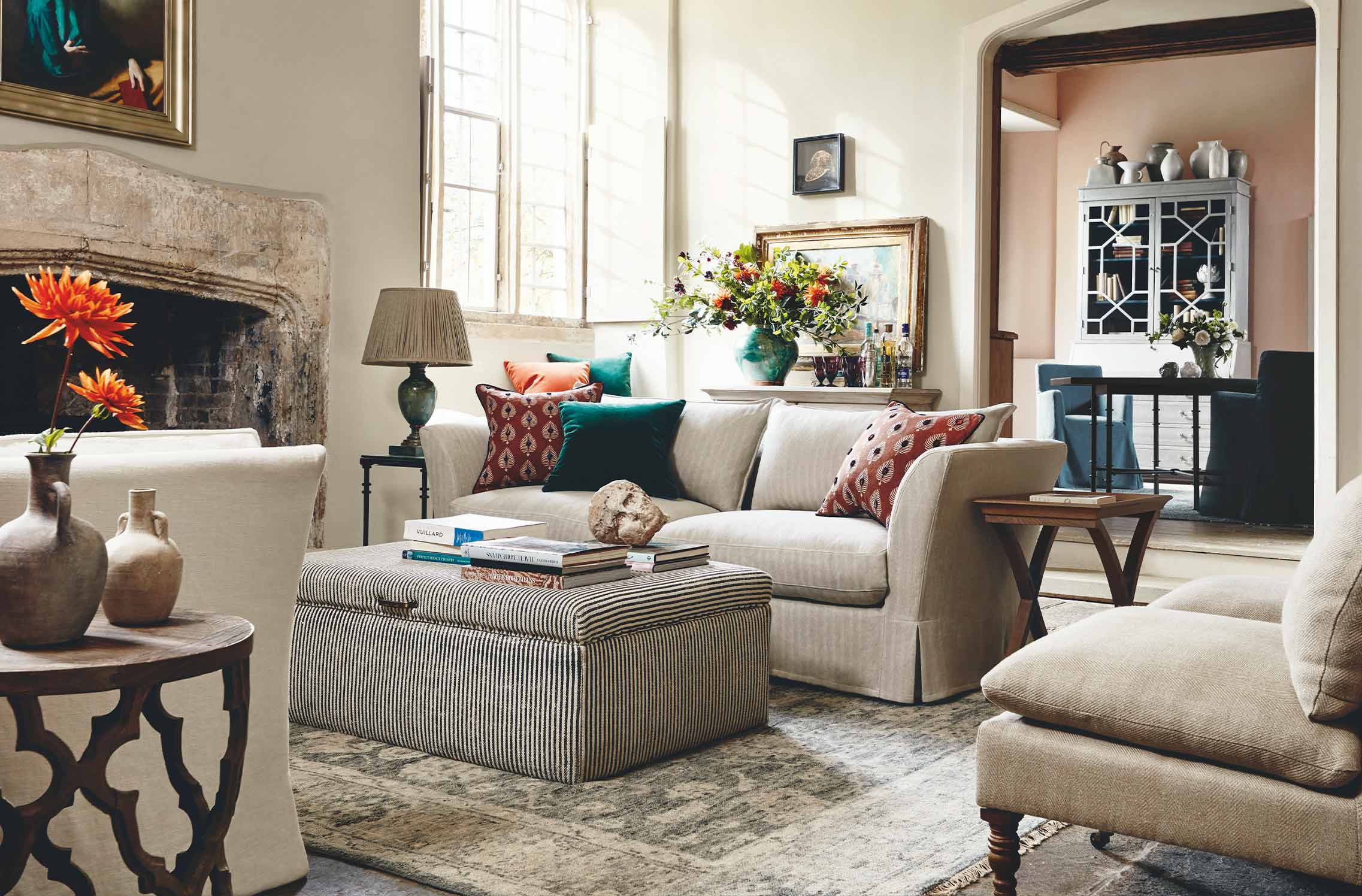 "Before you choose your cushions, you need to think about the style of the room your sofa is in," says Hawkins. "If you've got a very formal room, I would stick to plain velvet designs in really rich colours that will draw your eye in and add a touch of elegance. However, if it's a more casual and family friendly sitting room, I would usually stay away from velvets – especially if you have small children or pets." Those decorating the latter should embrace the carefree atmosphere of the space, enhancing the energy with lots of print and colour. "I would look for bright, patterned cushions to make a really eclectic arrangement. The beauty of OKA's cushions is that you can put any of them together and they will always look good," says Hawkins.
Match your cushions to the sofa
"Your cushion arrangement should complement the style of your sofa. Think about what fabric it is and what colour it is, and then base your cushions on that," Hawkins explains. "If you've got a very traditional sofa, such as our Coleridge, which evokes that sense of an English country house, I would probably choose one of our cushions that also has that feel – a linen style with fringing or a floral print. If you've got a London townhouse, you can get away with being a bit more contemporary and bolder with your patterns."
When it comes to the classic sofa shapes, the designer has some simple tips for making your arrangement fit in seamlessly with your chosen style: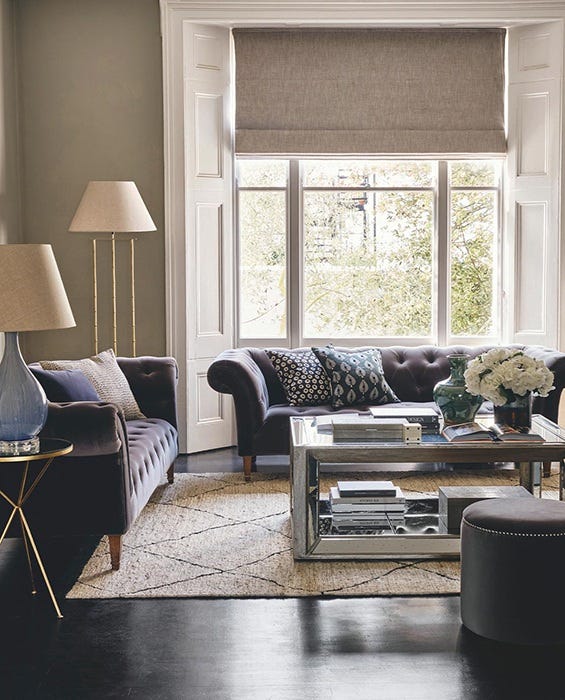 Chesterfield
"I would only put a maximum of three cushions on a Chesterfield. They've got that lovely tufting and you won't want to cover it up. Plus, Chesterfields aren't really that deep, so if you have too many cushions you won't be able to sit on it. The styling of this type of sofa is classic, so you really want to embrace that in your cushion choice as well."
Loveseat
"Loveseats are tiny, so they don't require many cushions; for our Avitus, I would only use one cushion, but you might be able to squeeze two onto our Egerton. A Loveseat is meant to be cosy, and cushions always add that comfy feel."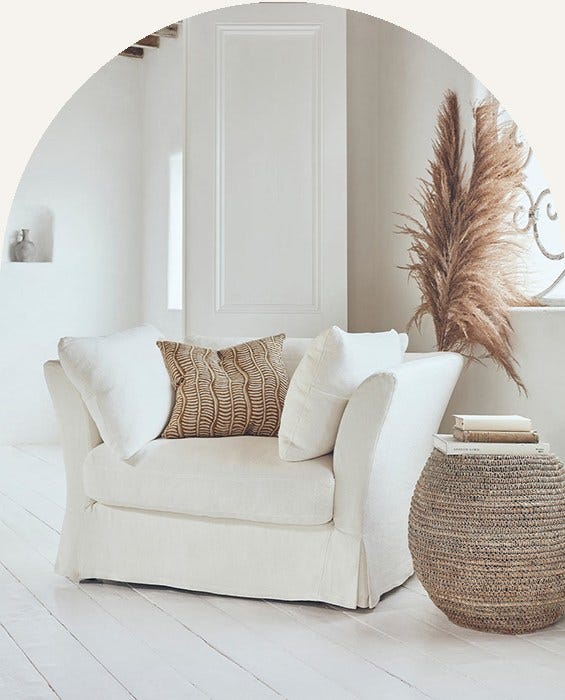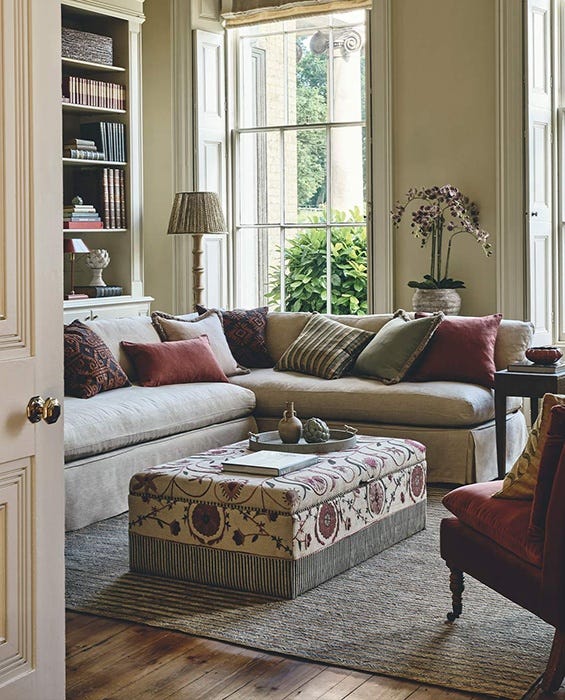 Modular
"It's really fun to go all out with cushions on modular sofas. Always have an uneven number – you don't want the arrangement to be too uniform, otherwise it will just look static."
Look for cushions in contrasting fabrics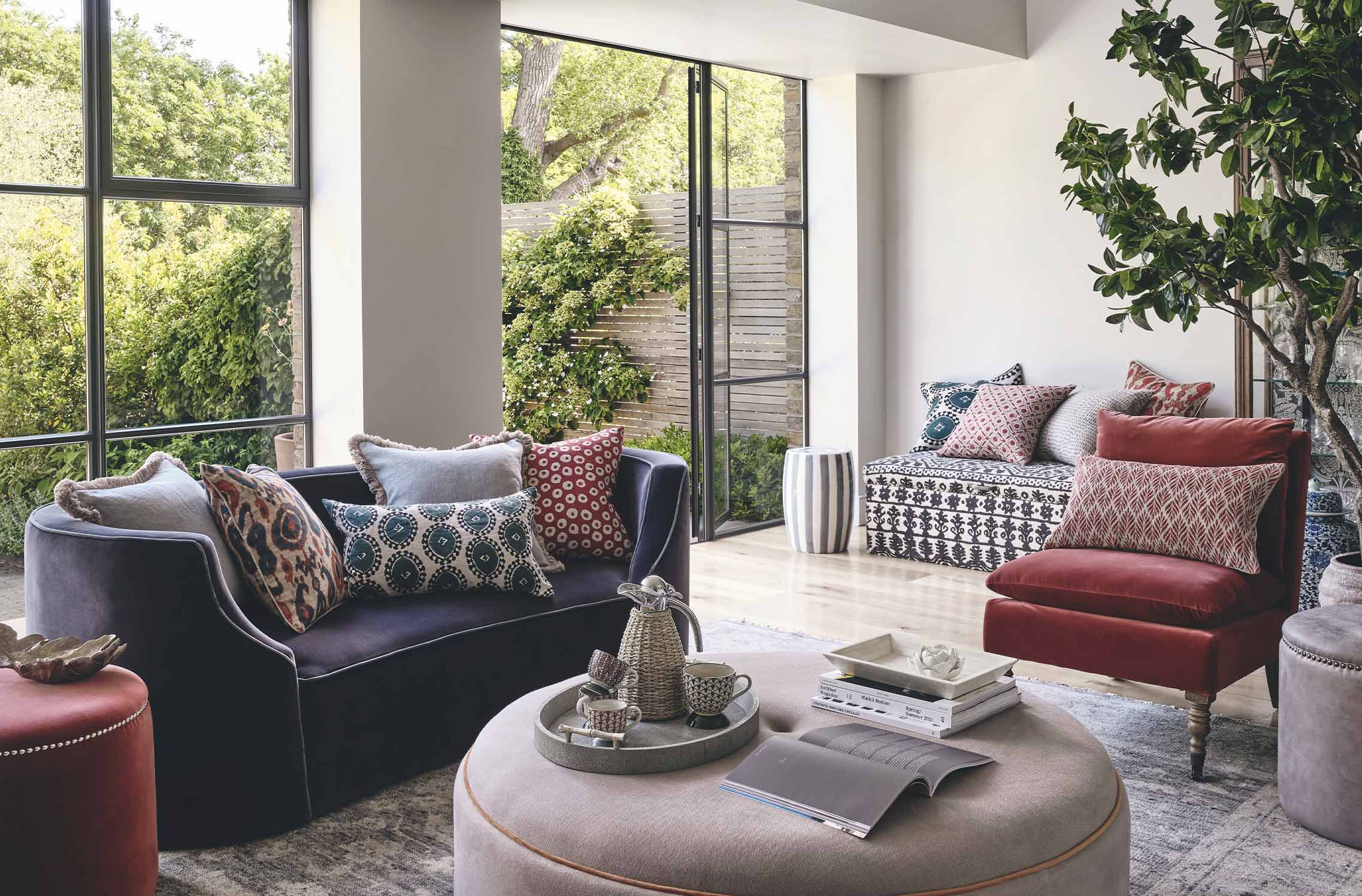 "It's really important to choose cushions that are made from a different material to your sofa, because this will add depth to the whole look," Hawkins advises. Look for tactile fabrics that will stand out against a contrasting backdrop. "If you have a velvet sofa, for example, I wouldn't recommend inundating it with velvet cushions. I might throw one rectangular cushion in, or a few background cushions, but at the front I would choose a selection of our silk or plain linen cushions to add a bit of contrast. It's nice to add something with a really interesting pattern to draw the eye in, too."
Let patterned sofas take the spotlight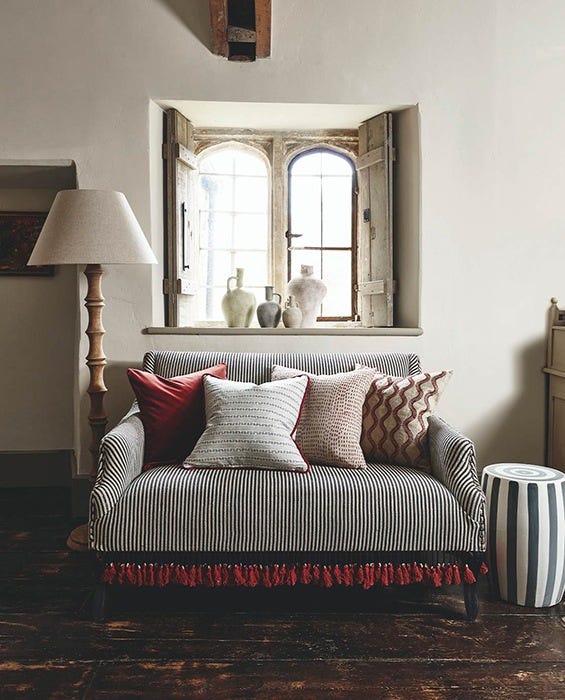 Those with patterned sofas may struggle to find cushions that match; you have to be careful not to neutralise the design. The trick, Hawkins says, is to find styles that will elevate the sofa cushions' print. "A patterned sofa is meant to be a statement, so you should enhance it rather than detract from it," the designer advises. "It can be fun to throw a printed cushion on there, but I would only use one as an accent feature – you want the sofa to do the talking. It all depends on the nature of the pattern; I would never pair it with a cushion in the same print, because that's too much. For example, I would avoid putting a striped cushion on our Tarma sofa, but I might use one of our Nostell cushions to add contrast."
Change your cushions with the seasons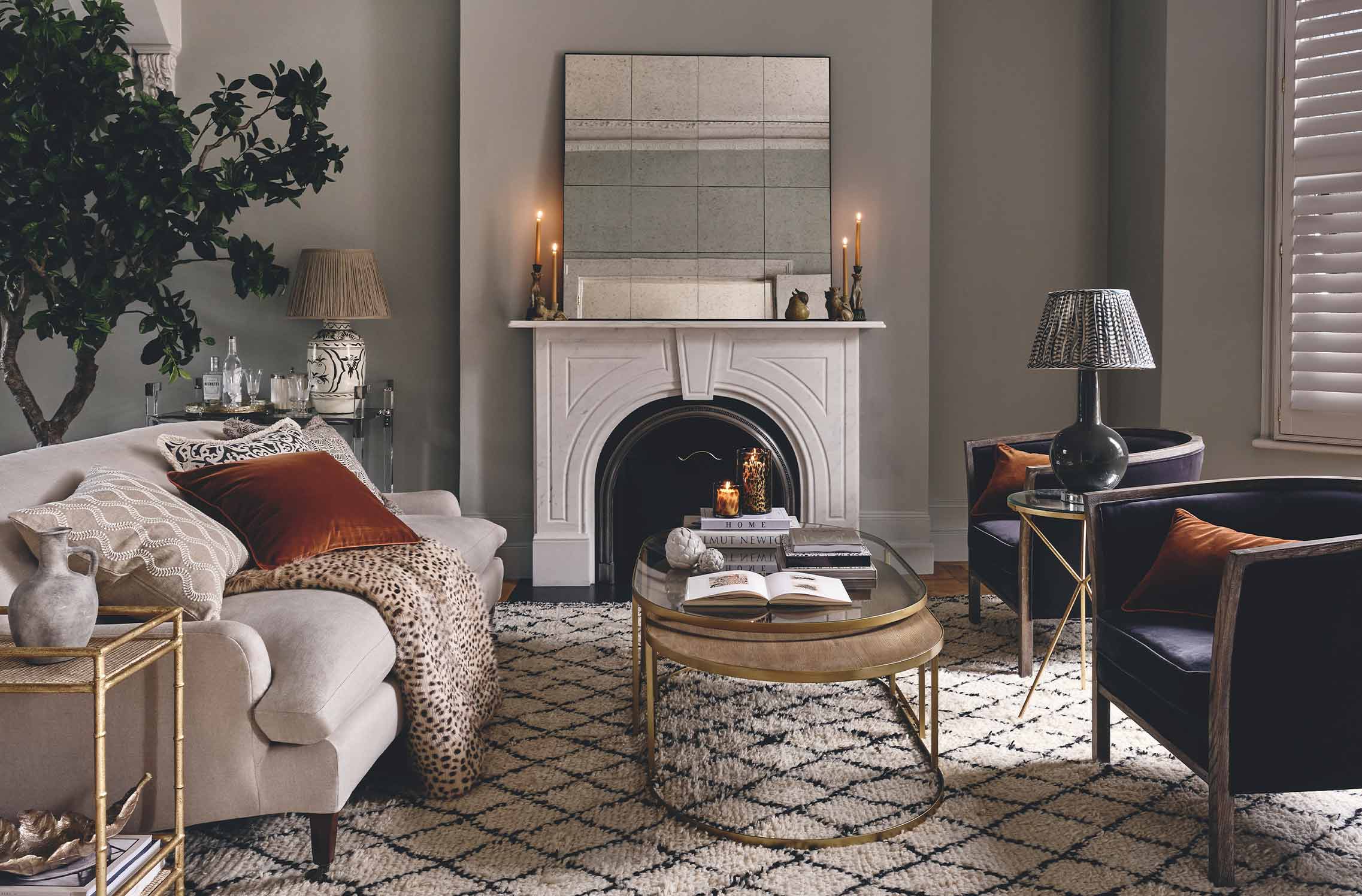 A quick and easy way to keep your sofa feeling fresh is by switching up your cushions in tandem with the seasons. For a subtle nod to the time of year, Hawkins advises avoiding the obvious colour combinations. "I love to use shades of green as we go into autumn; a lot of people are a bit afraid of green, but it's such a versatile colour. For winter, I would start reaching for our velvet designs, because they add such warmth to the room, especially in richer colours, such as midnight green, rioja, perfect navy or lead. This is also the time to start embracing prints or heavily embroidered cushions."
Don't be afraid to use heavier fabrics in the warmer months though, the designer says: "Everyone wants to feel lighter in spring and summer, but that doesn't mean they should avoid velvets; we've got beautiful shades of blue, teal and hot pink, which I love to contrast with a linen. Linen, by nature, is a more breathable fabric, and feels lovely and airy when it's hot."