Tarma Armchair - Sheki Olive
Inspired by the pattern of a rug discovered in an antiques market, the Tarma Armchair's hand-embroidered cotton upholstery makes a serious statement, whether it's placed in a social seating set-up or a quiet reading nook. Tasseled fringing – which can be removed and reattached easily – adds an extra playful touch to the design, which was originally applied to our popular Sheki Rug. Coloured using vegetable dyes that are traditionally used for Indian wedding apparel, the fabric lends a room a beautiful vibrancy. All our Tarmas are hand upholstered with handwoven rugs, and this artisanal process results in every piece having individual characteristics that add to their charm.
Product Code:
Handmade
Embroidered details
Detachable Tassels
Due to the artisanal crafting process no two pieces will be identical
Specifications

| | |
| --- | --- |
| Height (cm) | 85 |
| Width (cm) | 84 |
| Depth (cm) | 95 |
| Number of Seats | 1 |
| Product Type | Armchairs |
| Material | Cotton |
| Colour | Sheki Olive |
| Pattern | Patterned |
| Care Information | For product care information |
Why OKA?
Since the very beginning, we've been on a mission to create pieces that make time spent with friends and family more memorable. We believe that's the secret to living beautifully: enjoying it. Our team calls on talented artisans from all over the world to bring our ideas to life. The furniture and homeware they craft prioritises beauty, comfort and style, but we choose items for their integrity, not because they fit a prescribed look. The magic of OKA is the mix: hand-picked global treasures, rich textures and patterns, and timeless furniture profiles. It's ever-changing but unwaveringly British; elegant and easy-going; sophisticated but never stiff – we hope that it inspires you to shape a space that truly reflects your personality.
Our suppliers are skilled and experienced craftsmen and women who create unique and high-quality pieces. From time to time, we also partner with leading designers and makers around the world who share our design ethos, to release capsule collections or limited-edition items.
Where it all Began
Discover the story behind the Tarma, which has grown to become one of our most popular seating ranges. It all started when our Co-Founder, Sue Jones, was exploring a trade fair and happened upon an unusual printed and embroidered rug.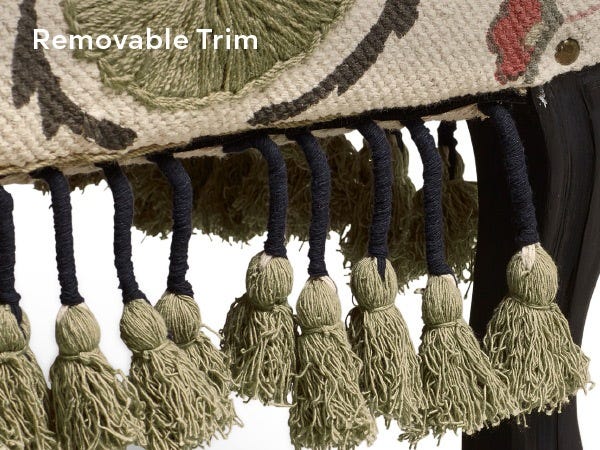 "It's no secret that we like statement pieces; not everything has to match. The beauty of the Tarma is that you can mix it in with plain pieces, or other patterned things – I love the eccentricity of it."
Sue Jones, Co-Founder of OKA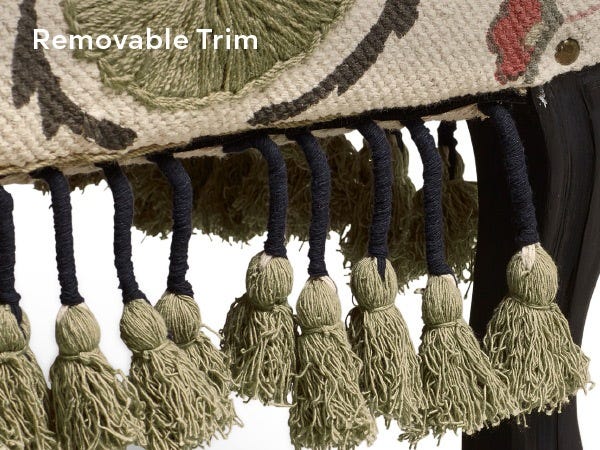 "It's no secret that we like statement pieces; not everything has to match. The beauty of the Tarma is that you can mix it in with plain pieces, or other patterned things – I love the eccentricity of it."
Sue Jones, Co-Founder of OKA