A decorator's secret weapon, mirrors are more than a practical object in which to check your own reflection; when used correctly, a beautiful mirror can be used to amplify light, add drama, create interesting reflections and frame views. You may have fallen in love with a design first, and then found the perfect spot for it afterwards, but, if you're working the other way round, and are looking for the perfect mirror to fill a particular space, this takes a little more consideration (and perhaps, a little more hesitation). Take a look at this mirror buying guide for design tips on using mirrors to transform your home.
Choosing the Right Size Mirror
There are a million questions you might be asking yourself about choosing the ideal mirror. What is the best height for a mirror in a high-ceilinged room? How do I choose a mirror for a large wall? What is the best shape for a mirror on a mantel? Are bigger mirrors better? Will mirrors make my room look smaller or larger? All valid questions to be asking yourself on this journey. Selecting the right one will depend largely on where you want to place it and what you want to achieve with it. Though the answer to these questions is often personal, there are a few tricks, laid out below, to make this enterprise a little easier.
In terms of size, it's worth measuring the place you want to hang, stand or prop your mirror, as there's a general rule that your mirror should be about two-thirds of the width of whatever it hangs above (say, a console table). If the mirror is meant to be functional rather than simply aesthetic, then it should be hung so that the center of the mirror is in your eye-line—what's the point of a mirror if you can't see into it? You don't want to be standing on tip-toe or crouching to have a look. Aside from that, the height comes down to what feels right for you; if you can get a helpful person (or two) to hold it in place while you admire it from afar, you can make an informed decision.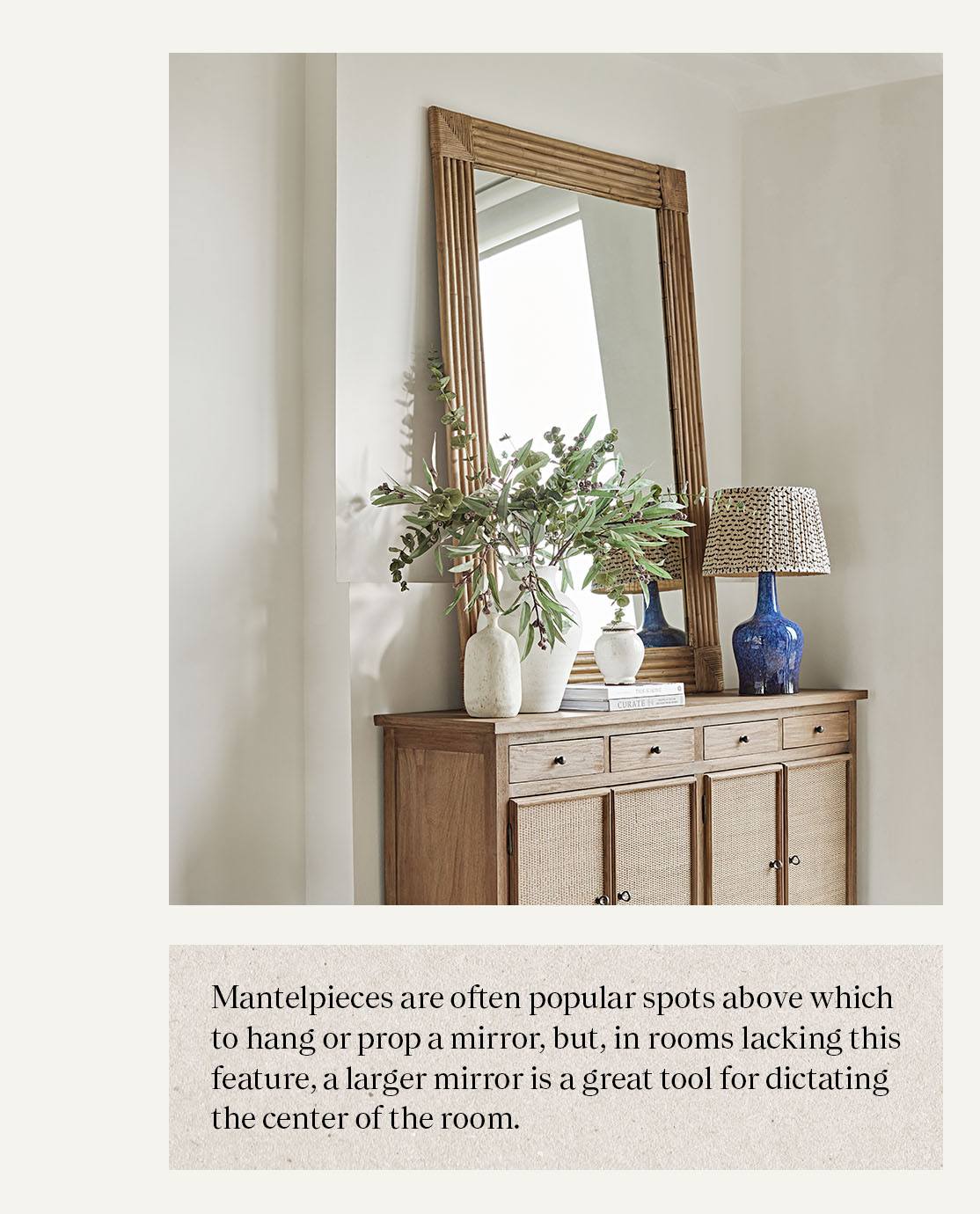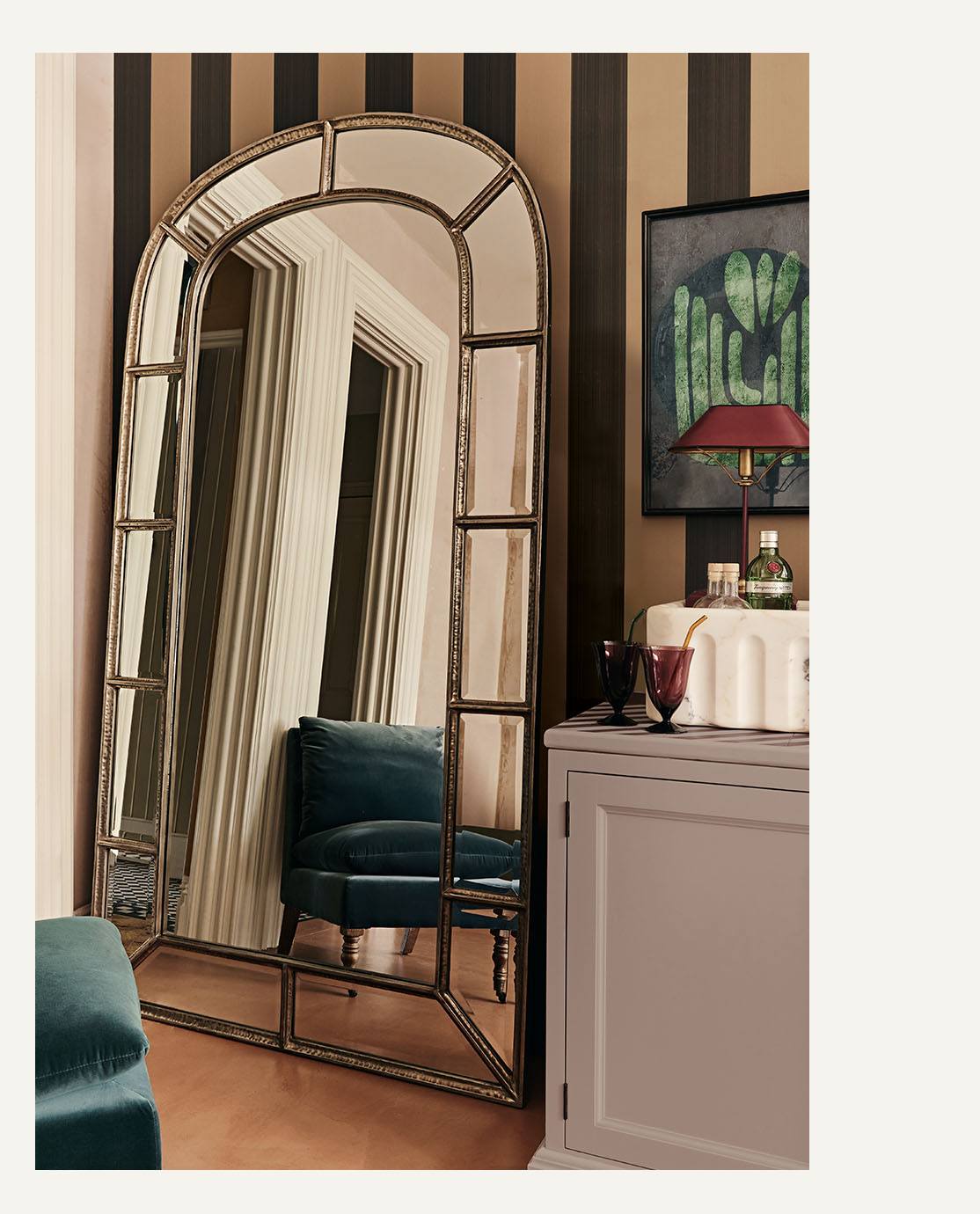 Using Mirrors To Brighten A Room
To increase the amount of natural light cast around a room, simply place a mirror opposite or beside a window; no matter how gloomy the sky is outside, it will harness any available daylight. The bigger the mirror, the brighter and larger the space will feel. In a bedroom, for instance, an oversized mirror is the perfect piece to make the space feel lighter and more open—especially when placed above a mirrored chest of drawers for extra reflective power.
It's not just natural light that can be manipulated in this way; mirrors are great at emphasizing the output from other light sources, too. If you're tasked with decorating a cavernous space or a dark corner, placing a mirror near a table lamp can make all the difference.
How To Create A Focal Point With A Mirror
When it comes to choosing wall art for your home, decorative mirrors with ornate frames or sculptural designs can make as much of an impact as paintings. Mantelpieces are often popular spots above which to hang or prop a mirror, but, in rooms lacking this feature, a larger mirror is a great tool for dictating the center of the room.
Alternatively, experiment with using a group of smaller-sized mirrors to add decorative touches to a plain wall. Whether you choose uniformity with styles of the same shape and frame color, or curate an eclectic mix of designs and sizes, such as contemporary silhouettes teamed with antique mirrors (or antique style), the outcome will make a shining statement.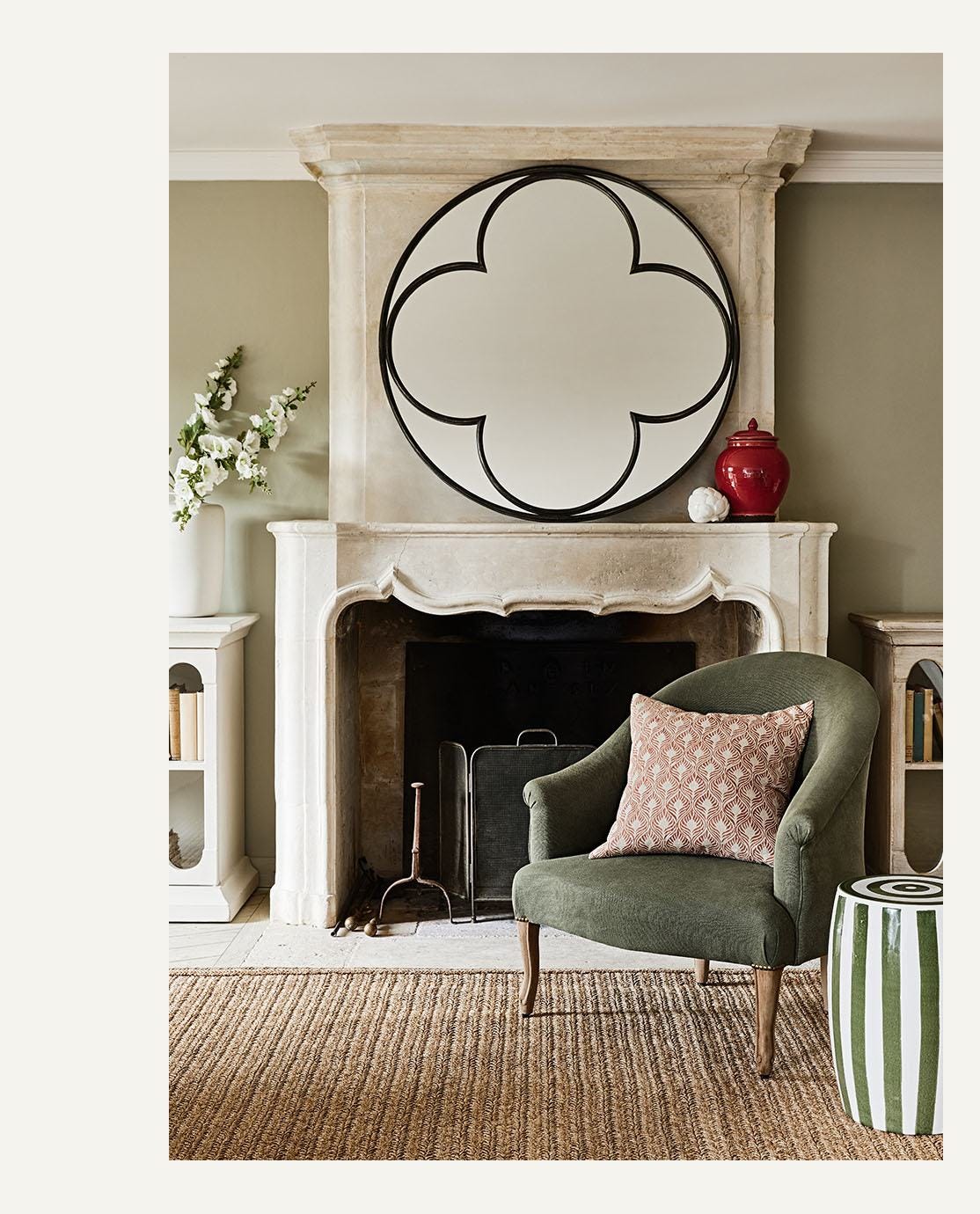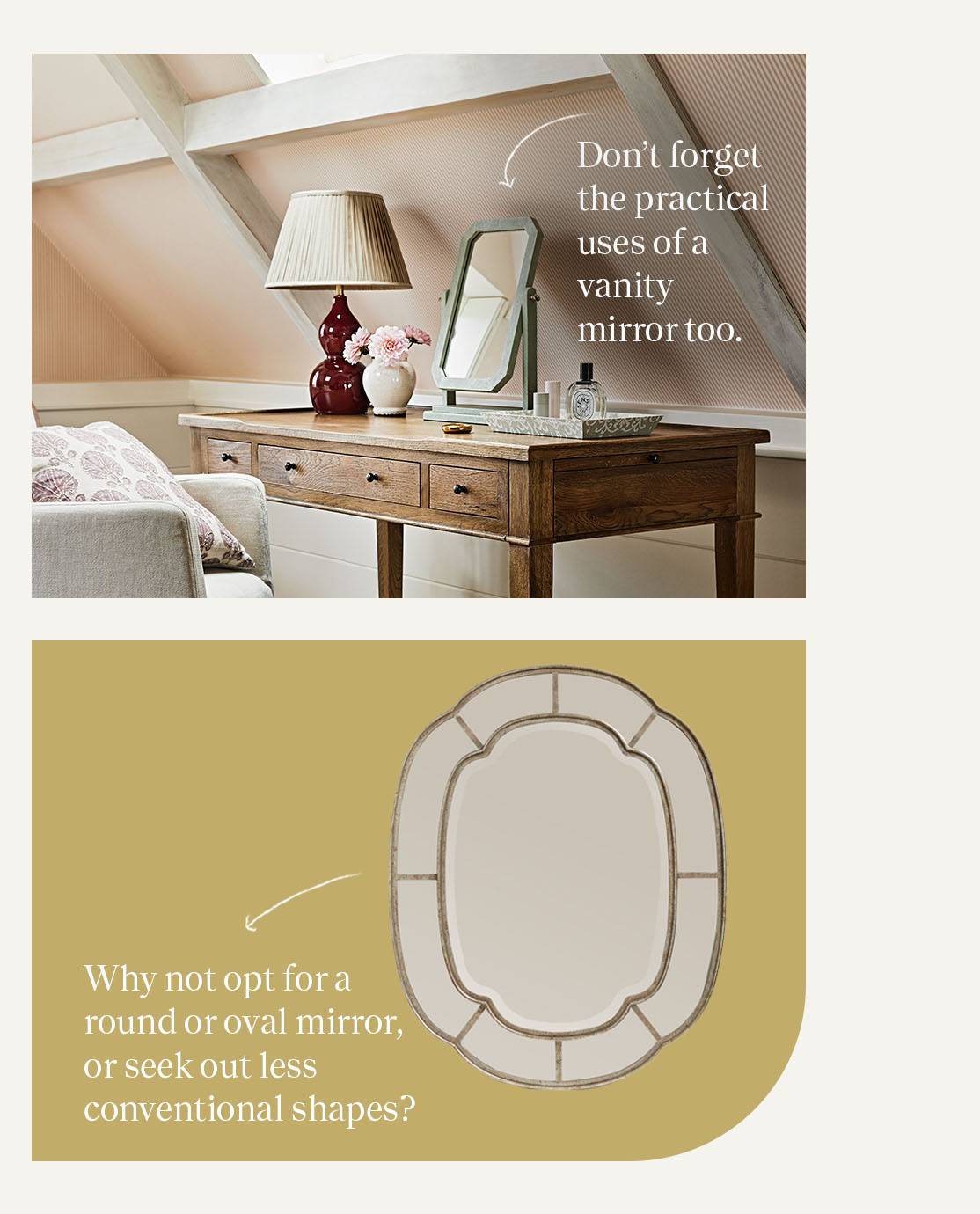 Make your Mirror a Window
In windowless rooms—typically, that's bathrooms—a mirror can make a world of difference; go big and choose a sizeable design to maximize luminosity and make the space feel bigger. This will also benefit you practically; when adding the finishing touches to your makeup, for example, you won't have to lean over the basin at the risk of dropping that pesky mascara wand, just to get a good view of your eye. Frameless mirrors are great tools in these instances—look for a design that fits your space from wall to wall to create a seamless effect.
Thinking beyond the bathroom, another clever trick in darker areas of the home (such as entryways) is to select a mirror that's designed to mimic the shape of a traditional window frame, which allows you to create the illusion of light spilling through a window.
Play Around with Shapes and Symmetry
You don't have to get hung up on practicality and functionality by sticking to traditional rectangular mirrors—why not opt for a round or oval mirror, or seek out less conventional shapes? Explore your options; there are small, large, square, round, framed, ornate and many more design styles to try in our wide range of standing, table and wall mirrors.
Placement and positioning are open to interpretation, too. Experiment, for example, by hanging a vertical mirror horizontally behind a bed, in place of a headboard. This is both surprising and impactful. And why not try framing a view? When used in pairs either side of a window or doorway, mirrors create a sense of balance and harmony, reflecting the opposite side of the room front to back, as well as left to right.
Don't forget the practical uses of a vanity mirror too, whether you opt for one designed for the purpose, or prop a hanging mirror on a surface such as a desk so that you have your very own dressing table design.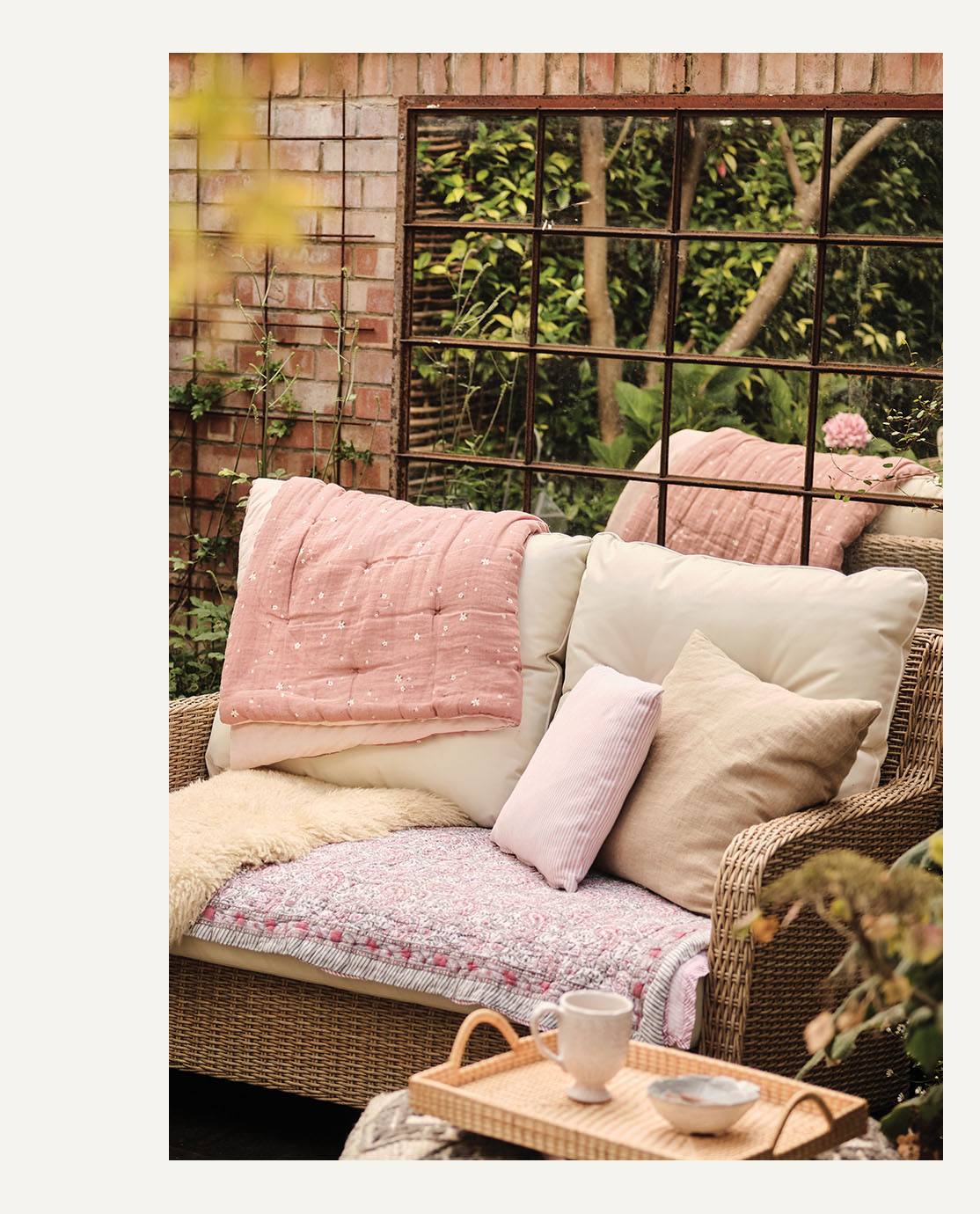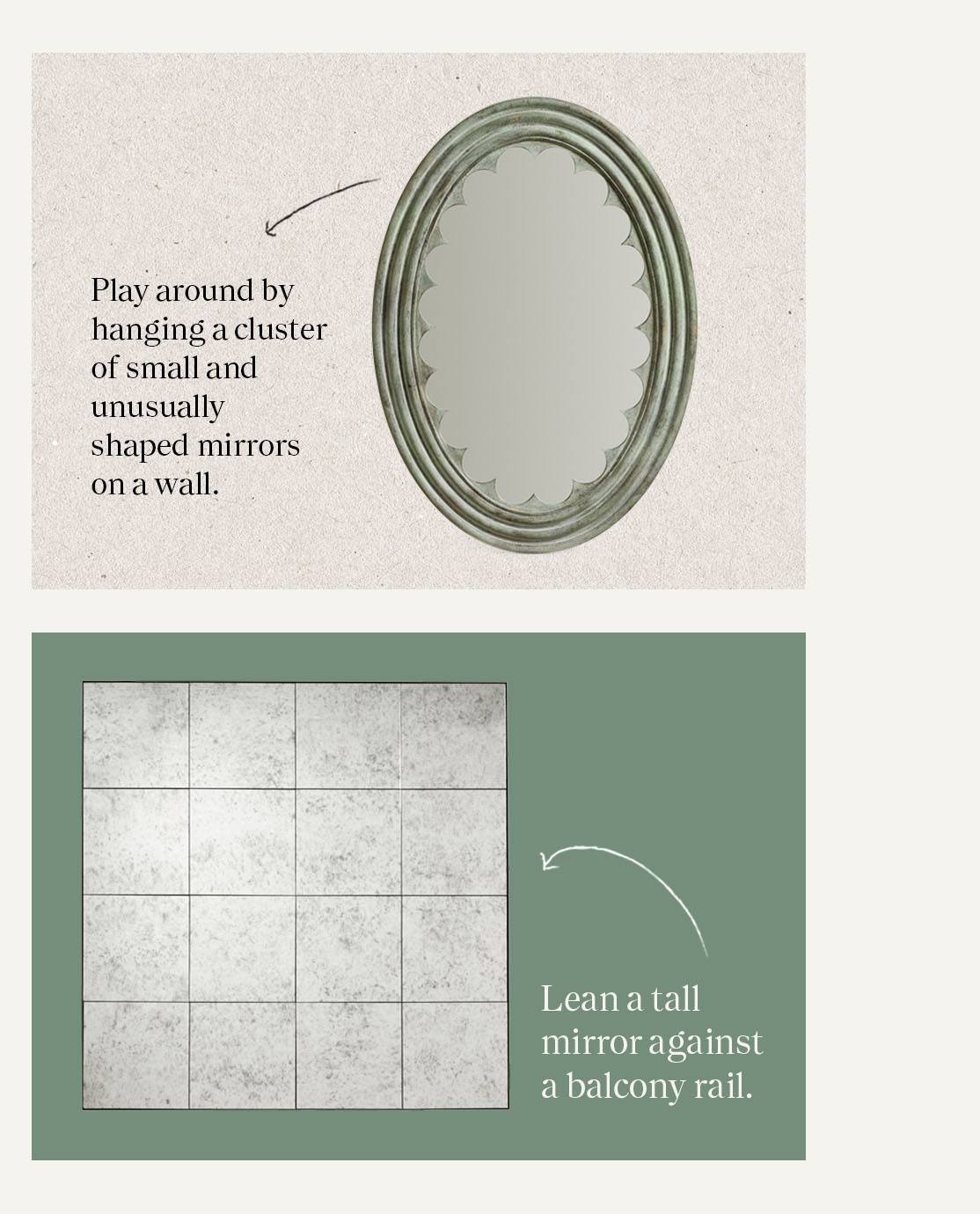 Don't Forget To Embrace Mirrors Outdoors
Mirrors aren't restricted to the interior walls of your home: take them outside and use them to introduce more natural light to a north-facing patio, a basement-level backyard or a shady courtyard. Positioned opposite a patch of greenery, a mirror will create an even greater illusion of space and a touch of whimsy, too.
There really aren't any hard-and-fast rules when using mirrors outdoors: play around by hanging a cluster of small and unusually shaped mirrors on a wall, or lean a tall mirror against a balcony rail (or wall) for a hint of vacation-inspired styling. A weathered patina can add character, but if you're planning on leaving your mirrors outside throughout the seasons, make sure to check they're weatherproof.