Sometimes a sofa just won't do. You want a solitary retreat, a cocoon, a supportive sit, a hideaway… an armchair. While modern modular sofas make for dreamy lounging (and great napping opportunities), a stand-alone armchair has other qualities that a three-seater (-plus) simply can't mimic or match. Whether nestled neatly in a corner of a sitting room, study or bedroom, or part of a larger more sociable set-up in a living space, a classic armchair is an elegant addition to a scheme. How do you select the best style for your home, when there are so many options to consider though? Our compact buying guide leads you through the essentials to get your started finding your ultimate armchair design.
Types of armchairs
Armchairs come in many shapes, sizes and styles, so perhaps the simplest way to begin is by taking a closer look at four of the most desirable designs: the low-back armchair, high-back armchair, winged armchair and modern armchair. What's the difference between them, what do they add to a room and where do they look their best? Read on…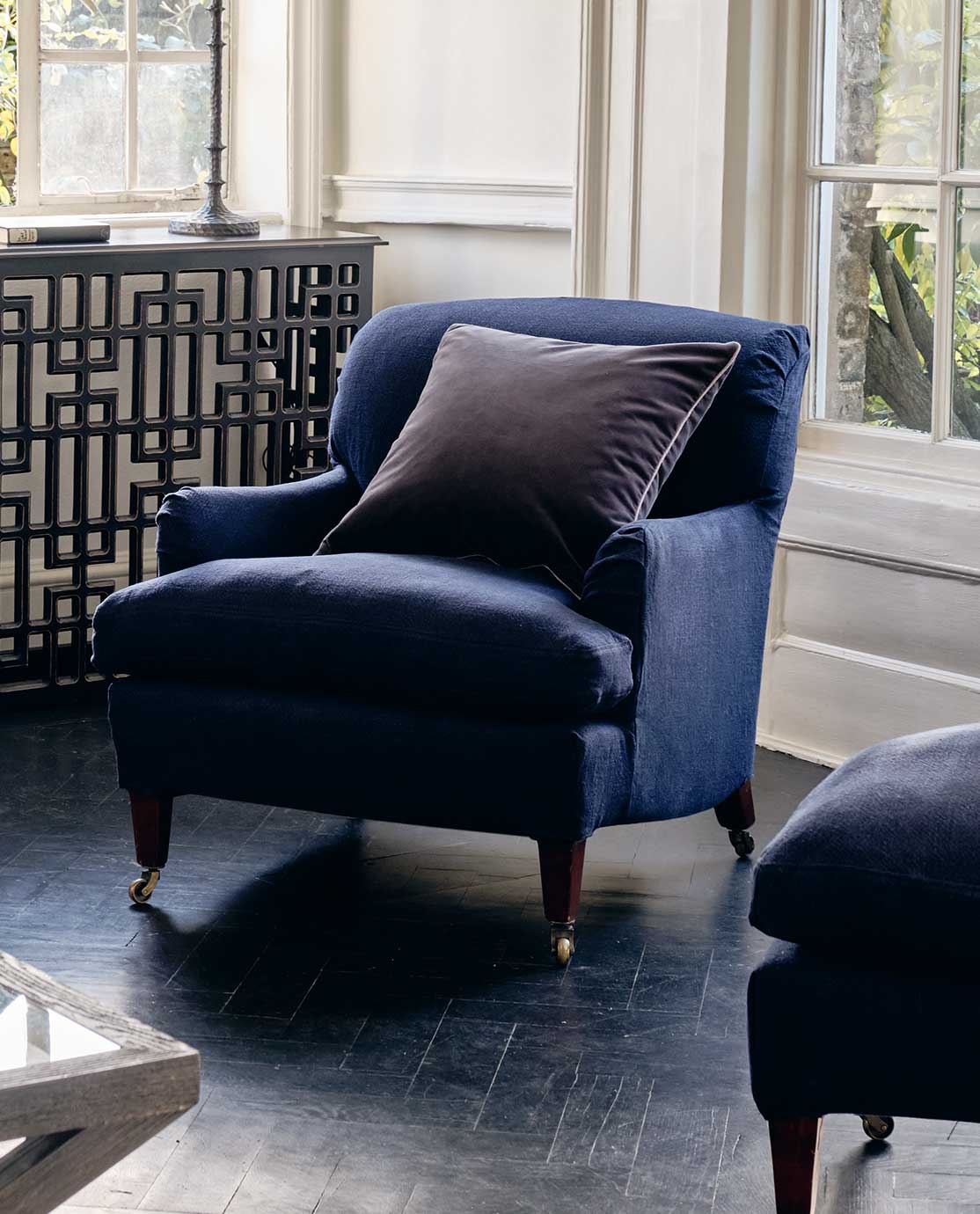 Low-back armchair
In rooms with a modern decorating scheme, low-back armchairs are an excellent option – their profile tends to look a bit more relaxed and less formal, meaning they may suit contemporary spaces better than traditional ones. Because of their smaller proportions they're also a clever option for rooms with low ceilings or apartments in the eaves, as they lend compact spaces a sense of space and height.
Modern armchair
If someone says "modern armchair", there's no need to assume that means shapeless, hard surfaces or brightly coloured finishes. In fact, at OKA, our idea of a modern armchair is one that uses unusual textures and materials to create a focal point in a room, without looking as if it landed in your living room in the 1960s.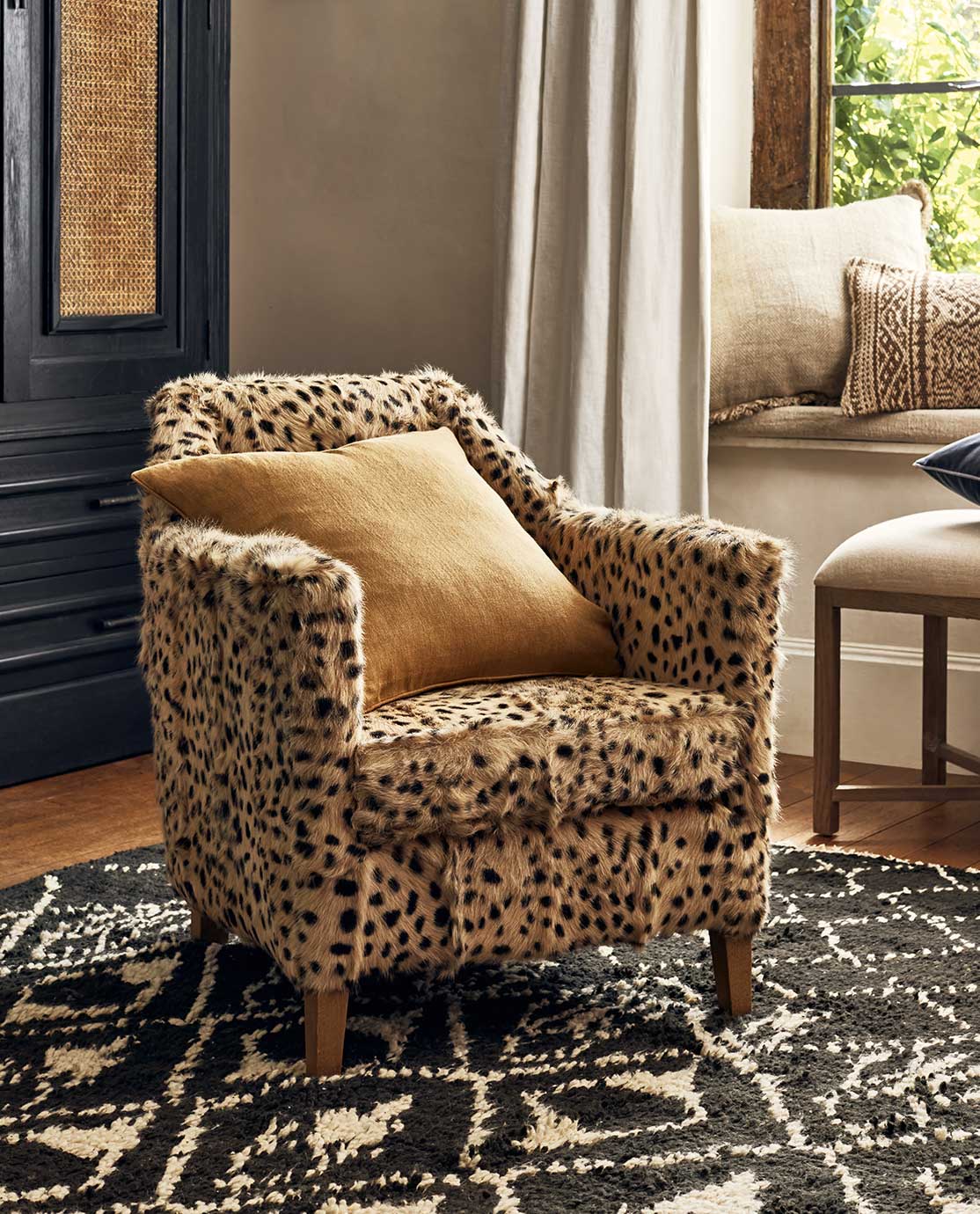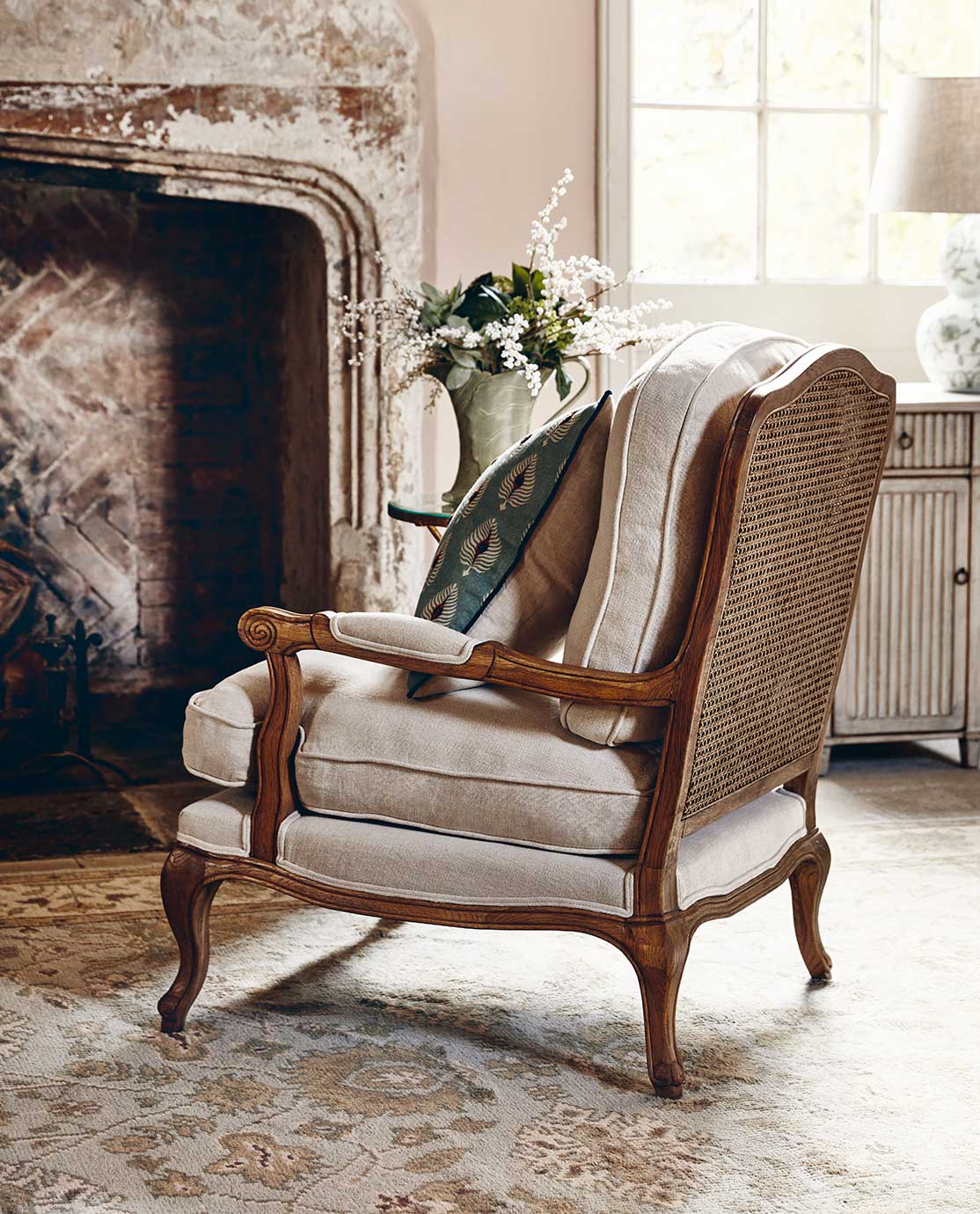 High-back armchair
A classic addition to a scheme, high-back armchairs look regal and elegant wherever they are placed. They are particularly well-suited to larger rooms, where their tall backs and formal appearance enhance well-proportioned design details. In a traditional setting – or to create the feeling of one – place two armchairs in this style next to each other, with a table lamp on either side, to achieve a sense of balance and structure.
Winged armchair
If you're looking for the perfect place to curl up with a good book, look no further than a winged armchair design. Wonderfully cosy and inviting – by default, due to their styling – these chairs need very little adornment (a throw slung over the back and a side table to hold your hot coffee should do it).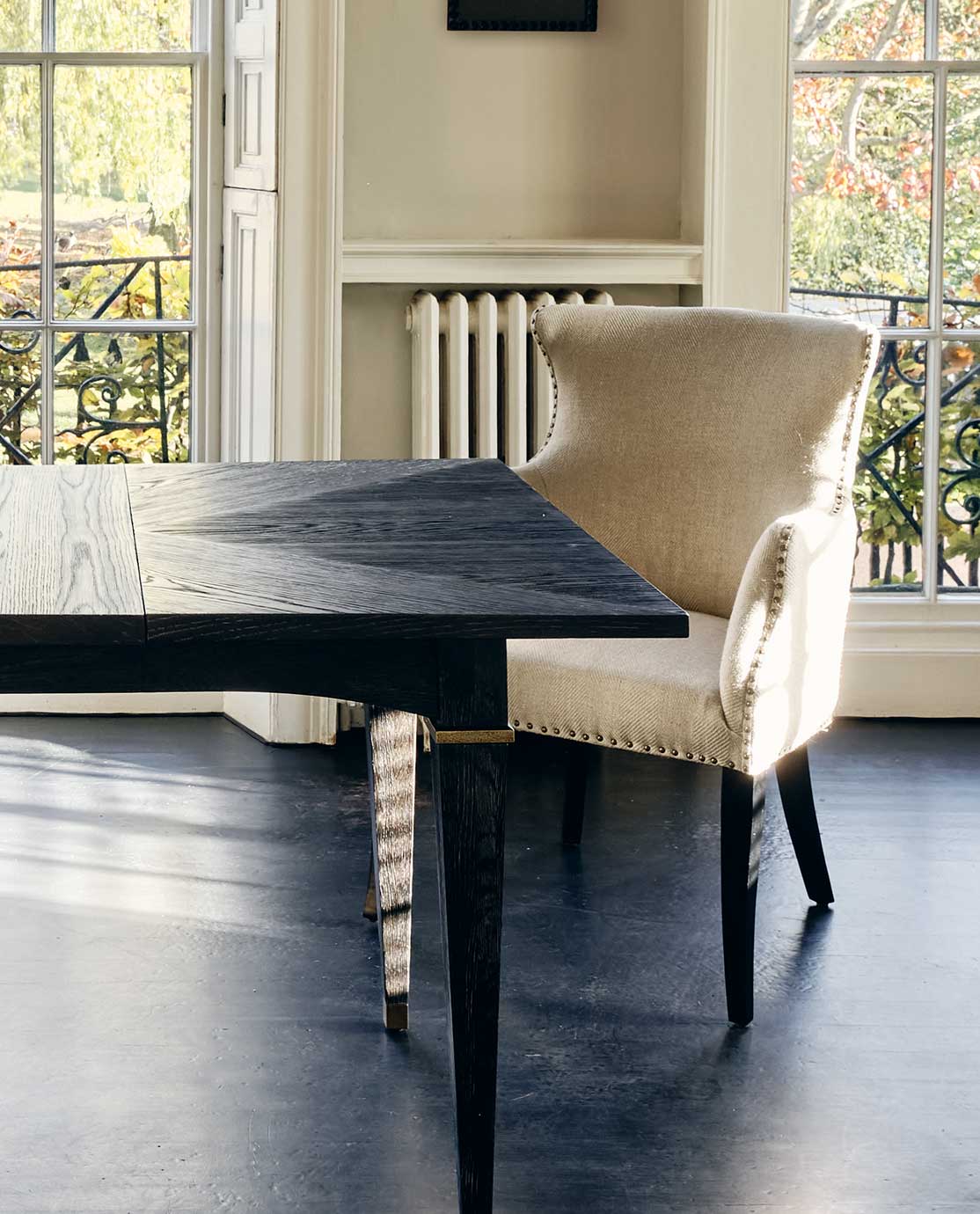 Essentials to consider when buying an armchair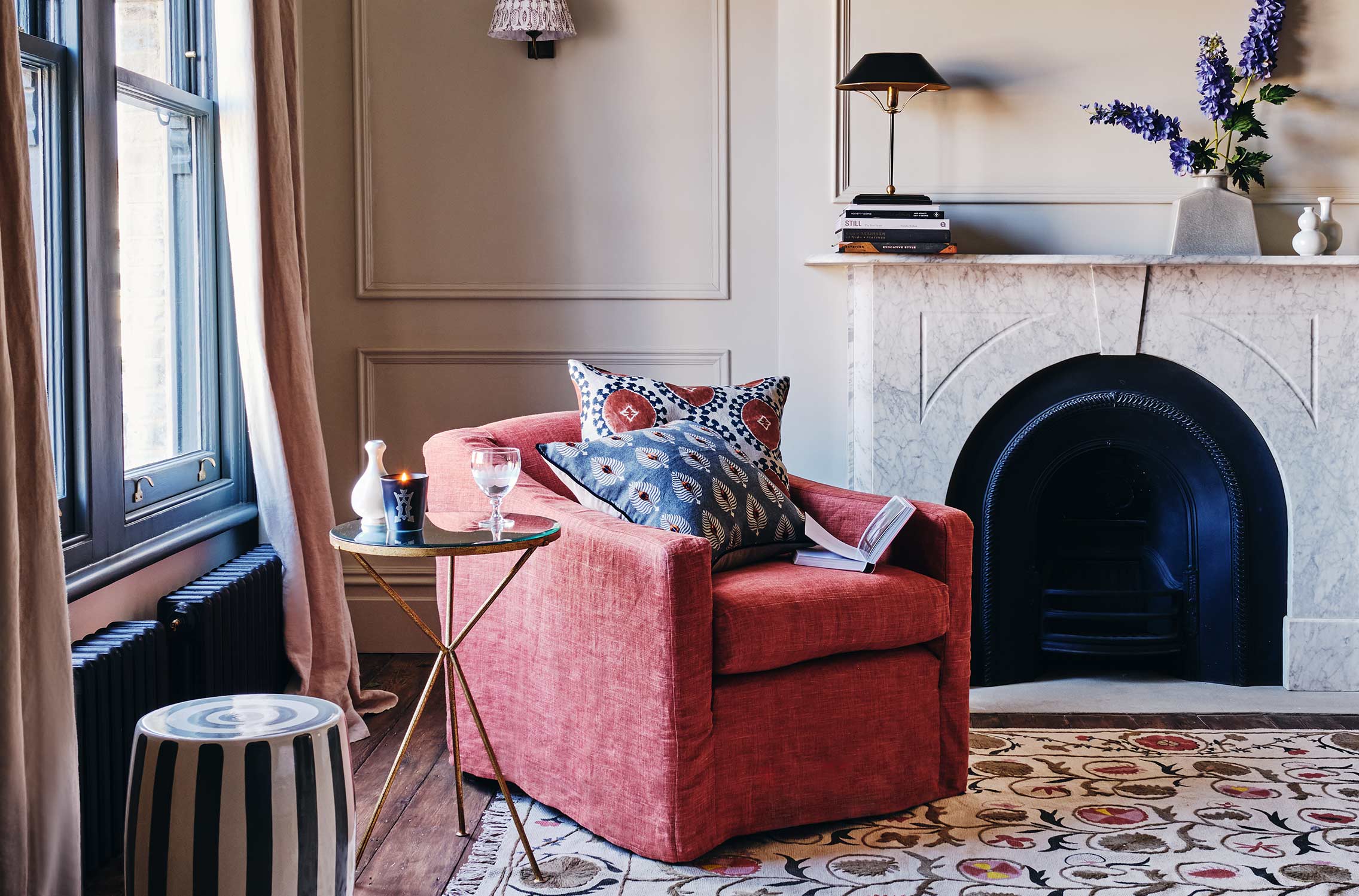 How do you like to sit?
Picture yourself on a rainy afternoon (never too difficult in the UK), sitting with a cup of tea and a good book or a TV show on. How are you sitting? Are you sprawled out over the arm rests or sitting straight up? Are your feet on the floor or your legs tucked underneath you? Everyone likes to "put their feet up" differently, so make sure you choose an armchair that suits your style best. If you like to curl up with your feet off the floor, for instance, you'll need an armchair with a spacious seat. Aiming for a more formal sit for afternoon teas? Then an upright armchair with a shallower seat and well-placed arms might be best. A good way to make sure you opt for the right design for you – as well as your space – is by going to a showroom and testing some out.
Where will your armchair be situated?
It goes without saying that it's important to measure the size of the space you intend to place your armchair – how else will you know if it fits (and if there's room for a side table and lamp combination, too)? You can check the dimensions with a measuring tape of course, but a clever trick to get a feel for a new piece of furniture is to mark out the dimensions using masking tape or newspaper on the floor – this gives you a much clearer sense of how much room the armchair will take up, and also how well its proportions suit the space.
Upholstery options: patterned or plain designs?
Armchairs don't automatically mean tartan. Patterned armchair designs come in a variety of styles and colours, which means finding the perfect match for your room is easier than you might think. While patterned upholstery might seem like the more exciting option, a plain covering can add a splash of colour and vivacity to a space just as easily. The choice is down to your personal preference, as well as understanding which design will best complement the space the armchair is destined for. When used well, both pattern and block colours have the ability to elevate the appearance of an entire room – making a well-chosen armchair a great option if you want to update a space without redecorating.
A quality armchair will last a long time so, when choosing one, opt for the design that you can see yourself using for years to come.