Good lighting is essential in every home, whether you use it as a design statement or to set a mood. Though chiefly practical, lighting has moved on from being a simply functional consideration, offering ambience, atmosphere and style with the flick of a switch. "Over the years we have realised that the pure purpose of lighting isn't just about giving light to an area that is dark; lighting is an ornament, it's part of the room," says Antoni Roig, one of the expert designers behind our in-house Interior Design Service. "It's about scattering touches of light across the room, and for me, the more you have the better. Different scales, different sizes, different heights – that's how you come up with a beautiful scheme and create a more interesting space." To help you achieve the perfect balance between function and form, we turned to Antoni for his expert advice on the different light sources to use throughout the home. Here is his room-by-room guide to lighting.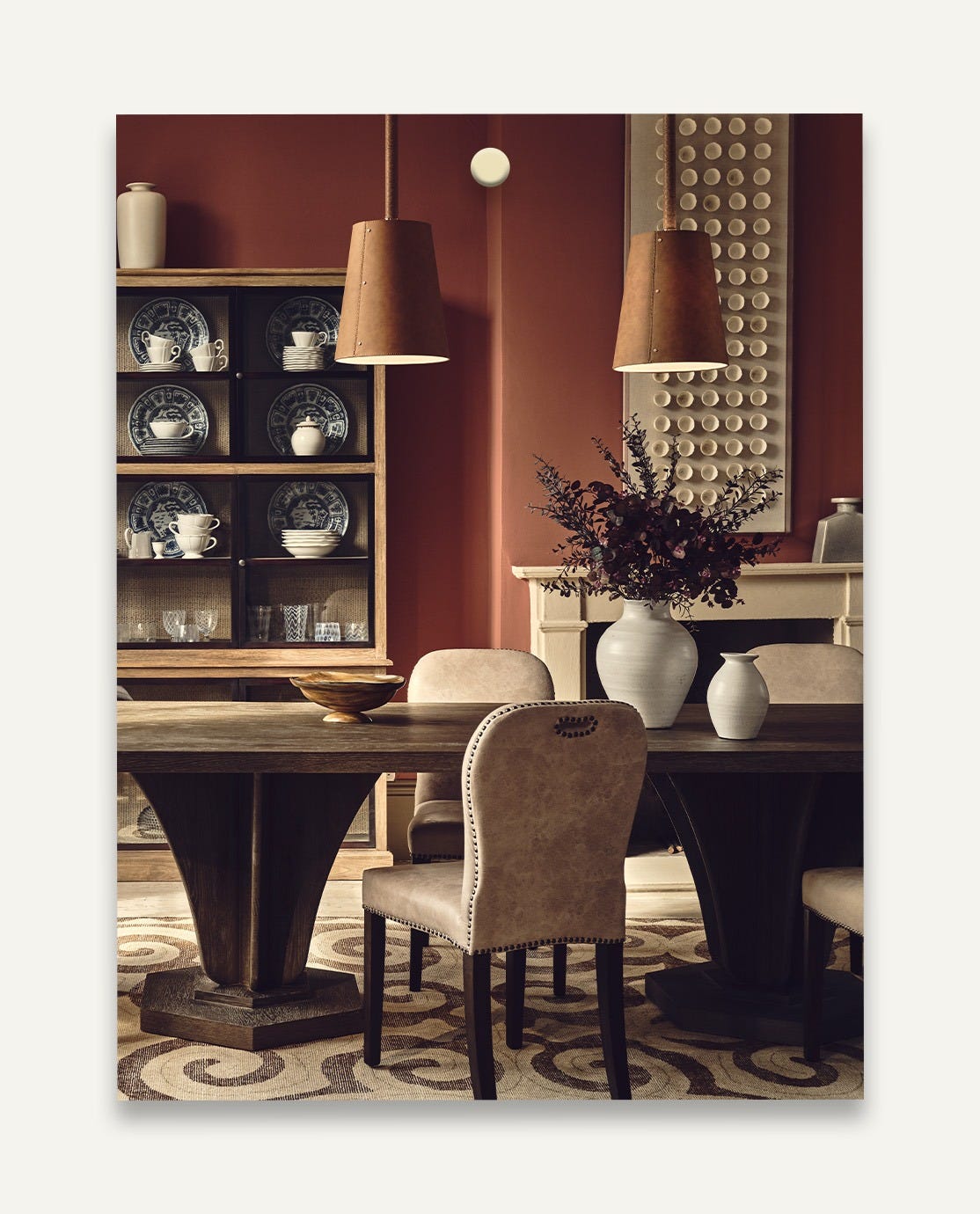 The Sitting Room
For many people, turning on 'the big light' feels akin to a design crime, and should be used only when nothing else but a really bright light will do (typically when someone spills a drink or drops something small). Antoni firmly agrees with this school of thought, preferring the look and feel of a collection of lamps over one big spotlight. Lighting design is all about layering three different types of lighting – task lighting, used for practical purposes; accent lighting, used to draw attention to a particular feature or area; and ambient lighting, which adds general light to the space.
In the sitting room, you can easily layer up all three to create a cosy and inviting space. The designer recommends adding table lamps on either side of the sofa to offer light while reading, and a selection of floor lamps to bring a glow to darker corners. As for accent lighting, "it's nice to bring light to different heights," Antoni says. "If you have a bookcase, you could fit a little lamp between the shelves, for example. It's about creating a visual impact, not purely for the purpose of lighting up a corner – an unexpected detail that you can enjoy from your sofa on a cosy evening."
The Dining Room
The dining room is a trickier space to tackle. How you choose to light it will depend on the size of the room, as well as the shape of your dining room table. "If you have a very long or round table, it will be more challenging as you will need to depend on the ceiling lights," Antoni says. If this is the case, he suggests pairing several pendant lights together to create a focal feature. "You can style them as a symmetrical line-up, hang them at different heights or bring them together in a group to create the illusion of one big chandelier," he explains. If you'd like to bring light to the table, look to LED lamps for an atmospheric glow that can be easily transferred to other parts of the home when not in use. Elsewhere in the room, floor lamps will help you light up corners, while table lamps can illuminate console tables. "It's always nice to have different pockets of decorative light throughout the space," the designer adds, "such as on a butler's tray or an occasional table."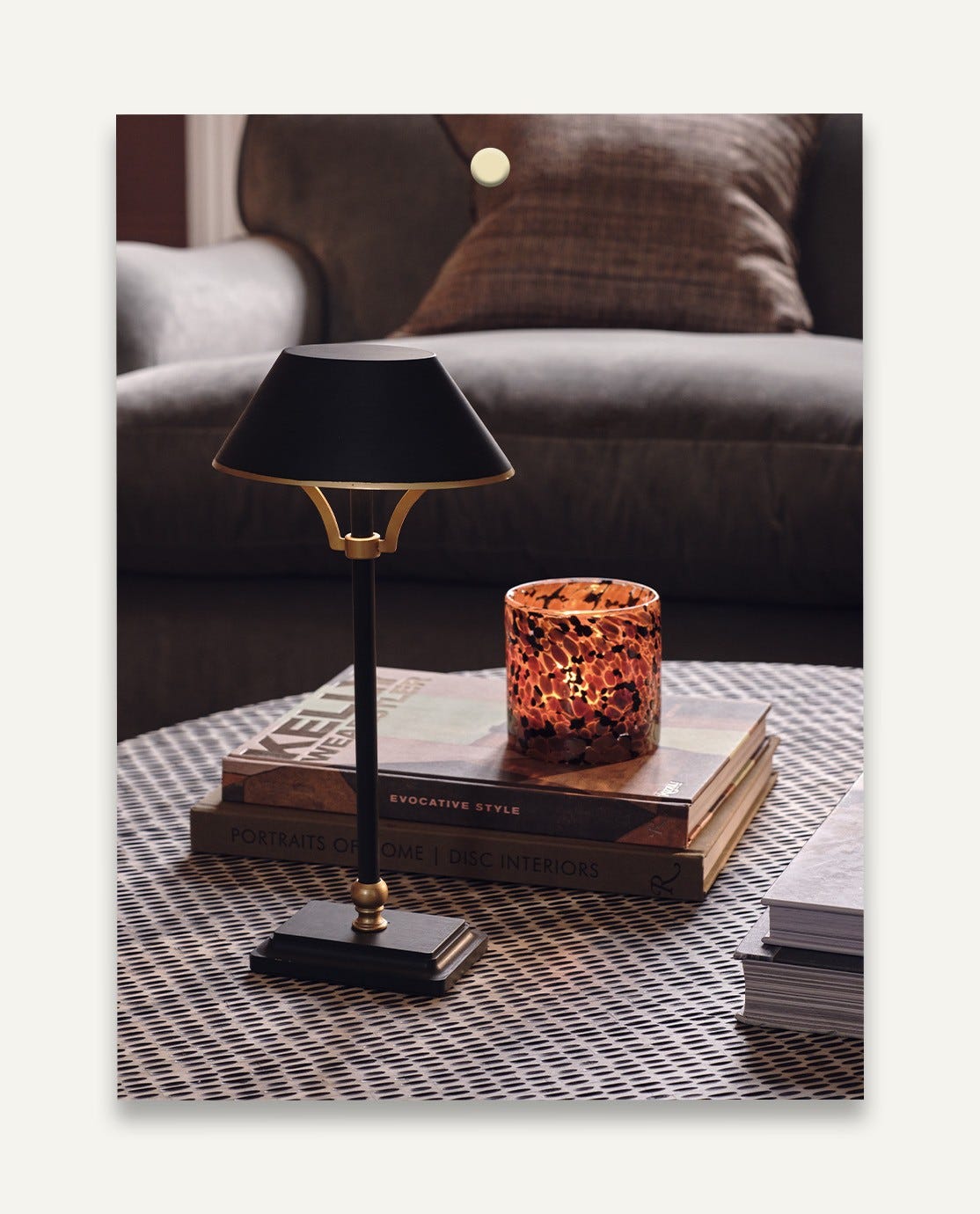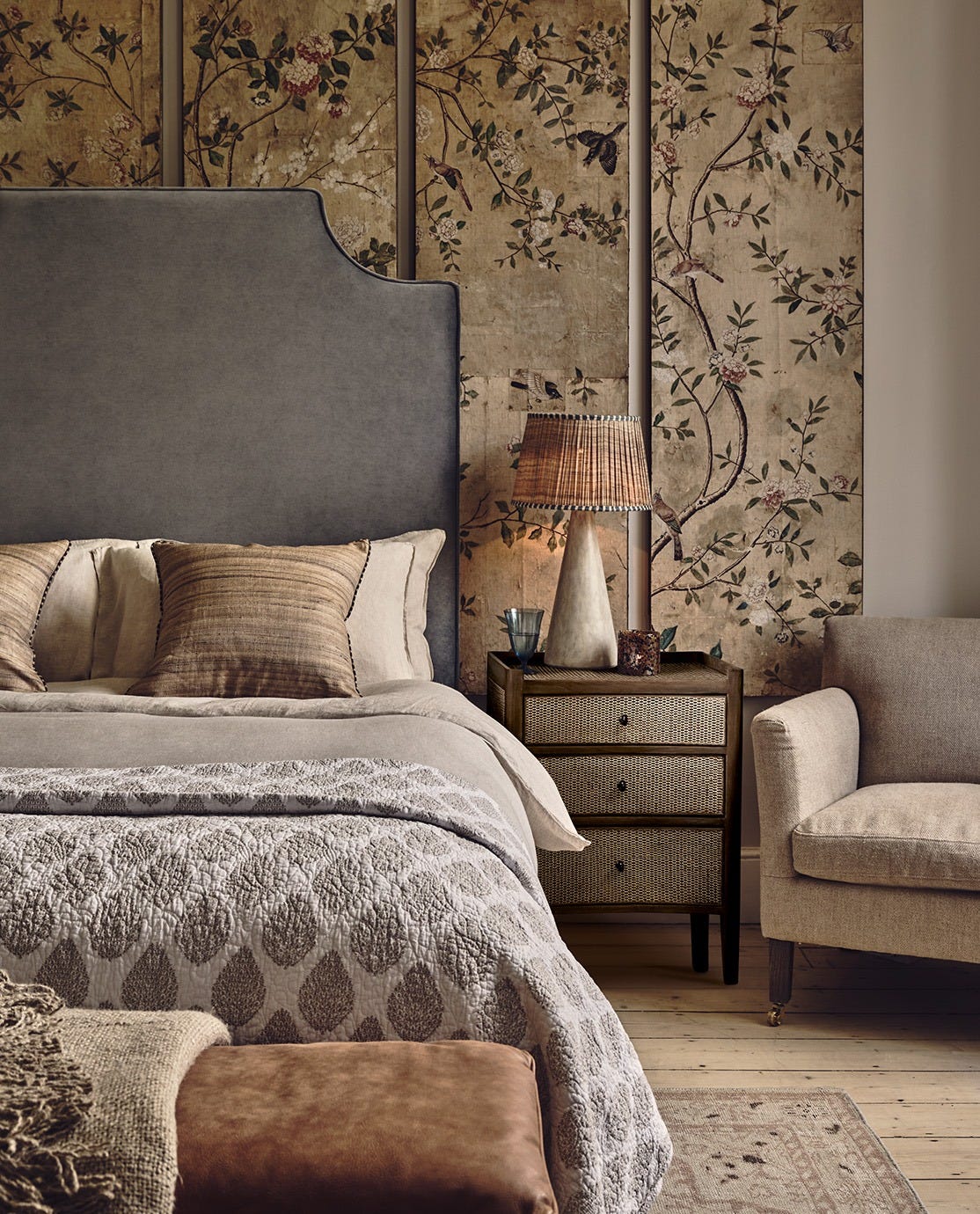 The Bedroom
How to decorate a room in which you spend most time with your eyes closed? It's not the easiest of design briefs, particularly when it comes to lighting, which needs to complement the calming mood of the space. "We only go into our bedrooms for that peaceful, restful moment, so they are often not as interesting as other spaces," Antoni says. "You might put a lamp on the dressing table or bedside table, and that's it. I'd suggest thinking outside the box to come up with something a bit unusual, to create an impactful design." Think patterned or pleated lampshades in vibrant hues to add interest to understated colour schemes, or unexpected light sources in unusual places. "You could use a pendant light instead of a bedside table lamp; hanging one from the ceiling with a long chain can be quite attractive," the designer says. "Or you could use wall lights or floor lamps too – bedroom lighting should be delicate to create that boudoir feel."
The Bathroom
The bathroom is the one room in the house that really lends itself more to task lighting over anything else, and you will inevitably find yourself relying on overhead illumination for the majority of your time spent in here. There are safety regulations that are important to follow when installing light fittings near water; depending on how close a bathroom light is to a water source, it may require a specific IP (Ingress Protection) rating, which indicates how well a device is protected from water or dust. We recommend seeking professional advice from an electrician for this.
For those calming moments when you might want to draw a bath and relax, however, Antoni recommends seeking a lower level of light without the worry of plug sockets. "The new LED generation of lamps can bring atmospheric touches of light – our Mini Grisewood Wireless Lamp and Shade would be an instant winner," he says. "Then, LED candles will do the rest."
The Study
For a room created solely for the purpose of work, the study offers a surprising opportunity to have fun with design. "A study is a space where you can be extremely creative," Antoni says. "Most people tend to play it quite safe with their sitting rooms, but a study is more personal. The license to be creative goes beyond the rules." Lighting is a great way to bring a playful twist to the space ­– from desk lamps to floor lamps, look for designs that have interesting finishes and patterns. You could pair a rattan or wooden table lamp base with an eclectic lampshade, for example, or a brass and chrome design with a pleated lampshade in a dark, moody colour. "Design is most beautiful when it's not instantly obvious. It's about layering, and lighting can be easily layered," the designer adds, "so think about putting lamps in strategic places, such as in front of mirrors to create reflections. It doesn't have to be on the desk."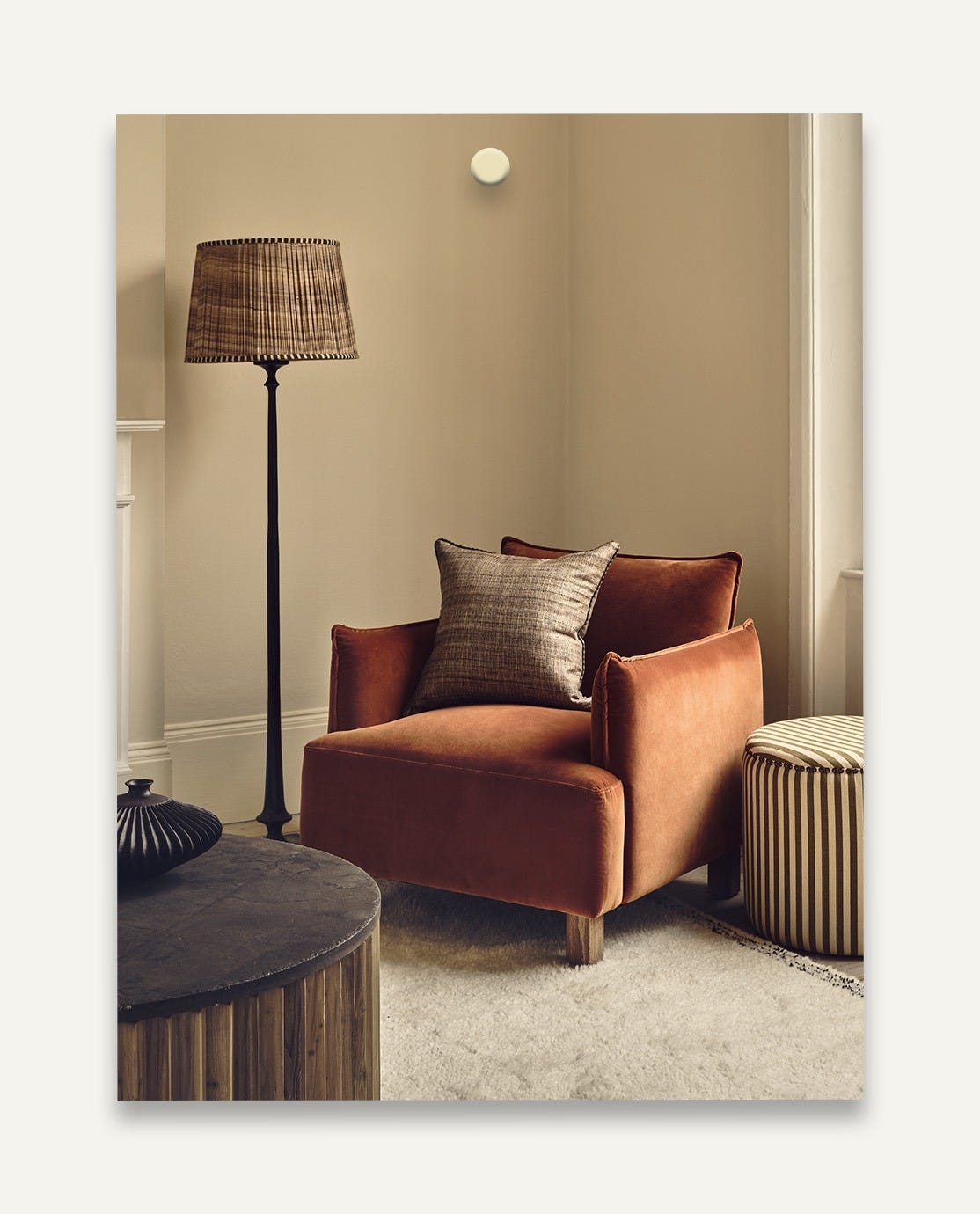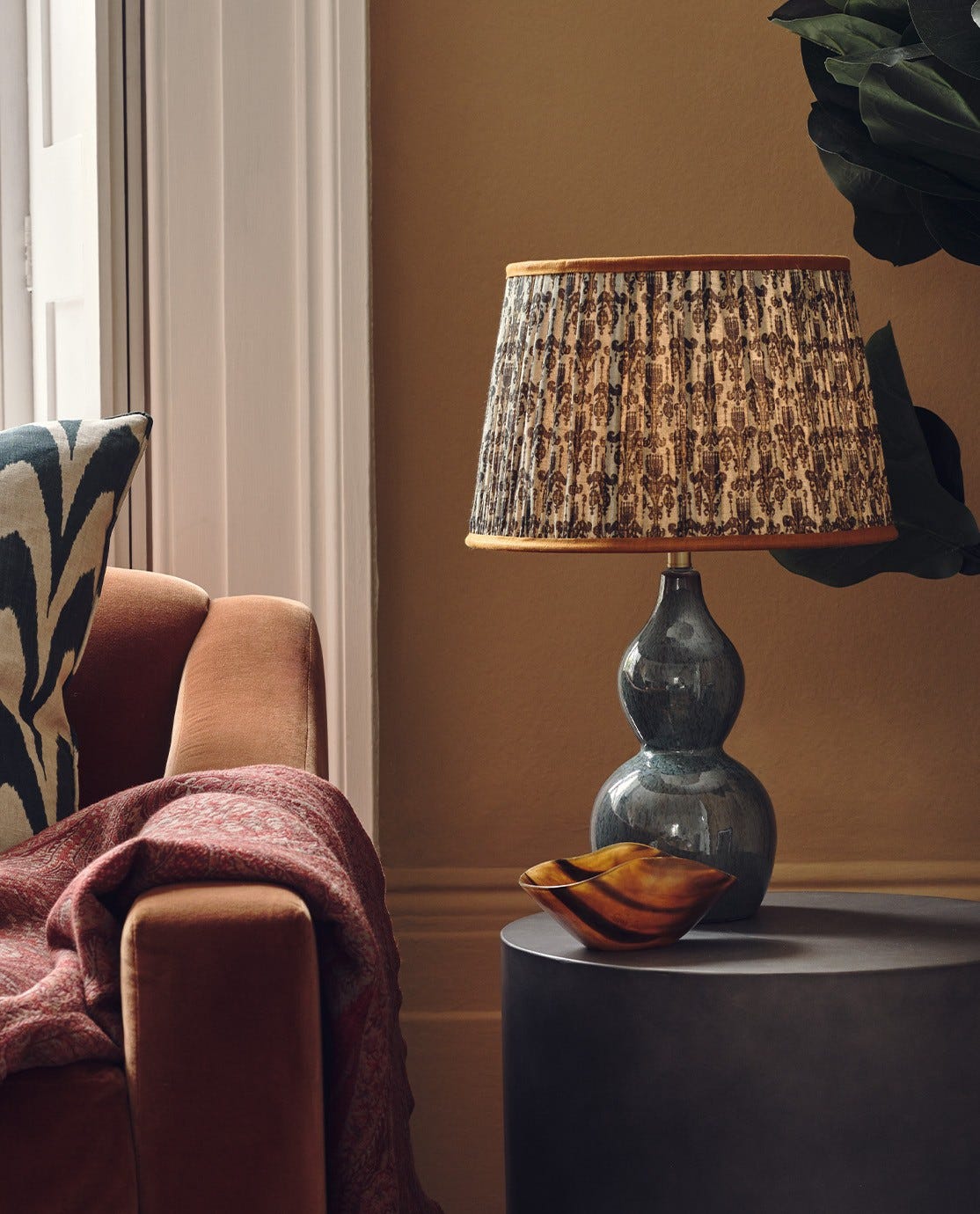 Essential Lighting Tips for Every Room
As an interior designer, Antoni tackles lighting dilemmas every day, using his expert know-how to create atmospheric homes for his clients. Along the way, he's learned a few tips and tricks to help him achieve the best glow, whatever room he may be designing. Follow his lead with his criteria for good lighting.


Take Inspiration from Your Upholstery
When designing a room, Antoni waits until he has confirmed the upholstery before selecting the lighting for the rest of the space. Whether that's a dining chair, a sofa or a headboard, "once I have the colour or finish of the main upholstery, then I'll know if I have to light up the space or tone it down," he says. "If it's a pale sofa that requires a bit of oomph, for example, then I'll make a bigger statement with lighting. If on the other hand I've gone for a navy sofa, then there's no point creating a distraction with lighting – I just need to create a nice balance that complements the upholstery."
Keep a Cosy Evening in Mind
We use our lighting the most during the darker, colder months of the year, so it's important to think about how you want your space to feel during that time period, even if you're pulling the look together on a balmy summer's day. "On a cold winter's night, when the weather is not on your side, you want to enter a room and get that instant feeling of warmth," Antoni says. "You have to think of those moments when selecting your indoor lighting. When the sun is shining, we're not using the lights because we're not inside as often, so it's when the weather's not great that lighting plays a massive role."
Think About the Backdrop
Different textures and colour palettes will affect how your lighting appears, so bear this in mind when selecting your lighting. "A lamp against a white wall is different to a lamp against a colourful background, so that's a key element to think about," the designer explains. "Lighting against a white wall can be quite cold, whereas a colour will make your lighting feel instantly warmer. Likewise, think about stone walls, plain plaster walls, dark walls – these all change how the lighting looks and feels."