Whether used as a home for a house plant, a place to perch a lamp or simply an ad-hoc additional surface on which to rest anything and everything, the side table is a furniture staple. That's not to say that its design should be taken lightly, anything but in fact; the perfect side table combines form and function, complementing the look of the rest of the room while being practical to its core. With a variety of designs, styles, materials and sizes to choose from, it can feel like an overwhelming choice, so we've put together this side table buying guide to help you choose the perfect piece.
Things to Consider: Size
Size is the first thing to think about when choosing a side table, particularly if you have minimal space or a particularly compact living area, as how it looks in relation to the other furniture in the room will largely be defined by its proportions. While a lot of this comes down to your eye and preference, there are a few rules of thumb to guide you when thinking about what side table will fit your space.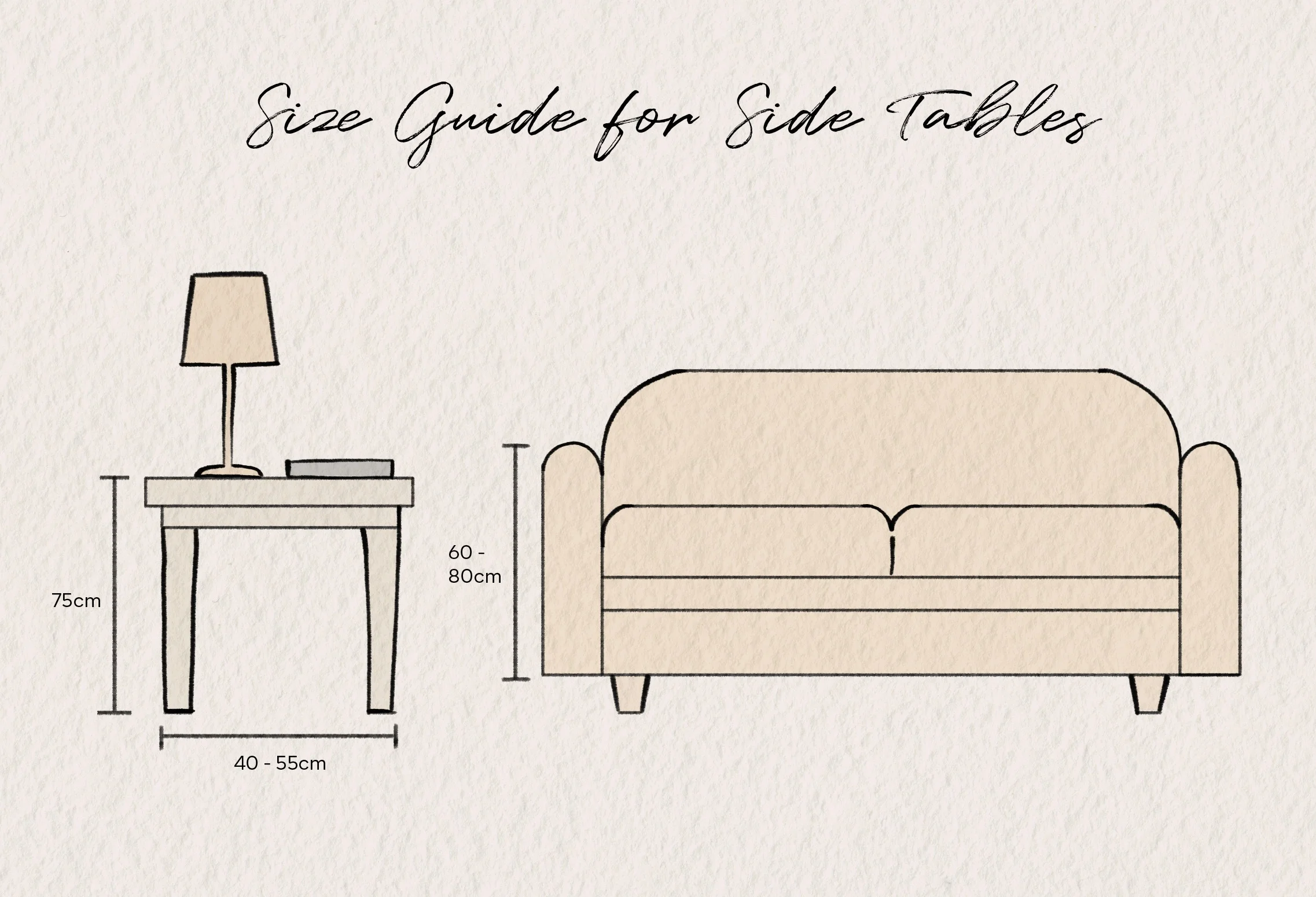 Side Table Height
What is the correct height for a side table? Well, there is no one size fits all answer to this as it depends where you are placing it. If it will be sitting next to a sofa or armchair, its surface should be at around the same level of the arm so you can place things on it with ease. The height of a sofa arm typically ranges from 60 to 80 centimetres, so look for a side table that sits within about five centimetres of this height. If you can't find one that fits this formula perfectly, we advise opting for a shorter piece for comfort, so you are not reaching up.
If you're choosing a bedside table, chances are you're wondering whether it should be higher or lower than the bed. For this one, your guiding height is your mattress; look for a bedside table that is approximately as tall as the top of it, give or take 5 to 10 centimetres.
Side Table Width
Both dimensions and function are important considerations here. Aesthetically, you should look to leave a few centimetres between your furniture and side table, to avoid the combination looking cramped, so make sure to factor that in when you measure up your space – the average width of an end table is between 40 and 55 centimetres. If it's for your bedroom, let the size of your bed guide you; if you have a king size, you'll want to find a wider piece than if you have a single, to make sure everything looks in proportion.
It's also pertinent to think about what's going to live on your side table. For instance, if you have a big statement lamp and accessories in mind, you'll need more surface space than if you solely plan to use the table to rest a cup of tea or glass of wine.
Side Table Depth
This is largely a visual consideration; your side table will look best if it corresponds to the depth of your sofa, as anything shorter or longer – the latter in particular – can make a room feel unbalanced.
Things to Consider: Shape and Style
Now that you've got your dimensions in mind, it's time to think about shape. Often this goes hand-in-hand with the amount of space you have to play with, but the silhouette of your side table will impact the look and feel of the rest of the room, so there are some important design elements to reflect on.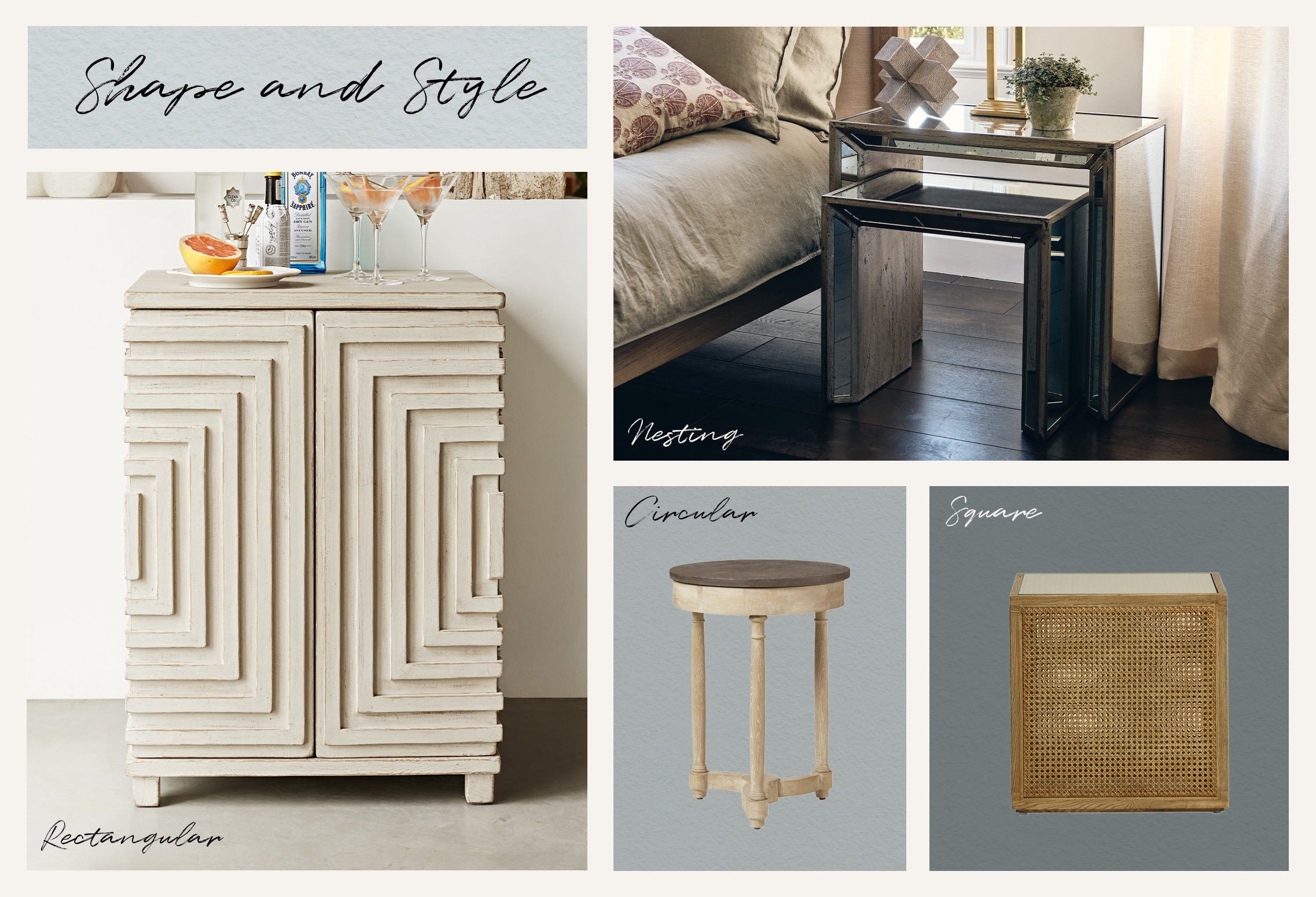 Rectangular and Square Side Tables
These angular shapes work particularly well if you have a corner to fill, as their clean lines naturally fit in snugly. They typically take up more floor space than their curvaceous counterparts, but they're particularly convenient for placing alongside a sofa or next to an armchair. A more traditional design likely comes to mind when you think about square and rectangular side tables, but don't let that influence your decision, there are plenty of more contemporary pieces to be found as well.
Circular and Oval Side Tables
Circular side tables are visually softer than square or rectangular designs and have a smaller footprint, so are a good choice for those who are short on space – if this is you, why not look to a drum side table, which can double as a seat if you are hosting? These types are also a good choice if you have small children, as their lack of sharp edges poses less of a hazard. However, given their shapes, circular and oval side tables are less likely to have storage or drawers, so that is something to factor in with a smaller room.
Nesting Tables
Available in all kinds of forms, nesting side tables have become a popular choice due to the flexibility they offer, providing an extra occasional table when you need, without having to give up floor space permanently. When layered together, they can also act as an interesting design element in their own right.
Things to Consider: Materials
The kind of material that will look best depends on your décor; sleek glass creates a modern look while natural wood offers a more rustic feeling. That's not to say they can't be mixed and matched, but it is worth taking into account this detail when shopping for your side table. There are more practical things to consider as well when it comes to materials, such as durability and cleaning methods, which we guide you through here.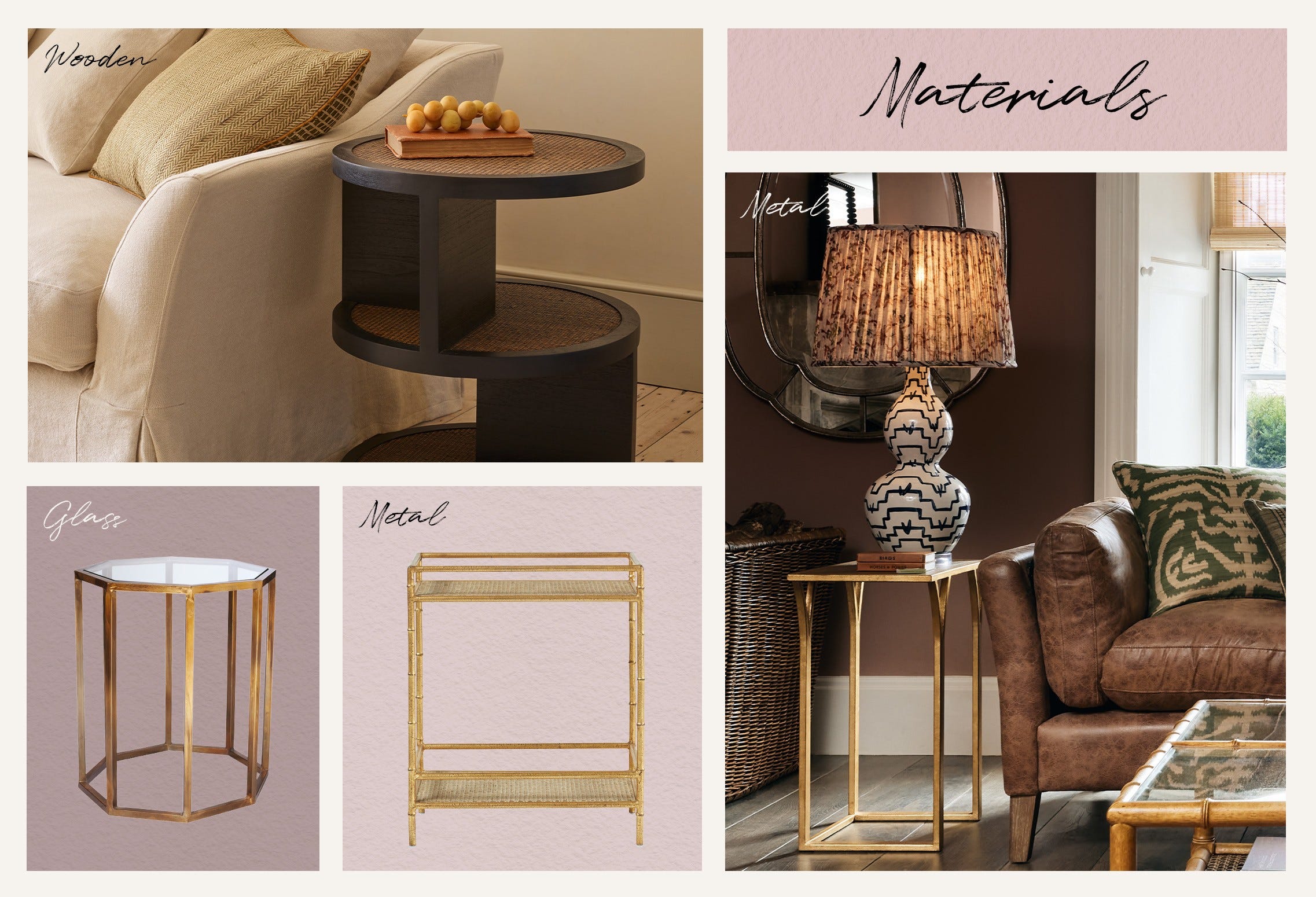 Glass Side Tables
Often streamlined and minimalist, glass side tables are a natural choice for those looking to create a contemporary look – glass-topped designs are perfect if your sitting room is small, too, as their transparent nature provides the illusion of more space. Practically, these are ideal as they can be wiped clean with ease, with no fear of staining.
Wooden Side Tables
There are myriad styles of wooden side table out there, so it's important to not get caught up in the stereotypes of wood being 'traditional'. While a weathered oak design might call to mind a classic country cottage and glossy teak a grander, more formal living space, wooden designs are very versatile and can blend into a broad spectrum of homes – it's all about how you style them. It's worth thinking about how you like to live too, if you switch up your sitting room regularly, solid wood might not be the most practical choice as it's heavy. Coasters are also a must with wooden pieces as they can mark or stain easily.
Metal Side Tables
Another adaptable option, you'll often find metal side tables in unusual shapes or cut-out designs, making them perfect for those who want to make a statement with their furniture. From glamorous gilded pieces to those that tick the industrial chic box, there are plenty of styles to choose from, although they tend to err on the more modern side. Metal side tables are typically crafted from steel, iron or aluminium; we recommend looking into the care specifics of each before making up your mind as they can vary from piece to piece depending on finish.
You should now have all the information you need to find the perfect side table for your home – go forth and find your ideal match.