You've picked out your dining table but now comes the real conundrum: how to choose which dining chairs to pair with it? The desire to create a welcoming setting, where food and drinks can be savoured with loved ones, means comfort and practicality rank high on the list of requirements. Throw children, pets and your home's décor into the mix and the various considerations you need to take into account to make the 'right' choice can start to feel overwhelming. Here, in our guide to choosing the right dining chair, we explore the perks of each perch, from wooden dining chairs to velvet-upholstered dining benches, and how to style them to suit a dining space.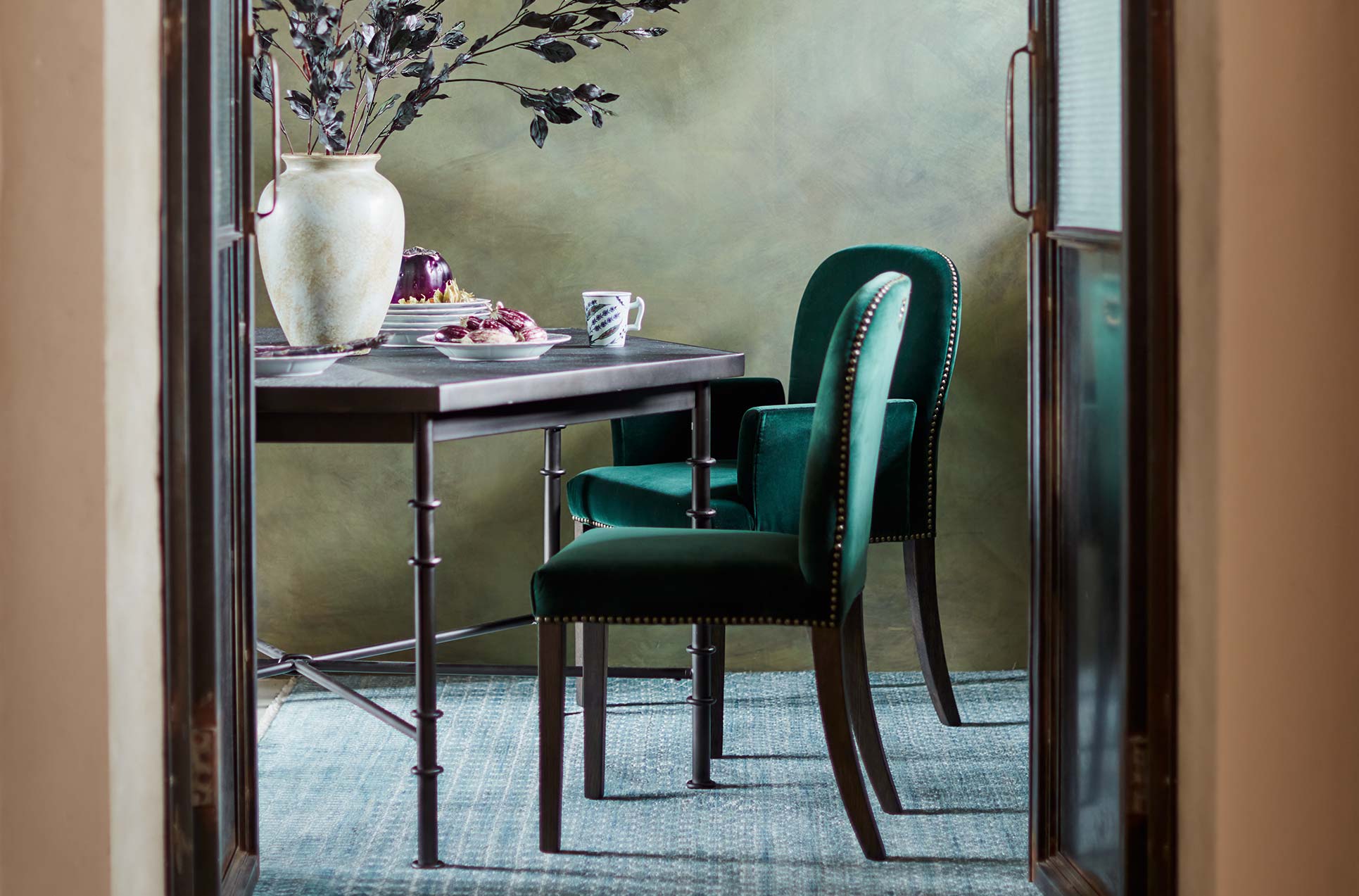 High back chairs...?
If you have a dedicated dining room and you want to create a formal atmosphere, high-back upholstered chairs will instantly set the tone. The Echo style offers unparalleled comfort for leisurely Sunday lunches and requires a slip cover to complete the look; the additional benefit of removable covers is that they can be thrown in the wash if they get dirty, or updated as your dining room décor evolves. Our popular Stafford style features a slightly lower back than the Echo, but remains effortlessly elegant; slim and with an intricate studded border, the choice of fabric finishes is abundant, meaning you may have an additional debate on your hands – richly coloured velvets, leather or printed linen?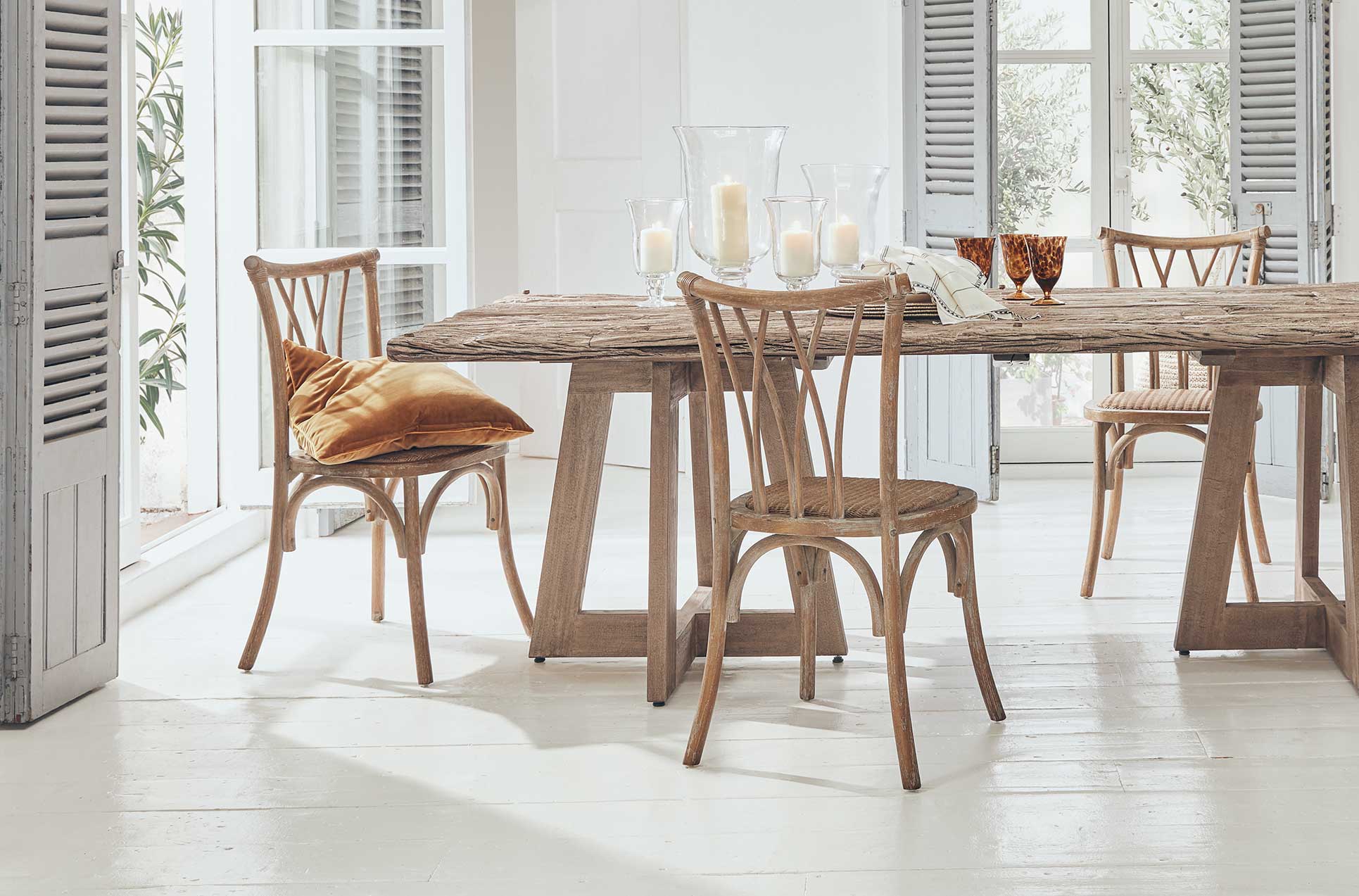 ...vs the benefits of open-back seating?
If space is tight or formality low on your checklist, then an open-back chair allows for longer sightlines, making a small dining area look more spacious. Case in point: our Feur chair is inspired by classic French bistro chairs and features a simple diamond-back detail. Accessorise with seat pads for added comfort. Whatever you choose, measure up and note that a minimum of 30cm between the tabletop and the dining chair seat is needed to provide sufficient legroom to keep guests happy.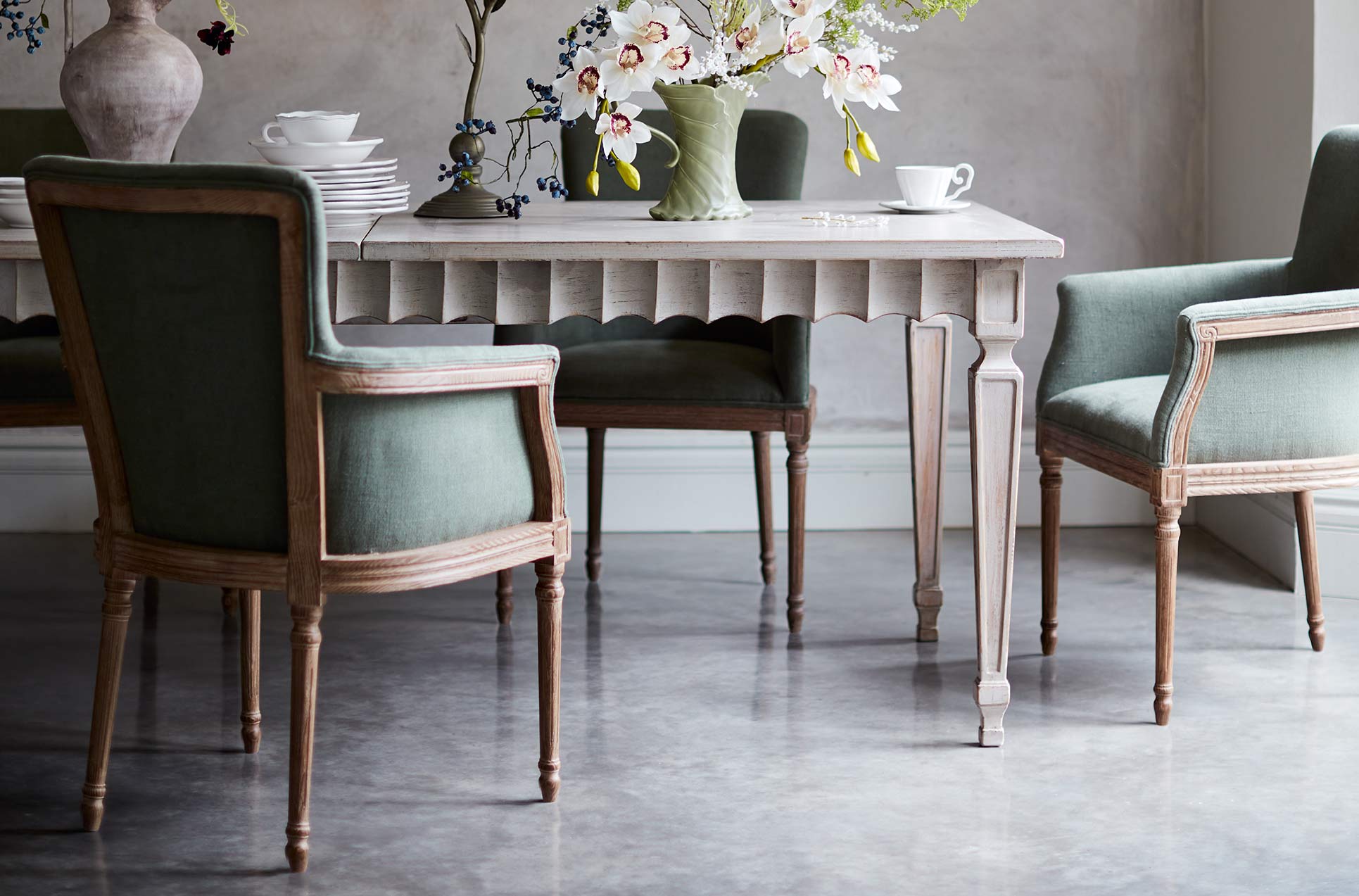 Do you have space for arms?
While armless chairs boast neatness, in that they can be tucked flush against a table's edge, chairs with arms offer all-day comfort and, when not in use at mealtimes, can double-up as a more formal reading chair. As a general rule, chairs with arms require an additional 15cm in each direction, so do your maths – if space is limited, opt out.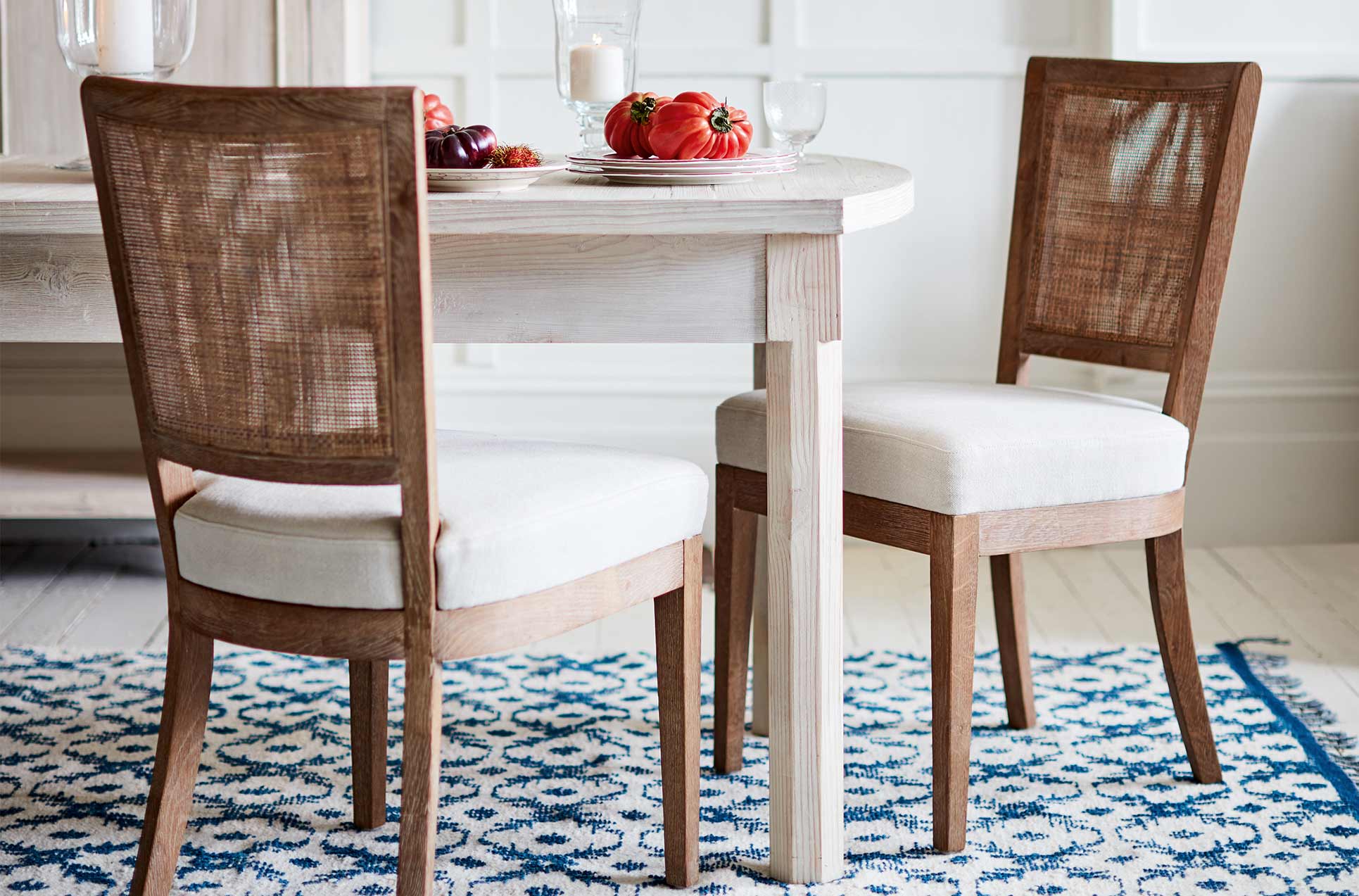 Consider materials…
Wooden dining chairs are highly coveted and have a chameleon-like appeal – meaning they fit in just about anywhere, and can often double-up as desk chairs too. While wood is easy to clean, remember that it can change colour over time and, as spillages can stain the grain, they need to be dealt with immediately. Woven cane and rattan finishes can lend a warmer, more artisanal feel, while metal's reflective sheen implies a level of lightness. Think about your surrounding décor and the feeling you want to evoke.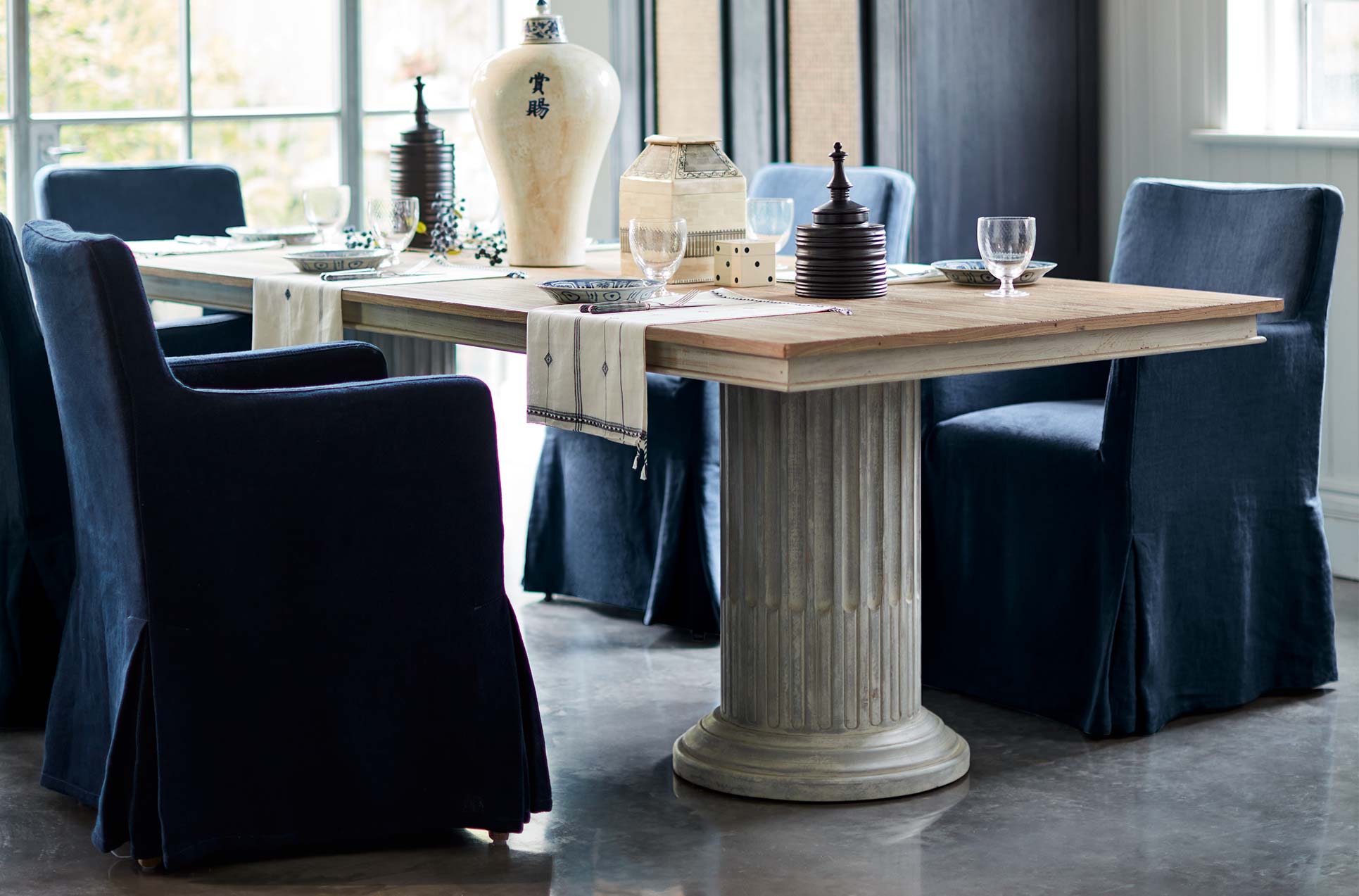 ...and also think about upholstery
If you have small children or four-legged friends running around, the last thing you want is to be precious about a seating situation. In this case, a kitchen table set-up with non-upholstered chairs is a wise choice. But remember that leather can also be forgiving – it doesn't harbour fluff or fur, can be wiped down and acquires character as it ages. Velvet is unapologetically opulent and more fragile, and best suited to a grown-up setting where dining (rather than arts and crafts) is on the menu. Linen boasts a tactile neutrality – one that offsets a dark-wood table beautifully – but unless the seat covers are removable, you may want to employ chairs with this upholstery exclusively in a dedicated dining room.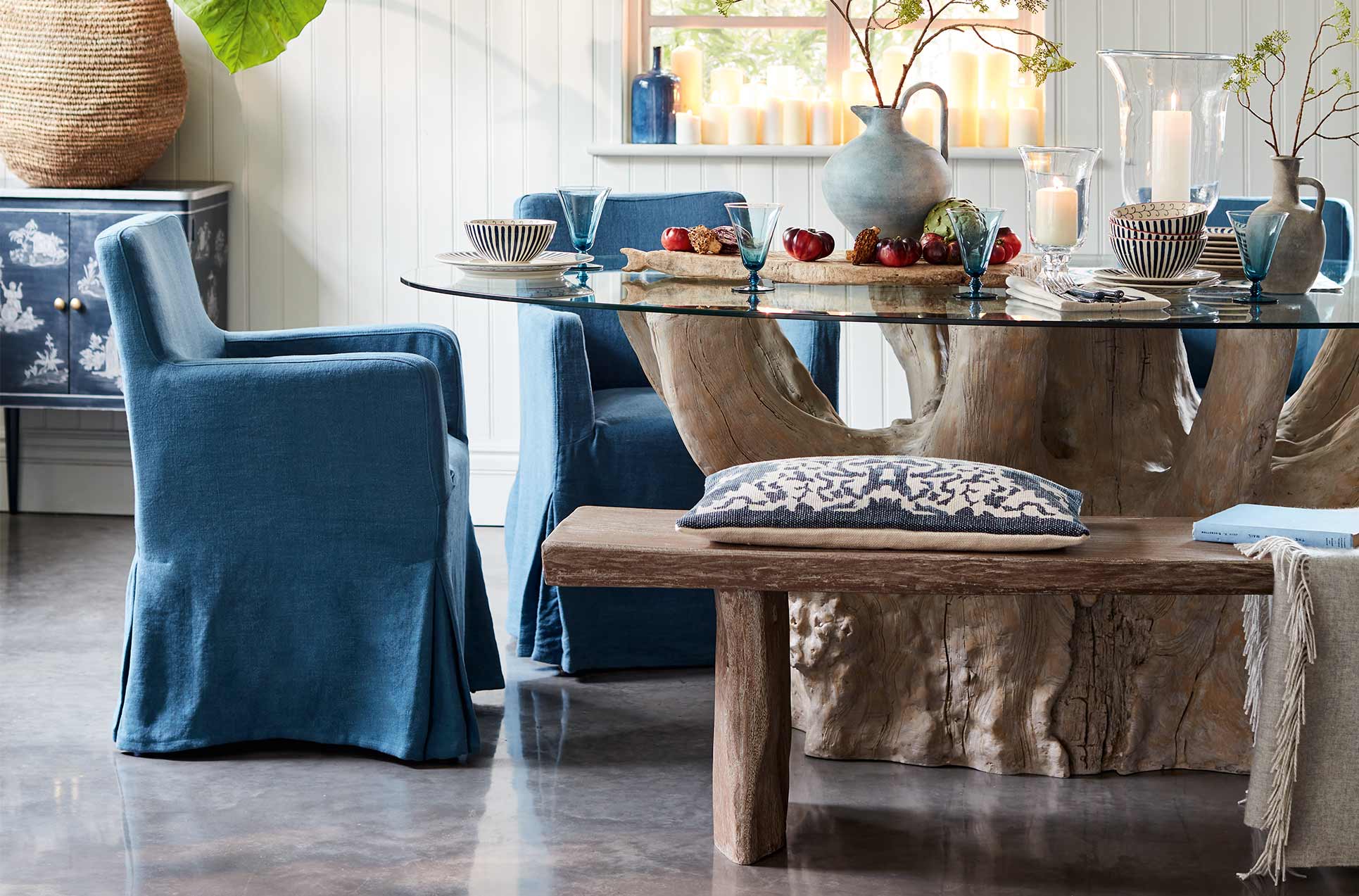 The benefits of a bench
The dining bench is enjoying a comeback. And no, it doesn't have to coordinate with your existing chairs – you can choose to use it as a statement piece. An informal and practical solution for large gatherings, a backless style can be tucked away neatly – wise for a dining table that is positioned against a wall and only occasionally pulled out. A dining bench isn't restricted to use during mealtimes, either; it can be employed elsewhere in the home, making a handy perch in a hallway or bootroom, or flanking the end of a double bed.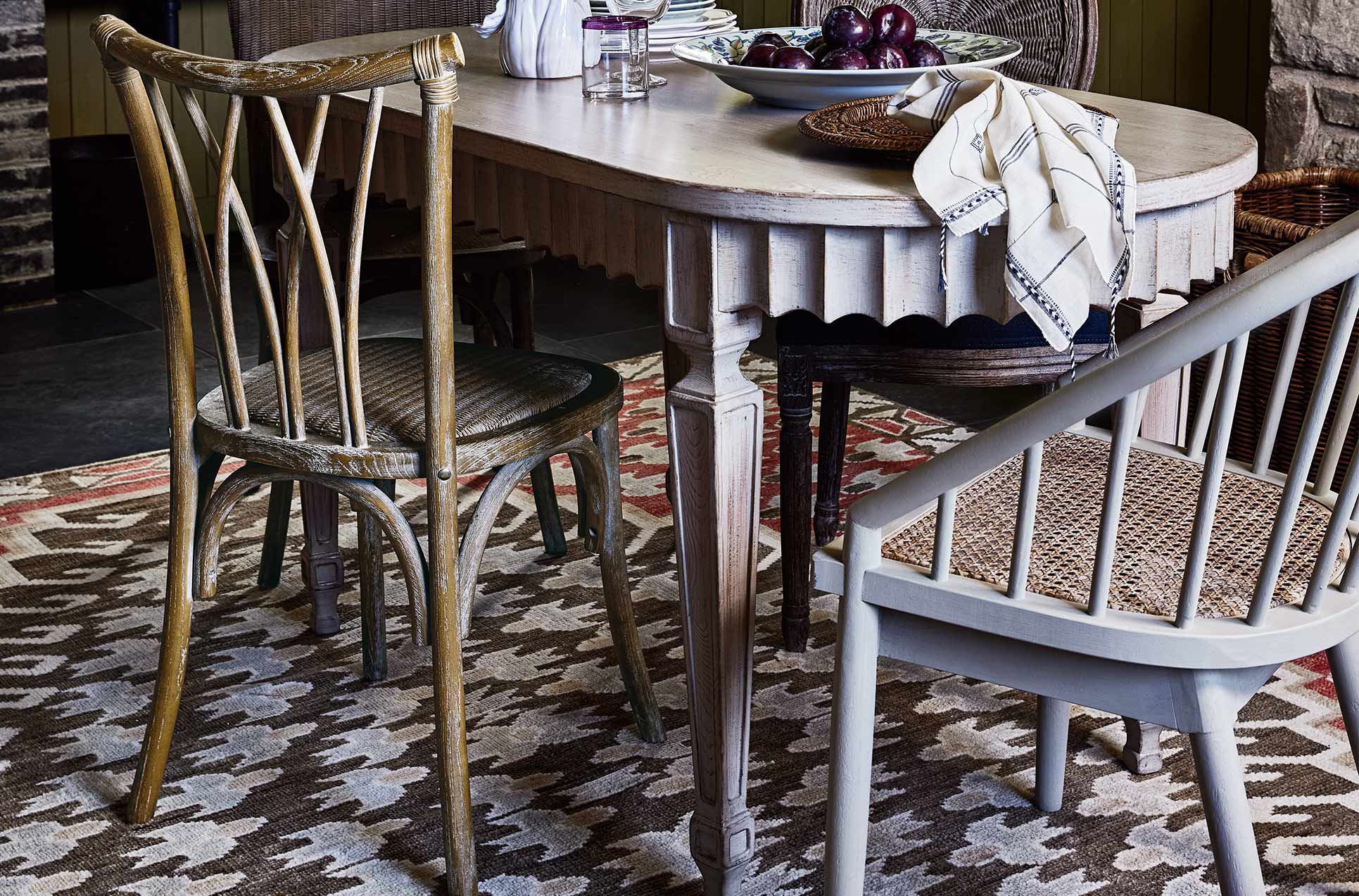 Try a spot of mix-and-match
Investing in dining chairs doesn't have to mean buying six of the same design. If you can't decide between velvet-upholstered and plain wood designs, you could have both; position the covered chairs at the head of the table, and line the longer sides with simpler chairs for a semi-formal set-up. Alternatively, you could opt for an eclectic mix of chairs featuring entirely different designs. If you do this, ensure they complement the dining table (and each other) with a shared theme – be it colour, shape, leg style or material. The result will feel unique and contemporary.