Often the focal feature, a coffee table draws much of the attention in the sitting room. Casting this leading role comes not without its challenges, as those on the hunt for the perfect piece have a few things to consider. Firstly, how will it stand out on its own, while seamlessly complementing the rest of the room, and secondly – perhaps most importantly – how it will serve as a functional and practical piece. From size to style, we've collated our best advice in this handy coffee table buying guide, to help you on your way to choosing the right design for you.
How Do I Choose a Coffee Table Size?
A coffee table can completely change the feel and functionality of a room, for better or worse. To avoid the latter, getting your measurements right is crucial. It's all about proportions; while there is a common coffee table size, every home is unique, so measuring your existing sitting room furniture will determine the ideal length and width for your coffee table. Below, you'll find a breakdown of coffee table height, width and depth to help you find the perfect size for your space.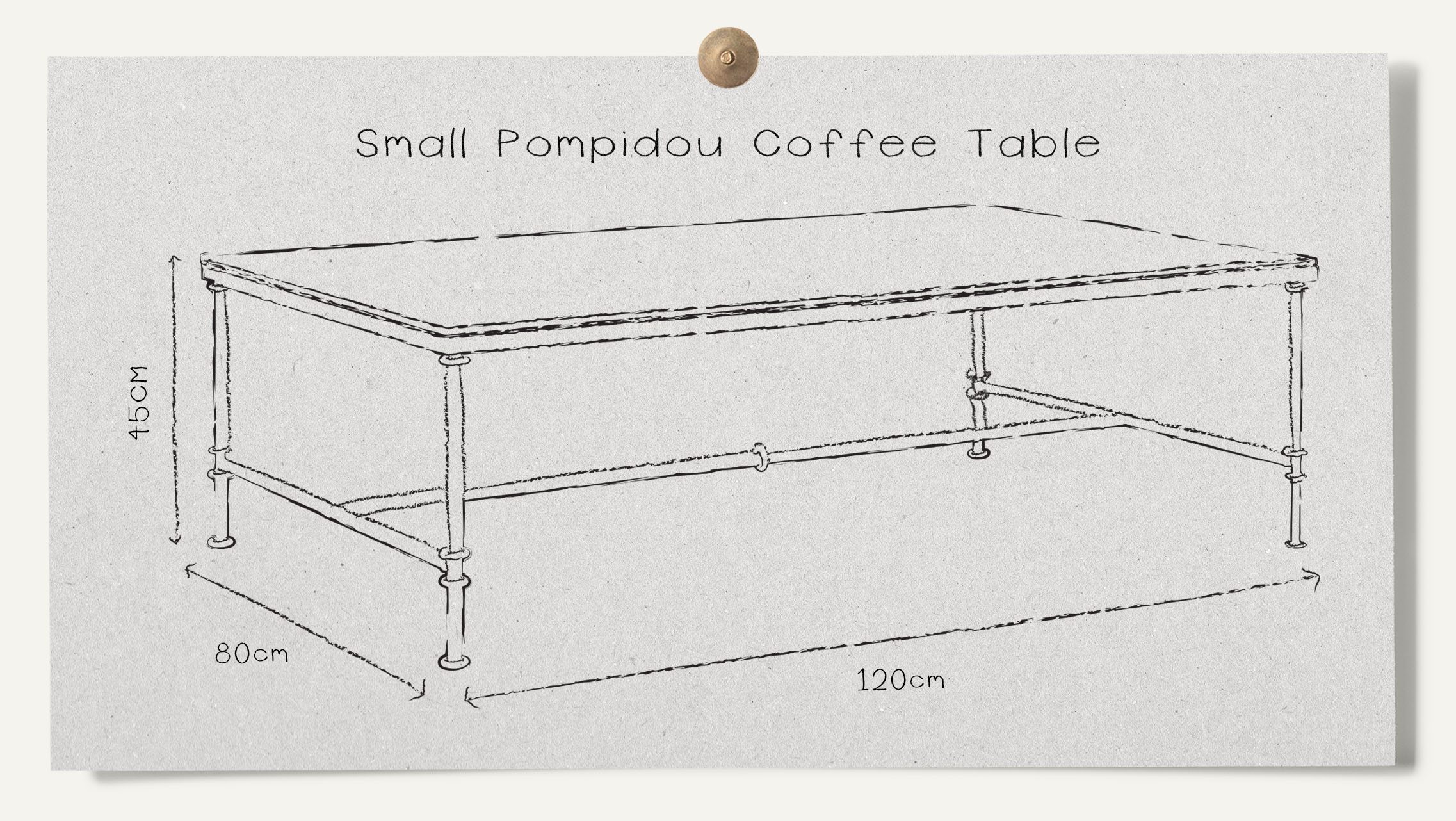 Coffee Table Width
The typical width for a standard coffee table is around 120cm, but they can vary anywhere between 70cm–220cm depending on the scale you're looking for. Just as with height, the size you select should be determined by your sofa. One that is the same size or larger than your sofa will look too big, and will make your sitting room appear smaller. To keep the proportions in check, we recommend seeking a style that is two-thirds the length of your sofa. This will help your living space feel more balanced.
Coffee Table Depth
Coffee table depths can range from 50cm–80cm. However, if you've already read up on coffee table height and width, you'll be unsurprised to hear that the perfect depth is also largely determined by the rest of the furniture in your sitting room. In this instance, it all hangs on placement. You'll want to leave 30cm–45cm of space between your coffee table and your sofa, and around 75cm of space between your other pieces of furniture, such as your TV stand, to allow for comfortable foot traffic. To calculate the perfect depth, measure the distance from your sofa to your TV stand (or another large piece of furniture) and then subtract 120 (which is 45 + 75, a.k.a the distance you want to keep between your sofa and your coffee table, plus the distance between your coffee table and TV stand).
Coffee Table Height
A standard coffee table is usually between 40cm–45cm high, but the perfect height will come down to the size of your surrounding furniture. For example, a coffee table should typically be either the same height as your sofa seat cushions, or a maximum of 5cm lower, in order to allow for easy access to the coffee table surface. We'd recommend avoiding coffee tables that are higher than your sofa seat, as this is less comfortable and will make the room feel out of proportion.
What Shape of Coffee Table is Best?
While it's most common to find rectangular coffee tables, there are lots of alternatives out there which offer great solutions for those with minimal space, or who simply want to opt for something a little different. If you're wondering whether square or circular coffee tables are better, or which shape of coffee table can accommodate more people, then keep reading.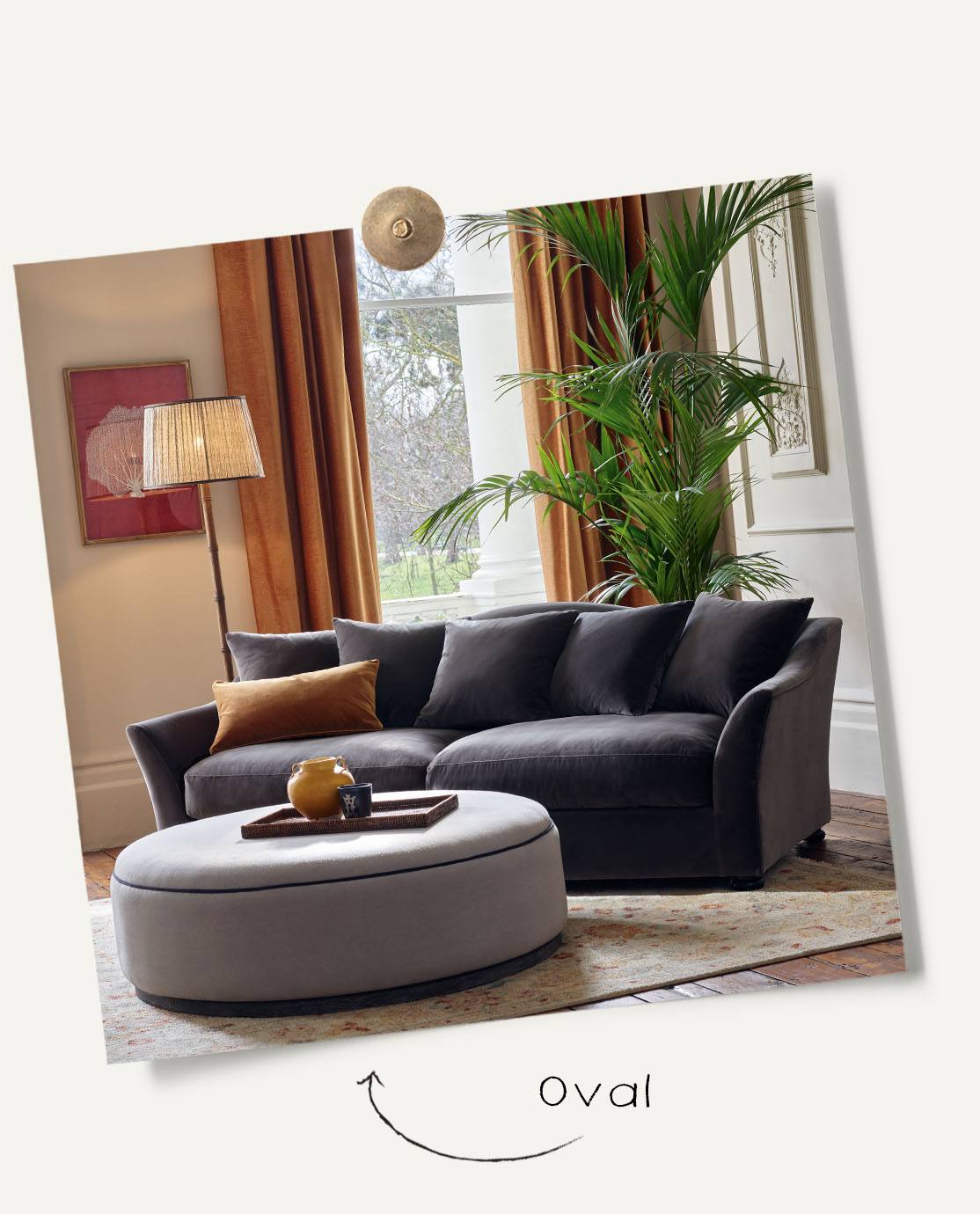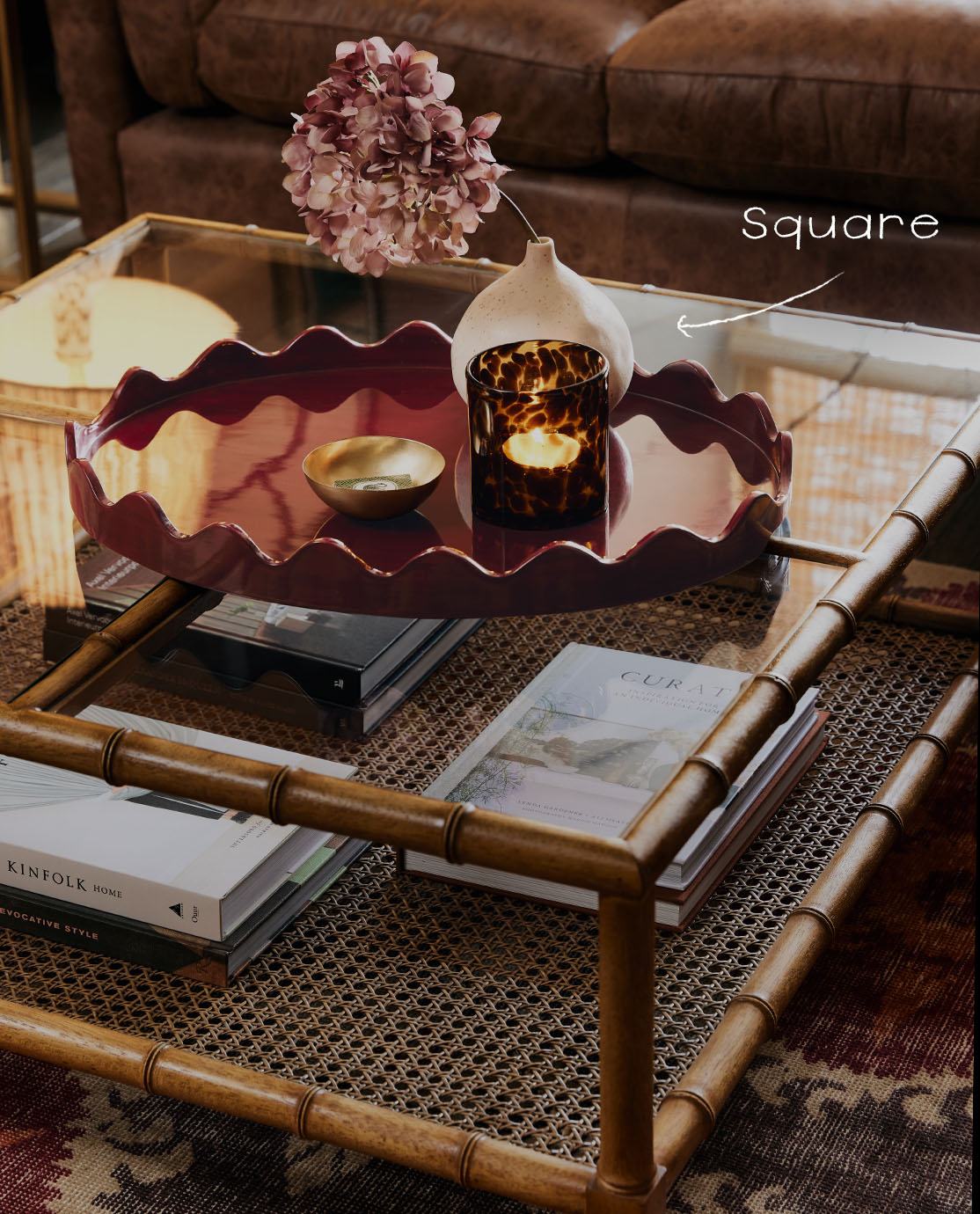 Rectangular
If this is your preferred shape, then you're in luck, as it's the most popular and therefore the most readily available. This is a great choice if you've got a particularly wide sofa or a large sitting room, as it often takes up more space than other shapes. If your living space has lots of curved lines, then why not break them up with a contrasting, angular silhouette such as this?
Round
If you have a compact living space, then this is the shape for you. We'd also recommend a round table if you have a shorter sofa or a more condensed seating arrangement, as longer sofas will make this style of coffee table appear smaller. Those with young families or pets may prefer this shape, too, as there are fewer sharp edges to contend with.
Square
Want the sleek lines of a rectangular coffee table but with the compact style of a circular shape? Allow us to introduce the square coffee table, which offers the best of both worlds. It is ideal for smaller sitting rooms, or spaces where the seating arrangement is similarly shaped. Those with long sofas may find this style tricky to reach from all angles.
Oval
Oval styles offer the soft edges of a round coffee table, but with a longer silhouette. This is a great option if you love the look of a circular shape, but need a large style to suit a particularly long sofa.
What Material is Best for a Coffee Table?
There is a large choice of materials when it comes to coffee tables, all of which have qualities that may or may not correlate with your lifestyle. Here are a few key materials, and their distinctive features, to consider.
• Wood: This is the most popular coffee table material, thanks to its durability and easily adaptable style.
• Glass: If you're working with a smaller sitting room, then glass is a great way to create a more open and airy aesthetic. However, as a fragile material, it may not be the best for homes with young children or pets.
• Stone: The likes of marble, granite and slate look striking in coffee table form, and bring a lovely, dramatic contrast to spaces with wooden flooring or carpets in muted colours. However, as they're prone to scratches and water marks, they require careful upkeep to maintain their sleek look; think regular cleaning and coasters to avoid cup rings.
• Metal: Metal coffee tables are extremely versatile, and are often strong and long-lasting. Be sure to choose a style created from good quality metal to guarantee longevity, such as steel, as thinner, flimsier materials such as tin won't have the same durability.
• Plastic: For a coffee table that can be easily moved around, plastic is a great choice, as it is lightweight. These types of coffee table will also be easy to keep clean. We'd recommend these for a more minimal or modern living space.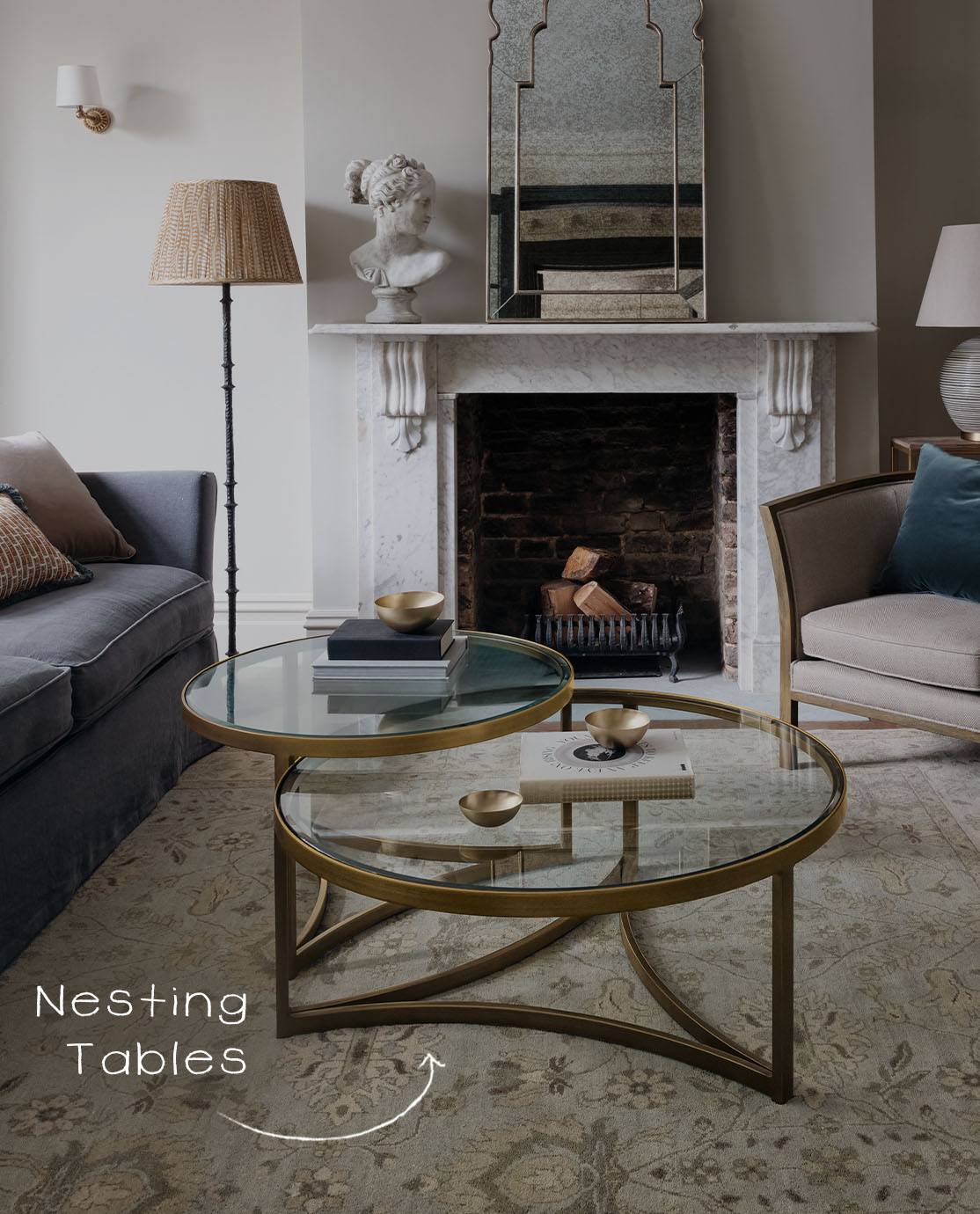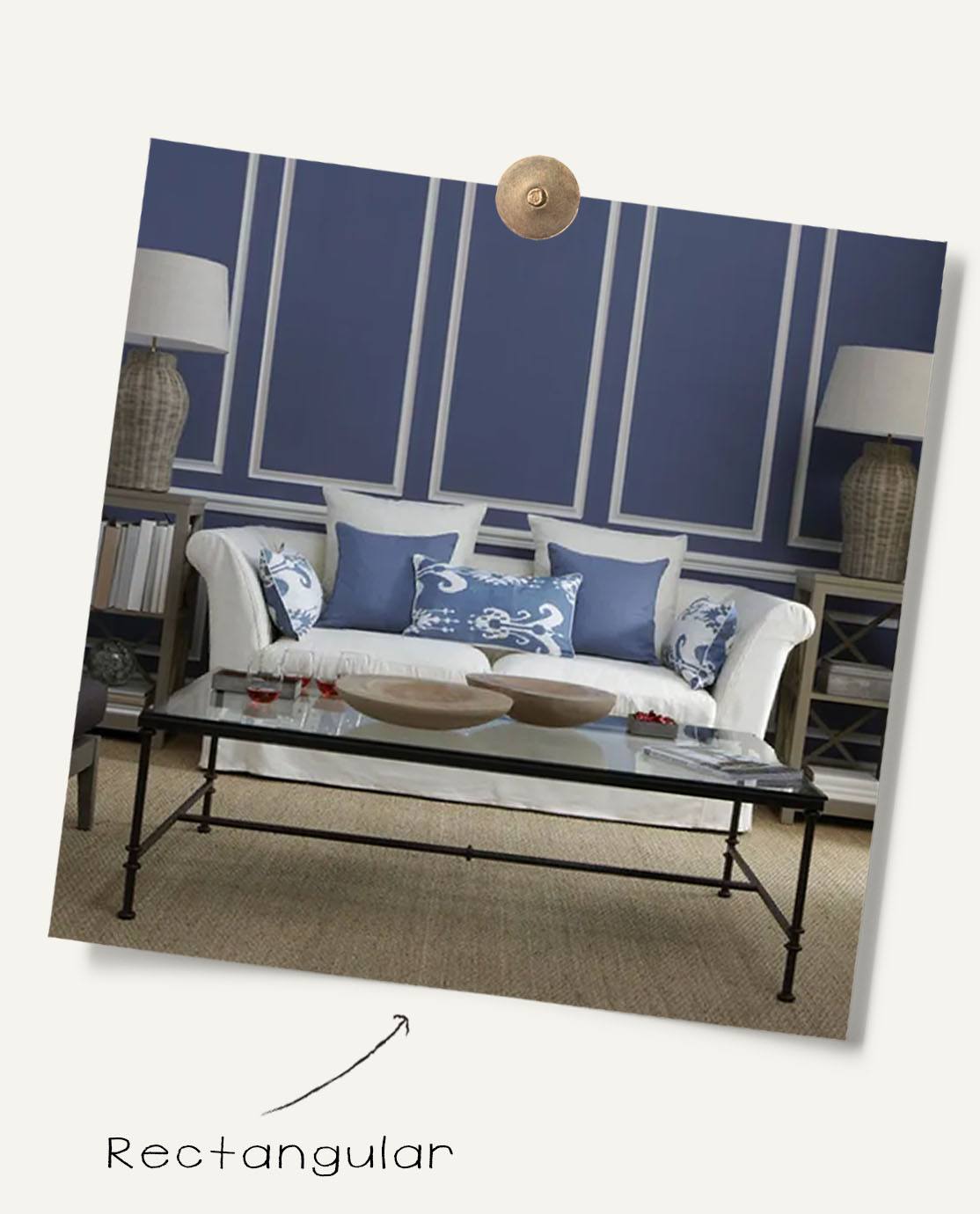 What are the Different Types of Coffee Table?
With size, shape and material sorted, it's time to move on to the fun part: style. Coffee tables are a great way to bring a touch of your personality to your sitting room, and with a variety of designs to choose from, you're sure to find something that will suit your tastes. Perhaps you'll want to follow the latest trends, are seeking storage solutions or simply want a surface on which to display your favourite objets d'art? Here are a few ideas to inspire your decision.
Storage
For those with smaller sitting rooms, coffee tables that incorporate a storage element are ideal space-saving solutions. There are a number of options to choose from; think tables with drawers, cupboards, tabletops that lift up, or simply open shelving if the pieces you're looking to store are also worthy of display.
Trunks and Ottomans
On the theme of storage, trunks and ottomans are great coffee table alternatives. Offering storage as well as a place to sit or rest your feet, they're the perfect hybrid pieces. Read our guide to using ottomans as coffee tables for more information.
Upholstered Coffee Tables
Striking the balance between coffee table and ottoman, upholstered designs usually feature a soft, cushioned top and a wooden base, sometimes with open shelving underneath.
Nesting Tables
If you're looking for flexibility, nesting designs are ideal. Place them side by side for extra surface area, tuck them together to save on space or use them separately as coffee and occasional tables – the choice is yours.