At a glance, artist Alexandria Coe's elegant line drawings of female figures may seem simple in style, but gaze a little longer and you'll see they are many layered. Playing with the idea of womanhood and the role that societal stereotypes have in how we perceive and treat the female body, her creations aim to offer a new perspective on female nudity ­– so much so that she prefers to think of them not as nude, but naked. "We often use the word nude in reference to the works of more traditional, and usually male, artists; it's a certain image of a woman who is there for the eyes of someone else," Coe explains, "whereas, to me, being naked is to be without a visual gaze." It's this paradox of the female form, the balance between desire and power, that inspired the artist to make it the focus of her work; to use the body as a symbol of freedom and expression.
This inspiration formed the basis of her latest creation, a piece designed exclusively for OKA in aid of our charitable partner Women's Aid, the national charity working to end domestic abuse against women and children. As a business founded by three female friends, OKA is built on the belief that a home should always be a sanctuary, and we feel passionate about Women's Aid's important work providing lifesaving services, empowering survivors, and campaigning for change in policy, practice and awareness. International Women's Day 2023 marked the first anniversary of our charity partnership, and we couldn't think of a better way to honour the occasion than with a limited-edition series of 100 prints featuring Coe's exclusive artwork – the original is an oil on canvas – with 100% of the profits going to Women's Aid.
'Unity' depicts four female figures standing out against a striking blue and black background. Pictured together in different forms of motion, they appear united and at the same time independent, with their arms lifted and legs grounded in a show of strength and power. Each print features a deckle edge, and is framed, as well as signed and numbered by the artist herself. "I wanted to make something that was really about togetherness," Coe explains of the inspiration behind the piece. "I wanted it to feel quite fluid and have an energetic feel of movement, of being liberated, and be quite expressive; for the figures to look quite powerful but also be as one."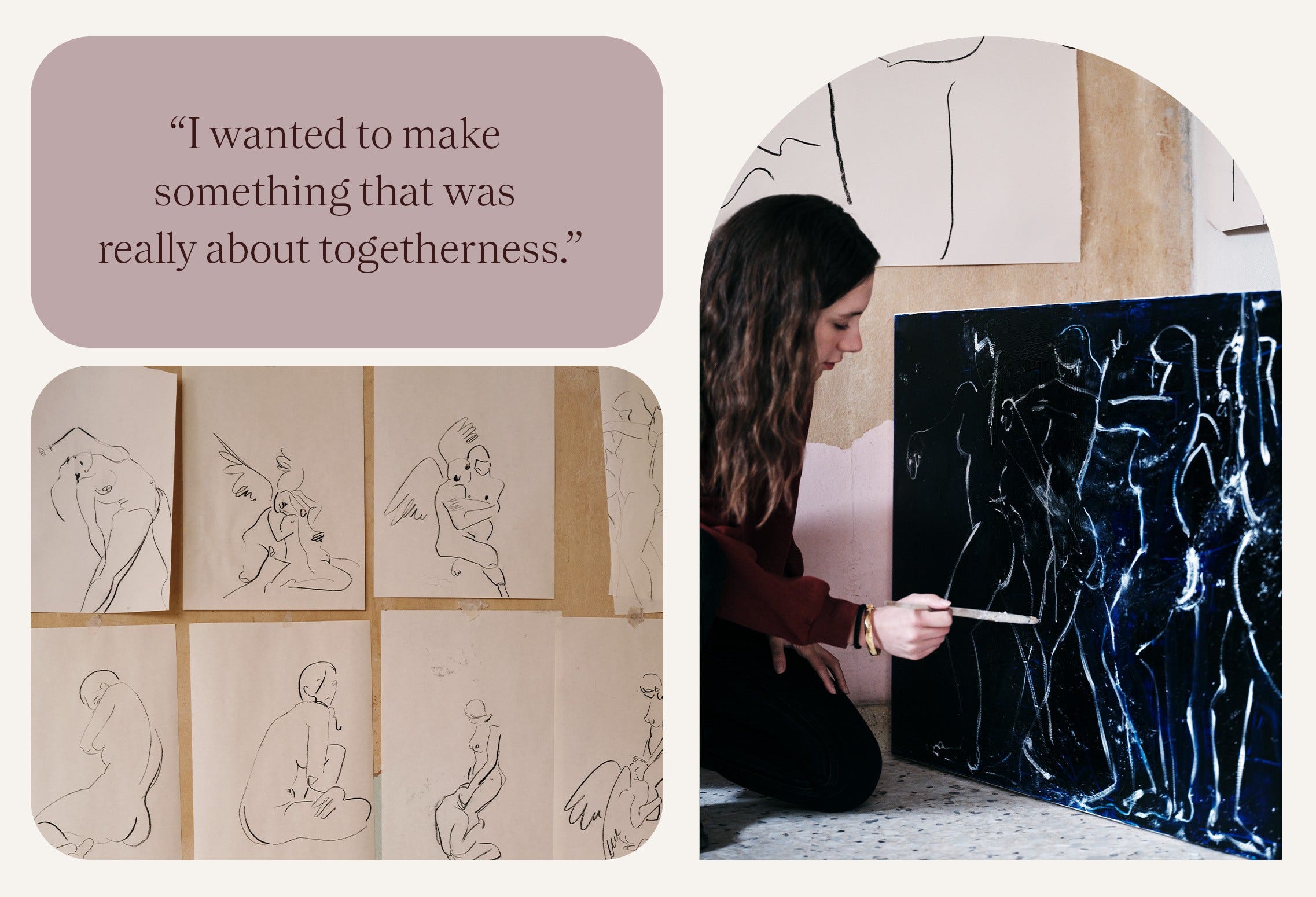 Coe used a live model for the initial sketches, asking her to move slowly and continuously in 10-minute bursts, reproducing her movements to give the effect that the four figures are always in motion. Working with real bodies is a key element of the artist's creative process, which she describes as "spontaneous," and often led by her own emotions. "It's very much to do with how I feel, which sounds very indulgent. Drawing is a raw form of creation, so if you're not feeling very good then it might not translate," Coe explains. "Although I don't want my drawings to have a sense of identity within them – that's why they're quite simple – there's still very much a process of self-expression."
Though the artist was creative from a young age ("My dad had all these brushes from the 80s that I would destroy as a kid") it was a fashion communications masters and its emphasis on feminist history that led her to pick up a pencil professionally. Today she is represented by award-winning B Corp art agency MTArt, and feminism continues to inform her work. It's this shared passion for supporting and empowering women that makes this partnership between the artist and OKA, in support of Women's Aid, so special. "Sometimes it's really important to remind ourselves why feminism exists," Coe says. "That's why charities like Women's Aid are so important, and why we need everyone to try and make the society we live in better. It's great to make a print with a great brand that everyone can be a part of, and that supports such an important cause."
In the first year of OKA's charity partnership with Women's Aid, we've funded a full-time Direct Services Support Worker – Kat – who supports survivors of domestic abuse through the charity's Live Chat Helpline, Survivors' Forum and via email. We've achieved this by taking part in Giving Tuesday (for which we donated £20 for every sale made that day) and hosting fundraising initiatives within our teams in our UK stores and offices, from bake sales to sponsored runs.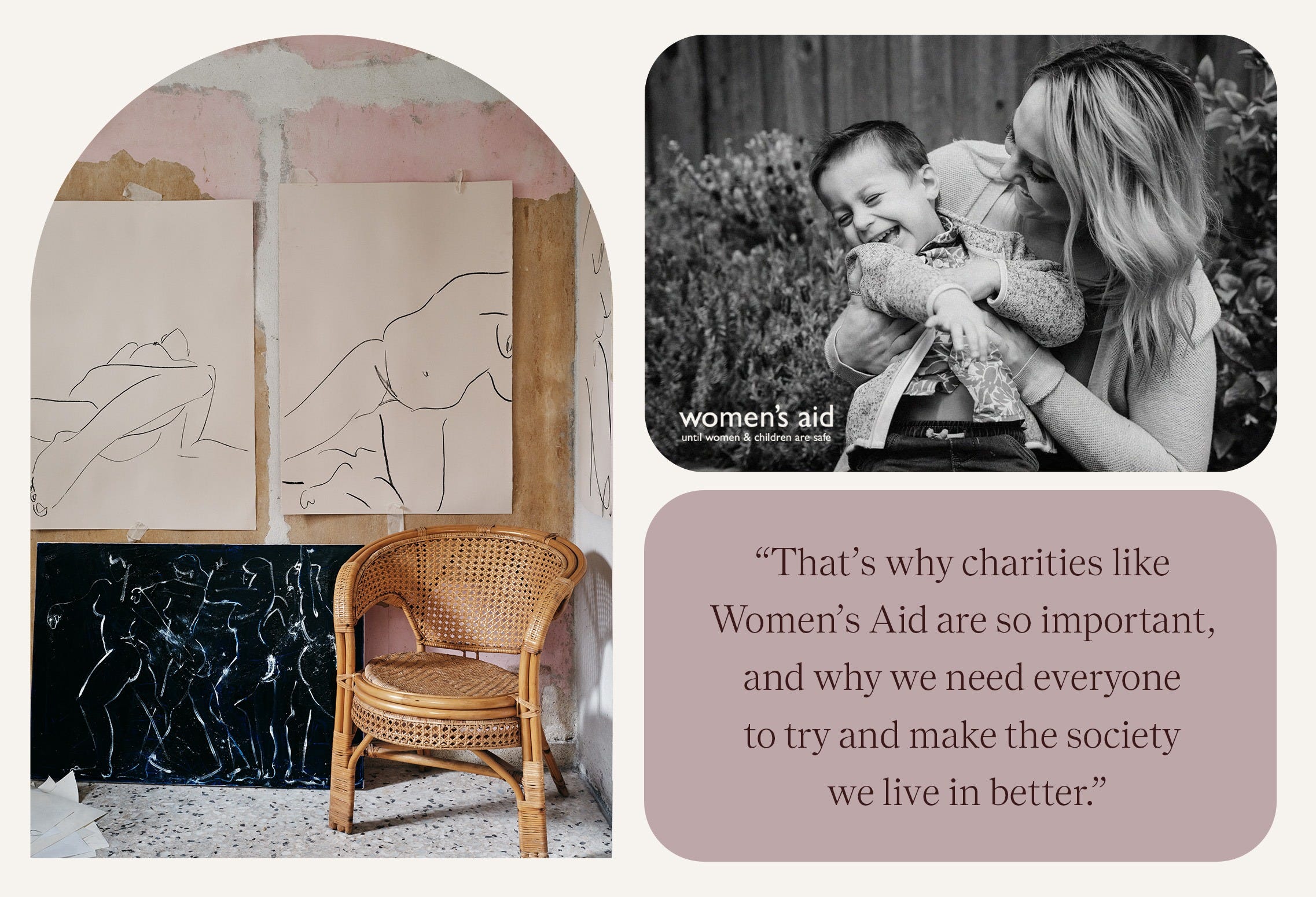 'Unity' kicks off our second year supporting the charity, for which we have lots of exciting initiatives planned. In addition to donating 100% of the profits from the sale of each Alexandria Coe for OKA 'Unity' Print, we will also be donating the proceeds from the the silent auction of the original oil on canvas. We'll also be putting our design skills to good use; our expert team will be redesigning one of Women's Aid's refuges. These important spaces offer a free and safe house for women and children who have experienced domestic abuse, and we will be creating a comforting haven for those who need it most. Watch this space for more information.
'Unity' by Alexandria Coe is available to buy now in a limited edition run of 100 prints. 100% of the profits will go to Women's Aid. You can find out more about the charity's work here.