One of our favourite pastimes is bringing beautiful, historic spaces into the modern day by way of our new collections. And what location could better fit this bill than Old Sessions House, a Grade-II listed former courthouse in Clerkenwell, London? From the 7th to 9th October, we were thrilled to transform the iconic building into a hub for interiors lovers, decking out six unique rooms with our latest pieces – the perfect stage for a dinner party and series of creative masterclasses. If you missed out – or would like to relive the magic – watch the highlights from our takeover and read our recap of the event.
We kicked off the weekend a little early – Thursday is the new Friday, so they say – celebrating the launch of our Autumn Collection over a private VIP dinner hosted by Stylist and Editor Sophie Goodwin. Twenty-two good friends of OKA enjoyed perfectly mixed martinis against the stunning backdrop of Old Sessions House's central hallway, to the tunes of S.O.L Collective, the resident band at Chiltern Firehouse. Up next was a three-course meal hosted in the private dining room, where drinks and conversation flowed until the wee hours.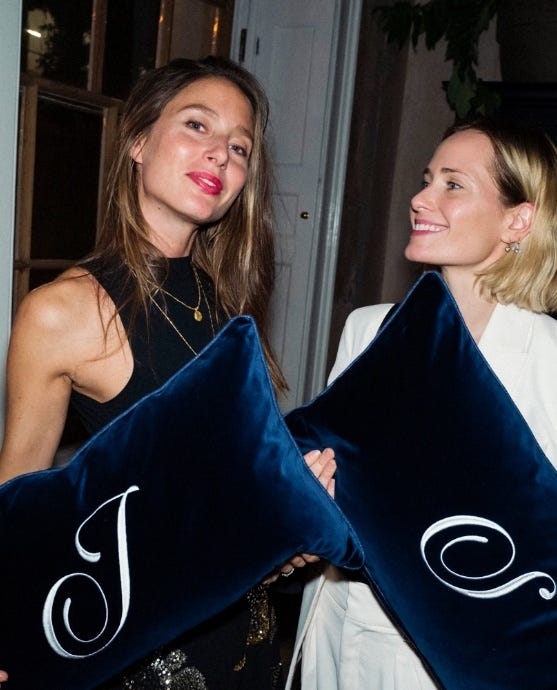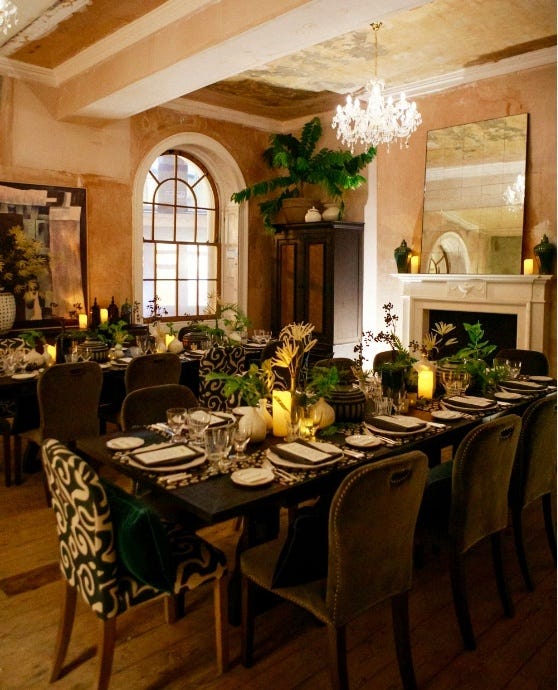 Over the next few days, we welcomed hundreds of design lovers into our pop-up. Guests enjoyed an exclusive sneak peek of our upcoming Spring 2022 Collection (hint, we're bringing you even more options with additions to our custom-made sofa collection and adding new colours to popular furniture ranges). Our Interior Design team set up shop in the gorgeous plaster walled "bedroom" and were on-hand to answer all kinds of design dilemmas and queries. In a space characteristically packed with colour and pattern, how to mix and match was the order of the weekend, but "no conversation was ever the same", says designer Sarina Hawkins. "It was fantastic to be able to engage with our customers in such an open and fun way, there was never a dull moment, in terms of the setting and the people we spoke with."

It was fantastic to be able to engage with our customers in such an open and fun way, there was never a dull moment, in terms of the setting and the people we spoke with.
Sarina Hawkins, OKA Interior Designer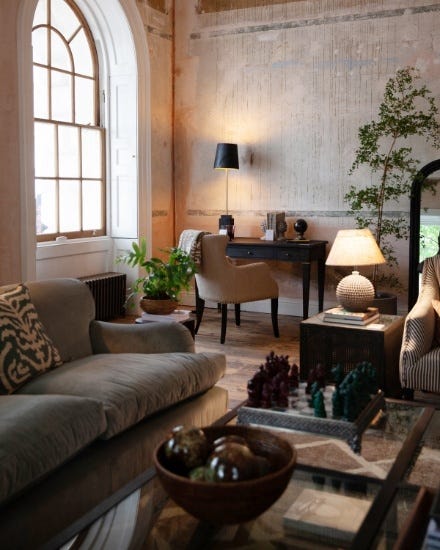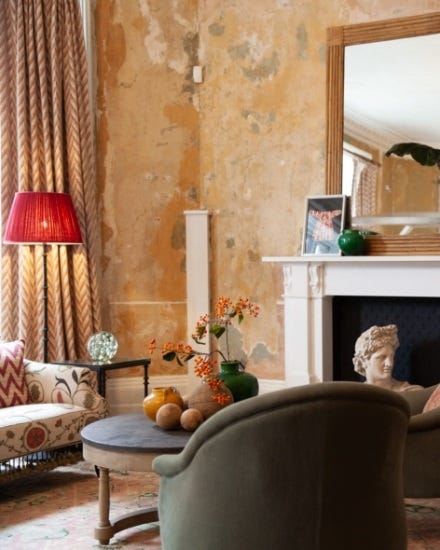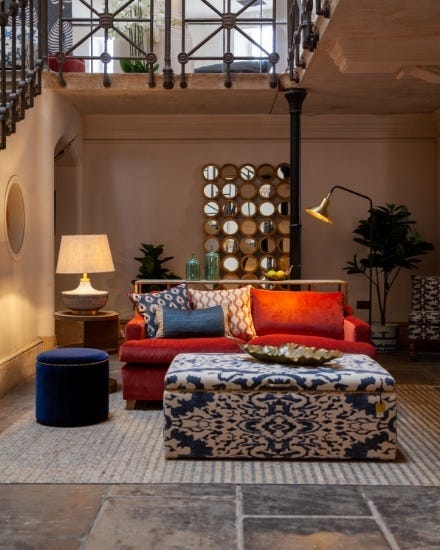 Meanwhile, our custom-made Tailored by OKA seating collection took centre stage in the grand hallway. A cross-section of our Egerton Loveseat was accompanied by one of the master craftsmen who creates each piece; he guided visitors through the expert techniques and materials used. One of our latest projects, where we tasked expert three interior designers to make their mark on one of our Tailored by OKA loveseats, was also available to view. The leopard print, paw print and stripes picked up plenty of pattern-loving fans; if you were among them, you'll be pleased to hear the sofas will soon be going up for auction at Bonhams.
We were privy to creativity in abundance, thanks to the three different kinds of masterclasses running over the two days. At our giant Winglefield Table, Floral Stylist and Author Willow Crossley lent her expertise to faux flower arranging workshops. She shared her top tips on everything from how to select stems ("always include an odd number of leading ladies" – bold, statement flowers) to assembling them in a vase (the trick is in a grid formation). Attendees then turned their attention to creating their perfect hand-tied bunch using an assortment of wintry faux flowers from our Bunched by OKA range. The key to ensuring your faux arrangement looks as natural as possible, Crossley says, is to ensure you use seasonal blooms: "at this time of year you can still go full colour. Choose dahlias, pink cosmos, lots of plants and foliage – they really brighten up your home."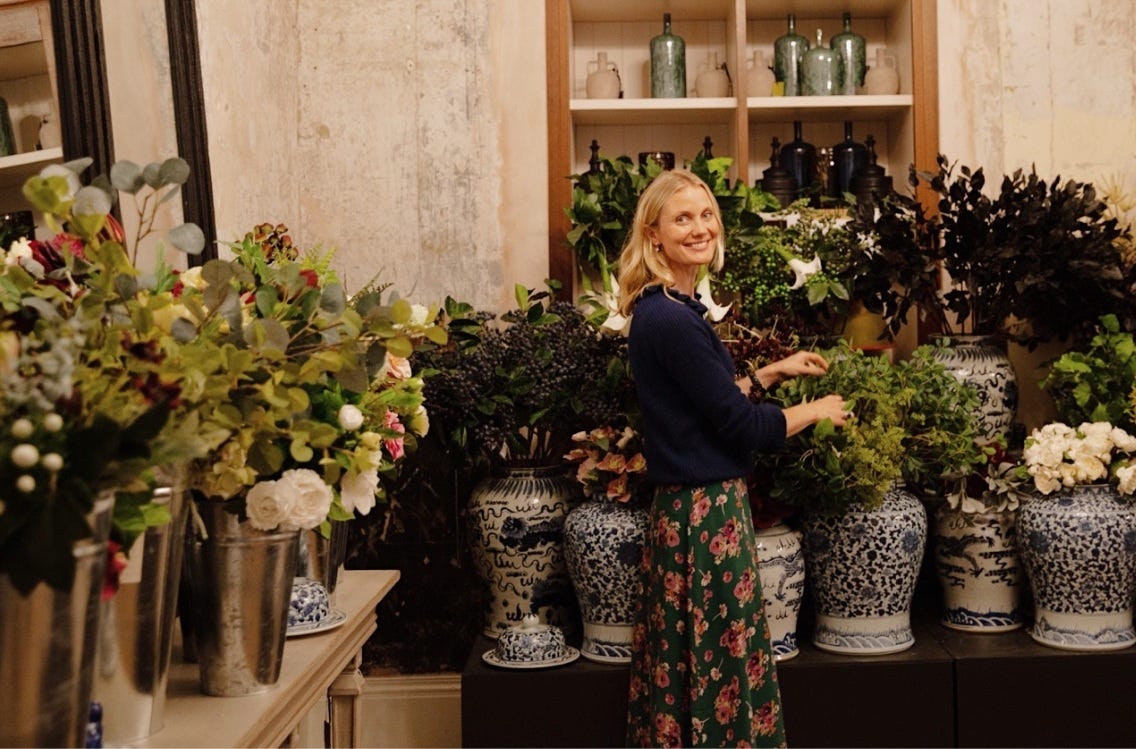 Florals popped up again over the course of the weekend, namely in the lampshade painting workshop guided by Hermione and Ellie Gee, the sisters behind bespoke hand-painted lampshade company Hum London, where lots of participants chose to decorate their OKA card shades with delicate frond and leaf designs. For those involved, it was a relaxing two hours; an opportunity to switch off and focus on creating something beautiful. If you're feeling inspired to experiment with adding some colour yourself, the duo advises sketching your design on paper first and to "paint as you would write, from left to right, to try and minimise the risk of smudging". Alternatively, look to our guide to choosing the right lampshade colour for a quick and easy fix.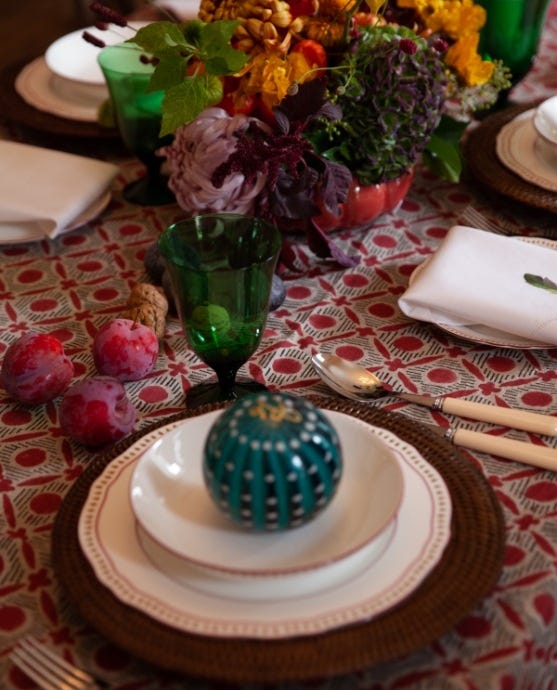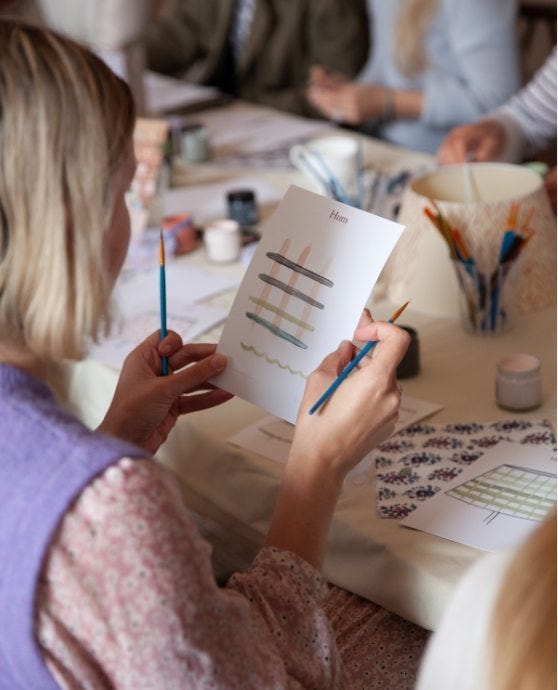 Event Stylist extraordinaire Fiona Leahy motivated those who love to host to go wild with their tablescapes. In true creative fashion, every group she hosted was a little different; "I find inspiration everywhere, I like to keep things organic" she says. Using a combination of our tableware and accessories – we loved seeing her use our Pula Vase as a candle holder – and her own additions, everything from foraged flowers and fresh fruit to intricately embroidered velvet ribbon, Leahy walked guests through the makings of the perfect table decoration. Although every setup will be different, she cites her "must haves" as candlelight and placements, which she took to new levels, decorating plates with names and attaching hand-designed name cards to bauble decorations. If you're not sure where to begin when styling your next dinner, consider these golden rules: "think about the number of guests and who they are, the season, the time of day and how you want people to feel, most importantly".
All in all, we had a wonderful few days – a huge thank you to our masterclass hosts and everyone who joined us. To be the first to know about upcoming OKA events and workshops, sign up to our email newsletter.