Whether your drink is a whisky on the rocks or a Piña Colada with a slice of pineapple, the core ingredients for your most treasured tipples deserve a good home. Home bars are an excellent way to show off the sort of bottles worthy of display, but to truly shake up a cocktail party, and impress your guests in the process, you'll need more than an elevated storage solution. Whipping up an Old Fashioned or a Mojito from scratch requires the tools of the trade, and no dedicated drinking den is complete without them. With this in mind, we've enlisted the help of Jack Guinness, Contributing Editor of British GQ, Founder of LGBTQ+ community The Queer Bible and general man-about-town, to bring you his take on our hosting and home bar essentials.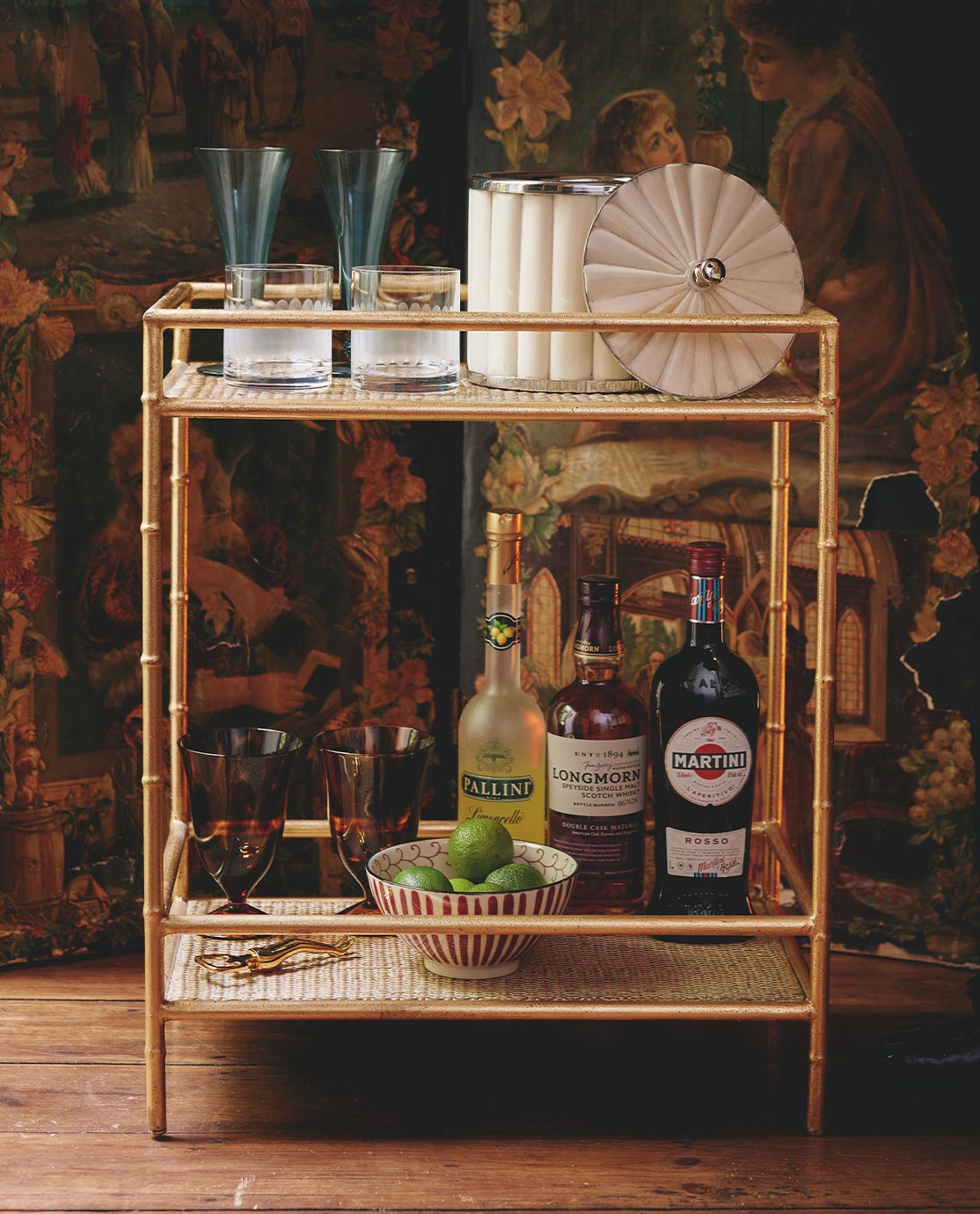 e
Create a dedicated space for your home bar
A collection of bottles gathered on the kitchen counter does not a home bar make. To set the scene for a cocktail party, dedicate a specific spot to your drinks. When deciding which home bar ideas are best for your space, remember: it all depends on how much room you to have to play with, and, of course, the type of occasion you intend to use it for. "There are different kinds of nights," explains Guinness. "There's watching a film, eating lovely food, catching up and not having to be 'on' – that's the joy of best friends, you can be yourself in all that disgusting glory. The other kind would be thinking you're going to have one of those [more relaxed] nights, and ending up singing karaoke at 3am."
Those with a taste for the theatrical should consider the classic drinks trolley. The retro design is as chic as it is practical, and ideal for those short on space – wheel it out when the clock strikes happy hour and tuck it away when the proverbial bell rings for last orders. If you're planning on making your home bar the focal point of the room, a console table is a good option. Consider investing in bar ornaments such as decorative trays and plateaus, too; arranging your drinks in curated clusters will help transform your bar from a simple storage unit to a statement feature. For a more understated approach, opt for a side table or display cabinet; perched on the sidelines, these will draw the eye only when directed that way.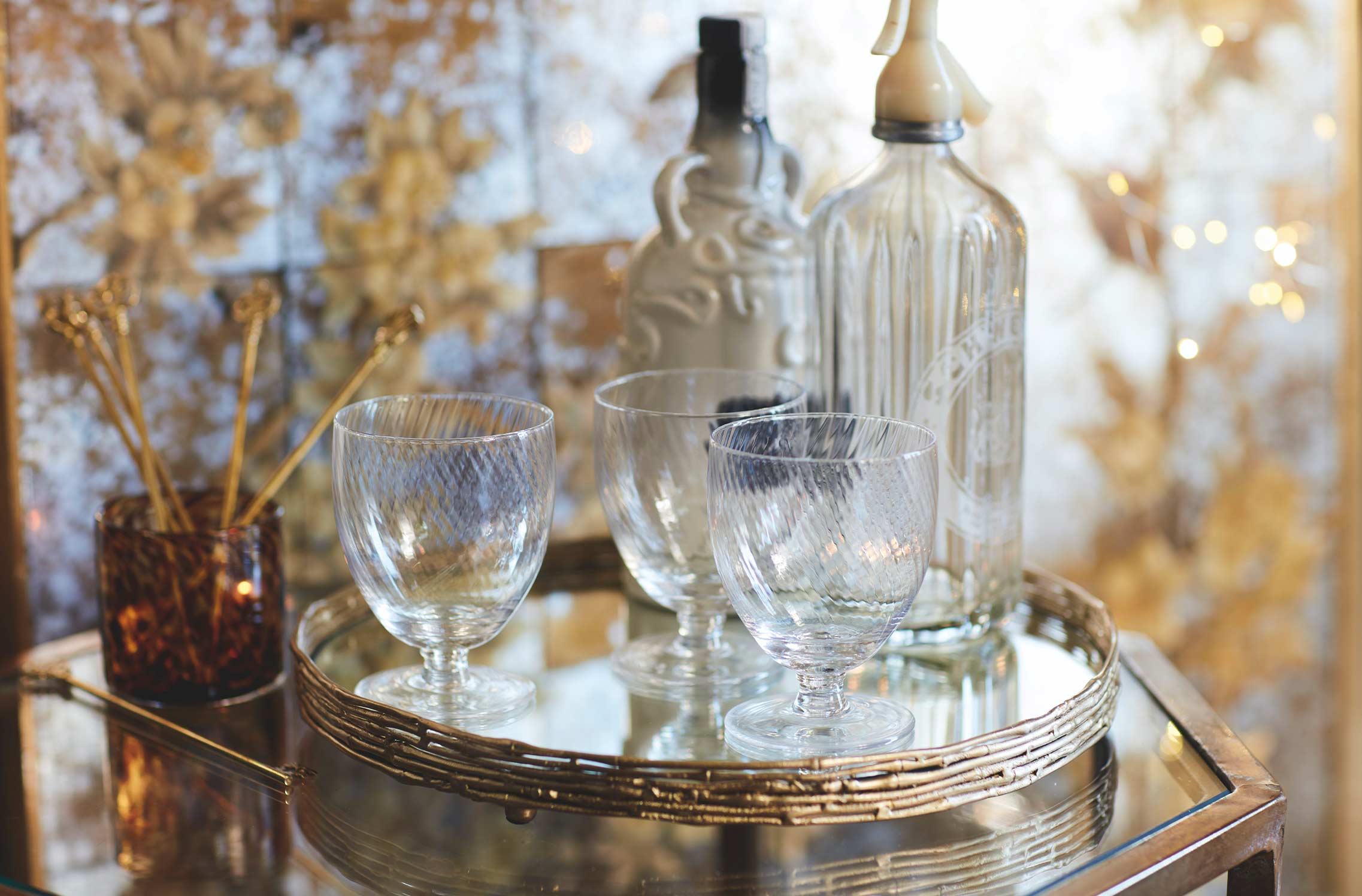 Raise your glassware game
Presentation is key when it comes to cocktails, but selecting the appropriate glass isn't just about aesthetics. Beyond its basic function as a vessel, a glass has two purposes: to enhance aromas and maintain a drink's temperature.
It all boils down to the drink in question. If your typical bar order includes a Mai Tai, Negroni, whisky or brandy, stock up on low ball (or tumbler) glasses; these are usually chosen for drinks that contain more alcohol than mixer, as the wide design can accommodate large cubes of ice and plenty of stirring. Highball glasses are best for long drinks, or those that involve a lot of mixer; cocktails served in these tend to be sweeter, as the aroma is less important – think Mojitos, Daiquiris and Pimm's. Traditional cocktail glasses, meanwhile, tend to be used for drinks such as Martinis and Cosmopolitans, which are served without ice; the long stem and cone shape of the glass allow the drink to keep its cool temperature for longer.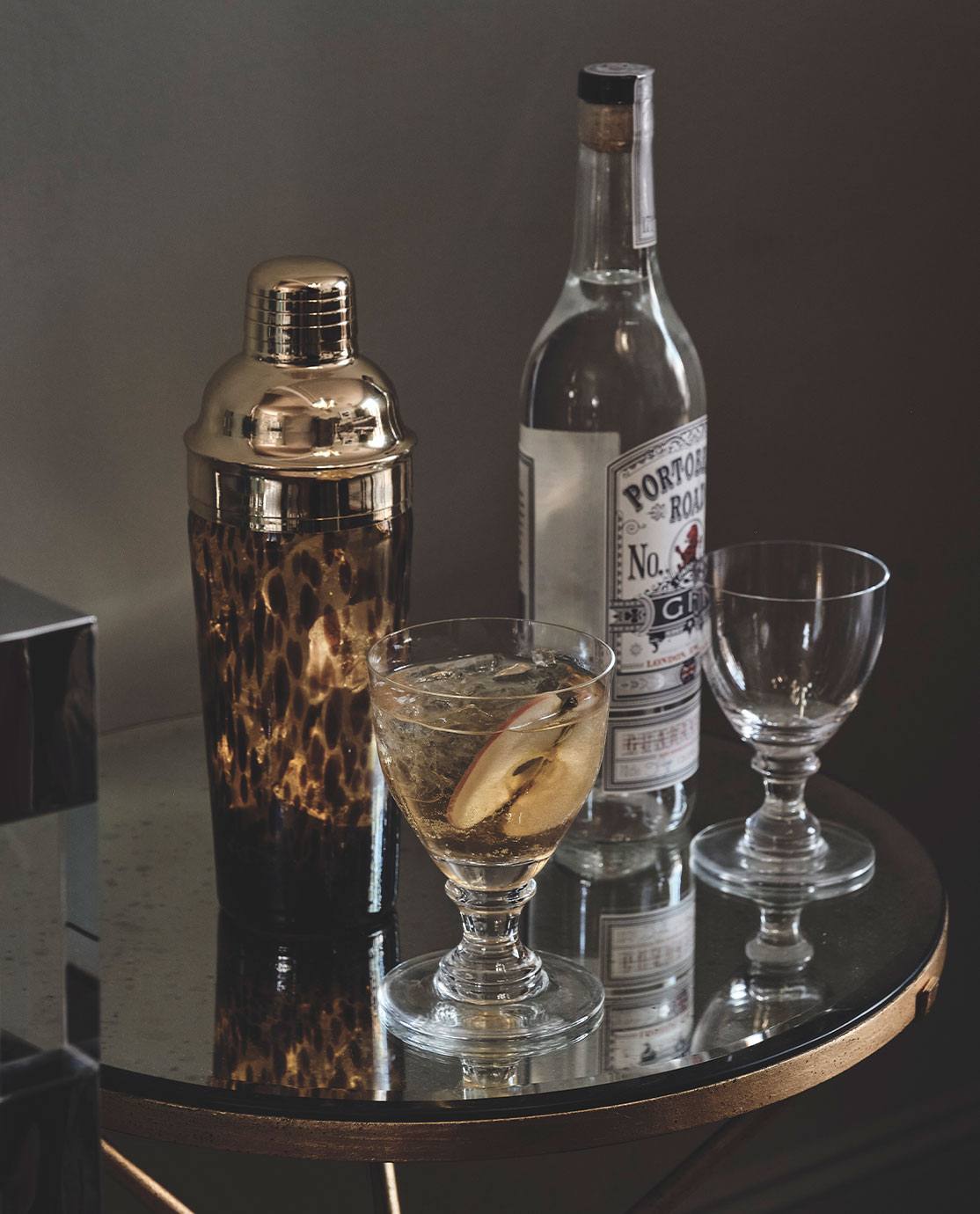 Oenophiles (or any fans of wine) should choose their grape before seeking the right glass. Those who have a taste for red wine should opt for a vessel with a long stem and wide opening; aroma is key, so a broad mouth allows you to enjoy the fruity notes of your favourite tipple to its full potential. White-wine glasses, meanwhile, tend to be more slender in order to preserve the chilled temperature of their contents. Of course, the biggest celebrations will always call for champagne, so be sure to have a selection of delicate flutes on hand for such occasions – their streamlined convex silhouettes ensure the bubbles last for longer.
Curate your drinks collection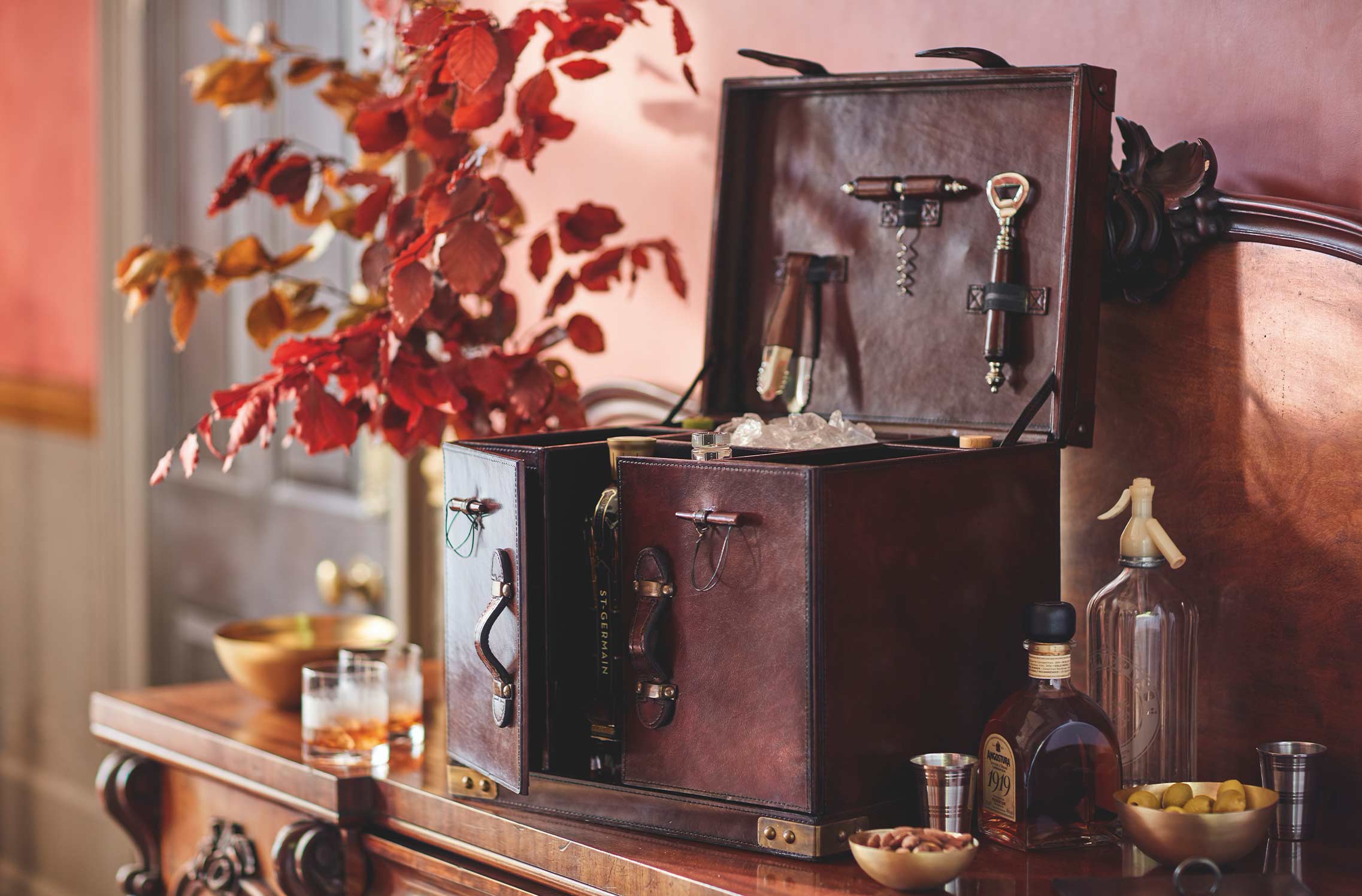 A home bar is nothing without its contents; make sure yours is well-stocked with a variety of spirits, liqueurs and mixers for optimum cocktail-creating opportunities. If you're looking for drinks cabinet ideas, begin by thinking about the type of cocktails you're likely to make before committing to a bottle; if you're not a fan of a Dark & Stormy, for example, rum probably isn't the best drink to invest in. And steer clear of anything too complicated; cocktails don't need to be difficult to be impressive, says Guinness. "Everyone should be able to make a good Martini; it's just straight booze in a glass with a few extras," he explains. "You can boost and twist so many classics with just a few pretentious bits and bobs; I'm not a fan of leaves in my drink, as you don't want to blind a guest with a sprig of rosemary, but add a slice of cucumber to a G&T or a shaving of grapefruit skin, and you can elevate an otherwise pedestrian drink."
Accessorise with these essential bar tools
Whether you prefer your cocktails shaken or stirred, up the ante on your at-home happy hour by investing in a few home bar accessories. A shaker is essential for cocktail fans, while serving wine from a carafe – as opposed to directly from the bottle – will impress guests with every pour. If you're likely to take your drinks outside, garden bar accessories – such as ice buckets and carriers for wine, bottles and glasses – are useful and time-saving essentials. Don't forget about a bottle opener – no bar is complete without one.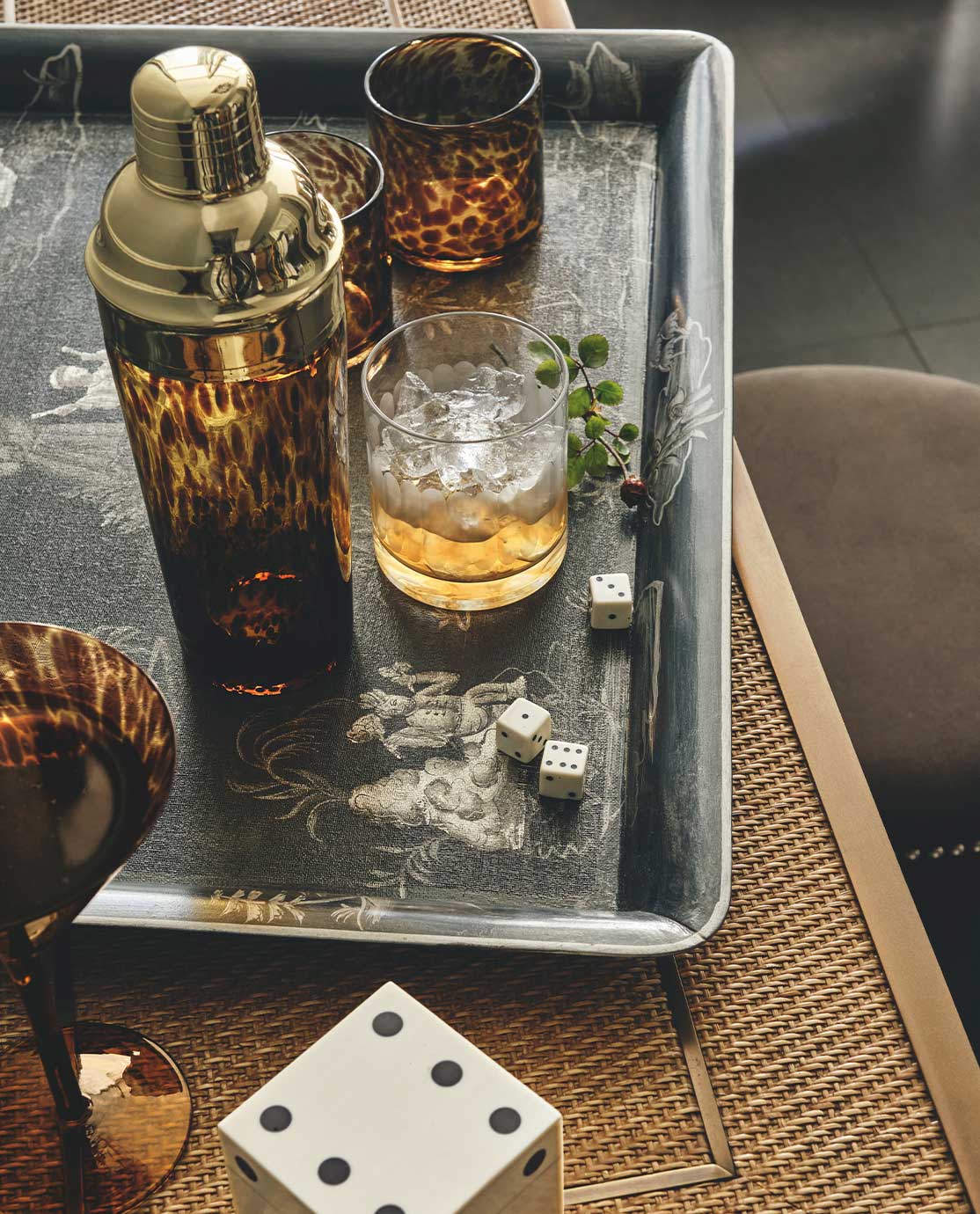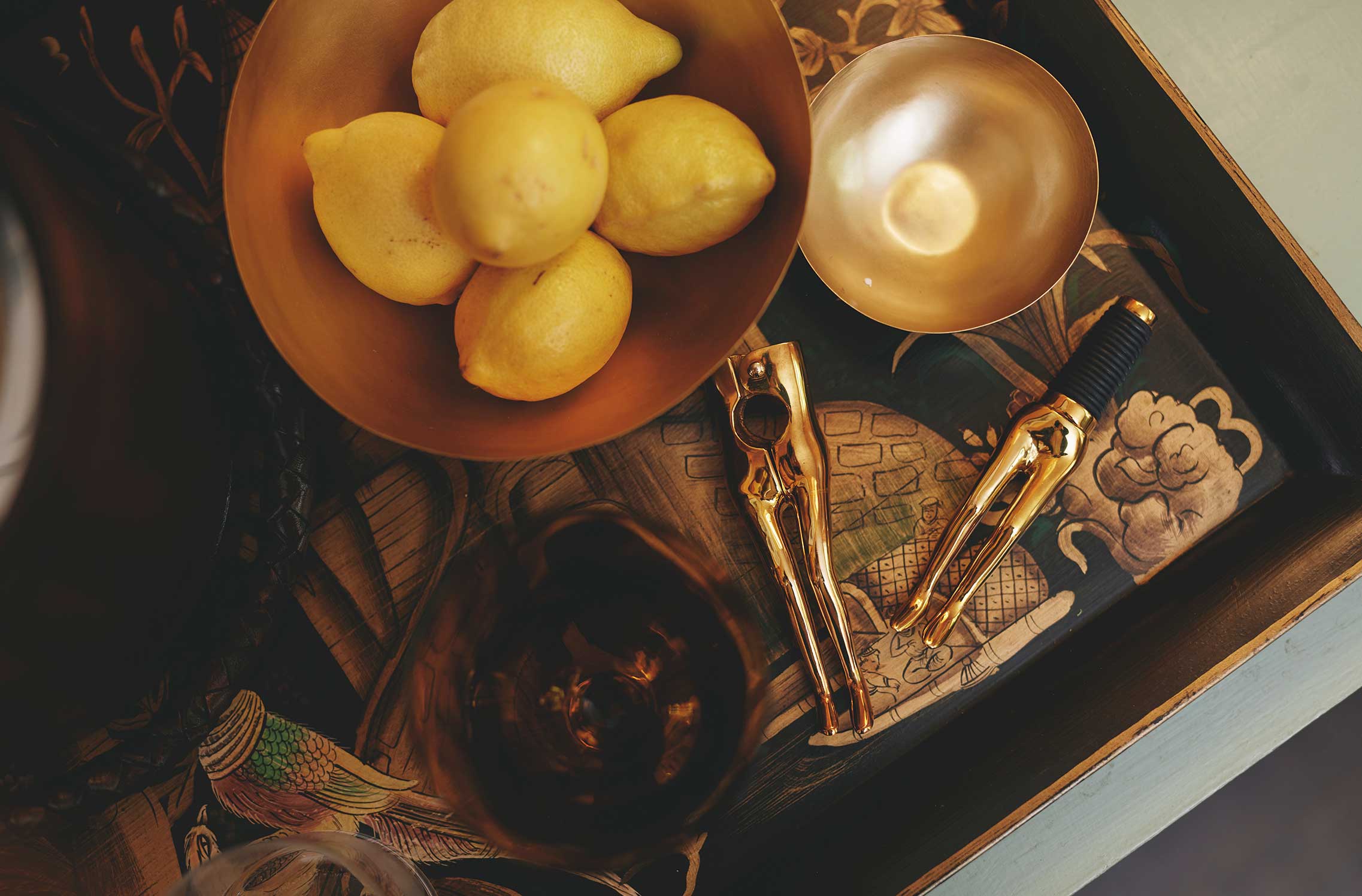 A host with the most is always prepared. Consider whether you want to take charge of the drinks yourself or allow guests to help themselves, and prepare accordingly. Nobody wants to be running back and forth to the kitchen while catching up with friends, so pre-chop any fruit and garnishes and make sure ice and napkins are readily available. Quirky cocktail stirrers will add a fun, playful twist to drinks, while personal touches can make your guests feel extra special, says Guinness. "Presentation is key. It makes people instantly feel cared for and looked after," he explains. "Design a fun 'house cocktail' that you've literally made up on the spot, then give it an in-joke name to make people feel special. Work with who's coming; maybe you'll be drinking 'Debbie's Downer' or 'Clive's Calypso Cowabunger'."
Set the scene
What's a home bar without people to drink with? "Throwing a party should be a gift to your guests," Guinness says. "I like the idea that they leave with something new; a friend, a connection, a husband or a wife – I'm the Cilla Black of east London." Whether you're orchestrating your own take on Blind Date, or simply looking to mark an occasion with friends, a good guest list is essential, according to Guinness. "People are key; you throw a party because you love your friends and want to bring them together, so try and introduce people who wouldn't usually talk – then throw these people into a room and add the secret of great music, food and booze, and hopefully you'll create something magical."
Selecting a good soundtrack will help you set the tone for the evening. "The music is about the build-up. A nice bit of soul, some Fleetwood Mac to start off with; you slowly want to escalate things. If by the end of the night one of your friends isn't doing the splits to Britney Spears, you've done something wrong."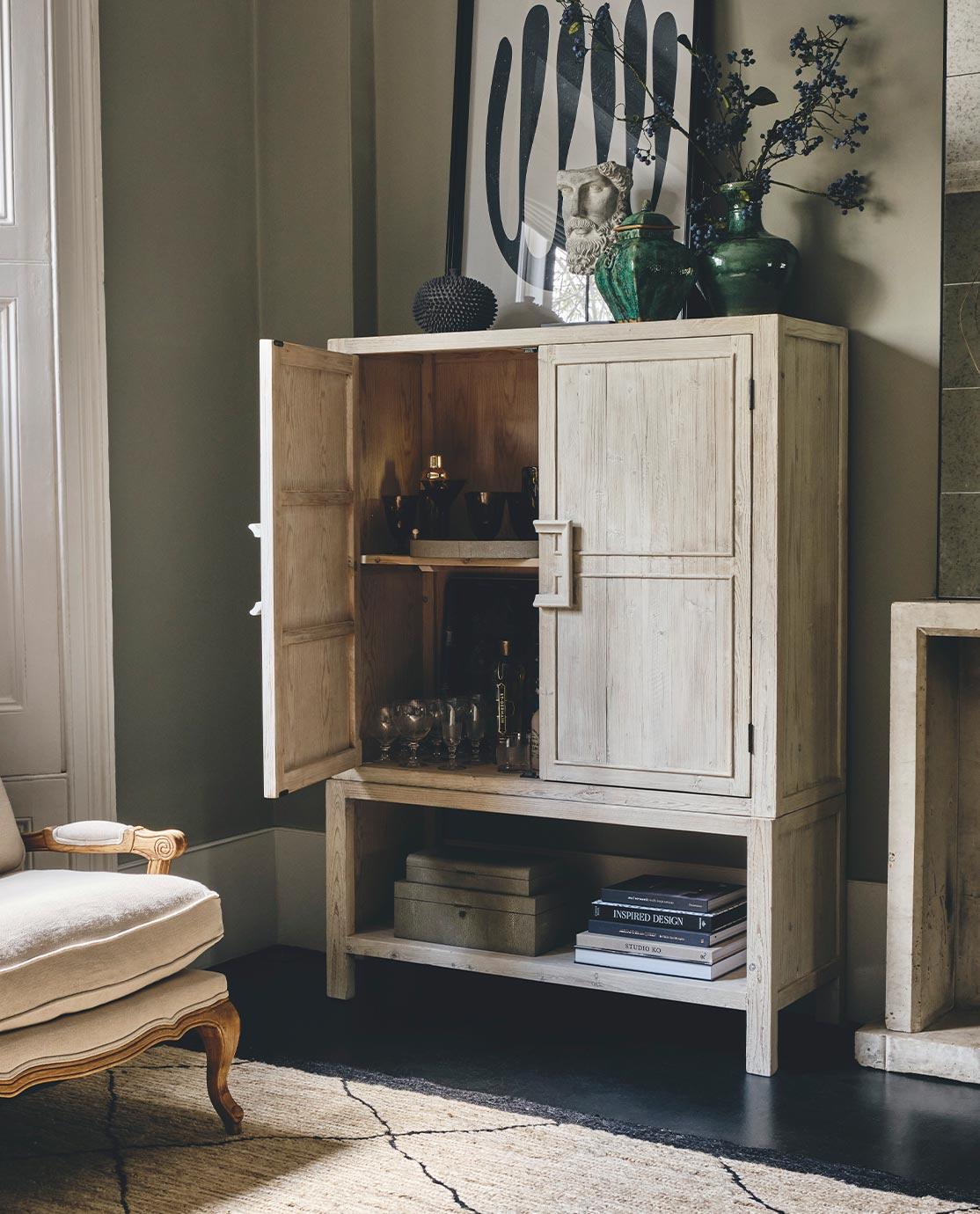 Be prepared for an after party
Who knows where the night might take you? Keep a venue in mind in case you want to continue the party elsewhere. "[In London], I love going to Claridge's Bar or [private club] Annabel's for a really beautifully made cocktail, somewhere that has a bit of theatre to it," recommends Guinness. "You're paying for the experience; the romance; the feeling that you're out on the town, which we all want right now, after a year locked up at home crying on the sofa. I want to go and spend an ungodly amount on a tiny little drink with an umbrella in it." We'll drink to that.