Today, nothing is more evocative of the textures and colours of Christmas than a wreath, but their use dates back to early civilisations where they were deemed status symbols. In Ancient Rome, gladiators and commanders were awarded crowns made from laurel leaves and olive branches, and when they weren't wearing their prizes they would hang them in their homes, often on front doors to inform passers-by of their victories. It was the 16th-century northern and eastern Europeans who began hanging them at Christmas; they would trim large fir trees to fit their interiors and turn the excess branches into advent wreaths.
In modern times, wreaths remain a coveted seasonal accessory, allowing you to embrace your creative side and offering more ways to decorate your home for the festive period. If you'd like to pick up a few tips on featuring them in your home, including what size to choose and suggestions on hanging, read on.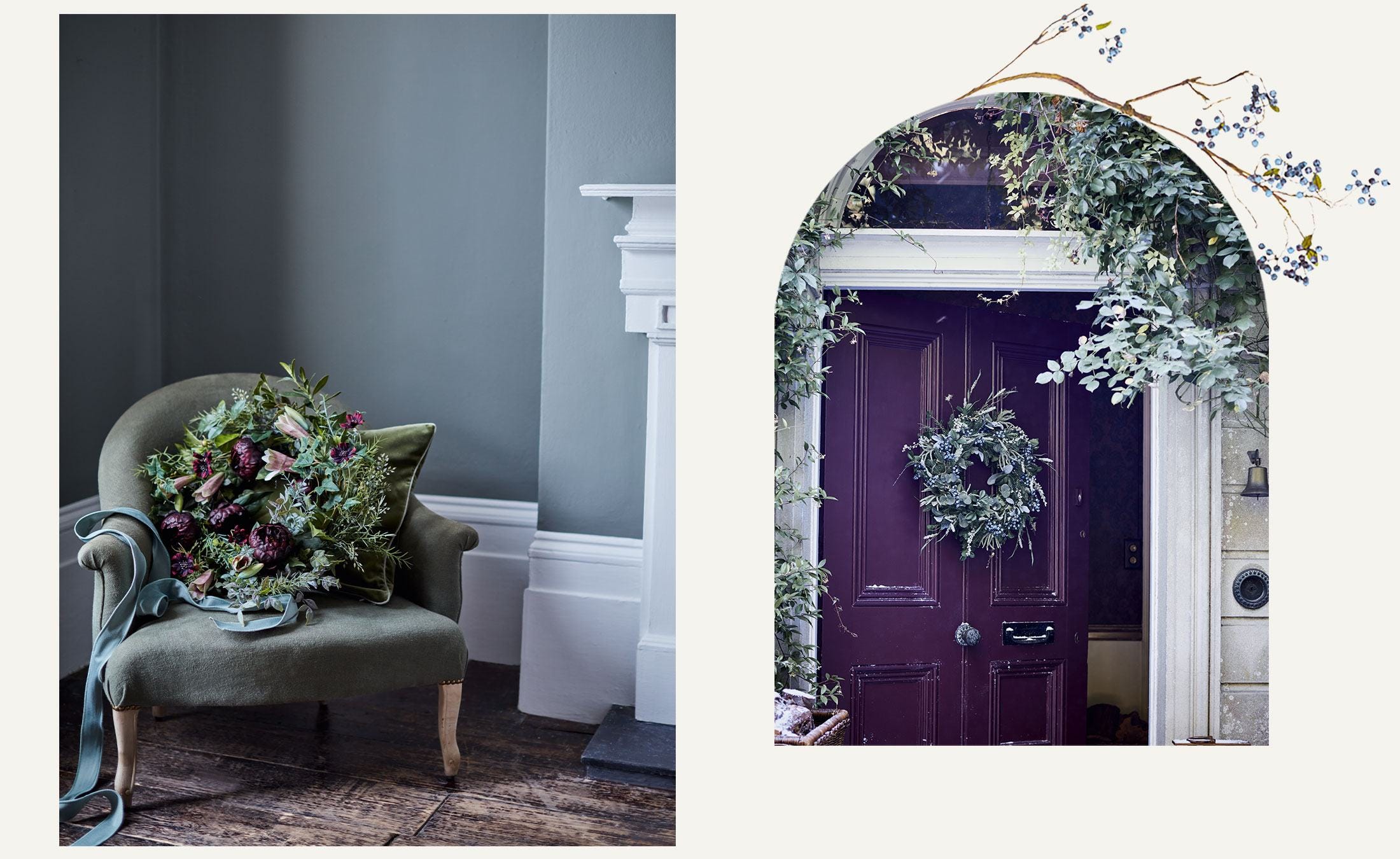 Should I Choose a Real or Faux Wreath?
To decide which type of wreath is for you, it may help to assess the benefits of both and consider which is best suited to your home. For example, faux wreaths require less maintenance and create less mess – you won't be forever cleaning up piles of pine needles. Faux stems also last a long time and can be used year after year. If you change your decorations annually, finding a pre-made faux wreath to reuse and customise with new stems may be a more economical approach than investing in a fresh design each time.
However, much like Christmas trees, many people prefer a real wreath, and if the purist in you can't resist then there are a few steps you can take to ensure yours lasts as long as possible. For example, hanging your wreath outside will increase its longevity, as the temperature will be colder and less humid than indoors. Try to keep it clear of direct sunlight if you can, as this will help to prevent it from drying out. If you're using your wreath indoors, spray the reverse side with a misting bottle every so often to water the cut stems, and try to avoid placing it too close to radiators or heating vents.
Selecting the Right Wreath Size
To determine what size wreath to purchase, you first need to decide where you're going to display it. If it will be welcoming you home, something to be aware of is that its sides shouldn't touch your front door frame. You don't want clothing and bags catching as you enter and leave your house. For perfect, central placement, larger wreaths should hang close to the top of the door, whereas smaller wreaths can be hung a bit lower.
Measure your door in advance to ensure a comfortable fit. Wreaths are made in different shapes and sizes, so even if your door has unconventional proportions, you'll likely find something suitable. Most are circular, but half-moon wreaths with greenery covering only one side are becoming popular. Though unusual and tricky to track down (unless you're making your own), heart and star-shaped wreaths undoubtedly stand out from the crowd, and you may even notice some doors festooned with triangles.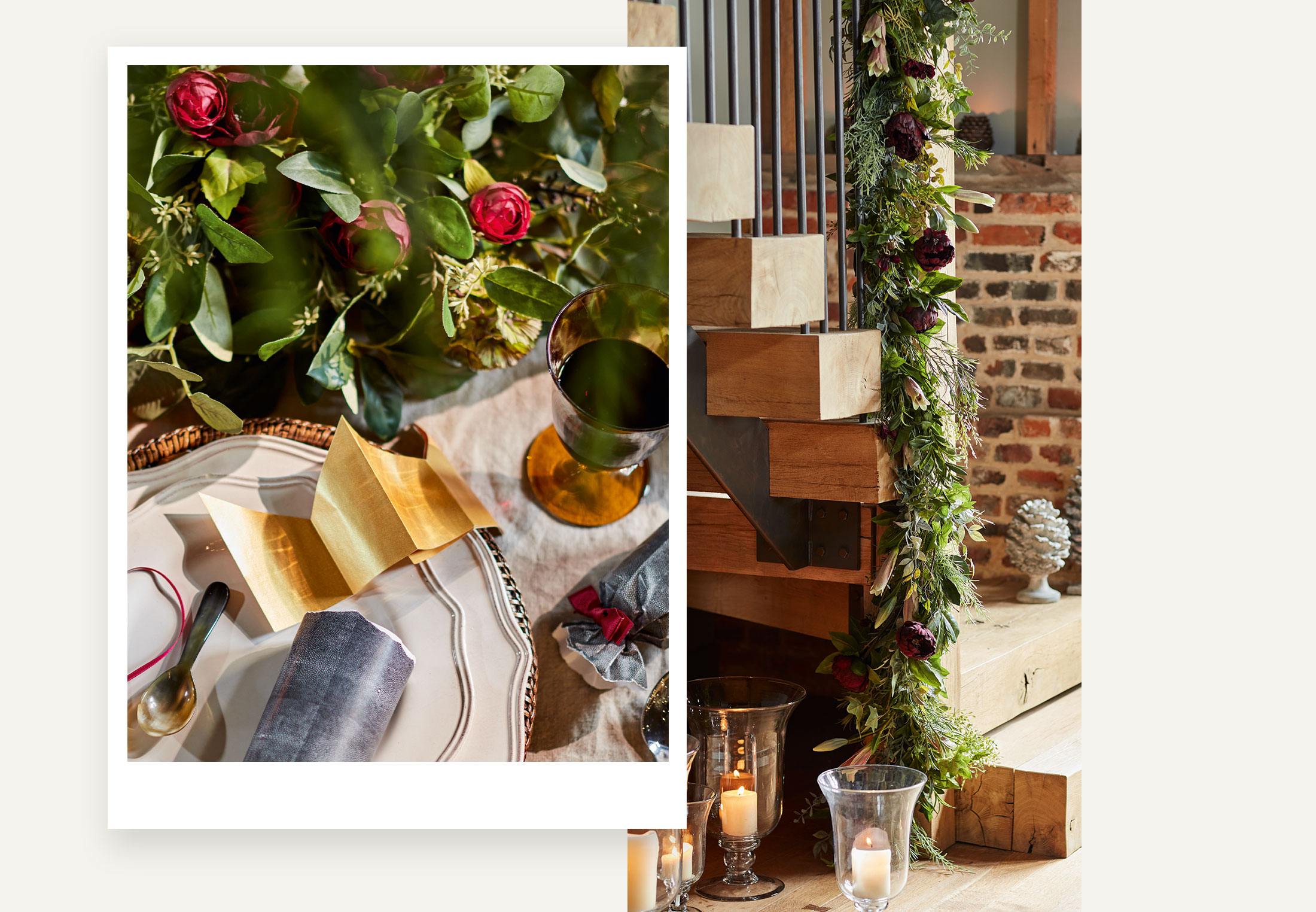 What is the Best Way to Hang a Wreath?
The easiest way to hang a wreath from your front door is by placing a nail in the centre or using a ribbon to attach it to a fixture. If you're wary of damaging the door, you could purchase a purpose-built wreath hanger, magnet or removable, self-adhesive hooks instead. Choose an over-the-door hanger that already looks like a decoration, complete with a silver star or snowflake, or an adjustable one which allows you to experiment with placement. Factor any quirks your door has into the positioning of your wreath, too; it could be tied directly to traditional knockers or used to frame door windows.
How to Use Wreaths Indoors
If a Christmas tree doesn't work in your home, wreaths are a nice way to bring a festive touch to your space – and they needn't be reserved for doors. You could hang different sizes at alternate lengths to create a unique display or suspend identical ones from windows for a balanced look. If there's a big, blank wall going spare, save prints and mirrors for the new year and instead opt for a large wreath that acts as a focal feature. For a wintry take on a chandelier, turn your wreath on its side and suspend it from ribbon attached to a ceiling fixture. They also work as table decorations too; place a pillar candle in the centre of yours for a festive display, or do as our Co-Founder and Creative Director Sue Jones does and hang them on the back of dining chairs.
To Light or Not to Light
This is a matter of personal taste. Designed to look as natural and minimal as possible, OKA wreaths don't come with an added glow. Nonetheless, if you enjoy creating a festive feel with fairy lights, relax in the knowledge that LED-adorned configurations are easy to find or create. Personalise your wreath with battery-powered string lights if you can't find a pre-lit one that ticks all your boxes; its abundant foliage will conceal the power pack. Seek out a showerproof set if you're taking things outside.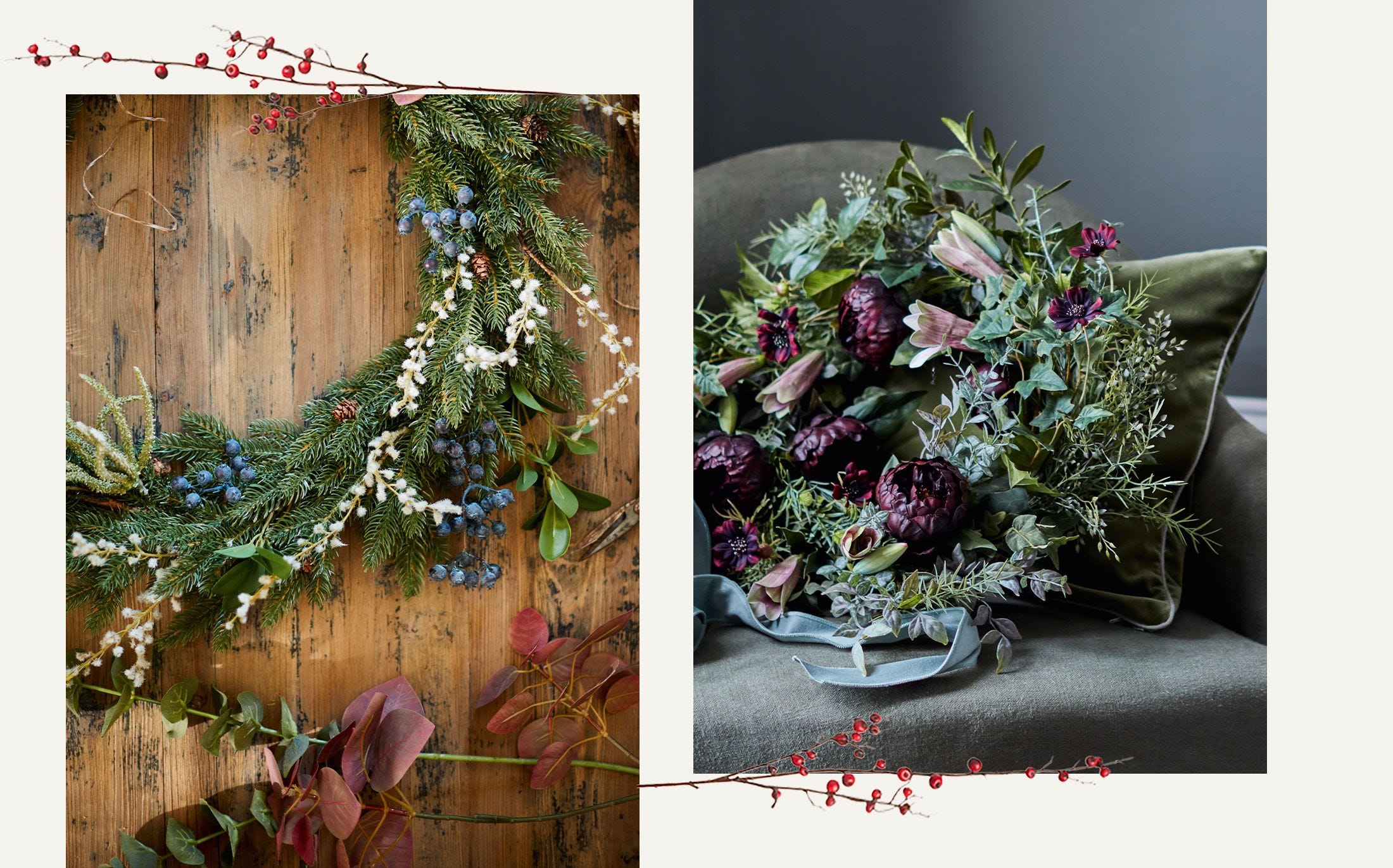 How to Make a Wreath from Scratch
There are lots of pre-made wreaths, both real and faux, ready and waiting to radiate verdant Christmas cheer – but if you're up for a project you could fashion one of your very own. Simply follow these steps.
Step 1: Gather the Essentials
You'll need a wreath frame, craft wire (any colour will do, as this won't be visible in the design), ribbon, wire cutters and scissors for trimming stems. There are all kinds of wreath frames available; single hoops are suitable for minimal designs and double hoops fit plenty of foliage.
Step 2: Select Your Stems
Once you've got everything organised, pick your greenery, flowers and decorations. If you're creating one with real foliage, visit nearby woods where you can forage for pine cones and branches. You might also find inspiration closer to home in your local park or back garden. If you're going faux, why not treat your arrangement to some exotic stems or give the artificial flowers in your collection a new lease of life?
Step 3: Get Creative with Decorations
The decoration doesn't stop at flowers and greenery. If you enjoy winter scents, some dried oranges or cinnamon sticks are a welcome addition. Berries are also perfect for classic Christmas wreaths, but for a unique approach, consider accessorising with feathers, shells or beads.
Step 4: Plan Your Design
As soon as the materials are primed, plan your layout before putting everything together. Place the wreath frame on a blank surface and roughly arrange the foliage and decorations on top, until you find a design you're happy with. You might want to photograph your layout before you start assembling, in case something gets knocked out of place.
Step 5: Start Assembling
There are numerous approaches to wreath making, but we like to start by cutting flowers and greenery to size then grouping them into short, even bunches. Take your first bunch and use the craft wire to attach it to the wreath frame, with the stems facing upwards. Next, take another bunch and tie it higher up the wreath. Ensure the first bunch overlaps the stem of the second slightly, to hide the wire tie. Keep adding the mini bunches until you have foliage fully covering the frame, or half of it if you'd like a crescent moon wreath. Finish with a ribbon or use extra craft wire to add further flourishes.