Working from home, embarking on your first novel (or similar passion project) or tackling some much-needed life admin – each of these scenarios require a designated (and personal) space to undertake your tasks. Ideally a place where you can think creatively (or critically) without distraction and, ultimately, be productive. You don't necessarily need a stand-alone study or home office – you can carve out an effective space to work just about anywhere, the corner of a room, a quiet hallway or, if you're extremely lucky, a nook in a garden room.
A workplace doesn't have to be a designated desk in a traditional high-rise tower to be effective; some of the greatest writers in history worked in unorthodox surroundings. For instance, Jane Austen revised Sense and Sensibility and Pride and Prejudice while seated at a tiny 12-sided surface on a single tripod; Virginia Woolf worked from a very modest oak writing desk – which she designed herself – when writing A Room of One's Own; and Agatha Christie came up with some of her best ideas while sitting in her bathtub. While we're not suggesting that you set up a miniscule desk in your bathroom, we've put together some tips for creating a unique and well-designed work environment at home.
Create a dedicated workspace
While Virginia Woolf's desk in her writing shed in the garden does sound idyllic, you don't necessarily need to replicate it in order to create a productive place to work. What you do need to do, however, is create a specific zone. This will not only keep distractions at bay but will help to get you into the right frame of mind to whizz through your to-do list. If a stand-alone space, or building an outdoor cabin is a bit beyond you (and the available space), go back to basics: a screen is a simple but effective way to designate private space in any room. When the working day, or weekly tasks are done, simply adjust the screen and your mindset – out of sight, out of mind.

A woman must have money and a room of her own if she is to write fiction.
Virginia Woolf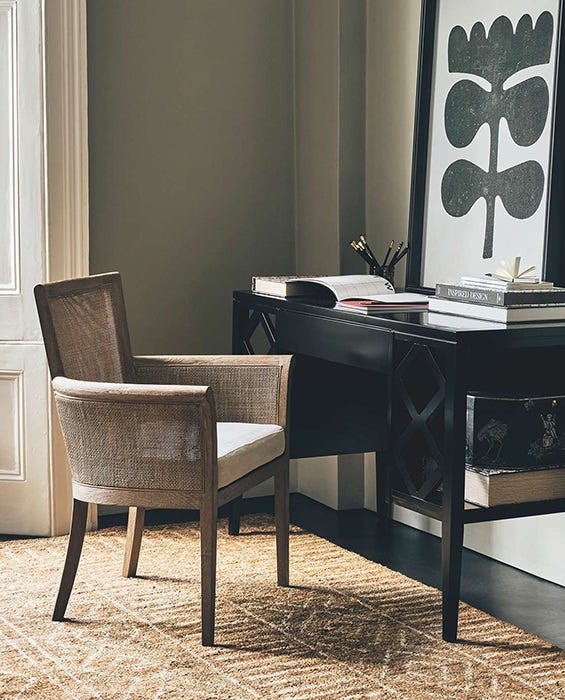 Get the lighting right
No matter your line or place of work, it's important that you get the lighting right; squinting at a screen or reading papers in gloomy light is far from ideal (for your mood or your efficiency). When writing, Virginia Woolf would sit adjacent to large French doors that overlooked her garden, meaning the space was flooded with natural daylight. If good natural light is hard to come by or, like Roald Dahl, you prefer to keep the curtains drawn to block out interference from the outside world, invest in a desk lamp that projects a warm, soft glow. If your desk is piled high with books and papers then opt for wall lamps, which provide all of the ambience but without taking up prime real estate (meaning, critical desk space).
Surround yourself with things that inspire you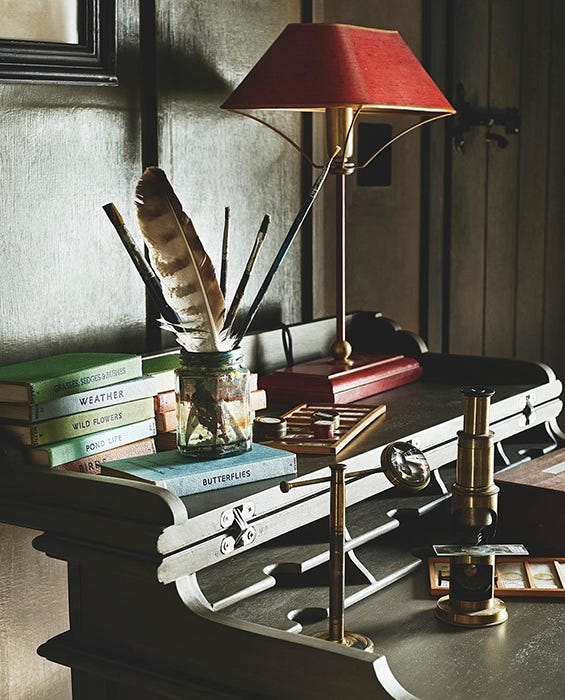 When E. B. White was asked to detail in a letter to his editor the inspiration behind his much-loved children's book, Charlotte's Web, it was clear from his response that his surroundings played an important part in its creation.

I like animals, and it would be odd if I failed to write about them. Animals are a weakness with me, and when I got a place in the country, I was quite sure animals would appear, and they did.
E. B. White
When applied to your own work environment, it's important to remember the value of visual and creative inspiration when spending the day sitting at a desk or looking at a screen. Where White befriended the creatures outside his four walls, you can invigorate your mind at closer quarters – with artistic prints, flowers or photographs in classic frames. Even small desk accessories can make a world of difference; choose unique bookends and ornate box files rather than plain designs – you never know what might spark ideas. Even if your work doesn't require you to be creative, there's no harm in adorning your office with eye-catching and thought-provoking items.
Pick a fragrance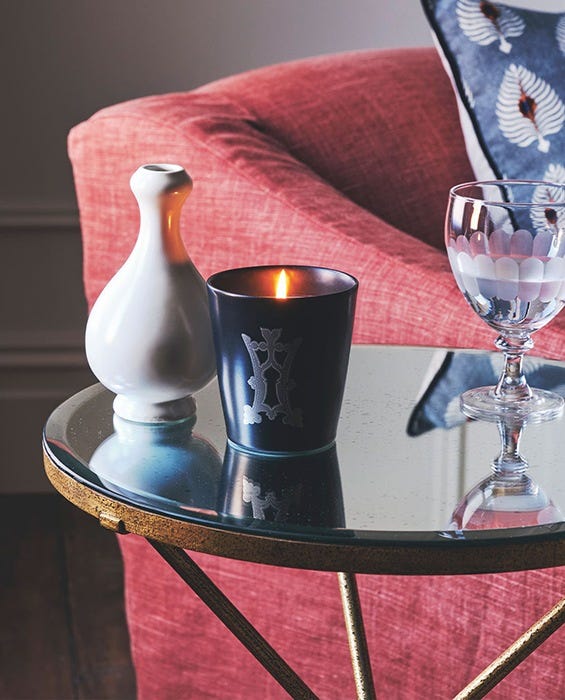 It takes a lot of time to be a genius, you have to sit around so much doing nothing, really doing nothing.
Gertrude Stein and Alice B. Toklas
If your moments of brilliance are few and far between, in the manner described by Gertrude Stein and Alice B. Toklas, there's an unexpected addition to a space that can make a real difference: fragrance. Citrus scents, for example, are excellent for improving concentration and can help to promote clear-thinking, too. Choose a unique scented candle or diffuser that you only use while you work; this will help your mind to focus and shift into "work" mode when you smell it in your environment. It goes without saying that this should be a scent you love, but also one that isn't too overwhelming.