The wait is over: spring is officially here. As our Co-Founder Sue Jones aptly puts it "we're coming out of hibernation." There is nothing more cheering than the sight of the early daffodils peeking out, offering a welcome splash of sunshine yellow in contrast to grey days, or the first notes of birdsong in the mornings. Simply put, it's an optimistic time. What better sentiment to translate to your interiors? We're here to show you how, covering everything from the essential seasonal declutter to embracing a spring colour palette, as well as offering lots of bright interior design ideas.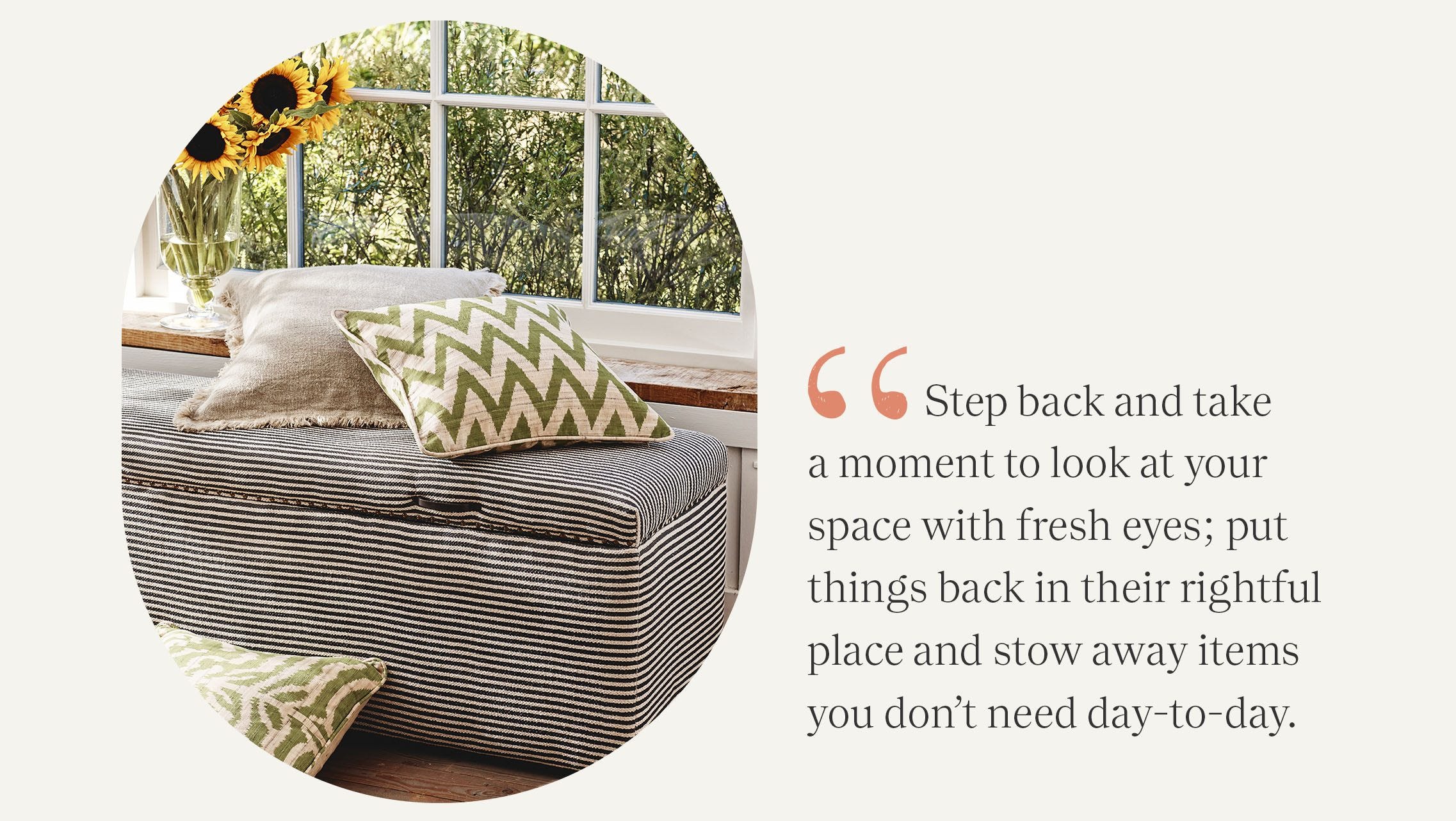 Spring Clean
Love it or hate it, there's no denying that this is the place to start when freshening up your interiors for the months ahead. The job at the top of the list is to clean your windows. Dirty windows suppress more natural light than you might realise and make a room appear duller, in contrast, sparkling clean ones will make a space feel bigger and brighter. If you've only just noticed how grubby your panes are, you're not alone: with attention turning to the outside world this season, you'll likely find yourself gazing out of the window more than in winter. While you're in the zone, tackle the other once-a-year tasks: deep-clean corners and skirting boards, as well as under appliances and furniture, and you'll have yourself a clean slate. Miracles do happen, so now is also a good time to tackle the garden: dust off outdoor furniture so that if an unexpectedly warm day arises, it will be ready and waiting for you.
Winter is the season for layering. It's easy to end up with a pile of cosy throws at the end of the sofa, one too many candle holders on the mantelpiece and a precarious tower of novels on the side table – when you spend so much time cosied up inside, you simply just stop seeing things. So step back and take a moment to look at your space with fresh eyes; put things back in their rightful place and stow away items you don't need day-to-day. If you're feeling ruthless, get rid of pieces that you no longer like or serve a purpose; give them to charity or sell them on second-hand platforms.
Be Bold with Colour
We like to use bright colours all year round, but if you're dipping your toes into rainbow shades for the first time, spring is the time to do so; the onset of lighter, longer days have us harking after vibrancy at home. The obvious – and trending – paint choice is green. Echoing nature's revival and a connecting you with your surroundings, it's the perfect option for the season. The beauty of green lies in its myriad shades; there's truly a green for every home. Sage or mossy tones are a safe choice if you're looking to switch up your sitting room colour scheme; they're soft, so work in most sizes of room and create a relaxing atmosphere while still adding character. To go all out, consider painting the ceiling, aka the 'fifth wall', too, for a cocooning effect.
For those wanting to go bolder still, sunset oranges and warm pinks are also forecasted to be popular in interiors this year – they're the perfect way to add an element warmth and fun to your home. A good way to experiment is by using them in small doses as a contrasting colour, on tiles in the bathroom, as a feature wall in a small space or a fresh new backdrop to a gallery wall, or with statement furniture – if you're feeling creative, you could try repainting an existing piece. In terms of colour combinations, these shades are surprisingly versatile, pairing well with not only warm neutrals but accent hues such as blues and greys.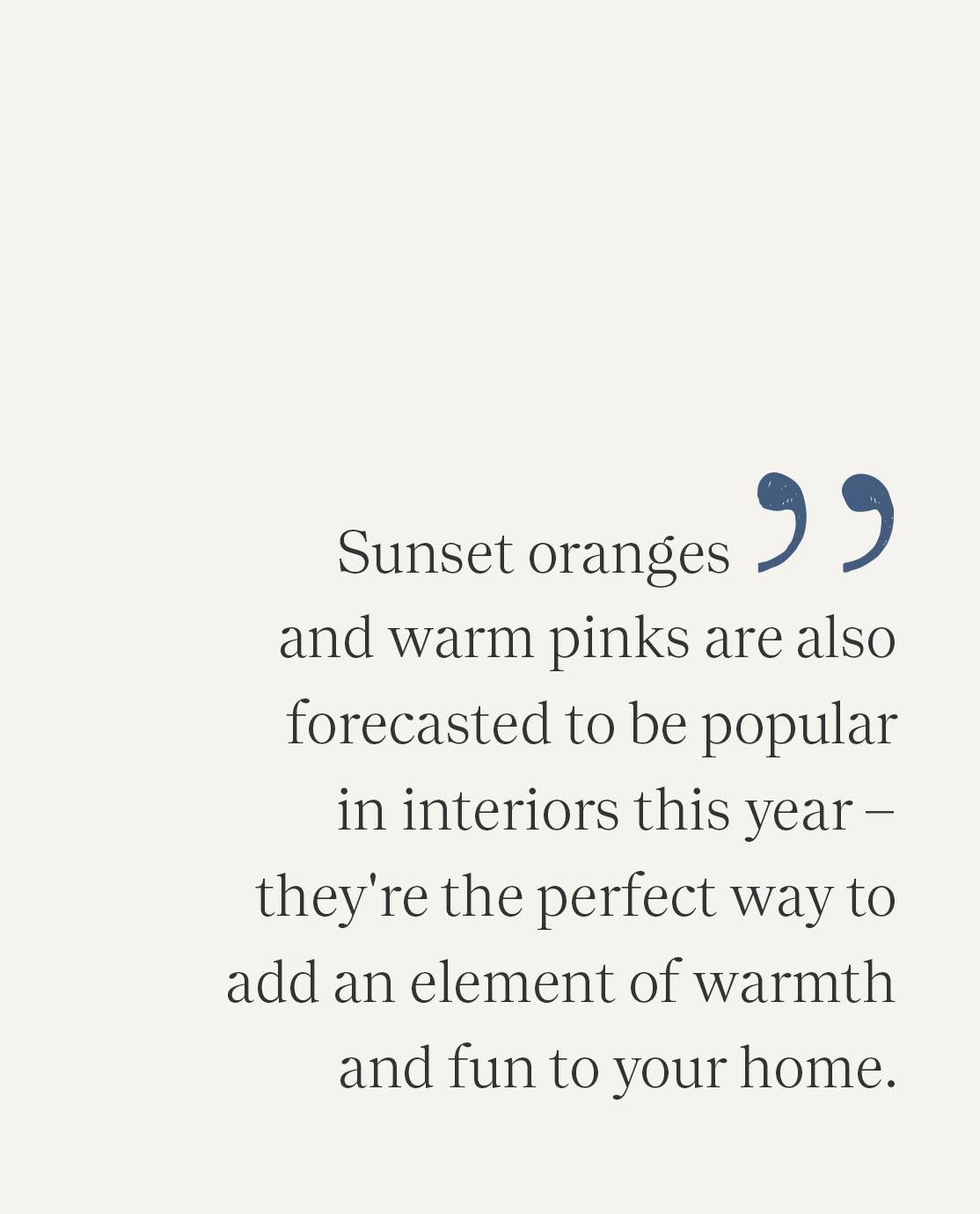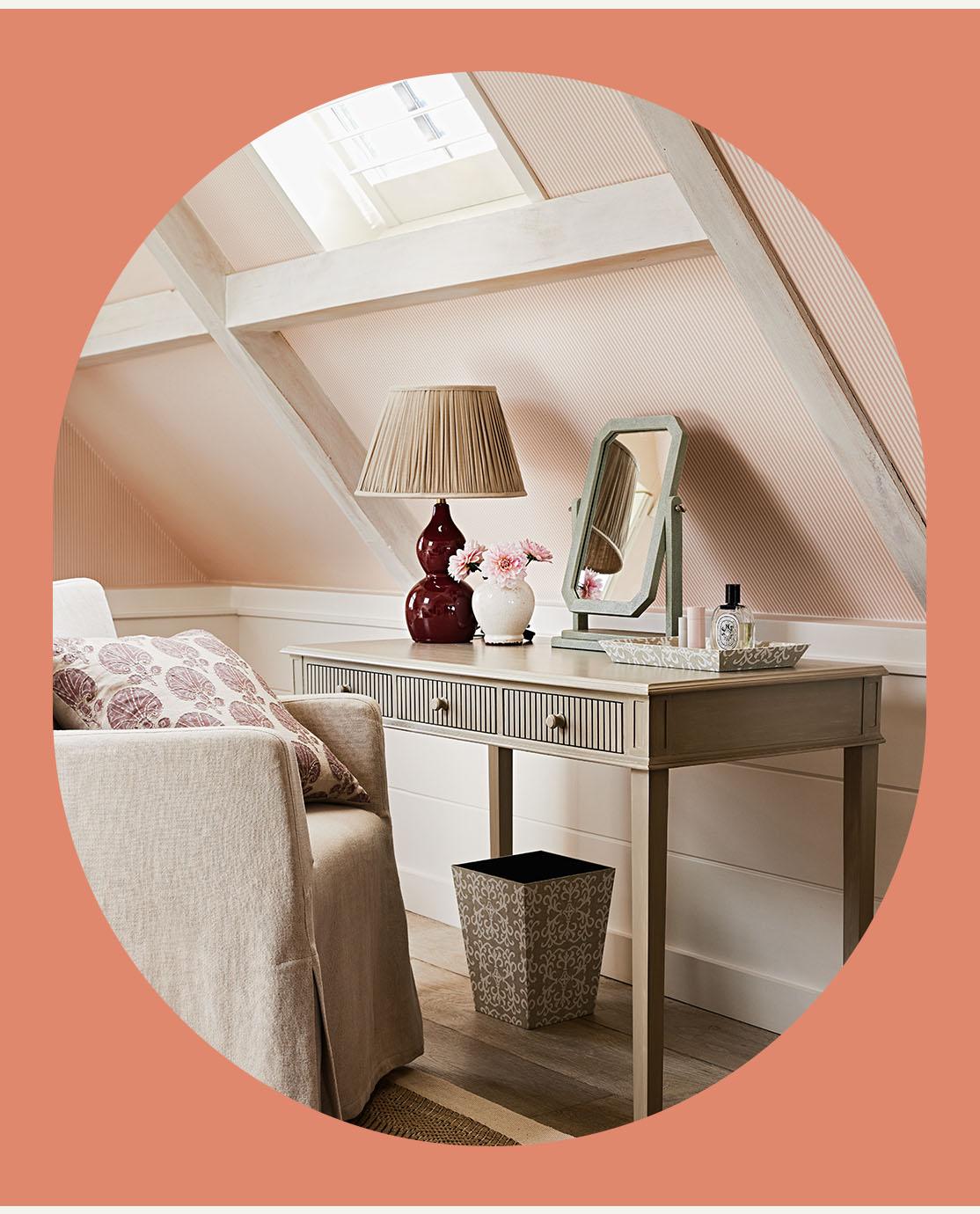 Accessorise with Care
If you're looking to inject colour into a room without painting it, it's all about thoughtful accessorising. With a freshly spring-cleaned home, you might be reluctant to introduce decorative ornaments to clutter-free surfaces, so look instead to your walls and upholstered furniture. Here you can easily incorporate a pop of colour without the feeling of imposing on space, or having to make any big design changes.
Whether a painting or a print, a large piece of statement art is the simplest and most impactful way to add vibrant colour to your home. Hang it over the focal feature, above a sofa or bed for example, so the eye will naturally be drawn to this bright point and the impression of the room will be one of vivacity. If you're attached to your existing art, you could switch out neutral frames for colourful or more intricate ones; even this small change can make a big difference to the atmosphere. Interesting mirrors – not necessarily colourful ones – also make excellent artworks and have the added benefit of bouncing light around a room and making it appear brighter.
Textiles are another good way to brighten up interiors. Blankets and throws may be tucked away but cushions are for the taking. Adding a couple of spring-themed designs to your sofa or bed will lift the room in an instant. If you'd rather not invest in anything new, try moving cushions between rooms; a change of scene can transform an old piece. It's a similar story for lamps; give your favourite base a spring glow by switching in a lampshade in a translucent material, such as cotton or linen, which filters through more light. Those with a neutral background and a playful print tick the seasonal box perfectly.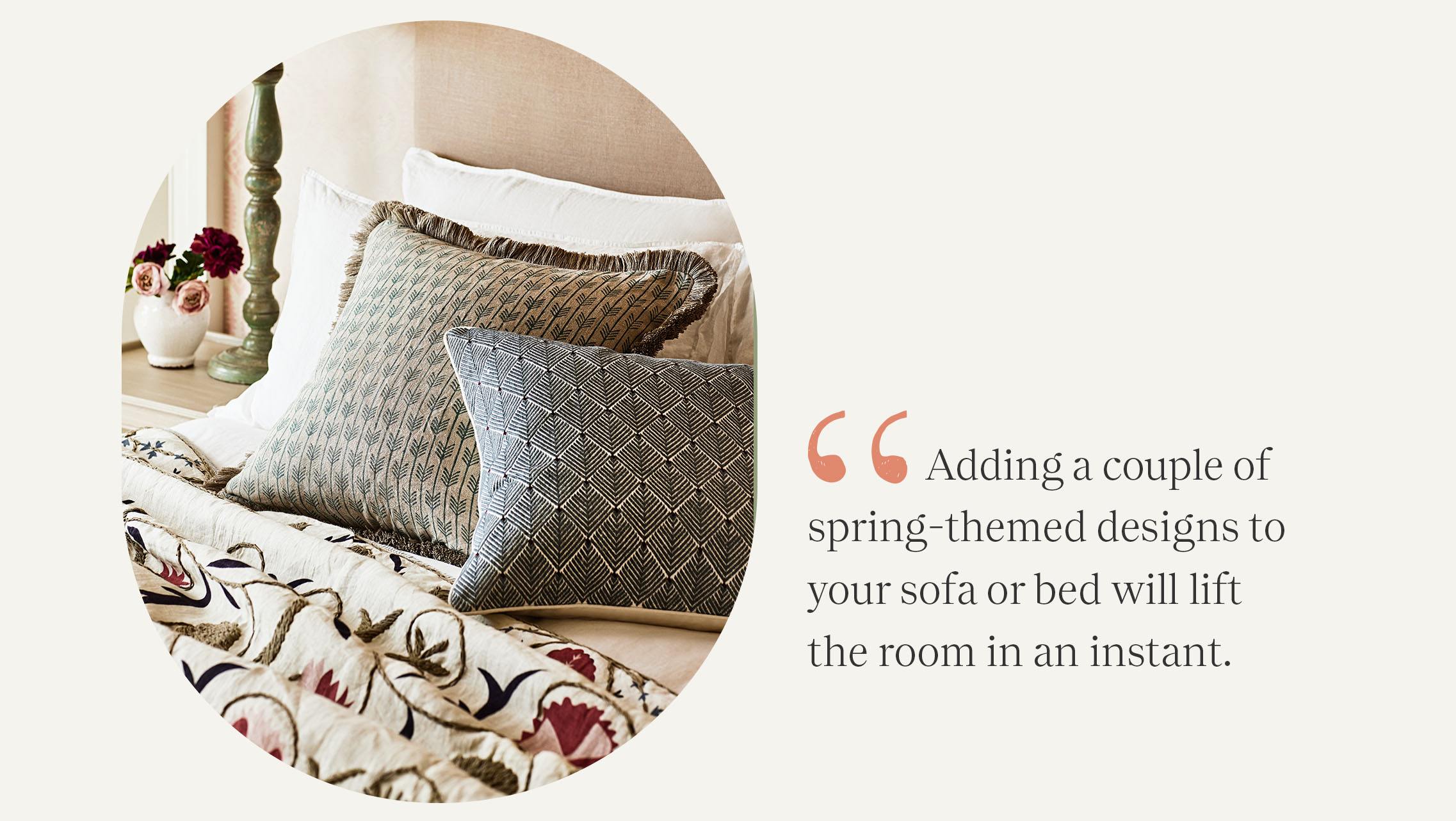 Embrace Flowers
The outside world is coming into bloom, so too can your interiors. Embrace floral motifs on any of your home updates, from wall art to cushions, for an aesthetic that is truly in line with the season.
Then of course there's fresh flowers: one of the most mood-brightening additions to a room, even a single stem in a bud vase can do the trick. But if longevity is on your mind, look to faux flowers instead – just make sure to check they're in season for a realistic look – and place your arrangement next to a spring-scented diffuser for full (but wonderful) fakery.