Fleeting moments of sunshine have us dreaming of a Mediterranean summer; Aperol Spritzes sipped on wrought-iron balconies, villas with orange-tiled roofs, lush gardens of dark green pines and a vista of sparkling blue lakes… only to be buffeted away by a brisk wind and a spattering of rain. The call of the European idyll has never felt so strong. Yet, if you don't find yourself with a trip on the cards – or if yours has come and gone, leaving you only with warm memories – let us show you the many ways to infuse this sense of carefree tranquillity and undone chic into your own home.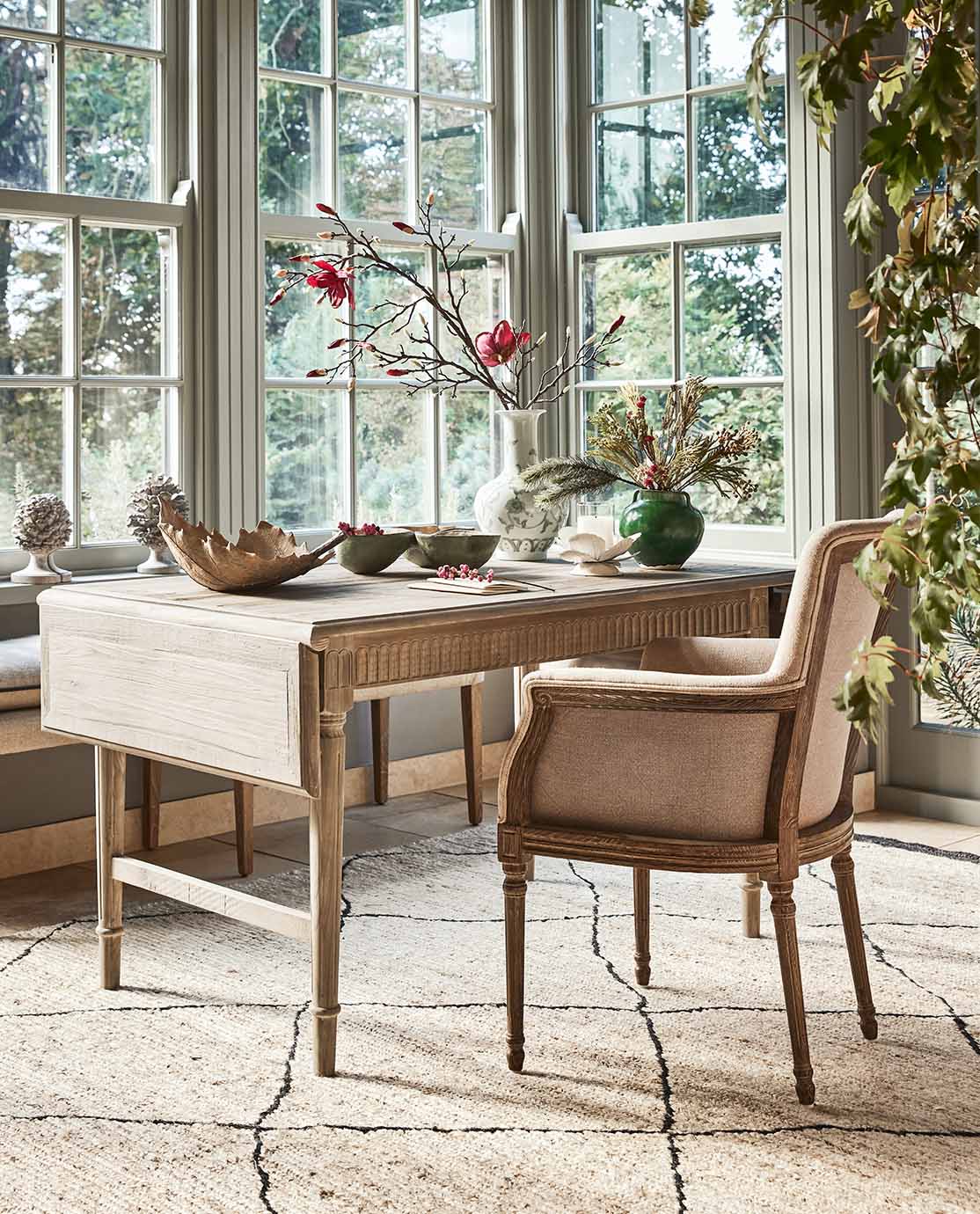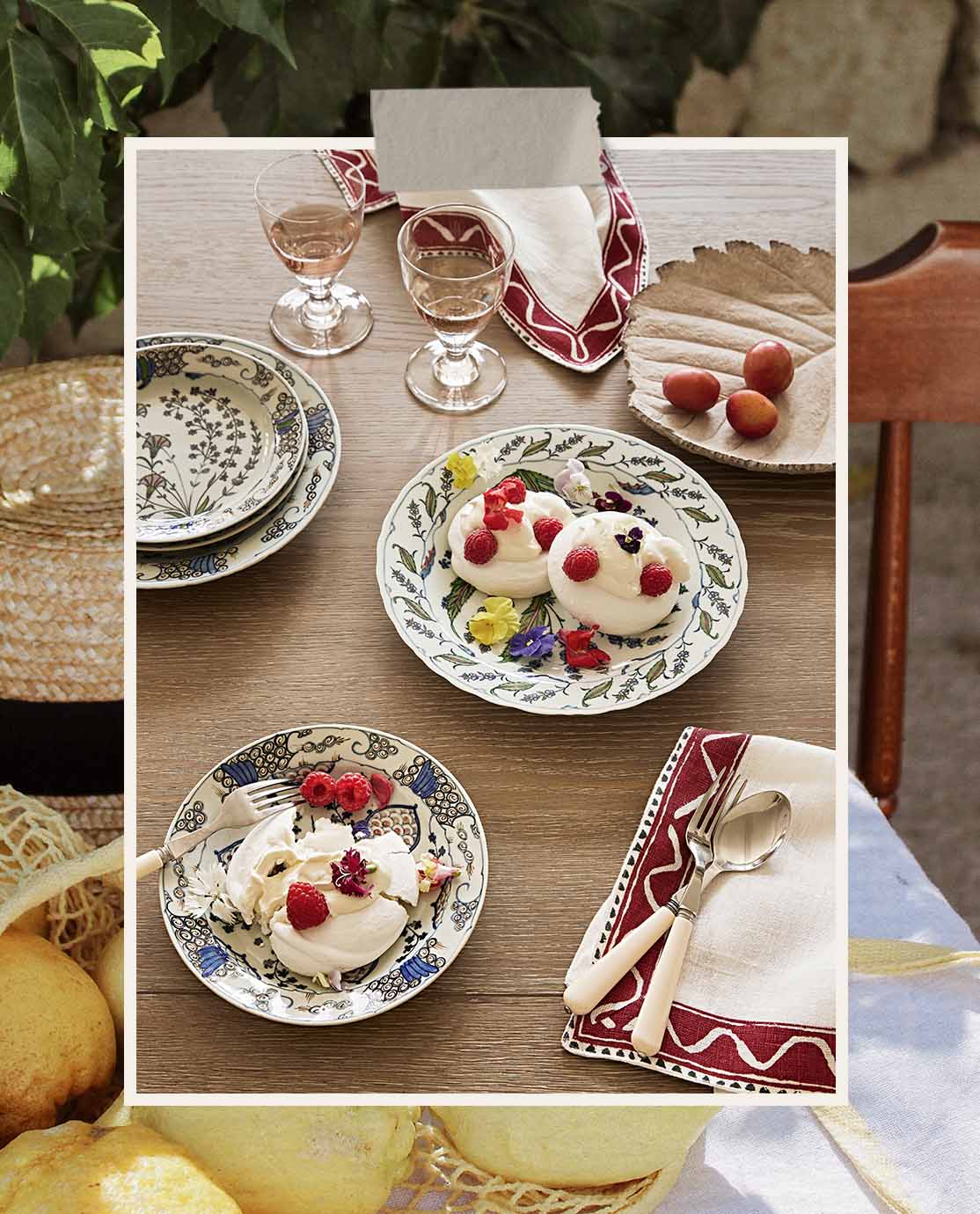 First on your hit list is colour, the foundation of this look. Of course, standing centre stage should be red. Then temper that intensity with neutrals, such as white, beige, and tan. Beyond that, look to the garden for inspiration; hints of green and blue to complement the warm and bright central hue. Red and green are no longer the basis of a Christmas colour scheme; they have been reimagined to evoke a sense of sun-soaked, windswept happiness and insouciance, just like their plump talisman: the tomato. This juicy fruit (or vegetable if you will), is synonymous with Spanish siestas, French farmers' markets, Italian feasts… and its colours too can bring this same feeling to your home, so that you don't have to take flight to embrace the cheerful vibe. Then, think about materials: in the sitting room, linen and cotton are perfect for that breezy factor, with storage look to wood and raffia for a touch of rustic charm, and where appropriate, a little leather can add a spot of luxury. When it comes to the dining table choose ceramics to channel the European pottery scene.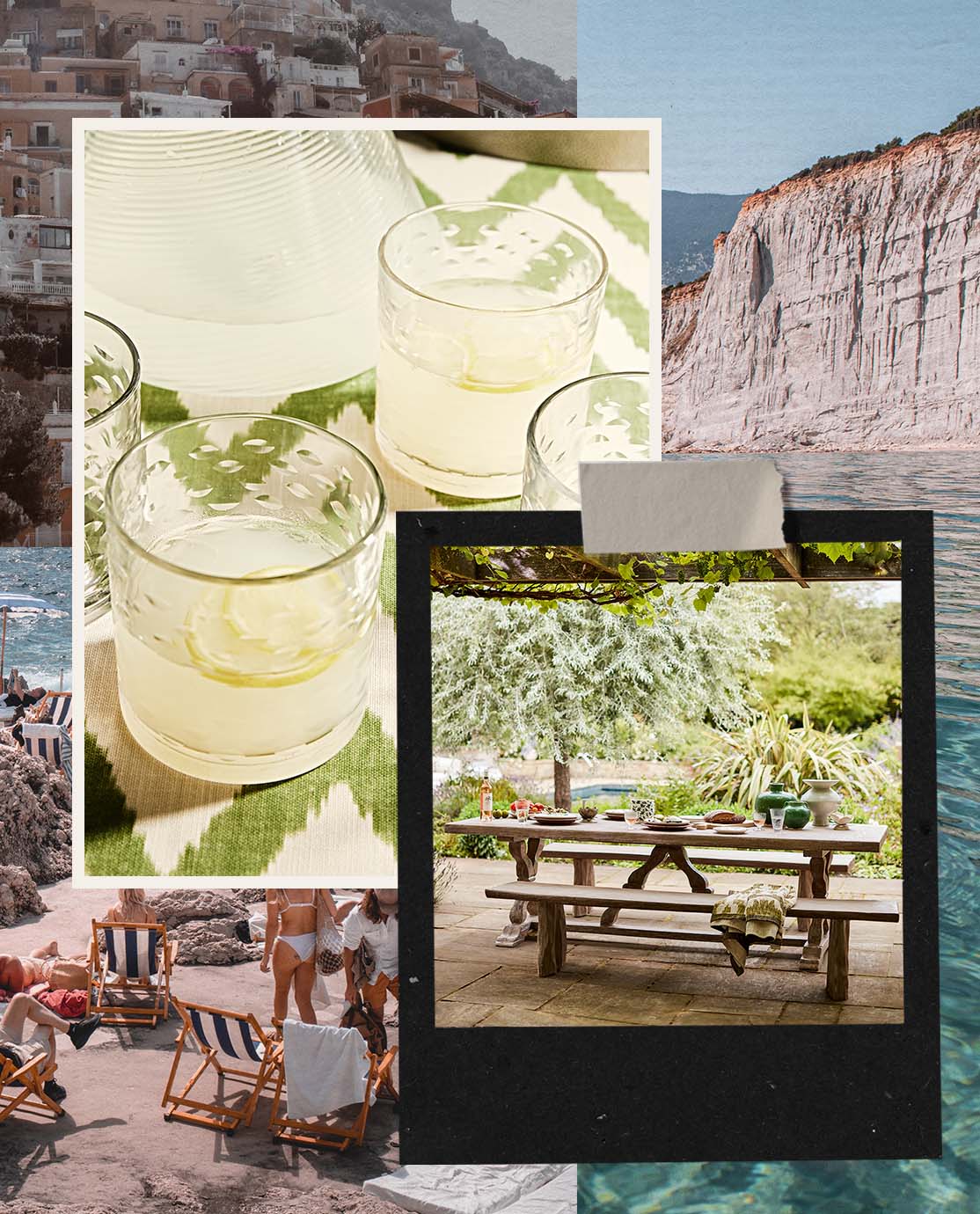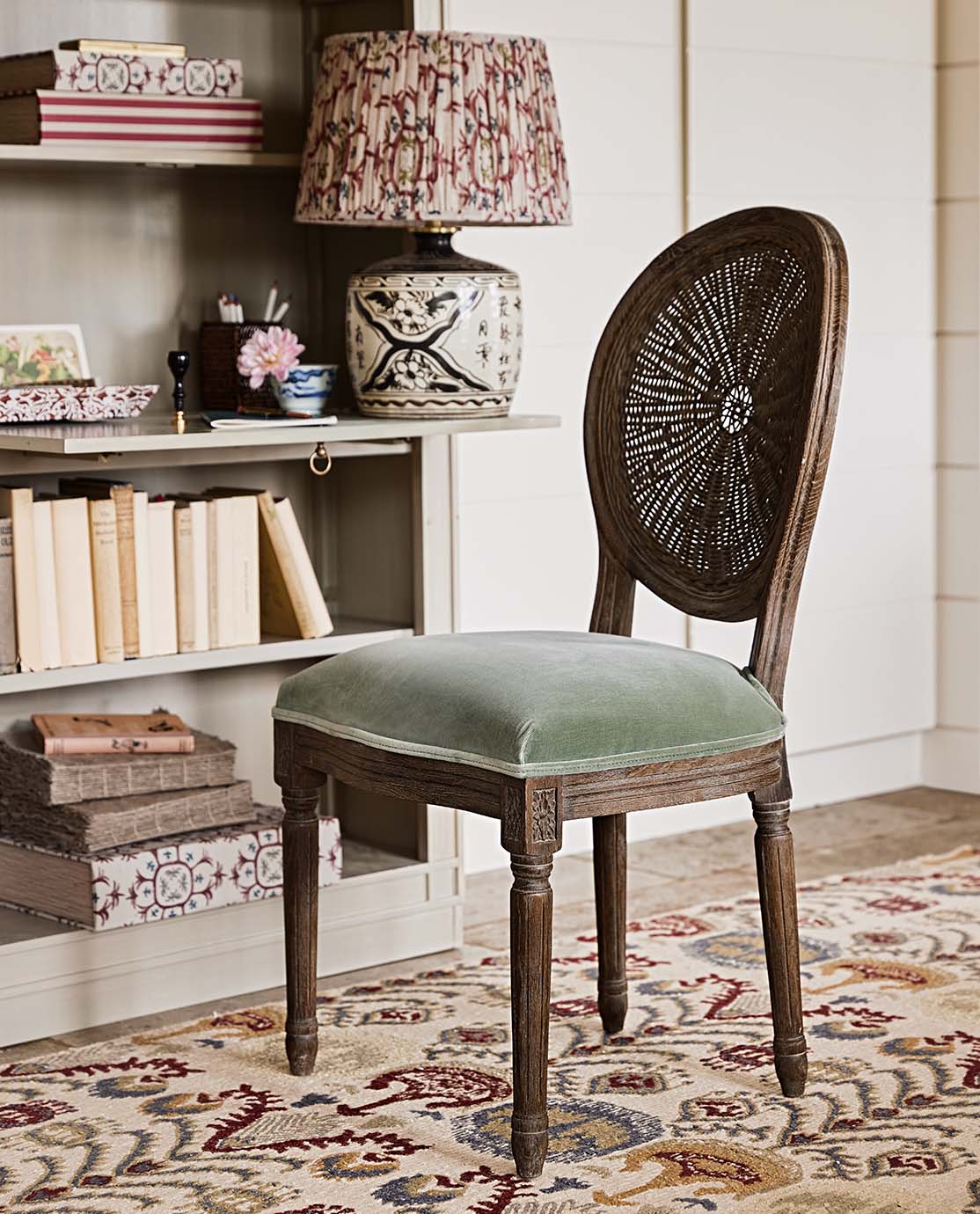 This summery aesthetic can carry you from day to night. If your Mediterranean holidays have you enjoying a coffee in a café overlooking a piazza, indulge yourself in charming crockery so that your quotidian coffee in the kitchen can lift your mood in just the same way, leaving you with that glass-half-full attitude. Let lazy lunches begin with a simple table, laid with a patterned tablecloth decked with caprese salads on pretty plates complete with the ripest tomatoes and the creamiest burrata, accompanied by jugs of ice-cold, lemon-infused water. Then, swing into the early evening with scattered tealights in decorative candle holders, perhaps a string of fairy lights adorning a beam or twirled along the table.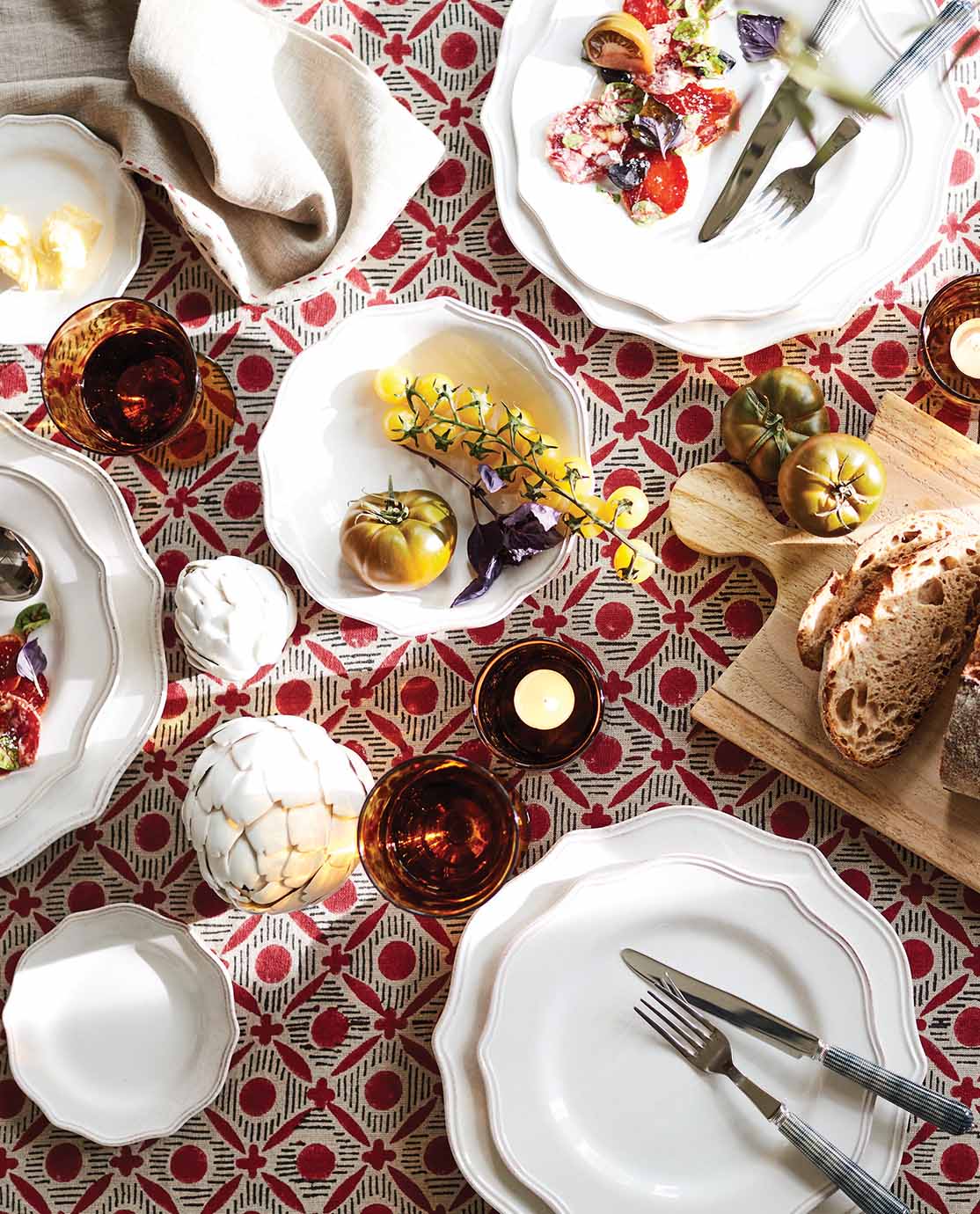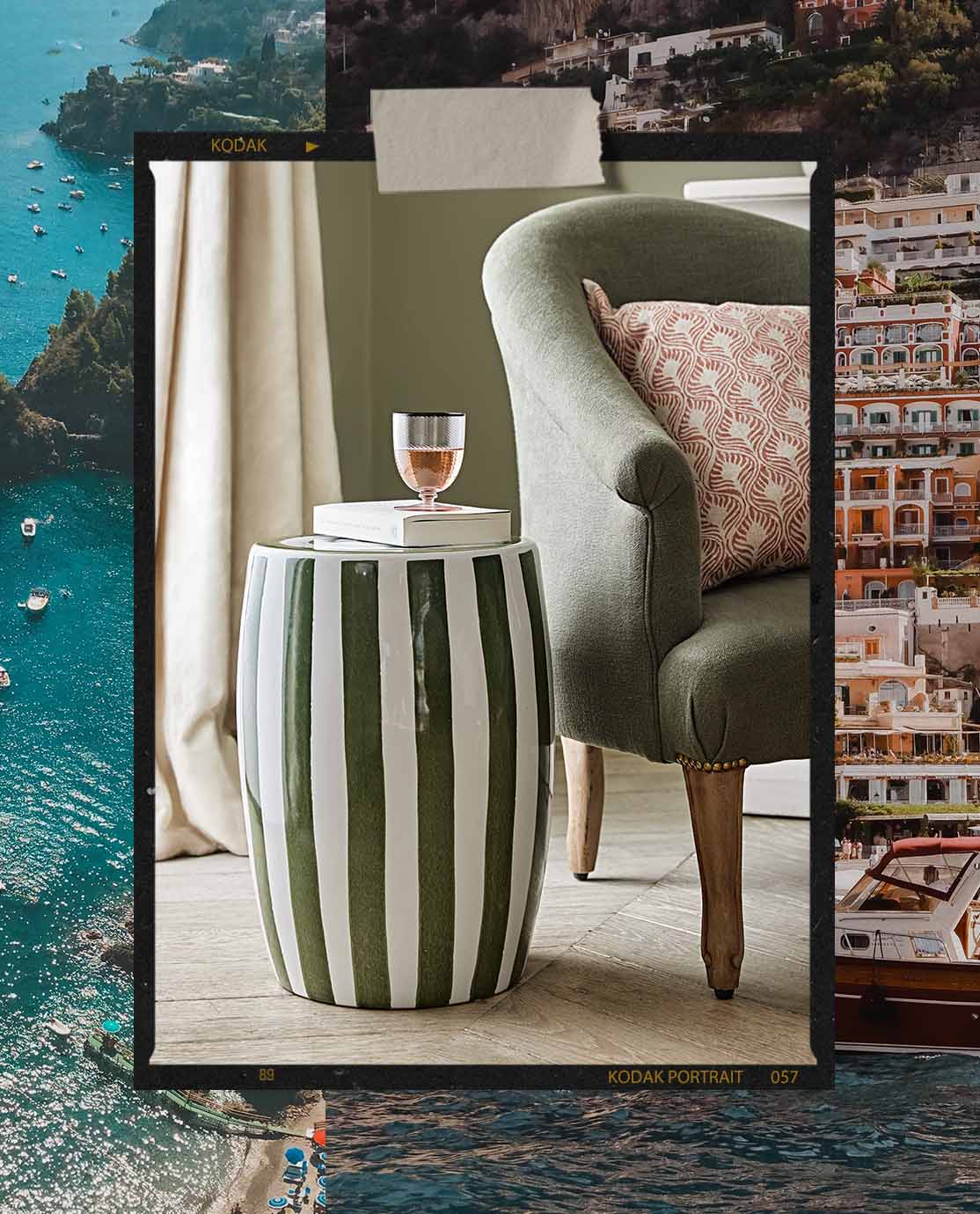 La dolce vita is as easy to achieve as its easy-going attitude dictates. With the right treatment, your sitting room can become as perfect a spot for settling in and reading that romantic novella as a lounger on the beach. Bring in some retro allure, with accents of brown mixed with 1950s appeal in the addition of a frill here and there: a tassel on a cushion, a fringe on a throw, a stripe on a stool. Patterns and plains can, and should be, mixed. Don't overthink it, sometimes unusual pairings are the real winners – just like the red and purple of a breath-taking sunset in the Med.