The chirping of birds and buzzing of bees drifting in from ajar doors, along with the filtering of light from sash windows, make lazy summer afternoons something of a fantasy to dream about through the colder months. But now that the warmer weather is peering through the clouds, we can begin to accept it as a reality and look forward, hungrily, to a hybrid indoor-outdoor lifestyle.
This charming manor house is situated in the heart of rural Hampshire, a county that's home to the filming locations of Downton Abbey and P.G. Wodehouse's Jeeves and Wooster. Hampshire has also been hailed as the future favourite county for the vineyards of a famously fizzing drink (look out Veuve Clicquot), so, of course, a house here deserved a fine eye for detail and a conscious celebration of its history and surroundings. Read on for tips on how to create the ultimate summer escape.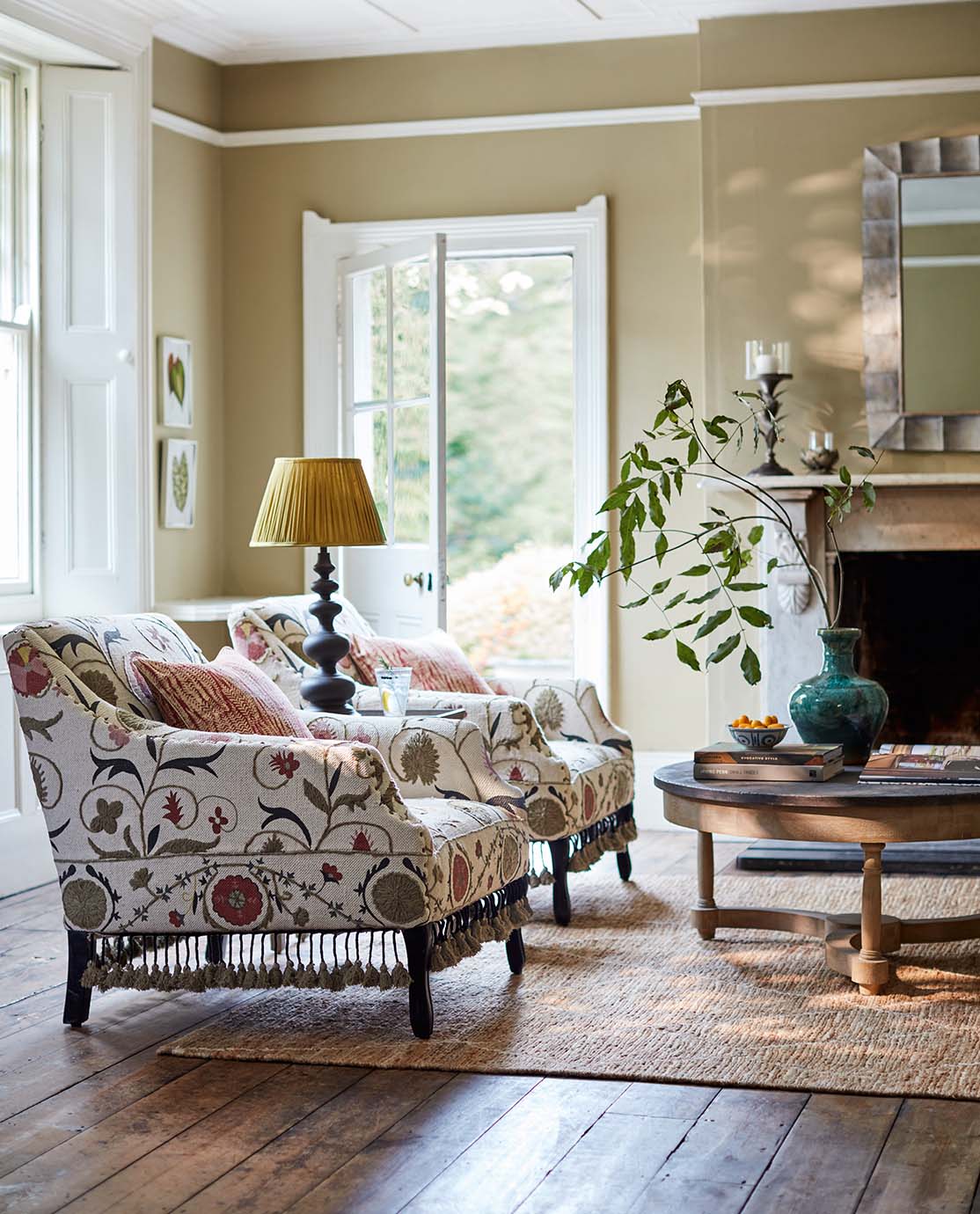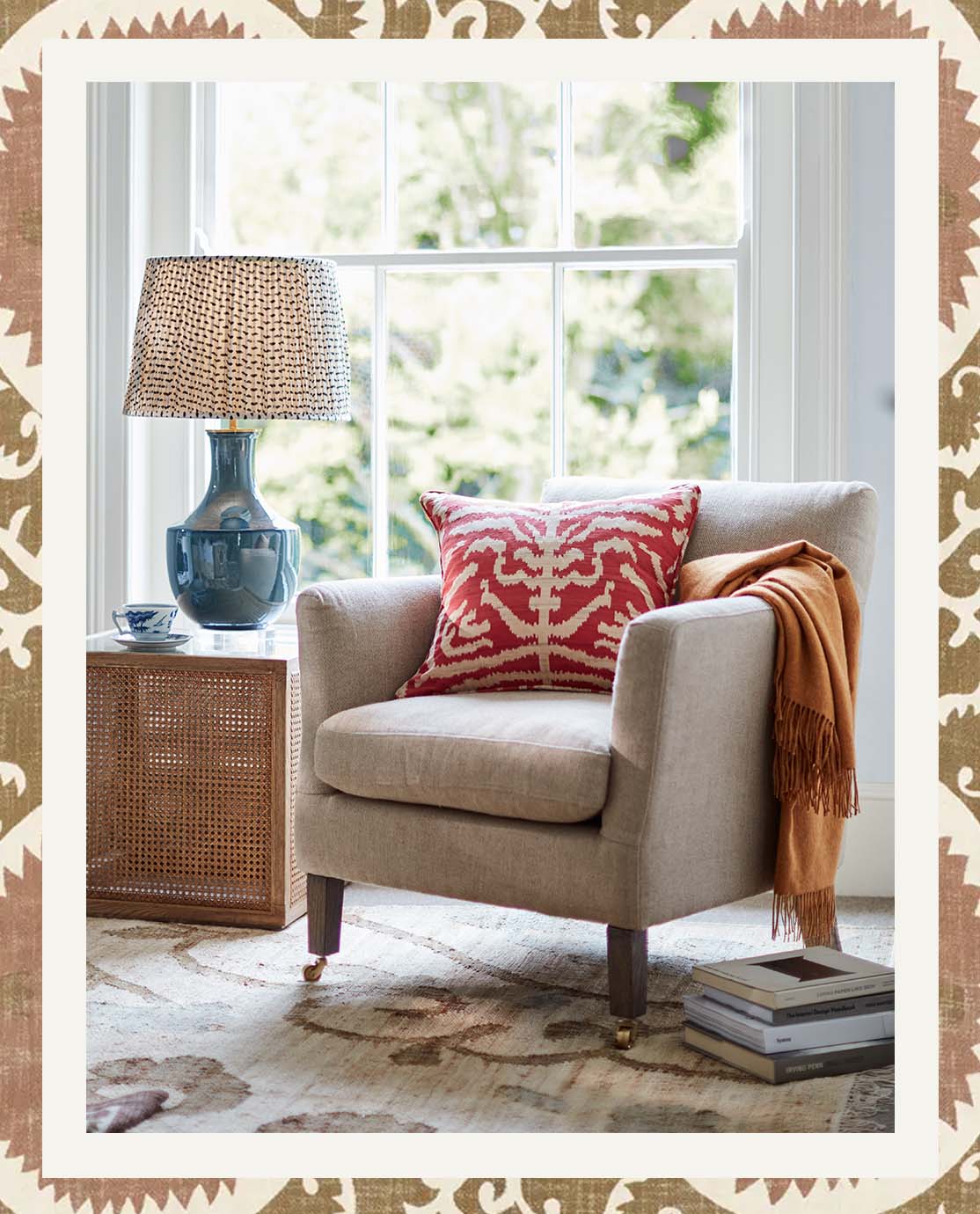 With the British weather being as unpredictable as it is, we find it's important to bring a little bit of summer indoors. From bold embroidery in muted colours to bright ceramics and charming symmetry, this country-style sitting room offers an airy space with accents inspired by nature. A patterned lampshade here and a botanical print there gladly welcome in the hints of green spotted through the windows, so that the space feels connected to its location. A jute rug over characterful wooden floorboards brings subtle warmth to the scheme while also keeping the look understated. When it comes to accessorising surfaces, look to faux stems – they're picturesque when arranged in china vases and can create wonderful centrepieces for your coffee table. Plus, they'll look as fresh as a daisy for the whole season. Soft furnishings can be neglected in the summer, but adding a soft touch is just as important in the warmer months as the winter. Cushions in punchy patterns also provide an easy seasonal update; our new silk designs were made to be mixed and matched.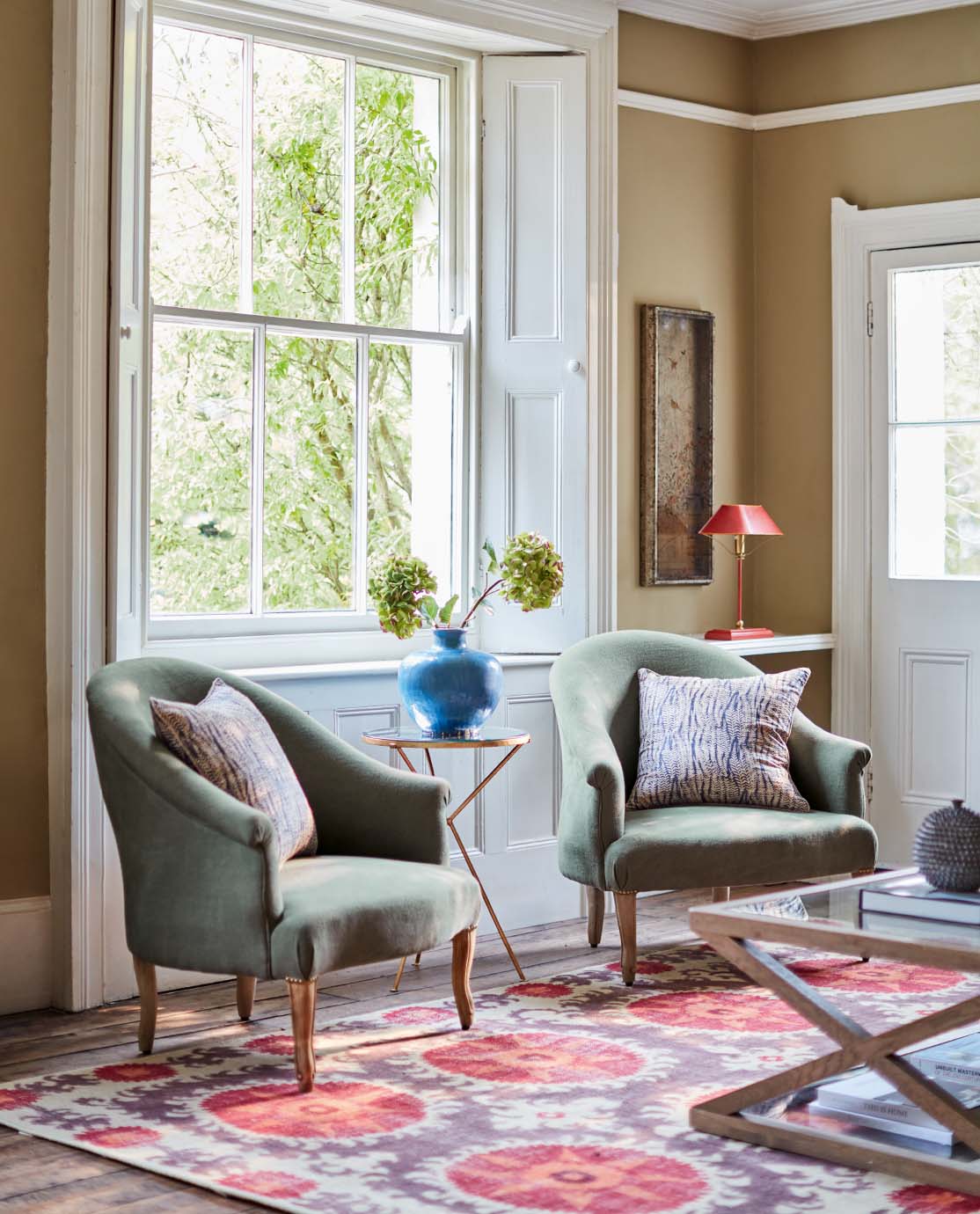 Playing with colour is one of the great joys that comes with designing a room. Combinations you may not think would work in harmony can be pulled together through differing sizes of patterns, such as the large print on our Hevsel Rug mixed with the delicacy of our Elemeri Cushions. Then bold pops of block colour, from the Sea Blue Liaodong Pot to the Paprika Grisewood Lamp, draw the eye around the room and bring balance.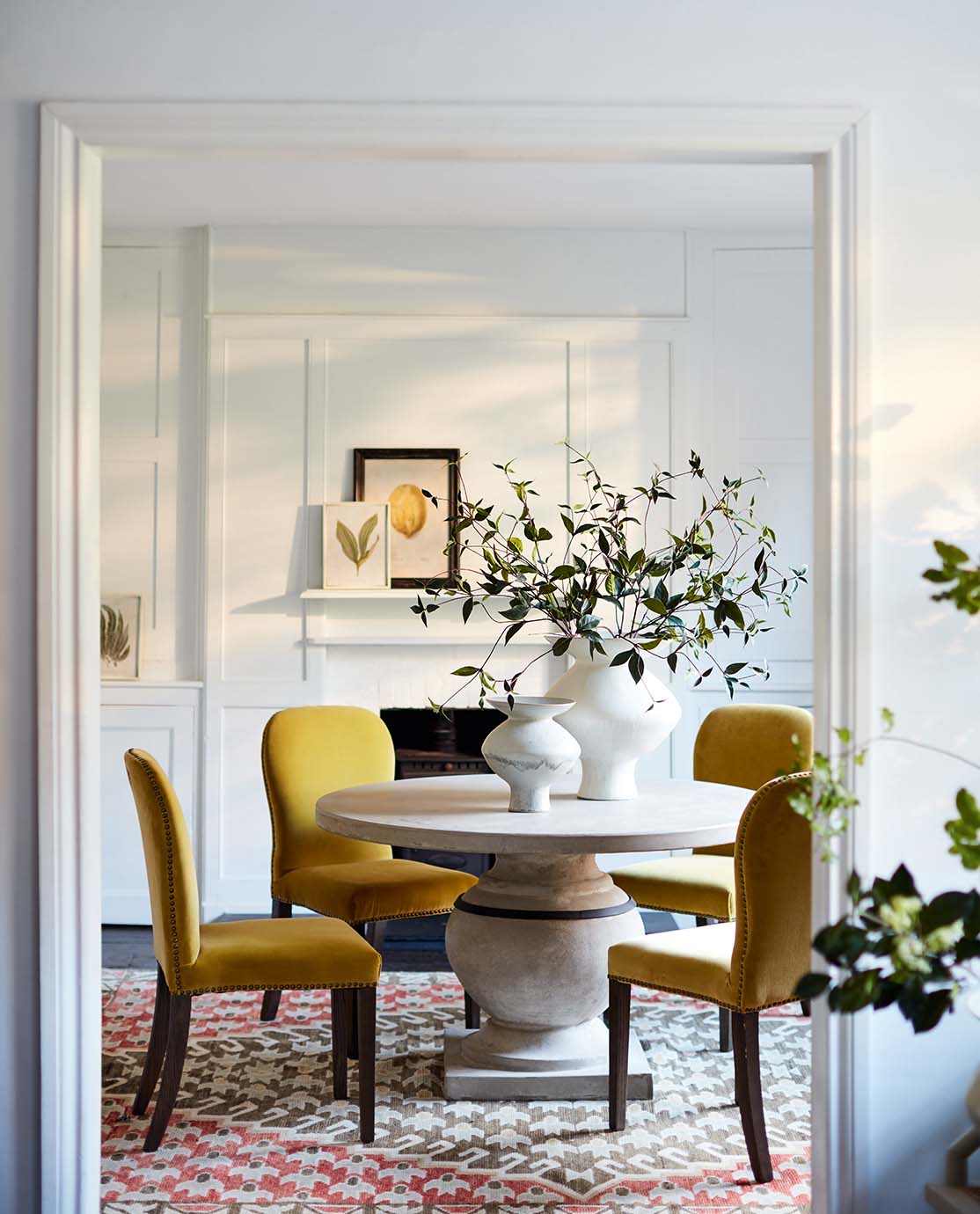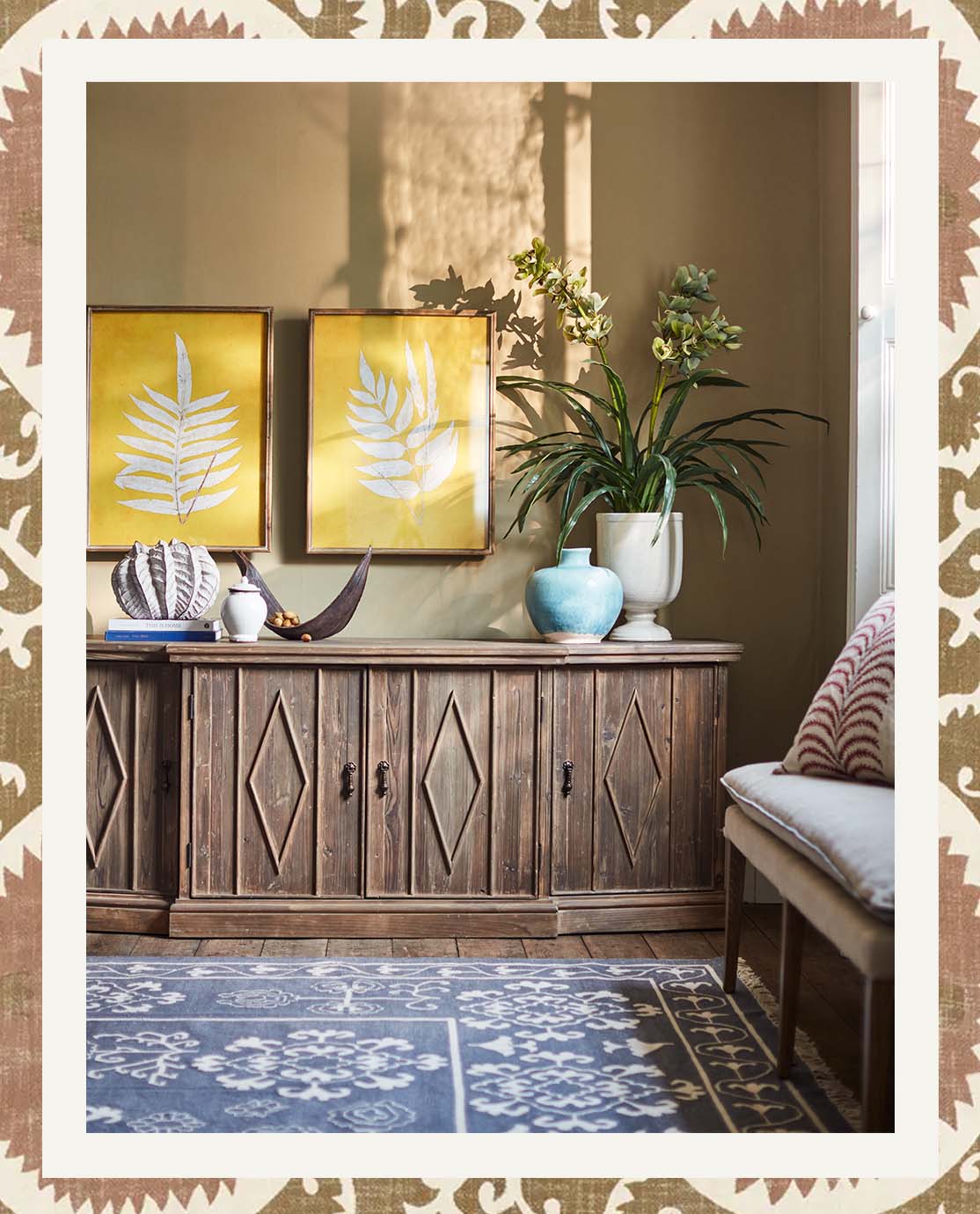 Yellow is the forever happy shade; synonymous with the sun and zingy citrus fruits, it is often overlooked when it comes to dressing our interiors, whether from fear of its vibrancy or uncertainty about how to include it. We recommend introducing it through your artwork and soft furnishings and marrying it with blue hues that perfectly complement its vitality. Yellow can be considered a modern shade in decorating, but if you would like to retain a certain rustic feel in your interiors, you can temper its verve with pieces of furniture crafted from weathered wood and carved stone features that lend classic style.
Your summer haven should bring you a dose of vitamin D, whether lounging inside or out, so colour bolding and have fun with your decorating – it needn't be a chore.