Designer, entrepreneur and author – India Hicks is a woman of many talents. But, as anyone who has scrolled through her Instagram feed can attest, there is one skill that trumps them all: entertaining. From summer soirées to afternoon teas and long lunches that stretch to dinner and beyond, Hicks is no stranger to hosting a gathering – and decorating as the occasion sees fit.
Such festivities typically take place on Harbour Island, her Bahamian home where she lives with her partner David Flint Wood and their five children, or at her manor house in the English countryside. The dreamy Georgian-style retreat is located in bucolic Oxfordshire, where references to the designer's storied British heritage – her mother is Lady Pamela Hicks, first cousin to Prince Phillip, and her father was the interior designer David Hicks – and her adopted Caribbean home can be spotted throughout.
Her garden, a sprawling expanse of hedge-bordered lawn, made the perfect setting for an autumnal tablescape, inspired by the season and steered by the designer's own expertise in entertaining. Here, she shares her pearls of hosting wisdom – from considered seating plans to autumn-inspired foliage.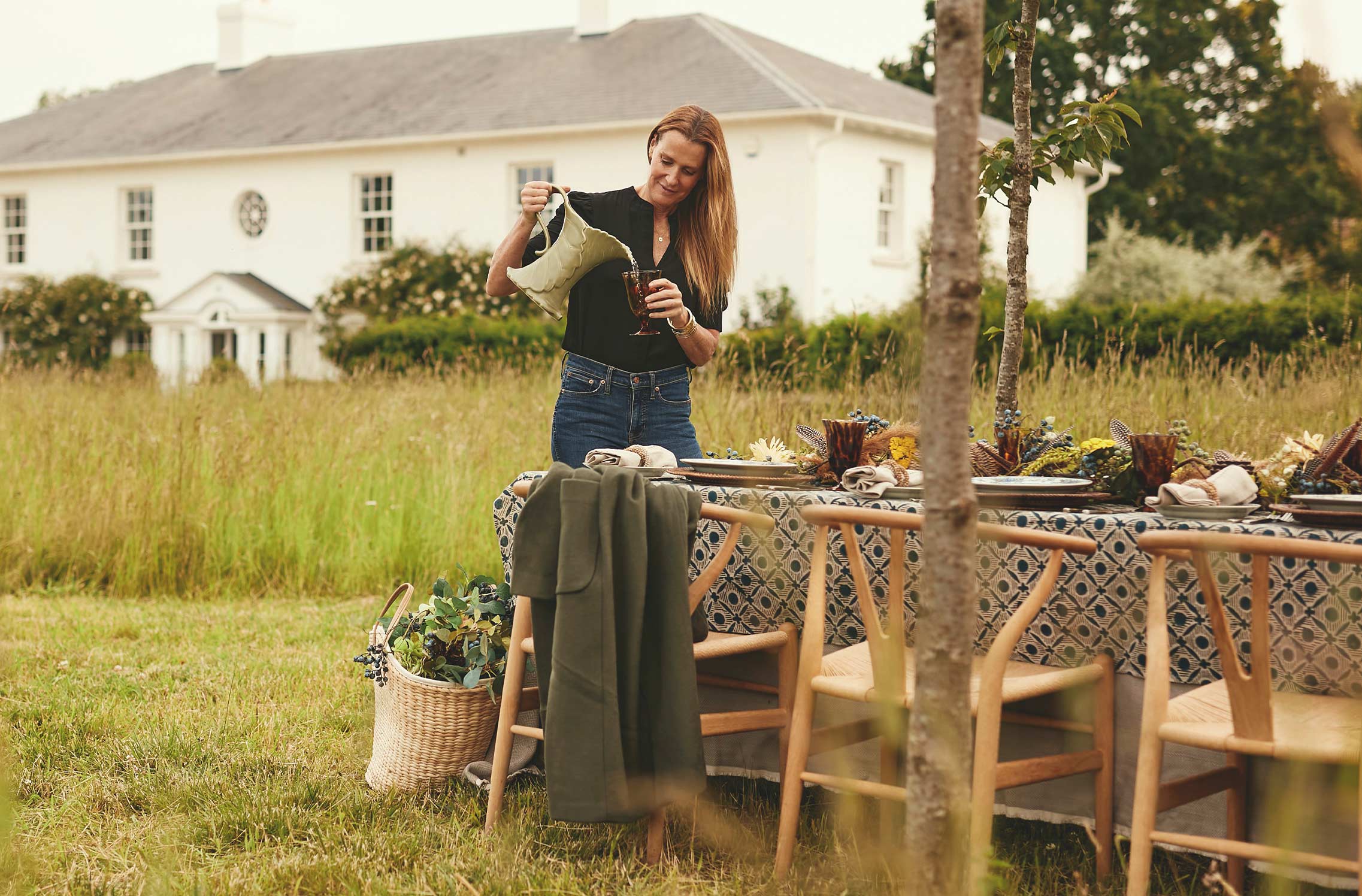 Where do you begin when thinking about a tablescape?
With the season, then the number of guests. Is it small and intimate or is it bonkers and large? Normally I'll start in the middle of the table and work my way out.
What are your best tips for bringing an autumnal feeling to the table?
Muted colours: they immediately create an atmosphere. Feathers, dried grasses… I really like mixing real flowers with faux – we're all living in a more sustainably conscious way, but I would miss having something real on the table, so it's the perfect balance.
I also like to add unexpected details; sometimes I'll mix in children's toys and people won't even notice. In my home in the Bahamas, we've got this huge wooden bowl made from an extraordinary tree trunk, filled with amazing shells and a tortoise crawling on the shells – then you look closely and realise it's just a plastic toy, but it's so realistic.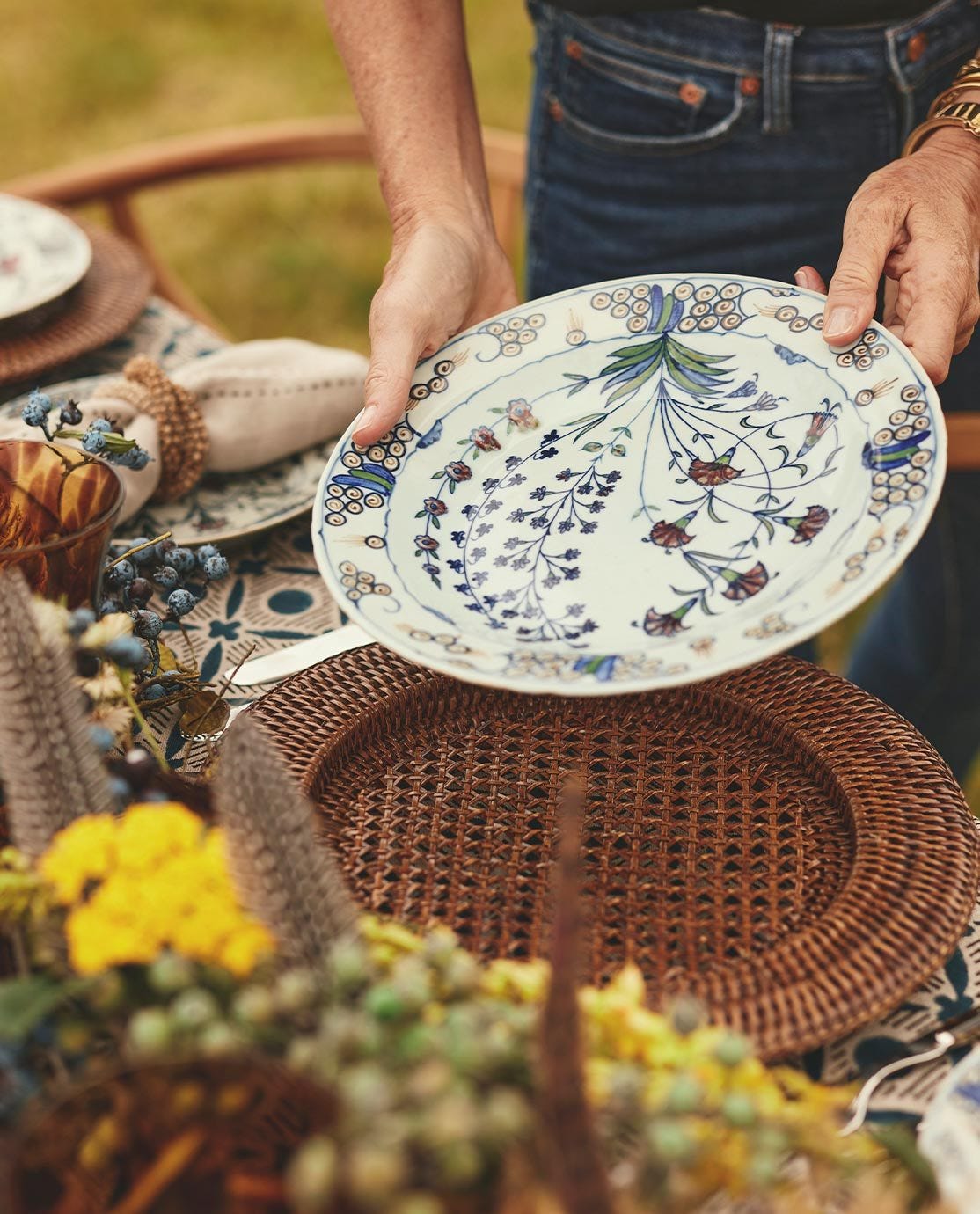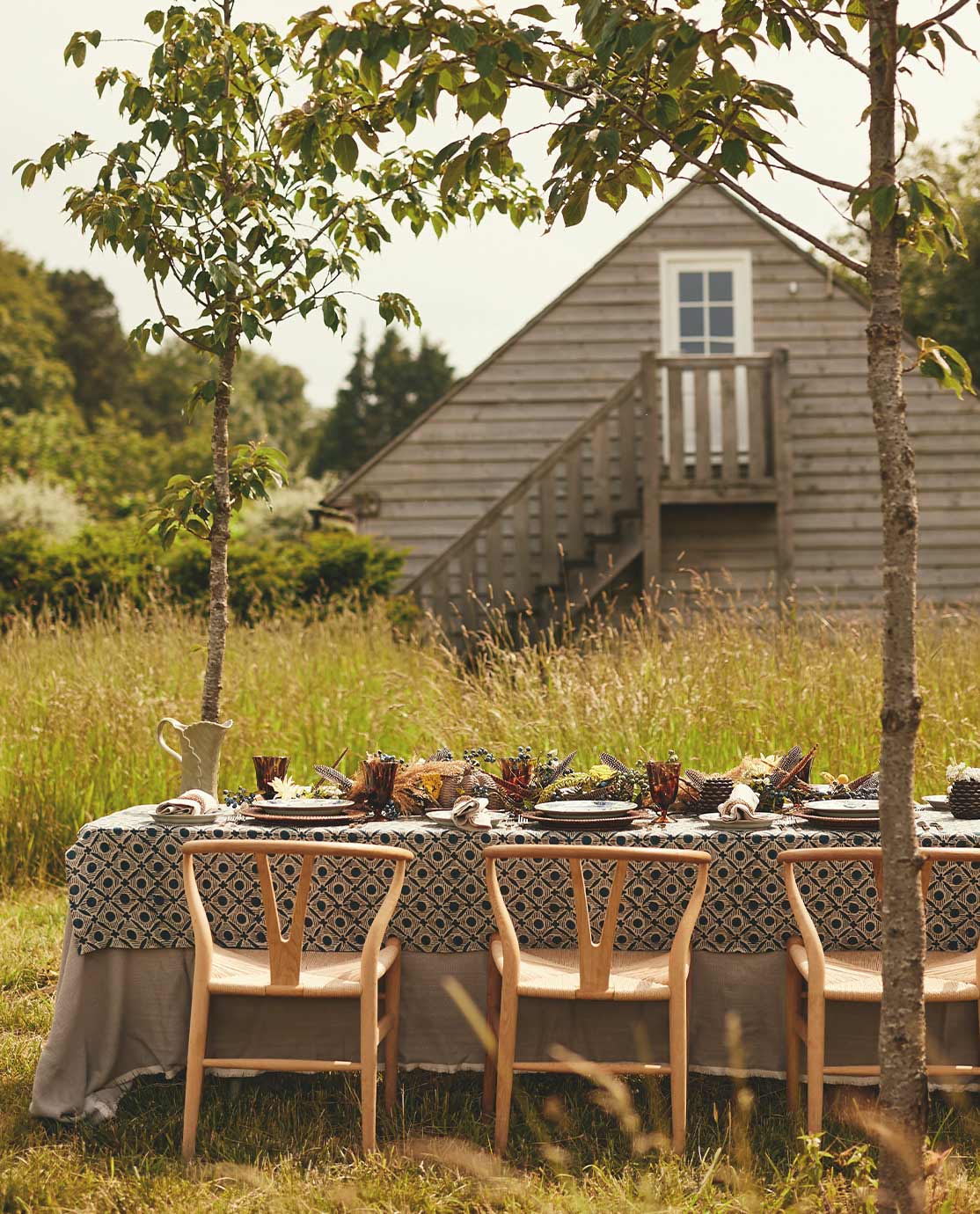 Do you have any must-haves for your table?
Napkins – I don't want my kids using their jeans! We got back into using fabric napkins during the pandemic, too; we had a big debate about what's more eco-friendly, washing fabric napkins or using paper ones. Napkin rings also make it easy for everyone to know which is theirs.
What are your tips for making guests feel welcome?
A mix of characters is interesting. I like to have unexpected guests, people who have come from different walks of life or who have had mad life experiences and can entertain us with fascinating stories. I love a seating plan – always, always have a seating plan. Even if it's just six of you, think about who is going to sit where and how the conversation will flow –especially for big dinners.
Good food matters of course, although funnily enough it's never terribly high on my list. Lighting, atmosphere, people meeting each other; they can be more important than food, although you want all the senses to have been touched. You just want people to leave with a wonderful feeling about the event. Lastly, good lighting – I'm over 50, it's essential!
How do you go about creating a good seating plan?
It's about thinking of who will get along well, but good hosts are very aware of the conversations going on around them. If you realise that people are completely stuck, get up and move them or sit in between them, don't feel that once you're sitting down you can't move things around. I love moving my table too; sometimes I'll put it outside in the field or on the driveway, or push it into the corner of the kitchen.
Entertaining doesn't have to involve a huge budget; my father had a saying that good taste and design are by no means dependent on money, and I think the same goes for entertaining. It takes so little for people to leave saying "that was really lovely".
What's your signature winter warmer?
Even in the Bahamas we have a lot of fires in the fireplace; we'll take any opportunity we can to get the logs in. It just makes everything feel so inviting.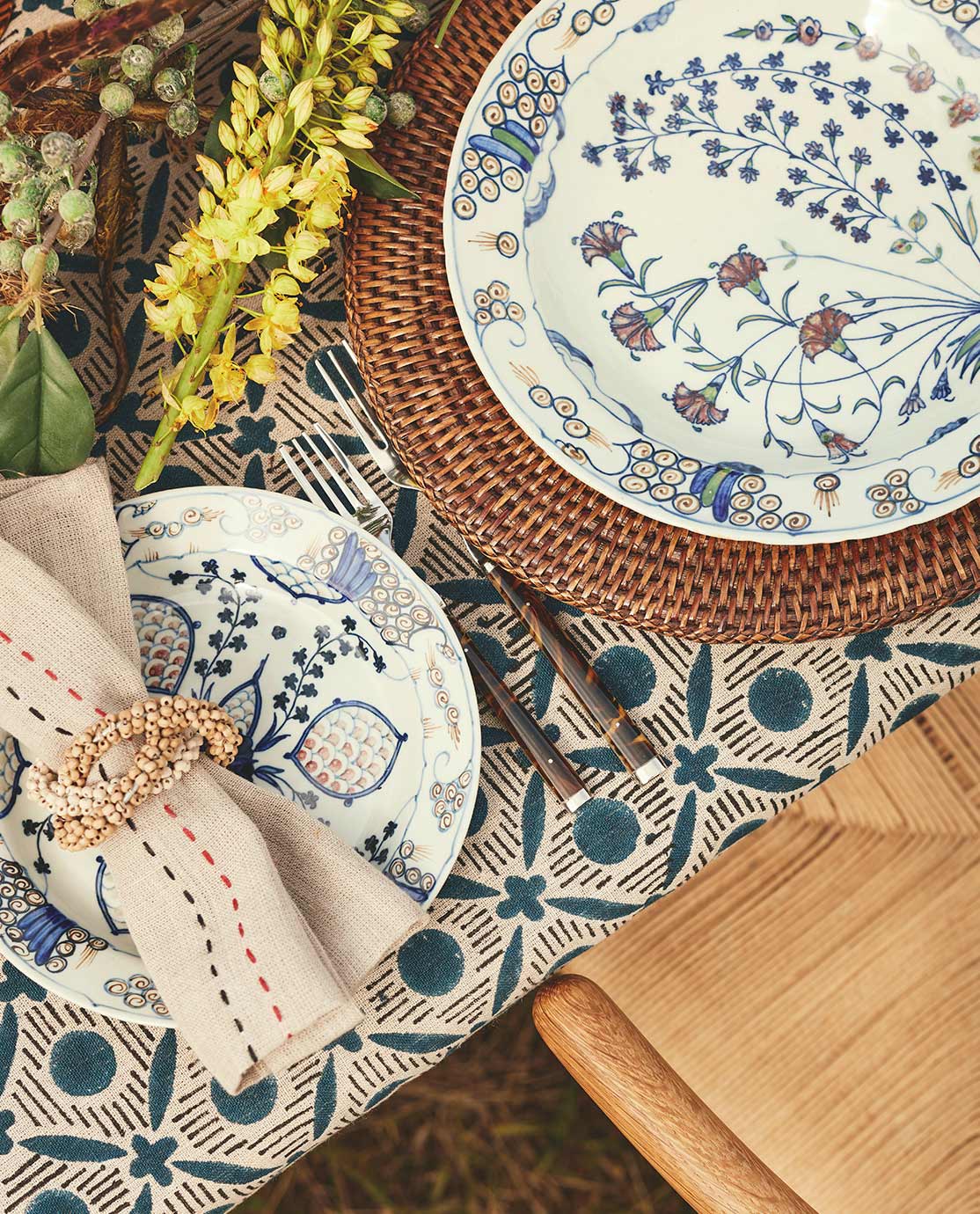 How do you make your Bahamian home feel cosy?
It's filled with a lot of children, a lot of animals, and a lot of madness – it's fairly chaotic so hopefully that makes it feel unintimidating and welcoming for anyone stopping by.
You have last-minute guests arrive, what are your go-to hosting tips?
As soon as someone has a drink in their hand, they feel more comfortable.
Any exciting projects coming up?
I'm doing a book with my mother [a former lady in waiting and second cousin to the Queen] called My Years with the Queen. She's had some extraordinary times in her own life, and I think there will be some really valuable lessons for younger generations. Those in their 90s now have such a different outlook on life. It's so wonderful to be doing this project with her and spending so much time together. The book will be a rich tapestry of stories, with a lot of wit and wisdom sewn in – my mum is pretty captivating.