You can't underestimate the power of a good night's sleep. Experts have spent their lives studying the art of catching 40 winks, and its impact on our general health and happiness. With this being the case, and knowing that you'll be spending a solid amount of time snoozing, it makes sense that you should want to seek the perfect tools to support some shut eye: a bed and mattress. Before you make your purchase, it's worth undertaking some careful research; in this bed buying guide you'll find all the crucial factors to consider.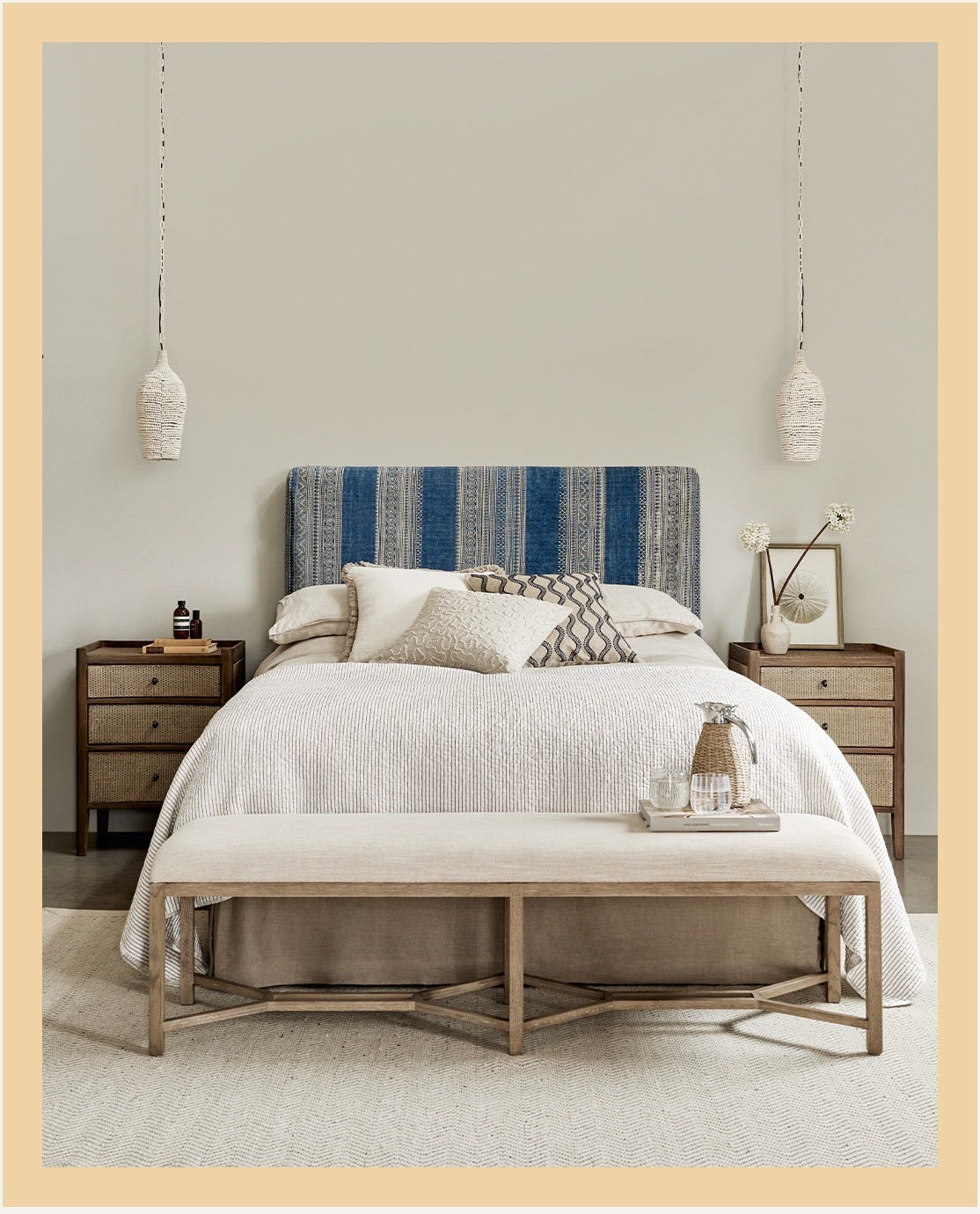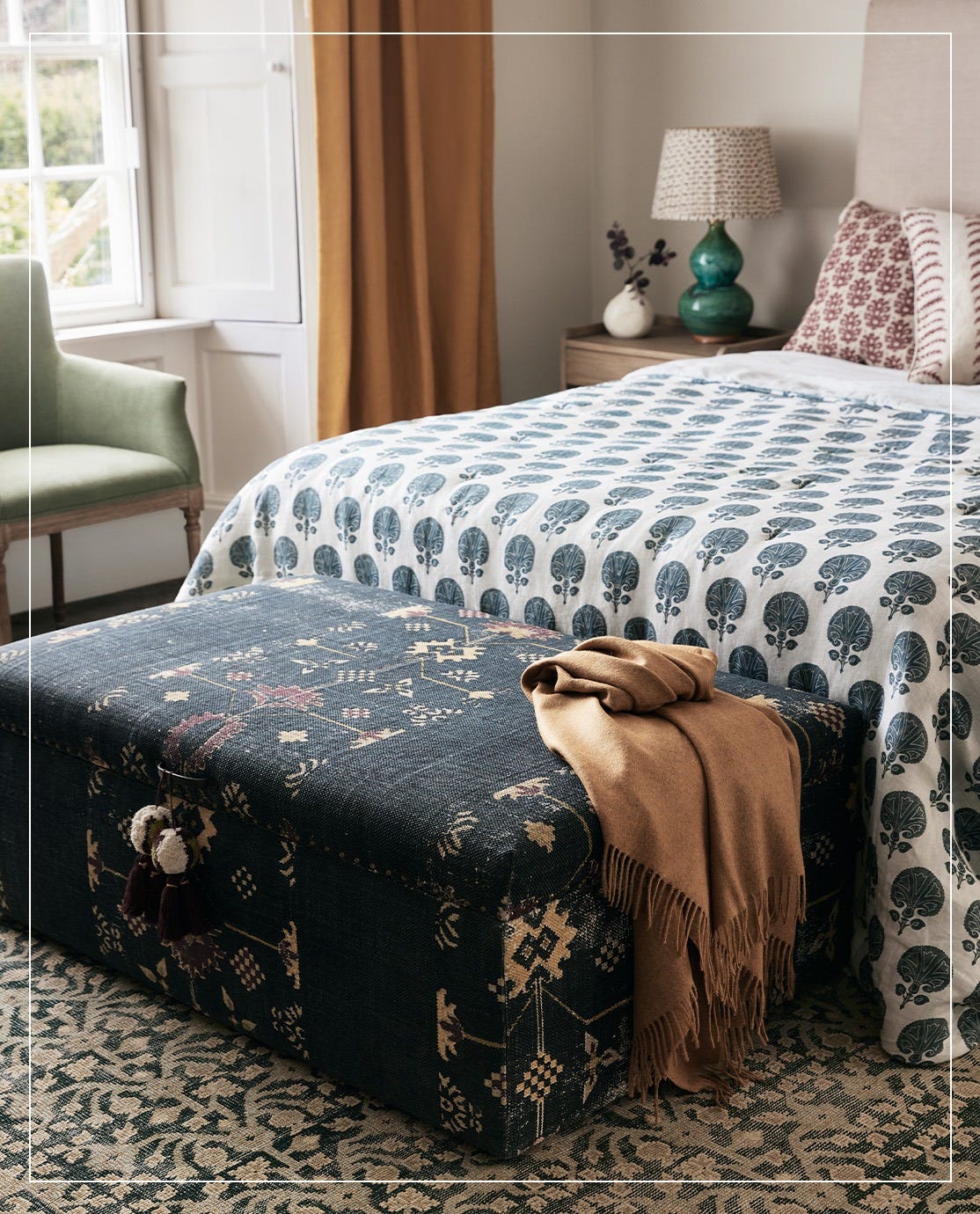 What are the Signs you Need a New Bed?
You spend a third of your life asleep, but even the very best of beds won't be up for a lifetime of snoozing. The average lifespan of a bed frame is 10 to 20 years, but this will largely depend on the quality of your chosen design. Tell-tale signs that you're in need of a refresh include a squeaky frame, sagging in the middle or, worst of all, back ache. If you're experiencing any (or all) of these, it's time to start exploring alternative options.
Where Do I Start When Buying a Bed?
There are a few considerations to make when buying a bed. You'll need to think about the size of your space, and how large a design you can reasonably fit—whether that's a full, queen, king or California king. You'll also want to factor in style; if you're looking for storage, will you require a design with drawers, for example, or a frame that has space underneath for storing possessions? Do you want your bed to be a statement feature of the space, or one that complements the rest of the furniture in the room? For your consideration, we've rounded up the different types of beds below.
Bed Frames
This style is a traditional frame that stands on four legs, with the base elevated from the ground. A benefit of this type of design is that it takes up less floor space and offers the option of adding additional storage underneath. It also comes in a wide range of designs, from metal to wood to upholstered. These types of bed can be used with any mattress type, however as the mattress sits on top of the wooden frame it needs to be sturdy and firm, which some people may find less comfortable. These styles can also often be lower than other bed bases.
Divan Beds
This multi-functional design usually comes with drawers inside the base, making it a great option if you're looking for extra storage space. These designs are usually smaller than standard bed frames as they typically match the width and height of the mattress.
Ottoman Beds
Another multi-functional design, ottoman bed bases feature a side or foot-end opening that can be lifted up to reveal a hollow space for storage. These are great for smaller bedrooms where there isn't enough space to open drawers, however the storage is not as easily accessible and may be better for items you won't need to use regularly.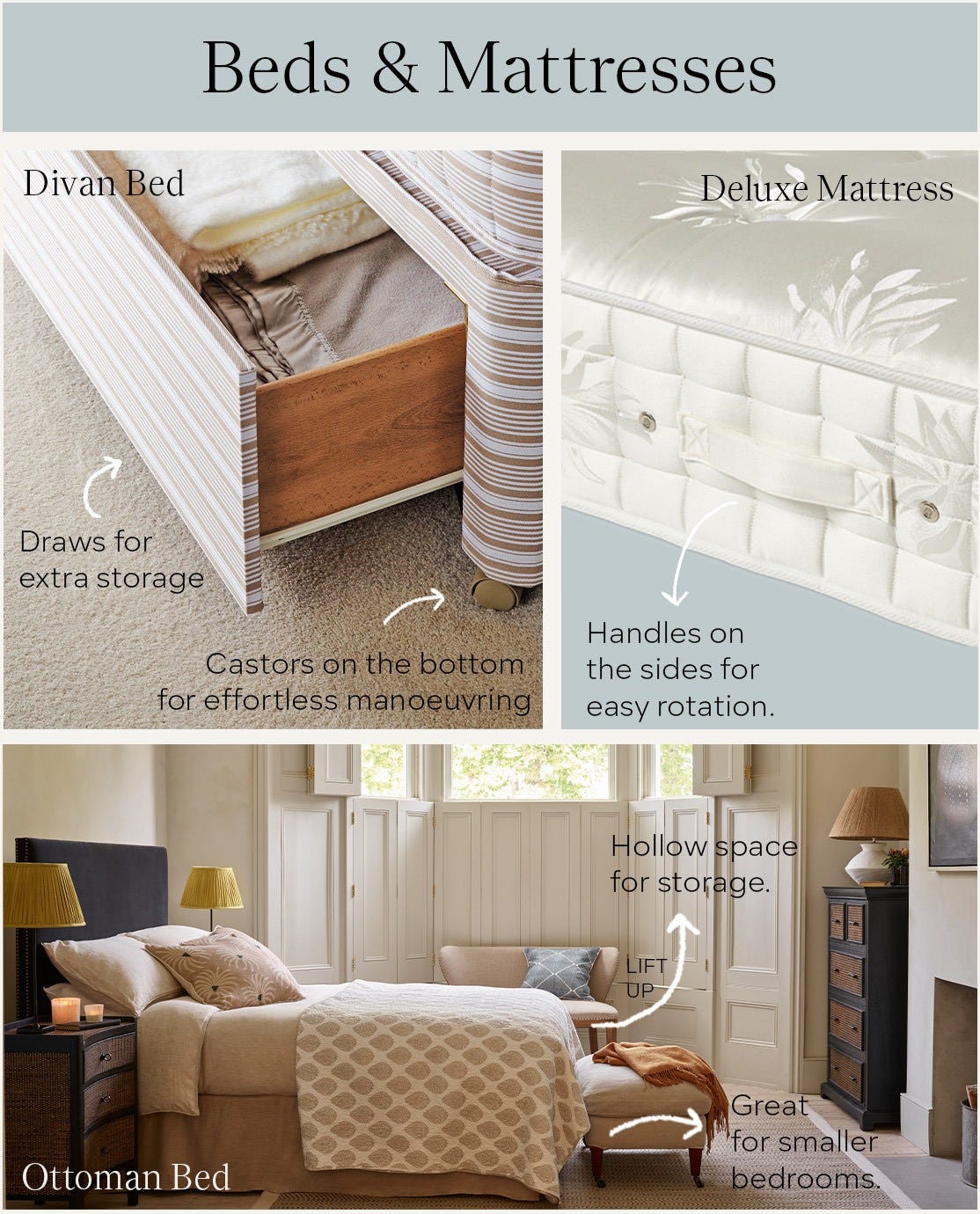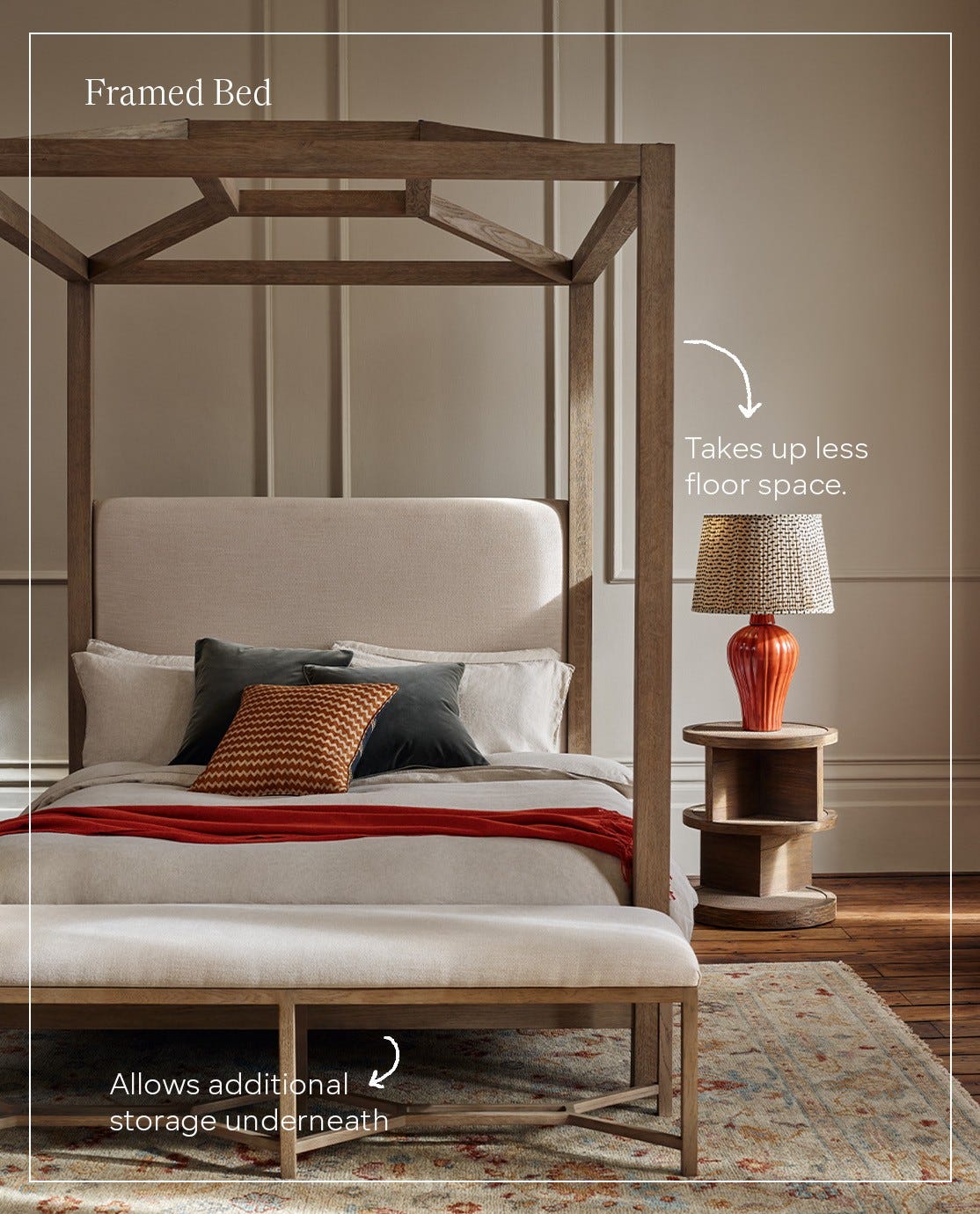 What Do I Need to Know Before Buying a Mattress?
It's not just the bed frame that will determine whether you receive a good night's sleep, but the mattress too. When considering how to choose a mattress, the first and most important thing you need to remember is that your spine needs to stay aligned when you lie down.
Which Type of Bed Mattress is Best?
There's no simple answer to this question because, as everyone is different, the mattress that will offer the right support for you will be dependent on your preferred sleeping position and your body type. Is a firm or soft mattress better for a good night's sleep? Should your mattress be foam-filled or sprung? All of these decisions are personal to you, so we've rounded up the different types of mattress below to help you refine your choice.
Memory Foam
Created from multiple layers of foam, with firmer foam at the bottom for durability and softer foam at the top for comfort, memory foam mattresses mold to your body shape, taking the weight off pressure points. They're perfect for people who like to sleep on their side or for those who experience back pain, because the foam helps alleviate stress on the shoulders and hips. They do, however, tend to trap heat, so if you struggle to sleep in warmer weather then a cotton design may be best for you.
Latex
Latex mattresses offer a similar feel to memory foam mattresses but with a firmer structure. As these mattresses are made from a natural material sourced from rubber trees, they tend to be more expensive than memory foam designs. However, they're a worthy investment as latex mattresses tend to last the longest.
Innerspring
People who sleep on their back or stomach would benefit from an innerspring mattress, which is sturdier than other designs thanks to its steel coil construction. These styles are also extremely durable.
Pocket Sprung
Pocket-sprung mattresses are highly responsive, thanks to their unique, individual-coil system; each spring is hand-sewn into its own calico pocket, before being hand-nested into a honeycomb pattern that forms the mattress as a whole. This means each spring moves independently, cradling each point of the body that comes into contact with the mattress and distributing your weight evenly.