You've picked out your dining table, but now comes the real conundrum: how to choose which dining chairs to pair with it? The desire to create an inviting space, where food and drinks can be savored with loved ones, means comfort and practicality rank high on the list of requirements. Throw children, pets and your home's design into the mix and the various considerations start to feel overwhelming. Here, in our guide to choosing the right dining chair, we explore the perks of each perch, from dining chairs to dining benches, and how to select and style them to suit your dining space.
What Size Should My Chair Be?
While your dining table and chairs don't need to match in style, they do need to be compatible when it comes to scale to ensure your setup is comfortable. The best way to achieve this is by measuring your existing dining room furniture and selecting chairs that complement it. For example, when measured from the top to the floor, most dining tables will be between 28 to 31 inches tall. We'd recommend leaving eight to 14 inches between your chair seat and the tabletop. Dining chairs usually range from 17 to 20 inches high when measured from the floor to the seat.
However, it's worth remembering that the most comfortable size will also be dependent on the height of the tabletop, the thickness of the table apron (this is the edge, or skirting, that some dining tables have, which sits directly below the tabletop) and the height of the diner. Remember, the material of your chair can also play a part—for example, upholstered dining chairs will compress, so may allow for more room once you're sitting in them.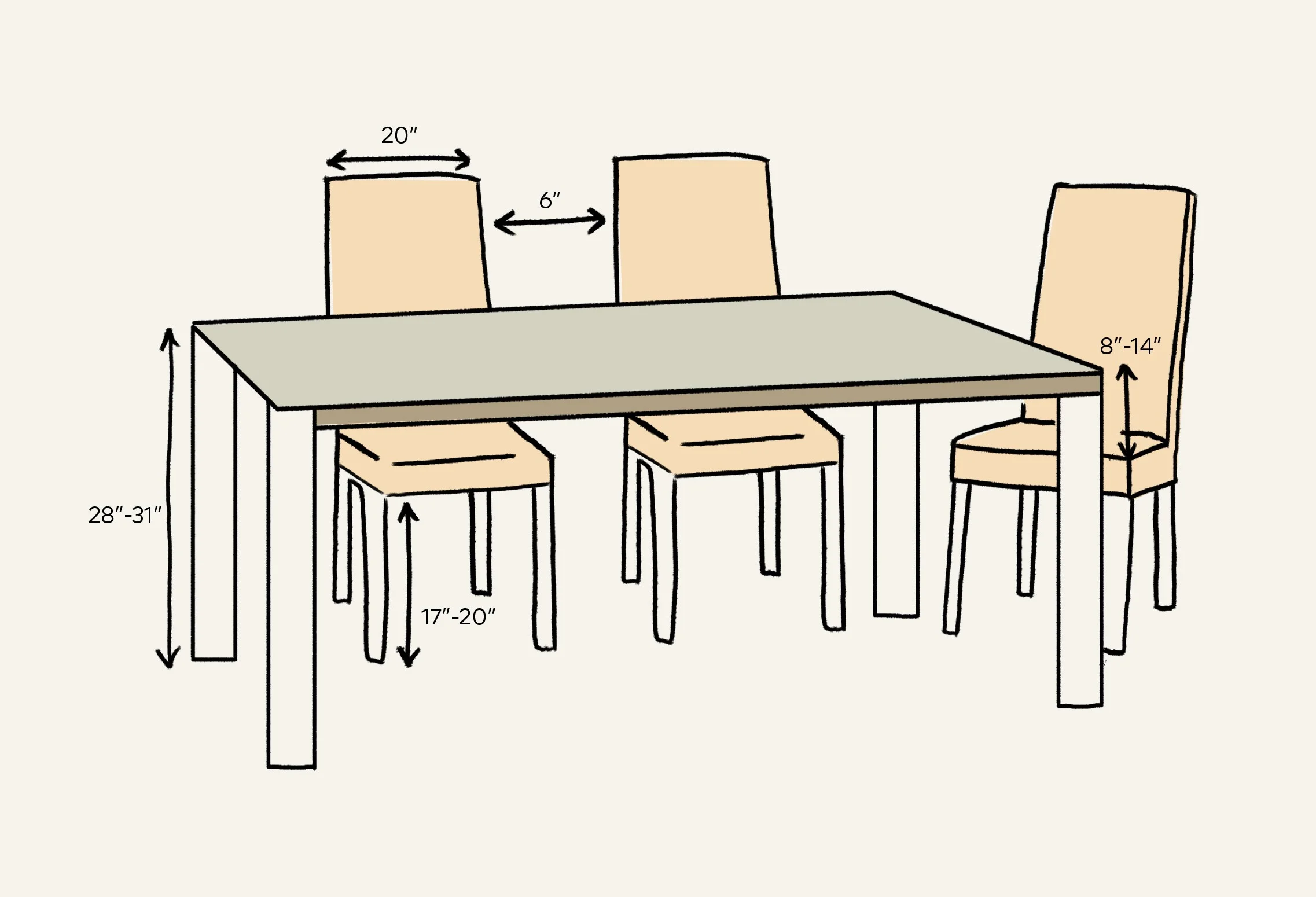 How Much Space Should You Allow for Dining Chairs?
It's not just height that you need to consider, but width too. The ideal setup will perfectly balance the space needed to sit and eat comfortably, while also supporting an easy flow of conversation. Once again, it all comes down to the size of your table and your dining space. You'll ideally need to leave at least 6 inches between each chair, and around 35 inches between the chair and any furniture or walls behind them. The chair itself, meanwhile, should be at least 20 inches wide for a comfortable fit.
Don't forget to think about the shape of the chair, too; while armless chairs boast neatness, in that they can be tucked flush against a table's edge, chairs with arms offer all-day comfort and, when not in use at mealtimes, can double as a more formal reading chair. As a general rule, chairs with arms require an additional 6 inches in each direction, so do your math—if there's limited space, opt out.
What Style of Dining Chair Should You Choose?
If you have a dedicated dining room and you want to create a formal atmosphere, high-back upholstered chairs will instantly set the tone. If you have minimal space or formality is low on your checklist, then an open-back chair allows for longer sightlines, making a small dining area look more spacious.
For an alternative silhouette, why not consider the dining bench? It doesn't have to coordinate with your existing chairs—you can choose to use it as a statement piece. An informal and practical solution for large gatherings, a backless style can be tucked away neatly—wise for a dining table that is positioned against a wall and only occasionally pulled out. A dining bench isn't restricted to use during mealtimes, either; it can be employed elsewhere in the home, making a handy perch in a hallway, or flanking the end of a full bed.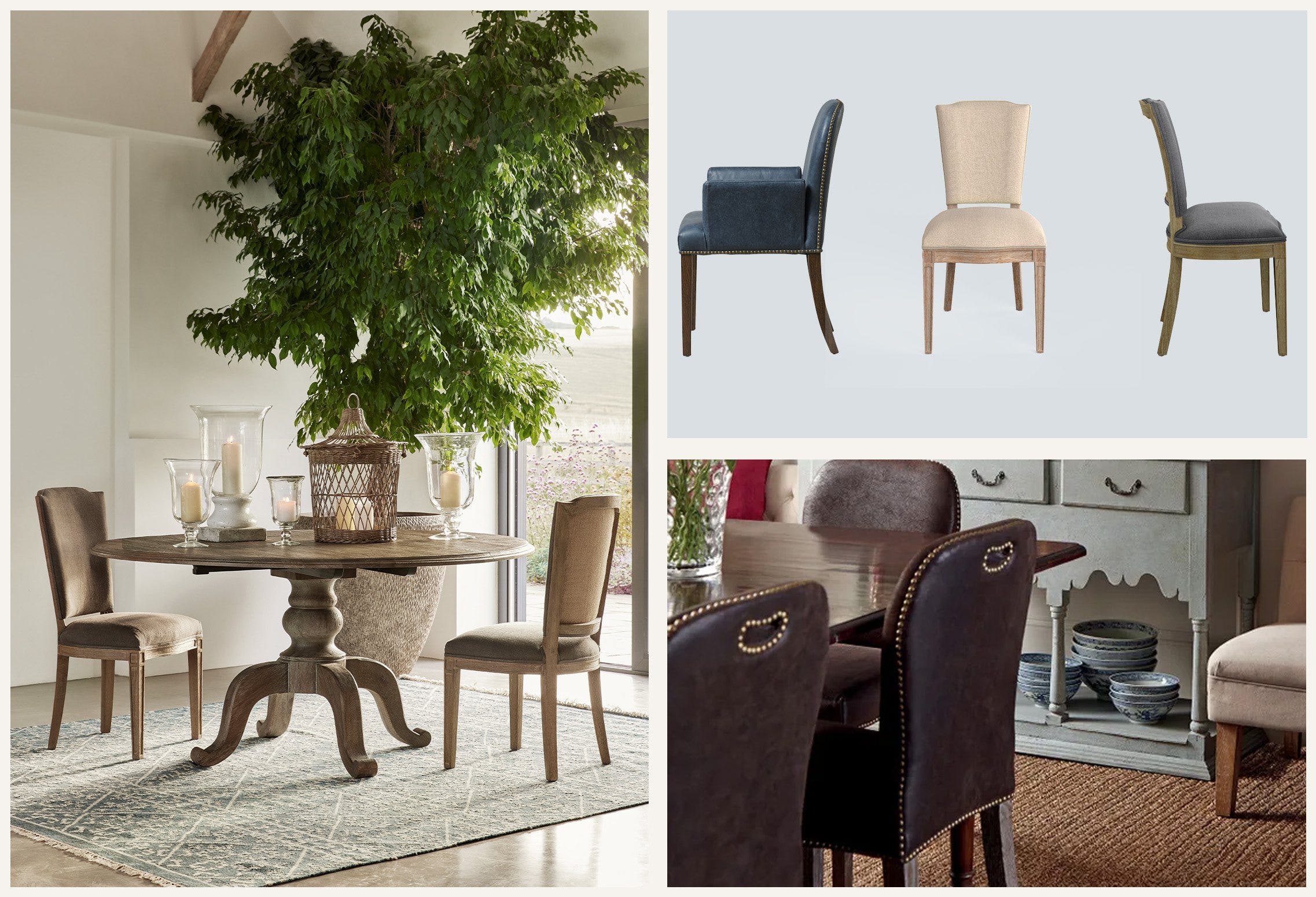 Which Materials are Best for a Dining Chair?
Wooden dining chairs are highly coveted and have a chameleon-like appeal—meaning they fit in just about anywhere, and can often double as desk chairs too. While wood and wood finishes are easy to clean, remember that they can change color over time and, as spills can stain the grain, they need to be dealt with immediately. Woven cane and rattan finishes can lend a warmer, more artisanal feel, while metal's reflective sheen implies a level of lightness. Think about your surrounding interiors and the feeling you want to evoke.
If you have small children or four-legged friends running around, the last thing you want is to be precious about a seating situation. In this case, a kitchen table setup with non-upholstered chairs is a wise choice. But remember that leather can also be forgiving—it doesn't harbor fluff or fur, can be wiped down and acquires character as it ages. Velvet is unapologetically opulent and more fragile, and best suited to a grown-up setting where dining (rather than arts and crafts) is on the menu. Linen boasts a tactile neutrality—one that offsets a dark-wood table beautifully—but unless the seat covers are removable, you may want to employ chairs with this upholstery exclusively in a dedicated dining room.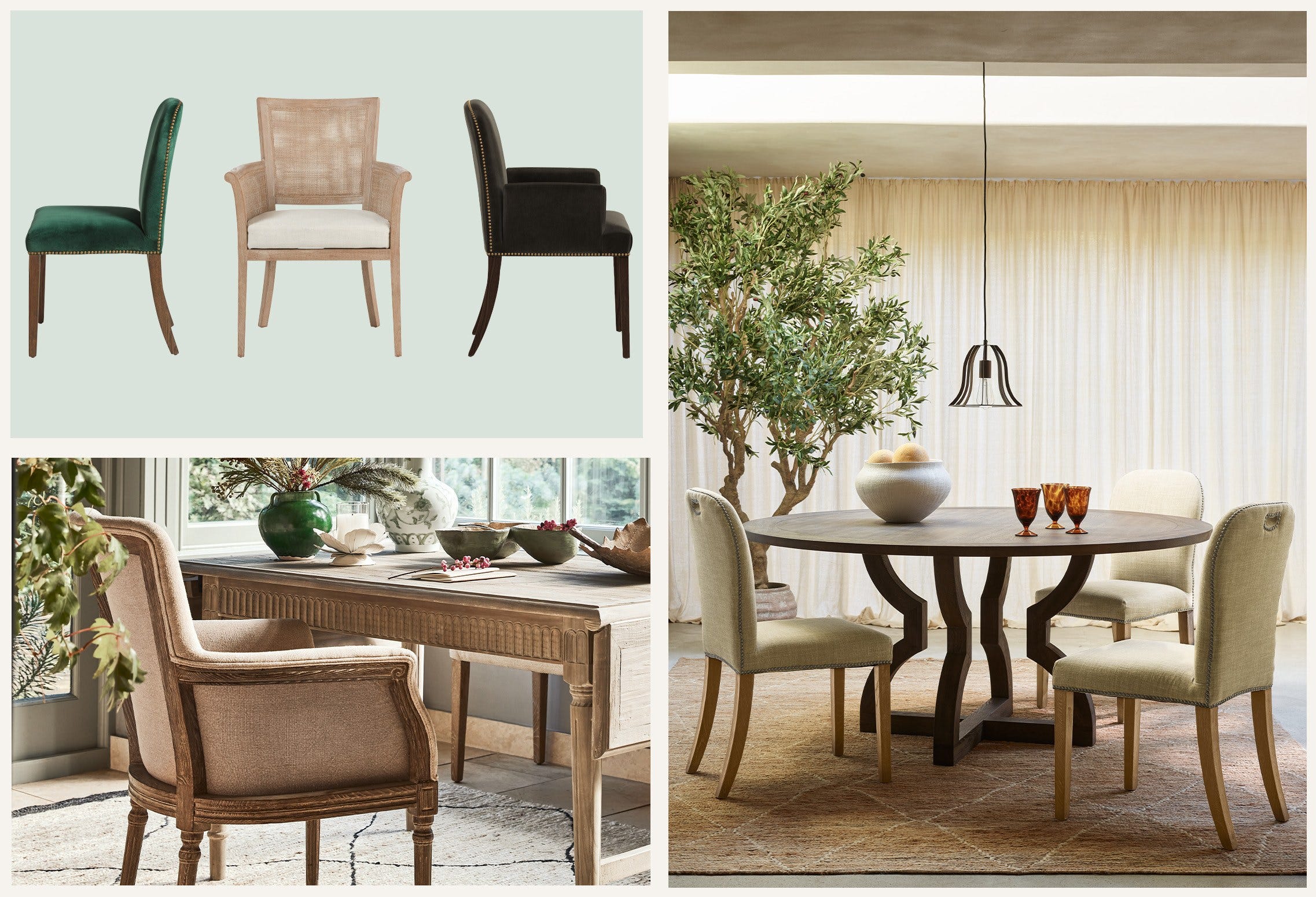 Should Your Dining Chairs Match Your Dining Table?
In short, no—nor do they even need to match each other. If you can't decide between velvet-upholstered and plain wood designs, you could have both; position the covered chairs at the head of the table, and line the longer sides with simpler chairs for a semi-formal set-up. Alternatively, you could opt for an eclectic mix of chairs featuring entirely different designs. To make the space feel cohesive, just make sure your chairs and dining table have a shared feature—be it color, shape, leg style or material. The result will feel unique and contemporary.