Everybody knows that the holidays need a bit of sparkle here and a bit of twinkle there to make them truly magical. But don't overlook the value of floral arrangements to add a special festive touch to your home, too. One of our in-store Assistant Managers and resident floral experts, Emma Hutchinson, puts it like this: "Imagine you've got your baubles, but no Christmas tree. It doesn't work, you need that foliage to make it work. A bit of height, a bit of interest, some greenery, some flowers, mixed in with baubles, lights, candles… now that looks stunning. That's a showstopper."
Hutchinson spoke to us about how a floral display can transform a room during the holidays and can really wow your guests. She discussed her tips and tricks to try in your own home, stating that the main thing, of course, is "to have fun with it," and also touched on how she and the Bunched by OKA team can help in-store.
Where to Begin…
For Hutchinson, the practical starting point is your table—you don't want to be moving your centerpiece out the way when it comes to sitting down or going about day-to-day life over the festive season— and from garlands to bouquets and beyond, there's something for every type of surface. If it's the dining table you're decorating, you want to keep it low, as "you want to be able to speak to guests on the other side." This will most likely be where you'll spend a lot of time over the holidays entertaining and having fun, so don't miss the opportunity to add your own decorative touch to finish it off. "If you have a long table, try a garland or long spray; if you have a round table, make your centerpiece round too," says Hutchinson, perhaps a wreath wrapped around a candle. Beyond the dining table you may have consoles and coffee tables to garnish with large arrangements in big vases. If located in the entryway, why not make a real statement so that when guests walk through the door and dust off their shoes, they're greeted with a magnificent display? Hutchinson also says that "short sprays are great for the center of small fireplaces and small dining tables, while garlands look great festooning the bannisters of staircases."
Building Your Own
If you're taking on the hugely rewarding task of creating your own floral centerpieces, all you need are some faux stems and some twine to wrap around them, or if you want it to be more structural, use chicken wire. Hutchinson urges you not to overthink it. "I find that people get nervous starting. Don't. Have fun, relax, and never be afraid to start again. Sometimes I take things apart two or three times before I think, that's it. I like that."
"It doesn't matter what you're making, always start with your foliage. Then decide if you want to include flowers and berries." Next, layer greenery, berry, flower, greenery, berry, flower, over and over for a curated arrangement. Three seems to be the magic number all around; that's true for colors, styles and flowers.
Pairing Florals
In terms of types of flora and foliage that are particularly fitting in the festive period, Hutchinson says that she likes to use ivy, "because you get a nice trail on it for a mantel or fireplace. Or our burgundy eucalyptus—that's very effective because you've then got a stronger color in it so it's quite wintry." It's good to pick your main flower, say a big rose like our Winchester Rose and then choose some smaller roses so that there is a variety of sizes that are part of the same family.
Line up your stems to see what you think, do they work together? It's very personal, though there are a few tips on what not to do. "If you've got an orchid, I wouldn't put that with a twig. They wouldn't go together because they're so unique. Orchids sit quite happily by themselves, or with other orchids." A pairing that Hutchinson thinks does work well are pussy willow twigs, and the more feathery pussy willow branches with the soft white catkins, because they're the same variety, but offer different textures.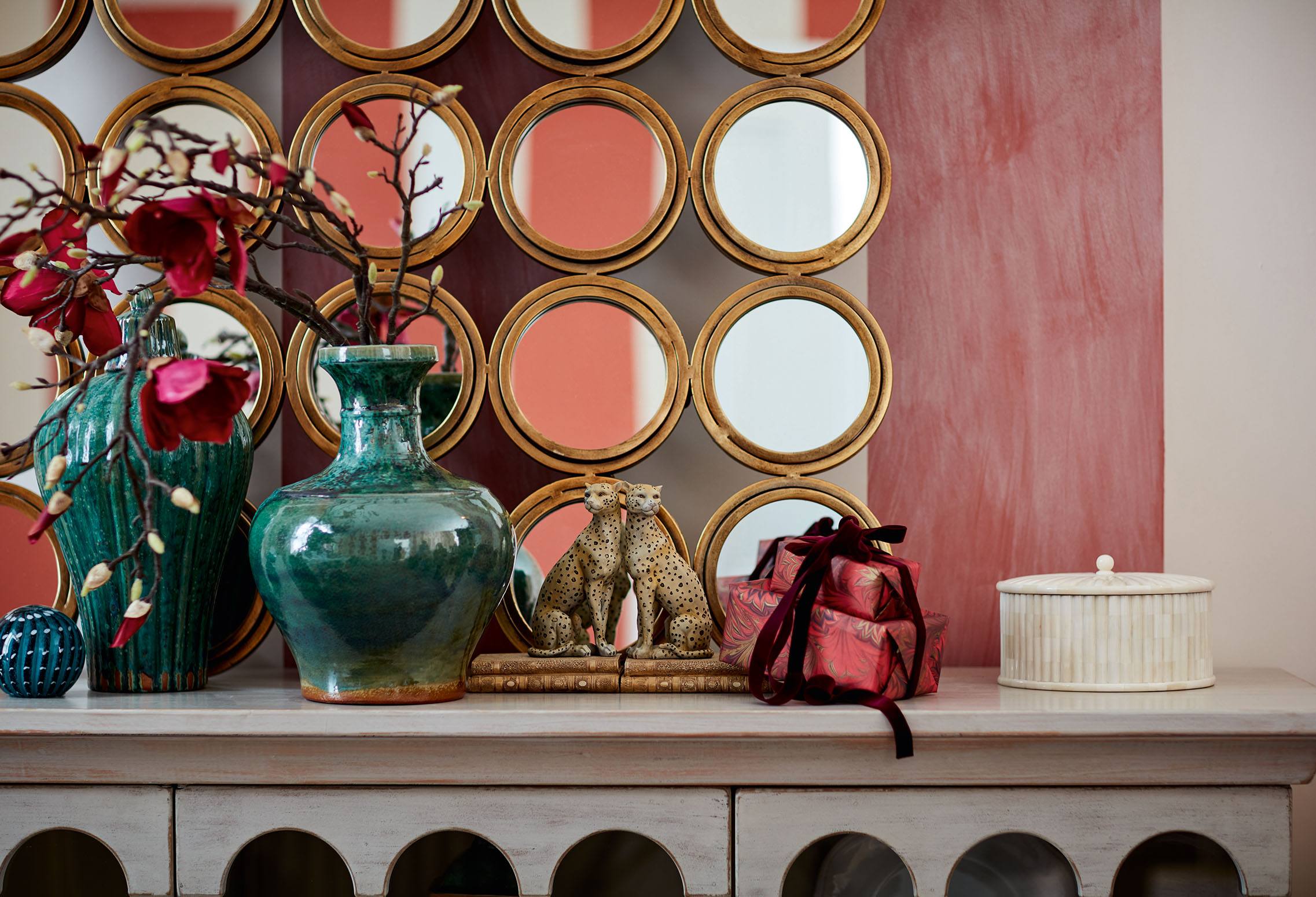 Color it Beautiful
Just as you can't have an odd one out with style, you can't have an odd one out with color. It goes back to the rule of three, "I would predominantly stick to the same color tones; it's a bit like when you style pillows." With pillows, you would think about color and texture, and with stems it's much the same—though you may think of it as color and shape.
When it comes to color schemes, there's always the traditional red, green and gold of the holidays, which is fairly easy to achieve through your floral displays. But, if you want to go for something a little more unusual, Hutchinson suggests that pale colors are a nice option. "We have a tea rose in a pale pink that looks lovely," she says. "People worry about what's in season, but the truth is these days you can get anything at any time of year. Pale colors are great because you can use them again and again." When you take your centerpiece apart, you can place the flowers in a vase, and the color is easy to use all year round.
"Your greenery is always your base, so get a base that you love, then you just need to swap the heads if you want to make it more festive or springlike." Some people like to stick to neutrals; whether that be green and white, or purely greens, "but if you love your color, you could have your greenery, then add the Amaryllis in a deep burgundy, with longer berries in-between and perhaps a Lily of Incas or the Ranunculus. There are so many options, but those three colors would work together very tonally."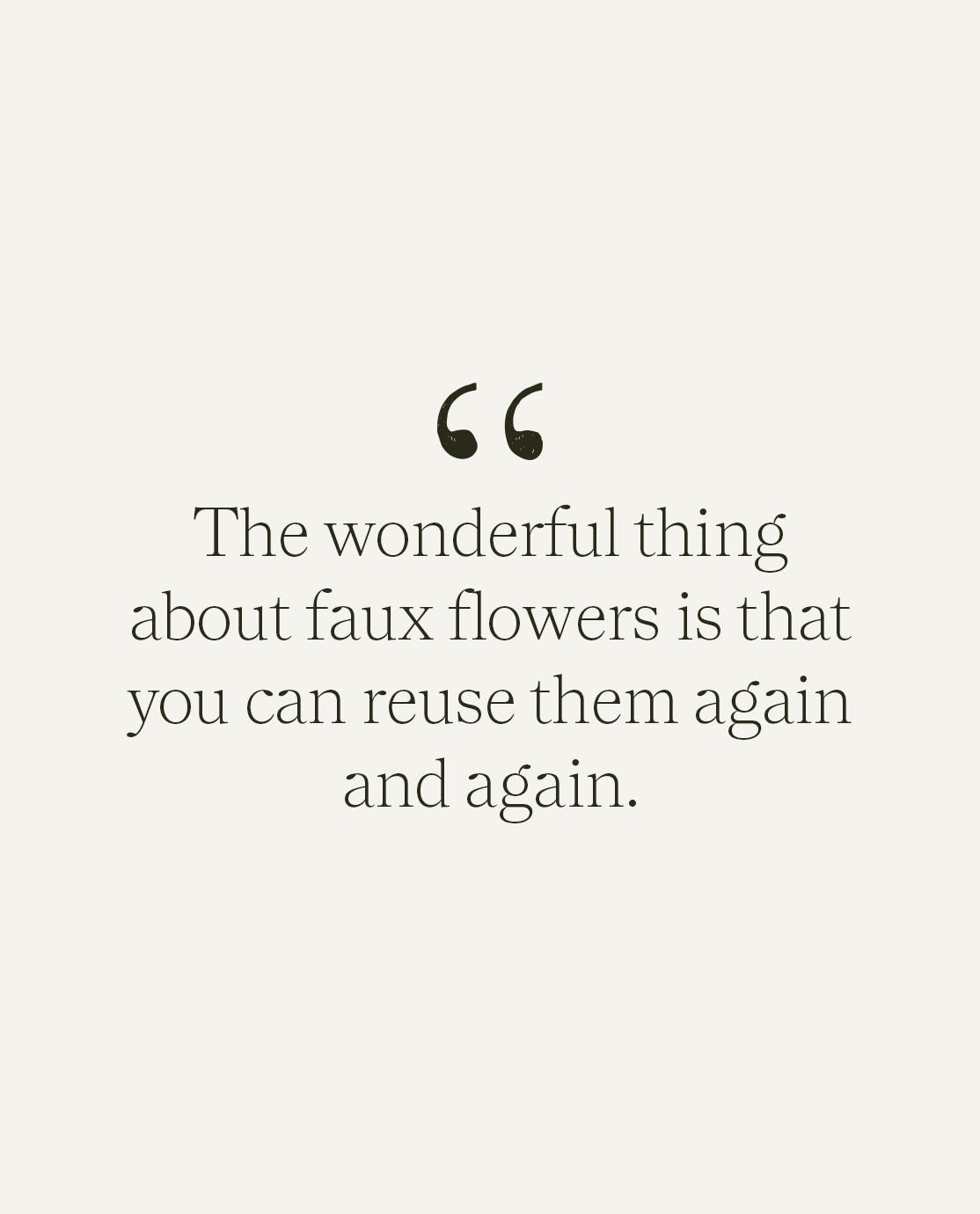 Festively Faux? Or Magically Real?
The wonderful thing about faux flowers is that you can reuse them again and again. "You can upset real flowers, but you can't upset faux flowers. So, if it goes wrong, it's very easy to start again," says Hutchinson. This takes the pressure off and makes the whole experience a little more fun. We suggest bending stems rather than cutting them so that you can use them again at different lengths for other arrangements. However, sometimes it's necessary to cut them, for instance if you want to make a pretty, rustic arrangement of stems in short jam jars or pots.
Don't be afraid to mix real and faux, as Emma has a great suggestion for making the whole of your arrangement appear real. She makes a garland of faux ivy and berries, then "I get little terracotta pots and put real hydrangea heads in them—these smell simply amazing—and I dot them in-between the ivy." Hyacinths have a particularly lovely and strong fragrance, which means that guests will get a waft of the very real floral aroma. They also last a long time, so no need to worry about them wilting.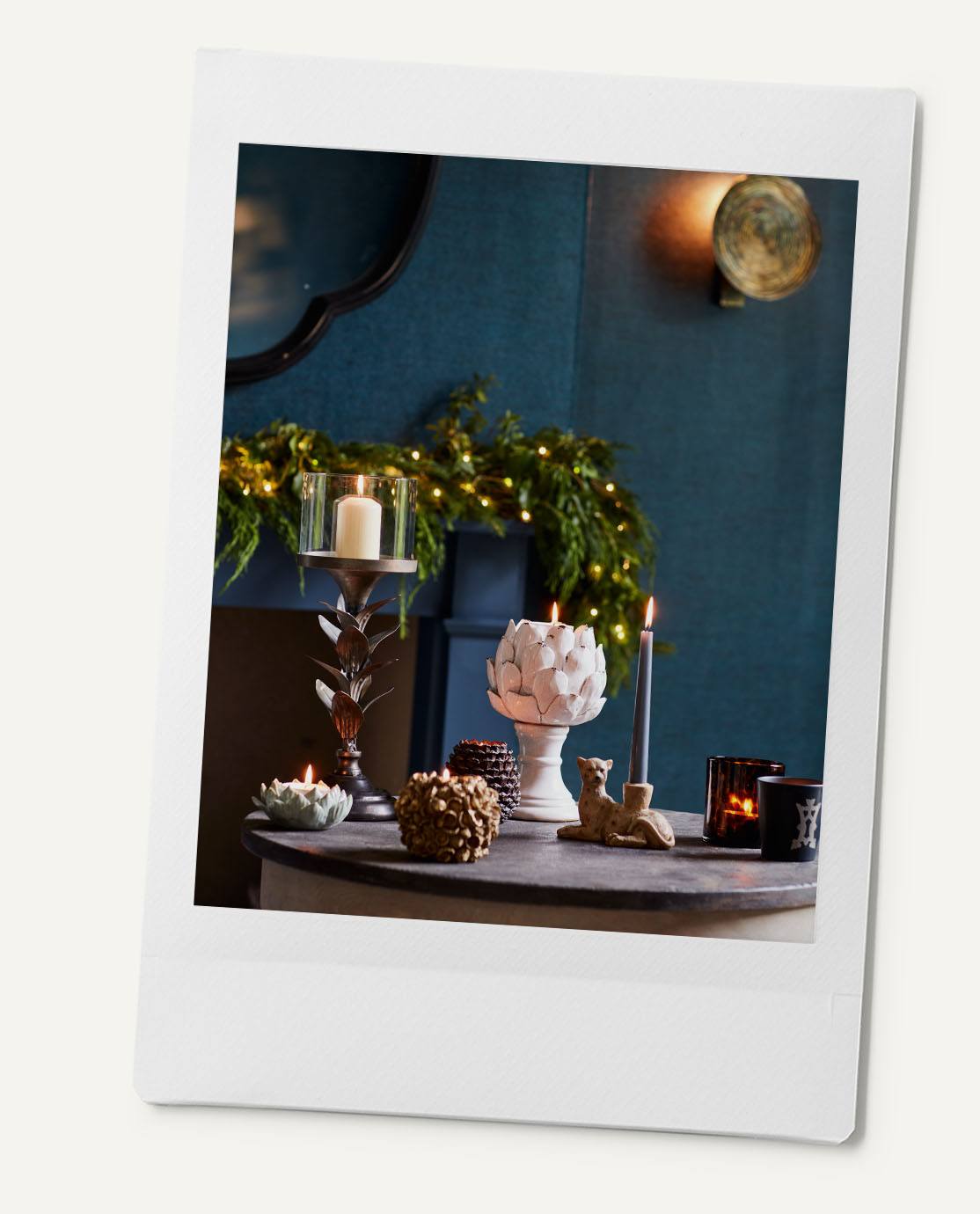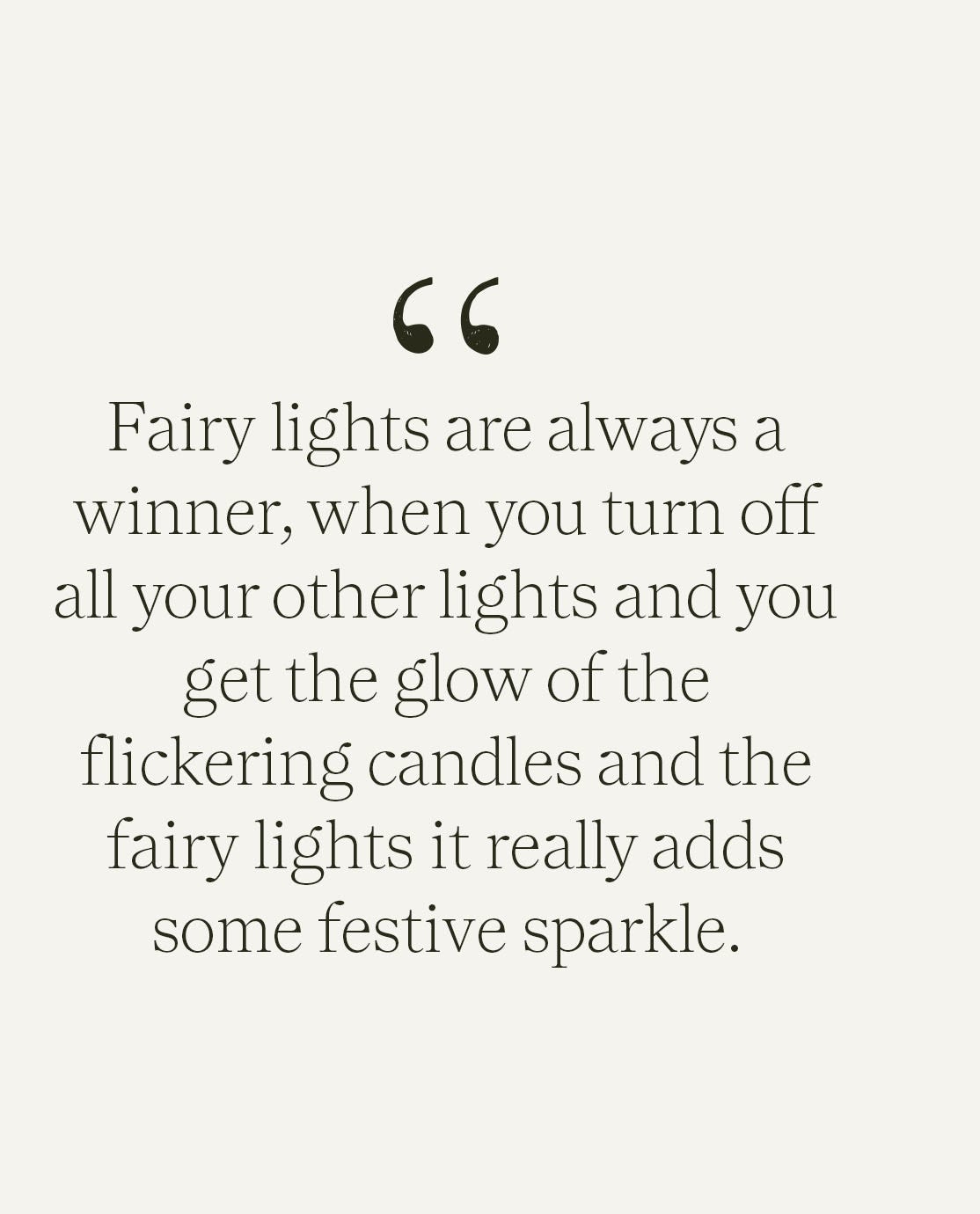 Add Some Sparkle
Of course, the holidays aren't quite the same without a bit of a shimmer. There are plenty of ways to add a twinkle to your floral centerpieces. "Fairy lights are always a winner," says Hutchinson, who also recommends using candles. "When you turn off all your other lights and you get the glow of the flickering candles and the fairy lights it really adds some festive sparkle." To amp up the glitter even more, we have golden acorns, hedgehogs and birds that can be scattered amongst your faux foliage so that they're peeking out from between the leaves just where they will catch the light.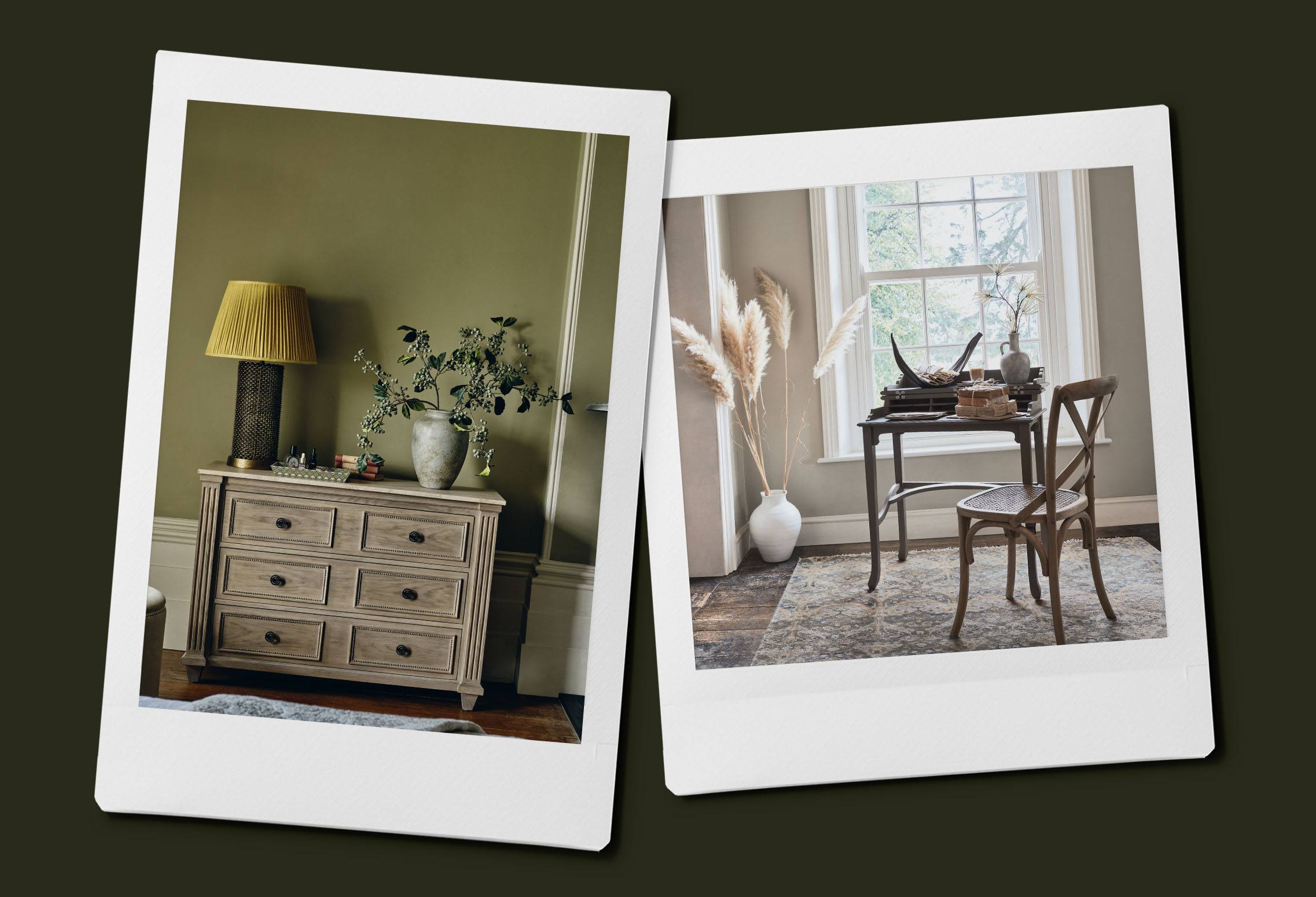 A Helping Hand
If you're still feeling somewhat overwhelmed, our floral advisors and Bunched by OKA team are always happy to give advice in-store and demonstrate how to arrange things, or simply do it for you. "In December especially, we welcome so many people with vases, huge urns, planters, long table troughs… they leave them with us and let us go to town," says Hutchinson. You can also come in empty handed and choose one of our OKA vases for the arrangement to be crafted in. If you have ideas, favorite colors or flowers, feel free to bring in images from Pinterest, Instagram or Google, and our experts will help you create something similar from our collection of faux stems. The main things are: budget and placement—let us know how much you'd be happy to spend and where the arrangement will be going, for example your entryway, dining table, fireplace or even kitchen island. As Hutchinon says, "there's something for everyone."