Out with the old, in with the new—in a world where longevity and sustainability are the words du jour, fleeting trends can feel like a step in the wrong direction. At OKA, we design our collections with timelessness in mind, creating classic pieces that will last for generations. But what happens when a trend is here to stay? Sometimes a fad becomes more than a moment, trickling down not just into our homes or our wardrobes but our collective consciousness, too—take sustainability, and the impact this has had on everything from design to how we navigate our daily lives. Our interior designers in the UK are experts in identifying the trends that will endure, so we turned to them for their tips on the top interior design trends for 2023 and beyond.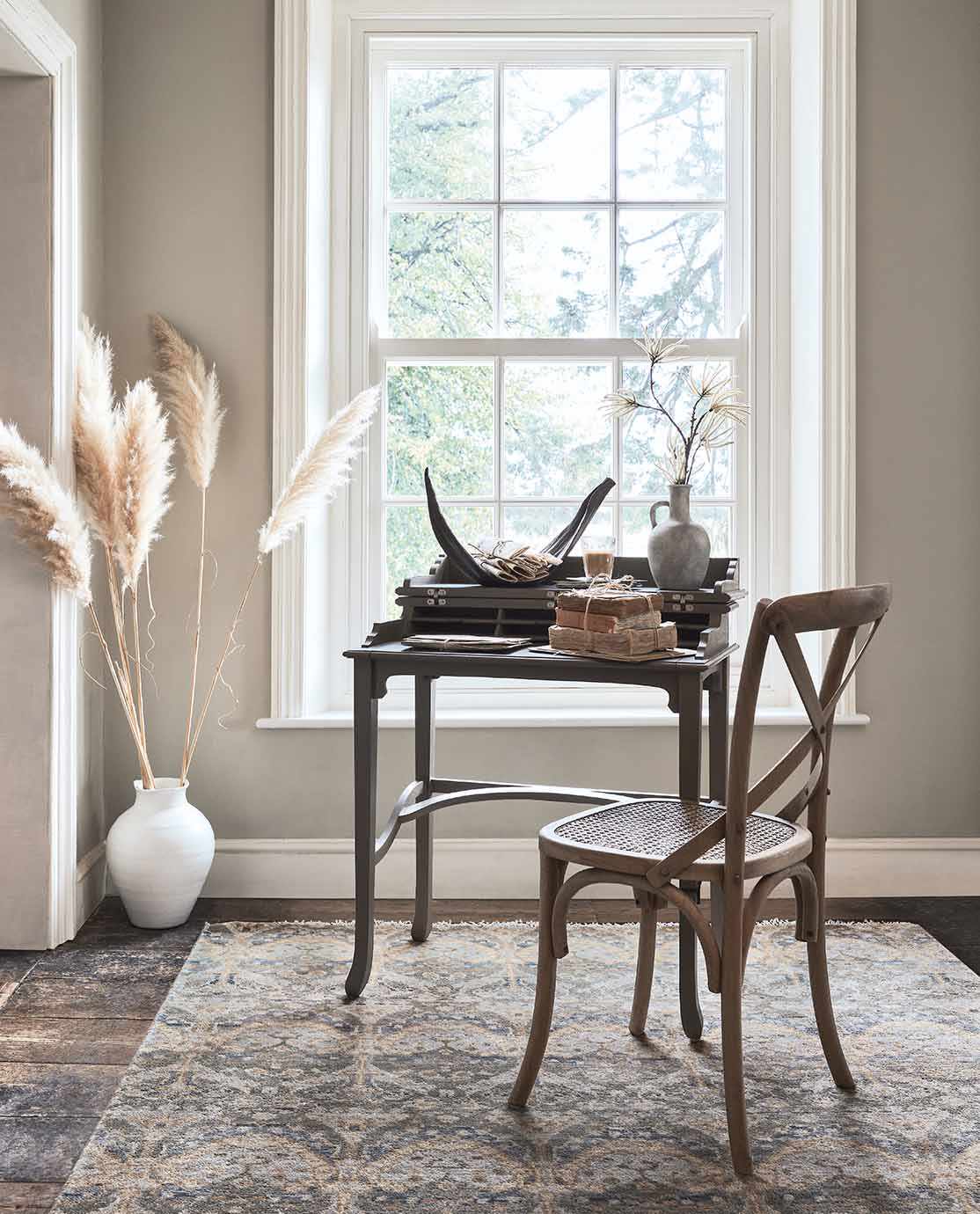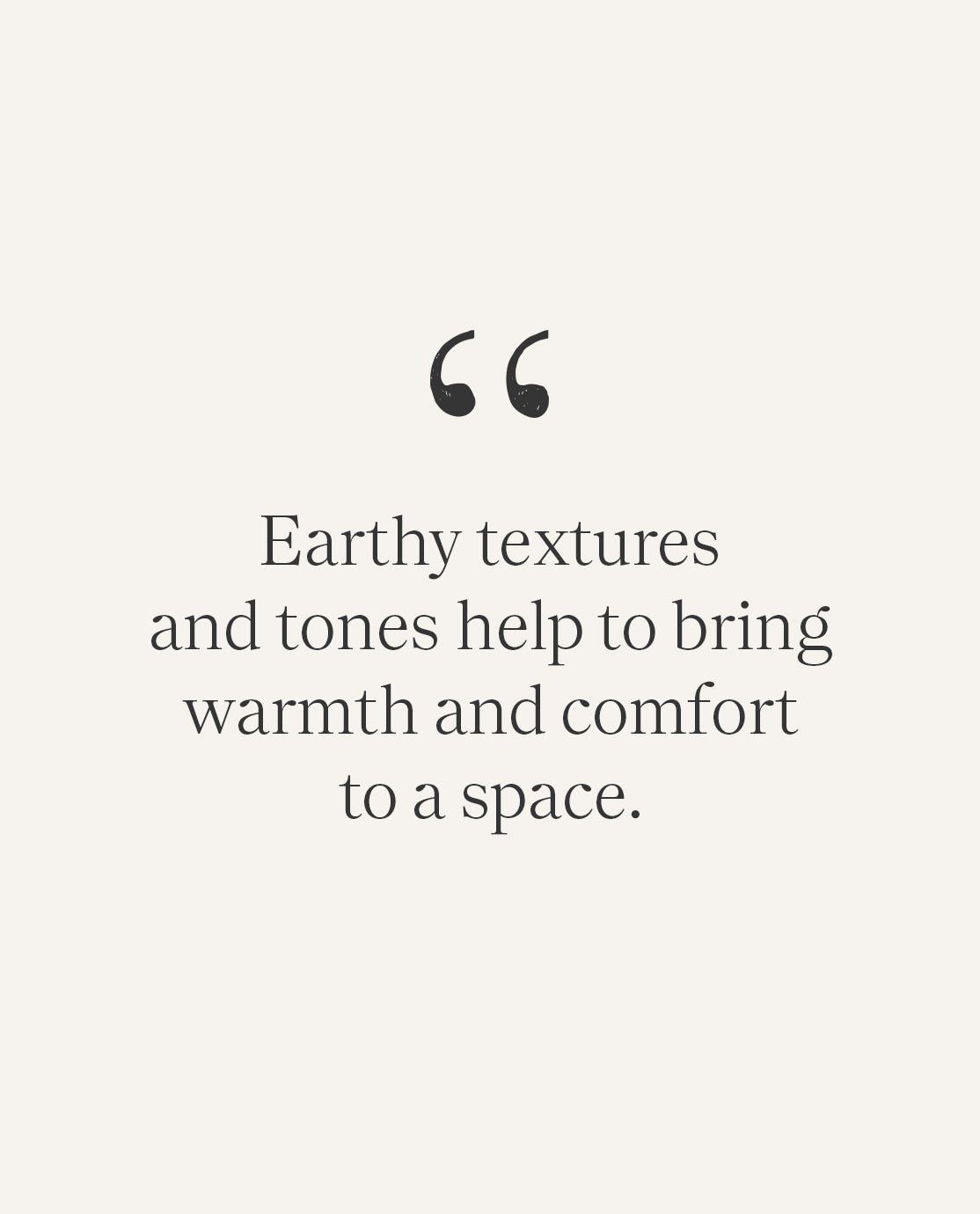 Earthy Textures and Tones
Nature was a recurring theme that came up in our conversations about the latest interior design trends; from foliage to motifs and materials, the outside world will make its mark on our homes this year in multiple ways. One such example was raised by our Interior Designer Sophie Gammon, who noted a trend for earthy textures and tones. She predicts terracotta in particular will be drawing focus in 2023, which boasts benefits beyond the aesthetic. "This rustic and raw shade offers a unique connection to nature," she explains. "It's a very therapeutic color that creates a sense of calm without being too predictable." A rustic palette, mixed in with natural textures such as jute, linen or rattan, will "enhance your home and connect you to the natural environment around you," while also helping to create warmth and comfort.
All Things Green
On the theme of channeling the outside world, our Interior Designer Antoni Roig says that color palettes this year will "follow in the steps of nature," with green taking the lead. Just as in the natural world, this verdant trend comes in many forms. "A faded sage, OKA's vibrant Putting Green or an elegant midnight green—they all contribute to this organic style, which brings comfort to our homes in a natural way," Roig explains. When it comes to color trends, don't feel you have to revamp your entire home in order to reference them—simple decorative elements are a powerful tool that can change the look and feel of a space with minimal effort. Think textiles, a statement piece of artwork or something as small as a candle or tray; colors are some of the easiest trends to tap into, and doing so in small yet effective ways will ensure they remain relevant in your home for many years to come.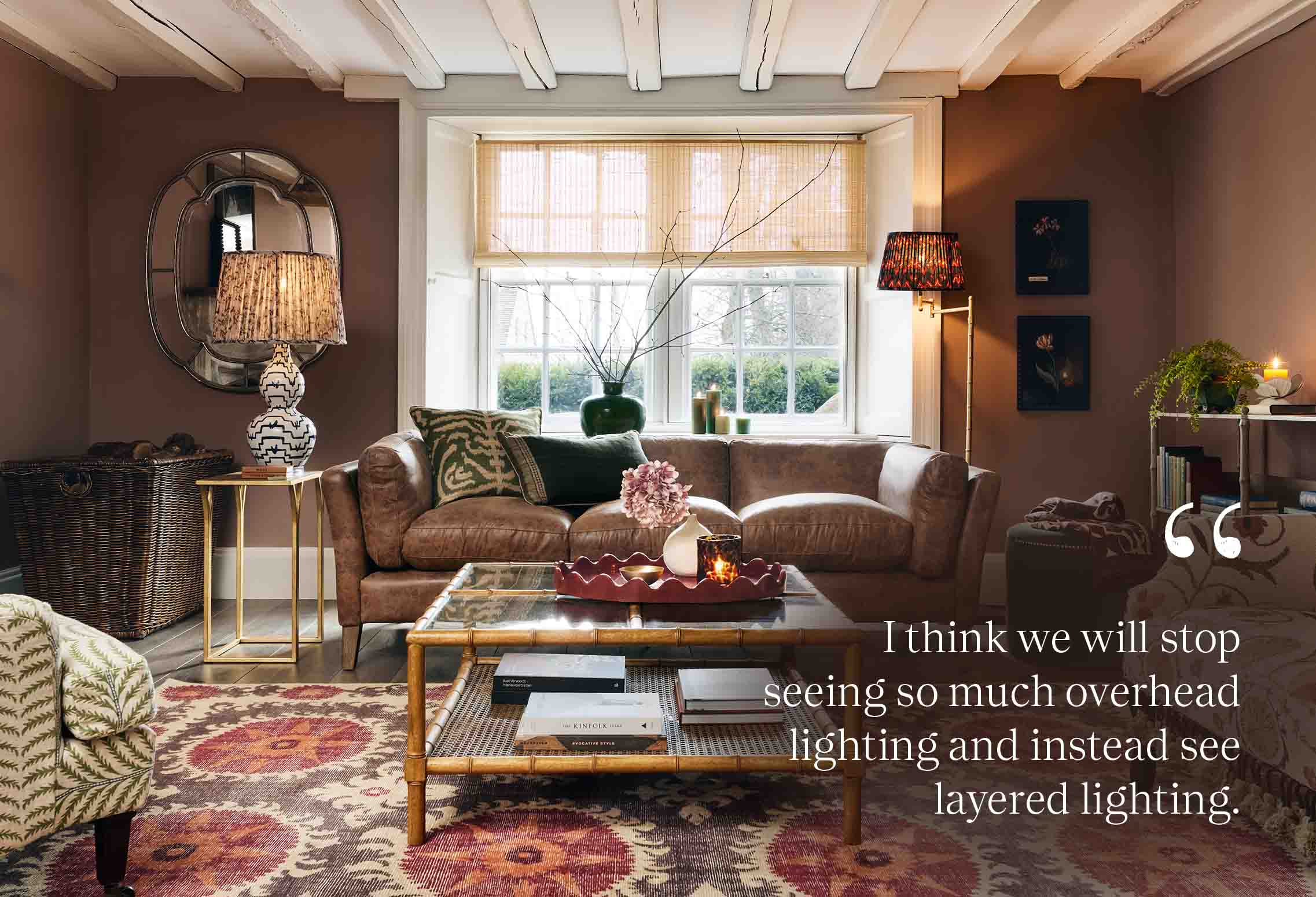 Expertly Layered Lighting
It's no secret that lighting has always been key to how a space looks and feels, but another designer in our team, Sarina Hawkins, predicts this will be taken up a notch in 2023, as décor trends steer towards a softer, cozier aesthetic. It's time to switch off the big light and focus on warmer-looking fixtures, cleverly paired to create a sense of atmosphere. "I think we will stop seeing so much overhead lighting," Hawkins explains, "and instead see layered lighting—for example, a mix of wall sconces, floor lamps and sculptural table lamps." For energy-efficient lighting, we recommend using LED light bulbs where possible. If your lamp has a shade, seek transparent or lighter-colored designs to make your room brighter; darker shades are more likely to absorb the light.
Opposites Attract
More texture and a continued love affair with bold colors are high on the agenda for 2023 says Interior Designer, Charlotte Saunders, but how will we be pairing them? The answer is, quite simply, unexpectedly, as home décor trends are expected to celebrate contrast. Rainbow palettes will be grounded by sleek black accents, while more neutral color schemes will be elevated with contrasting textures. "I think in 2023 we'll be seeing lots of primary colors paired with touches of monochrome," Saunders explains. "We'll also see more pared back palettes mixed with heavy textures." If you favor a more minimalist look, bring in rich velvets, jute rugs and thick wools in complementary shades to add interest to the space.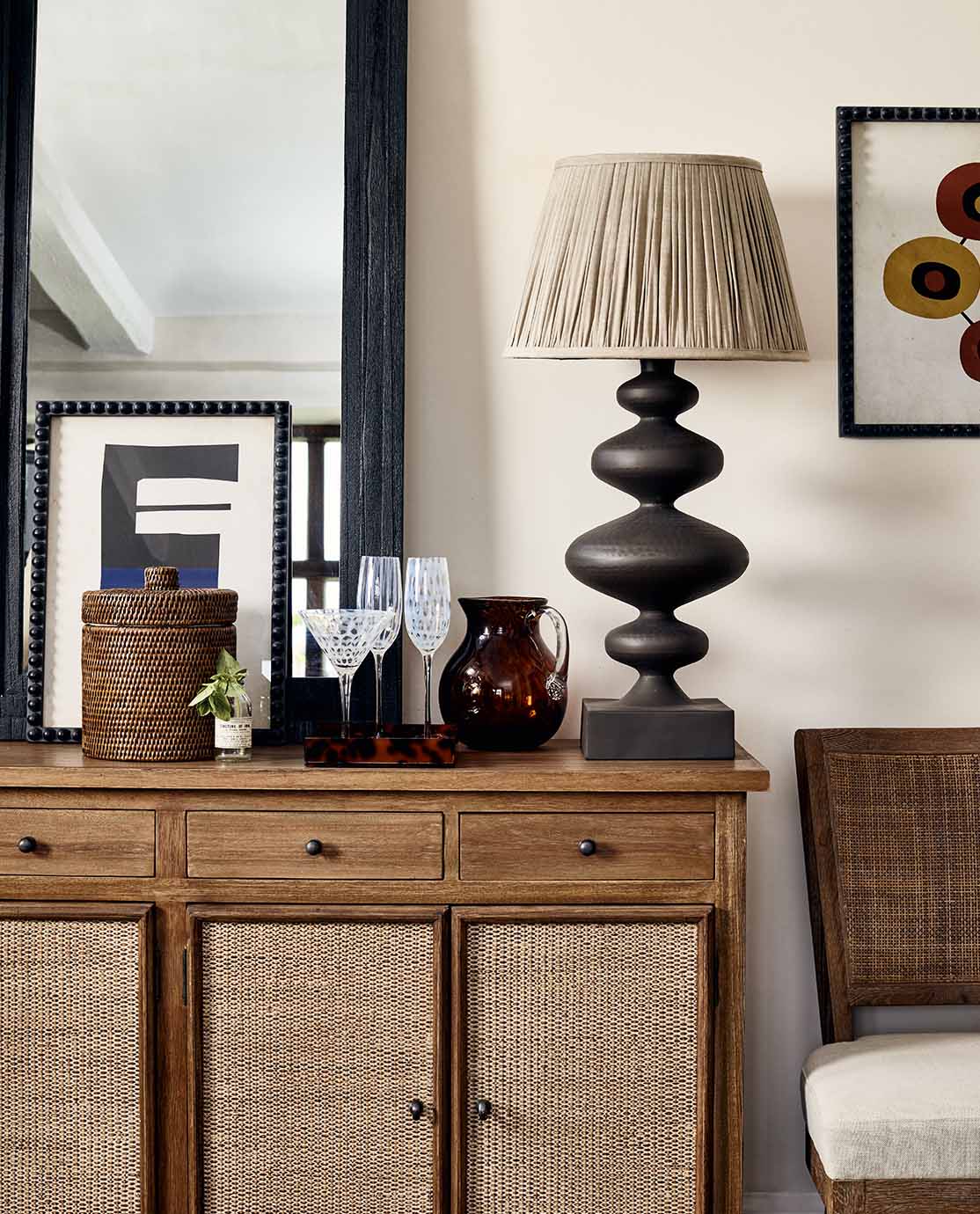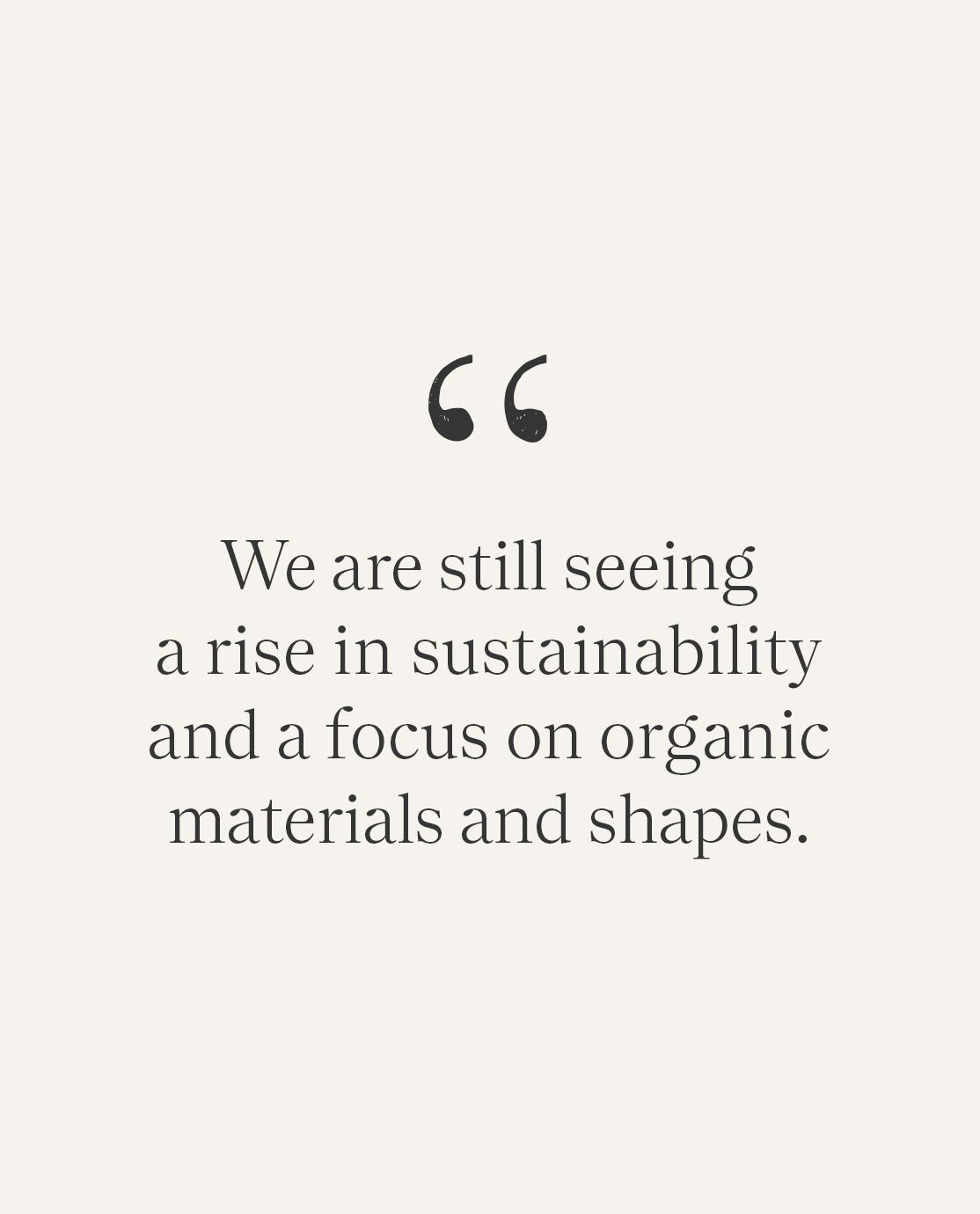 Sustainable Materials
With the world finding new and innovative ways to be sustainable, our designers are confident 2023 will yield an even greater desire to be as low impact as possible, particularly when it comes to our homes. Gammon predicts we'll be making more conscious decisions about the furniture pieces we invest in and the companies we buy from. Using designs that are made from sustainably sourced materials will be a priority. "We are always striving to build a sustainable way of living and your home is no exception," she explains. "We should be looking for products that are made to last, both in terms of design and aesthetics—the type of products that can be passed down to other generations." Hawkins agrees, noting that she expects to see an uptick in materials such as cork, which is biodegradable and renewable (bark can be stripped from the trees without damaging them), and aluminum, which is one of the easiest to recycle.
A Focus on Wellbeing
A natural consequence of the rise in sustainably sourced and made products will be a focus "on organic materials and shapes," says Hawkins, "especially through ceramic pottery and general artisanal wares." But the designer says this will be fueled not just by an impulse to reduce our carbon footprint, but a desire for our homes to channel a greater sense of wellbeing, too. "With the world the way it's going, wellness is key to everyone's day to day lives and they want this to be reflected in their homes, especially with so many people now working from home," Hawkins says. "These natural designs are key to creating a sense of tranquility and calm and for encouraging moments of mindfulness." Along with organic materials, the designer predicts this will be championed through references to the ocean, too—soothing shades of blue and patterns reminiscent of waves will "immediately evoke a overall sense of calm." What better mindset with which to begin a new year?