Originally designed as a principal seat in 18th-century Turkey, the humble ottoman (which takes its name from the Ottoman Empire) has transformed over time to become one of the most versatile furniture pieces in our sitting rooms. Handy for storage, extra seating or as an alternative to a footstool, this practical design has many uses—but for those short on space or seeking a more functional furniture arrangement, there could be yet another string to the ottoman's bow: a coffee table. Bringing a new level of flexibility to your living space, an ottoman that doubles as a coffee table takes two already practical pieces and ups the functional ante. A space to store textiles, rest your legs or balance a cup of tea, ottoman coffee tables offer a winning combination of function and form. Tempted? Read on for our tips on finding the right style for your home.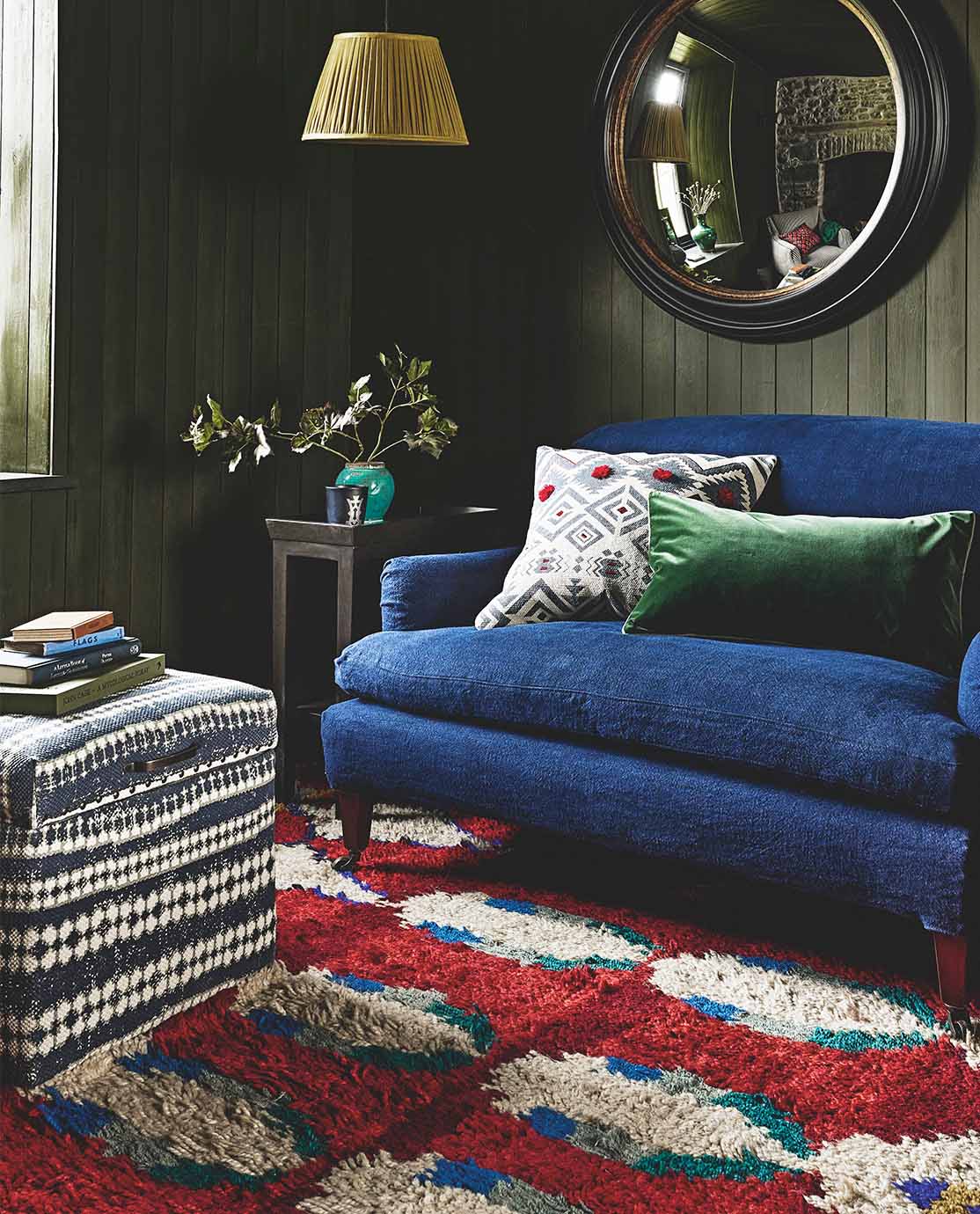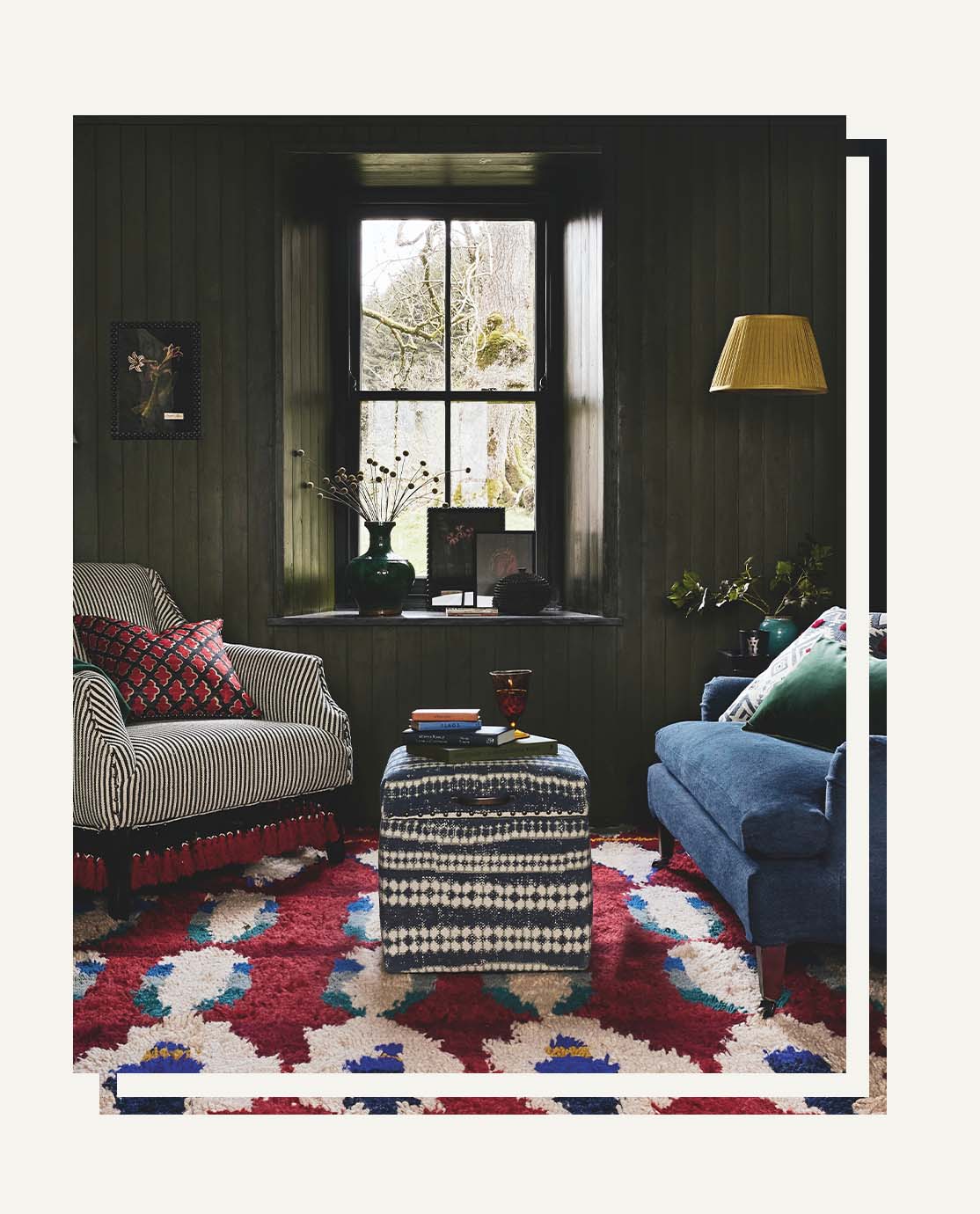 What to look for in an ottoman coffee table
If you're considering using an ottoman as a coffee table, the first thing you should think about is its primary function—do you want to use it as a table on which to place drinks, candles and objets d'art, or as an actual ottoman on which to rest your feet? Deciding this will help you determine the right shape and size of ottoman to choose.
Shape
Those who are seeking a more practical piece will likely find a square or rectangular ottoman, such as our Sheki or Bridgehampton designs, to be most useful—a large surface area on which to display décor offers a like-for-like replacement to the traditional coffee table. If your ottoman coffee table is destined to be more of a showpiece, you can be more creative with your selection; a circular style, such as our Tuffette Ottoman, adds a point of interest—and, much like a round dining table, encourages a more sociable setting. Those with young family who are considering an upholstered coffee table for its child-friendly qualities—bouncy surfaces and soft edges at toddler-height—may also find a round ottoman appealing.
Size
Traditionally, coffee tables are designed to be the same height as sofa seat cushions, but we'd encourage you to seek an ottoman that sits slightly lower, so you can rest your feet in perfect comfort. Its width, on the other hand, should be determined by the size and layout of your sitting room—if your space errs on the smaller side, be conscious of anything too large. Ensure there's enough room between it and the rest of your furniture so people can pass by comfortably—this will prevent the room from feeling overcrowded. Likewise, those with bigger spaces should seek an appropriately large ottoman—anything too small will feel out of kilter with the rest of the room.
Styles of ottomans to use as coffee tables
There is no one-size-fits-all rule for ottomans; their designs are varied and many, which gives you license to be creative with your space. If you're seeking a coffee table with storage, an ottoman is a good option. For those who are looking for somewhere to keep a collection of books, magazines or ornaments, an ottoman with an open shelf, such as our Miskin or Glin designs, allows you to display your favorite pieces as you please. Alternatively, if you're hoping to hide things away, such as children's toys, games or spare textiles, a lift top coffee table with storage may be on your radar—and an ottoman is a great alternative. Our Cransebill and Crusoe ottoman storage boxes feature hinged lids and elegant studded trims.
For smaller sitting rooms, a footstool coffee table offers the benefits of a traditional ottoman without the commitment to space. Cute and compact, our signature Costellini Ottoman is primarily a perch for weary feet, but can easily balance a tray of drinks when required.
As pretty as they are practical, ottoman coffee tables also offer the opportunity to be creative with design—and if your chosen piece is destined for the center of the room, then the more it complements your overall interiors look the better. These typically upholstered pieces offer the chance to have fun with color, print and texture; make a statement with a bold pattern, create warmth and depth with a contrasting fabric or add an elegant twist with a tufted ottoman—a contemporary take on a classic design feature.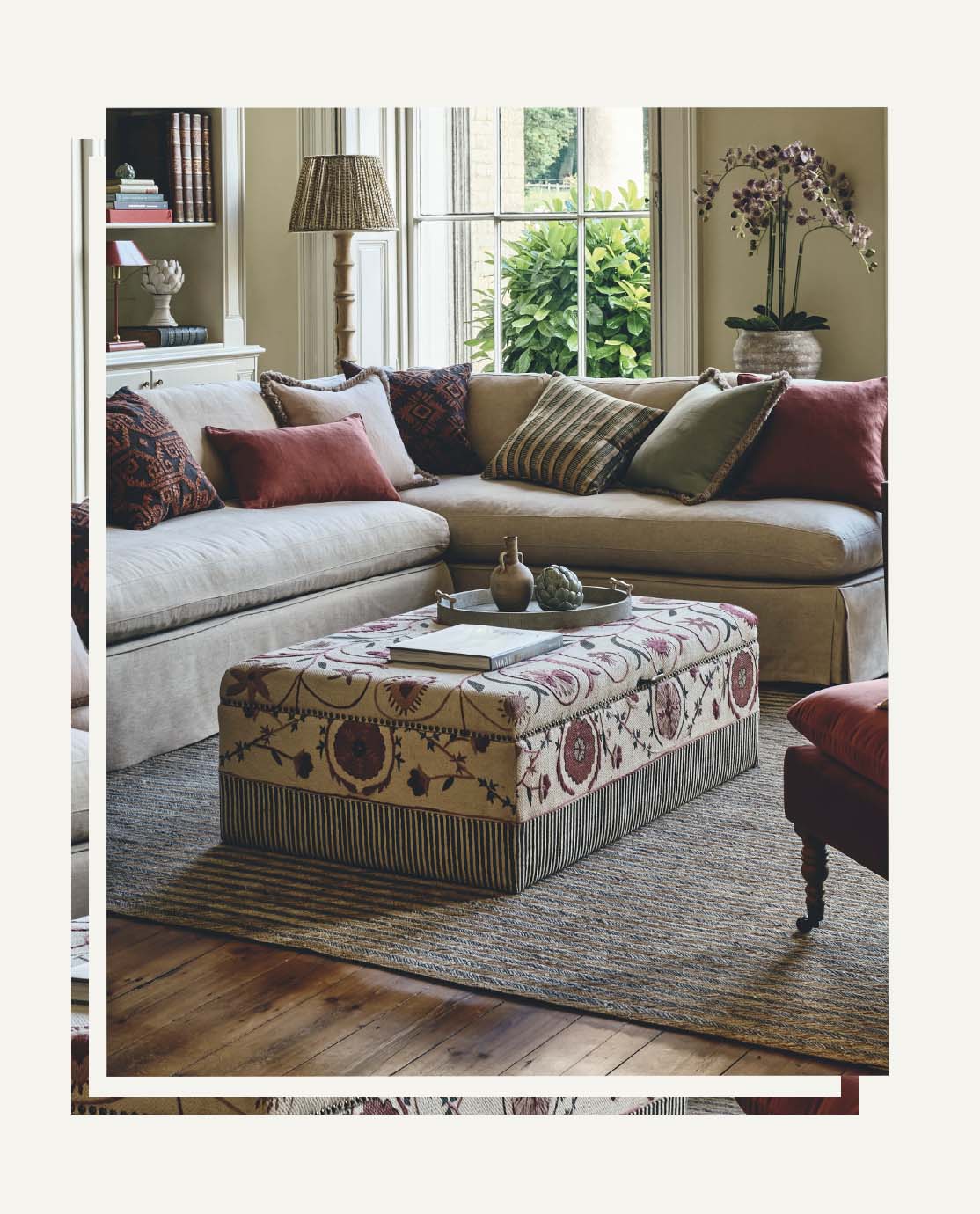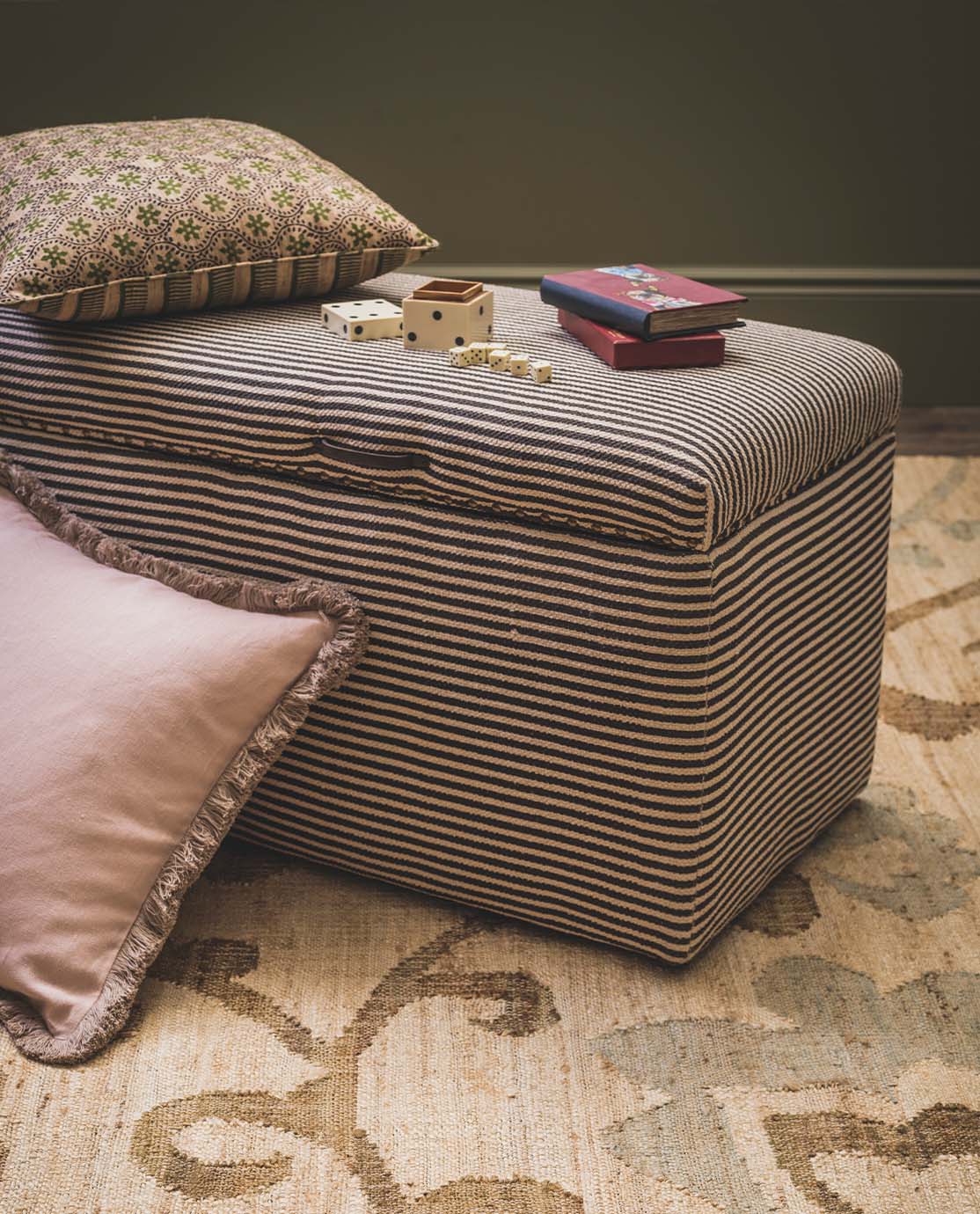 How to decorate an ottoman coffee table
Just because you've replaced your traditional coffee table with an upholstered alternative doesn't mean you can't be creative with décor—you just need the right tools to do so. Start with a decorative tray; this will provide a flat and solid surface on which to place your favorite pieces, with the added bonus that it can be removed when you want to use your ottoman as a seat or stool, or need to access any storage. Once you've settled on a style (we recommend a tray that's the same shape as your ottoman to create a sense of unity) you can accessorize as you please; candles, ornaments and an arrangement of faux flowers will all add interest to your living space. If your ottoman is more of a showpiece than a practical sitting room fixture, drape a throw over one end to add a contrast of textures, or simply leave it bare so its design can do the talking—the beauty of this versatile piece is that it will always adapt to suit you.