In the grand scheme of things, shopping for tableware can feel like small fry compared to other elements of your home—purchasing furniture, for example, may feel like a more considerable task as anything you buy will have a significant impact on the look and feel of your space. However, when it comes to décor, there aren't many pieces that can claim to play as chief a role in your life as tableware. From your morning toast to your Thanksgiving dinner, slapdash lunch to lovingly cooked meal, tableware is used both on a daily basis and for special occasions, making it a key investment that requires careful consideration.
If you're pondering how to select a tableware set, we hope this tableware buying guide will help you make your decision. We've consulted our Product Design and Development Director Jessica McAuley to bring you the pros and cons of crockery types and the best materials to look out for, as well as the different varieties of cutlery, glassware and serving accessories to pair them with.
What is the Difference Between Tableware and Dinnerware?
Before we begin, let's get this commonly asked question out of the way: what is the difference between tableware and dinnerware? Simply put, dinnerware refers specifically to the crockery you'd use to eat food off of, such as plates and bowls, whereas tableware refers to any utensils, dishes and décor pieces you'd set the table with—including dinnerware. In this guide, we'll be delving into the details of both, starting with crockery.
How to Choose a Crockery Set
There are many different types of crockery sets, varying in size and formality. A traditional four-piece set for one person will include a dinner plate, side plate, bowl and mug, for example, but some sets might also include pasta bowls, salad bowls, teacups, saucers, milk jugs, sugar bowls, trays, chargers or serving platters.
Before you begin considering what type you'd like to buy, we recommend thinking about the quantity of pieces that you require. How many people will you likely be setting the table for? We advise selecting more crockery than there are people in your household, so that you're always prepared for guests (and accidental breaks). For example, for a two-person household, consider a set for four to six people; for a four-person household, look for eight to 10. "Don't forget to think about the size of your cabinets, drying rack and dishwasher too," says McAuley, "as larger styles may not fit as easily. When designing some of our cupboards, we've deliberately made sure our dinner plates can fit in them comfortably." If you have your heart set on plates that are too big to store flat, or you simply want to show them off, the product designer recommends displaying them upright on shelving so you can enjoy them as a decorative feature when not in use.
What are the Different Types of Crockery Materials?
"Finding a crockery style that you love, and that suits your home is, of course, important," says McAuley, "but I'd recommend thinking about the weight and durability of your desired set as much as its color and pattern." At a base level, most crockery will likely be made from ceramic, but it's important to pay attention to which kind as not all ceramics are created equal. Ceramics are essentially objects made from baked clay, which are then fired and decorated or glazed. The quality differs depending on whether that clay has been mixed with other materials, what temperature it has been fired at and how the material is finished. Here are the most common types you'll find when shopping for crockery, and their pros and cons.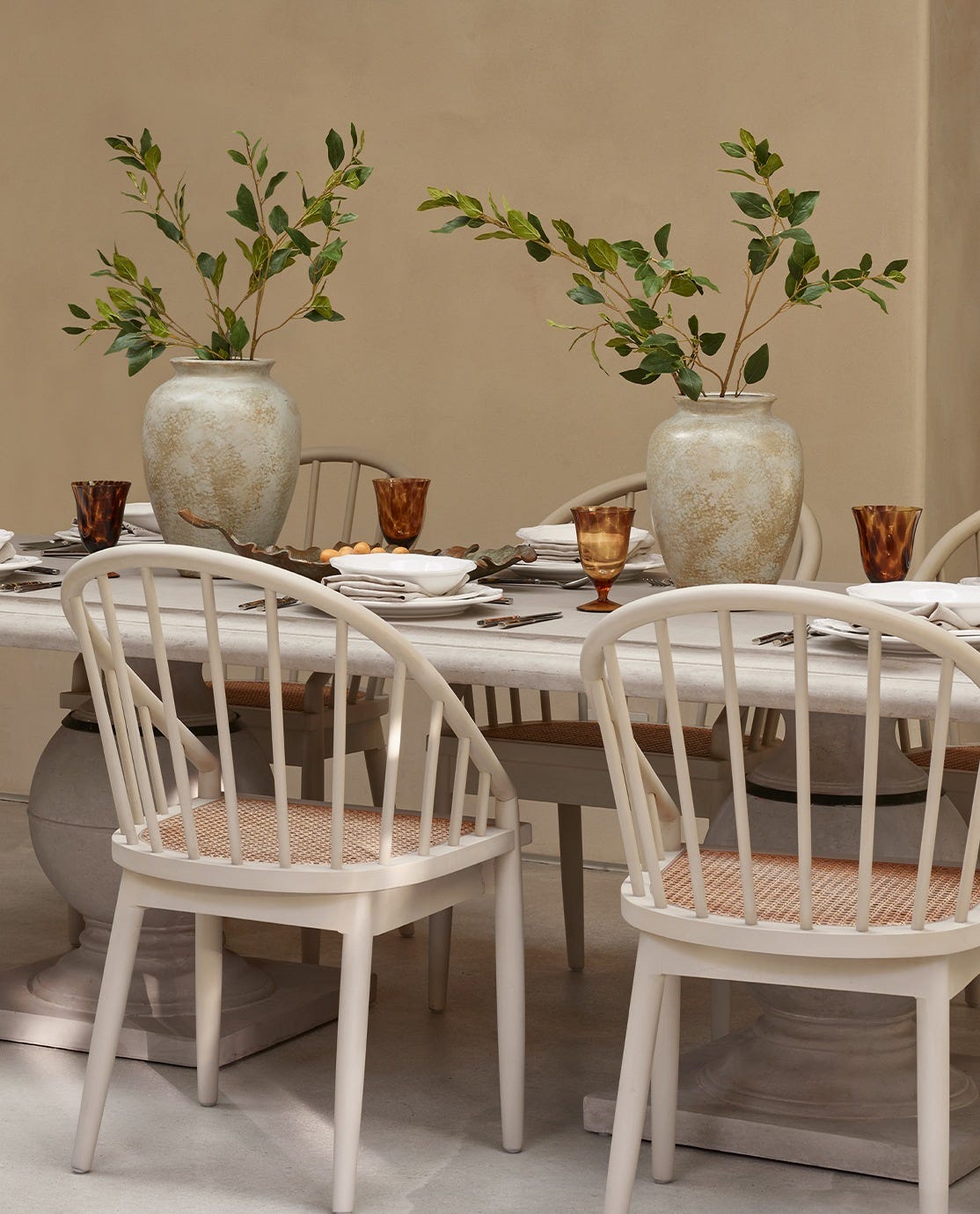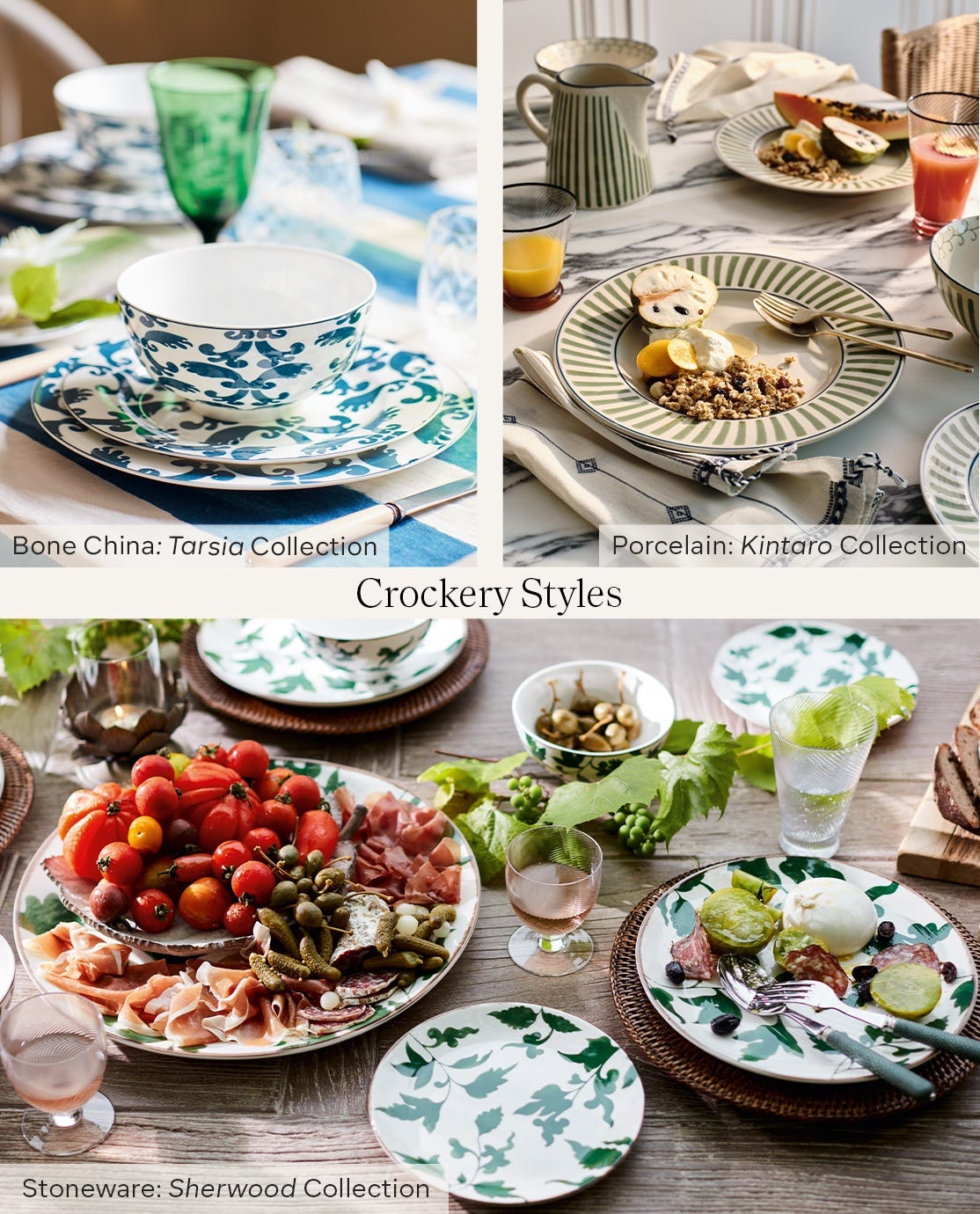 Earthenware
Earthenware is typically the most affordable crockery material you will find on the market. It is fired at a lower temperature than other ceramics and is often finished with varnish. While it does bring an appealingly textured twist to table settings, it is porous, heavy and prone to scratching, making it less durable than other materials.
Stoneware
Stoneware is fired at a higher temperature than earthenware, creating a stronger, thicker and more durable material. We've used this particular material for our Sherwood Collection, which is both dishwasher and microwave safe.
China
China is an umbrella term for ceramics made from kaolin clay—a more refined clay than is used for earthenware and stoneware—and other raw materials. There are a number of different types of china, each of which have their own name and compositions.
• Porcelain
Porcelain is fired at an even higher temperature than stoneware and earthenware, resulting in a hard, white and non-porous finish. "Durable, strong and highly resistant to heat, yet lighter and thinner than stoneware and earthenware, porcelain is the most popular material for everyday crockery sets as it's hardy and typically microwave and dishwasher safe," says McAuley. "In our collection, we've used it for our Kintaro, Kraak and Isphahan Collections, as we feel these designs suit the more elevated feel of porcelain, allowing you to bring luxury into your everyday."
When researching dinnerware sets, you may find that some are called porcelain and others are called china, but these names more often than not refer to the same material. While china takes its name from its country of origin and porcelain takes its name from the Latin word porcella, meaning seashell, both are often used to refer to the same smooth, white material.
• Bone China
Bone china has much the same composition as porcelain, but, as the name suggests, features the addition of 25% calcified bone or bone ash (derived from animal bones). This combination is usually fired at a lower temperature than porcelain, making it lighter. It often has a creamy and translucent quality, suggesting a more fragile nature, however "this material is actually one of the strongest and most durable crockery materials you can buy thanks to its unique composition," says McAuley. "We thought it was perfect for our Tarsia Collection as the blue complements the creamy, translucent base perfectly, and makes for the perfect occasional design for dinner parties."
• Fine China
Fine china is made in a similar way to bone china, but without the addition of bone ash. It's closer to porcelain in composition, but is fired at a higher temperature to result in a harder and more durable design. "Fine china and bone china are often more expensive than porcelain, so sets made from these tend to be reserved for special occasions," says McAuley, "but there's no reason you can't use these for every day if you'd like to."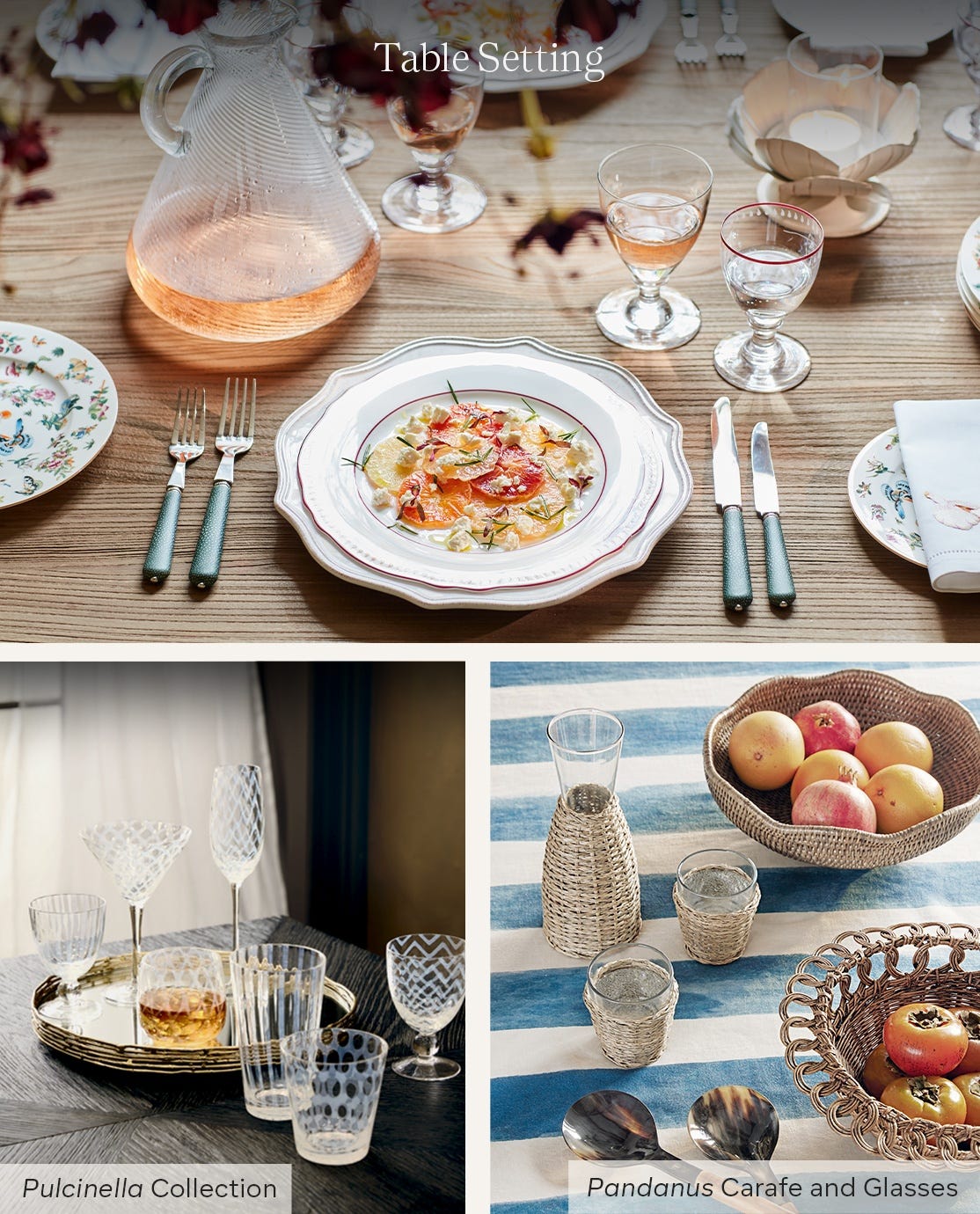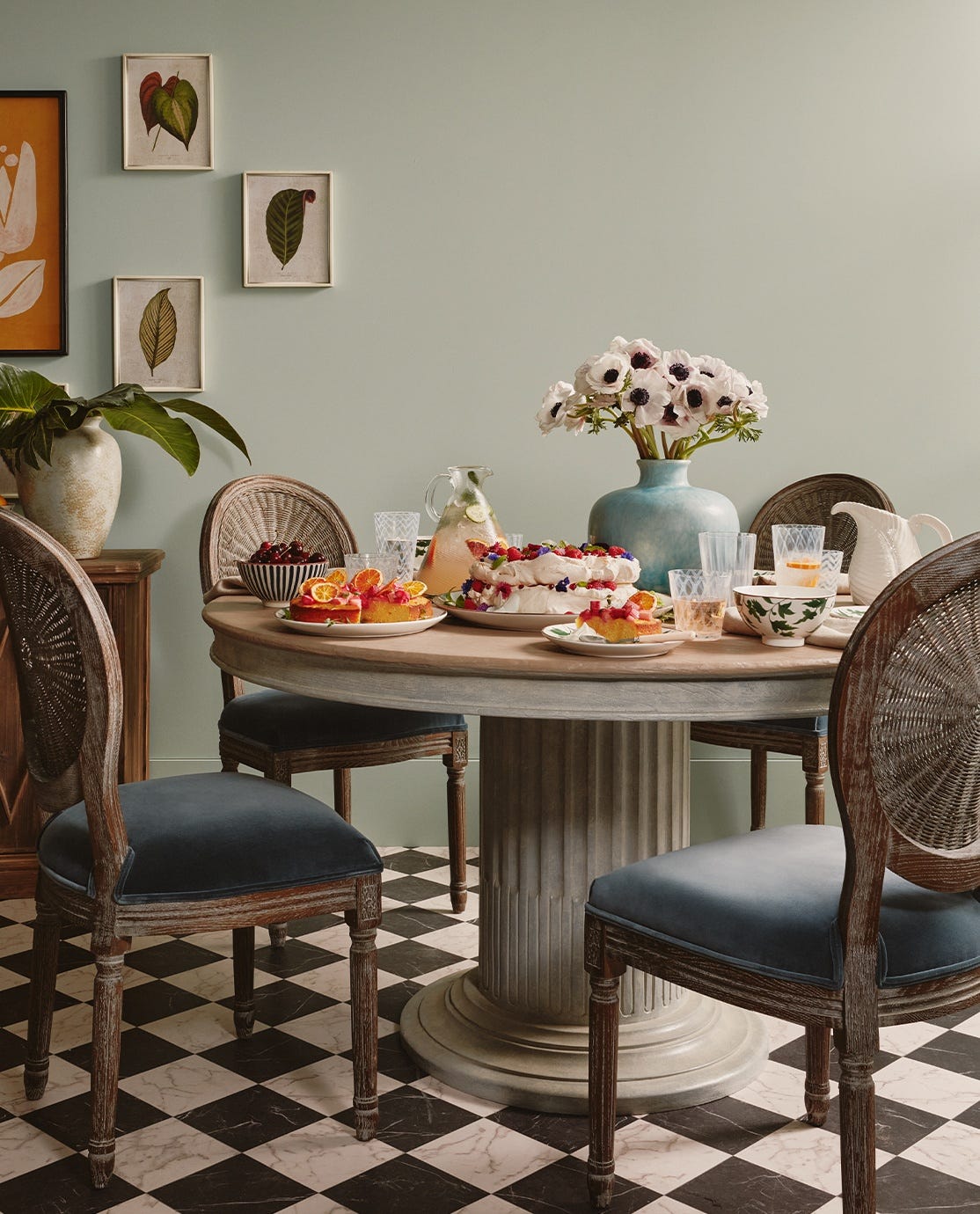 What are the Different Types of Flatware?
It's time to dig into the world of flatware. If you're on the hunt for a fresh set, but aren't sure which style to choose, we'd advise beginning by considering the occasion you're buying for—are you seeking an all-purpose set, for example, or a fancier style for more formal events? For the former, we'd encourage you to seek out stainless steel. "This is one of the most common materials used for making flatware (and is what we use at OKA to create our own sets)," says McAuley, "as it's resilient, durable and easy to care for." For more formal occasions, you may want to consider silverware—made from sterling silver, this type is lightweight and luxurious, however it can tarnish over time, which is why it's often preferred for occasional use.
When buying your flatware set, you should also think about how many people will typically be using the utensils, and what food they'll be eating. If you're looking for an everyday set, you'll want to check off the basics: knives, forks, tablespoons and teaspoons are all core pieces we'd expect to find in a standard flatware set. Those who love to host at home for special occasions, meanwhile, may want to seek a set that includes a wider variety of specialty utensils and serveware, such as dessert or soup spoons, salad servers, or specific knives for fish, butter, steak or cheese. As with dinnerware, we'd encourage you to buy more pieces than there are people in your household to ensure you always have spares.
What are the Different Types of Glassware?
There are many different styles of glassware to choose from, ranging from wine glasses to tumblers and specialty vessels for specific drinks. "If you're building your collection from scratch, a good place to begin would be with a set of tall glasses and a set of wine glasses," says McAuley. "You can always layer in further sizes and designs once you've got your initial sets to add character and scale to your dining table." If you're not a wine drinker, you may want to start with an alternative glass that's better suited to your preferred tipple—perhaps a cocktail glass or, if you favor bubbles, champagne flutes. Don't forget to add a bottle opener and corkscrew to your collection, too. For more information on selecting glassware for specific drinks, including the difference between red and white wine glasses, read our handy guide.
How Do you Set Your Tableware for Dinner?
Once you've completed your tableware collection, you may be pondering how to place your chosen pieces on your dining table. Here at OKA, we're big fans of creating a beautiful tablescape whatever the occasion, using table linen, faux flowers and candles to create a striking set-up. There are, however, a few rules to laying a proper table setting, which vary depending on how formal your meal may be. Each occasion will have different requirements, but here are a few tips to remember:
• Stack your dinnerware in order of your courses—for example, your dinner plate should be at the bottom, salad plate on top of that and soup bowl on top of that.
• Your fork should be placed to the left-hand side of your crockery and your knife to the right. When it comes to meals with multiple courses, flatware should be placed in order of use, starting from the outside and working inwards. If you're using dessert spoons, these should go above your plate.
• Napkins can be placed on top of your plate, or underneath your fork.
• Water glasses should go in the top right-hand corner of your place setting, with wine glasses to the right of your water glass.
If you'd like to learn more about how to set a dining table for everyday and formal occasions, take a look at our guide. As for our final pearls of wisdom? We recommend gathering your nearest and dearest, cooking a delicious feast and putting your chosen tableware pieces to the test—they're made to be used and enjoyed, after all. Bon appétit.