In May, when the first buds bloom and the sunny days of spring become happily ever more frequent, it might feel a little odd—against the grain, even—to conjure thoughts of the holiday season. But for British gardener Terry Winters, this is exactly what springs to mind as the fruits of his labor come to life. "My Christmas is always the last two weeks of May, and the first two weeks of June," he explains. "Every day during those beautiful weeks, when I look into the beds and the borders, there's a new gift for me to unwrap."
Terry's garden has been a labor of love for him and his wife Vanessa for the past 12 years, after they bought their home, Ordnance House in the English county of Wiltshire, in 2011. Once the site of a British Ministry of Defence property (hence the name), Ordnance House was rebuilt in 2008 and its backyard, unloved and untended to for the previous seven decades, was leveled out and the topsoil removed. The joke among Terry's family is that he redesigned the outdoor space before they'd even moved in, conjuring visions of circles and spheres, with a central point of entry that ripples out in arcs of rainbow flowers. The result caught the attention of gardening enthusiasts, earning Terry the Best Back Garden award in the 2020 My Chelsea Garden competition by the Royal Horticultural Society (the gardening charity behind the Chelsea Flower Show) not to mention a legion of followers on Instagram (78k and counting). As his favorite time of year begins, we caught up with the gardener to discover his essential tips for making your own outdoor space as beautiful as his.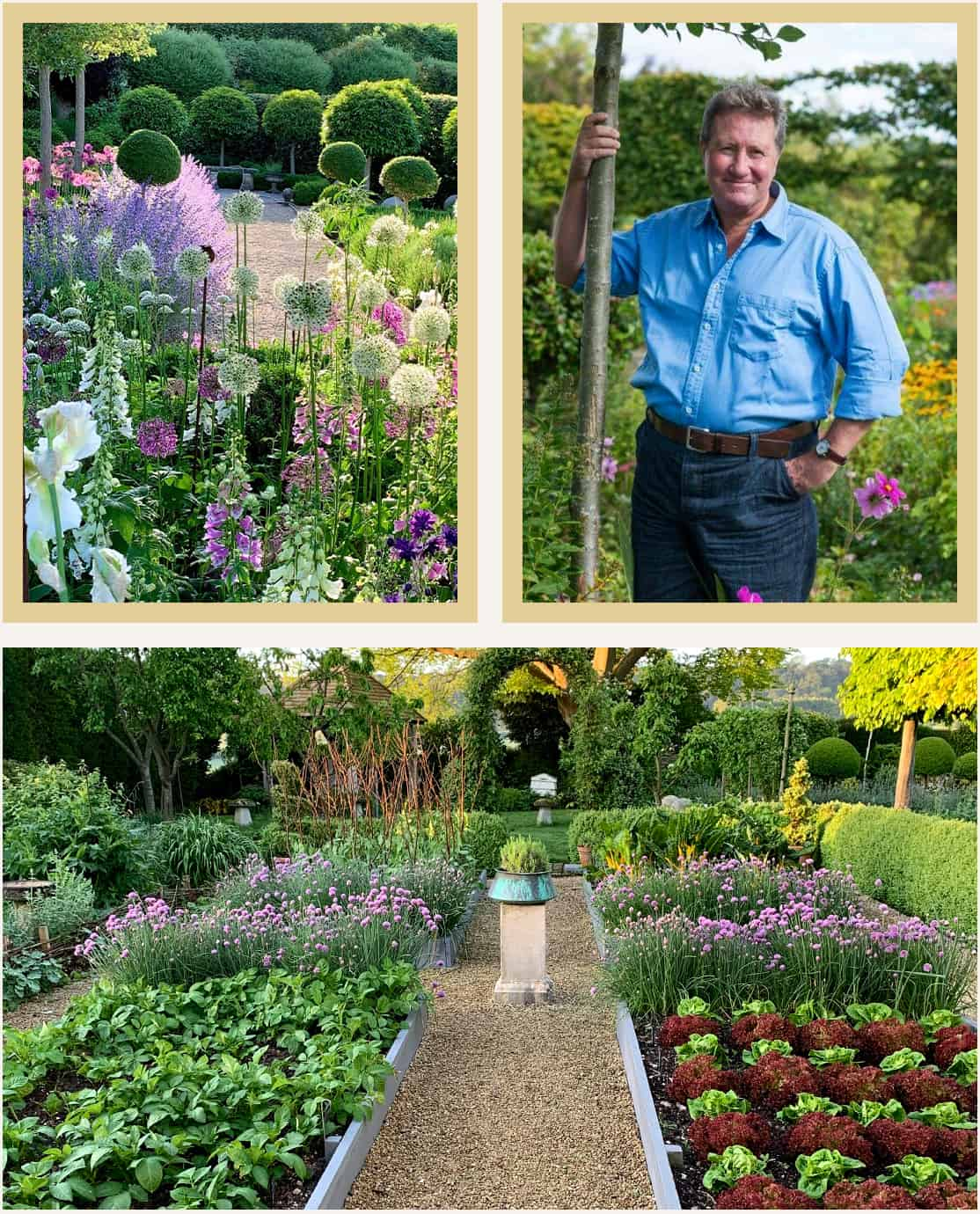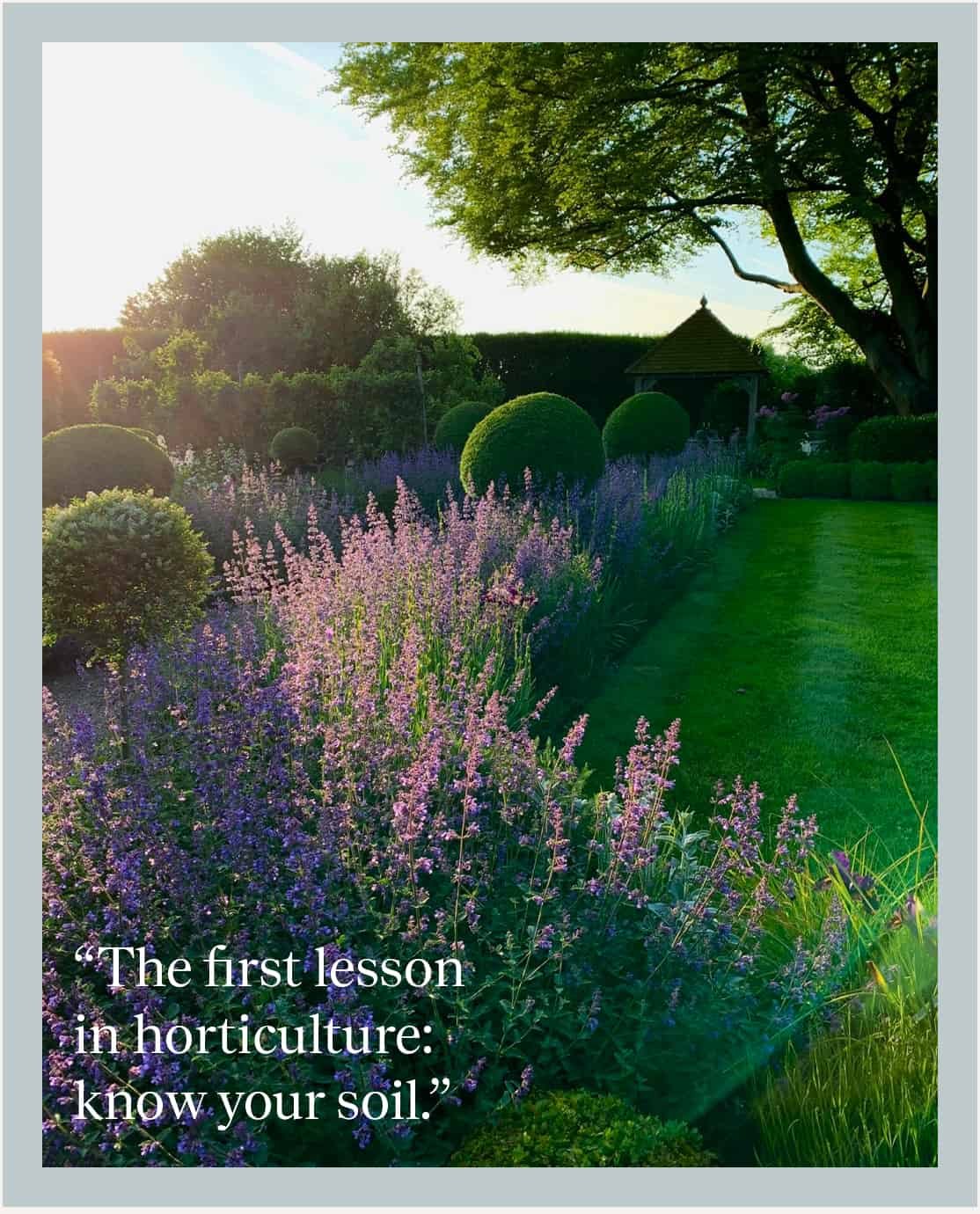 Root Out the Right Plants
As with every skill, gardening can take time to grasp, and Terry learned his most important lesson early on in his horticultural career. When he moved to his former home in the county of Hampshire, he set about sowing wildflowers into what had previously been a farmyard. "We sowed all the seeds and the following year the most gorgeous meadow came out; it was like an Impressionist painting," he said. "But the following year, it was such a mess. And there's the first lesson in horticulture: know your soil." The former farmland was too rich for the delicate flowers and instead became a hotbed for nettles. Ever since, the gardener has been conscious of the soil he's planting into. "You can go into any nursery and it will say whether a plant will need full sun or partial shade, and if it likes chalky soil or acidic soil," Terry says. "If you ignore those, you'll waste a lot of money on plants."
At Ordnance House, the terrain is chalky and south-facing, providing a completely different landscape to Terry's previous outdoor space. In some areas, he's excavated large pits in the chalk, which have then been filled with soil and compost, but elsewhere he has taken care to source plants that thrive in the natural conditions. For example, he took inspiration from the lavender fields of Provence and sowed Grosso, Sussex and White Edelweiss—cultivars of lavandula x intermedia, which are a cross between lavandula angustifolia and lavandula latifolia—that enjoy the chalky, sunny terrain of his Wiltshire space.
Plan for Every Season
One of the many reasons Terry's backyard stands out is because, as his Instagram account can attest, it looks great all year round. The key to a trans-seasonal success story? "An outdoor space needs good bones," he explains. By this, he means trees, shrubs, hedges and evergreen plants that will prevail whatever the weather. Though these primarily serve to shape the layout of the space, in Terry's backyard they also enhance the circular theme that he has woven throughout, with lollipop-shaped trees of evergreen Ligustrum, vibernum tinus and Portuguese laurel. The latter has also been used as hedging, as well as miniature globes dotted along a steep bank to the west, reflecting the spherical silhouettes of its lollipop counterparts. "Getting the bones right is important," the gardener explains. "You don't really see them [in my outdoor space] in the summer because there's just an abundance of planting with rolling drifts of color, but you do notice it as you move into early winter and spring."
Those rolling drifts of color are also part of the trans-seasonal plan: successional planting ensures that, as one plant fades, another is bursting in to bloom. For example, Terry has mixed white and purple alliums—he favors Mount Everest, Purple Sensation and Nigrum varieties—to create a "raspberry ripple effect," which has then been layered with foxgloves (namely Camelot) in the same colors; as the alliums die back, the foxgloves take over, eventually making way for the aforementioned lavender. "The garden does transition; the later spring colors are fresh green, purple and white, and then as we move through the summer more reds, ochre and oranges come into play, as do grasses," he says. One of his best garden secrets? Pack the plants together. "Not only does that make them grow upright, but it also keeps the roots shaded, which helps keep the moisture in."
Get Creative with Furniture
Terry describes his backyard as "my gym, where I do my exercise; my café, where I go for a cup of tea or coffee, and my bistro, where I eat outside," and such a multi-functional space naturally calls for the outdoor furniture and décor to support it. Not one to let a creative opportunity go to waste, Terry has made his outdoor pieces focal points while seamlessly blending them with the rest of the space to ensure an inviting look. From benches to bistro sets and dining tables, there are opportunities to sit and admire the backyard at every turn. On a hillock to the south west of the space, for example, he's placed our own Gullion Bench between two 250-year-old beech trees, where it can be viewed from every angle in the backyard below. "I've put wildflower seeds up the bank, as well as some box balls in an abstract pattern," he says, "and I've also planted a carpet of crocuses and other flowers underneath the bench, so there will be a Persian rug of spring bulbs in front of it."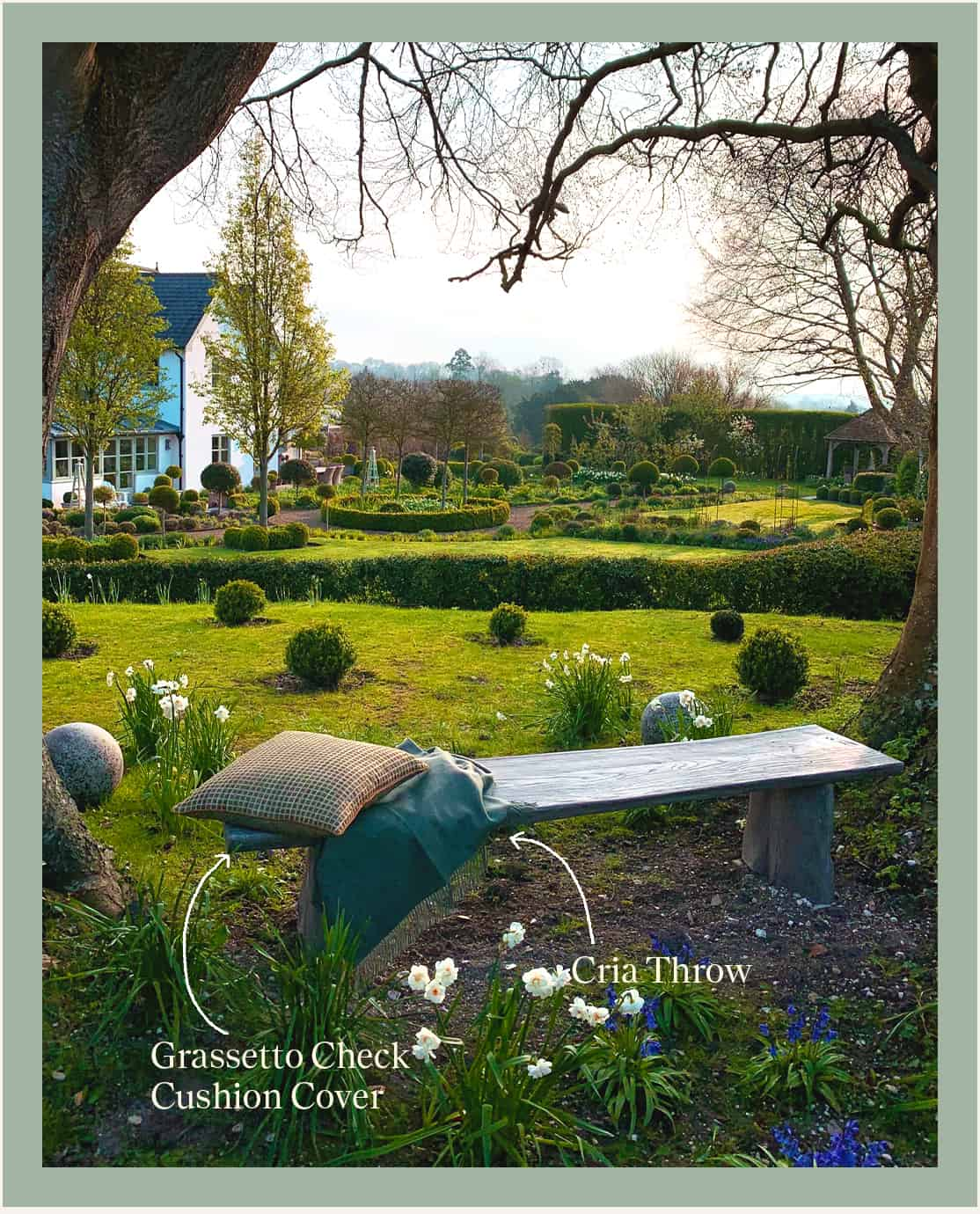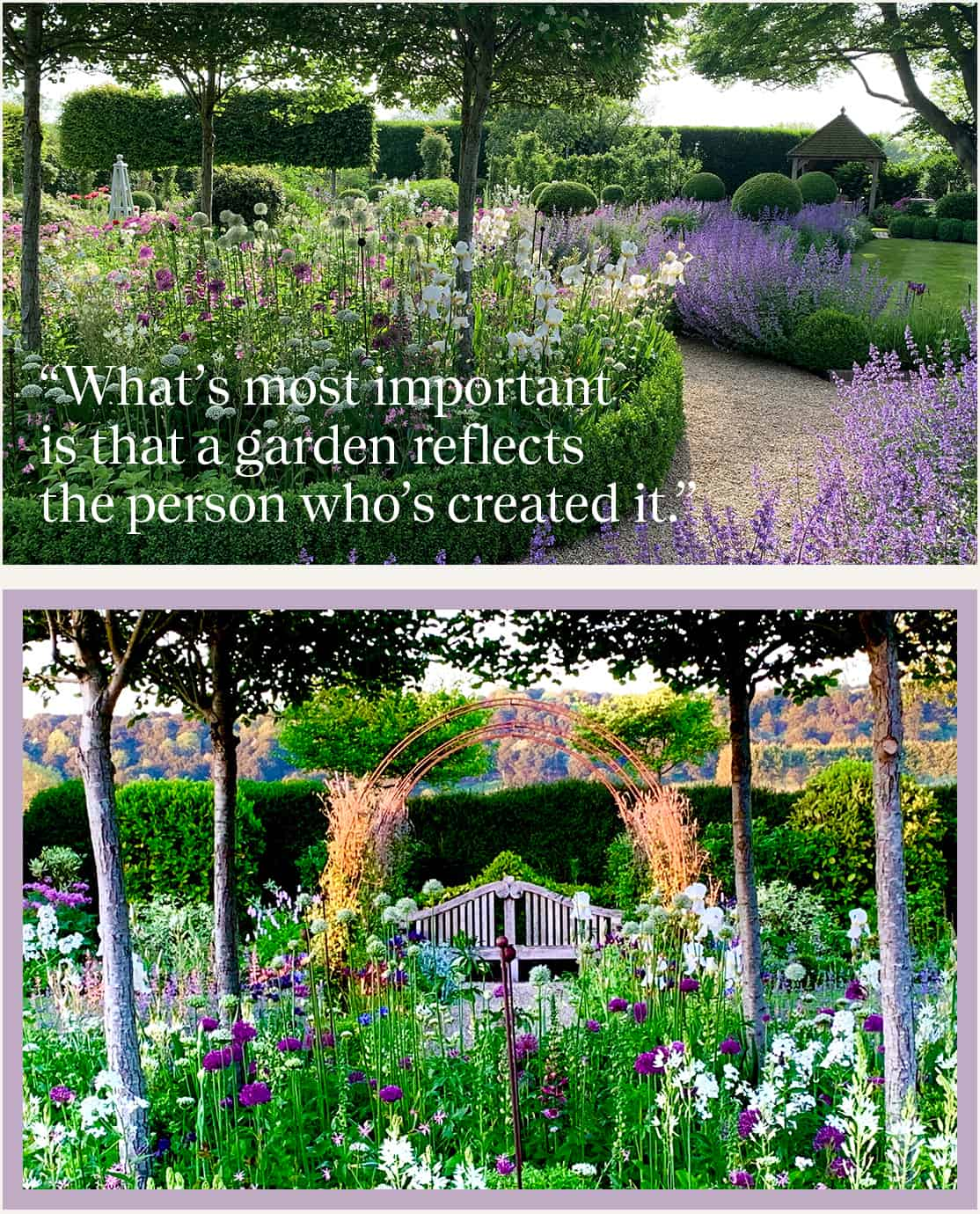 Look Far and Wide for Inspiration
Though Ordnance House is perfectly placed in rural Wiltshire to have a traditional English country look, its more European aesthetic has encouraged Terry to search further afield for backyard decorating ideas, taking cues from Italian and French spaces to complement the property. For this gardener, it's not about a set style but simply what you enjoy. "What's most important is that an outdoor space reflects the person who's created it," he says. He encourages others seek unique garden ideas from magazines, books, or television shows, as well as from industry experts. Many of the ideas for the plants in his own backyard came from the RHS Chelsea Flower Show gold medalist Tom Stewart Smith, whose 2008 creation stuck so firmly in Terry's mind that he called upon it when he started designing his own space three years later. He recommends searching for favorite Chelsea Flower Show gardens online, where the plant lists are often available for free.
Embrace a Slower Pace
If there's one resounding piece of advice Terry has for budding horticulturalists, it's to "be patient." It's a lesson the gardener has had to learn himself the hard way; thanks to a career in the fast-moving world of advertising, gardening has at times felt slow in contrast, but he admits it's this steadier pace that ultimately appeals. "It is possible to create an outdoor space with almost immediate effect, but it would be expensive," he muses. "Gardening teaches you that you can't hurry things. If a plant is going to grow, it's going to grow, it will just do it in its own time." Being outside has given Terry an appreciation for the constant transitions of nature, and how every moment spent in his backyard is simply that—a moment. "They come, they go, they pass, they're fleeting," he says. "I'd never thought about it before I took up gardening, but actually it's a real metaphor for life; you just need to appreciate the moment and the beauty of nature."
To discover more of Terry's world, follow him on Instagram or visit his website.