Travel and exploration have always been at the heart of our design process, working hand in hand with the belief that inspiration can come from anywhere, for anything—when it comes to imaginative design, there is no such thing as a bad idea. Endpapers from antique books can become pillow prints, traditional Turkish robes can be translated into wall art, and handwoven rugs can take the shape of sofas, because, why not? This latter example indeed plays into how our beloved Tarma Collection—now spanning an armchair and a loveseat, in four statement prints—was brought to life, in what we can only describe as a characteristic stroke of genius from our Co-Founder Sue Jones. Here you can get to know the pieces in detail, as she shares the creativity and craftsmanship behind them.
Our original Tarma 2-Seater Sofa—the striped version—in fact takes its pattern from one of our most-loved ottomans, the Crusoe, the design of which is where the story really begins. It was at a trade fair, towards the end of the day, when Sue wasn't expecting to discover anything else of interest that she spotted a rug that piqued her curiosity. "I found this piece that wasn't a Turkish design or a Kilim rug, it had both elements; it was unusual in that it was printed and had hand embroidery," she explains. As someone who holds craftsmanship and traditional weaving techniques in the highest regard, Sue had always shied away from creating simple printed rugs, but here she saw a way of elevating the two processes. "I knew exactly the person to do it, and so I lugged this extremely heavy rug home in my carry-on bag, and sent it straight to one of our artisans in India to try and work on the technique," she says.
When she paid a visit to India the next month, Sue knew immediately this new combination of techniques was going to work—"he'd done a fantastic job." But her mind instantly jumped to what we could do with this fabric on furniture; the thick cotton of dhurries makes them much more malleable, and also durable, than other traditional rug fabrics such as wool. "I'd been asked for years, and wanted for years, to do an ottoman with storage—I thought this dhurrie could be the perfect try." Once she and the manufacturer had the ottoman design just right (not as simple as you might think, due to having to perfect the opening and closing mechanism) Sue tested out the rug on top of it as upholstery. "It was looking lovely, but there was something that wasn't quite right… I wanted to turn it on its head a bit," she says. She started going through all his old dhurrie designs, throwing them on top of the box, and came across a very narrow striped design. The rest, they say, is history.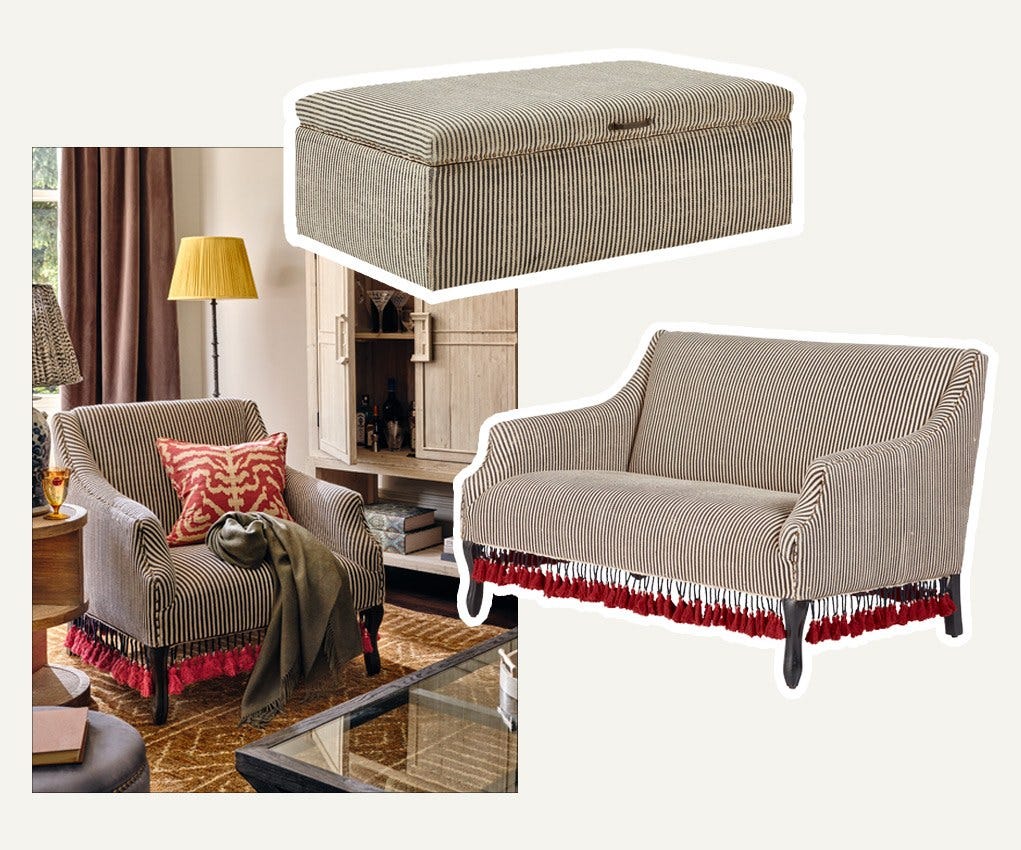 It was in this same workshop that our beloved Tarma patterned sofa and armchair were born. This particular maker has a passion for old designs; his warehouse is a veritable goldmine of intriguing, albeit tattered, furniture pieces just waiting to be reconsidered for the modern day. "We went out there and I found a chair I quite liked, and a very nice, smallish sofa. It was in such bad condition, it only had three legs and the insides were all flowing out, but the shape was there," Sue laughs. As with many of our designs that are inspired by antiques, a fair few adaptations were needed, but the most important thing was that Sue knew these bones could take pattern. We started our Tarma seating with the Crusoe stripe followed by the Sheki floral pattern—you'll see the combination of printed and handwoven techniques from the original rug Sue spotted at the trade fair here—and, in Sue's words, they just so obviously worked. Now, she always considers whether a rug pattern could be translated into furniture; "it has really given us a huge open book of things that we can do that are completely unique to us and our makers."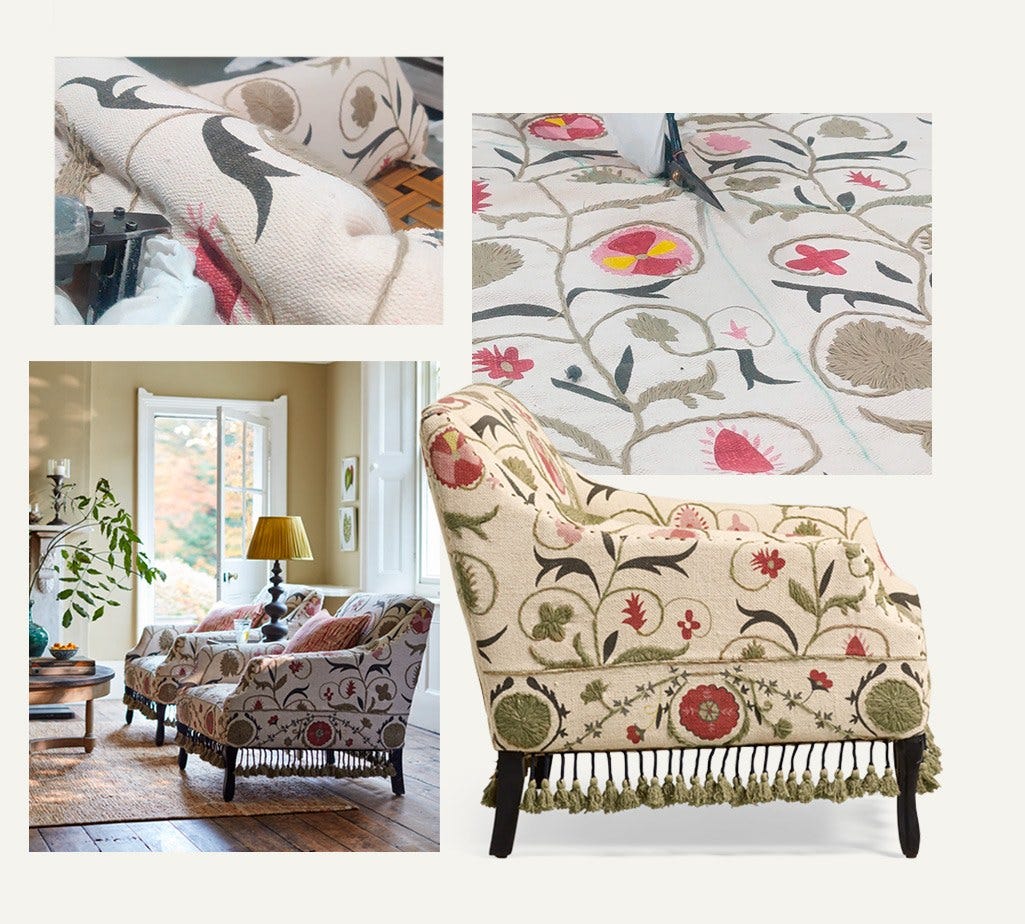 Unique is certainly an apt description for the Tarmas. In addition to their wonderfully original patterns, no two will be ever identical as they are completely handmade from scratch, from the frames that are crafted from traceable timber, to the cotton dhurrie upholstery that's handwoven and hand-dyed using eco-friendly pigments, to the hand-applied embellishments: the studs and playful tassels. Perhaps the most inimitable feature is said tassels, not only are they upcycled from excess stock, but you can also take them on and off, as the mood takes you. These, too, have roots in rugs: the striped dhurrie Sue threw over what was to become the Crusoe Ottoman was adorned with tassels. "I love them personally, but I knew they might not be for everyone, which is where the idea for using Velcro to attach them came in," she explains.
It's this versatility that really is the icing on the Tarma cake. Yes, they're statement pieces, but with a stripe, floral and two geometric patterns to choose from, they can also be as minimalist or maximalist as you choose. As Sue wisely puts it: "Not everything has to match. These seats can be mixed in with plain pieces or other out-there designs, but either way they create eccentric interest, which is what English style is all about."