Within the North Wessex Downs Area of Outstanding Natural Beauty—a protected area in England—you can find this converted barn, with interiors reflecting that of the surrounding chalk downland and the blue of the expansive skies for which Wiltshire is known. Through the property's magnificent floor-to-ceiling windows can be spied its soaring ceilings, wooden beams and crisp, white walls. Once inside, you could be forgiven for imagining yourself to be on a Greek island, thanks to its relaxed coastal style.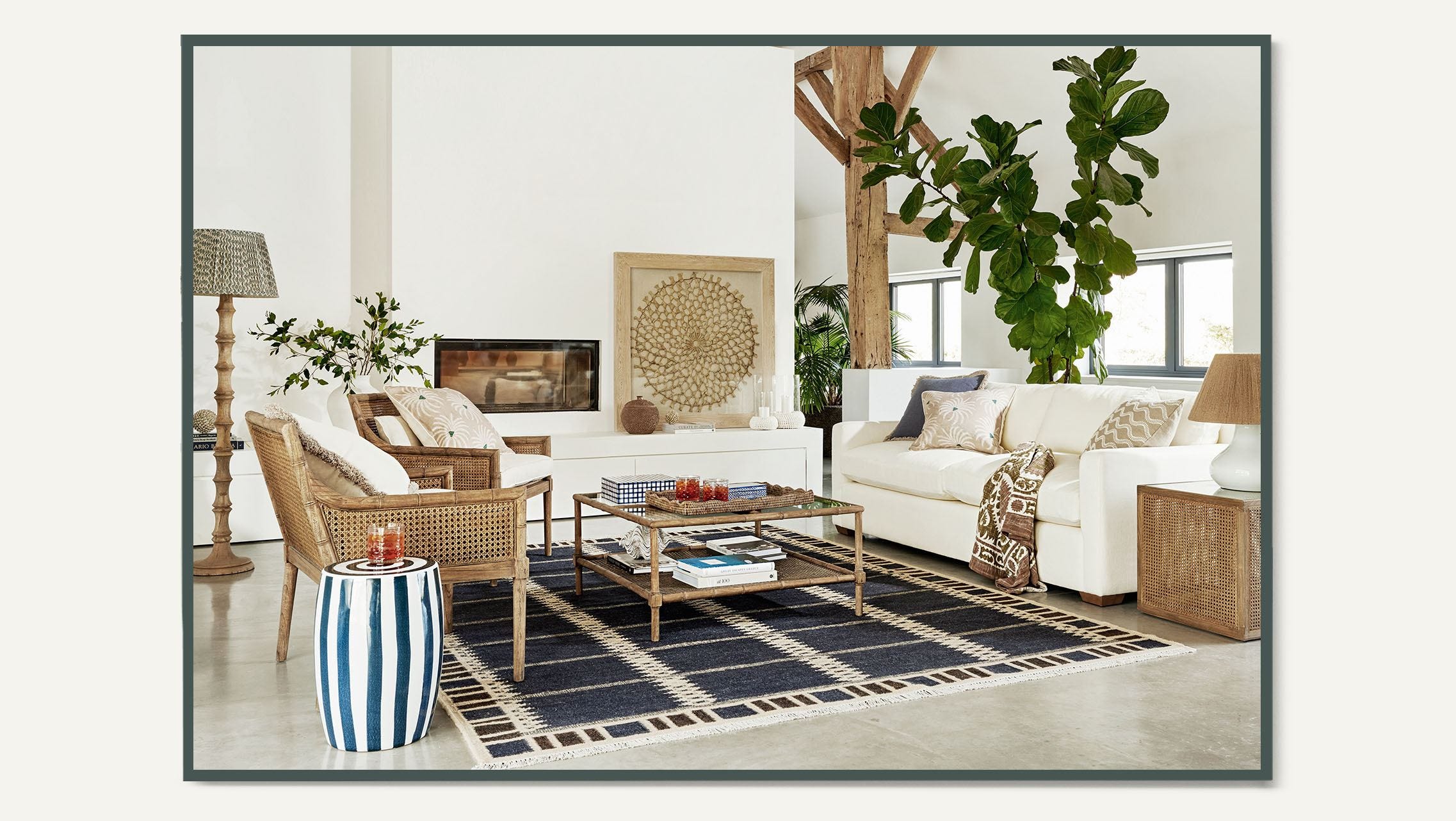 The simplicity of the color palette—off-whites, blues and natural wood tones that highlight the impressive network of beams—makes the space feel all the more tranquil. Nothing in this home feels out of place; each piece has been carefully chosen to blend together for a cohesive aesthetic. Its amalgamation of natural, textural materials adds an influx of warmth, with rattan, cane, and wood turned to look like bamboo—from the undulating spindles on a smooth coffee table to the rustic details on the armchairs and side tables.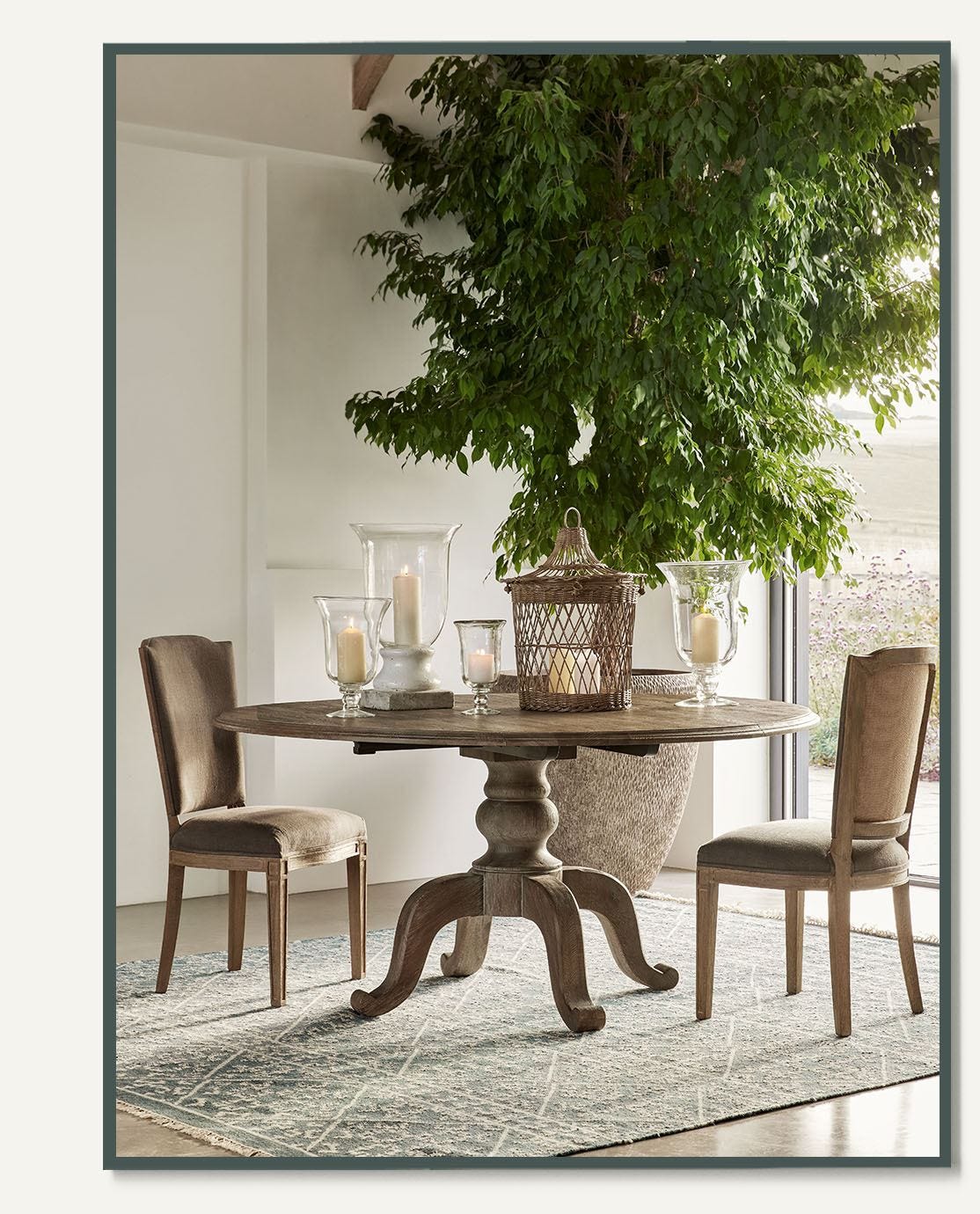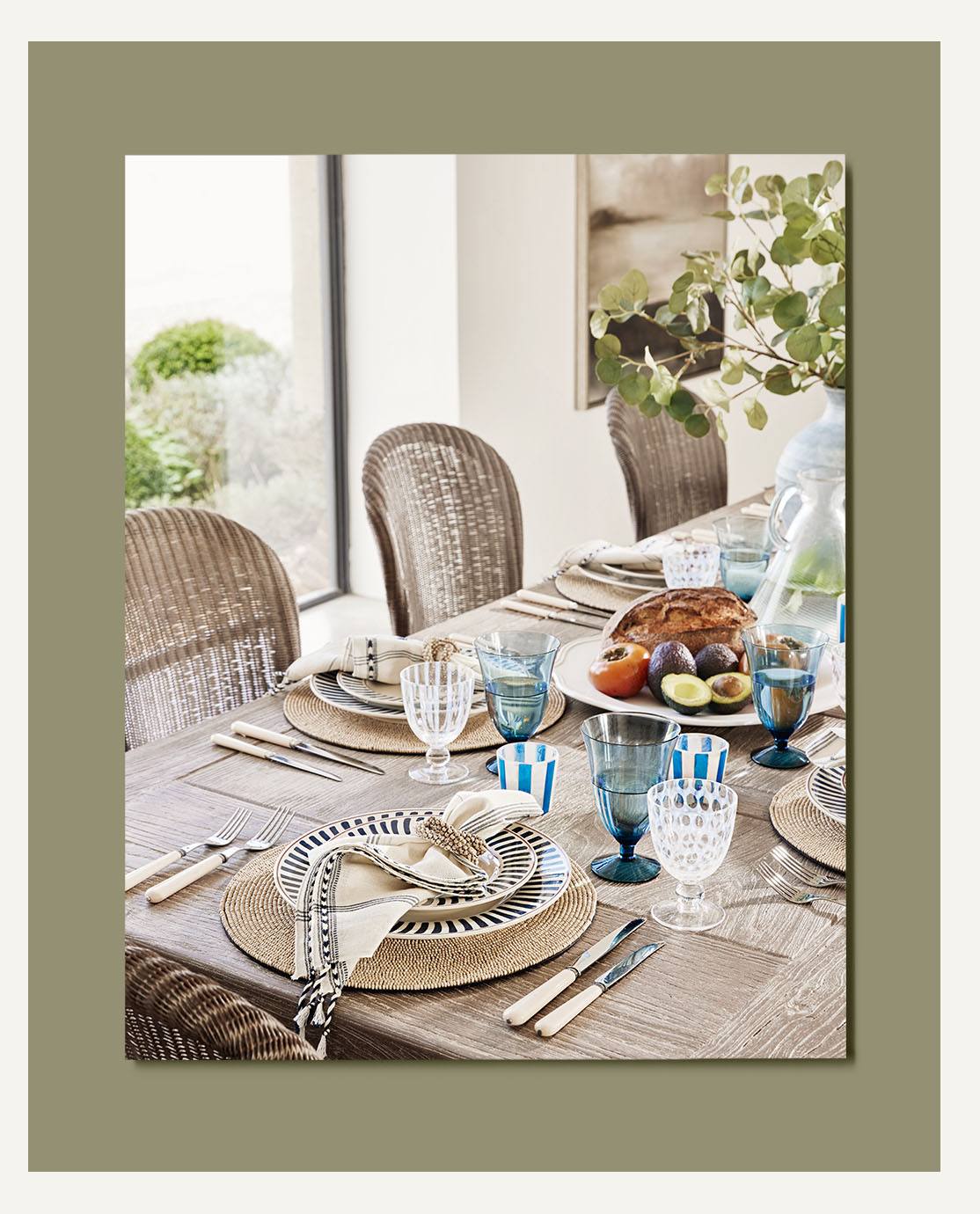 When dealing with a large open space, one way to partition areas is by laying down rugs. Here, they have been used to separate out two dining areas, one more casual—featuring an intimate round table topped with pillar candles in glass and rattan holders—and the other to delineate a spot for a full fine-dining experience, on a rectangular table with china that matches the color scheme of the rest of the property. The pops of navy blue and terracotta add vivacity to an otherwise neutral palette, while the subtle presence of nautical stripes nod to the high summer aesthetic. The space is grounded by the foliage that decorates every corner and surface; serving as a gentle reminder of the building's true countryside location, this greenery softens the interiors and draws the eye to the view through the large windows.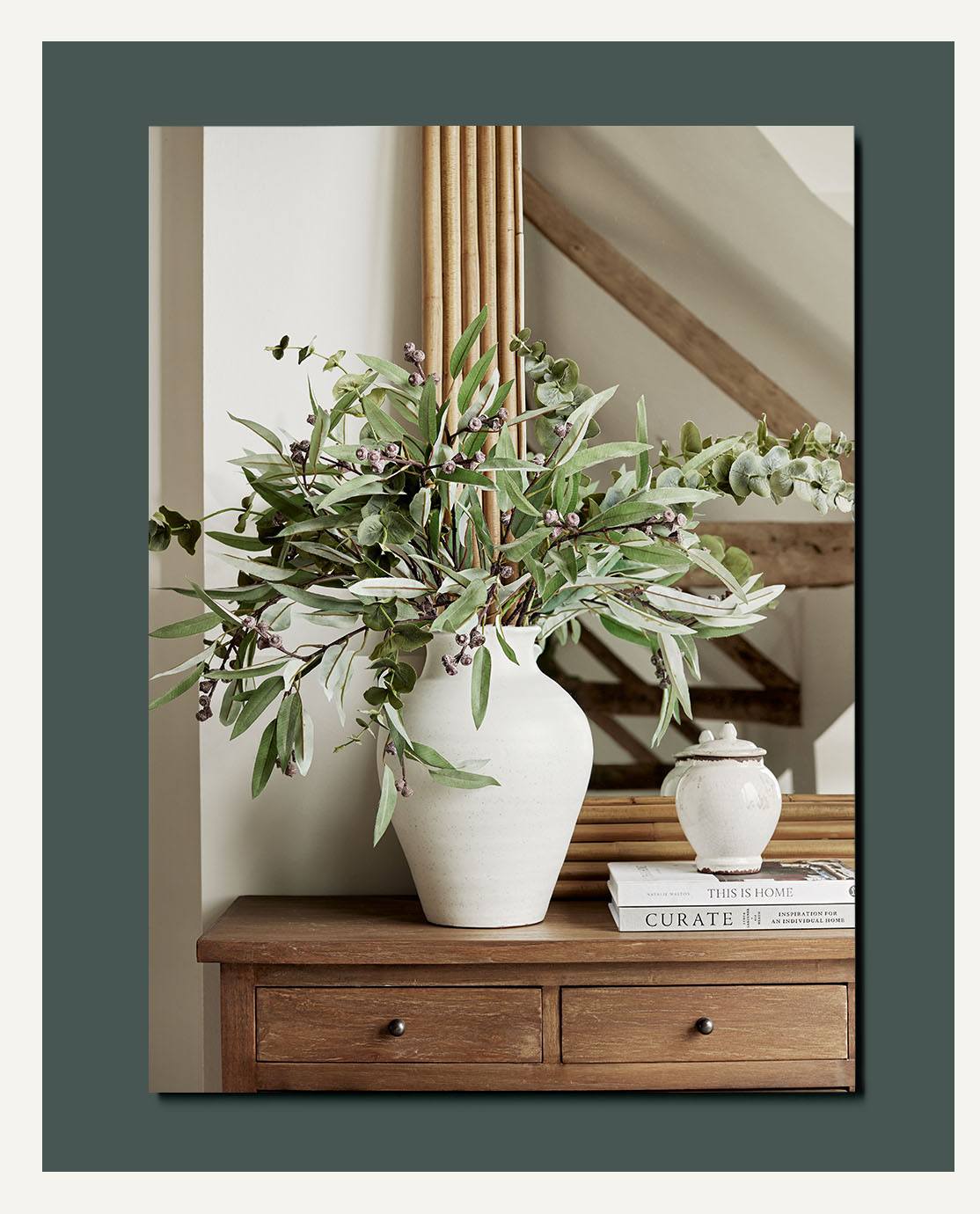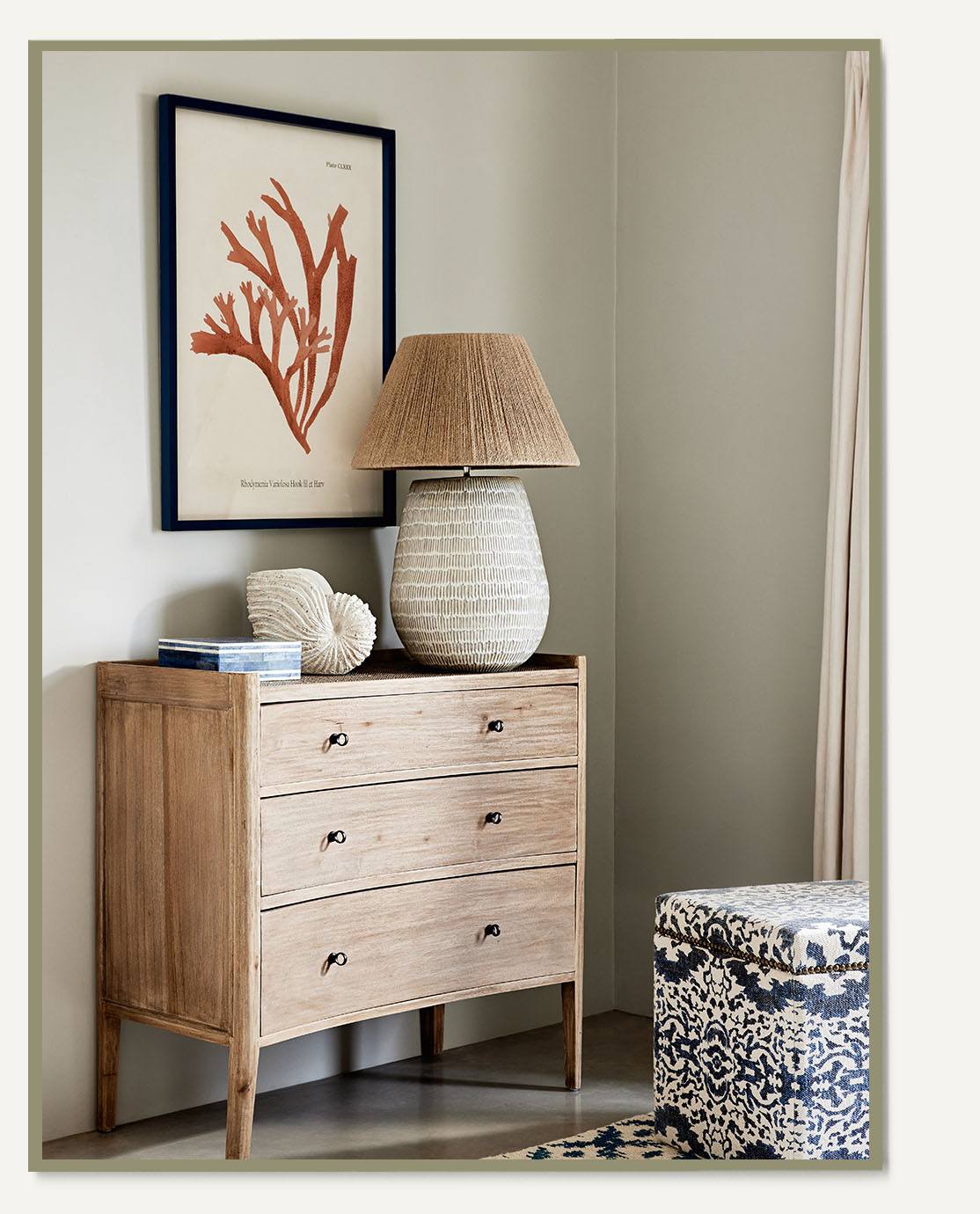 There are so many ways to style surfaces and walls, from hanging prints to propping art and mirrors for a more laid-back appearance. Lamps not only add a design element, bringing color and pattern, but when the changing skies move from dawn to dusk, switching on accent lighting creates an ambient effect that lends intimacy to a space. Ornaments such as vases and other decorative pieces also add interest and a personal touch that turns a house into your home.