In the county of Wiltshire, the oldest borough in England can be found: Malmesbury, which dates back to the 6th century and has been dubbed the "Queen of Hilltop Towns." It's steeped in history; a 7th-century Abbey sits at its top with honey-stoned streets roaming the valley beneath it, all encircled by the river Avon. By order of King Athelstan—the first king of England—Malmesbury was the country's capital, now the lesser-known town is home to a charming country house that's nestled on its outskirts and plays host to our latest look. Large stone fireplaces, wood-paneled walls, and expansive windows that flood the space with light all feature inside. Such a historical location, and considered architecture, called for equally unique interiors.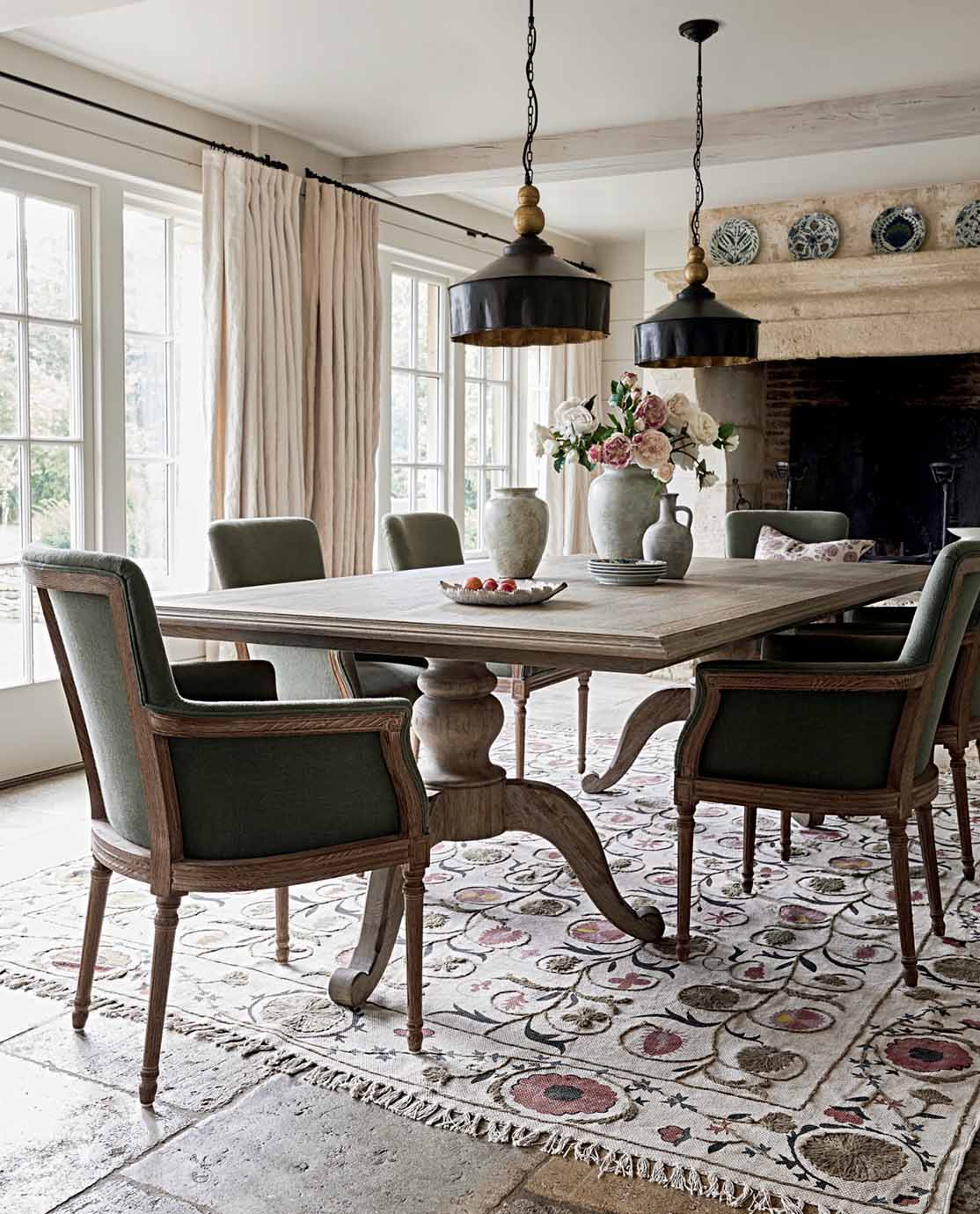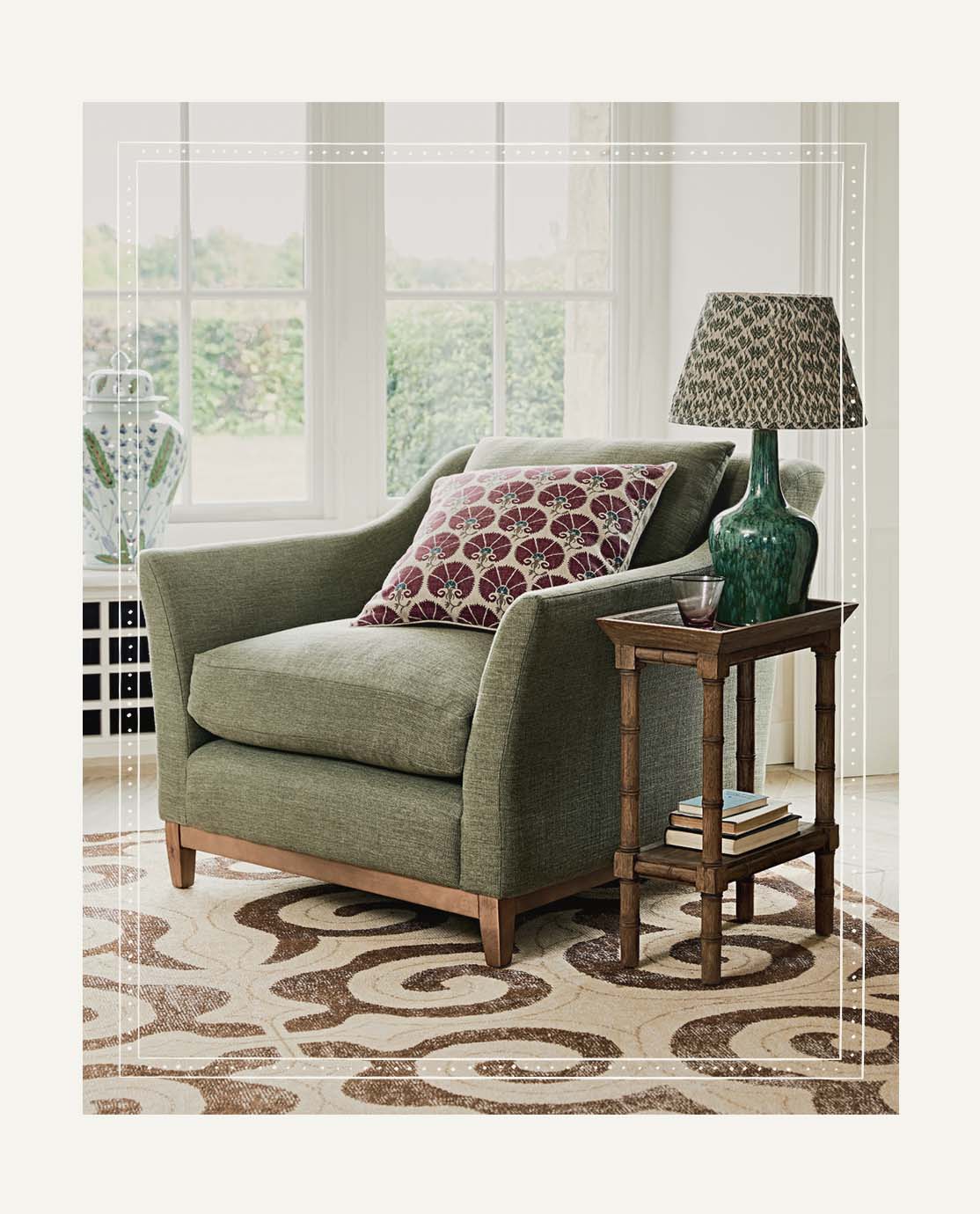 The flagstone floors and large paned windows in the living spaces could result in something cold, but comfort and warmth are infused into the space in the form of plump sofas and soft textiles, embroidered with floral motifs in spring colors of green and blush pink. As shown here, you can frame big windows with carefully considered pieces of accent furniture, such as our Tailored by OKA Hughes Armchair—a perfect spot for reading, with a bold pillow propped to make it all the more inviting. Accent lighting not only elevates the elegance of this spot, but makes it pleasant whatever the time of day, blinds raised or lowered. Natural materials reign supreme with jute rugs, cotton pillows, linen lampshades and wooden details that add noticeable flair, from the exposed frame of the dining chairs to the turned legs of the side table and grandiose base of the dining table. By hanging striking pendant lighting above the dining table, the eye is cleverly drawn into the center of the room, where early morning musings and late-night chats will no doubt take place. This creates a more intimate atmosphere in a large room, narrowing the focus onto the most-used area.
Mixing the whites of the walls and the china that's on display with rugs in muted natural tones generates a rustic feel, while using ornamental plates is a clever and alternative way of giving your walls a curated look, which appears to have been put together throughout the years from favorite adventures and memorable trips (it doesn't matter if that's not strictly the case). Don't be afraid to mix and match patterns, too—our Iznik Lidded Pot, Shyrdak Rug and Hirkani Lampshade have very different design influences and yet, they work so well together, with the mix adding to the charm and curated aesthetic.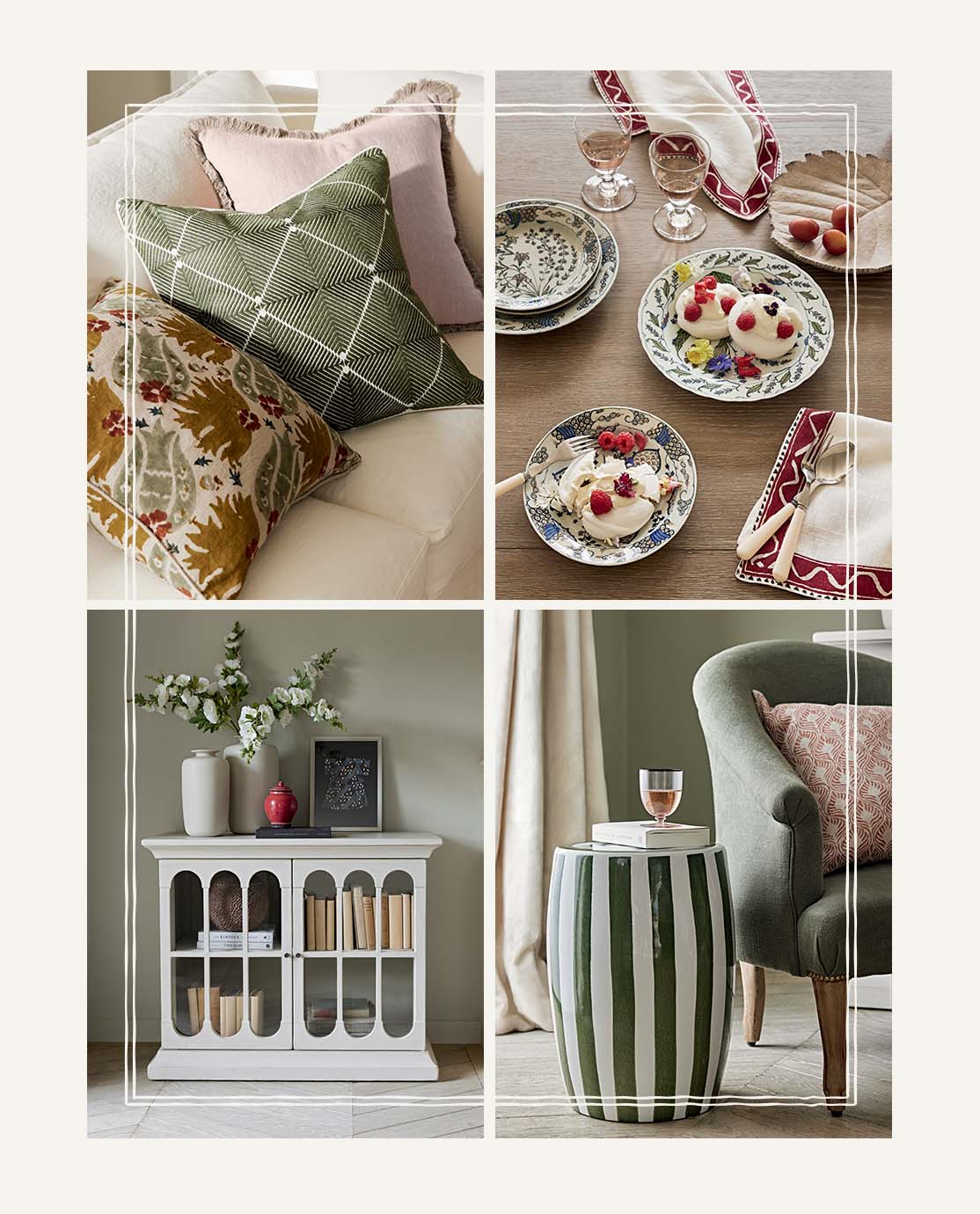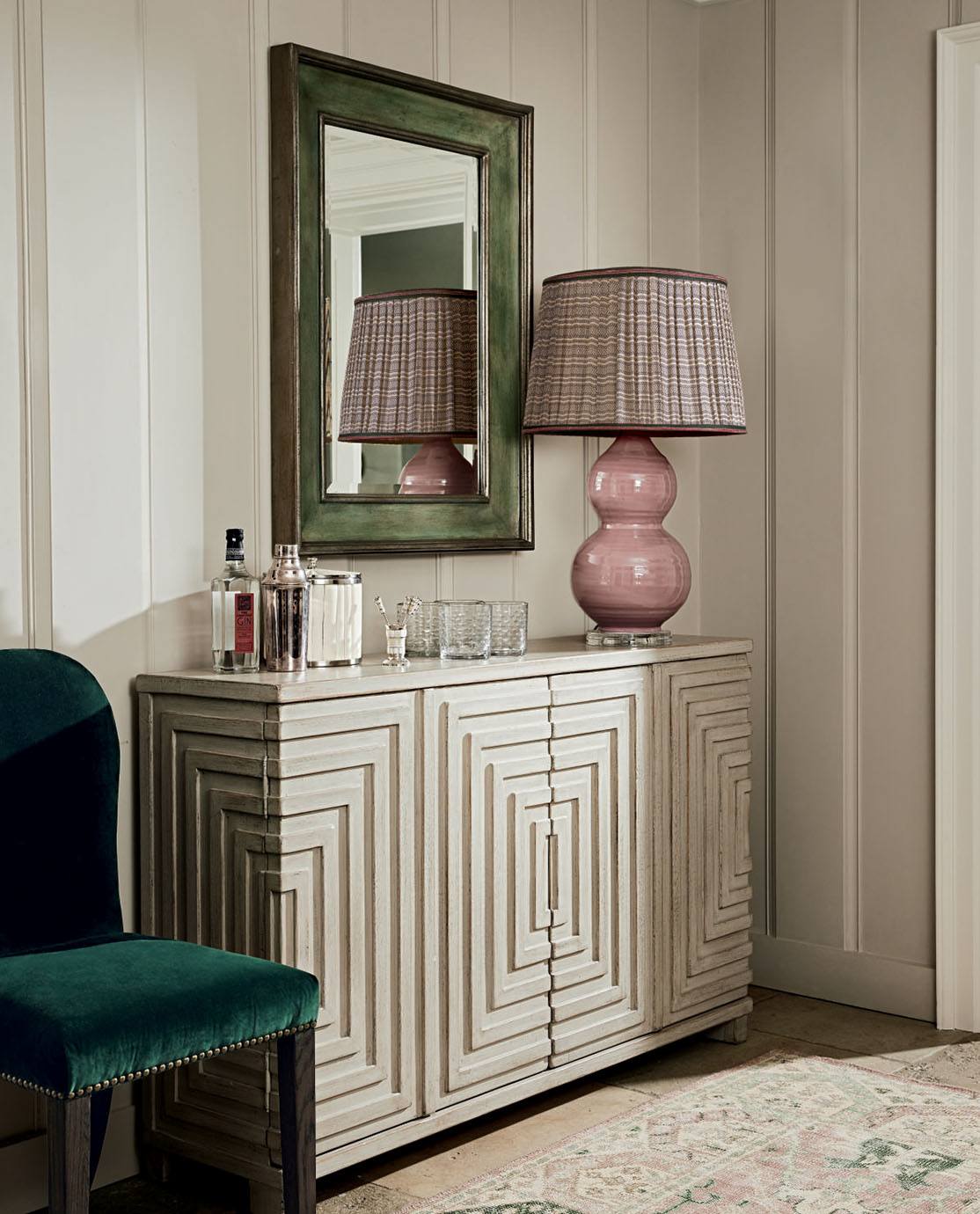 Plaster pink tones make the bedroom pretty but fresh, with the green hints and contrasting patterns turning something of feminine origins a little more vintage. A small art print adds another element of interest to the walls and breaks up the repeating pattern on the wallpaper, acting as a focal point to draw the eye.
Guest bedrooms in particular can really benefit from a small bouquet or single bud (faux or real) in a petite vase—touches like this show the host has gone the extra mile to thoughtfully decorate for their guest's stay. Fringing on pillows adds an extra layer of texture that can make all the difference to a textile arrangement—elevating it from something flat to something unique and inviting.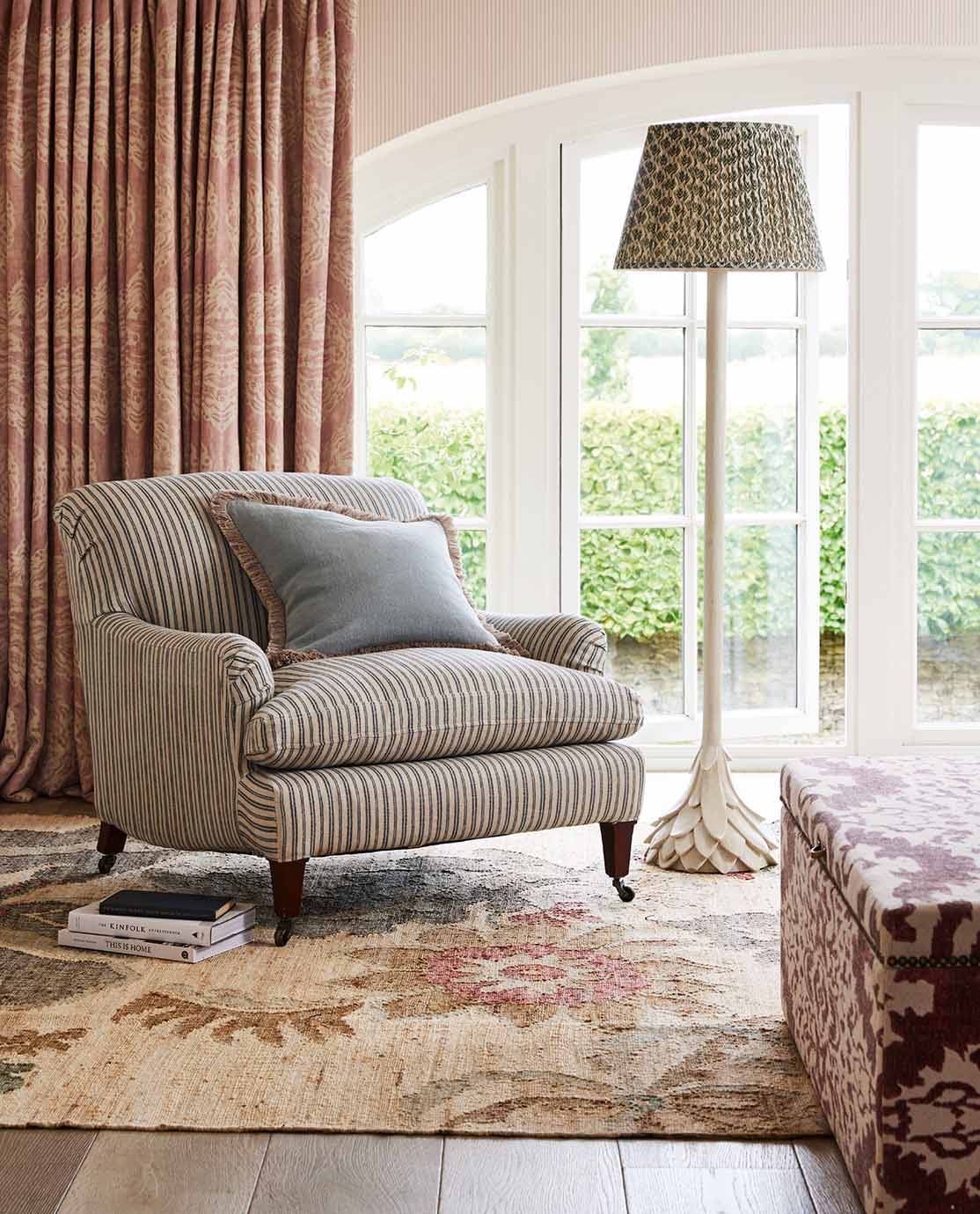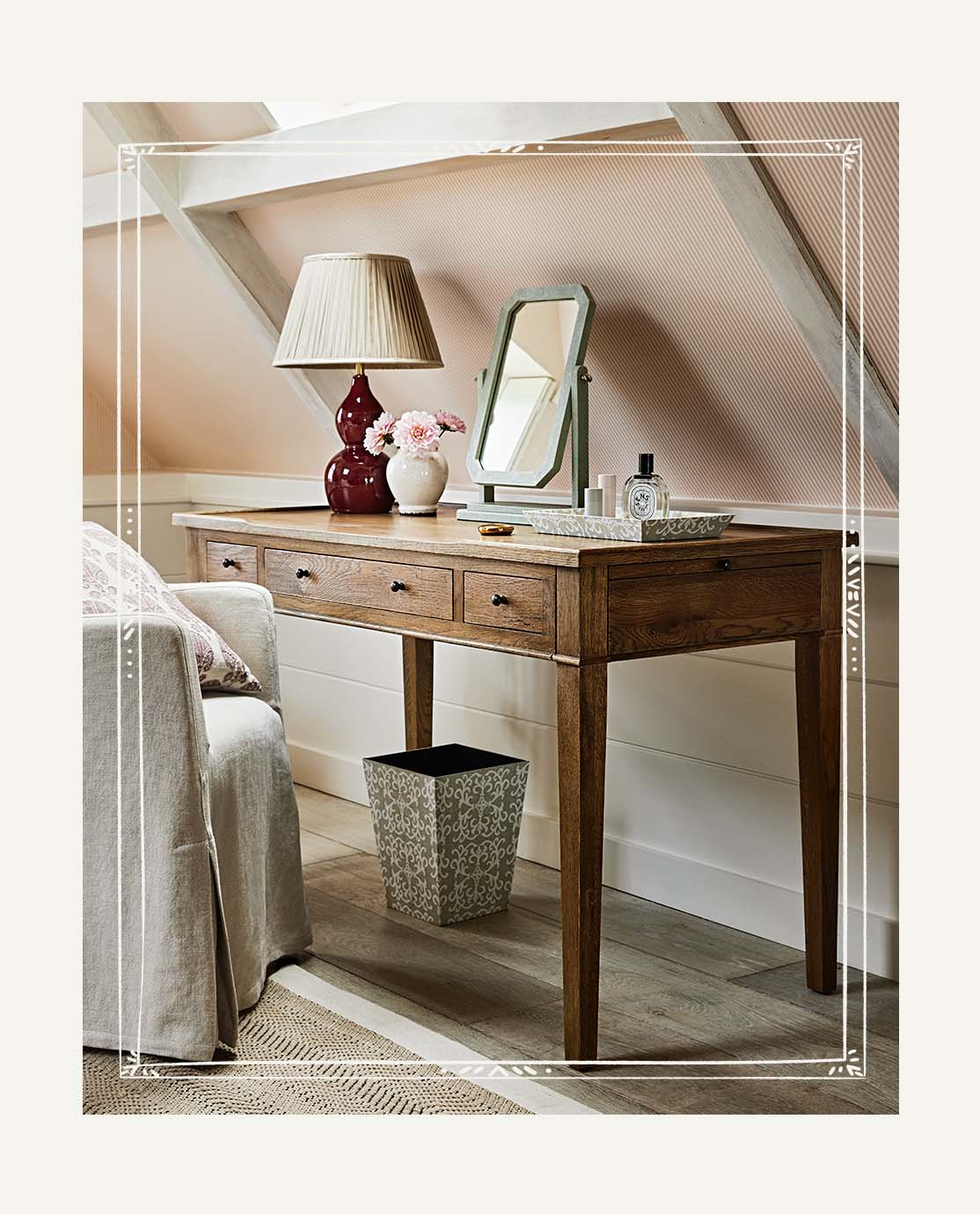 Coral accents and botanical features bring life to the muted greens and natural tones, and side tables and shelving are the perfect places to showcase your choices. If your shelves are looking empty, fill them with books—a tip from our Co-Founder and Creative Director Sue Jones is to wrap them in brown paper to elevate their appearance, giving the impression that they are special editions collected from antique shops, while underneath, they could secretly be your favorite celebrity's autobiography… no one needs to know. Shelves don't have to be packed full—spacing your items out, turning some things horizontally and some vertically, and dotting other features such as vases and photos, can all make them personal to you. After all, interiors are all about expressing yourself and having fun.