The English County of Shropshire on the border of Wales is the home of the fragrant sweet pea, the birthplace of Charles Darwin, and is said to have inspired the likes of J.R.R Tolkien. Unusually, it doesn't contain a single city, which is perhaps a big part of its charm. Full of typical English towns and landscapes, there are many hideaways to be found in the hilly and wooded countryside, just like this historic home which is the stage for our latest look.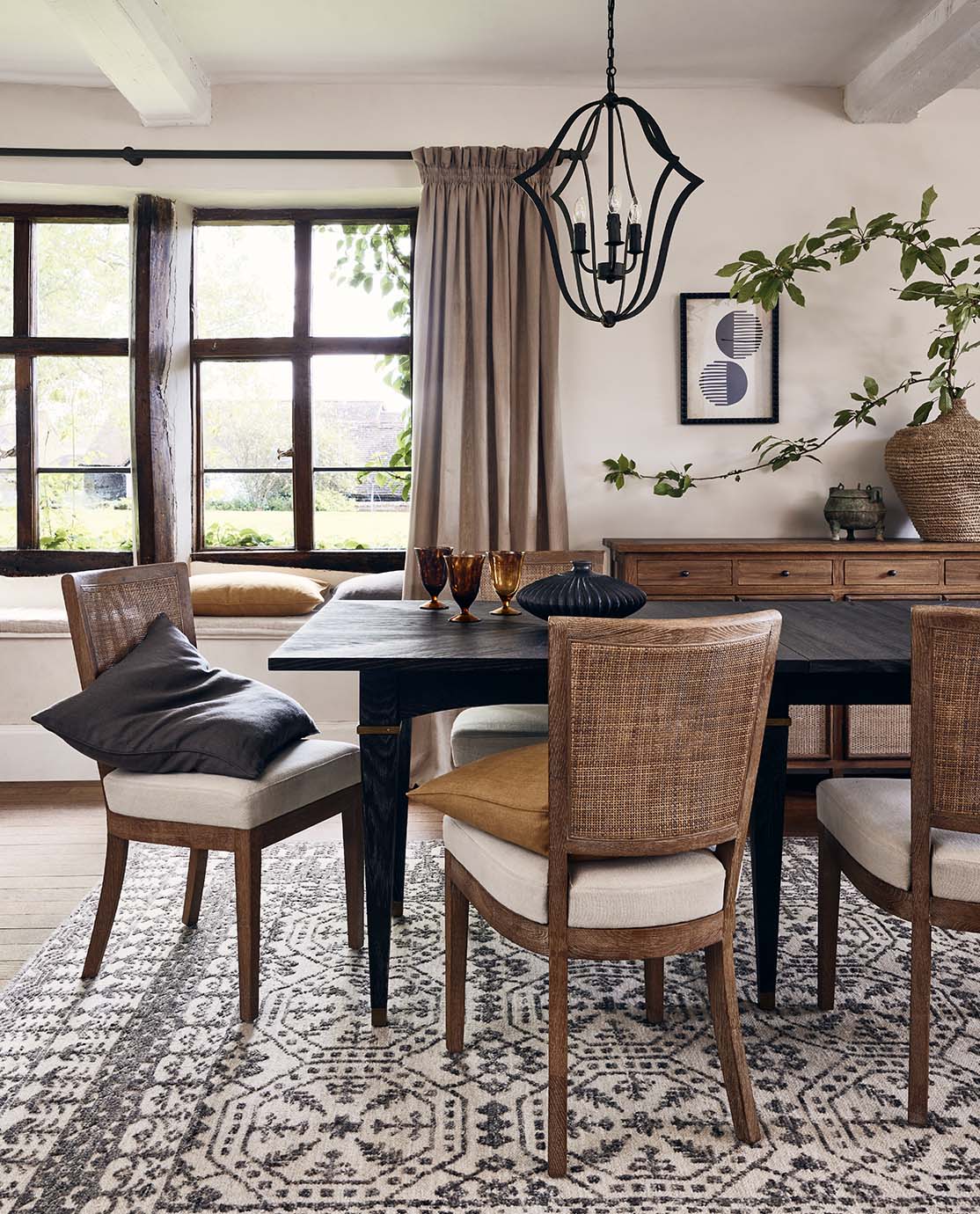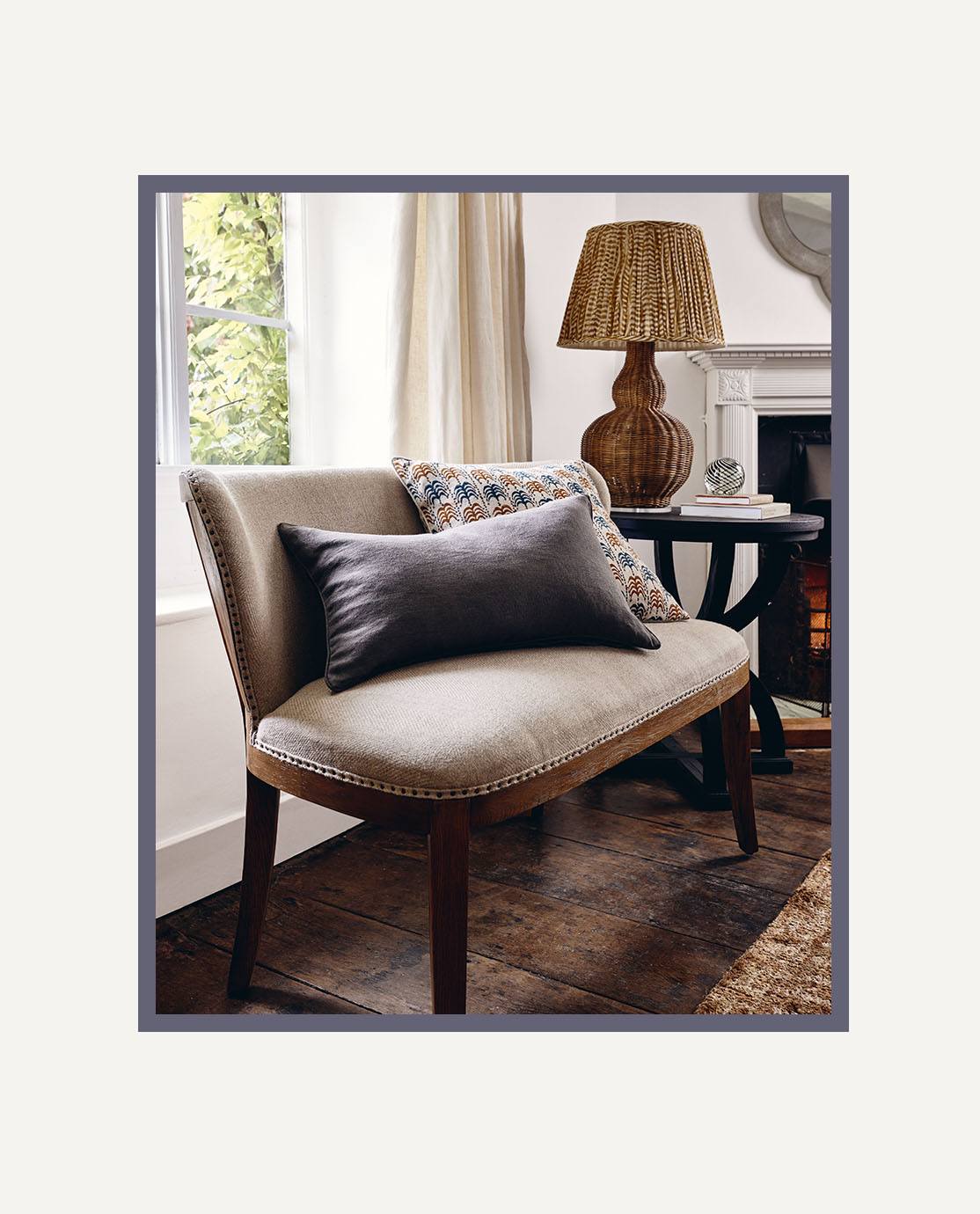 Dating back hundreds of years, this Shropshire manor house offers a veritable history lesson the moment you step inside. From painted beams in the double aspect sitting room to traditional fireplaces and original natural wood window frames, the unique architectural features can't help but invite meditation on years gone by.
Taking its design cues from these striking details, this look embodies earthy elegance. It may not be anyone's first thought to pair brown with gray, but the effect of the natural and organic color palette is wonderfully calming when mixed with pattern and tied together with matching materials. In the sitting room, tan filters through from the leather sofa to the woven rug, the wood of the bench seat and the rattan of the lamp, while shades of gray appear in the wooden coffee table, fluted armchairs and framed mirror. The furniture in this particular room is a celebration of elegant shapes, from plays on the winged arms of traditional fireside chairs to carefully crafted tapered legs.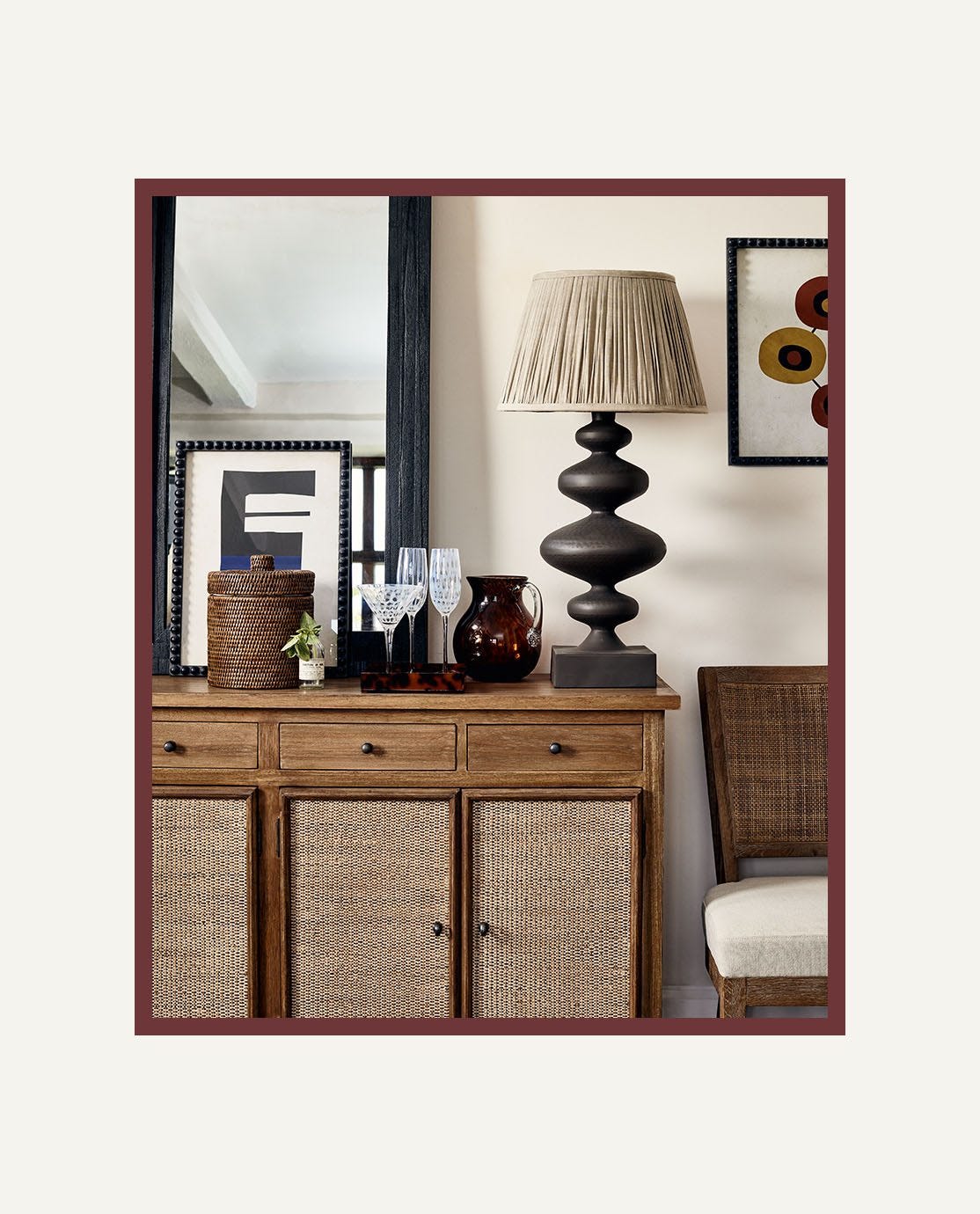 With a white backdrop, anything goes, and sculptural black accents—in the sleek side and console tables, slender-based lamps and dramatic framed prints—lend a contemporary edge that melds well with the integrity of natural rattan weaves and weathered woods. The effect is modern, yet grounded and welcoming; these elements can be embraced in your own home.
A slight change in hues on the walls, from cream to gray-green, alters the tone of the second sitting room to a moody tranquillity, perfect for getting cozy, with chestnut and navy inflections in the pillows offering warmth to the cool wall color. Whatever the style of your home, soft elements, too, are key to ensuring that the overall aesthetic is one of relaxation.
Tactile textiles draw the eye in every room: placing comfortable pillows on the handsome window seats and shaggy rugs on the floors will invite you in. Playing with dark and light is both fun and mood-enhancing, especially when you're lucky enough to have windows that flood the space with natural light. Heavy curtains can be a way to change a space from a day room to a cozy evening den, allowing your lamps to set the mood while blocking out natural light.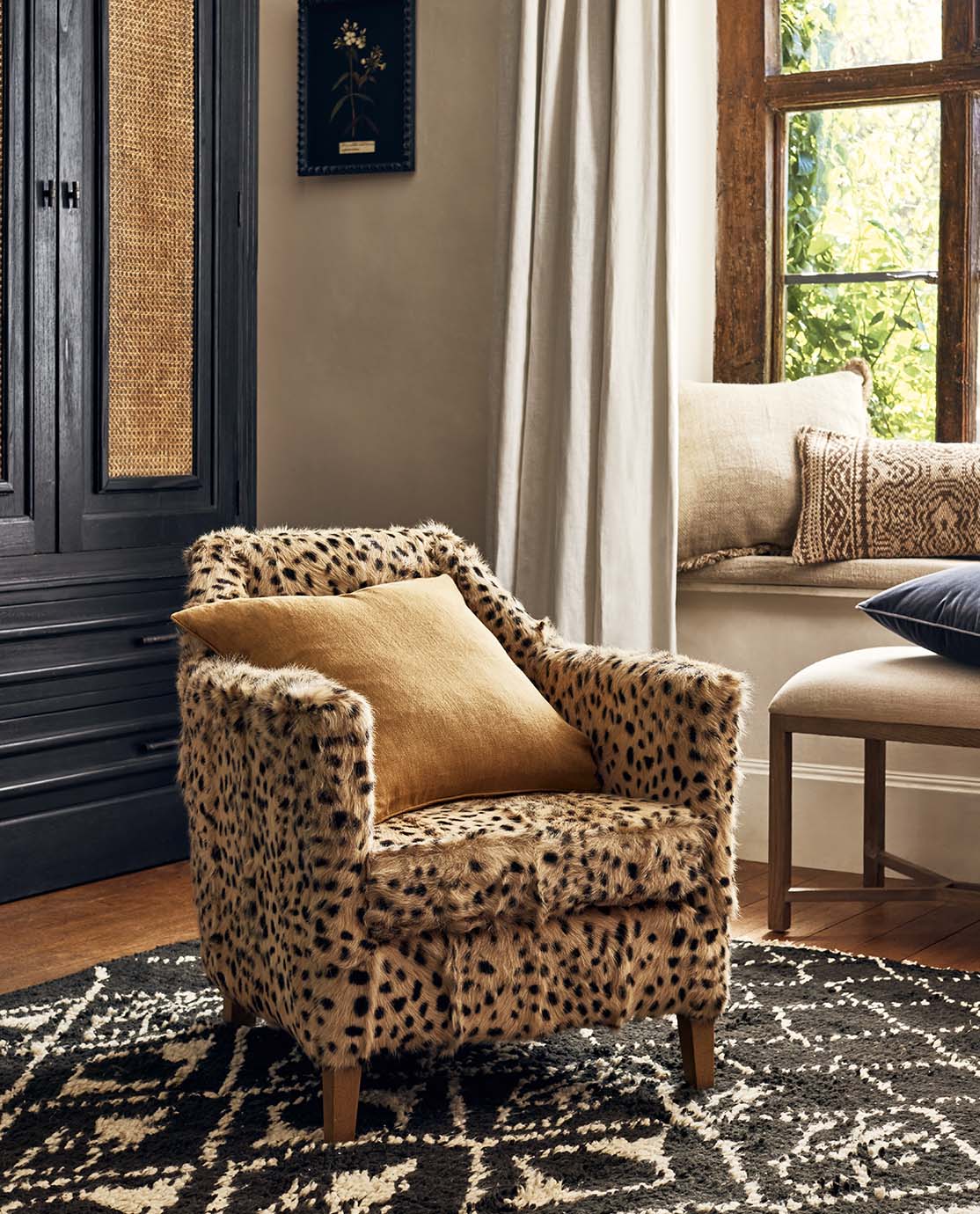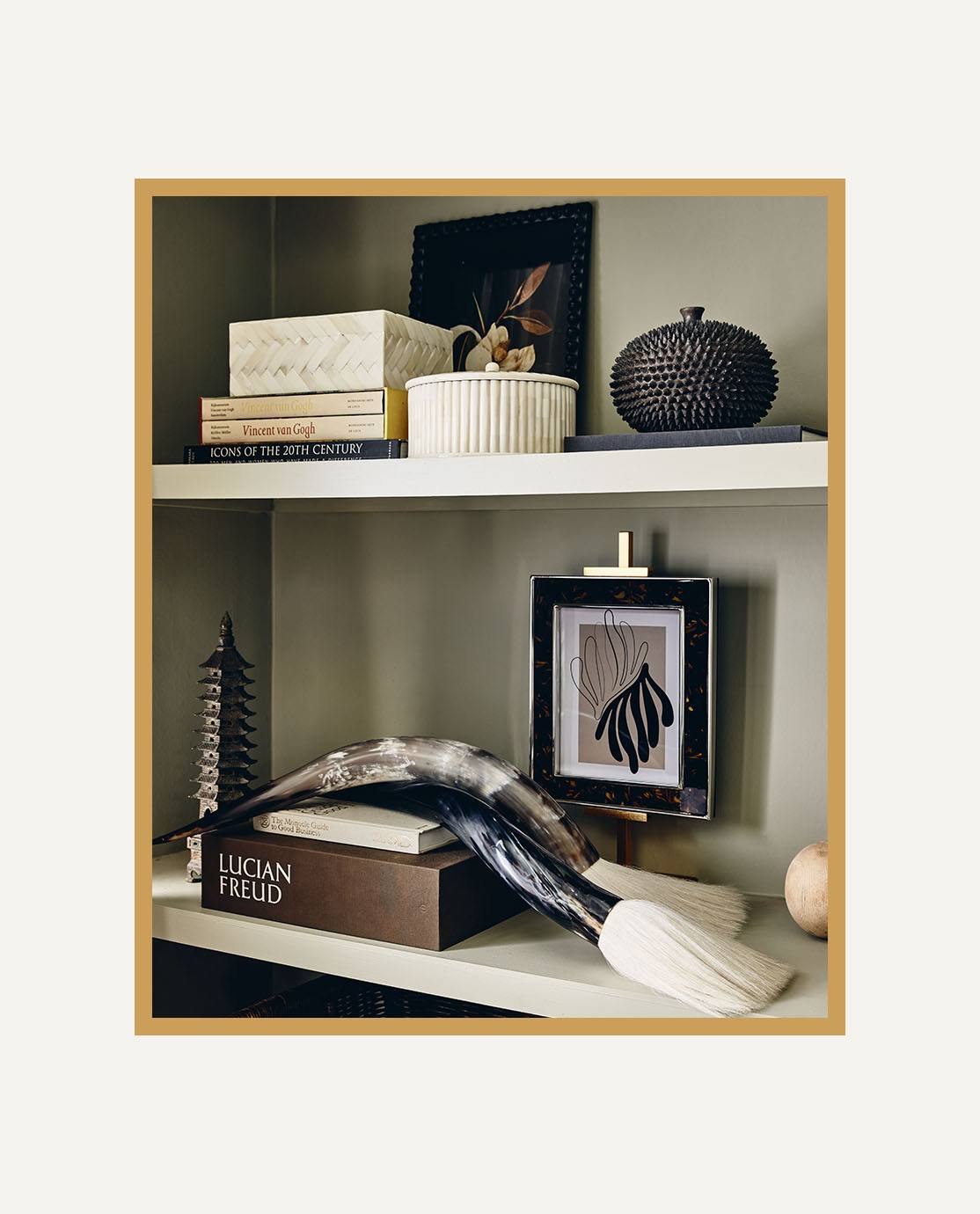 Shelves aren't just for books, though we love to see a beautiful tome here and there, whether it's to be read or admired. Fill yours with elegantly placed decorative features that can double as storage for your odds and ends; pretty boxes, unusual lidded pots and roomy baskets all add to the aesthetic of a room. Don't be afraid to layer bold patterns, break them up with block colors so that everything ties together seamlessly. This cheetah-print armchair is a particularly show-stealing addition to this beautifully decorated house, fit for the historic setting.