One month before the pandemic hit, Eppie Thompson quit her job in finance with a view to launching an embroidery company. Having sought stress-relief in stitching, she'd spotted a gap in the market for a contemporary collection of kits to engage a new generation of crafters. As England went into lockdown, she admits the prospect of starting a new business was "slightly intimidating", but, perhaps, serendipitous—when she unveiled The Fabled Thread, she was met with an audience hungry for hobbies. Her playful, rainbow designs, inspired by beloved childhood tales such as Aesop's Fables and Rudyard Kipling's Just So Stories, were welcomed with open arms and nimble fingers.
"Every piece I stitch and every kit I sell has a story behind it," she says of her designs, "partly because I find it hard to sit at a blank piece of paper and feel inspired. The stories that instantly grab me are usually the ones with quite a lot of visual detail, full of animals, characters and rich colors."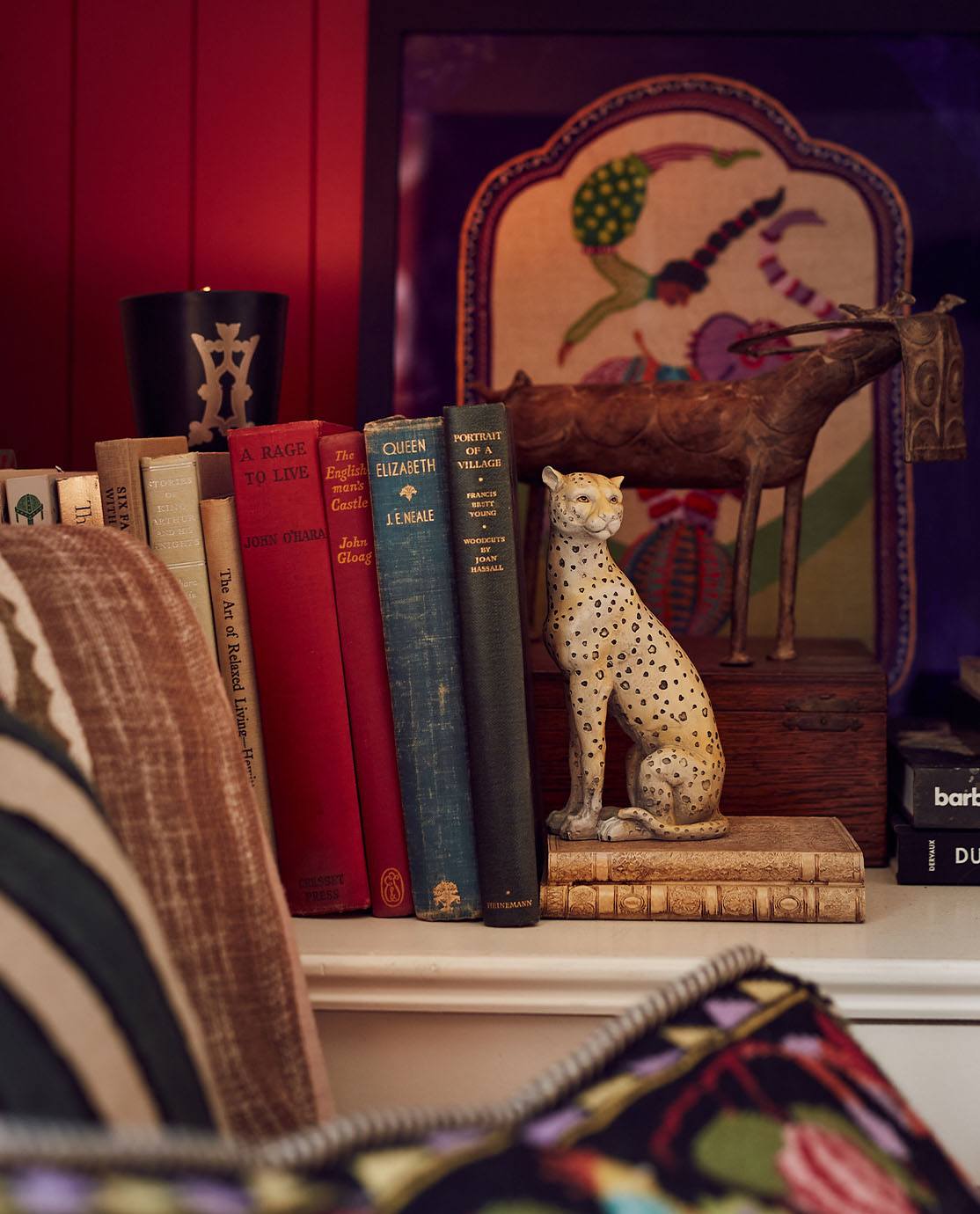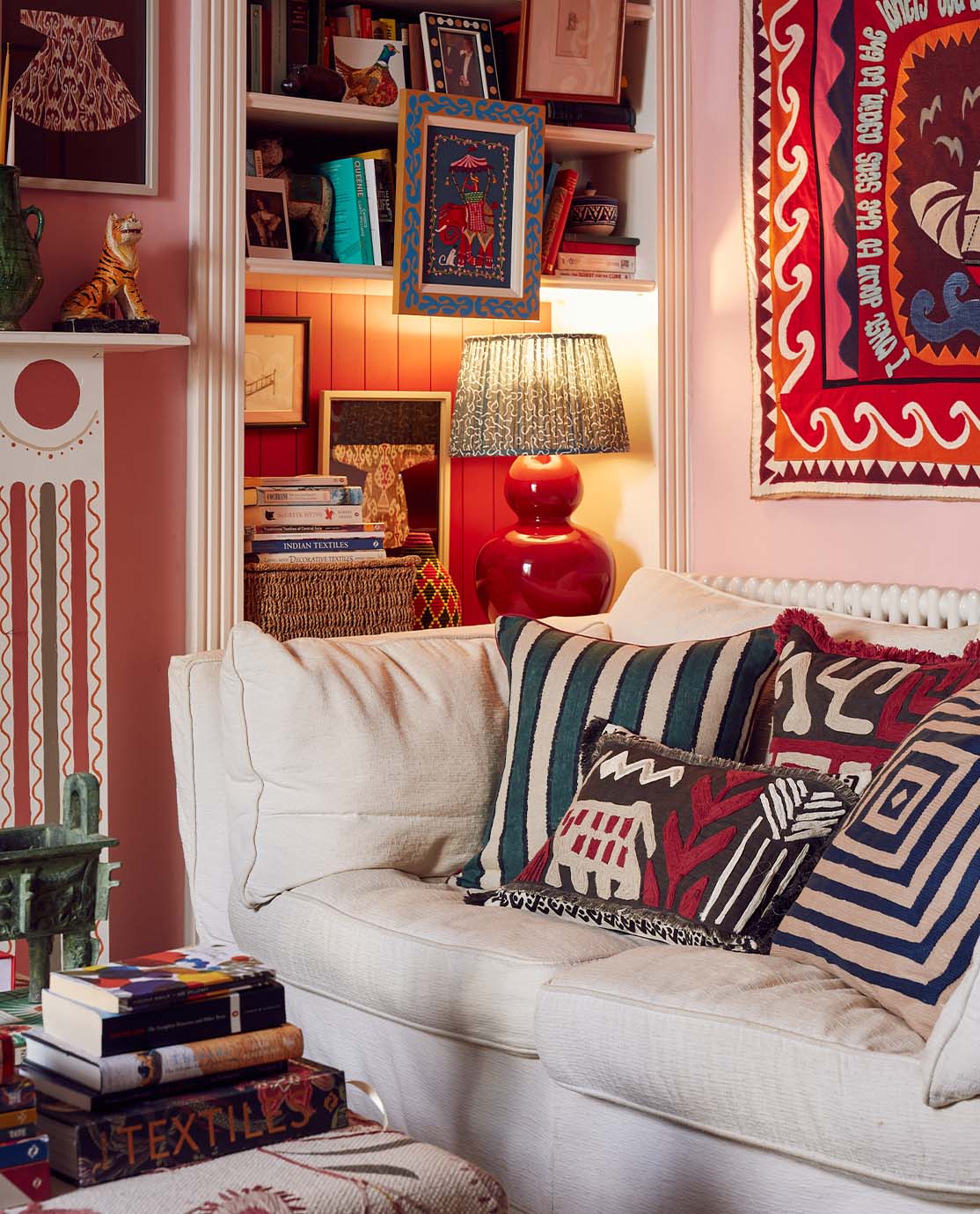 In her home, a compact apartment in east London, it's clear her life very much imitates her art. Framed embroidered works—most her own, some her grandmother's and the rest uncovered from antiques shops—vie for attention among printed pillows, eclectic objets d'art and wallpaper printed with William Morris's Willow Boughs design. Color is everywhere—on the walls, in the sunshine-yellow kitchen (which doubles as her studio) and painted onto the Georgian fireplace, in a graphic print of her own design.
"I grew up in a really colorful home, so it's not something I've ever been intimidated by," Thompson says. "The apartment was very white when I moved in, and as it's in the basement it doesn't get the best natural light; it looked a bit dingy. Now when you enter it entirely envelops you in color and pattern, and you don't really notice that it's a bit dark because there are a million other things for you to look at."
Amidst the riot of colors are clashing prints that shouldn't work together, but somehow do. In the sitting room, her OKA Chelak Rug (that she "loves with a passion") and red-and-white Rander Stool ("a stick of rock that brings me so much joy") stand in contrast to a floral ottoman and harlequin-tiled hearth. It's a similar story throughout Thompson's home; her attitude to print, she says, follows a more-is-more approach.
"My mum always told me if you have colors in a room and they're not quite working, add another color—and I think the same applies to pattern," the embroiderer says. "If your prints are clashing too much, you're probably missing another one to unify them—something that has the colors of the other two that will tie it all together."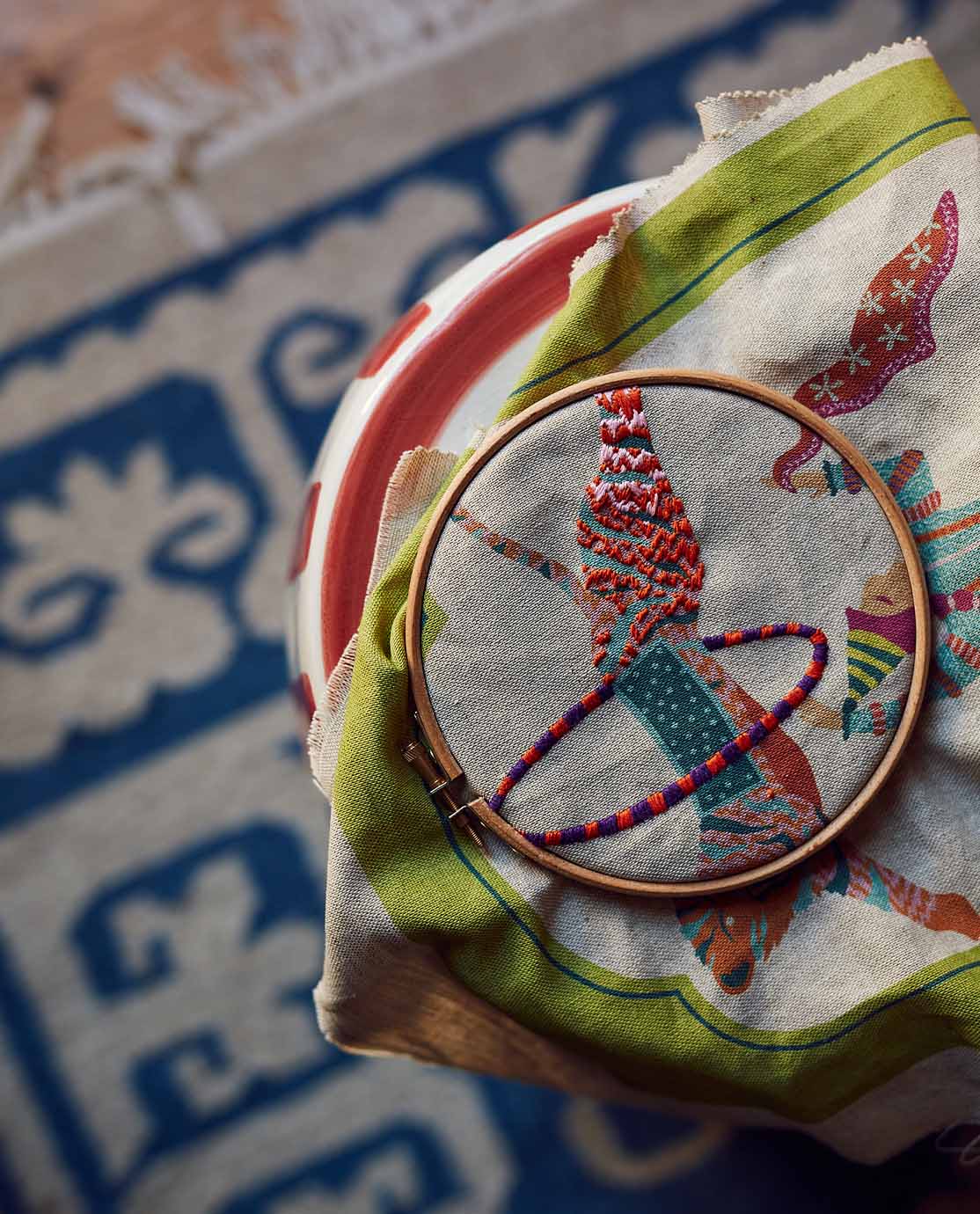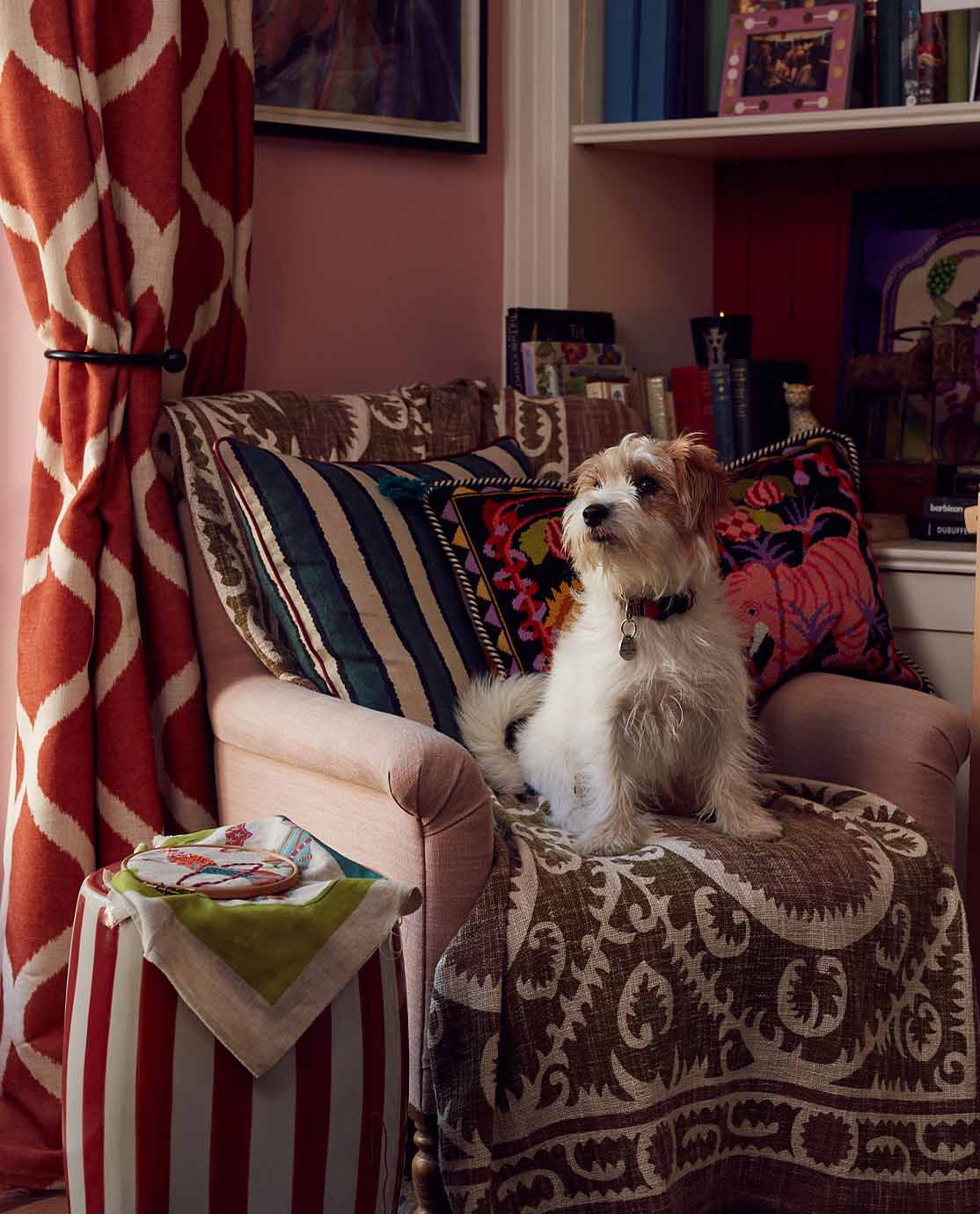 Her home is a veritable treasure trove of family heirlooms: her own embroidery creations sit alongside treasured pieces with those her granny has stitched, and figure paintings created by her mother. "If there was a fire I'd be madly dashing back and forth, trying to get everything off the walls," she laughs. "There's a personal side to everything." Indeed, with nods to her life peppered throughout the apartment—from an 18th-century woolwork picture that references her love of embroidery, to a chemistry-themed bathroom in homage to the subject she studied in college—her home feels like a true reflection of her character. Having the confidence in yourself, Thompson believes, is the secret to mastering interior design.
"There's no such thing as bad taste—your taste is your own—but I think what people most appreciate is when you do something confidently. I'm sure when some people see my home they're horrified, but I think one of the reasons it's so powerful is because I've been confident with the things that I like," she says. "If you want to add personality to a space, don't follow trends, don't obsess over what other people are going to think, and don't doubt yourself. After all, you make your space for yourself; it should be about what you enjoy."
To discover more about The Fabled Thread, visit thefabledthread.com
Photography by Tom Griffiths